Who is your favourite bridal wear designer? I'm not sure I could pin mine down to a single one, but absolutely firmly and very definitely amongst my top five is the inimitable Alice Temperley whose bridal wear range, Temperley Bridal, is one of the most extraordinarily beautiful collection of wedding dresses I have ever seen.
I've long adored this London based designers approach to bridal wear design. I featured an interview with Alice Temperley, MBE, on Love My Dress in 2011 and many brides wearing Temperley are gracing these wedding blog pages. So I wanted Love My Dress to be one of the first to tell you that Temperley Bridal unveiled their quite beautiful new Titania Collection for 2013/14 at New York Bridal Market last month.  As far as you, our reader is concerned, that means there some more dresses for you to swoon over.
I think perhaps my favourite of the new designs is the charming
'Heather Blouse and Petunia Skirt' (below).  I love how they envelop a modern interpretation of Victorian modesty – those long sleeves and collar details in signature style Temperley silk and lace makes for a gown so
incredibly chic and elegant.
All Images Copyright (c) 2013, Temperley Bridal
The Temperley Bridal
Titania 2013 Collection contains a wide variety
of fantasy dresses in silhouettes that celebrate the female form.  Each
gown conveys an elegance and sophistication, all with the same timeless,
feminine and ethereal nature that is the Temperley Bridal handwriting. 
These gowns are going to look as stunning in your wedding album in 50
years time as they do today.
Alice Temperley herself says;
'I love designing Bridal. Within the World of Temperley we create
many beautiful gowns, but there is something magical about designing
the dream dress for that very important day in a woman's life – I am
allowed to imagine the ultimate fantasy piece and am always so honoured
when someone chooses to become a Temperley bride.
Each dress has to be
the perfect blend of functionality and fantasy; a bride must never feel
overwhelmed by her dress but allow them to be the ultimate version of
themselves. All embroidery and fabric manipulation in my bridal
collection are applied and crafted by hand and we only use the highest
quality fabrics and French lace.'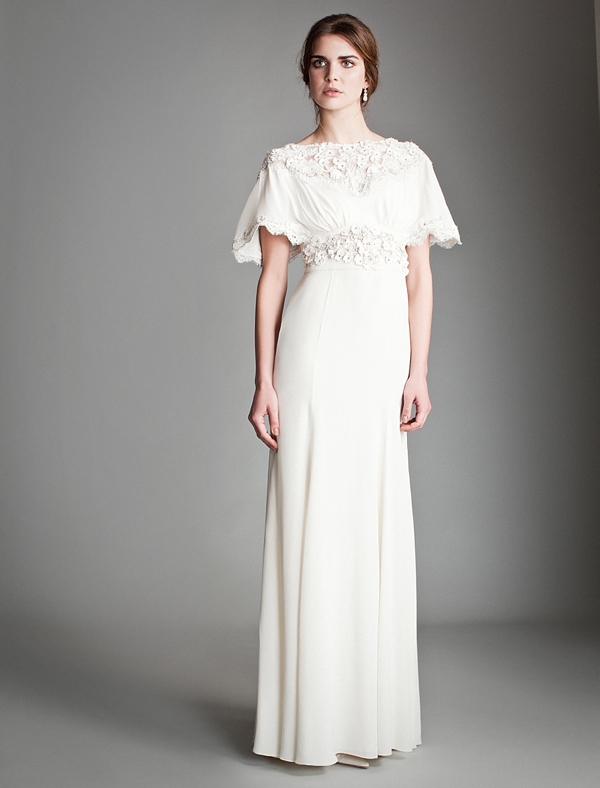 The Peony Dress (above) comprises a fluid silk crepe de chine gown with
fluted sleeve and draped back, with the sweetest of fabric cut flowers and crystal embroidery at waist – just divine.
I've always had a thing for tiered wedding gowns – this particular style of gown peaked in popularity in the 1950s.  The Orchid Dress (below) has been designed using chantilly lace, silk tulle and satin ribbon tiers – I can imagine a bride who favours elegant style practically floating down the aisle in this dress with the prettiest of wild flower bouquets at her side…
The Japonica Dress (below) features a full skirted silk organza gown (lots of swish factor) with a tulle bodice of delicate fabric cut flowers and Swarovski crystals…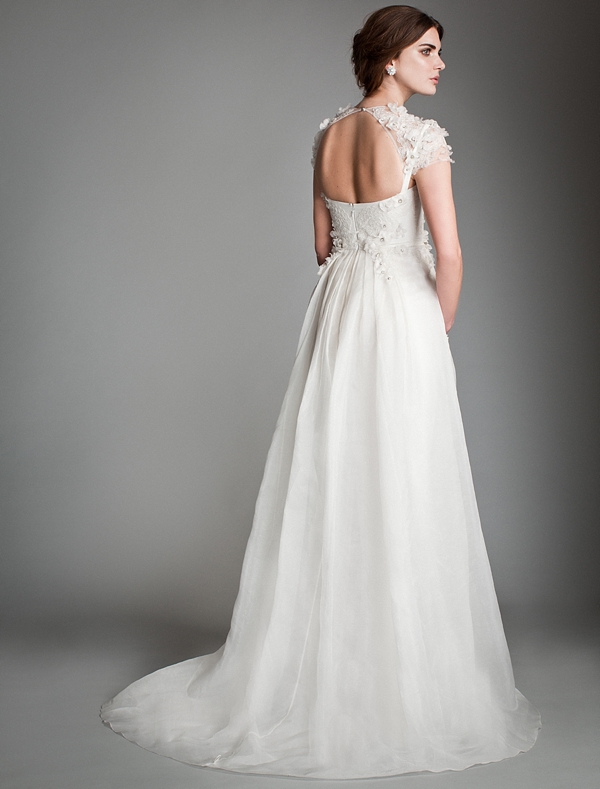 For brides who err to wards a more chic, elegant and fuss-free style gown, take a look at the Fern Dress – a draped satin dress with crystal embellished strap and waist detail and sash tie at back.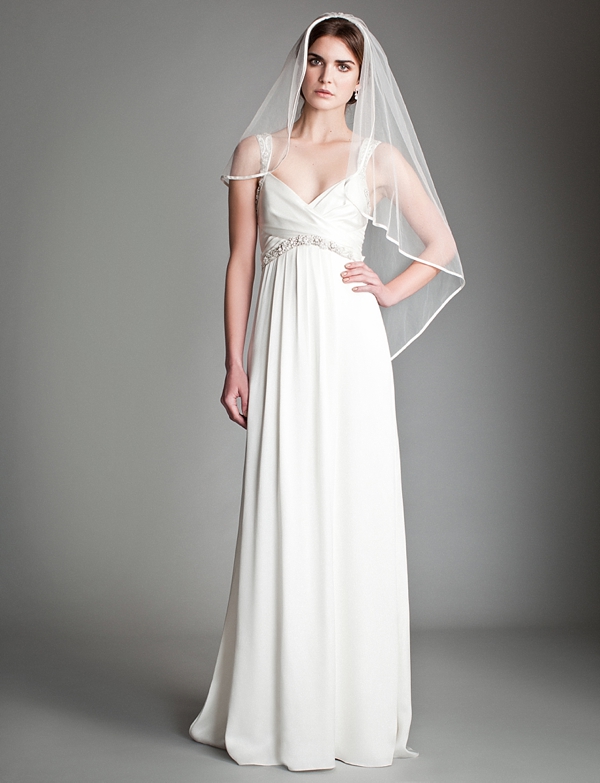 …or even the Lavender Dress – a full skirted structured silk dress with a train and pleated bust detail. The straps and waistband are embellished with crystal and hand folded fabric flowers.
The cowel detail to the back of this gorgeous silk satin gown, the Dorothy Dress, reminds me of the gown worn by Pippa Middleton to the wedding of her Sister to Prince William. Draped fabric done properly in this fashion is incredibly flatering on the more slender figure.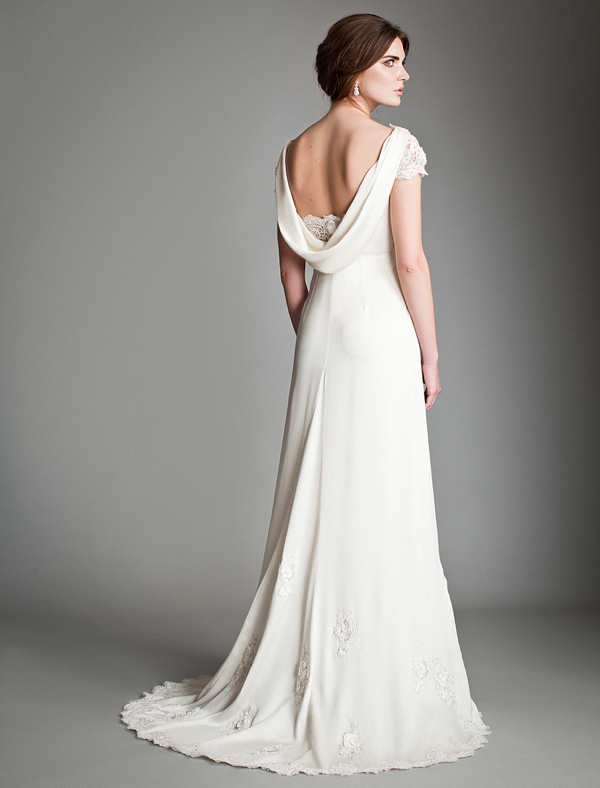 …and the front of the Dorothy dress with a most elegant of veils to accessorise the overall look.
The Crystal Mirage Dress is a strapless, empire line gown featuring draped silk georgette with delicate stitch and tapework embroidery embellished with crystals and bugle beads.  I love how Alice Temperley makes use of crystal adornment on her gowns – not too much to ruin the elegance and be a little too blingy, just enough to add something incredibly special to each design.
You can see brides wearing Temperley gowns on the Love My Dress wedding blog here. 
Temperley Bridal
gowns are priced between £2,950 / $4,120 / €3,410 for the Fern dress
(see above) to £4,500 / $6285 / €5,200 EUR for the Dorothy Dress. 
Couture bridal wear, designed by Alice herself, is also available from
£10,000 / $14600 / €11400.
Bridal Salons are available for private appointments in Temperley boutiques in London, Los Angeles, Dubai and Qatar.
Are there any brides as much in love with these gowns as I am?
From a rather smitten wedding dress blogger,
Annabel