Good afternoon my friends – in this, the 3rd and final post of the day, as promised, we are sharing another simply beautiful set of wedding photographs to inspire you.  These images were submitted by the wonderful Anna Rosell whose work I've long been a big fan of – you can see more of her weddings here on Love My Dress.
Victoria and Alexander Bird tied the knot on 16th September 2012 at Gaynes Park, Epping. The couple didn't have to look for for inspiration when it came to styling their wedding either….

"We met at Cambridge University back in 2002. We were close friends
for many years and then, on a trip to Italy (Rome, Florence, Venice) in
2008, we fell in love. Alex proposed on my birthday in May 2011 on a
beautiful secluded beach in Cornwall during a champagne picnic! We were
engaged for a year and four months before our wedding day, as we wanted a September
wedding. 
Our surname 'Bird', was a an influence when
it came to styling our wedding day – it was a way of bringing the two
families together too as the Father of the Bride is a keen
ornithologist! Alec comes from a farming family and both families are
animal-lovers, so we wanted elements of the natural world in our theme
wherever possible."
Love My Dress Wedding Blog – Photography Copyright (c) 2014, Anna Rosell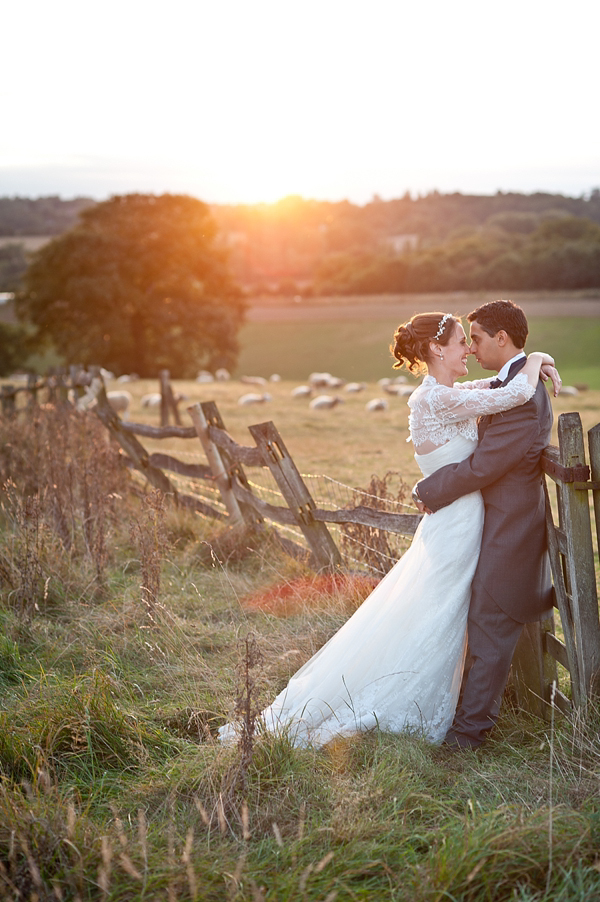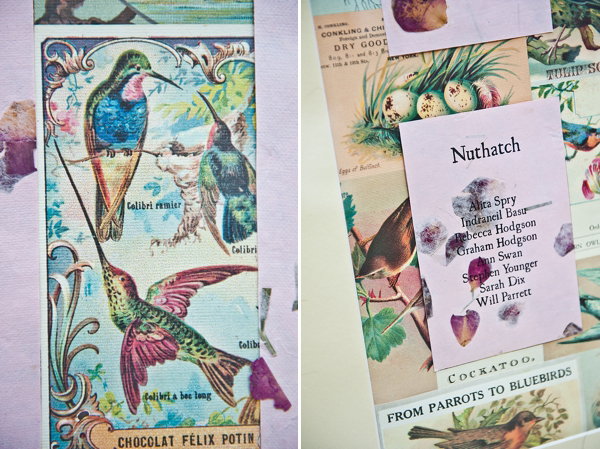 "I made the menus, order of ceremony and table names by using petal paper.  Table plan was created using bird wallpaper from Willow & Stone – we also used this paper to make confetti cones.  Bird ink stamps and postcards from Willow & Stone came in really useful."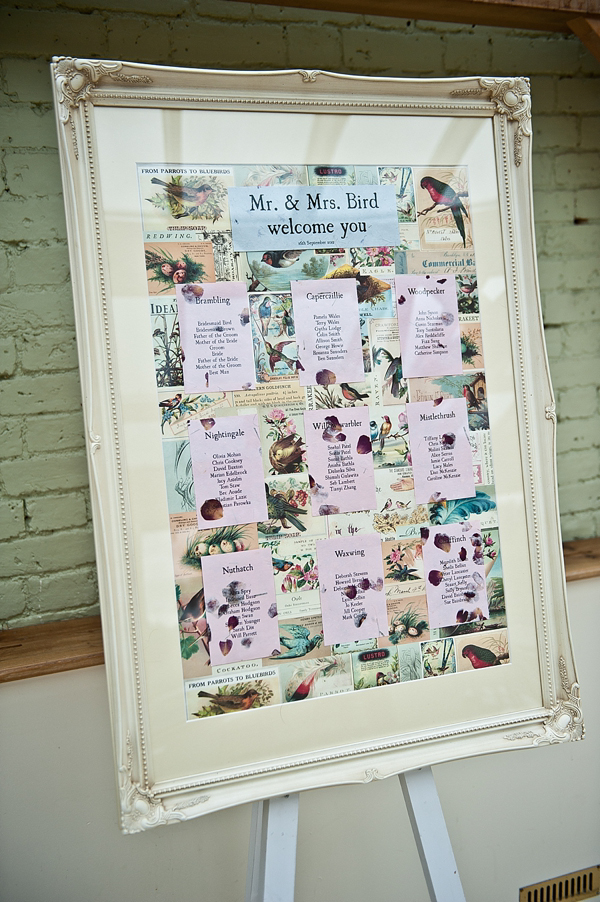 "I wanted to go for a natural look rather than a tiara. It was great to purchase the vine in advance of my hair trial and take it along, so I could see the finished product.
I wore a necklace and earrings from Prive Bridal.
I love pearls, they are very much my style so I felt very comfortable
wearing them. These were a wedding gift from Alec and complemented the
vine beautifully. I wore my mother-in-law's sapphire ring as my
something borrowed and blue. I also wore my grandmothers' rings so they
would be with me on the day."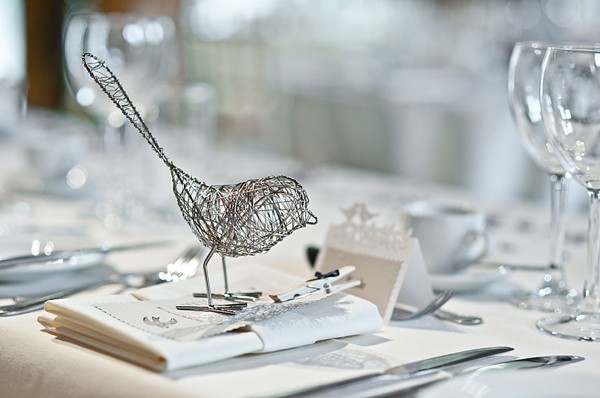 "Marion at Poppies Designer Flowers.
Marion knows everything there is to know about flowers and is a great
laugh! As well as our bouquets, buttonholes etc and flowers around the
venue, she also did flowers for the table centres and to decorate the
cake. When I arrived at the venue, all the flowers were perfect and she
had stayed to give me her best wishes. Just a lovely person. 
We
wanted dusky pink roses, with passion roses and hypericum berries to
give a hint of autumn. The bridesmaids were in midnight blue and we
wanted to pay tribute to the Scottish thistle (mother of the Bride's
family are Scottish) so we added some eringyium.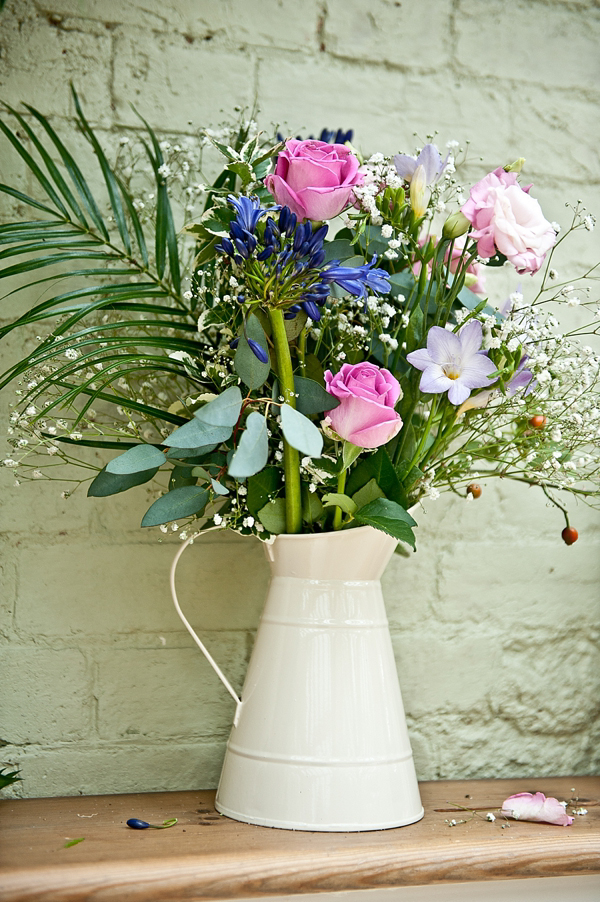 "My dress was a La Sposa Denia design that I purchased from Jenny at Cloud 9 Bridal in Cheam,
Surrey. Jenny was the one who spotted the dress and recommended I try
it on. She ordered extra lace so I could have a custom-made bolero and
opened the shop especially for me on a Sunday. She was fantastic. I
should also mention my seamstress, Peggy at Wainwright Weddings (behind Jenny's shop). She altered my dress beautifully, adding a bustle and made my bolero. 
I
knew I wanted lace, but with a twist. I was sold when I saw the
beautiful train of Spanish lace. The detail over the bust also adds
curves, as I have quite a straight up and down figure!"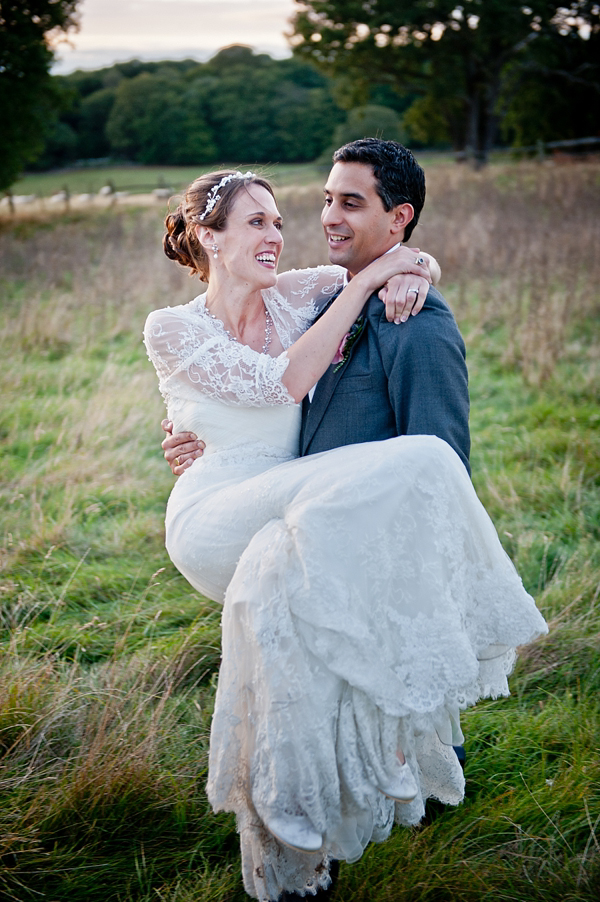 "We used this for photos of everyone at the wedding.
We wrote messages to every different group: family, school friends, uni
friends, the hens, the stags.  It was lovely to see the guests'
reaction to it – everyone told me how much they loved it! We use it as a
notice board now!
www.notonthehighstreet.com/
for ribbon, hangings, floral decorations.  We also used  Marrakech
lanterns for table centres (decorated with flowers by florist), bird cages and mxini-lantern and we made lots of paper roses from the left-over petal paper – it was all really easy and fun to do!"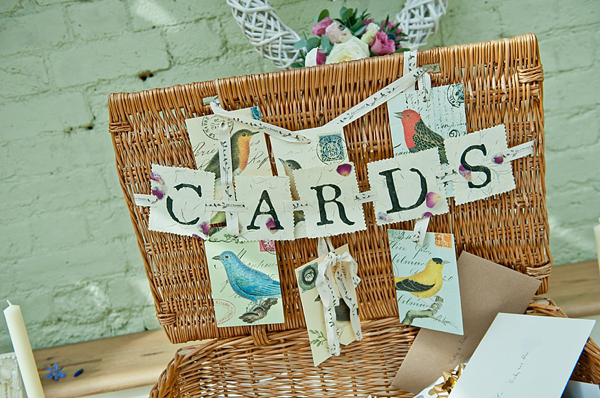 "We live in Cambridge and our families are based in Colchester and
Surrey, so we looked at venues in Essex as a good mid-point.  I had
always wanted an outdoor wedding, but didn't want to risk the weather! I
fell in love with the orangery at Gaynes Park, set in beautiful
gardens. Gaynes won the 2012 Wedding Industry Awards Best Venue
and certainly lived up to expectations – I cannot recommend it highly
enough.
The venue and staff were perfect, with every detail attended to.
We wanted a barn for the reception rather than anything more formal, as
we live in a South Cambridgeshire village and love rural life. We
wanted the tone to be relaxed and friendly. Having the ceremony and
reception in one place was ideal, because we didn't have to take time
traveling from one place to another – the day went too quickly as it
was!"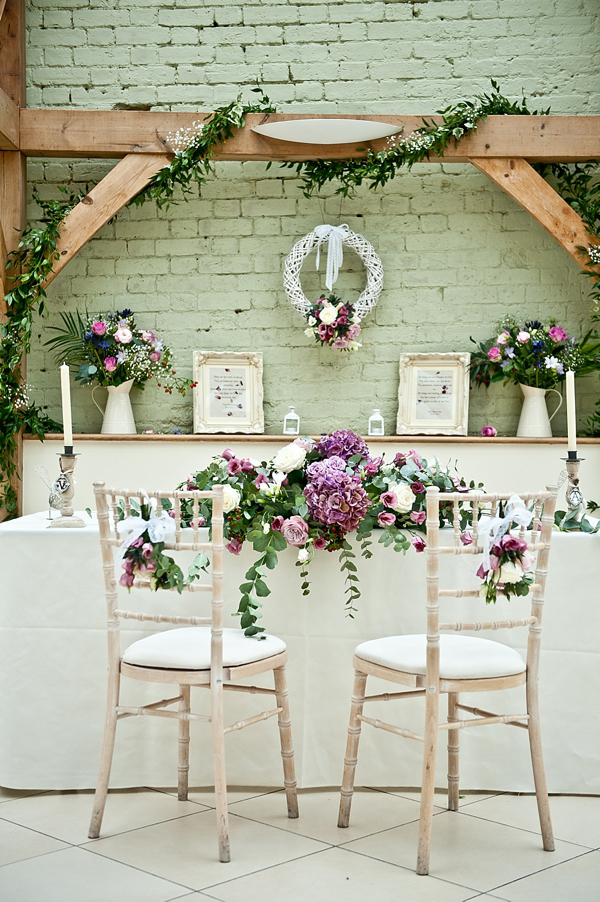 "We provided wildflower seeds as favours. 
We glued midnight blue bows onto clothes pegs and used the pegs to
attach some lace with the instructions and the seed for each place.  We
also had a pack of cards (exotic birds) on each table."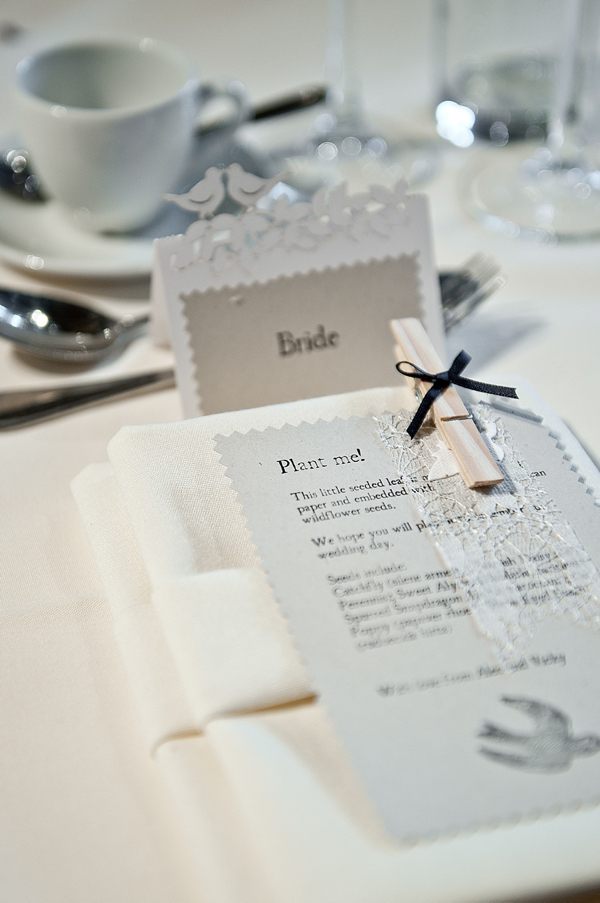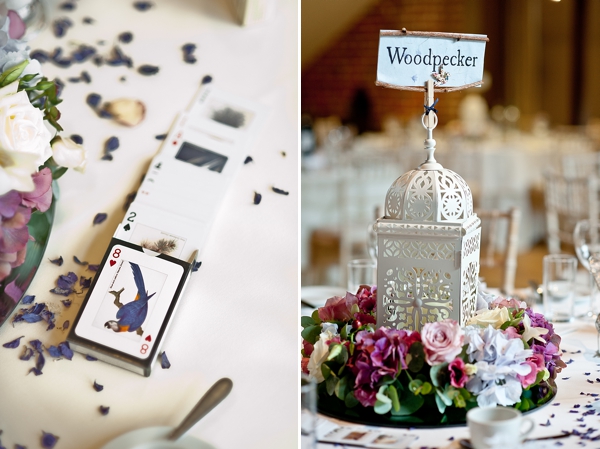 "Our photographer, Anna Rosell
was fantastic from start to finish. She waded across a muddy farm for
our engagement shoot and did a fabulous job on the day, ensuring we had
lasting memories of the day and capturing a beautiful sunset. We
couldn't be happier with our photos, they tell of the warmth and love of
the day."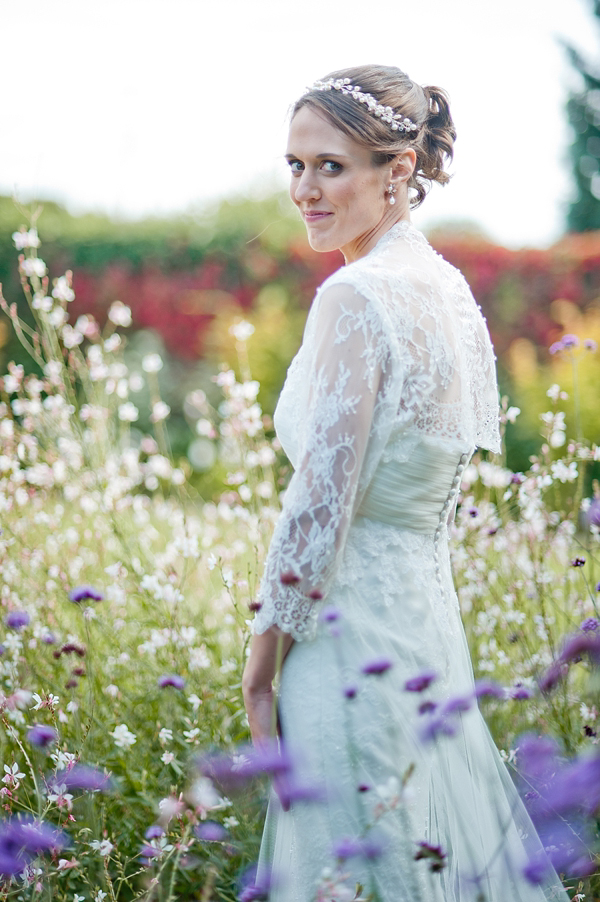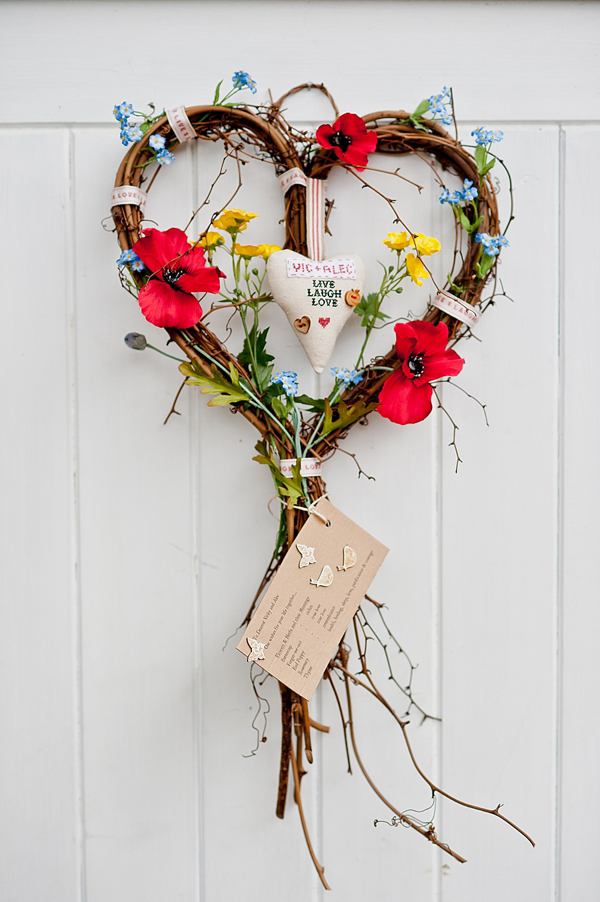 "My shoes were the BHS Queenie Embroidered Ballerina Wedding Shoe
(no longer available) I wanted flat shoes as Alec and I are the same
height! Every bride has to decide where to spend money and I'm not that
into shoes, so I could economise here!"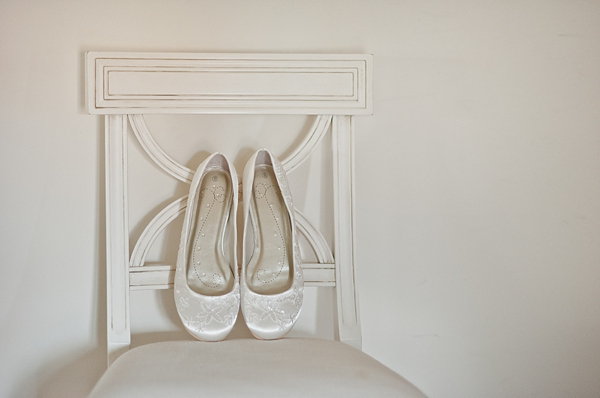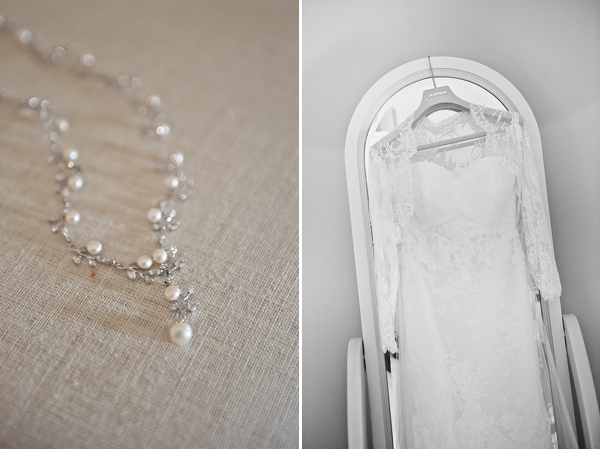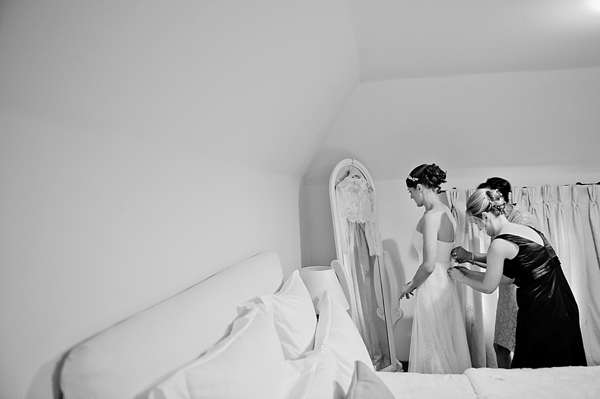 "Patsy from Beauty Call
was my hair and makeup artist.  She was very knowledgeable and patient
with my constantly changing ideas about hair styles! I had bought
extensions and we trialled a look with lots of cascading hair but in the
end, I decided it just wasn't me. The hairstyle I had on the day was
completely different to everything we trialled, but I was really happy
with the end result and felt so comfortable."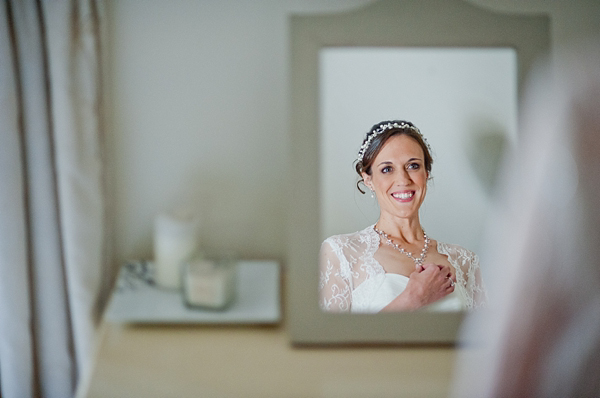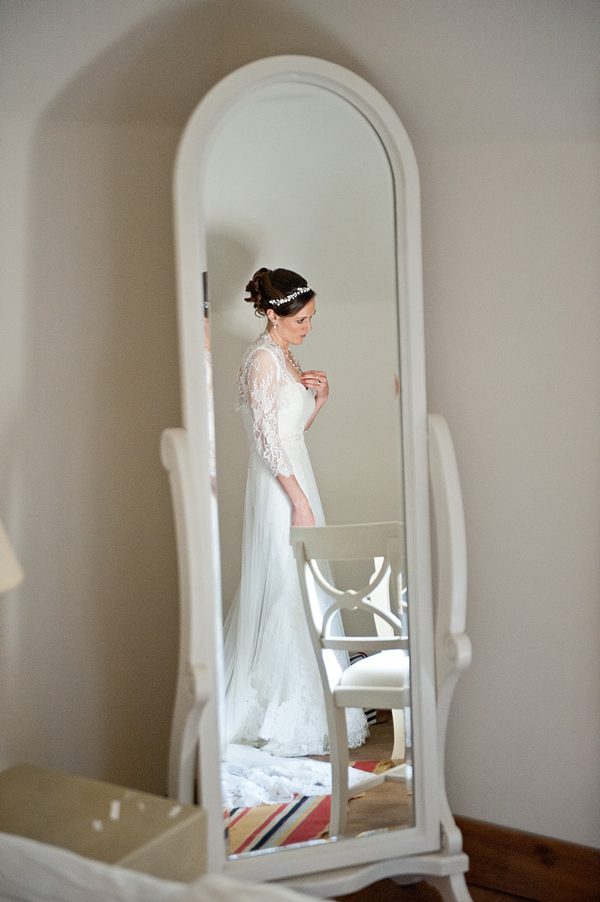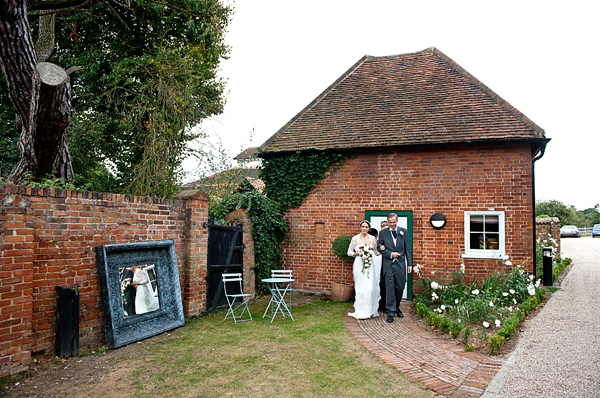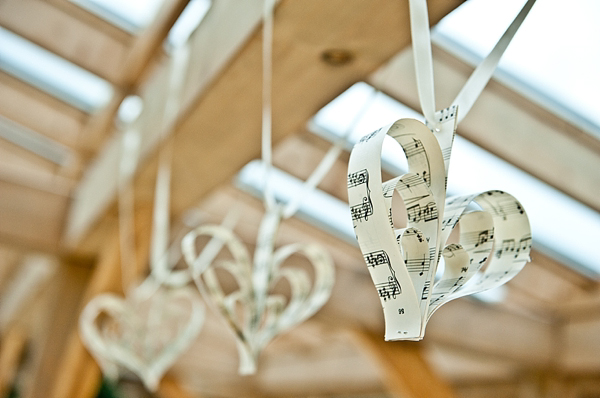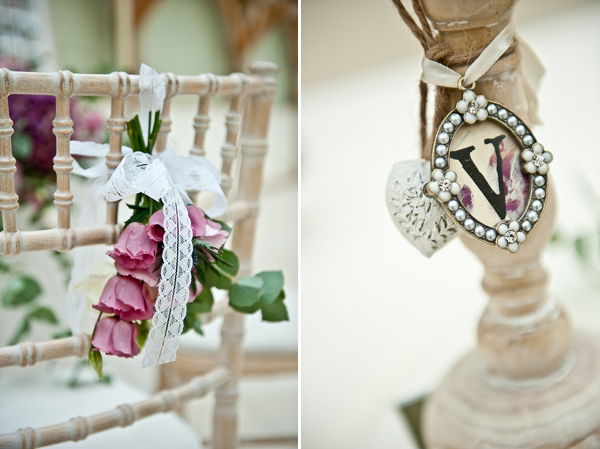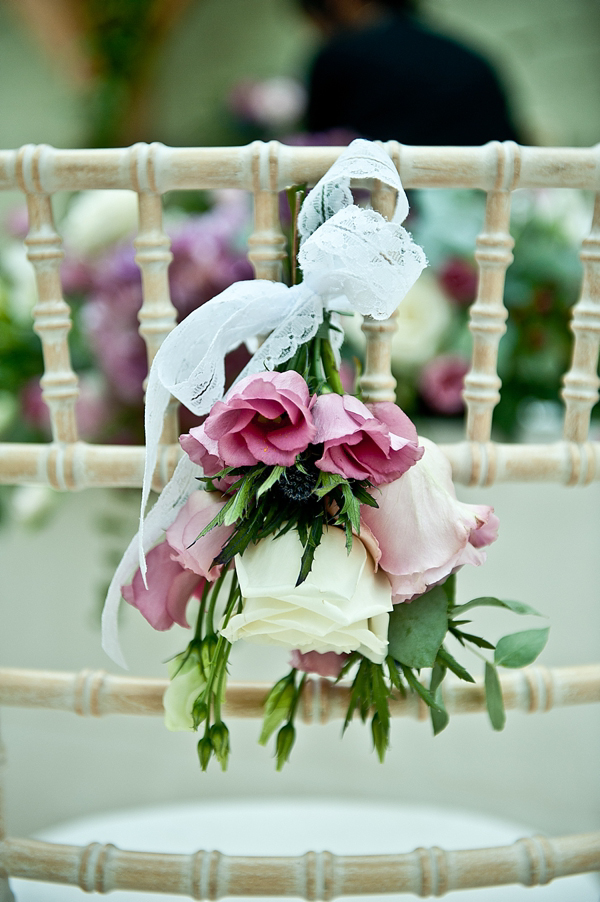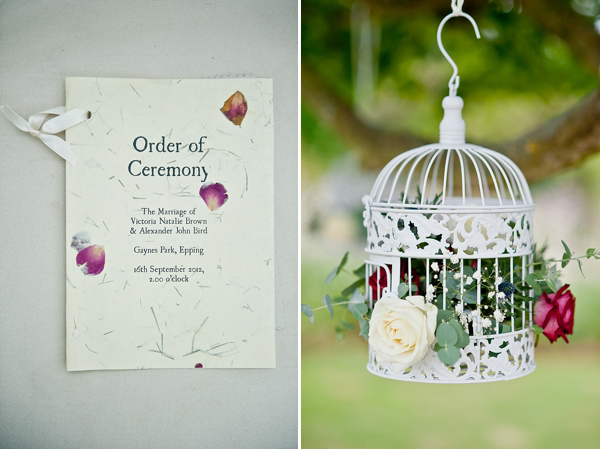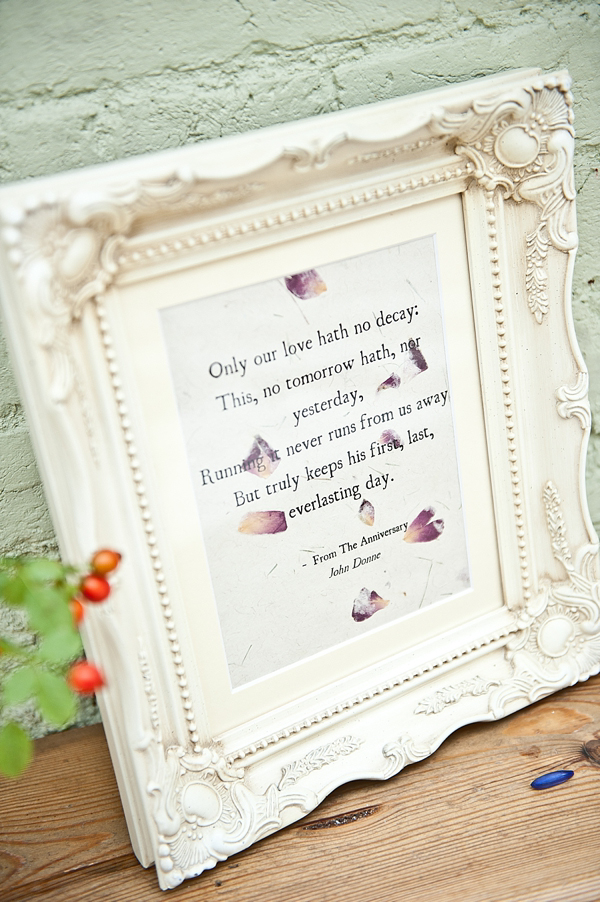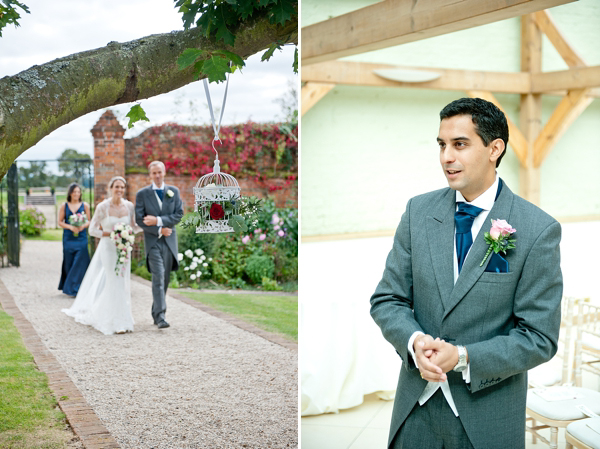 "My dad gave me away – our wedding day was his birthday!  He
walked me down the aisle to the sound of Gabriel's Oboe from The Mission
by Ennio Morricone. It was one of my grandmother's favourite pieces and
a great way to remember her on the day."
"We didn't
tailor our vows, but we did have some variations to choose between,
supplied by the registrar.  I found "I Will Be Here" by Steven Curtis
Chapman and we both just loved it. Because of the voice of the poem, it
really had to be read by Alec. He asked if I would read a poem too, so
we chose the more traditional Philip Sidney's "The Bargain" to contrast
with the modern poem. Guests said we were quite brave to read ourselves,
but it meant so much to each of us. I was worried about being too
emotional, but I was fine and I'm so glad we did it."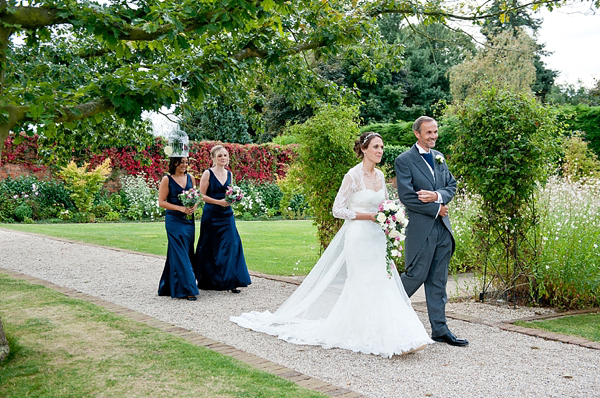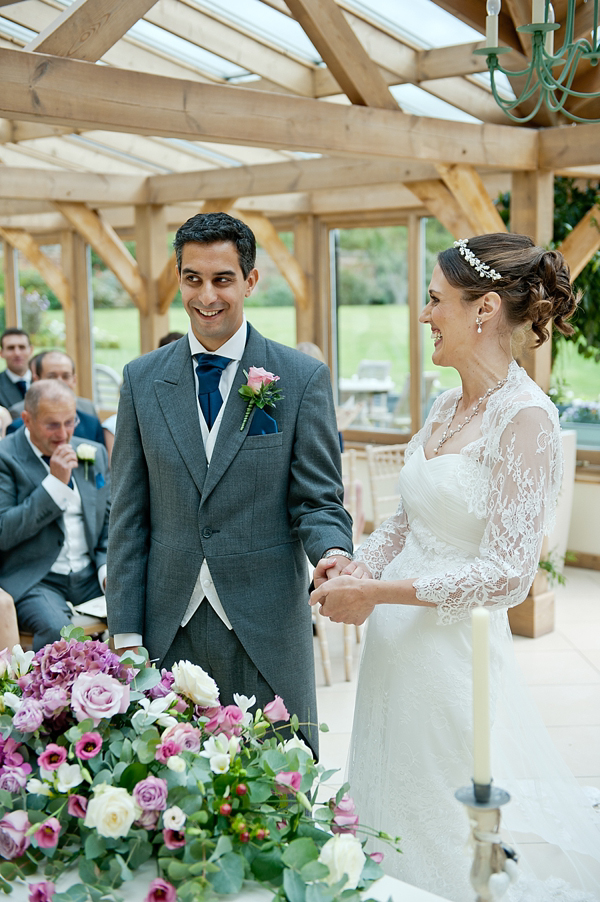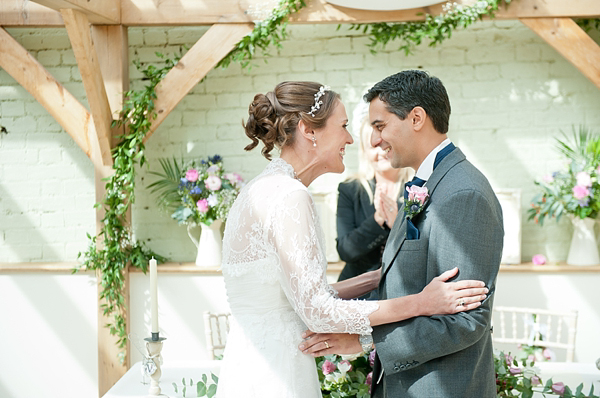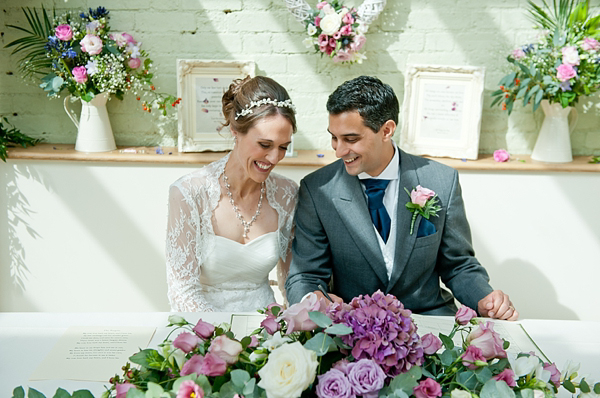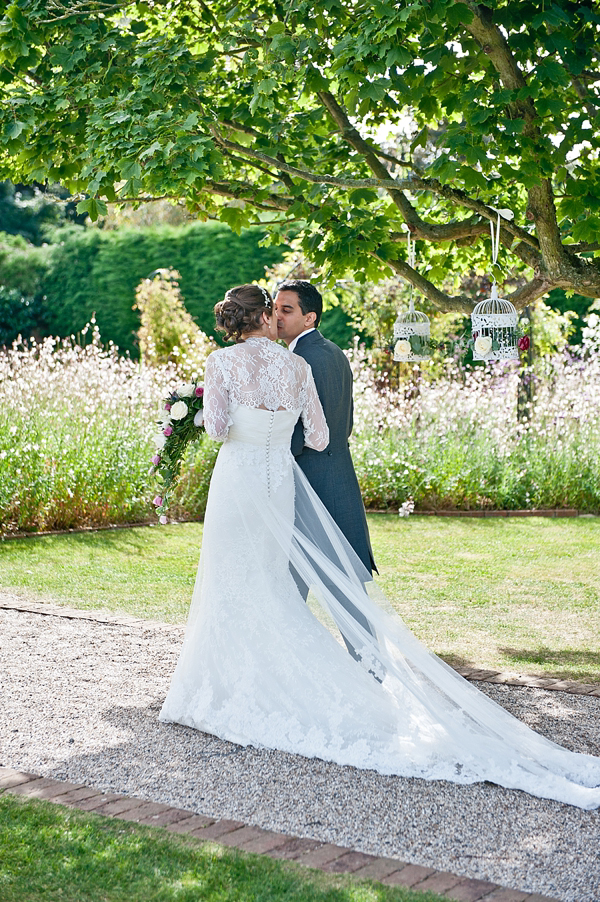 "Our sisters were our bridesmaids and each have very different
colouring – dark blue was a common ground and they both looked so
beautiful in their midnight blue Dessy dresses.  We bought the dresses from The Tailor's Cat in Cambridge."
"We bought the bridesmaids a sapphire pendant each in a box (and here), engraved with our sisters' names and: 'Our sister, bridesmaid and friend, With love on our wedding day, Alec & Vicky'"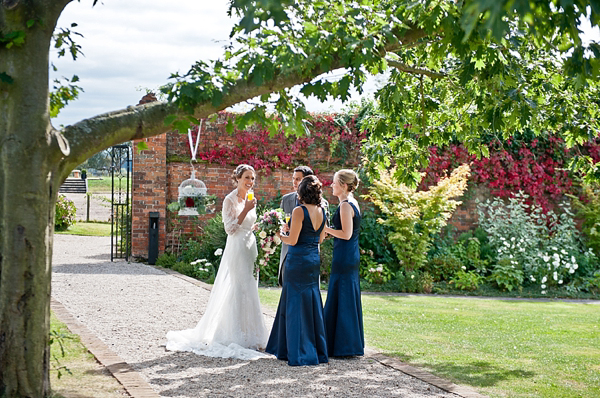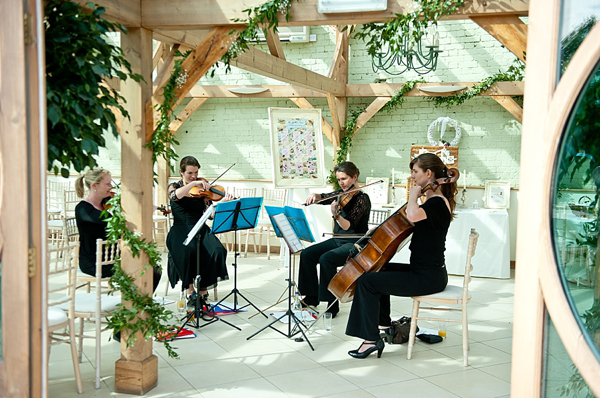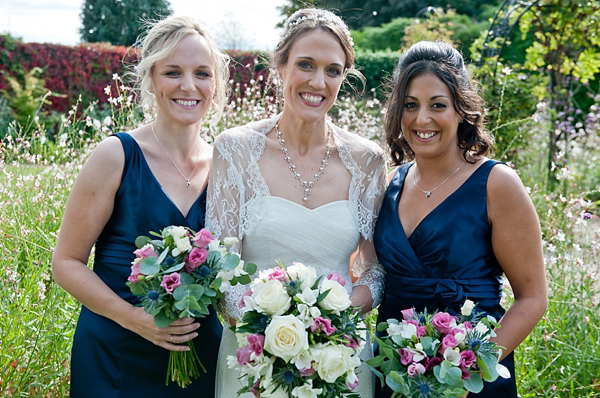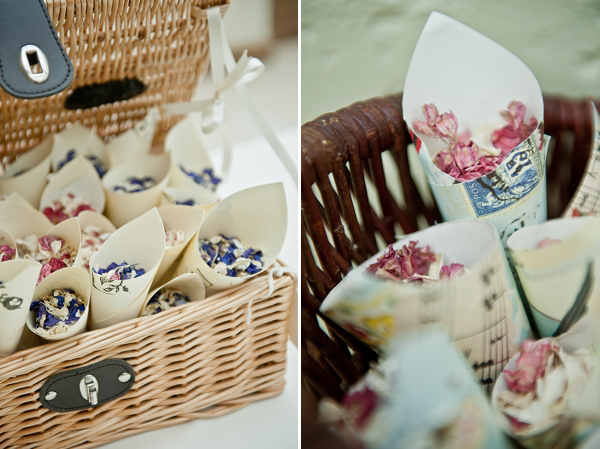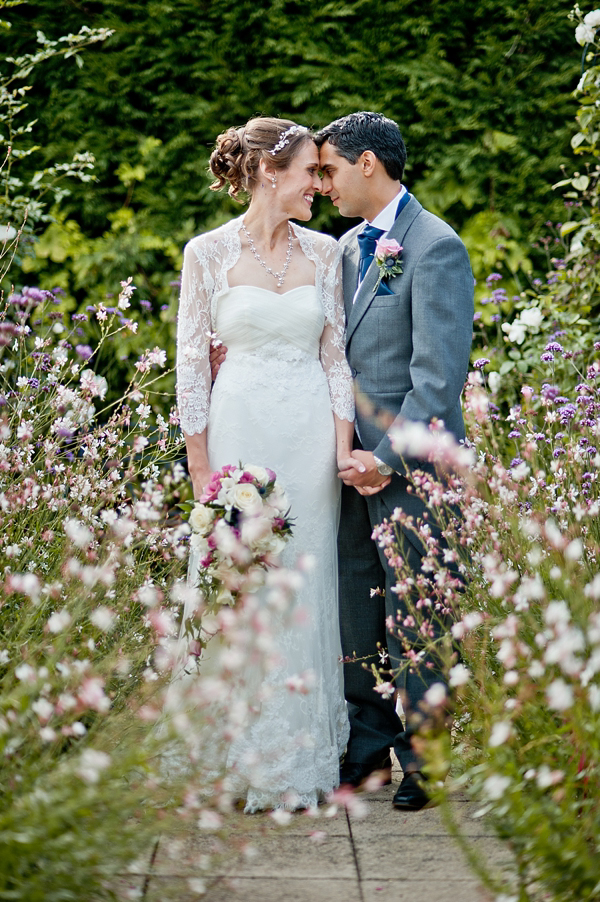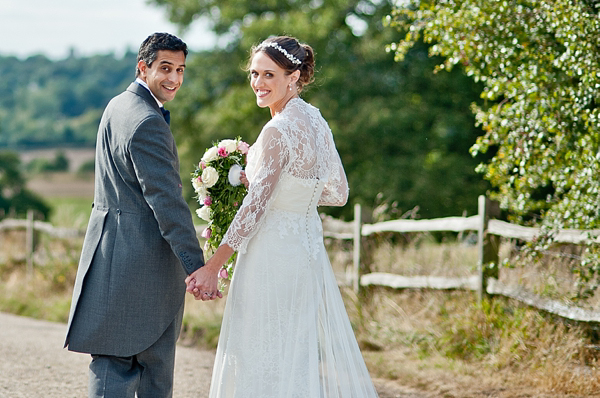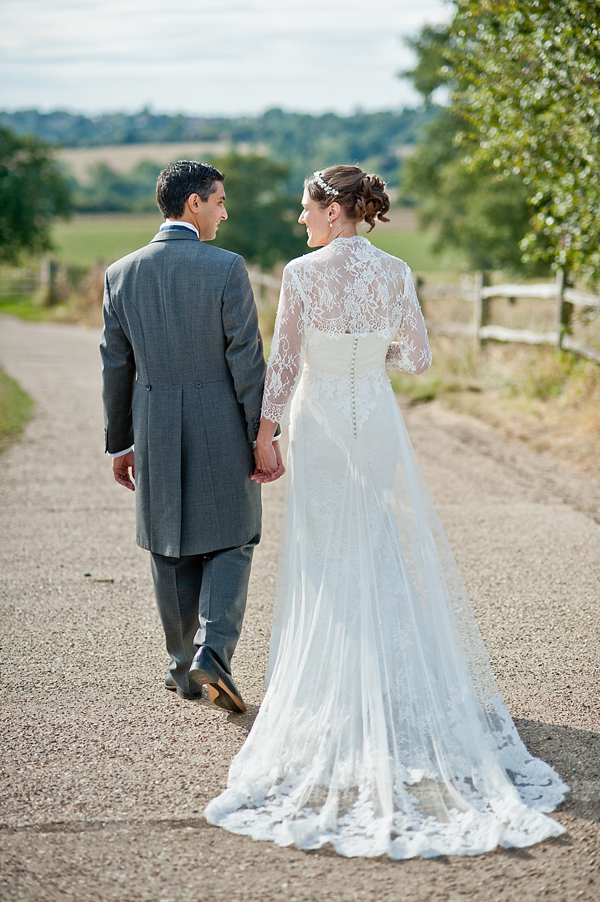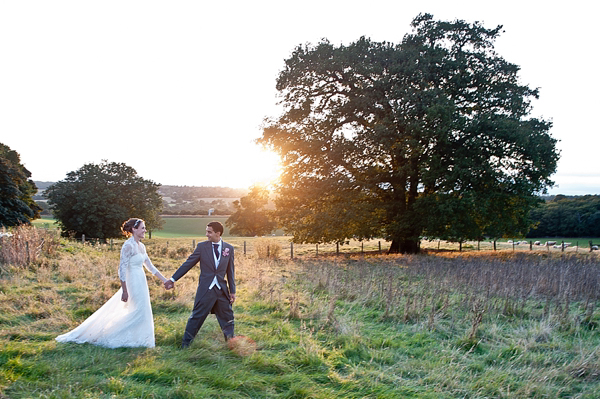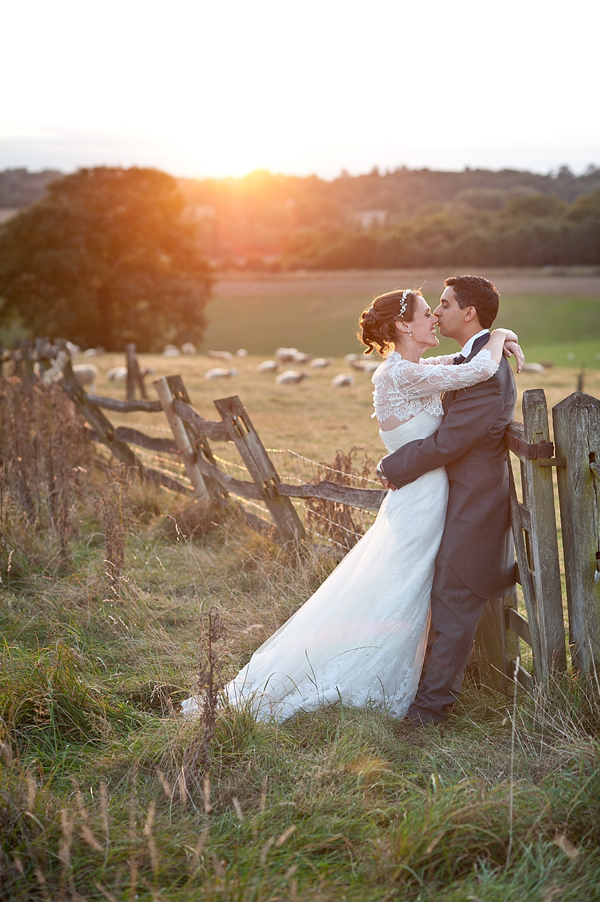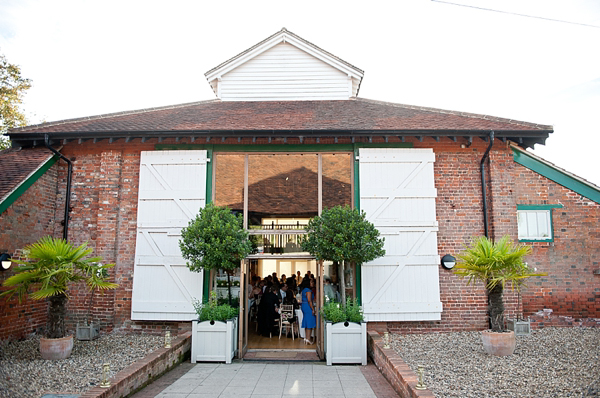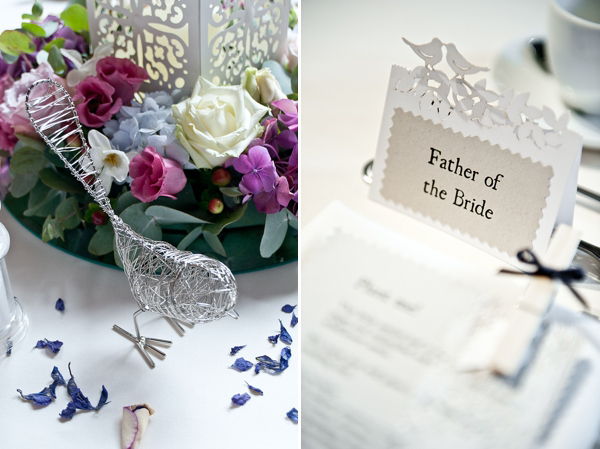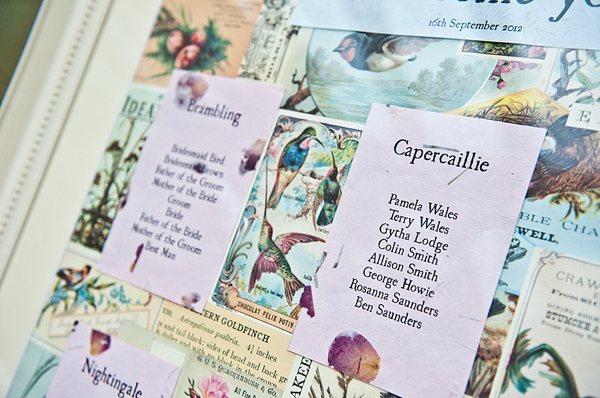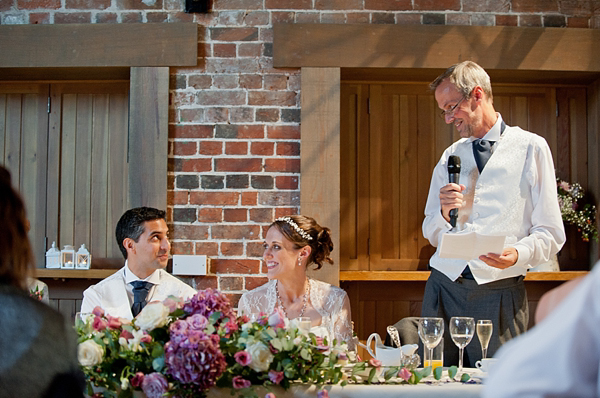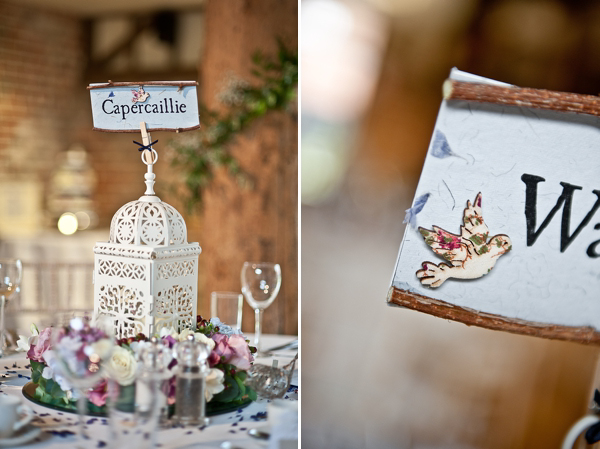 "We were quite shocked by the cost of wedding cakes! We went for an M&S basic cake (which was delicious!) and Marion from Poppies
decorated in between the tiers with flowers. We had a mixture of sponge
and fruit, which turned out to be a popular move! We found some bird
cake toppers online that we both loved, but they were over £100 so a
friend of mine made them for me using Fimo! I love them and have them in
a frame in our house now!"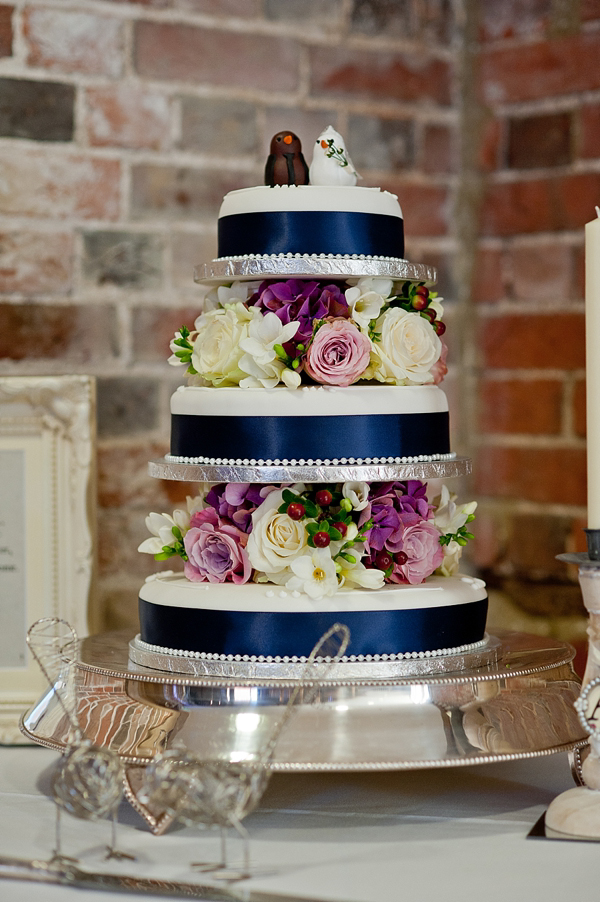 Words of Wedded Wisdom…
"Enjoy the whole process. Don't buy into the stressful bridezilla
myth, just keep it about both of you and keep things calm and happy.
Make things – the most enjoyable parts of the planning for me was making
the stationery and confetti cones with my family round the table,
laughing all the while.
Get friends and family involved, even if the final say-so is
yours! We used an online pinboard where everyone could pin ideas. Make
sure your guests feel involved too – people spent lots of time on the
day at our photo board because it was about them and showed how they
were connected to us and that they were important to us."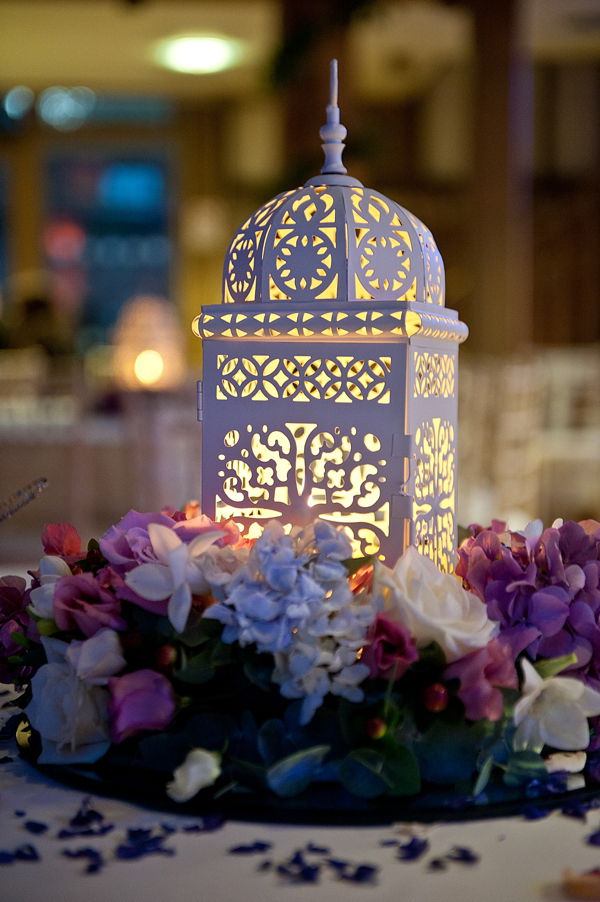 "Don't get tempted to splurge on everything – decide where you
want to spend and try to make savings in other areas. Buy things you can
use in your house (for us, the notice board, lanterns and bird c
Wedding day – everyone may tell you the time flies, but you don't
really understand how quickly! Pause a few times in the day and take a
mental "snapshot". Listen to the photographer! On the day, it can feel
strange to leave your guests and wander off to take photos, but we are
so glad we have them now! Also, forget the details. By the time the day
arrives, you have done all you can. If something is not in the perfect
place, the Bride is probably the only one who will notice, so just
enjoy. Everyone will have a better time if you are happy and relaxed!
Also, I visited Love My Dress in the run up to my wedding – I love the vintage feel, great layout and tons of ideas."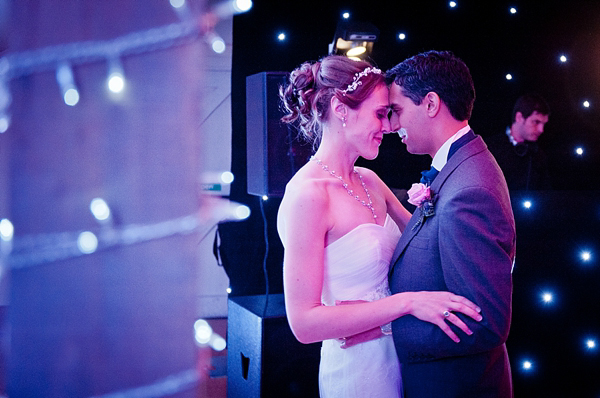 "We chose "Fields of Gold" by Sting as our first dance, as it's
about the passion and excitement of the day, but also about walking
through life together. We spend many happy hours walking our dog Monty
through the fields of Cambridgeshire, so it seemed apt! Now looking back
at Anna's sunset photo over the golden fields, it seems even more like
the perfect choice!
An old school friend's string quartet – The Dovetail Quartet
– played before the ceremony and during the drinks reception:  They had
an extensive repertoire and played all our requests, including "My
Father's Favourite" by Patrick Doyle, for my Dad."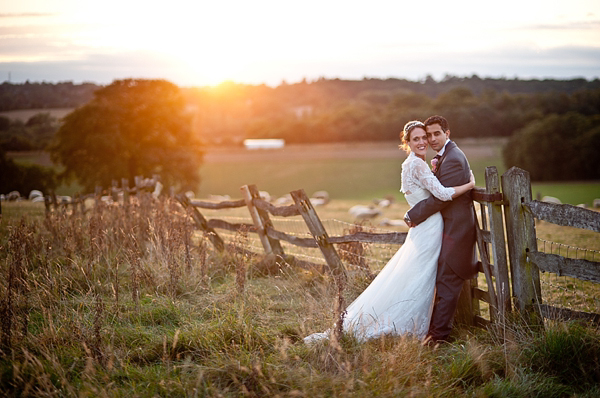 What a pretty day! A really sweet affair to inspire any bride with a penchant for a spot of DIY too 😉 (talking of which, have you seen our latest DIY tutorial published last week?).
Huge thanks Anna Rosell for sharing this most pretty of days with us today.
Readers, please take time to leave a lovely comment to reflect your appreciation to bride Victoria for sharing all this information, as well as photographer Anna Rosell.
With much love,
Annabel

Photographer – Anna Rosell
Venue + Catering – Gaynes Park, Epping
Wedding Dress – La Sposa Denia via Cloud 9 Bridal in Cheam with alterations by Wainwright Weddings
Veil/Headpiece – 12" Ivory Flower Pearl & Silver Hair Vine via Ebay
Brides' shoes – BHS Queenie Embroidered Ballerina Wedding Shoe
Grooms Suit – Moss Bros Hire + engraved pocket watch
Bridesmaids – Dessy dresses  via The Tailor's Cat in Cambridge
Flowers – Poppies Designer Flowers
Cake – M&S Extra large (fruit), Large (sponge), Medium (sponge)
Favours – wildflower seeds
Hair and make-up Artist – Patsy O'Reilly from Beauty Call
Stationery – Wedding Invitations + Place cards
Entertainment – The Dovetail Quartet