Good morning beautiful people.  Welcome to a wonderful new week full of wedding inspiration, and do please say hello to wedding photographer Jordanna Marston and her husband Dave.  Jordanna, who's work has featured on Love My Dress several times, tied the knot with Dave on 19th December last year. I love how their wedding day was full of pretty 1960's inspired accents and I adore the intimacy of these wedding photographs taken by Anna Hardy – they seem to capture so many lovely little moments between the couple and their close knit family.
This intimate wedding ceremony, which involved only 21 guests, took place at The Electric Cinema in Birmingham…
"Birmingham
will always have a place in my heart – it's where I went to university
and worked for five years – I love the place.  I have also always liked the 1960's – the big eye make up, hair and short hemlines."
Love My Dress Wedding Blog – Photography Copyright (c) 2013, Anna Hardy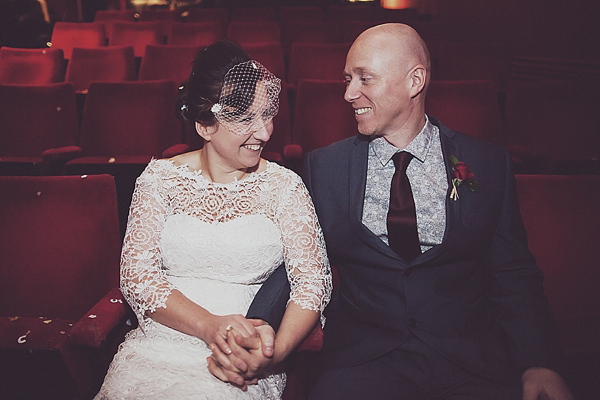 "We met in prison. Seriously, we did! I was teaching English and
Art and Dave was managing the gym – we became friends until one
Halloween night we went out on a date. He proposed to me ages later –
but I have to say – it was worth the wait. He proposed in my
grandfather's home town in Italy on a bridge over a river where young
lovers' hang lockets and throw the keys into the river to symbolise
their unending love – Italians passionate sorts!"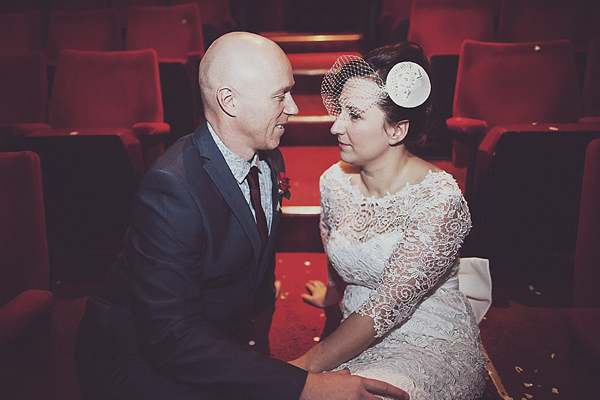 "Anyway, Dave and I may
be the world's least mushy couple so when he said he'd bought a locket
to hang on the bridge I laughed and told him to sod off. He dragged me
over and said, that he had a ring for me instead and then asked me to
marry him. Now I'd like to say I played it cool, but I squealed 'Oh MY
GOD, Yesssssss, Thank you!', before throwing my arms around him and
almost knocking my beautiful Alex Monroe ring – and him – into the
river!"
"My lovely friend Emily Campbell of Manic Botanic, Northampton made my bouquet. I knew I wanted chamomile to evoke a 60s daisy look (except daisies don't grow in winter) and cabbages. My Italian Grandfather
was very dear to me and he used to plant veg everywhere including my
grandmother's grave(!) so I wanted them for a nod to those two. Other
than that I just told Emily to go wild, and that she did!I got married with, this time, my English grandmother's
ring.
We organised the wedding really quickly and so didn't get round to
sorting rings out officially. But I LOVED the idea of using the ring my
grandad had married my nan with and so we used that. I did fear that
Dave would turn up with a Haribo ring as a daft joke but he had bought
himself a silver one just to do the deed with."
"I wore a vintage silk beaded headpiece and birdcage veil from The Wedding Parlour."
"I
designed my wedding dress. I chose a funky – almost crochet- lace which
had a daisy pattern hemline to tie into the loose 1960s theme for my
look.
Last year I photographed lovely Ellie who had her gorgeous dress
made by local seamstress, Caroline Parker – so I knew right away who I
would ask to make my sketchy drawing come to life."
"My shoes were the craziest ones I could find from my favourite shop, BHLDN."
"My bridesmaids wore River Island dresses – bargain!! I didn't
want a single thing about my day to be formal and as my bridesmaids were
so young and gorgeous I knew they'd be able to carry off something fun.
My step-daughter Holly wore Rocket Dog Ox blood wedges and my cousin Fiona wore Ox blood
court shoes- both a total bargain from New
Look."
"I got the wonderful Alice Gabb, illustrator and print maker to
sort out our cute little wedding invites. And the rest of the stationary
was made between myself, mum, my illustrator brother Joe and my friend,
Melissa Love – designer extraordinaire!" 

"My beautiful, I hope, sister in law to be, Ottalei made my
cake and Holly made the toppers. Awesome huh?! It was an ombre cake
once cut and was totally scrummy. I assure you it got destroyed later
into the evening!"
"Me and my mum made pom poms, hessian and vintage floral fabric
table runners, a cool fingerprint guest book of my house designed by my
brother Joe, an old typewriter, heart punched confetti made from old
Mills & Boon books, jars and old milk bottles filled with straws and
flowers and old photo frames with photos of our married guests and us
as kids in them."
"Our photographer was Anna Hardy – Anna is a real inspiration to me – being a photographer myself,
and a total legend! She is as lovely as her work and so laid back to be
around which was really important as the rest of the day was so
chilled."
"My wonderful Daddy gave me away, we walked down the aisle to
L.O.V.E by Nat King Cole – we wanted to keep things upbeat and funky!
And we walked out to Stevie Wonder For Once in My Life. During the
ceremony it got even funkier with Alone Again by the awesome band Love
and I Can't Go For That by Hall and Oates…gotta love a bit of cheese! – I
think at this point everyone had a smile on their faces which was the
whole aim….just to have a laugh, oh and get married too! ☺"
"I had a really chilled out, laugh filled day just as I planned but I
could not have known how crippled with nerves I would have been when
the cinema door swung open and I entered the wedding room. In hindsight I
would have taken a deep breath and my time walking down the aisle,
smiled at parents, maybe gave a cheeky wave…as opposed to dragging my
poor dad so fast, in a total daze, hyper ventilating once I met Dave on
the stage. Whoops! That wasn't meant to happen!!
I would have liked the
time to compose myself to take everything in more. Thankfully I had Anna
and Mark to document everything and I'll never regret having both a top
notch photographer and brill video guy there."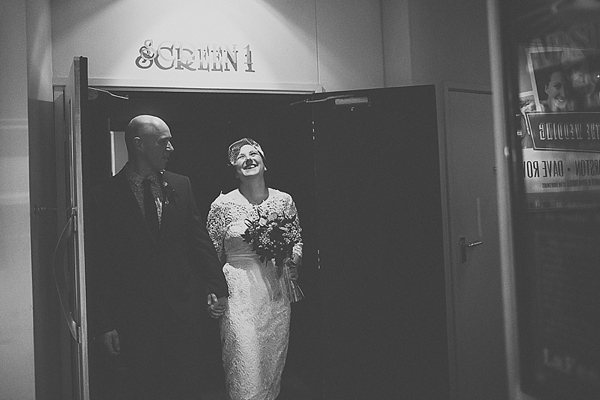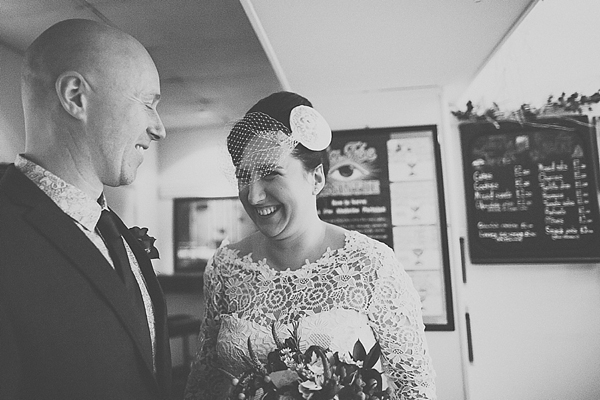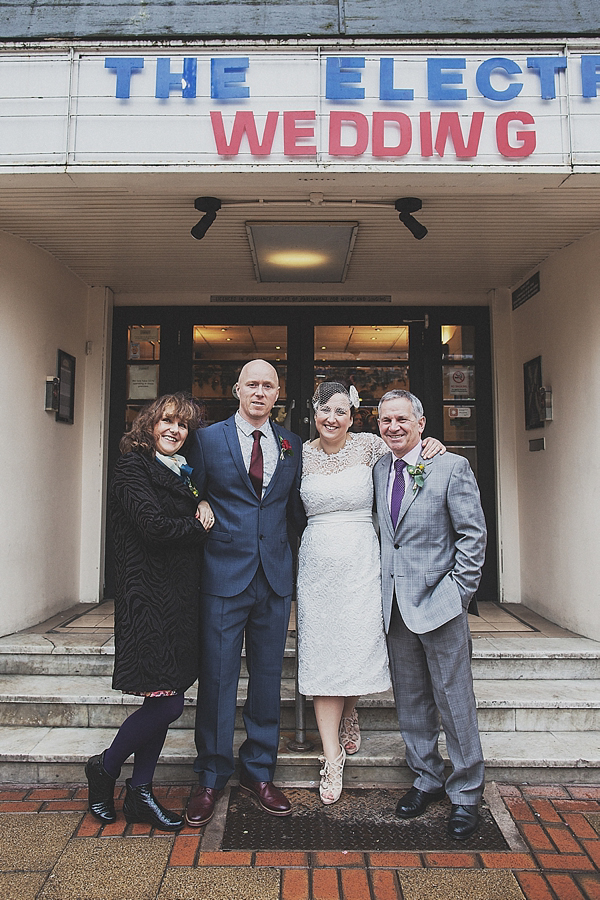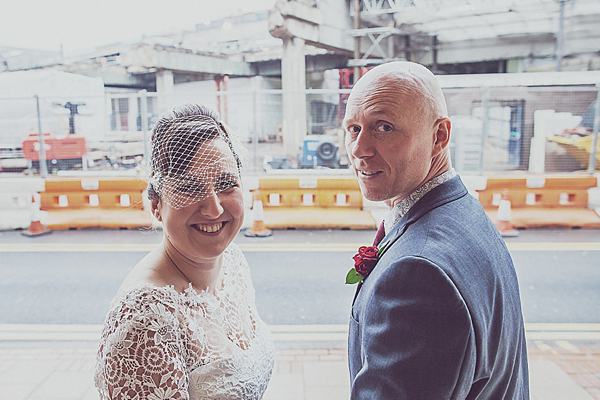 "For the evening, my good friend, Amy Lewin joined us for the
party and took over where Anna left off. Again lovely girl and I felt
totally relaxed in her company."
Here are some of the photographs that Amy took on the evening… 
Image Credits: Amy Lewin
Words of Wedded Wisdom…
"Take your
time to breathe it all in. It'll go by in a flash. I was literally so
nervous during the vows that I remember feeling like I was on another
planet. I wish I had composed myself a little and actually been able to
have heard what was going on!
I also made a
film to be played during the signing of the register – helped by an old
school friend and my designer, Melissa Love. The slides told our story
through one liners and fun clips from films. For example, 'How could she
resist his manly prowess?!' to a clip of the dodgy stuntman in Hot Rod
trying to impress his girlfriend. All the guests, cinema staff and Anna
were laughing. I hope they will all say they have never been to a
wedding where they have laughed so much.
We didn't have a first dance but if we would have it would have been Bootsy Collins, I'd Rather Be With You – F.U.N.K.Y!! ☺"
"As there was just us and 21 guests – including 7
children – after the meal on the boat we were a bit limited to what we
could do so we hired the most pimping suite in the gorgeous Hotel Du Vin
and had a party in the room. Seriously awesome hotel and felt like such
a treat! There was a gym in the room for goodness sake – not that we
used it mind!"
Thank you so much Jordanna for letting me share your fabulous wedding photographs with our readers. You look absolutely knock-out and I adore the intimate, fun, family nature of your special day.
Huge thanks to Anna Hardy too for allowing her work to be fetaured on Love My Dress.
You can see more from both Anna Hardy and Jordanna Marston on Love My Dress, you might also want to explore more of our 1960's and short wedding dress pages.
Have a lovely morning everyone,
Annabel
Photographer – Anna Hardy
Venue – The Electric Cinema in Birmingham
Wedding Dress – local seamstress, Caroline Parker
Veil/Headpiece – The Wedding Parlour
Brides Shoes – BHLDN
Grooms Suit – Paul Smith + red brogues from Next
Bridesmaids – River Island
Flowers – Manic Botanic
Cake – Family member
Favours – Jam
Catering – Away2Dine, canal boat cruising restaurant in Birmingham
Hair and make-up Artist – Lyndsey Le Keux at Le Keux, Vintage Salon
Film/Video – www.ourweddingthemovie.com