Our new sponsor Assassynation is no stranger to the virtual pages of Love My Dress. We've featured countless weddings shot by this talented photographer. In fact, I'm such a fan of Sassy's work, I even recommended her to my recently engaged, and incredibly stylish, friend Kat. I can't wait to see those photos, that's for sure!
Sassy is a friendly soul so I'll let her do most of the talking…
All Photography on this page Copyright (c) 2013, Assassynation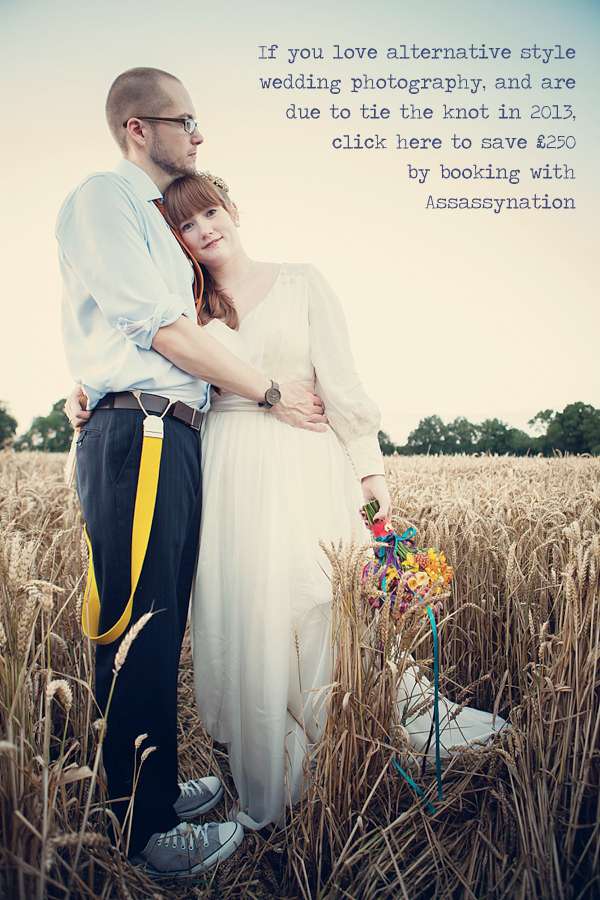 'Hey there, I'm Sassy from Assassynation. I am a little travelling picture taker. I specialise in weddings. I don't do weddings because what I really want to photograph doesn't pay the bills. I am not waiting to get into another genre. Nope, I shoot weddings because I totally and utterly love them.' 
'I am based in the deepest, darkest Cotswolds. Well actually not really the deepest, darkest Cotswolds but on the borders of Oxfordshire and Gloucestershire. Not that I am here that often! I travel anywhere in the world and last year I was lucky enough to shoot weddings in Monte Carlo, Miami and Verona as well as weddings throughout the UK.'
'I started out wanting to help my lovely best friend Vikki get a website going in 2009. This led me to take some photos for the site which renewed a passion for art. I then (quite quickly) started shooting weddings and haven't stopped since.'
'Weddings are the one day in your life where (usually) all the most important people in both of the couples lives get together in one place to celebrate. Weddings are full of happiness, love and (the ones that I tend to shoot) fun. I love hearing all the planning details from my excited couples and I LOVE when I turn up on the day and am received like a member of the family. I love that feeling when I leave a wedding on a high and I love the fact that every wedding I shoot reminds me of how beautiful life actually is (not like the gloomy news).'
'My couples inspire me, I have been lucky enough to photograph some really amazing and totally unique weddings and they inspire me to make sure that their wedding photography is as unique and creative as they are.'
'I'd describe my signature style as fun and colourful with strong composition. I always want to show how much fun the day was. I love the dancing shots in the evening when everyone lets their hair down. I love colour so I always want to keep the colours in and for the couple shots particularly I am always looking for an image that draws people in with the composition as much as the subject.'
Sassy's prices start at £1360 plus reasonable travel costs (when the distance is more than 50 miles each way) for 7 hours coverage. This includes the edited high resolution images on disc in both glorious colour and arty black and white.
If you've fallen in love with the beautiful photographs in this feature you might be interested to know that Sassy is offering Love My Dress readers getting married this year a £250 discount. Alternatively, if you've a little longer to wait for your big day, you'll receive £150 off any booking made before the end of 2013.
You can browse more of Sassy's work on her website, but don't forget to take a peek at her facebook page as that's where she posts her most recent work first. She's nice and friendly on twitter too.
Remember to click here to find out how you can save a good chunk of your wedding budget by booking Sassy for your wedding photography.
Much love,
Franky