Hey there Tuesday, how are you? Please be kind to everyone I know today, and let all those visiting Love My Dress to seek inspiration have a lovely day.  And good morning Harriet and Tom – you are both looking wonderful today. I am so happy that I get to share your adorable wedding photographs with our readers.
Harriet and Tom's wedding took place on Friday 12th April 2013 at St. Botolphs Church in Newbold-on-Avon, Warwickshire, followed by a reception at Rothley Court in Leicestershire.  Photographer Richard Skins submitted these images on behalf of the couple but especially Harriet, who by all accounts spent many an hour perusing these pages herself when she was planning her wedding…
"Love My Dress was my main (daily!) source of inspiration. I love it, and I'm still going to reading until all my friends are married (and beyond, no doubt!). I love the constant stream of ideas and inspiration from real weddings, but also the story of a bride and groom.
Tom and I met almost seven years ago when I began a job at our local cinema whilst studying my A-levels. It took several months for us both to realise we could be more than just friends.  He popped the question a couple of months after my graduation in 2011."
Love My Dress Wedding Blog – Photography Copyright (c) 2013, Richard Skins
"I knew Tom had found an engagement ring for me when I was still at university, but the proposal was a surprise. We were taking photographs of the sun going down on a beach in Corfu.
I love vintage fashion and antiques, objects with a story. I knew from the start I would want to source many of the elements second-hand, and from Britain to keep our carbon-footprint low.  There was no particular era I stuck to, I took inspiration from all corners!"
"The relationship between me and my 'potential' wedding dress was ever-developing, turning corners and on occasion, in complete despair. When I began to try different styles at the start of my engagement, I thought I was in my element and I would know exactly what I would want, and when it would feel 'right'.  Whilst it was a wonderful experience, there was never a magical moment for me. The price-tags held me back, and the contrast of opinions from my family and friends left me in confusion.
With about a year to go until the wedding I came to the decision to purchase a second-hand dress and adapt it to my own design. To begin with my ambitions were huge, but time-management was never my forte, so I abandoned my original plans."
"To my delight I came across a second-hand ex-sample Jenny Packham Berlin dress on Preloved, just a couple of months before the wedding. The dress oozes 1930s glamour, with the rich ivory colour, Art Deco belt embellishment and silk chiffon panels to the skirt. So with all the faith in the world the dress would arrive in one piece and fit me(!), I bought it. When I put the dress on there were still no fireworks, but I felt like me.
I was comfortable, whilst also feeling like I was wearing a proper fancy dress! I made a couple of adjustments to the bodice, with the addition of delicate chiffon and lace (from Macculloch Wallis and Truro Fabrics in the style of Jenny Packham's Aspen).  The dress was, dare I say it, perfect."
"We chose a country-casual style for Tom and the men, to fit with the British countryside theme. The tweed jackets were bought from a variety of different sources; Ebay, charity shops and a car-boot sale. They wore brick and burgundy colour chinos from BHS, and ivory shirts from Charles Tyrwhitt. 
Tom also wore Loakes Woodstock brogues."
"I made the bow-ties from an awesome linen toile by Lewis & Wood. It features illustrations by British artist, Andrew Davidson, of English country life.  And I want to decorate my house with it! I also made the buttonholes from a whole variety of different feathers; pheasant, partridge, turkey and grouse, with wire and linen ribbon."
"My main focus for my choice of florist was environmental impact. I didn't want flowers flown from thousands of miles away. I got in contact with Rachel of Catkin Flowers and she could not have been lovelier.
I chose to arrange the table decorations myself and Rachel made the bouquets, from beautiful ranunculus, tulips, and grape hyacinths all grown in the Lincolnshire countryside.
It was a proper team effort; me, Tom, his best-men and my bridesmaids, got to work on arranging the flowers in pots, bottles and jugs Tom and I bought throughout the year from charity shops and car-boot sales. It was scary, but worth it!"
"I wore a blonde faux-fur stole from ASOS – a last minute purchase for the chilly Spring weather of 2013!"
"My bridesmaids each wore an individual dress hand-made by Eleanor and the team at Dig for Victory.  This company is a real inspiration to me and fit with my eco-conscience.
Eleanor and Holly use vintage dress patterns to create beautiful clothes from vintage and end-of-roll fabrics. Each dress was made-to-measure for each of my maids from different floral cottons, and Eleanor was absolutely brilliant in helping me choose the fabrics to co-ordinate together. 
The girls shoes were from New Look."
"Our main inspiration for the wedding was Tom's surname, Hart, the stag. This was a natural choice as we both love the British country and wildlife. And of course, the change of my name was of real significance to me, so what better way to celebrate this! 
Along with the eclectic collection of bottles and jars for the flower arrangements, we also bought a range of antlers, from a local deer park, to decorate the tables. Tom and I made the cake-stands from second-hand crystal dessert bowls and candlesticks, with vintage floral plates. We also made several metres of floral bunting from Sanderson linen and cotton samples I bought for 50p at a car-boot sale!"
"Tom and my dad were in charge of the car choice and organisation and ended up hiring from Great Escape Cars. They chose a 1970 Jaguar E-type, and all the boys were in love."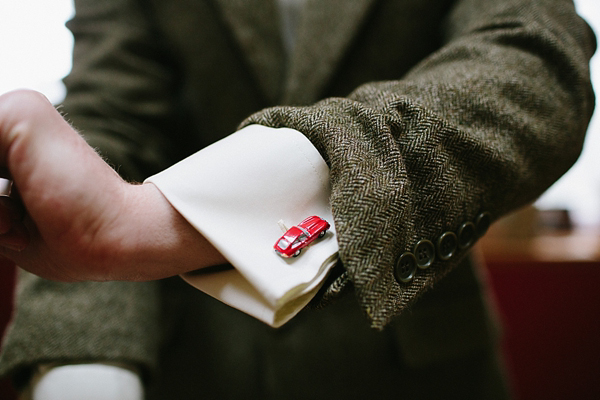 "The church our ceremony was held in is just across from where Tom and I went on our first date six years ago, a picnic in the woods in the Spring sunshine."
We chose Rothley Court, a manor estate in Leicestershire, as the reception location. We fell in love with the quaint charm of the manor and the grand atmosphere of the chapel which connects to it, built almost a thousand years ago."
"Our photographer was Richard Skins. I was won over by the style of Richard's work and the way he uses natural light to create romantic but genuine photographs with heart. Once we booked Richard I learnt he takes photos for a company I used to work for, and one of my absolute favourite brands, a huge coincidence!
I also have a lot of respect for any man who can deal with a flat full of semi-naked women running around trying to find a mascara. But Richard was a star, calm and in control, whilst also seeming to disappear between the guests snapping away. It was a total pleasure to have Richard at our wedding."
"My hair was done by Christine at Klickers, my regular salon in my home town. It was wonderful to escape the chaos of our flat and just relax.  I chose to do my own make-up using a selection of my favourite cosmetic brands including Lush, Benefit and Urban Decay."
"Tom and I chose my Mac lipstick together, Russian Red. It's now become a souvenir of the day."
Readers – you must see our beauty tutorial series and this feature all about red lipstick.

I do not know if this is the Mother of the Bride – or Groom? Either way, I would like to point out how elegantly dressed this lady is!
"My dad walked me down the aisle and gave me away.   Our bridal entrance music was Maestro by Hans Zimmer. And we chose It Takes Two by Marvin Gaye and Kim Weston to walk out of the church."
"We kept our vows simple, the traditional Church of England marriage vows. In the chaos of the week of the wedding, arriving at the church and putting all my focus on Tom and the words, just made me relax and feel like it was all so easy; 'All that I am I give to you, and all that I have I share with you.' "
Tom put together a selection of reading s from the Bible, which Tom's dad read. It's a description of the power of love and why and how to stay true to it, and one another;
'The fire of love stops at nothing, it sweeps everything before it. Flood waters can't drown love, torrents of rain can't put it out."
My wonderful friend who came from Australia for the occasion, read The Apache Wedding Prayer, a celebration of marriage and union.
Now you will feel no rain,
For each of you will be shelter to the other.
Now you will feel no cold,
For each of you will be warmth to the other.
Now there is no more loneliness,
For each of you will be companion to the other.
Now you are two bodies,
But there is one life before you.
Go now to your dwelling place,
To enter into the days of your togetherness.
And may your days be good and long upon the earth.
We also took care in our choice of songs.'
We didn't have traditional hymns, but instead contemporary worship songs which were performed by Toms' sister, husband and family friend."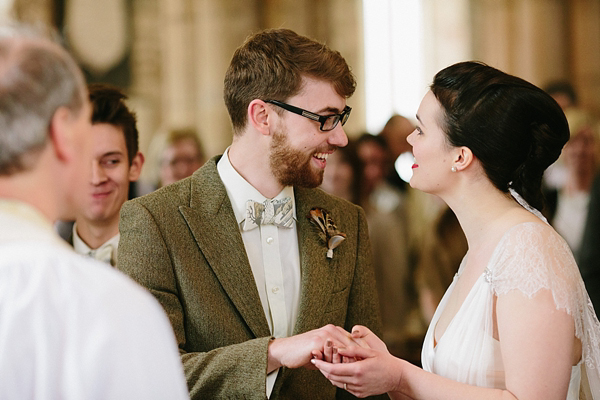 "I spent ages looking for an antique or vintage diamond ring online, but I don't wear a lot of jewellery and I have super slim fingers, so I was uncertain what might suit me. Tom and I spent an afternoon looking at different styles in our home town and came across a couple of second-hand half-eternity rings which were close to my size. But I was torn between them, so we chose both!
Tom's ring is special. It was custom designed and made to our specifications in New Zealand by Ash Hilton. It was an extravagance, but it's unique to us, and a real conversation starter."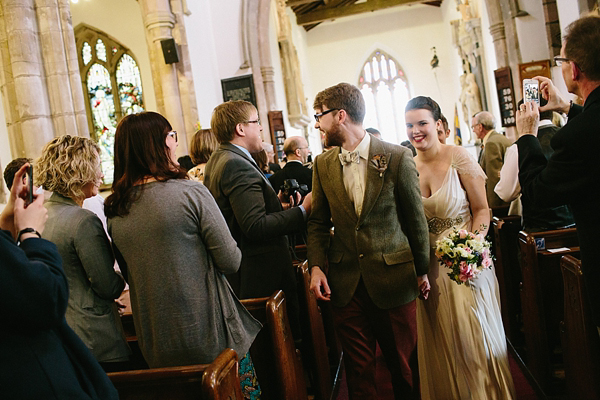 "My shoes were basic courts from Zara, made from nude leather."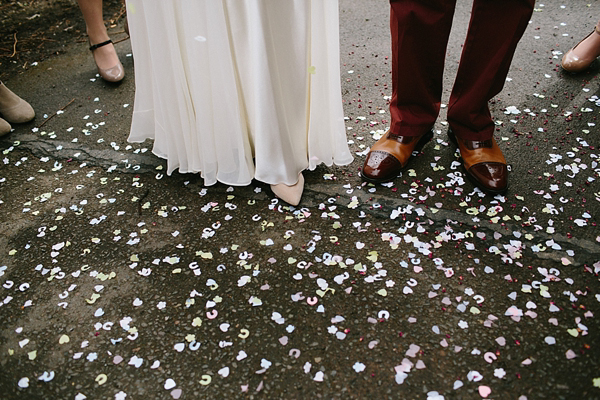 "I designed and made the invitations, order-of-service and table-plan myself using my own pencil illustrations of different British animals, and local printers IPH Print Ltd, who were brilliant."
"Our favours were little jars of jam; apple and cranberry, and tomato and chilli. This was another DIY team effort from bride, groom, bridesmaid and best-man: a lot of pain-staking tomato peeling!"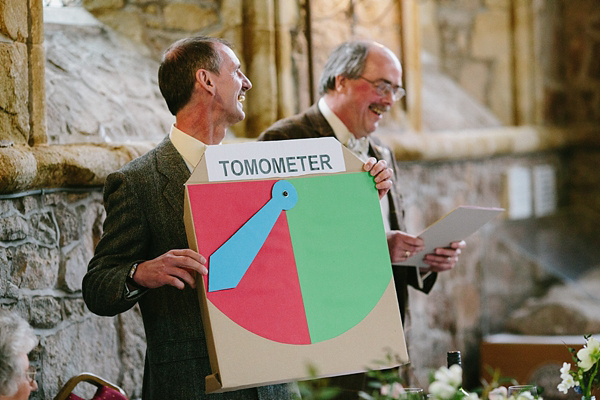 Words of Wedded Wisdom…
"I know a lot of brides who advise not to 'sweat the small stuff', and I agree to a certain extent. I would say it's OK to sweat the small stuff, because of course you want your wedding to be perfect and personal to you, and if you want to make the confetti, design the table-plan, and create the favours, then do, but don't sweat by yourself. I'm a control freak, and I like to be independent in my creations, but for a wedding there's a lot of decisions to make, and I am so thankful to have a husband who took an interest in everything, and a group of friends who didn't want to disown me after wedding-talk took over most social gatherings.
The best advice I could give is communicate; discuss your problems and don't be afraid to call upon the help of those around you. Make use of the talents of your friends and family, and allow plenty of time for them to design, create, or practice whatever their job is."
"My favourite elements of the day were the parts I didn't have a lot of knowledge of, or control in. The speeches; from my dad, Tom's dad and Tom, were funny, honest and heart-warming. I couldn't have wished for more. And my brothers' quiz for the evening entertainment, was brilliant fun. It all made the day all the more memorable, and will be talking points for years to come.
I loved the celebration and sense of occasion of it all. I didn't take for granted the effort everyone put in, and it makes me so proud and lucky to have the incredible friends and family I do. The unexpected events; the comedy of the vicar, or my bridesmaid spilling an entire glass of wine on her dress during the speeches, and the hotel staff having to launder it within a couple of hours, or the after-party until 2am in my bridesmaids' hotel room, or the morning-after walk and ice-creams in a local park, are memories I will treasure forever.
I think it's easy for a bride to be caught up in the physical and visual details; the dress, the décor, and to forget or lose track of the real purpose of a wedding day. So for me, the wedding was a day to relax, knowing there was nothing else I could do, and let everyone else do the work. And boy, was I impressed.
If I could plan the wedding again, it would no doubt look different, as my tastes and influences are always changing. I might have been a little more organised too! But overall it was the best day."
Oh I so love this wedding and am so grateful for the time Harriet has taken to pour her heart in to sharing all these wonderful details – thank you so so much Harriet for your kind words about Love My Dress – when we receive feedback like this it truly does make our hearts sing.
Huge thanks also to Richard Skins for sharing these gorgeous wedding photograph with us all.
You can see many more English country and eco-friendly inspired weddings here.
Favourite thing about this wedding?
With much love,
Annabel
Photographer – Richard Skins
Venue – Rothley Court Manor, Leicestershire
Wedding Dress – Preloved customed with fabric from Macculloch Wallis + Truro Fabrics
Veil/Headpiece – Ebay
Brides' shoes – Zara
Bride's accessories – Earrings via Pia
Groom + Groomsmen – suits from Ebay, charity shops and a car-boot sale, chinos via BHS + shirts via Charles Tyrwhitt
Bridesmaids – Dresses by Dig for Victory + shoes from New Look
Flowers – Catkin Flowers
Transport – Great Escape Cars
Entertainment – Johnty Mongan via The Alive Network
Favours – Miniature jars of jam
Hair Stylist – Christine at Klickers
Makeup Artist –