It goes without saying here at Love My Dress what we love most. Sometimes, its just all about the dress.  I could personally swoon all day long over beautiful wedding dresses, appreciating the designers craftsmanship and aesthetic, wondering which of my readers might squeal in delight at the prospect of slipping into the latest glamorous design they see gracing our pages or twirl around with glee on the morning of her wedding in that delightful full-skirt number.
I've always loved and supported the concept of a bride turning to an independent wedding dress designer.  One of my long-term favourite independent dress designers is Brighton based Joanne Fleming.  Recently, I was lucky enough to have Jo design a bespoke dress for me.  I love Jo's designs so much in fact, that I didn't think twice about getting up at the crack of stupid o'clock to make a 750 mile round-trip train journey all in one day just to have a 30 minute fitting for a gown to wear at my book launch. I'm not even kidding you.
There is something about Jo Fleming's aesthetic I'm really drawn too – she seems to understand femininity and the female form so very well and I love how she draws on era references and translates them in to her own modern-day interpretations. Her designs are edgy yet timeless all in one go.  She's pretty darn good, you know, Ms. Fleming.
Image Credits: Jacqui McSweeney, for designer Joanne Fleming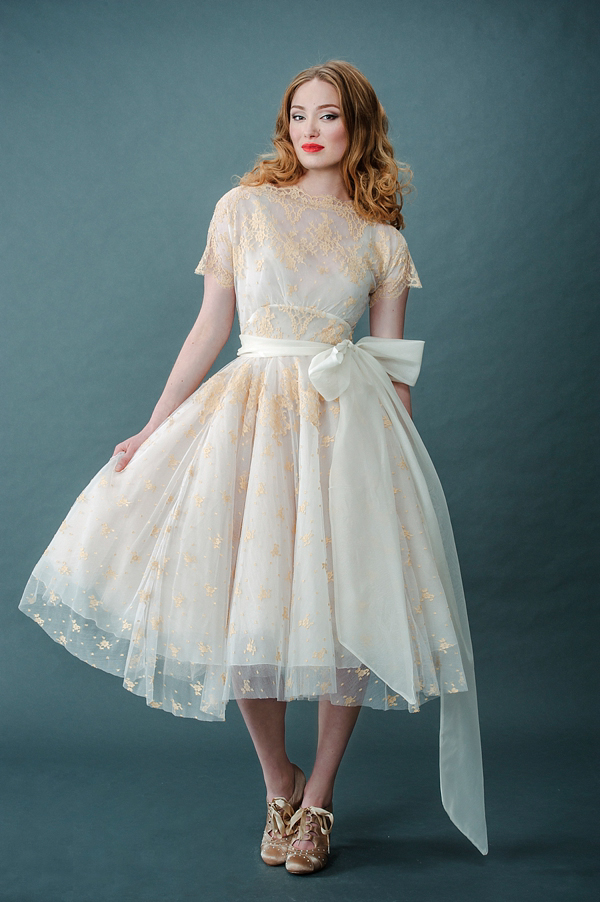 Jo Fleming's latest collection, 'Femmes Fatale and French
Fancies', pulls together some of the made-to-order styles already available at her Brighton studio as well as introduce some brand new hot-off-the-peg 'tinted French lace' designs, that Jo refers to as her  'French Fancies'.   Jo has been experimenting with tinting her lace in the most perfectly subtle and pretty pastel shades for a while now, and I think you'll agree, these tea-length wedding dresses she has created as a result of her experimentation's are rather bloomin' beautiful.  These are just the first of Jo's French Fancy designs in coloured lace, you can expect to see more in the very near future.
The 'Champagne and Roses' dress seen above and below, is a a sheer design, in hand dyed French lace over
ivory silk organza, designed to be worn over a nude silk slip to
preserve the light transparent feel. The lace motifs towards the top of
the circular skirt are hand placed to follow the shape of the waist.
Heavenly…
The 'Peppermint Cream' dress seen below, is a mouth-watering hand tinted pale green French lace over matching green silk organza and ivory silk dupion…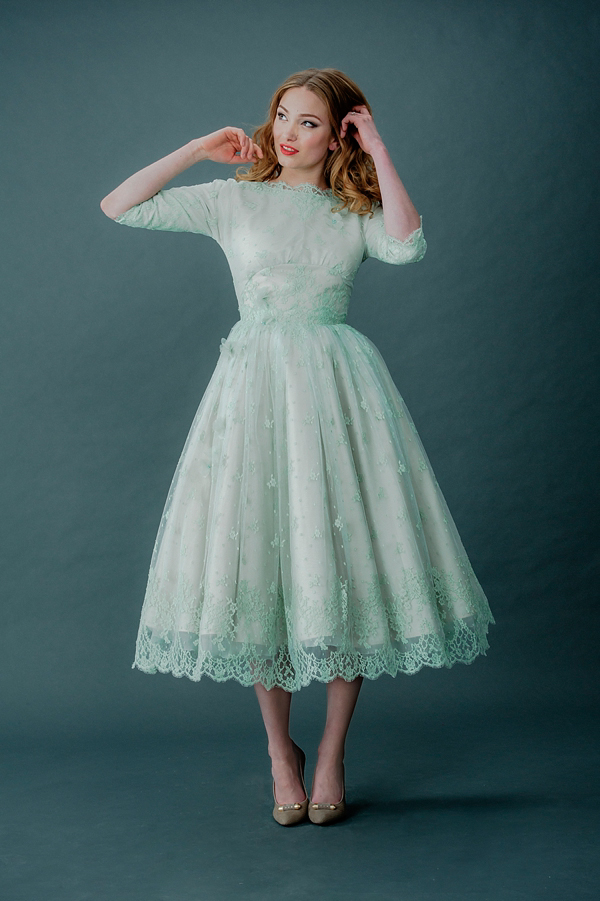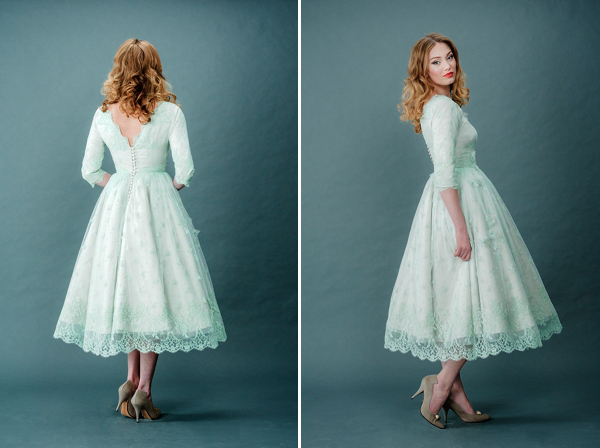 'Ashes of Roses' describes this soft pink dress design, with-a-touch-of-grey, layered over ivory silk organza and dupion for a more structured look…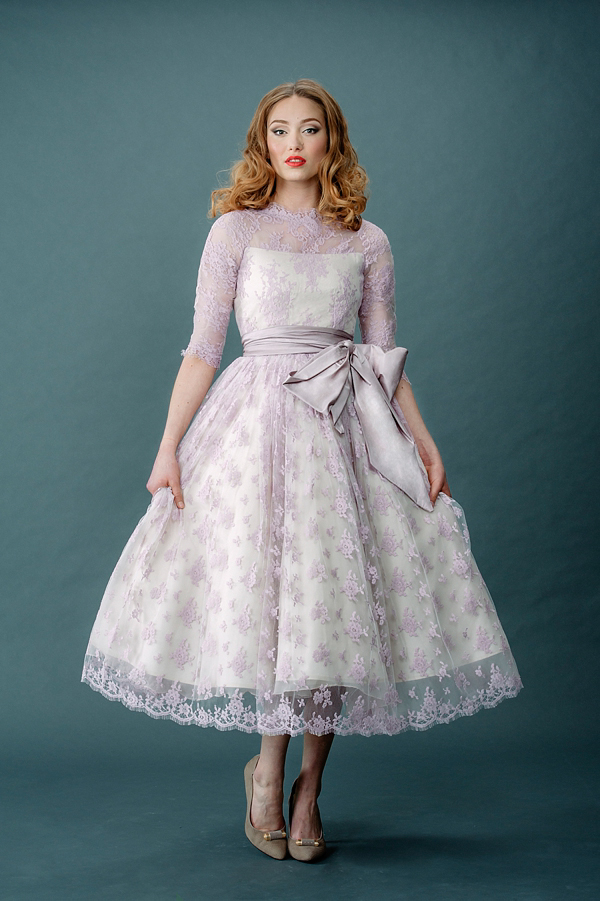 And how sweet is this dress below? Perfect for the care-free boho-bride who loves a spot of 70's inspired design – this is the 'Gypsy' dress, a a halter neck design with boned bodice in a beautiful sparkly flower
embellished organza, also featuring silk tulle and feather trimmed shrug…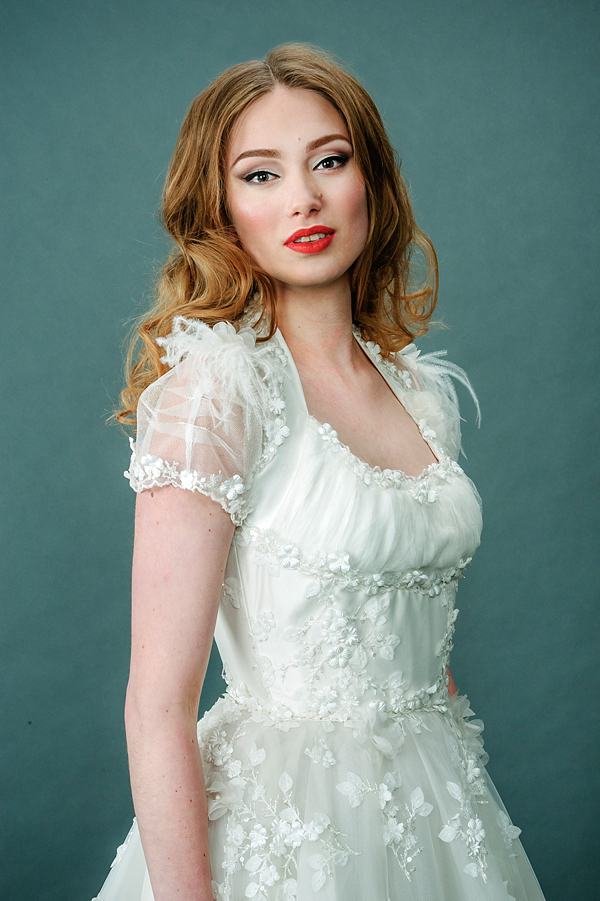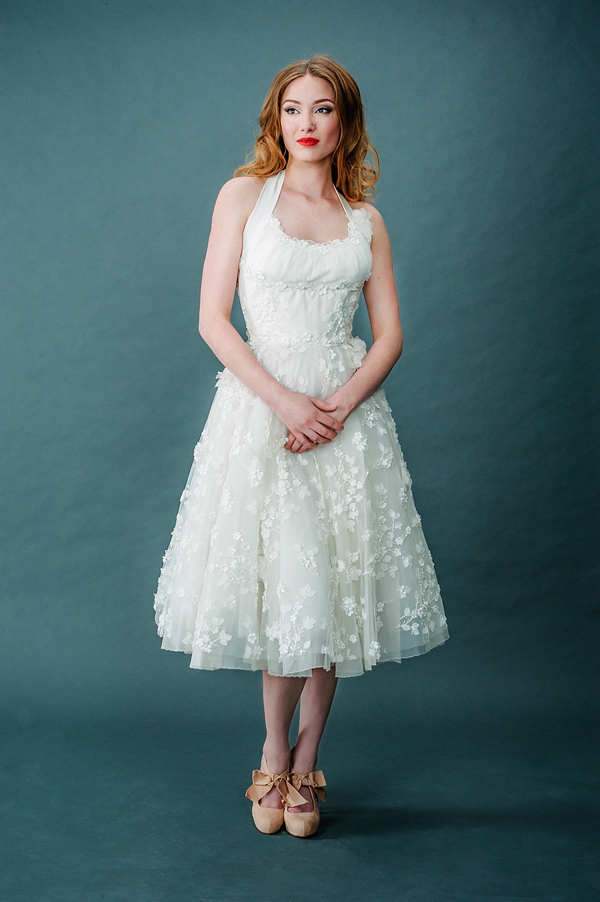 The 'Aphrodite' dress is for the Grecian Goddess bride – a silk chiffon forms the sheer overskirt, with a silk crepe-back satin underskirt. A separate halterneck bodice is heavily embellished with hand applied crystals and rows and rows of silvery bugle beads.
The hem of the bodice and skirt are decorated with tiny twinkly Swarovski crystals.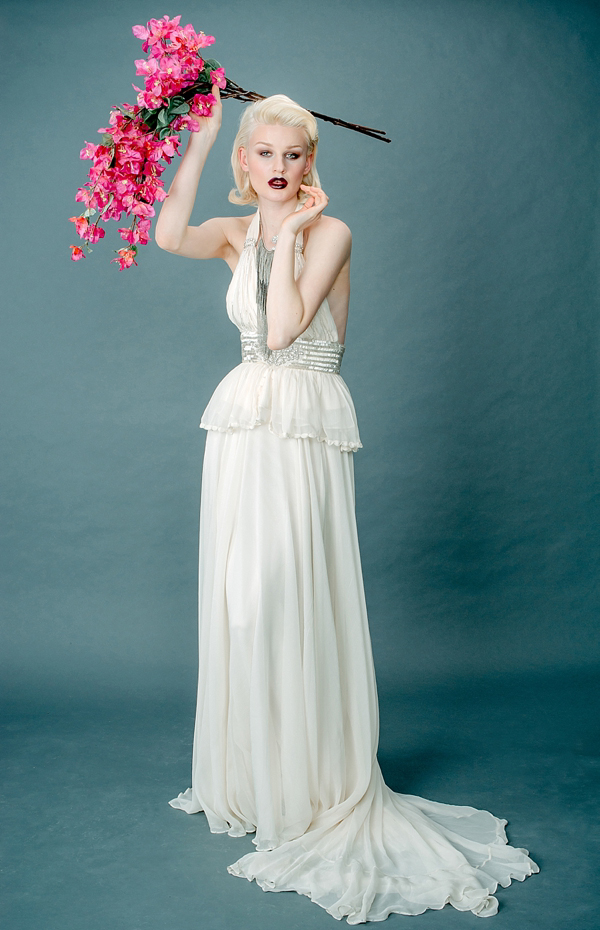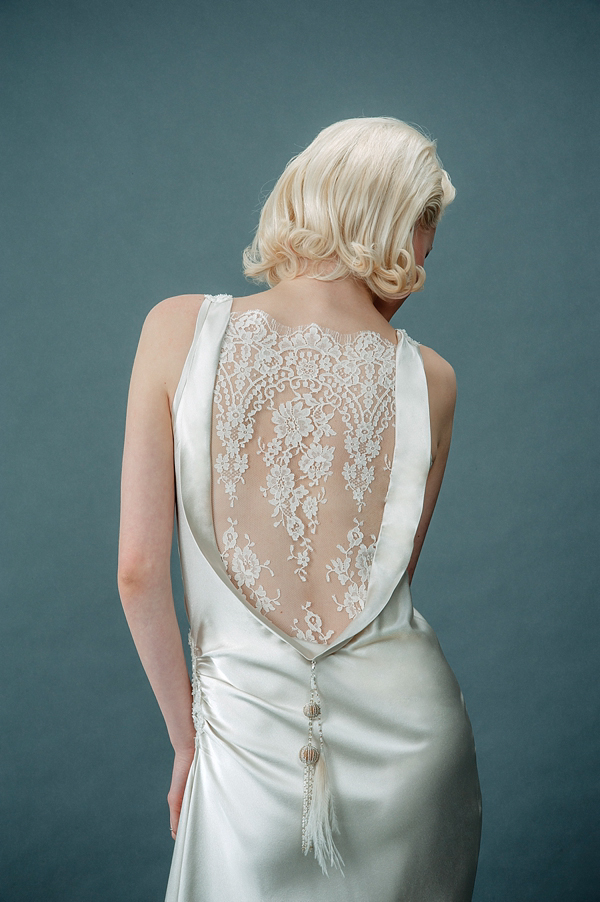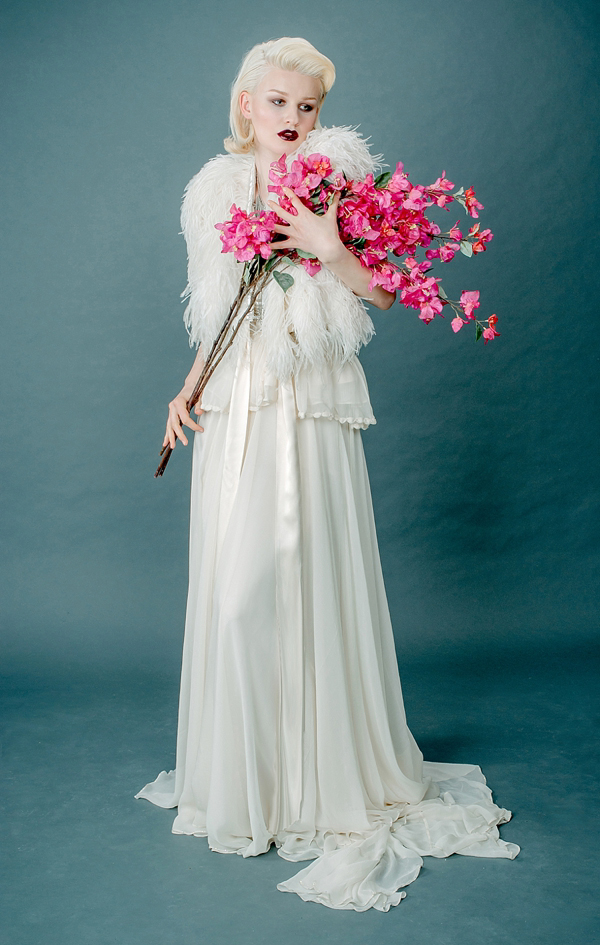 This. THIS is the dress I wore for my book launch, only in navy blue.
Designed using superweight silk crepe-back satin, the 'Bacall' dress is a floor length gown with a minimal extension. Unadorned, the gorgeous fabric really does the work here, alongside the flatteringly elegant cut. A lightly padded shoulderline and deep V neckline lend a 1940s feel to this style.
I LOVED wearing this dress in blue.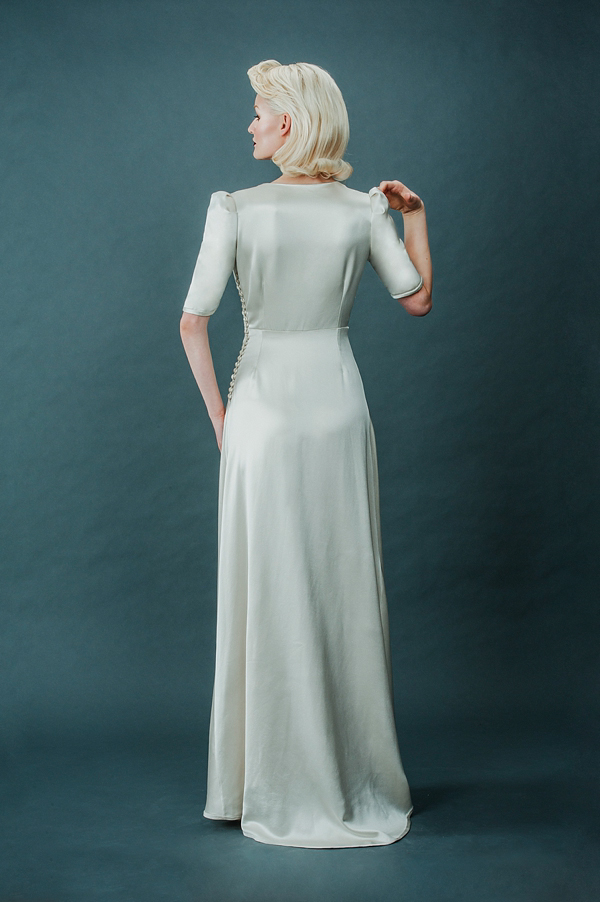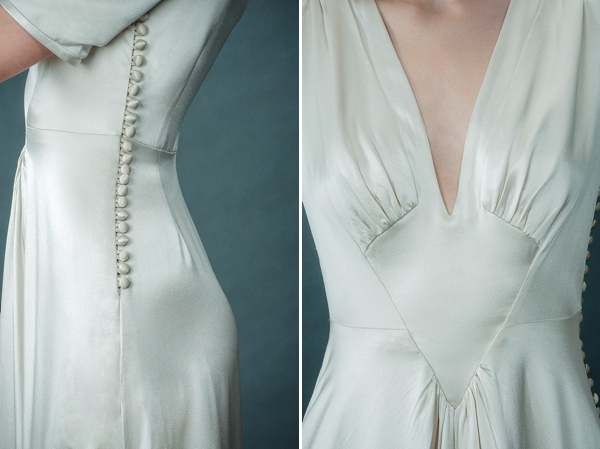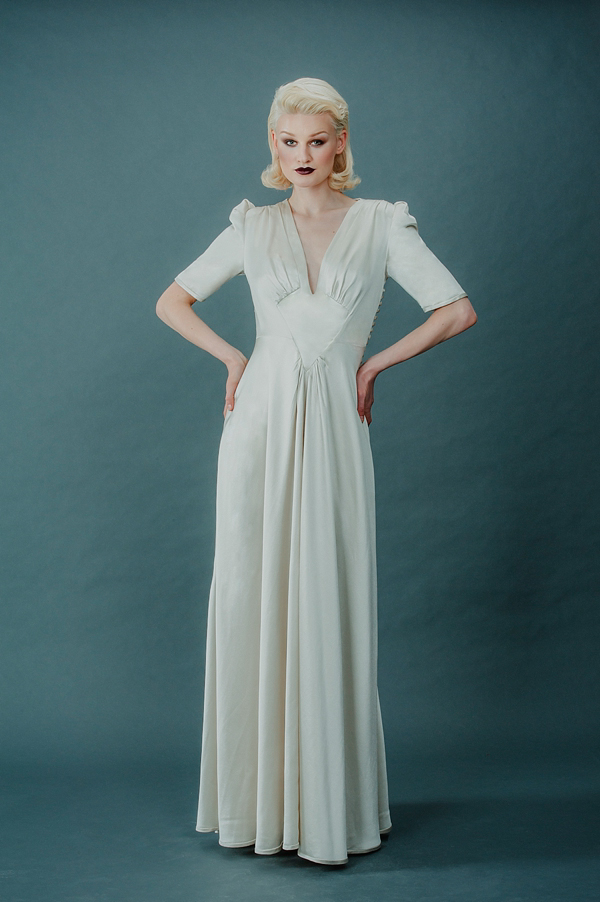 'Christine', a glamorous full length design in superweight silk crepe-back satin. The draped neckline sits wide on the shoulders, and dips into a 'V' at the back, which fastens with a silk rouleau loop-and-button closure. The waistline and shoulders are embellished with an art-deco inspired beading design; the combination of silvery sequins, bugle beads, and monte Swarovski crystals are worked directly onto the fabric surface, retaining the suppleness and flexibility of the silk underneath. Fully lined in silk crepe-de-chine, the skirt extends in to a sinuous train…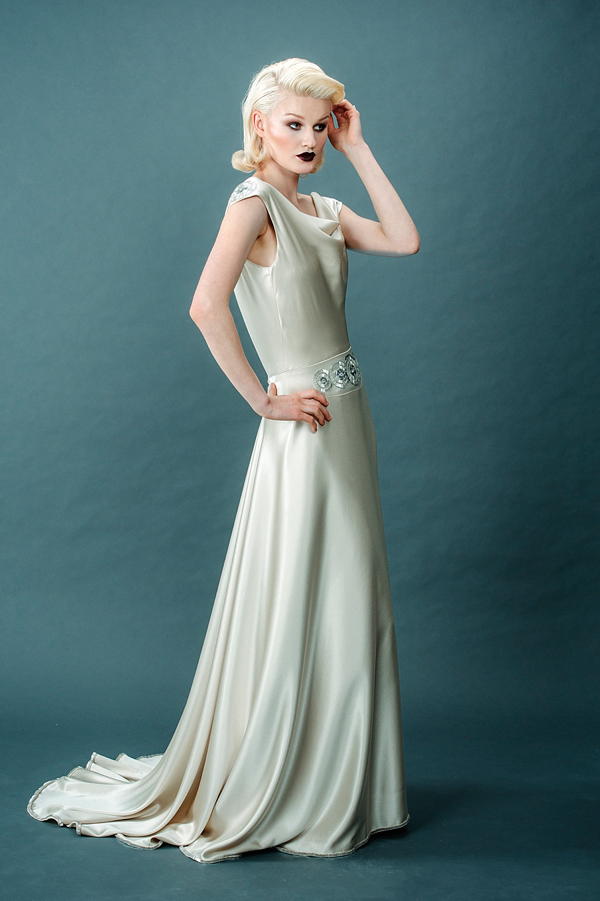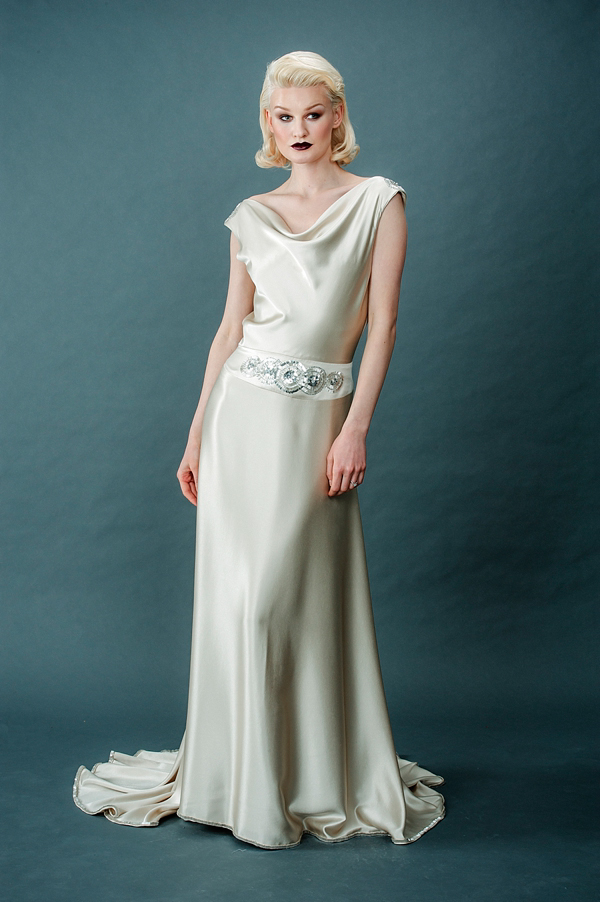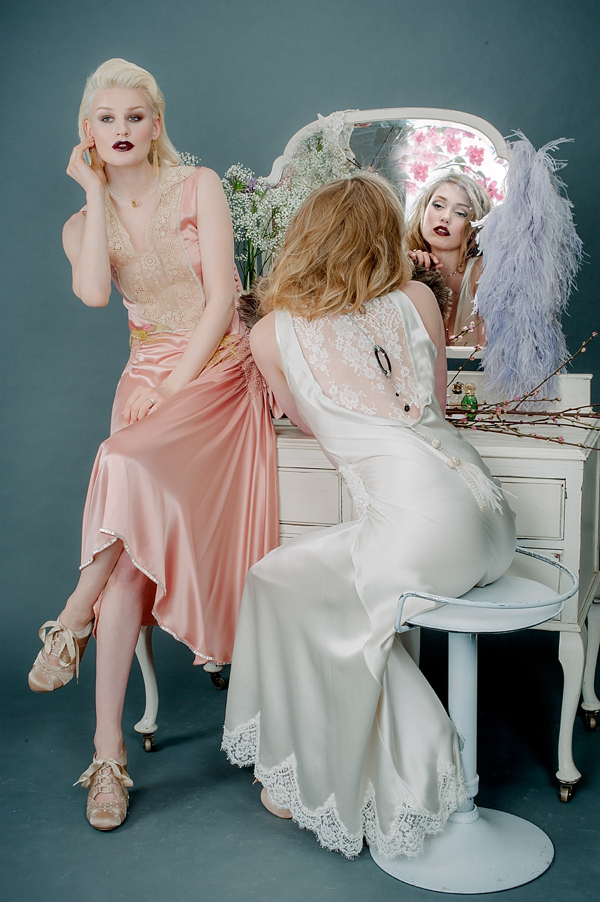 'Delilah' is a flattering design that has a 1920s feel… the silk crepe-back satin is washed to give it a wonderful peach-skin softness, and the dress is in two parts; a drop-waisted over-dress with beaded lace insert and side drape is worn over a long bias-cut under-dress, but could also be worn over a knee-length silk slip for a sassy flapper look (for the evening Charleston maybe?)…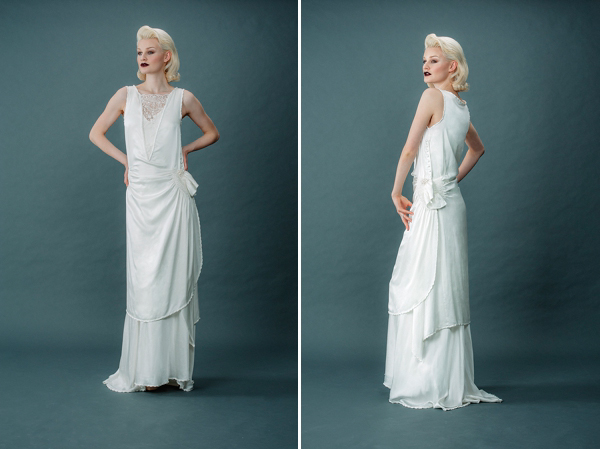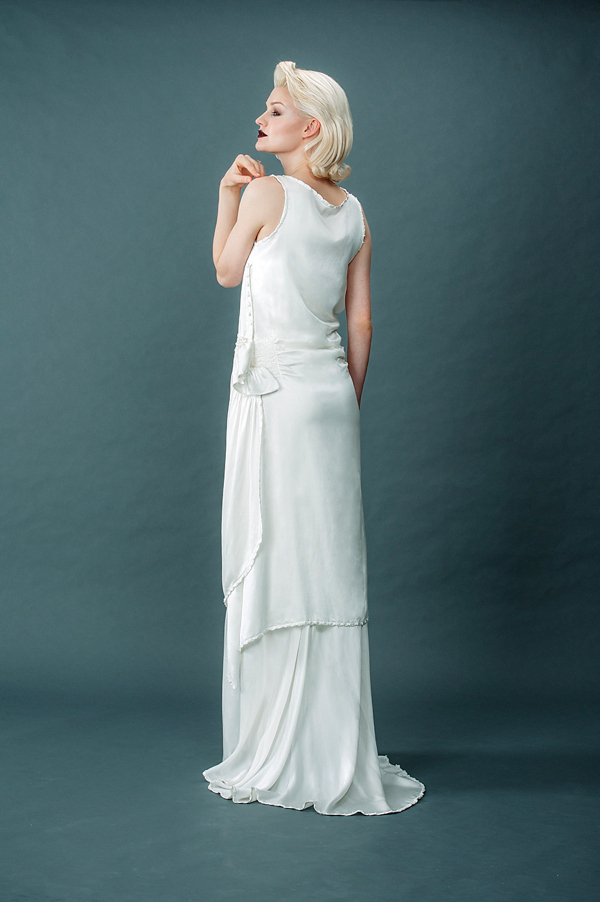 The softest French lace is used to create the 'Elodie' design, a drop-waisted 1920s inspired style combining a delicate lace over-dress with a separate silk satin bias-cut under-dress. The hip-band and back floating lace panel are embellished with silk organza rosettes and silvery beaded fringe detail…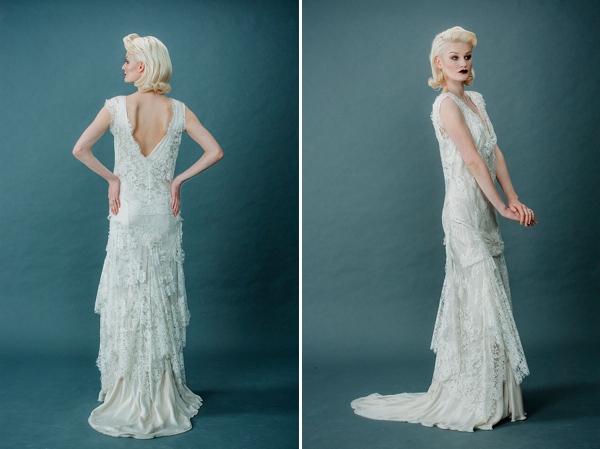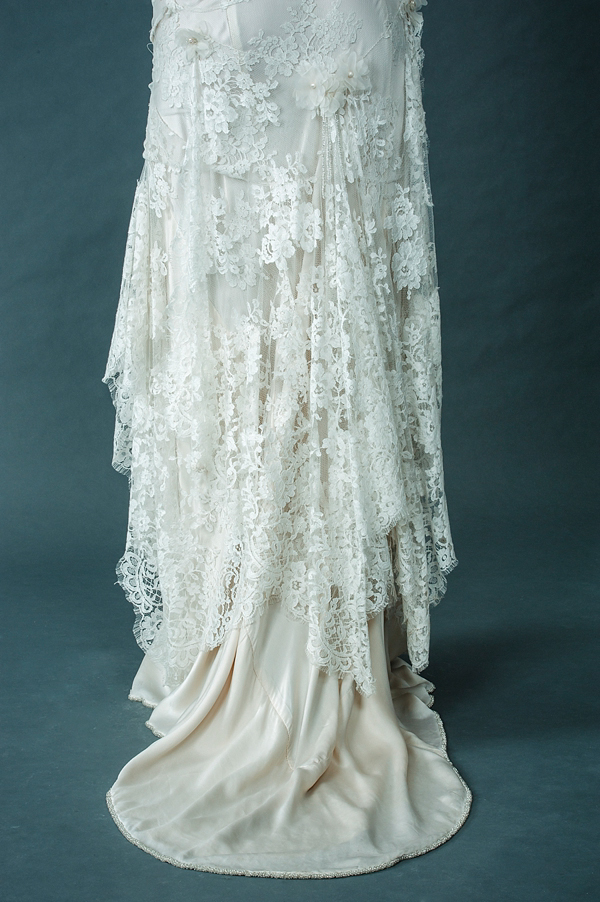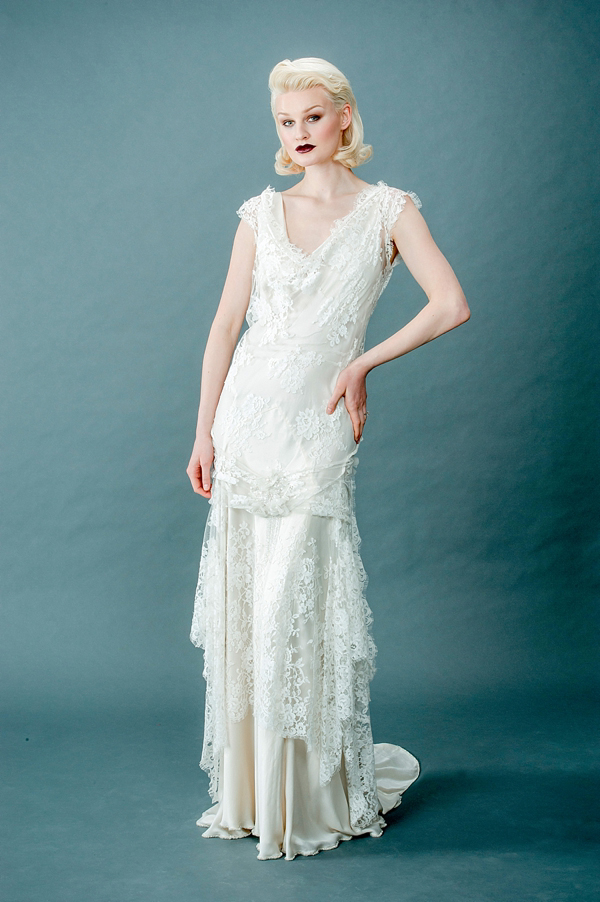 Slinky, sexy 'Nathalie'; bias cut superweight silk crepe-back satin, caught up to one hip, and with a beaded inset lace hem for extra weight and swing. The back of the Nathalie gown is the feature here – a low satin drape frames the lace inset back, and is weighted with a hand made beaded and feather tassel.
Divine…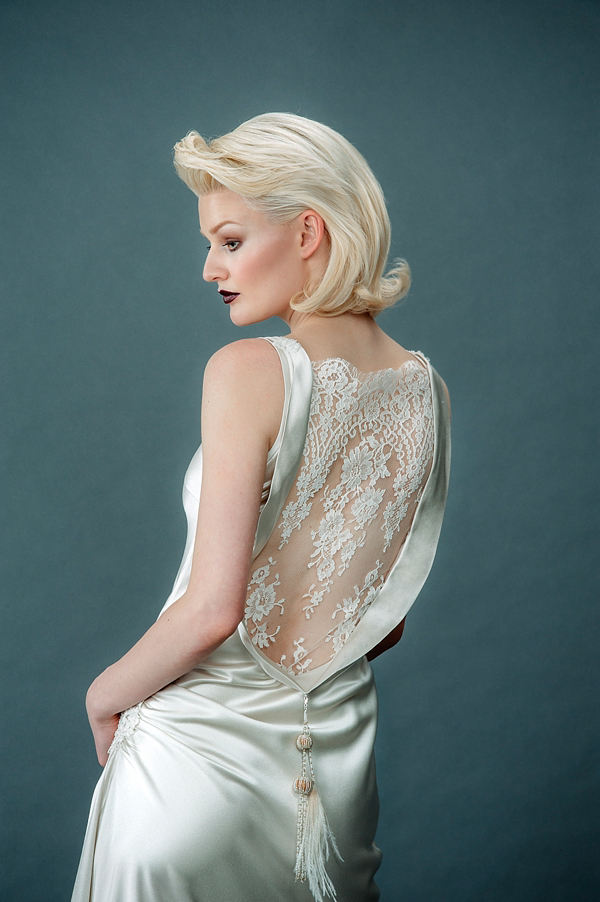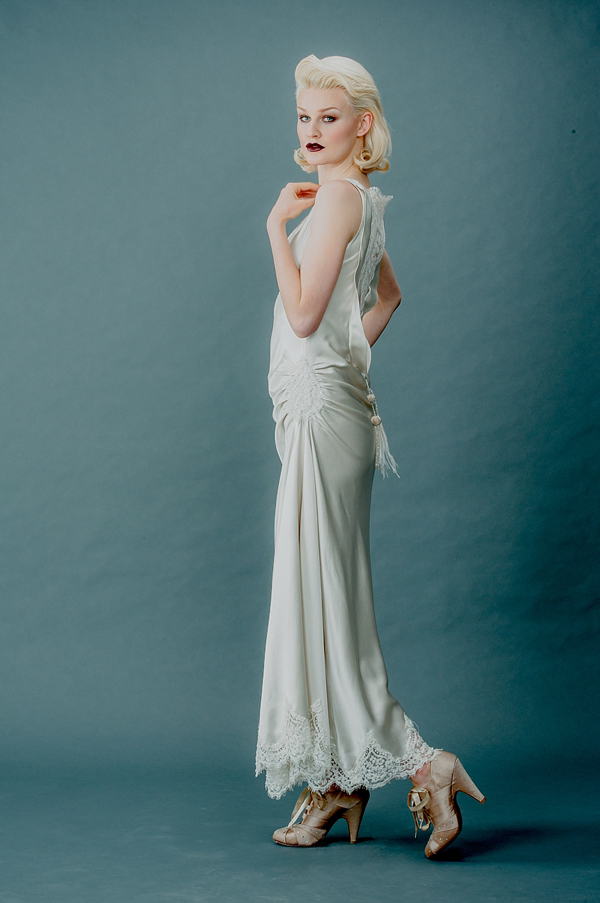 'Paeony' is a simple slip dress shape,
with ultra-low back and small trail.  This particularl design uses the lightest
cobweb beaded lace over silk crepe-back satin for the main body of the
dress, and is then appliquéd with beaded flowers which are embroidered
with silvery metallic thread. The full beauty of the lace and appliqué
embellishment can really be seen to full effect in the matching Paeony
shawl…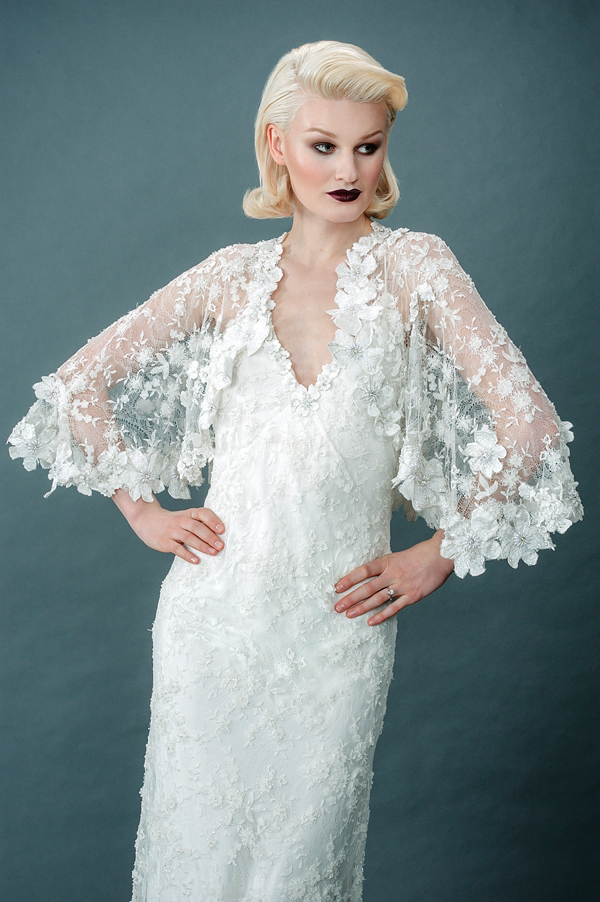 As well as being available via Jo's Brighton studio, the designs you see here today can also be purchased internationally via Primrose and Finch (New Zealand) for example, and in Ireland (you lucky so 'n so's) via Vintage Bride, and as of July in Lieges, Belgium via chic new bridal boutique Mademoiselle C.
You can see more from Joanna Fleming design, including a variety of beautiful real-wedding features right here.  Click here to view other bridal wear and wedding dress features on Love My Dress.
For further information, please visit the Joanne Fleming Design website.  Joanne can also be found on Facebook and Twitter.
Annabel
Photographer; Jacqui McSweeney
Dresses – Joanne Fleming
Location – Create Studios, Brighton
Stylist – Lauren Eva
Hair –  Simon Webster at Simon Webster Hair
Makeup Artist –  Amy Atkins
Models –  Linnea Landin (blonde), Inge Weisenborn (waved hair)