This is one of those ridiculously fun kind of weddings, the kind you can imagine that everyone who attended had an absolute hoot! A blast surrounded by music, love, friends, family and a very healthy dose of laughter and merriment.
Don and Laura tied the knot on 23rd June last year and the whole wedding
day was pretty much organised by the groom!  In fact, the only
involvement Laura had in planning her wedding was choosing her Jasmine Couture wedding dress from the wedding boutique 'Brides of Berkhamsted'. Don, her
groom, organised absolutely everything else in surprise fashion! He
even made the cake himself! Quite impressive!
The wedding took place at North Hill Farm in Chorleywood and our sponsor Fiona Kelly was the lady responsible for creating these lovely photographs…
Love My Dress Wedding Blog – Photography Copyright (c) 2013, Fiona Kelly
Here, Don explains how it all came about…
"We both have a love of festivals and wanted to have a relaxed day that was about us. I didn't want any extra pressure so we had a civil ceremony where the dog even walked down the isle. I also organised the whole day and it was a surprise to Laura, she was a brave lady indeed to leave it all to me, but I think I managed to pull it all off!
 We had fairground games, a bouncy castle, 100 deck chairs a stage, miles of bunting, a camping village, a shisha tent, tipis, cut out body boards, straw bales, flowers and much else!"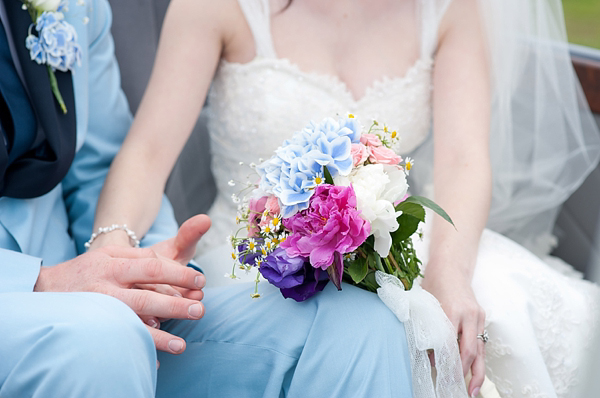 I adore the pretty pale blue that features in this wedding. Those hydrangea in Laura's bouquet are wonderful…
"My mum did the flowers along with all of the wedding helpers – we bought them from New Covent Garden Market."
"We
met on a blind date arranged through mutual friends. I think she was
quite tipsy and says she only went on a second date to remember what I looked
like – ha!"
"I wore a pale blue teddy boy suit that I had made bespoke in Thailand.  The groomsmen also wore matching teddy boy suits with shoes hand-made in Thailand – my shoes were from Primark!."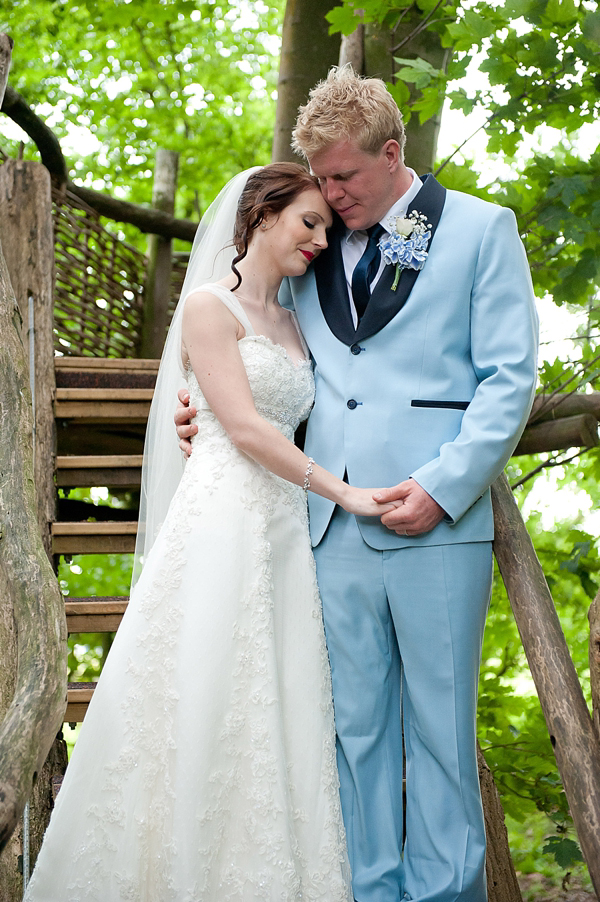 "I made the cake myself! It took ages!"
"Our photographer was Fiona Kelly – she was brilliant and made
both of us relax and the pictures show how much we enjoyed the day!"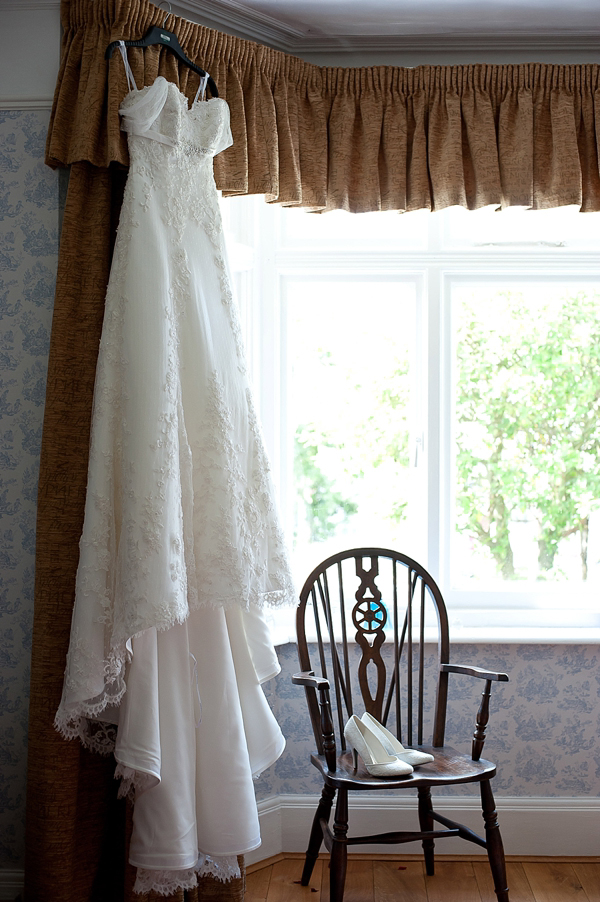 "Laura's dad gave her away – she walked down the aisle to the sound of 'Fools rush in by Elvis'."
"We picked out own readings and made the ceremony about us! A wedding is about promising yourself to each other so we tailored the ceremony. Laura's brother did a reading as did one of my friends. 
I wrote a passage for Laura that my friend read at the ceremony."
"As favours, we gave everyone wildflower seeds to take home and grow!"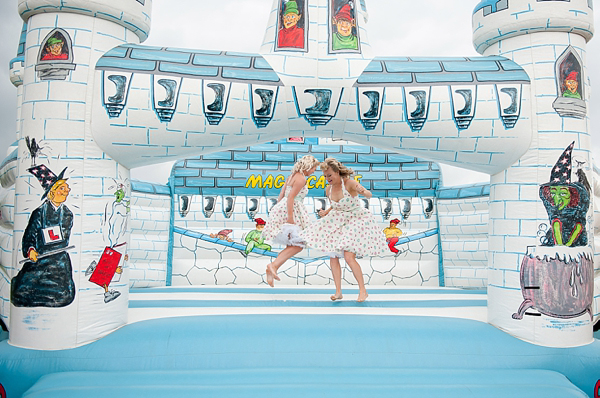 "The brilliant Jose Vanders played as a surprise for the first dance – she sang her song 'New Ride' live for us. We had my friends play as well as who were also amazing. DJ was Martyn Simpson [email protected] who was also ace."
"We had a huge barbecue in the evening for all guests with the local ice cream man for dessert. We had cakes and sandwiches made for the post ceremony meal all bespoke as we liked!"
Words of Wedded Wisdom…
"Well I guess this is to all the grooms – get involved!  It's your day as well as your brides! 
Our wedding would not have been possible without my family and friends so I must send them huge thanks too.  The whole day was just incredible. At the end of the night everyone was piled around the camp fire singing whilst people had their guitars out. It was a great end to a quite amazing day!"
What's not to love about this wedding?! It's adorable and made all the more special that the groom organised it entirely by himself! Would you be brave enough, seriously?!?
Huge thanks Don and Laura for sharing your fantastic, surprise, festival day with us, and huge thanks too, to photographer Fiona Kelly for sharing these lovely images.  Brides/Grooms – take a moment to look up Fiona's wedding photography services please if you have yet to book your photographer. We highly recommend her.
With much love,
Annabel
Photographer – Fiona Kelly
Wedding Planner/Stylist – The Groom!
Venue – North Hill Farm in Chorleywood
Brides Dress – Jasmine Couture, via Brides of Berkhamsted
Brides' shoes – via Brides of Berkhamsted
Groom's Attire – Bespoke suits made in Thailand
Bridesmaids Dresses – Camden Market + Primark wedges
Flowers – New Covent Garden Market and arranged by the groom's mother
Cake – Baked by the groom!
Entertainment –  Jose Vanders
Hair and make-up Artist – The Makeup Girl