Good morning guys n gals. I'd like to start today with the second of our real wedding's this week – one I hope makes you smile; Japan born Fiona and Sean tied the knot on 28 September last year (my birthday!) at the gorgeous restored 1920's cinema, The Daffodil in Cheltenham.
I love Fiona's fun and flirty wedding day style, which was absolutely perfectly complimented with this pretty dress by designer Candy Anthony… 
"I've worn 50s style dress from Vivien of Holloway before, and I
knew that style suited me – I'm short and petite, so showing bit of legs
with high heels and small waist always make me feel sexy!  So as soon as
I got engaged, I knew I wanted the dress from Candy Anthony. It meant I
could select a dress that was not white or ivory as well. 
Sean was my
stylist – he picked my shoes, and helped me pick the style and colour of
the dress with me. I know the groom isn't suppose to see the bride in
her dress before the wedding, but Sean (and my Mum who was also there)
knows what suits me the best, so I wanted both him and my Mum to help me
pick out the dress. We chose blush pink Suzie gown with added tulle
overlay with purple
sash and petticoat to match the shoes, and a lace bolero. I loved the
skirt with the petticoat – I didn't stop swishing all day long on my
wedding day!"
Love My Dress Wedding Blog – Photography Copyright (c) 2013, John Day
"Sean and I work for the same company but in different teams
and in separate buildings, so there were some occasions we'd spot each
other but never really had chance to talk. When we both went to a work
BBQ, Sean made a beeline for me at a table, we started talking and I
think we were smitten straight away.
Two months later, me and my cats
moved in with him. And another three months later, Sean proposed in Paris –
at the bank of River Seine by Notre Dame. I immediately said 'yes', but
Sean kept asking 'Really? Are you sure??' so I must have said 'yes'
about 10 times in the end!  We were engaged for fifteen months before our
wedding day."
"I wore the 'Precious Sensation Side Tiara' from Glitzy Secrets. I had to have some bling!"
"My shoes was from Carvela,
and I bought them before I even tried the dress on. It was Sean who
spotted the shoes; while shopping he pointed me to a pair of purple
peep-toe courts by Carvela that he liked the look of.
I didn't realise
at the time but purple is Sean's favourite colour for me to be in. He
persuaded me to try the pair on, and it fitted perfectly. It was exactly
kind of shoes I was looking for, just in colour I didn't expect to
wear.  Once I did wear though, I loved it. And the shoes decided the purple elements in my dress."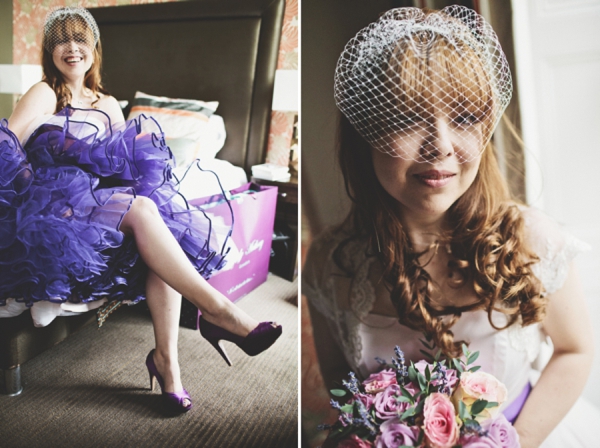 "We chose a 1950s inspired Halter-neck pencil dress from Vivien of Holloway
for my bridesmaid Sarah. I was wearing 50s style dress so it seemed
logical! She tried both the circle dress and pencil dress, and she had a
wider grin when she wore the pencil dress so that was going to be her
dress.  And she looks so sexy!
After we had our photos back, I had many
comment from my girlfriends that they all had girl-crush on Sarah in
that dress!  Sarah's hair accessory was also from Vivien of Holloway."
"We didn't have any need to hire transport. My bridesmaid Sarah and I walked from our
hotel to the venue, and so did the groom and the bestman (though ahead
of us so we didn't end up meeting halfway)."
"The Daffodil
is a restaurant in lovely Montpellier area of Cheltenham, and it's a
restored 1920s cinema. The venue has retained many of original features
and characters including the beautiful Art Deco
chandelier at the bar where stalls used to be.
We found our venue
purely by chance – I was Googling for photographers in Cheltenham area,
and I came across one of the photographer's blog entry on a wedding in
1920s cinema-turned-restaurant. Once we went there, that was it. We
instantly fell in love with the unique interior, their food and
beautiful cocktails they make. And I got rather excited by the thought
of walking down the stairs as part of my aisle."
"The Daffodil, was so unique, we felt
it didn't need strong theme and décor. OK, so it is an originally restored 1920s cinema, so we
could have gone glamorous Art Deco, but we felt that would be too dressy
and formal for 'us'. So we decided we will keep things bit more
informal and simple to make the venue stand out. Our colour scheme
became pale pink and purple due to my outfit, but we kept our wedding invitation in black and white typography that was a bit tongue in cheek – very 'us'.
Our invitation and original posters created by Royal Steamline.  I came across Royal Steamline
in a wedding magazine showing one of their vintage circus style
invitation. I was intrigued and had a nose around their webpage, and
loved the Broadside design, which let us personalise a lot of the
wordings. Royal Steamline are based in US, so it didn't work out any cheaper than UK
supplier but we had the design we love which really was totally 'us'.
We
chose 99% of the wording – like our own personal taglines, and we
included with the line that it is a union of two island nations (I'm
from Japan and Sean is English."
"Our local registry office does not allow personal vows. However,
I asked if we could each read out our 'Promises' to each other as
readings and they said yes. We each wrote our promises, which we think
are equally important as the vows we made. Below are our favourite bits
of our promises. 
Sean's promises: If you ever need a
shoulder to cry on, you know I will always be there for you. When you're
angry and upset, I will try and put a smile on your face and make you
laugh at any rubbish jokes I might tell. My love will always be yours
forever, and I will always be your best friend. I cannot wait to begin
our married life together.
Fiona's promises: I cannot
promise to fix all your problems, but I can promise you will never have
to face them alone. Whatever may come, I will always be there. It is a
risk to give your heart away, but you are the risk I will always take.
As I have given you my heart and my hand to hold, so I give you my life
to keep as well."  
 "Hearing our promises to each other for the first time, in
front of all our families and friend was very special. I could not stop
smiling throughout the ceremony so it definitely is one of my happiest
time of my life.
"Sean's suits
were from Next. Sean is slim guy, so we knew
regular cut suit will look too bulky on him. We searched many shops
(designers included) for a slim cut suits, and Next had the one Sean
liked the most. We teamed that with matching waistcoats, slim black
shirt and purple tie in same colour as my sash – and he looks so sharp, handsome and gorgeous."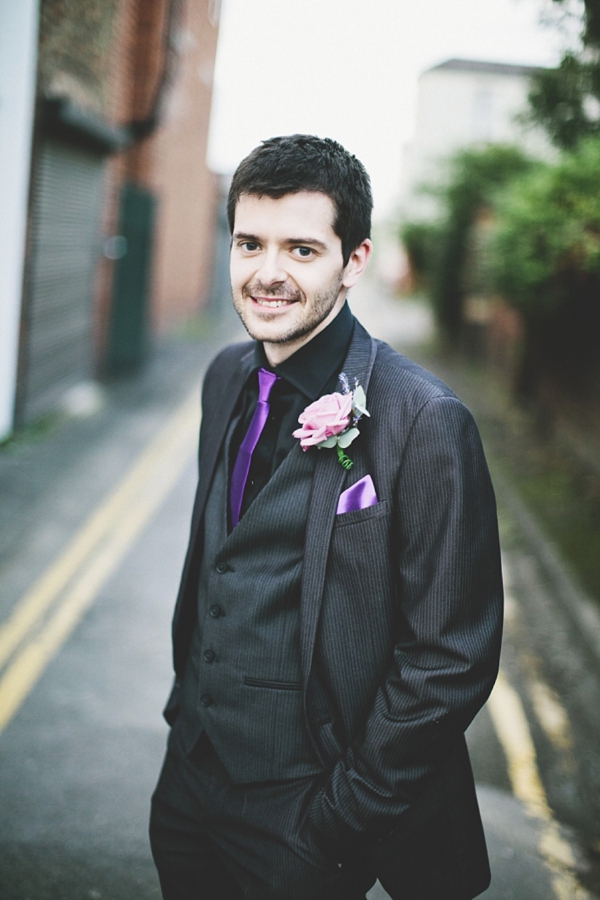 "All the flower were from Bumblebeez. 
I liked the idea of antiquey coloured roses, nice and vintage looking,
even though neither my dress nor the venue were that kind of vintage as
such. But nevertheless, I thought it'd suit the dress more than just
pale pink roses. For mine and bridesmaid's bouquets, we decided on mix
of Cool Water rose, Old Dutch rose, Ocean Song rose, lavenders for purple
and eucalyptus leaves for bit of green.
My bouquet looked beautiful and
smelt wonderful!  For the venue decorations, we had same roses,
lavender and eucalyptus used in my bouquet, as well as Sibillia
hydrangea and Astrantia."
 "Our photographer was John Day:
John is such a wonderful photographer and a lovely person to boot. We
loved his style of photographs and we cannot be happier with the
results; we would recommend him to anyone. He even drove to my hotel to
pick up a spare pair of shoes for me as he was the only person not
drinking that day – now that is service."

"Charlotte from Stuart Holmes did my hair and Clare Bryce did my makeup.  They were both
wonderful, not just in their skills for hair and makeup, but both
Charlotte and Clare were so helpful, and were excellent at calming me
down as much as Sarah was. At one point, I accidentally pulled a pin out
of my bouquet and pricked myself – bloodshed! Thankfully I was still in
my PJs so no blood on the dress, but Clare helped me fix the pin and
calm me down."
 
"I gave myself away. My father passed away few years ago, and
being my second marriage, I felt I didn't need anyone to give me away –
and besides, I loved the idea of giving myself freely to the man I
chose.  I walked down the aisle to the sound of 'L.O.V.E.' by Nat King Cole."
"We decided we'd keep the decorations for the venue simple, and
just have flowers – any other ideas other than flowers would have
clashed. But I couldn't resist adding some paper pompoms to decorate the
chairs, balloons (who doesn't love them!) and fairy-lights to decorate
the banisters of the stairs and the balcony."
"Sean's family friend has agreed to make our cupcakes
and top tier cake as wedding present. We had two type of cupcakes;
salted caramel sponge with caramel filling and caramel icing in pink,
and Earl Grey sponge with vanilla filling and bergamot icing in purple. And for the top cake, we asked for lemon sponge with lemon cream and lemon curd fillings."
"As well as cupcake tower, we decided we want cheese wedding cake
as well. Why? Because we love cheese! That and the fact we could serve
the cheese as evening snack for our guests. We bought out cheese wedding
cake from Cheese Works; we had
Cornish Yarg, Double Gloucester, Stilton, Cotswold Brie, Cerney Ash
goats cheese and Godminster Chedder."
We had two cake
toppers, one for the cupcake tower and one for the cheese wedding cake. I
had the personalized cake topper made at Novelty Cake Toppers – Eshwary the designer/business owner was always very helpful,
and made the topper to my exact spec which I was ever so pleased. And we
got lots of complements on the day, and everyone seemed surprised that
the topper actually were mini us and our cats."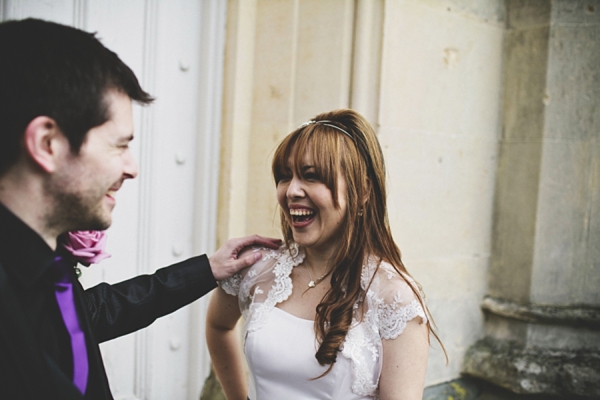 "We both utterly fell in love with macarons while we were in
Paris – we couldn't get enough. When it came to wedding favours, we knew
it had to be macarons. We came across Dimkin's Patisserie at Cheltenham Food Festival, and their macarons were perfect. We decided to have them in pink and purple,
and we liked the idea of the colour and flavour not matching to give
the guests bit of a surprise – for pink, we chose pistachio and rose
& raspberry, and for purple salted caramel and mint choc flavours."
"We chose Real Love by The Beatles for our first dance. It's a
track not played very often and I can't even remember how we came across
in first place, but it stuck in my mind. And this must be said so often
but the lyrics seemed to fit us perfectly – seems like we were waiting
for each other all our life."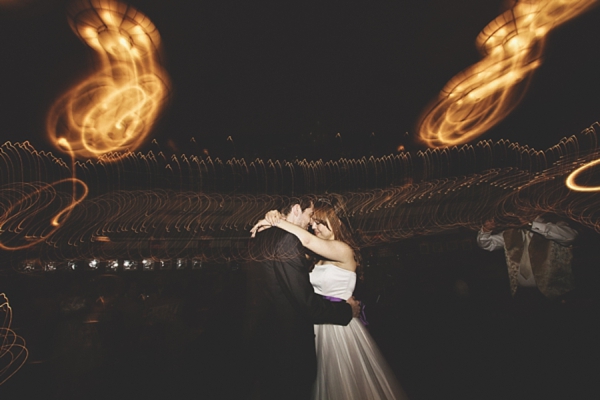 Words of Wedded Wisdom…
"Definitely put photographer and videographer (something we sadly
didn't have budget for in the end) at the top of your spending list
alongside the dress. They are the lasting memories you can look back
again and again of your day, so get the best you can afford.
I would have been more careful with selecting my photographer. We
initially booked a different photographer, a one that fit our budget
rather than one I was 100% happy with. But once I saw John Day's work, that I
was it.  When I mentioned my doubt about photographer to Sean, he knew I
was not happy and persuaded me that we can afford to lose the deposit
and go for John Day. Obviously we could have used the lost deposit for
something else, and John cost more than we budgeted for. But thankfully
it all worked out in the end."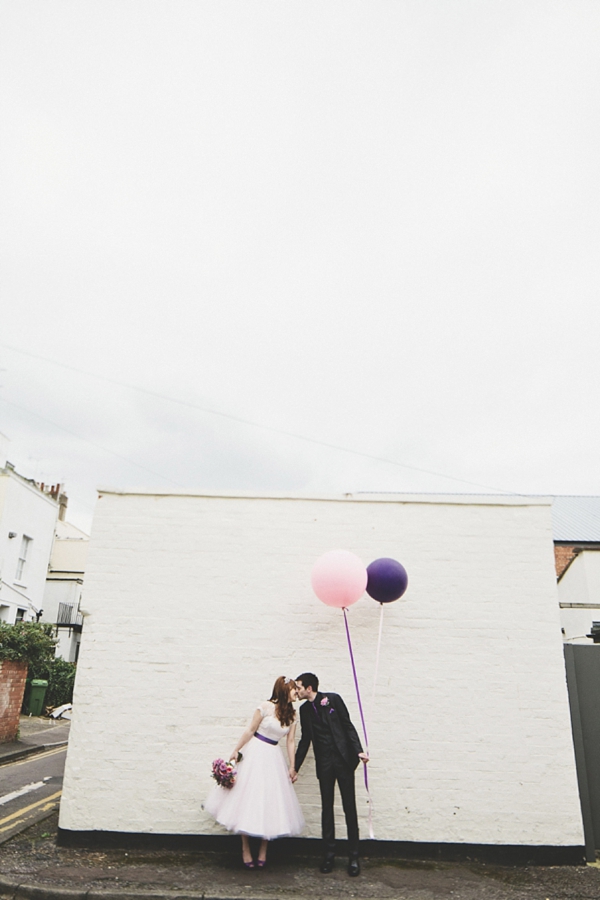 What a lovely, fun wedding and great words of advice there from Fiona too – thank you so much Fiona and Sean for sharing your most sweet and inspiring day with us all. And huge thanks also to photographer John Day for sharing these beautiful photographs.

Are any of our other readers due to wear a gorgeous Candy Anthony wedding dress? You can take a look at much more 50's inspired weddings here on Love My Dress. Other categories you might also be intersted in; pink, purple, Candy Anthony, Vivien of Holloway.
With much love,
Annabel
Photographer – John Day
Venue + Catering – The Daffodil in Cheltenham
Wedding Dress – Candy Anthony
Veil/Headpiece – Birdcage veil bought online on eBay + 'precious side tiara' from Glitzy Secrets
Brides' shoes – Carvela
Bride's accessories – 1837™ mini lock bracelet + Elsa Peretti® Full Heart
pendant/earrings via Tiffany
Groom – Next suit + T.M. Lewin shirt, iTaylor tie +  shoes by Ted Baker
Bridesmaids – Vivien of Holloway
Flowers – Bumblebeez
Cake – Baked by friends + cheesecake by Cheese Works
Entertainment – The Party Photobooth
Favours – Macarons via Dimkin's Patisserie
Rings – A Tungsten Carbide ring via Quality Titanium for bride + Suey Design for groom
Hair Stylist – Charlotte from Stuart Holmes
Makeup Artist – Clare Bryce