A Secret Family Elopement on the Remote Shetland Island of Fetlar
Today we're taking a look at an intimate, super sweet and secret elopement on the beautiful, wild and remote island of Fetlar, Scotland.
Laid-back, relaxed and family-focussed, learning support worker Jenna and marine engineer Keith's sun-filled wedding was held on 4 August 2021 in the library at Leagarth House. The couple shared their elopement plans with just a few of their family and their wedding suppliers, only revealing their surprise to their two children, who were bridesmaid and best man, the day before their beautiful celebration of love.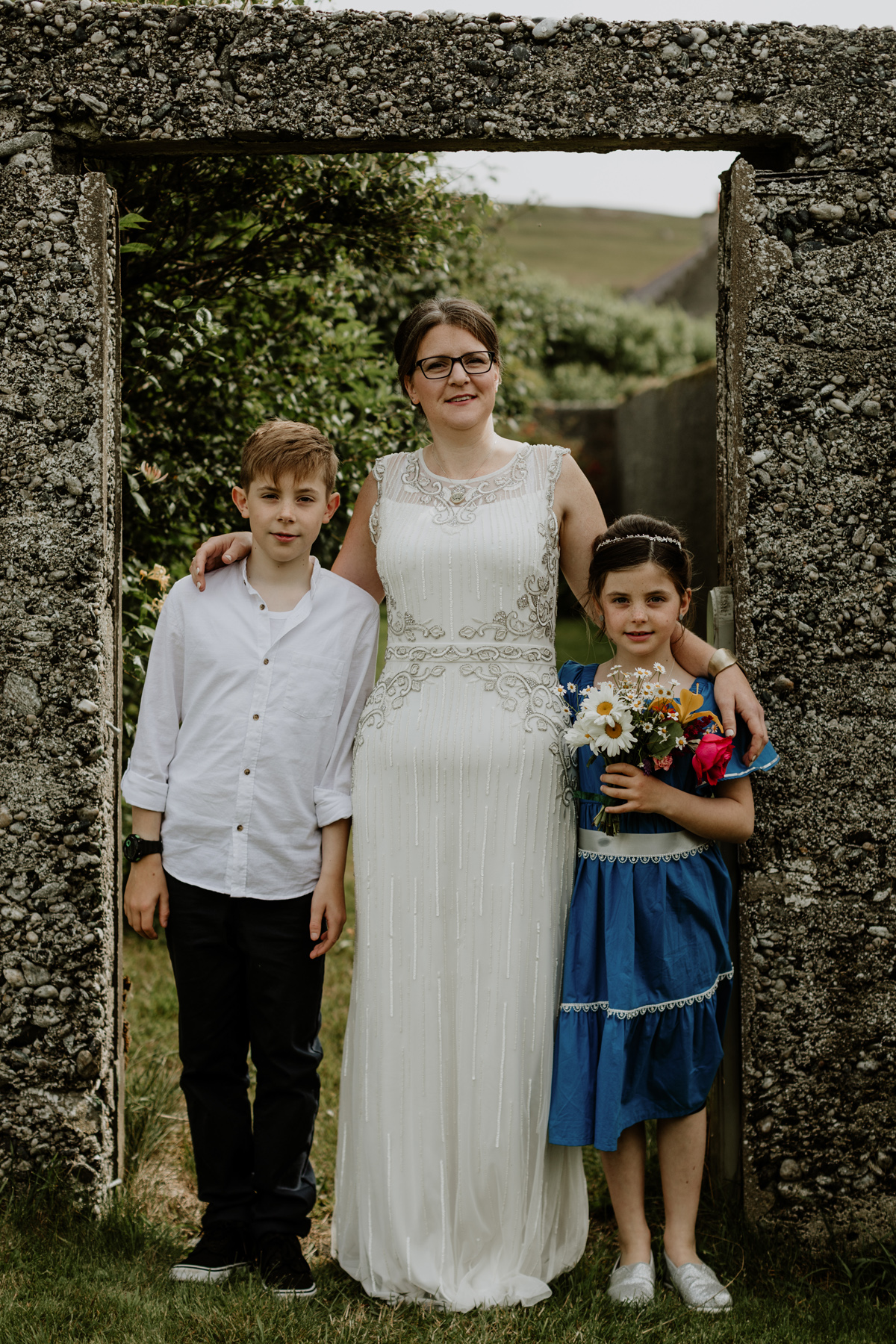 The Dress & Accessories
My dress was from Little Mistress. We wanted special outfits for our special day but didn't want to be in clothes that didn't feel like 'us'.
The thing I think I loved most about what I wore was what I didn't wear… shoes. It was barefoot all the way.
Keith made me a necklace out of pottery found on a beach near our home and gifted it to me the morning of the wedding. No veil for me; Shetland can be very windy.
Denise MacBeath did my hair and make-up.
The Groom & The Engagement
Keith's outfit was from Slaters Menswear in Edinburgh.
We met on a bus in Unst, the most northerly island in the UK. Having both been on a night out to watch a band playing in the North Unst Public Hall, we caught each other's eye a few times throughout the evening. We ended up sitting next to each other on the bus on the way home. The fact that we met on a bus always tickles me, as there are so few buses that actually go around Unst.
Our son was best man, in an outfit from H&M Kids. Our daughter was also in H&M Kids, accessorised by Meemo (my mum).
Flowers
My mum was our florist. She brought wildflowers from her garden and then she made the bouquets on the morning of the wedding. My daughter and bridesmaid Ava made her own bouquet, which was a really special part of the day.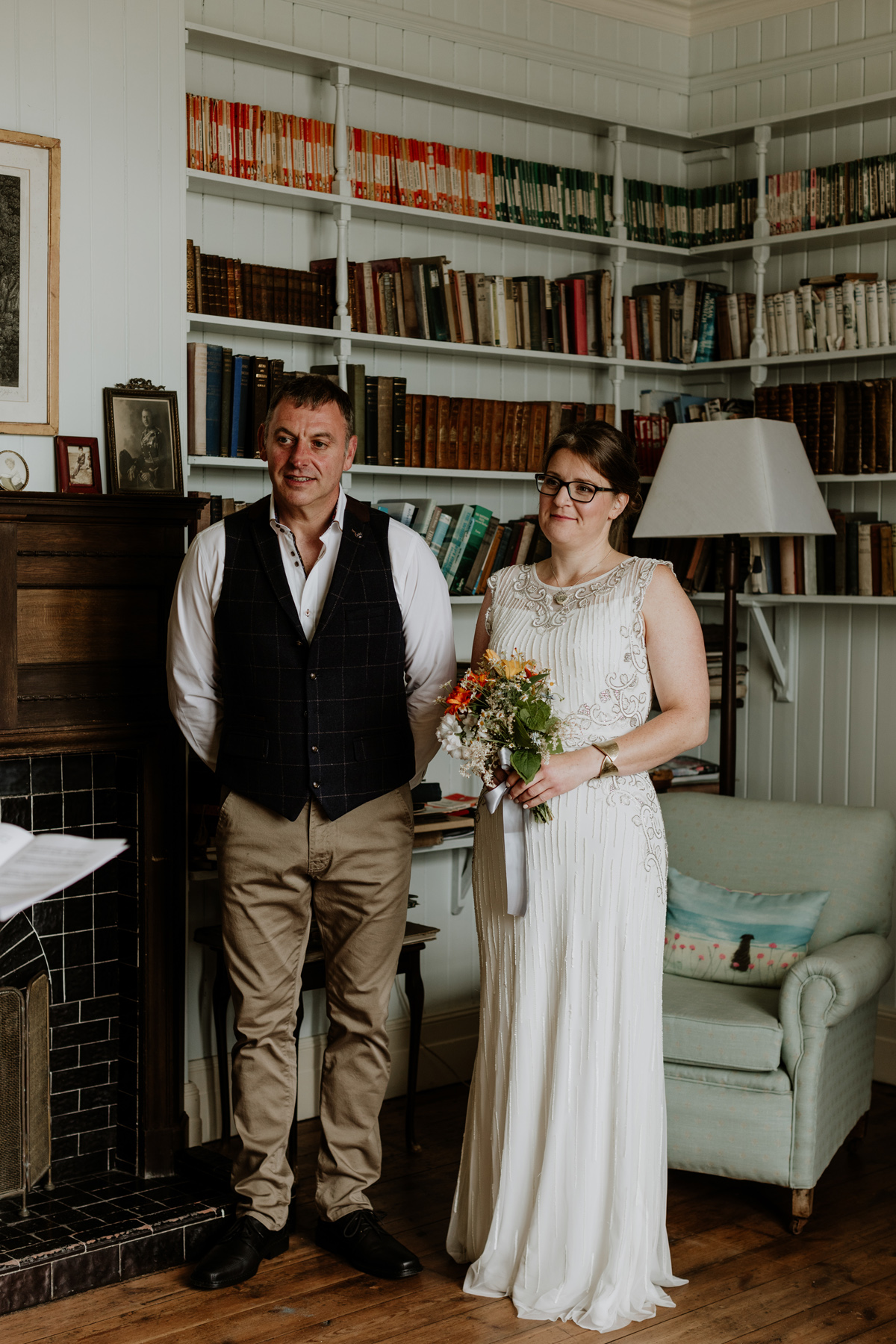 The Ceremony
We got married in the library of Leagarth House in Fetlar, Shetland. After having a look around the house as part of my parents' 40th wedding anniversary celebrations, we fell in love with the house as a whole – and the library in particular. We both wanted a wedding that was really personal and family-focused. We loved the timeless feel to the library of Leagarth House and for us it complemented our day perfectly.
It is full of character and history, with beautiful views over the sea to the Lambhoga peat hills. It's a beautiful old house, with lots of stories to tell on an island that is close to both our hearts. My parents had their hamefarin (a Shetland wedding celebration) there 41 years ago.
My dad walked me into Leagarth House and into the library. There was no aisle as such, but the sentiment was still there. Our wedding day song was 3rd & Union's 'My Love'. We had a local celebrant from the registry office.
Our son and daughter (best man and bridesmaid) read the poem, 'Dee an Me' by George P S Peterson. It's a lovely poem in Shetland dialect.
Both our rings were from Chisholm Hunter.
Photography
Susan of What Susan Sees Photography is one of the most wonderful, genuine humans we've met. She arrived early the day before the wedding so as to ensure there were no issues with her actually getting to Fetlar, and to make sure there was no stress on us as clients.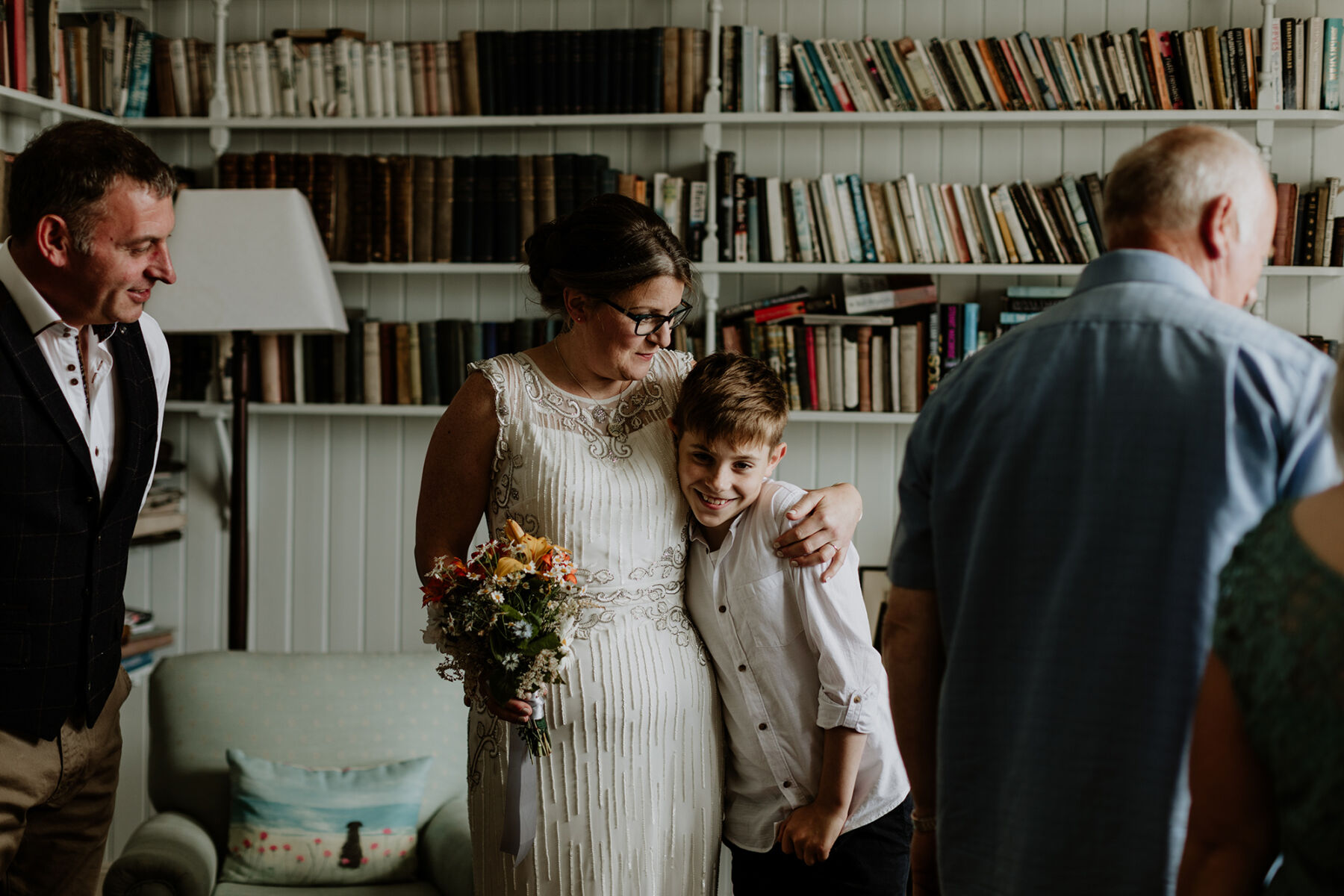 Susan was fully present to us as a couple and to the rest of the family; our children fell very much in love with her (as did my parents!) the whole time she was in Fetlar. She has boundless energy and is very easy to speak with.
Neither of us are very comfortable in front of the camera at the best of times but Susan really did make us feel at ease and help us relax into our photos. The results speak for themselves.
I loved that Susan wanted a Facetime call before confirming with us. It made me feel like we were more than 'just another booking' for her. I appreciated this more than you can know for lots of reasons, but I think mostly because our wedding was totally secret – and Susan was someone I could be excited about it with! I felt this enabled us to feel able to 100% trust Susan with our secret. She had her whole self there with us the entire time.
We have and continue to tell everyone to book a session or a wedding with Susan.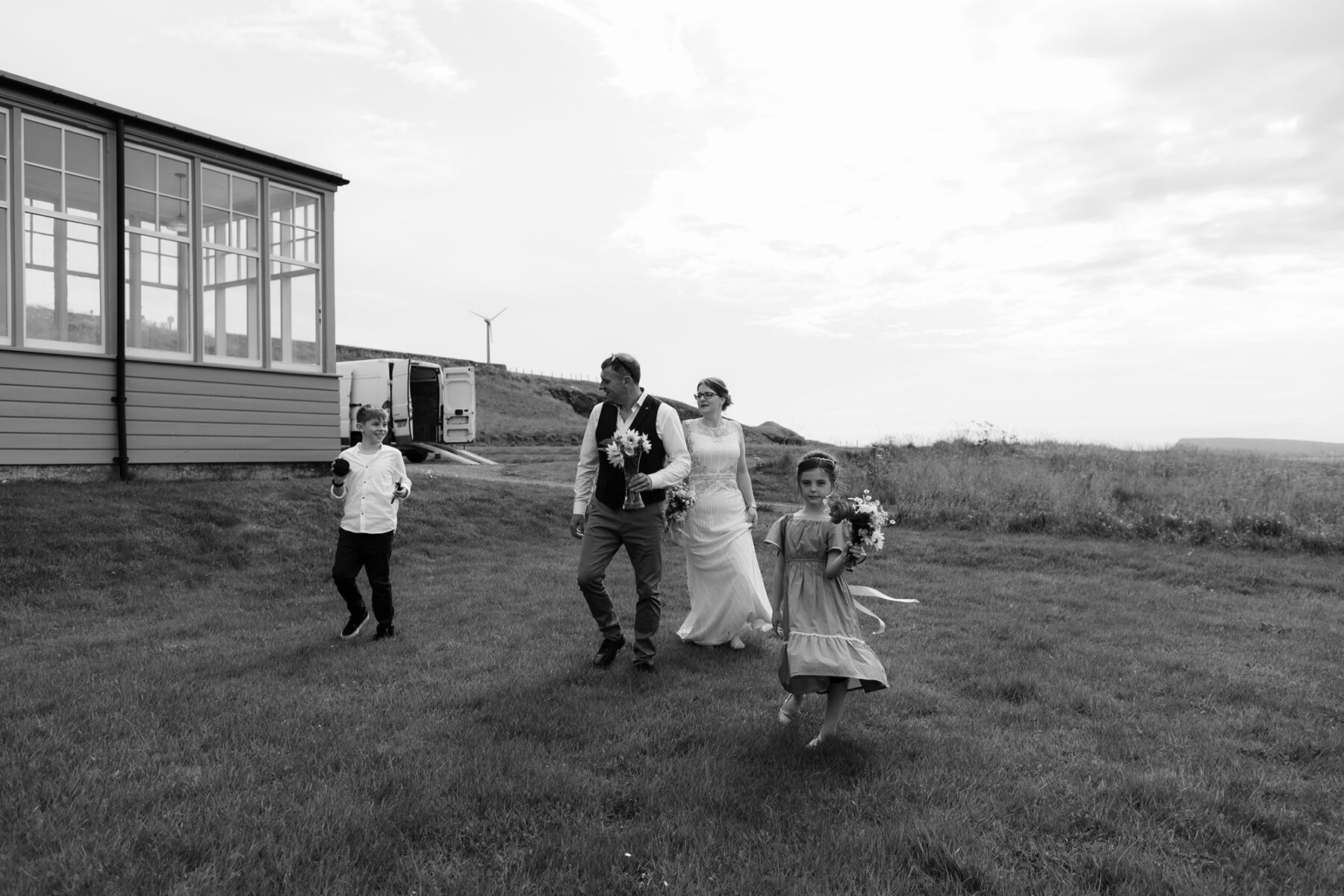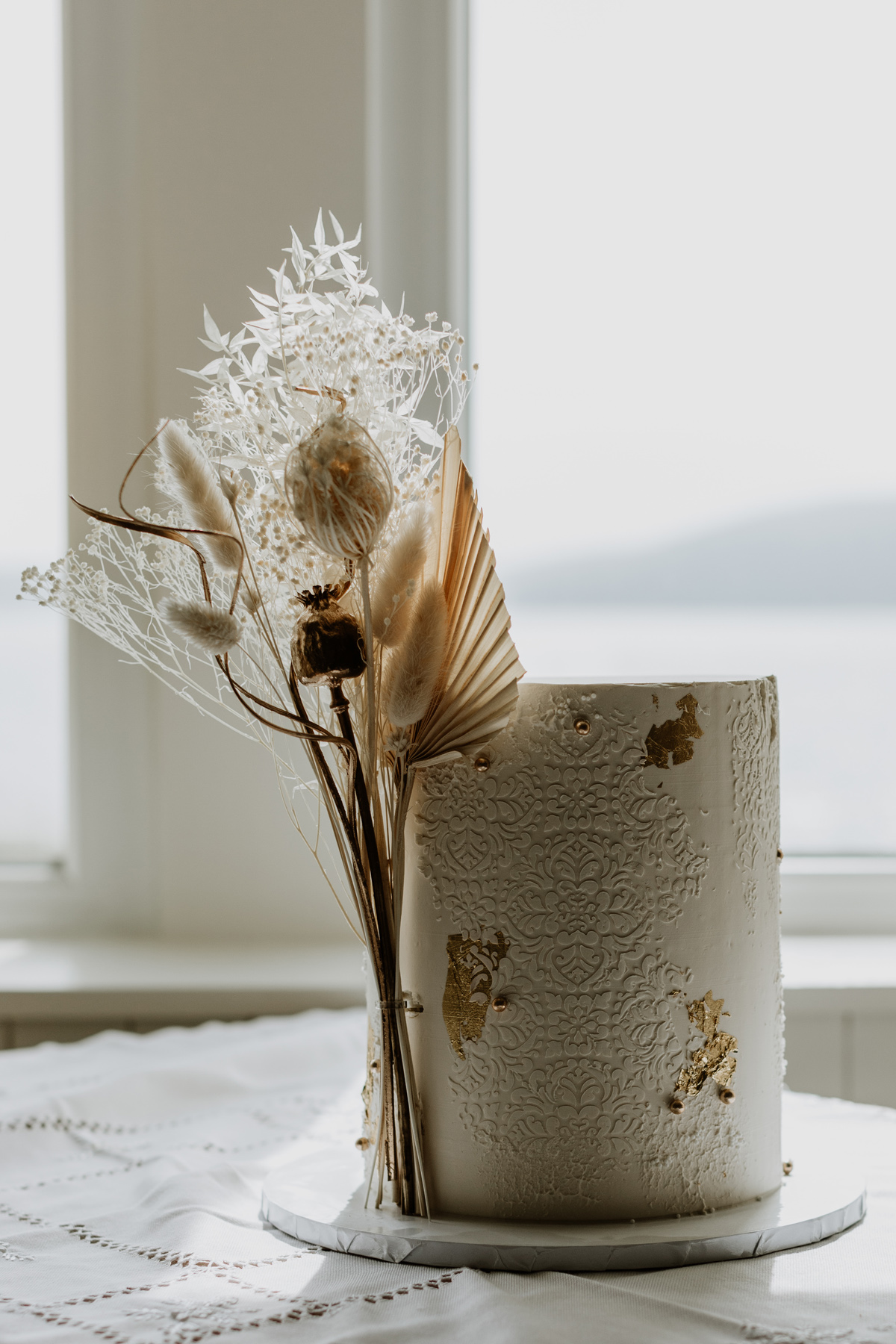 The Reception
Our caterers were The Olive Tree (no contact details) and Emma Leask Cake Design made our wedding cake. Emma's wedding cakes are exceptional and I can without a doubt say it was one of my husband's favourite parts of the day.
It was beautifully simple yet elegant, detailed and accessorised just right for us.
Words of Wedded Wisdom & Reflections
Elope! And be sure to take Susan with you!
We loved the ease that was felt and was present throughout the whole day. There was no rush, no stress, and the sun was shining.
We adored the secret, small, intimate ceremony and the setting of the whole wedding. Being in Shetland and sneaking away to Fetlar – an island which we both have grown up with in our lives – and both feeling the magic of the island dotted throughout our day wouldn't have worked with a large celebration.