One of the features we receive a lot of thanks for are our DIY features. 
Our readers love to be able to try their hand at some wedding day craft
and DIY, so last year, we teamed up with expert DIY'er Erin Hung of the
award winning Berinmade, to bring you a series of bitesize DIY tutorials
– things that even the most creatively challenged brides could enjoy
having a go at. We want our tutorials to be fun and provide you with
something to enjoy at the weekends or during time with your favourite
girl (or boy!) friends.   Today,
Erin is here to tell us all about the humble envelope and how it can
bring more than a little touch of pretty to your wedding day.
Before I hand you over, I need to tell you that Erin is currently offering 15%
off across all items in her DIY section, and 15% off across all items
in the 'ready to go' and 'semi-custom' section. Go take a look here for
further details and get saving yourself some wedding-day pennies.
Over to you lovely Erin!

When it comes to invitation design, envelopes are one of the thing that gets people most frustrated. I get it.  You spend ages and ages matching the paper samples to your flowers, bridesmaids dresses, and the printed results really take your breath away.
And then comes the envelopes, which can sometimes feel like a bit of an expensive anti-climax.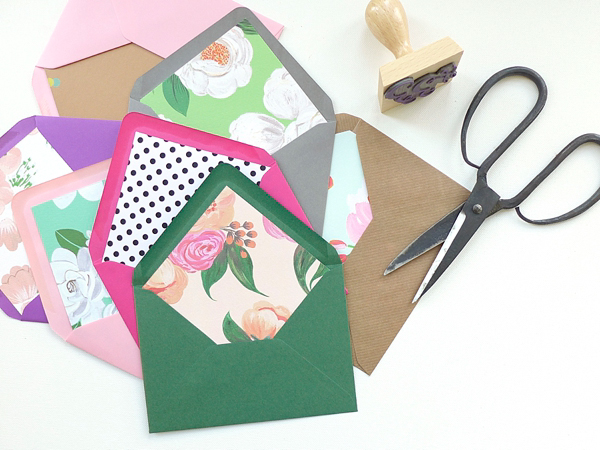 Envelope liners are often pricey, and hiring a professional calligrapher (though they are worth every penny) can be an outlay that a lot of us simply cannot afford in time and budget.
But do not fret! There are simply and budget-friendly ways to dress your envelopes like a pro. Here are some budget beautiful ways, so that right when your invitations go through the letter box, your guests will know that something very important is coming along the way.
Tip 1: Liners, liners, liners
Liners are my one of my many obsessions to do with paper because they hold such an unexpected magic touch in the hands of your recipients. They can often be expensive to produce with a stationer (often involving a die-cut process depending on your envelope shape) but with the right tools and templates, you can create something at home that looks really polished, and even in different colours and patterns to mix it up.
1. Envelope Liner template
2. Patterned paper (or just a coloured paper from a shop)
3. Glue stick
4. Scissors
5. Envelopes
6. Stamp (optional)
7. Pencil
Step 1
Prepare your template by cutting out the shape of the liner via the dotted line. Depending on the size of your envelopes, you can typically make x4 RSVP envelope liners, or x2 invitation envelope liners out of an A3 sheet.
If you are making a ton of these, it's a good idea to trace the shape out on a thicker card, as you'll be handling this a lot and need it to be more durable and sturdy to use.
Step 2
Start producing your liners either with scissors (or guillotine if you have one).
Step 3
Slot in the liners one by one. Use a little bit of glue, or glue stick to secure the liner just below the sticky part of your envelopes. Finally, fold downwards to make a crease.
Tip 2: Stamp, stamp, stamp
To dress the outside of the envelopes elegantly,  a little stamp for your envelope flap will do the trick! Whilst a personalised monogram stamp (like above) or a return address stamp is a really fun and neat way to do it, if your budget just doesn't allow, try and find a fun motif that matches the theme of your wedding. A lot of shops like Paperchase will stock off-the-shelf stamps. You can even try to find stock alphabet stamps to make your initials!
If you are super ambitious—and this is not for the faint-hearted—you can also look into embossing  powders and heat guns, though that might be another story for another post!
Tip 3: Addressing Your Envelopes
This part is sometimes daunting but it doesn't need to be. There are some amazing examples on Pinterest and on blogs with perfectly addressed envelopes, but I always try to remind people that it's not a competition. Sometimes an addressed envelope in your personal hand-writing can be so heart-warming. With the right organised methods, you can systematically work the calligraphy on your envelopes like a pro in no time!
Step 1
Prepare your work area by making a cut-out template. Here's what you'll need:
1. Your envelopes ready to be addressed.
2. A sheet of template card at least 2 times larger than your envelopes
3. Scissors
4 & 5. Pens
6. Ruler
Step 2
Get organised and take measurements. Mark out the area needed for your postage stamp, then figure out the area you want to write within. This is important to help you manage space!
The area that we'll need for my RSVP envelope is 4 x 2.5 inches.
Step 3
Cut out the rectangle of your "work area" where your calligraphy will go. Align the void area with your envelope, and crease your template card, so that each envelope will sit right at the crease.
NB. The stamp is there to mark the area, but don't stick them down until you have addressed it, in case you waste a stamp if you make a mistake!
Once you have figured out the alignment, trim off the edges of your template to the exact width of your envelope to make sure that your work area is always consistent.
Divide your work area horizontally into 3 to 4 lines, marking the side of the working area with a pencil. Now work across the template area, here are some final tips:
Always scan the entire line of the address first to make sure you can guage the spacing, to make sure you don't run out of space on the line!

If there is a space at the end, and you have not centered your address, put in some fun swirls to fill out the spaces.

Have fun with it! Write like you would normally, and really allow your personality to show through.

Allow an extra of 20-30% envelope wastage if you are using a calligraphy ink pen (for ink spills and general accidents).

Take breaks in between to regain your concentration span—spread them out over a few days or weekends!

Be creative with your ink colours. White, and metallics on dark envelopes work well, and if it matches the overall tone of your invitation suite, can be really sophisticated.
Patterned Papers are available to purchase at our DIY section on the BerinMade
website, and we are offering 15% off this whole month of May! A range
of our floral and graphic patterns are available to purchase, with an
option to customise colours. Simply enter "OMGDIY15" at checkout.*  Don't forget you can also save 15% across all items
in the 'ready to go' and 'semi-custom' sections too. Go take a look here for
further details and get saving yourself some pennies.
Click here to down load a PDF version of this tutorial.  
So, who fancies having a go at lining their own envelopes and creating some paper pretty? We'd love to hear from you!  You can see many more DIY and 'How To' features on Love My Dress here.
Erin
Berinmade
www.berinmade.com
Berinmade
is an award winning UK based wedding stationery and paper goods
designer, who ships her beautiful products worldwide.  Please visit www.berinmade.com for further information.  You can also follow Berinmade on Facebook and Twitter.
Terms and Conditions in relation to the 15% Discount at Berinmade for Love My Dress Readers:
This offer expires 1st June 2013 and regular lead times apply. The offer cannot be used in conjunction with other promotional codes.