Oh my oh my!  This wedding!  That dress! The gorgeous couple who just look so damn perfect together, where to even start with this Friday treat I've been saving all week to share with you, courtesy of the stupidly talented photographer Tobiah Tayo.
Andrew and Alison's glorious 1920s art-deco inspired wedding took place on 3rd May 2013 at The Midland Hotel in Morecambe, Lancashire, chosen as a beautiful setting for their 1920s themed nuptials and, the couple told me, to charm and delight their guests.
That shot below is one of my faves of all time. Just look at the movement in that stunning pale green gown, a bespoke design by The State Of Grace - I have stared at this image for so long, it captures such an absolutely perfect moment in time. Quite incredible…
Love My Dress Wedding Blog – Photography Copyright (c) 2013, Tobiah Tayo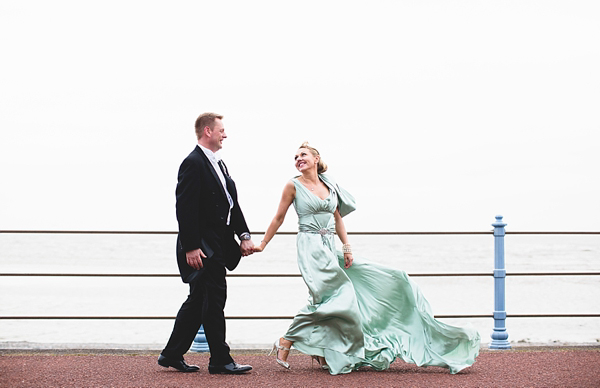 "The dress was designed specifically for me by The State Of Grace. We reviewed various designs and pulled different elements together. The State Of Grace were delightful to work with and got so excited about our wedding theme, inspiring me with lots of additional ideas.
I loved the fact I was able to add the jewellery to my dress so that the gown could be styled slightly differently at different stages throughout the day.
For me the colour was amazing and The State Of Grace choose the right shade that suited me down to the ground – they also used elements of the same colour within my bouquet and also the corsages."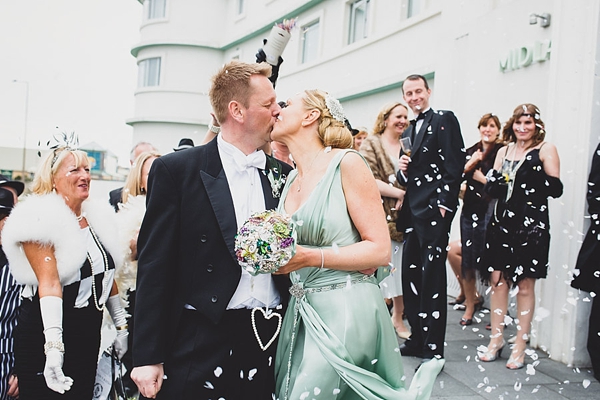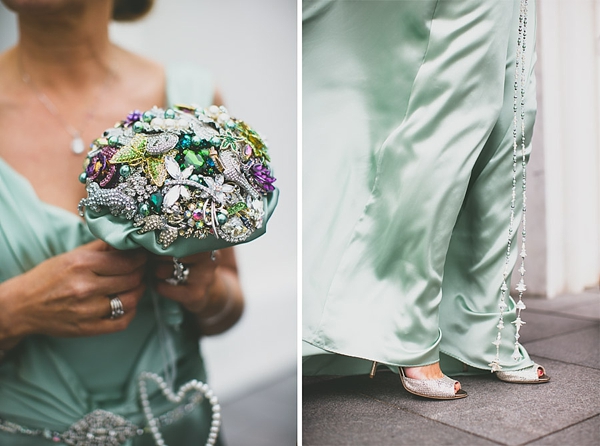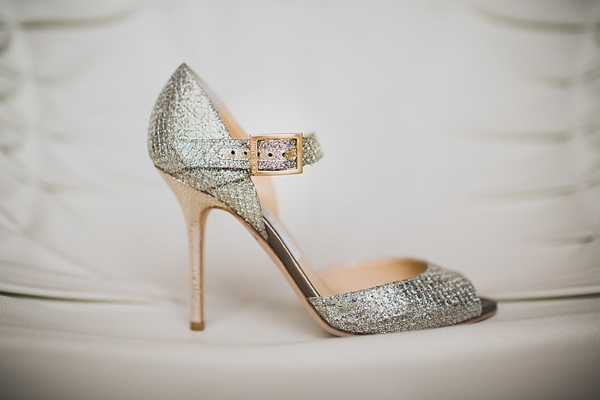 "Andrew and I were engaged for eighteen months, and the story of how we met is a rather wonderful tale!  I woke one morning with a huge smile on my face, following a dream about a man – a stranger, who I was later to discover was Andy. The dream become reccurring and I used to relish going to bed at night to enjoy it!
Some time later, I encountered Andy in Las Vegas, through his boss – and had to ask who he was.  when I was asked why, I didn't hesitate to say because that's the man I'm going to marry!'.  My somewhat strange introduction didn't put Andy off thank goodness, and we arranged to go out on a date.  During our first date, Andy won my heart over by presenting me with a bottle of Coco Chanel perfume.  And the rest, as they say, is history."
"The man I dreamt about became my fiancé on 19th November 2011.  Andy had spent the day convincing me to go to Warwick Castle; it was a beautiful day so why not go out for the day instead of being at home doing jobs. I didn't fancy the trip out however so went out of my way to busy myself at home.  After cleaning the cars, doing the garden and various other jobs Andy eventually gave up and instead suggested we go visit my Father's grave.
And so we headed down to Dunchurch, to the beautiful church of St Peters. We had a pleasant time tending to my father's grave and then strolling over to our favourite pub across the road for a glass of wine. Before leaving, Andy suggested we walk back through the church as on the dark winter nights it is lit up as beautiful as a romantic a picture. It was in this romantic setting that Andy popped the question.  And so the planning began in earnest!"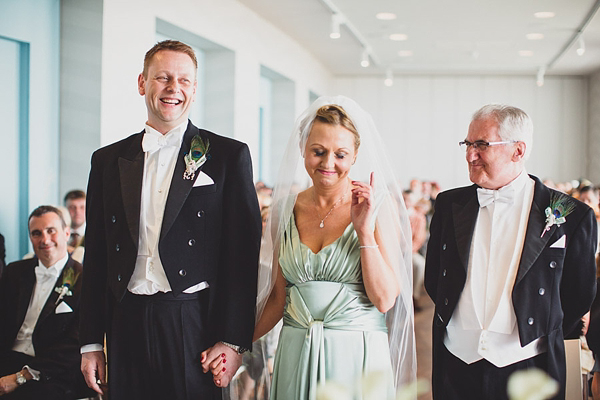 "We love the 1920s style and music and The Midland Hotel is just such a wonderful place – an iconic art-deco venue. It is also located at the seaside, a beautiful British beach which we love! The colour of my dress is my favourite colour! I choose cream for the bridesmaids as I wanted an element of surprise and difference.
They walked down the aisle first, so it made what I would be wearing more intriguing. I also wanted them to look extra special and not just like normal bridesmaids as they were both so special to me – my daughter and a very best friend. That's way I choose wedding dresses for them to wear as opposed to standard bridesmaids dresses!"
"We didn't have any flowers – all the accessories were designed and made by the same team who created by dress - The State of Grace."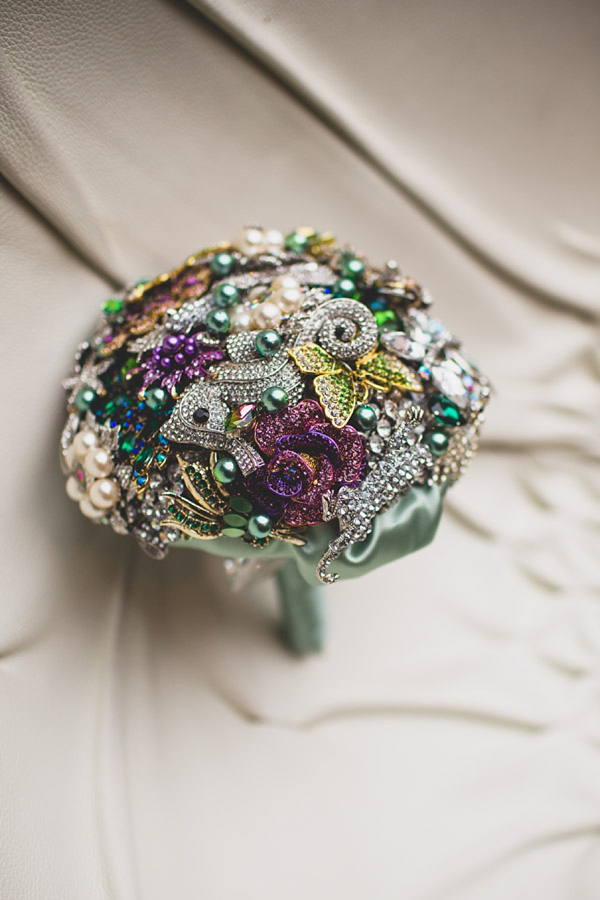 "My bridesmaids wore actual wedding dresses from Phase Eight, with beautiful fur shrugs from Monsoon and deco style hair accessories from Next.
As gifts to my bridesmaids, I gave them each 1920 style twizzle sticks."
"The groomsmen were each gifted with pocket watches from Andrew to fit in with our 1920's style…"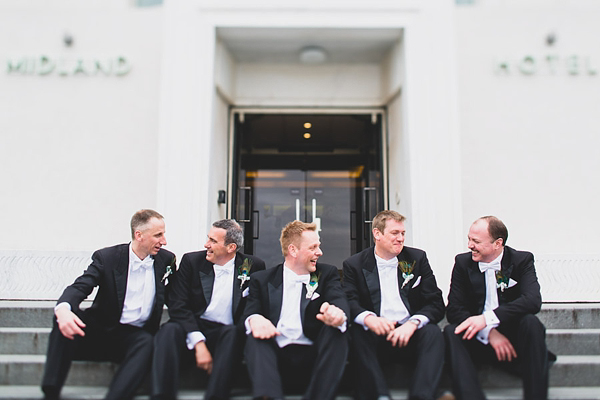 "We used the wonderful Itsy Bitsy Vintage to style the room and to also provide china for the tables.  We also used Events by Design (Lancashire) for the amazing feather table centre pieces."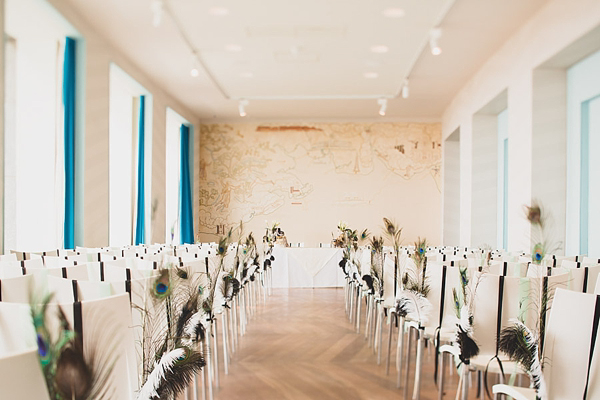 "Warble Entertainment provided both the Laurel and Hardy Table Magicians and the Charleston Chappies (the 1920's band) both were superb.  Our friend Alan Barker is a professional pianist and entertained the guests during the afternoon drinks reception."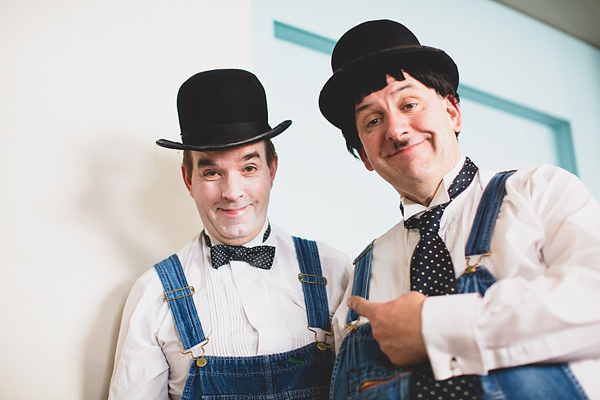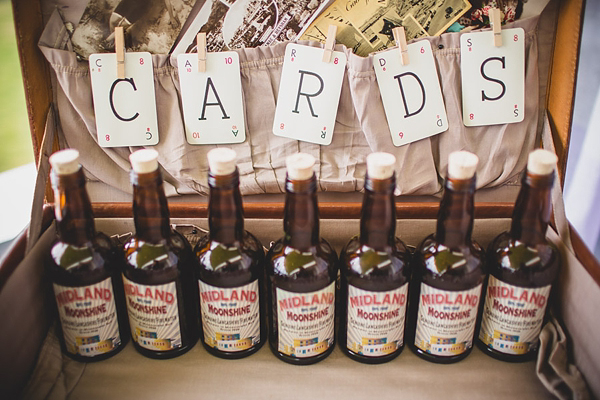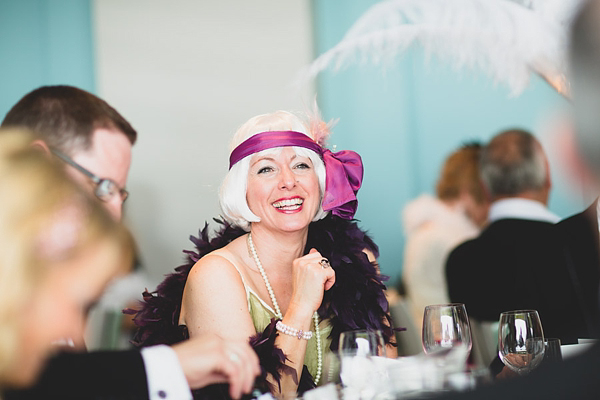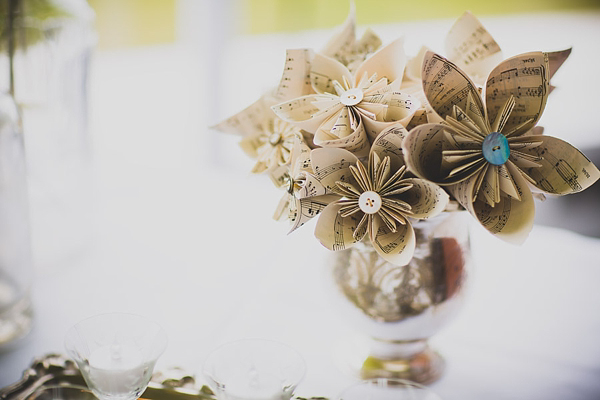 "My daughter handmade long strings of beads for the ladies and we relabelled some long cigarette holders with our logo. We repackaged some novelty moustaches for the men into our stationery.  We also made small ribbon edged peacock feather to sit into the handmade beaded napkin rings."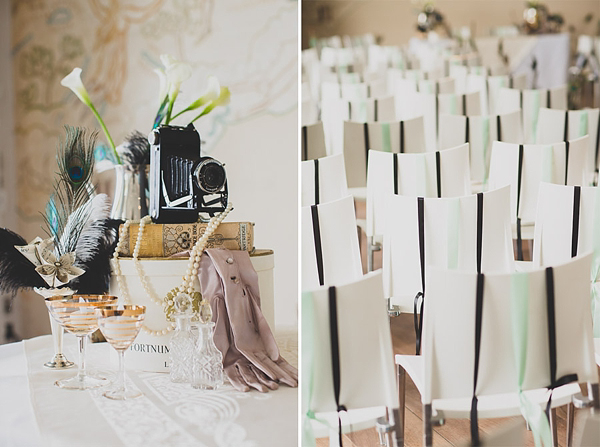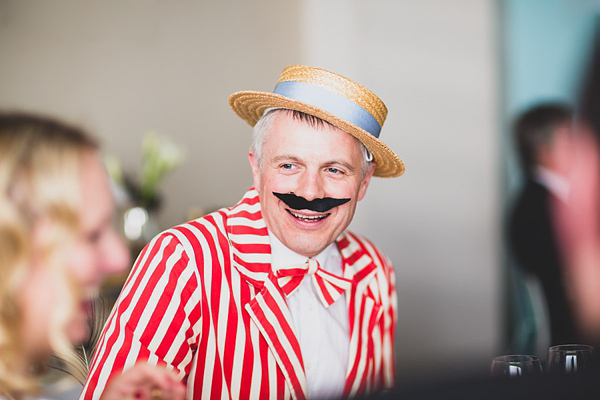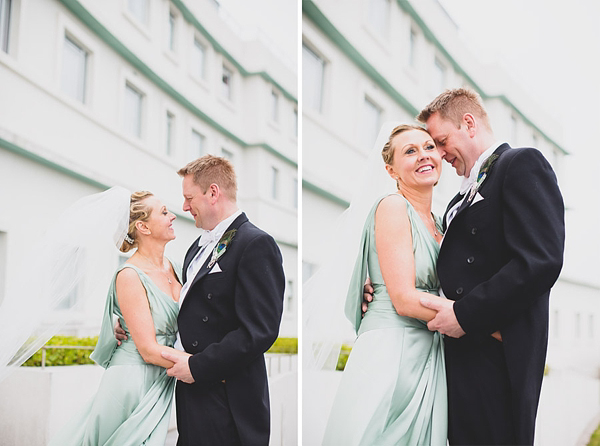 "Our photographer was Tobiah Tayo.  Boy did we choose well! Laura and Tobiah were totally amazing – they made you feel relaxed and at times you didn't even notice they were there. I can't begin to express my delight at having them photograph our wedding. Amazing!
They work so well as a team. On the day they were able to bring together all the pictures we had requested but wouldn't have been able to remember on the day. They worked so hard but at no time interfered with the day. I wish we had used their pre-wedding service just to have had the opportunity to spend more time with them!
Tobiah's enthusiasm is immense,  he is like a coiled spring bouncing around catching ever moment!"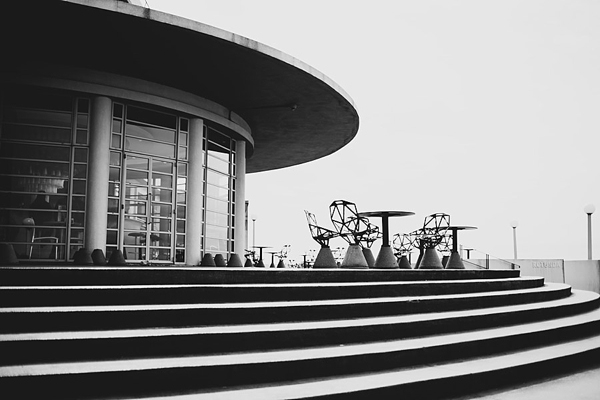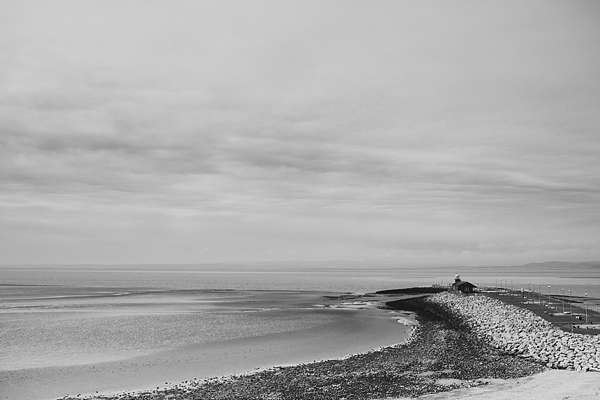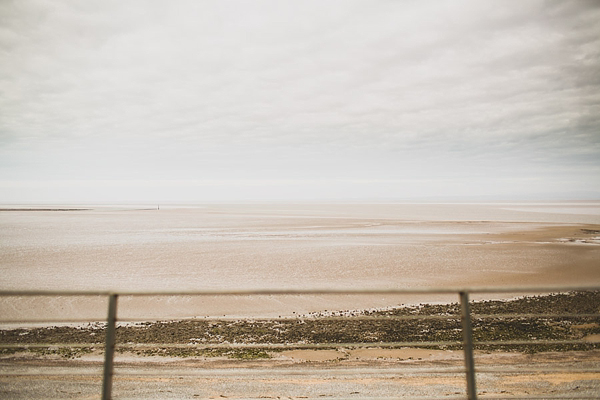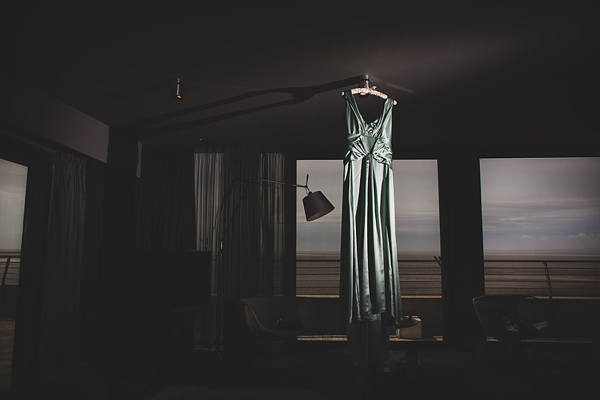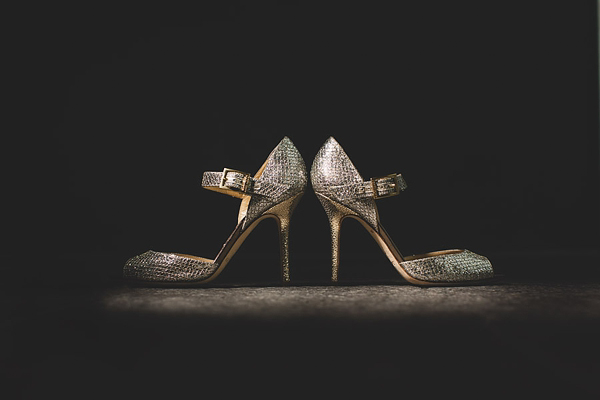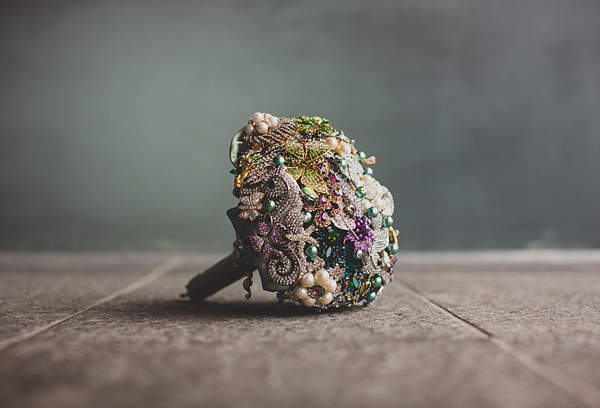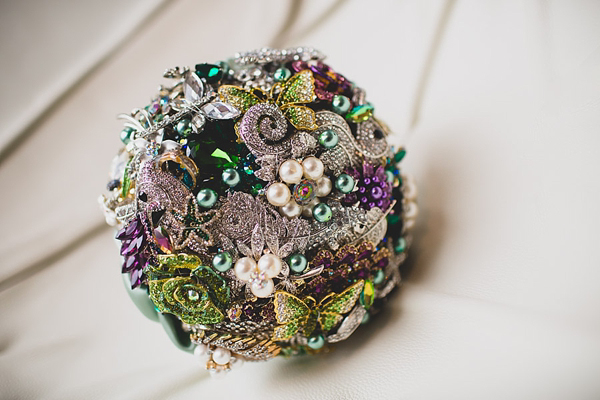 "My handbag was a gift from a Chinese friend…"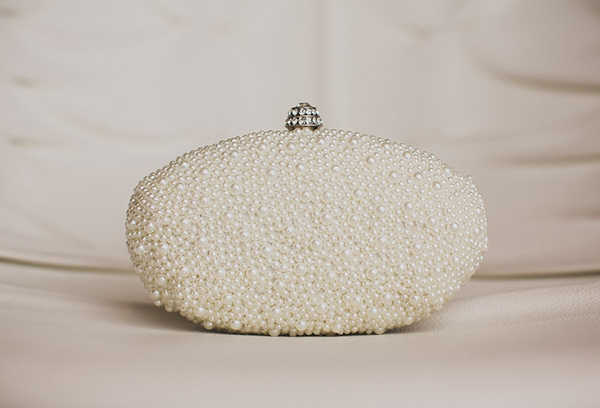 "Our ring jewellers don't have a website, but they were M.A. Sheldon of Lichfield – a family owned jewellery company.  I also wore an antique white gold and diamond cocktail watch and white gold and diamond tennis bracelet both from Romiley antiques & Jewellery, Stockport (again, no web site).'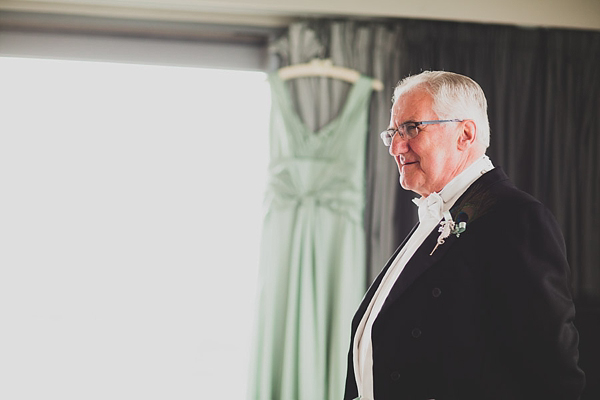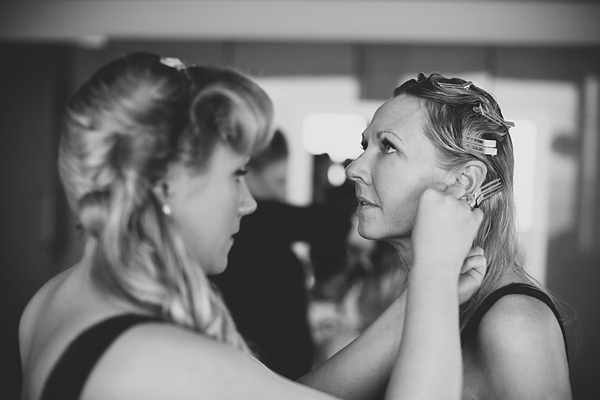 "I used local independent hair dresser Jenny Illingworth, who specialises in 1920 styled hair. She did everyone and worked well with my makeup lady with timings as they both had five of us to complete. Finding someone that could style my hair to the 1920 era but still make me look lovely was a challenge, but Jenny know her stuff."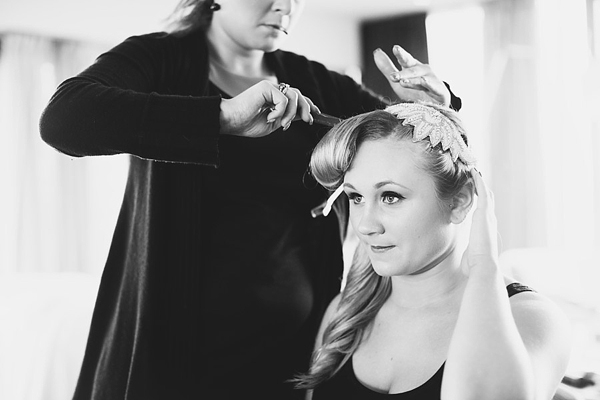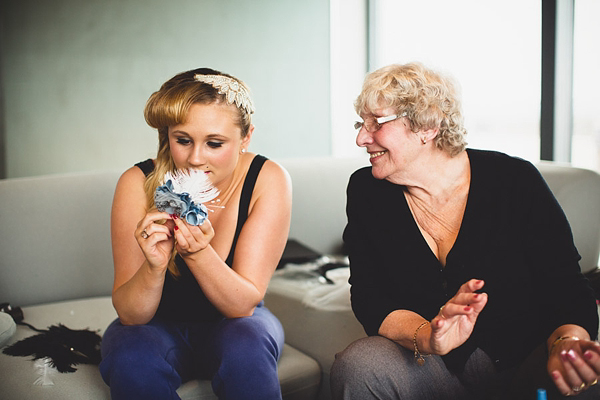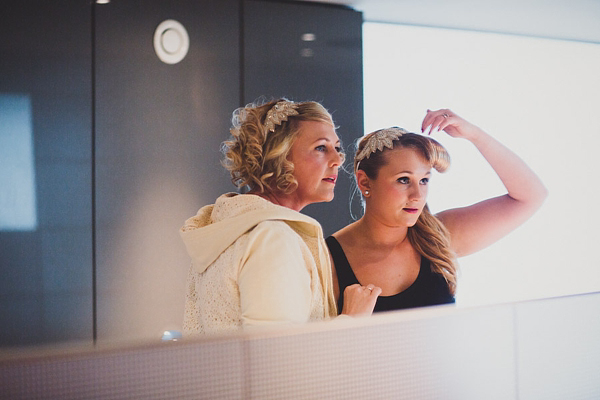 "I also hire a local girl for all our makeup Becky Cain – she was excellent and had worked on various BBC productions so knew exactly what to do to achieve a great 1920 look whilst keep a wedding feel and also what works well on camera. I would strongly recommend using someone good for your make up and also using an airbrushing machine if possible to keep you makeup fixed for the day.
 They were both amazing and helped thought out the morning with some many more things than just our hair and makeup.  It is great to have good girls that you not only get one with – but also because they do wedding all the time they know just what to do with everything especially timing."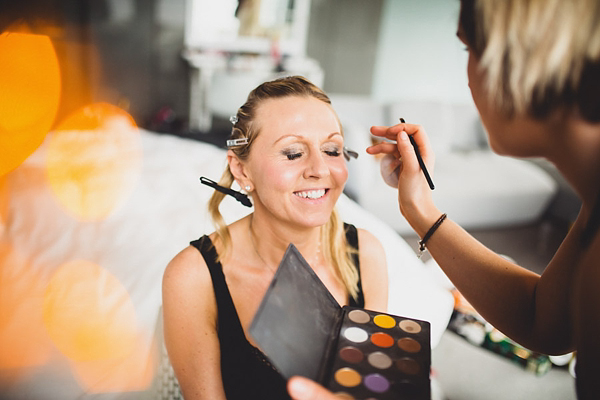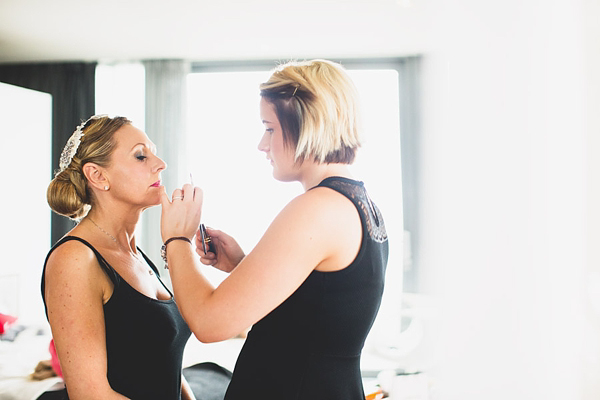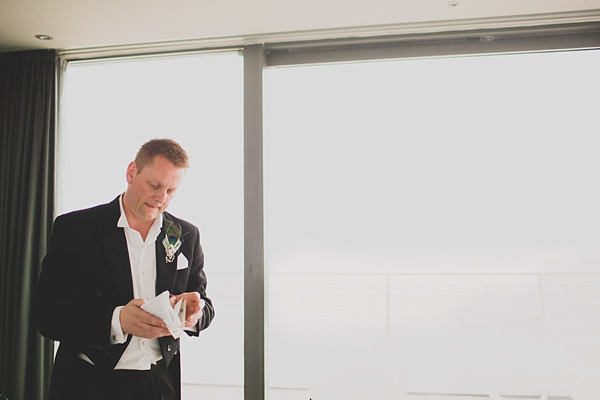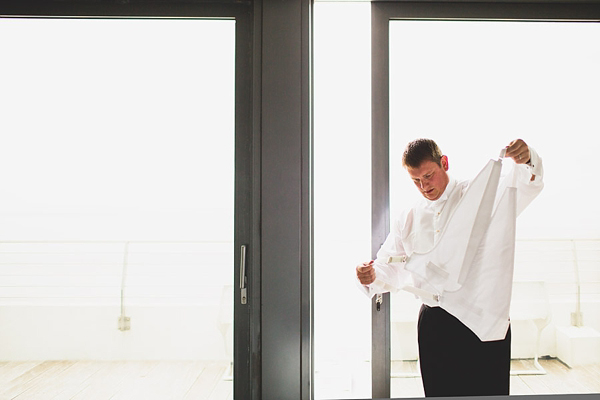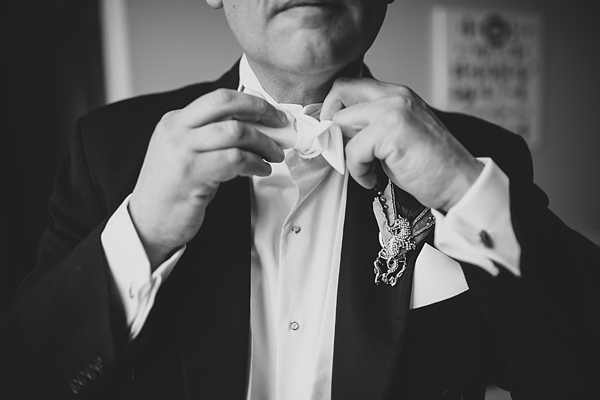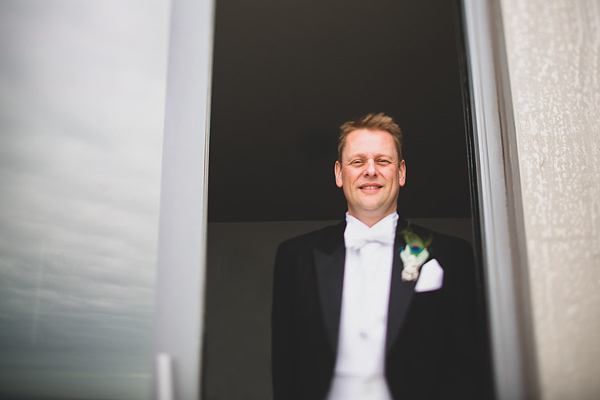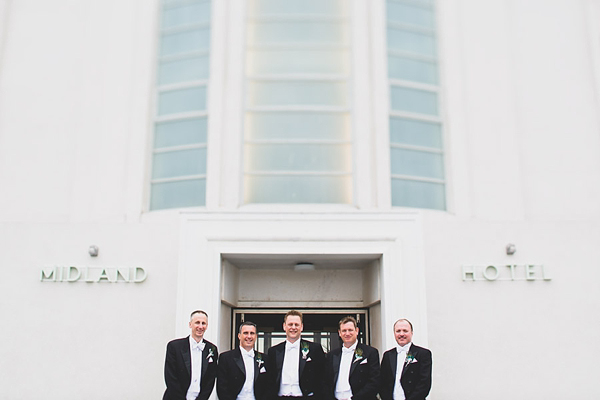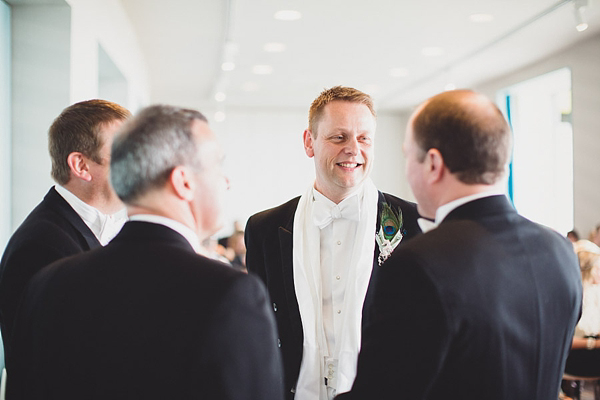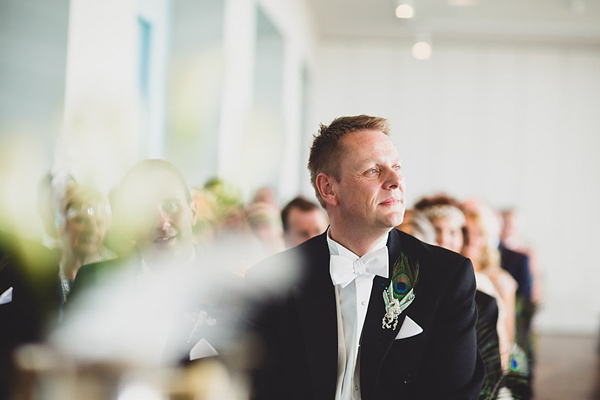 "My Step Dad 'gave me away', we walked down the aisle to 'Let there be love', by Nat King Cole."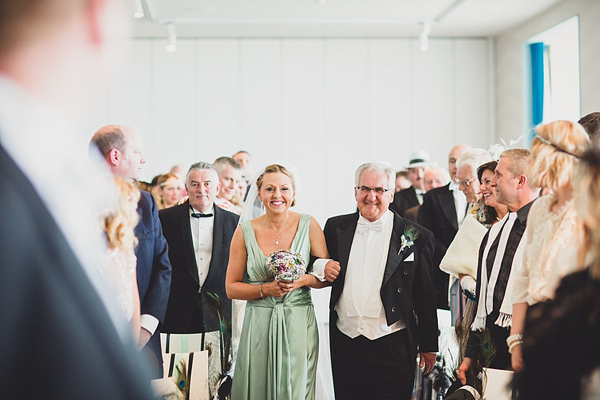 "I was so worried that I would be so emotional throughout the wedding service that initially we went for saying the least possible, as I worried I wouldn't be able to talk – however the options were fantastic from the Lancashire register office and I was able to chat with the registrar doing our wedding before the day which put me at ease and we were very happy with their wording – we each chose to say something different that was right for our own personal feeling for each other.
 Our readings included an extract from Les Miserables; 'You can give without loving, but you can never love without giving. The great acts of love are done by those who are habitually performing small acts of kindness. We pardon to the extent that we love. Love is knowing that even when you are alone, you will never be lonely again. And great happiness of life is the conviction that we are loved. Loved for ourselves. And even loved in spite of ourselves.'"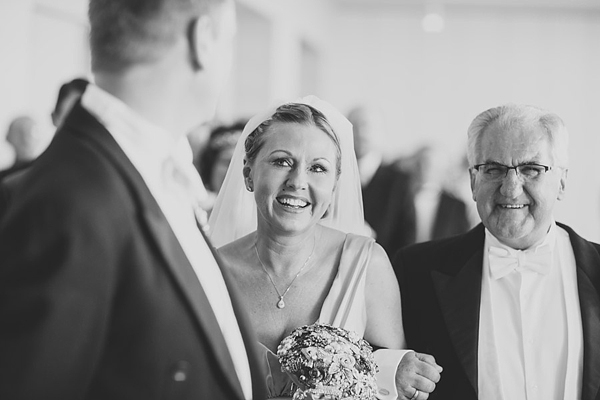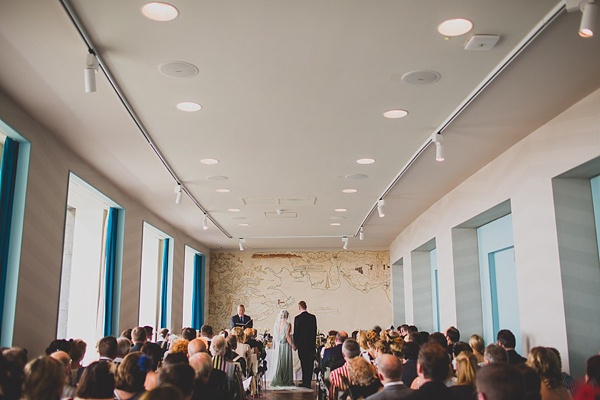 "We also had 'A Lovely Love Story' by Edward Monkton; 
 'The fierce Dinosaur was trapped inside his cage of ice. Although it was cold he was happy in there. It was, after all, his cage. 
Then along came the Lovely Other Dinosaur. 
The Lovely Other Dinosaur melted the Dinosaur's cage with kind words and loving thoughts. 
I like this Dinosaur thought the Lovely Other Dinosaur. 
Although he is fierce he is also tender and he is funny. 
He is also quite clever though I will not tell him this for now. 
I like this Lovely Other Dinosaur, thought the Dinosaur. She is beautiful and she is different and she smells so nice. 
She is also a free spirit which is a quality I much admire in a dinosaur. 
But he can be so distant and so peculiar at times, thought the Lovely Other Dinosaur. 
He is also overly fond of things. 
Are all Dinosaurs so overly fond of things? 
But her mind skips from here to there so quickly thought the Dinosaur.She is also uncommonly keen on shopping. 
Are all Lovely Other Dinosaurs so uncommonly keen on shopping? 
I will forgive his peculiarity and his concern for things, thought the Lovely Other Dinosaur. For they are part of what makes him a richly charactered individual. 
I will forgive her skipping mind and her fondness for shopping, thought the Dinosaur. For she fills our life with beautiful thoughts and wonderful surprises. Besides, I am not unkeen on shopping either. 
Now the Dinosaur and the Lovely Other Dinosaur are old. 
Look at them. 
Together they stand on the hill telling each other stories and feeling the warmth of the sun on their backs.'"
"I think the actual service and exchanging our vows was my favourite part of the whole day – it was just so wonderful walking into the room and seeing all our guests dressed up in 1920's style and Andrew waiting for me at the end of the aisle. I was nervous but as soon as he held my hand and kissed me I felt comfortable and knew that I would feel this way for the rest of my life. This could only be topped slightly by the speeches which from my dad and Andrew both brought me to tears."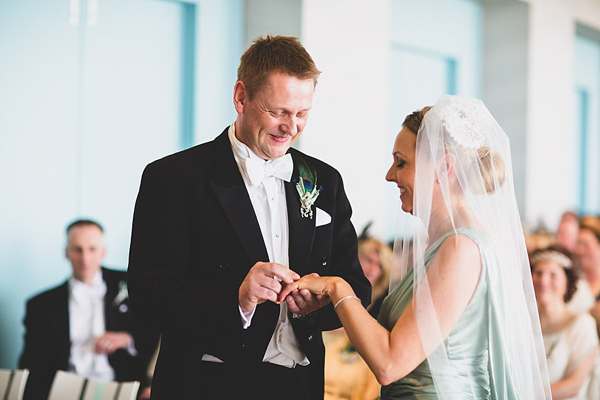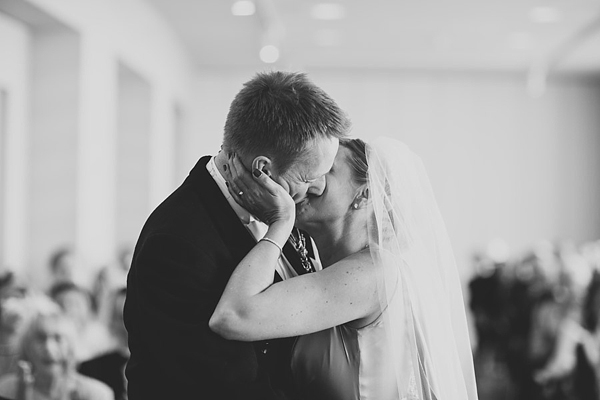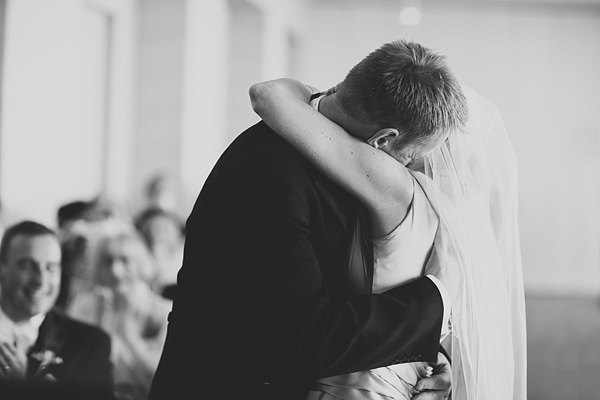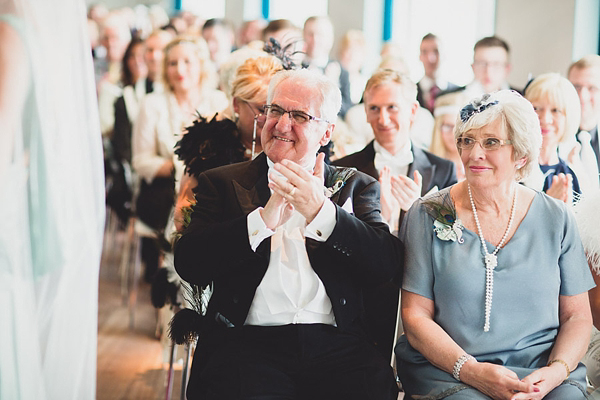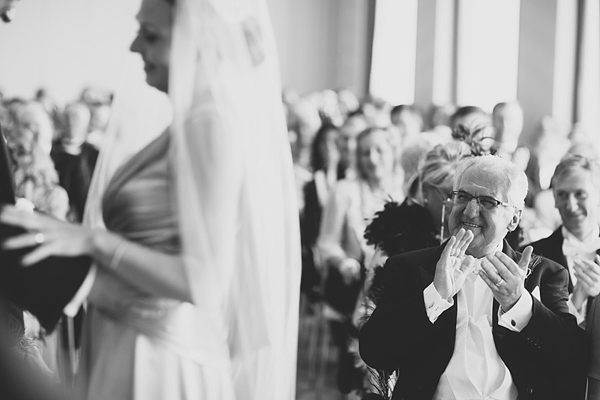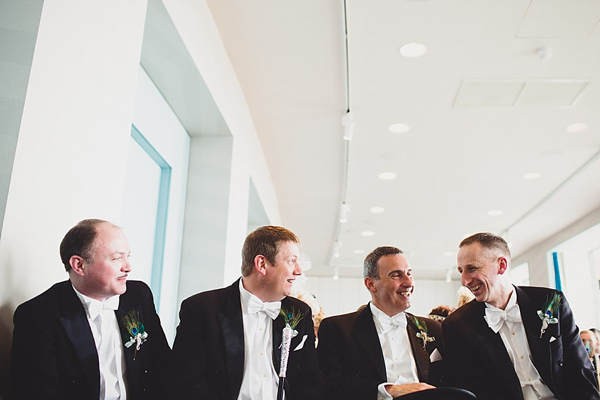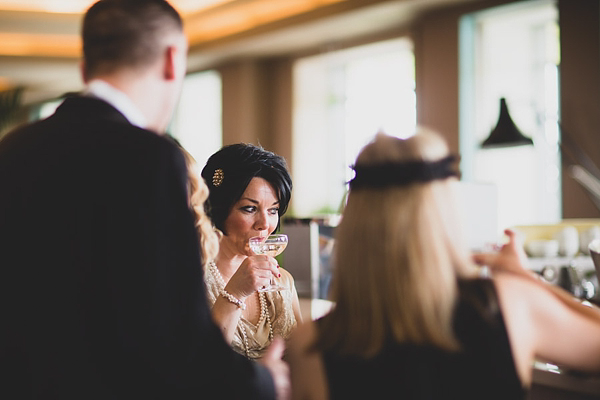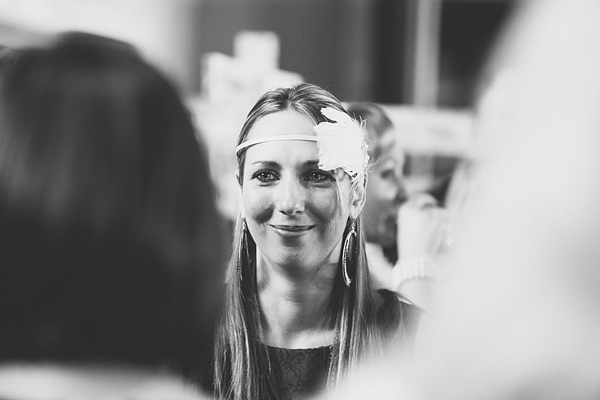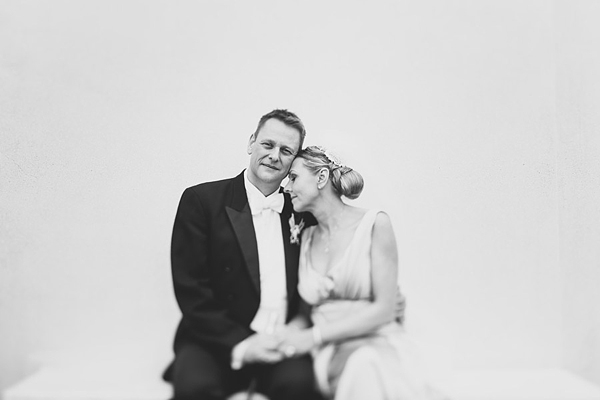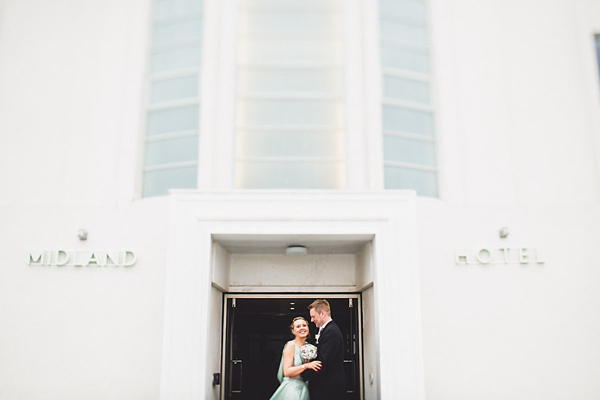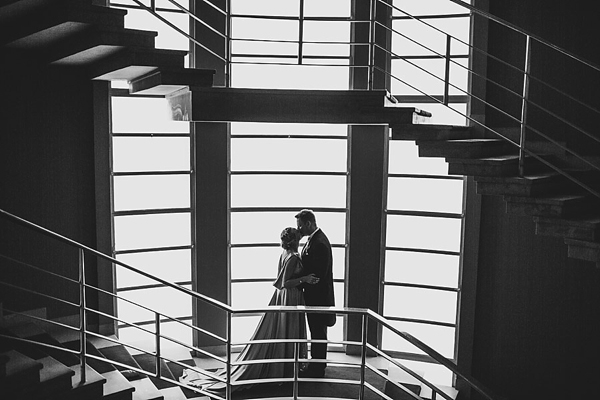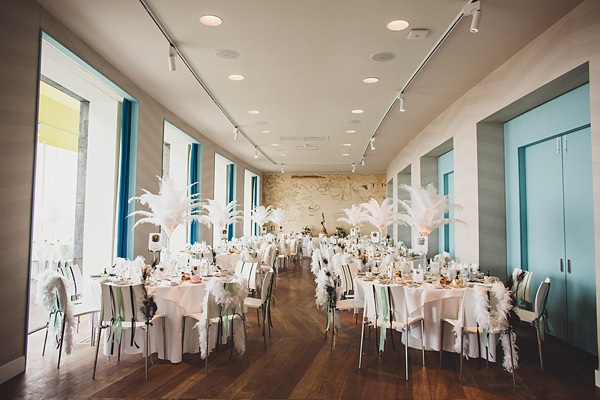 "We love cheese so we chose a cheese cake consisting of 6 tiers, each with a different 'wheel' of cheese.  The cake was decorated by the Midland using figs and strawberries.  We designed it using the online cake builder tool at The Cheese Shed."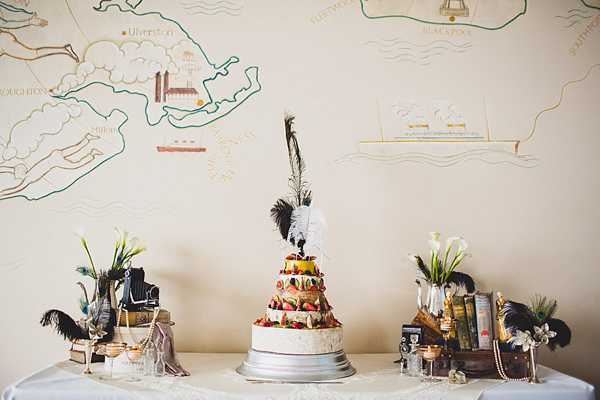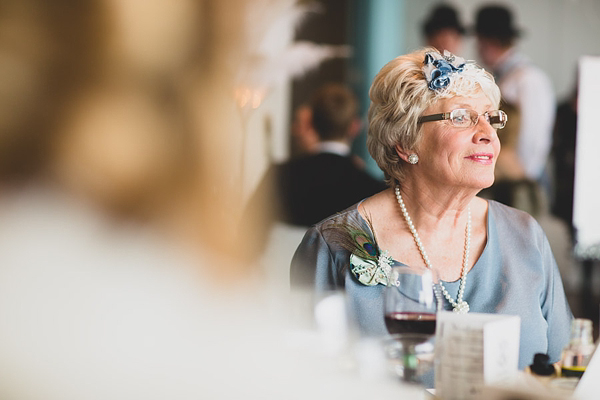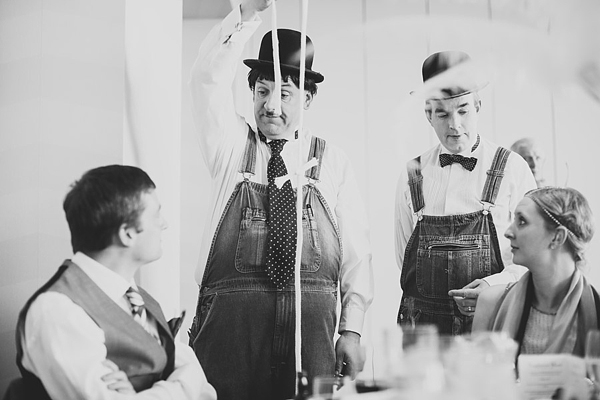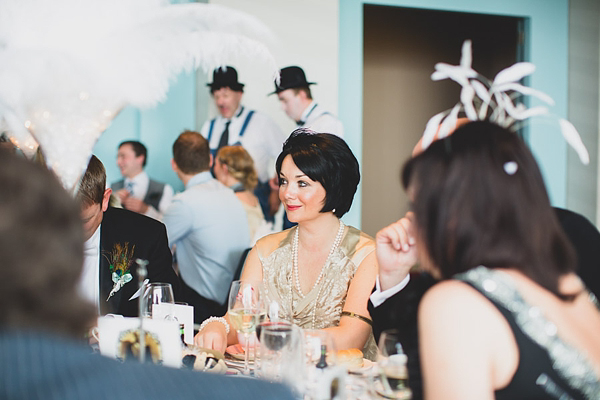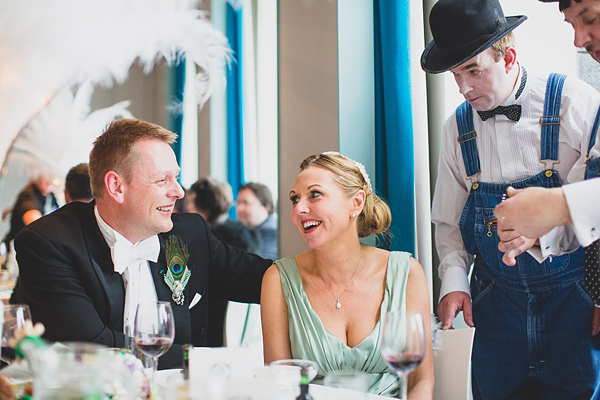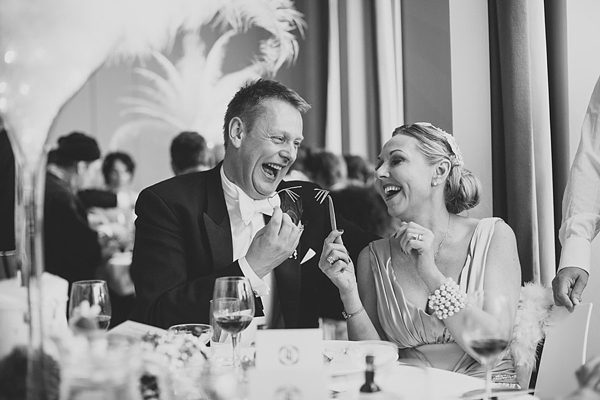 "We had dancing lessons to learn the quick step and danced to White tie, top hat and tails by Irving Berlin – played by the band.  The dance lessons were great fun and were provided by Flair Dance Studios in Rugeley."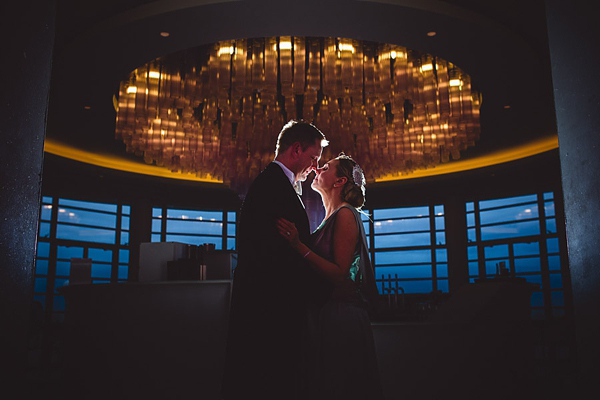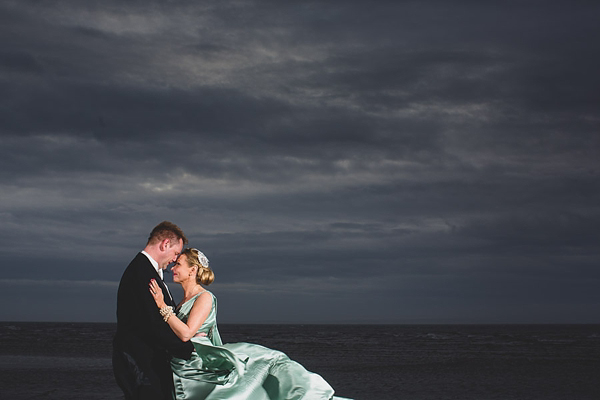 Words of Wedded Wisdom…
"On the run up to the wedding I took joy in reading the blogs for inspiration. I contacted Love My Dress when I was planning my wedding for advice and tips. I think brides are looking for that little bit of help finding the right people.
Remember in the morning when you are getting ready you are being photographed – so try to wear something when you look back at the picture you are happy with.
I would strongly recommend a pre-service if this is offered by your photographer – it will make you feel more at ease on the day and then you will not have to think about ensuring you have the right pictures. You can also spot things that you don't like and ask them to avoid them. I wish we had done this, although our pictures are amazing. I would also suggest you take a little more time thinking about what you want photographed.
Tobiah and Laura were amazing at pulling everything we asked for together, they also thought about when I needed my bouquet and amazingly found all the people on our list and brought them out to us!! However because we only gave them a list of things we wanted at the last minute, maybe not giving this enough thought,  I forgot to make sure I had a picture of my brother."
 "My bridesmaids walked down first so they were not behind me to straighten my dress. I should have made sure I asked someone to be on hand to do this for me.
I'd probably suggest getting married slightly earlier if you can – we had very little time after the meal for the speeches and then the band stated immediately which meant that the guests had sort of left the room to stretch their legs so some people missed our first dance.
I also wish I was ready just that little bit sooner so I could have just taken stock of everything and also had a little walk around in my dress to see how it felt."
Total knock-out isn't it? Utterly bloody wonderful. 
I've got to say, I've been featuring the work of photographer Tobiah Tayo for a couple of years now and am increasingly blown away by his style and photographic technique. These images are outstanding and I'm beyond thrilled that Tobiah chose Love My Dress to showcase them.  And in the spirit of 'Gatsby fever', I do hope that these images inspire some of our readers who are seeking to create their own 1920s art deco inspired nuptials, as well as encourage those brides who aren't keen on wearing white or ivory!
I would be thrilled to see some lovely comments on this beautiful wedding.  What do you love most about it? That dress, the overall styling, the fact that you can have a chic and stylish 1920s inspired wedding without it looking like a fancy dress party? Please discuss! 
Friday love to you all my darlings,
Annabel

Photographer - Tobiah Tayo
Venue - The Midland Hotel (with high recommendations for the Co-ordinator, Vicky Cruise)
Brides Dress, Jewelled Bouquet, Veil + Hair Accessories - The State Of Grace
Brides Necklace from Carat
Brides Shoes - Jimmy Choo 
Grooms Suit – Moss Bros + shoes via Churches
Groom's Accessories + White Gloves via Dents + Shirts & bow ties via TM Lewin + Promenade cane
Bridesmaids – Phase Eight (wedding dresses) + fur shrugs via Monsoon + Next hair accessories
Cake - The Cheese Shed
Entertainment - Laurel and Hardy Table Magicians + Charleston Chappies + Alan Barker Pianist
Photobooth - Pictureblast
Additional Styling - Itsy Bitsy Vintage (china hire) + Events by Design (feather table centre-pieces)
Rings- MA Sheldon – Lichfield (no website)
Hair Stylist - Jenny Illingworth (local/no website)
Makeup Artist - Becky Cain (local)