Hey guys and gals, how many of you are looking forward to a lovely long bank holiday weekend? I so so cannot wait to down tools and spend some precious time with my family. Cannot wait!! But before I leave you to go and have fun of your own, I wanted to share a lovely wedding, our final this week, with you all.
Dillon and Rosalyn tied the knot on 19th May 2012 at Cafebarge in Tarbert, chosen for it's beautiful
location and because it was also the back-drop of the couple's very first holiday together.
I love the hint of 60s
in this wedding, that subtle beehive hairstyle, the empire line dress
and pretty bow court shoes, but most of all, I ruddy love that confetti shot below – what a photograph! Joy, celebration sunshine and love all captured in one perfect wedding day image, by Kirsten Struve of Struve Photography.

"We fell in love
with the 100 year old barge and had confidence in the owner Michael
that it would be a well organised event.  We also hired The Anchor Hotel across
the road for our reception.  We both have a soft spot for
Scottish fishing villages  – it was the first wedding the barge had had
and the sun shone all day! It was a perfect venue and I thought it was a
wee bit different!"    
Love My Dress Wedding Blog – Photography Copyright (c) 2013, Struve Photography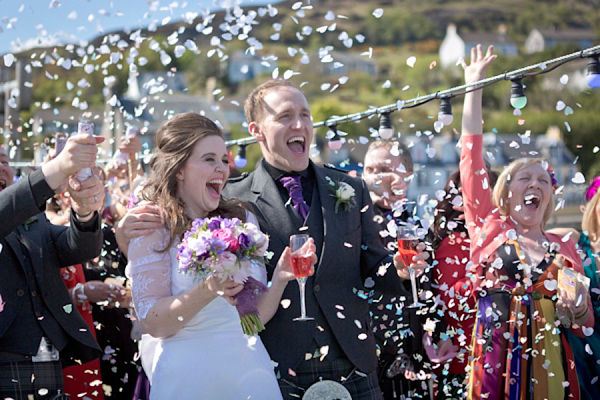 "I found The Flower Shop
one day when I was researching Tarbert and rang Julie.  We were
visiting Tarbert and went to meet her,  I showed her colours and styles
and gave her lots of pictures – the day before the wedding she showed me
the peonies and roses etc that were going in the bouquets and they
smelt and looked amazing.
Flossy and Dossy provided me with the lace for the Florist, which was
used to tie them.  The button holes were thistles and the grooms had a
rose in it too.  Honestly, when the flowers arrived on the wedding
morning – I almost cried!  They were perfect and stunning."
"I love quirky things and we just wanted
something different for our wedding.  We have been together ten years and we I didn't see
the point in spending tens of thousands of pounds on a wedding – it was
about our love for each other – and treating our closest friends and
family to a lovely fun day full of colour and happiness."
"I collected hundreds of lights, flower posies; made my own
bunting for the ceremony – which was nice – I ran out of time and had to
rush the table plan on the wedding morning and the evening guest's
favours – which was a wee bit stressful! but it was nice to do
everything and add a personal touch
Our table names were
bird names – and we had a lyric from the song with the bird name in it –
all the guests were staying close by and lots of the men helped to
decorate with instruction from my bridesmaids!"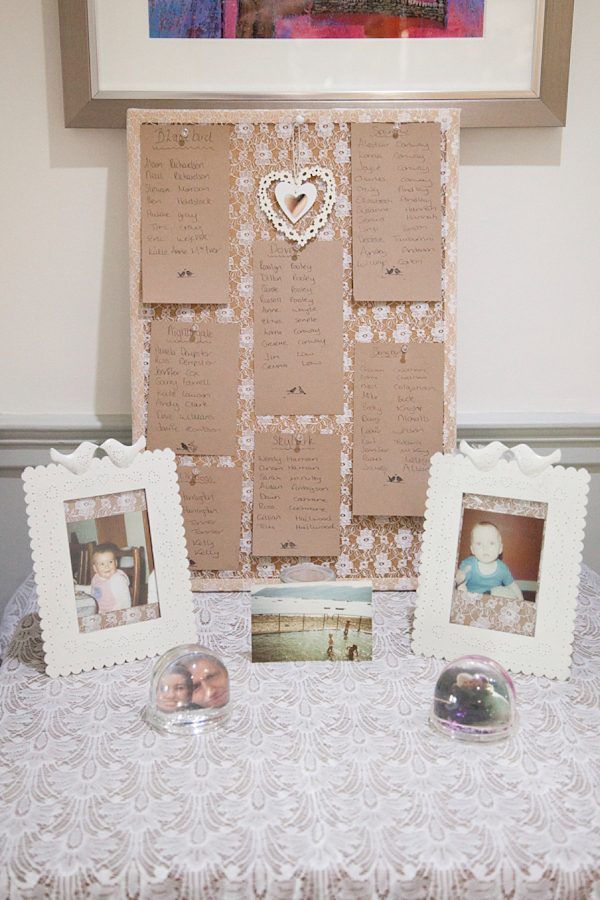 "I couldn't find bright white shoes anywhere and these were comfy and a bargain – from BHS! I really wanted designer shoes – but I was happy with these! I also had pumps to wear at night time but I never changed."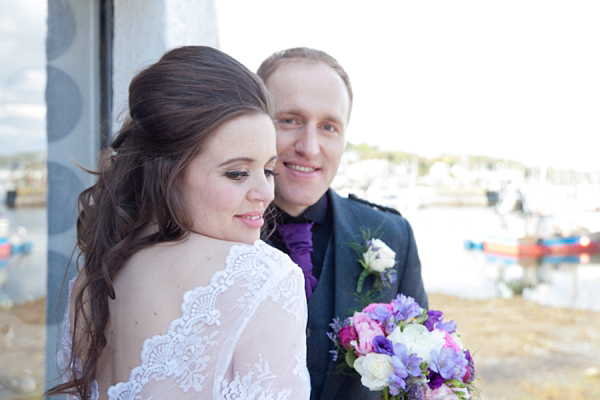 "My dress was by Flossy and Dossy. 
I designed it with Wendy and she just knew exactly what I wanted – it
was simple and pretty and I loved the detail at the back and the sash
with the bow.  I actually tried on loads of dresses but didn't find one that I really liked, so after looking at loads of designs and styles, the option to design a bespoke dress seemed ideal. 
Wendy's designs are fantastic and the quality of her dresses are second
to none – she also is an absolute pleasure to deal with and very
patient.
My bridesmaids also wore Flossy and Dossy dresses in purple, along with a lace belt and vintage brooch."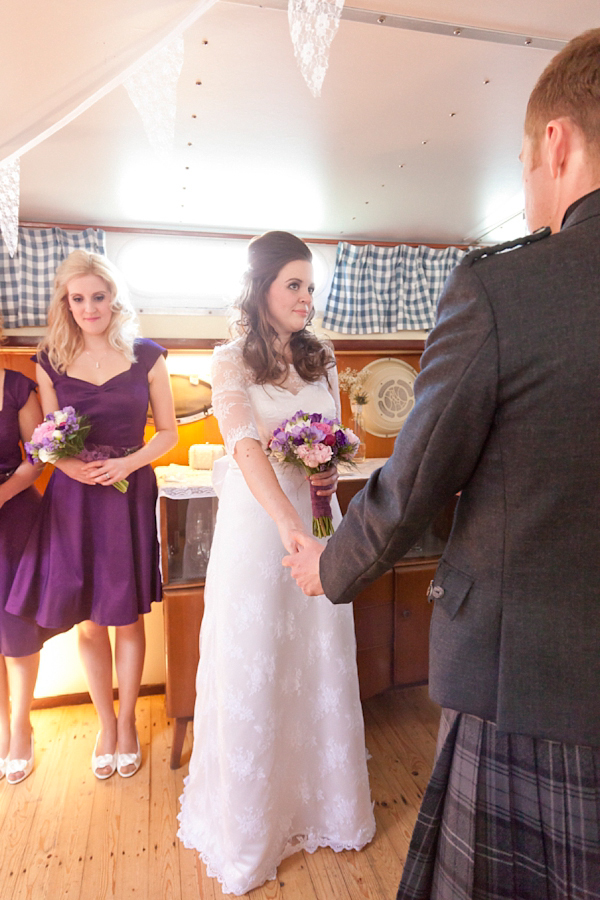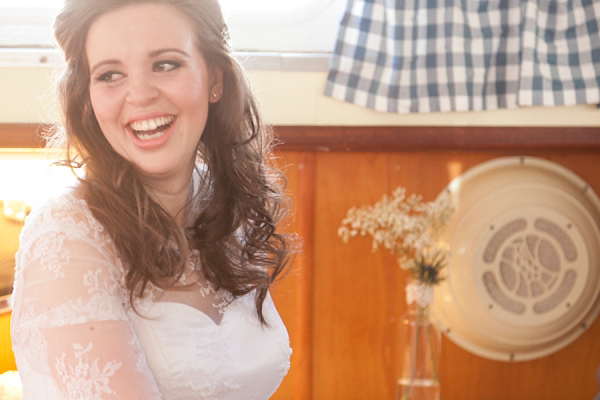 "My 'bridesman', Stewart, wore a Topman suit and the he designed the bowtie which was same fabric as dresses and Flossy and Dossy brought it to life!"
"Dillon went to school with my sister – so was a couple of years
above me in school.  I met him again ten years ago when he had returned
from travelling around Australia and other places.  We had a kiss in a gay club
– struck up a friendship which quickly blossomed into love and we
bought a house together six years ago.
I never thought he would ask me to
marry him, because we never really discussed it! Well maybe a few
times after a few shandies! We had been visiting friends in Stornoway
which on the isle of Lewis in the outer her brides and I honestly hadn't
noticed that Dillon had been carrying about a backpack the whole
weekend – and when we went back to Ullapool for the night before we
drove home we went a walk on the beach and he went on one knee and asked
me to be his wife.  It was lovely and he had a temporary vintage ring
for me and was carrying a bottle of champers and plastic glasses and we
sat on a bench.  It was so very romantic!"
"We are a couple who like to
have fun – and have lots of lovely friends – we like to travel – go to
gigs and socialise – we also like to go out and about on our bikes.  I
was surprised at how emotional Dillon was during the ceremony and he was
crying – and I was trying not to – and a lot of our guests were
bubbling too!  We wrote our own vows – we both read personal statements –
we had friends doing readings – one a Bob Dylan song – Wedding song –
and one was the poem – the owl and the pussycat.  Our wedding day was really personal to us." 
"Our photographer was Kristin Struve of Struve Photography, who was recommended by Flossy and Dossy.
She was the perfect option for us – she is passionate about her work
and is a lovely person  – we had our engagement shoot with her in St. Monans – and she made myself and Dillon so comfortable and relaxed – her
photography is stunning – we didn't want anything too cheesy and I love
my photos – she captured the fun of the day and the love that Dillon
and I have for each other."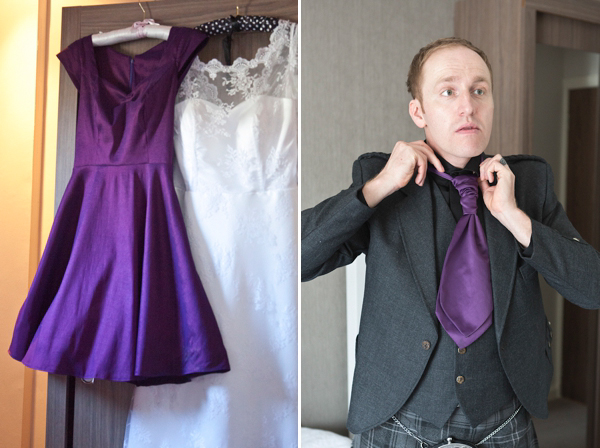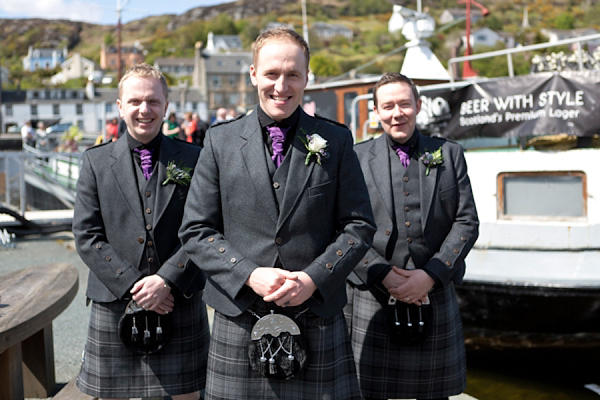 "My earrings were a wedding present from Dillon on my wedding
morning – which was gorgeous and a lovely surprise (something new!). I also borrowed a lovely diamond necklace from the bestmans wife (my something borrowed!).  My bag I loved – but never used – and my something blue were the smints inside!"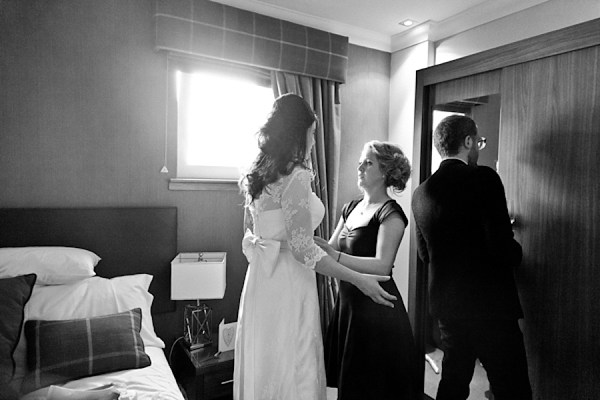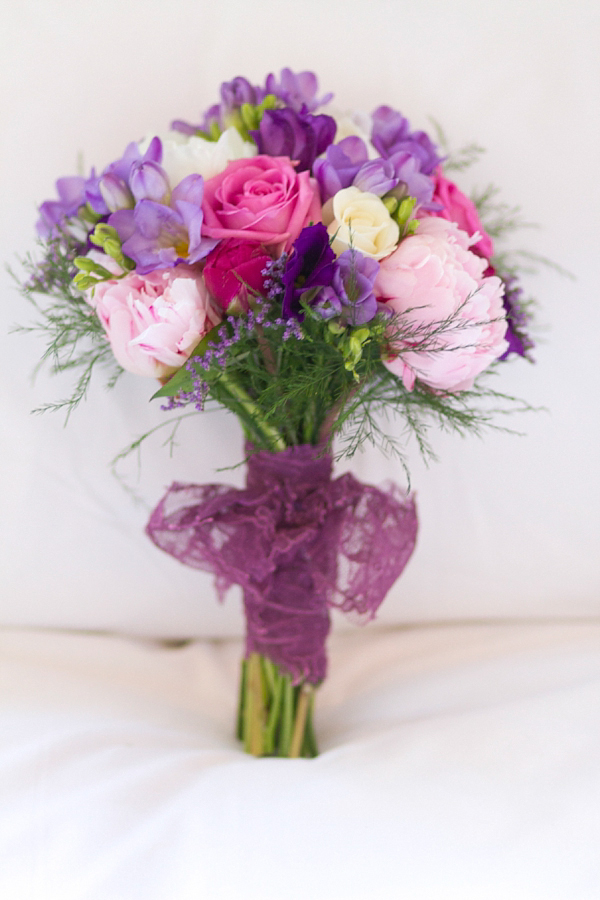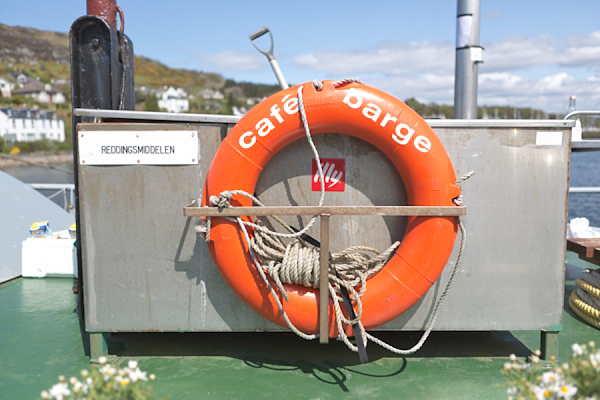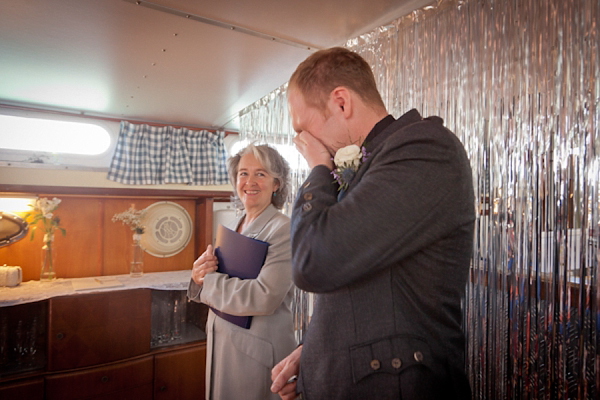 "We had a humanist wedding – and our celebrant Annie Laughlin is based near Tarbert and was so lovely.  The ceremony was poignant, romantic and emotional."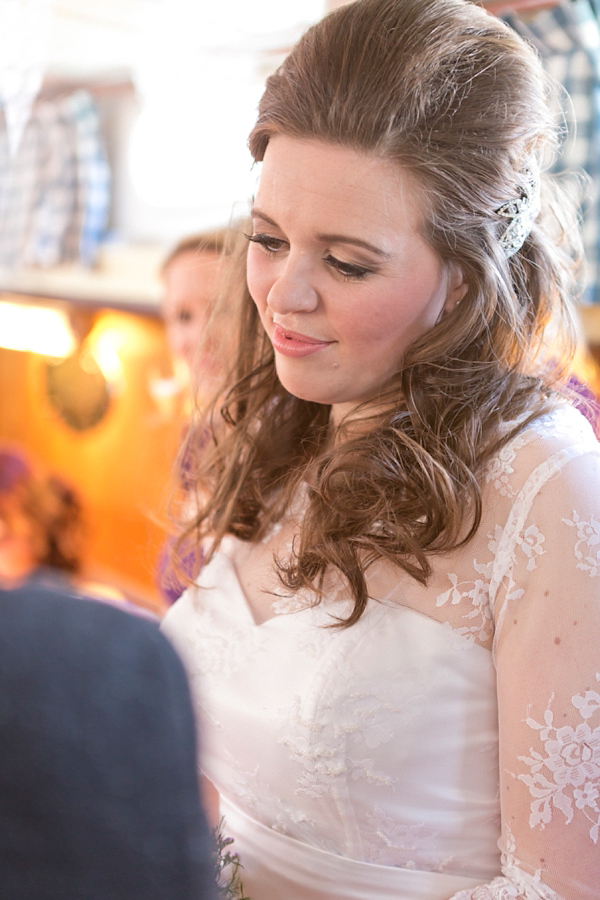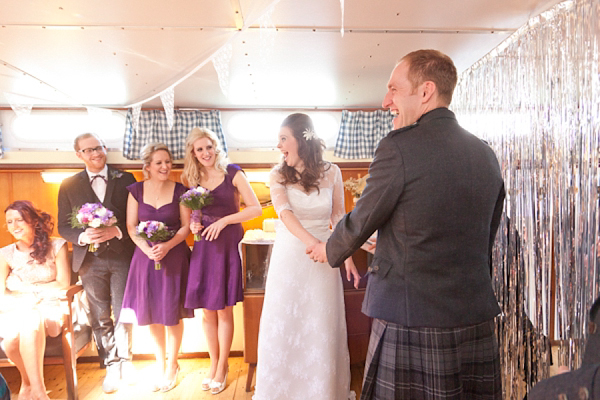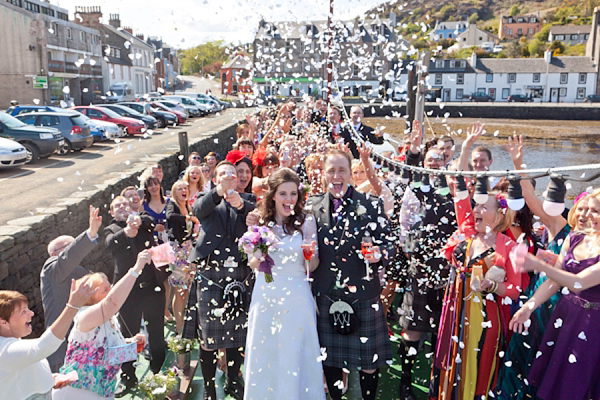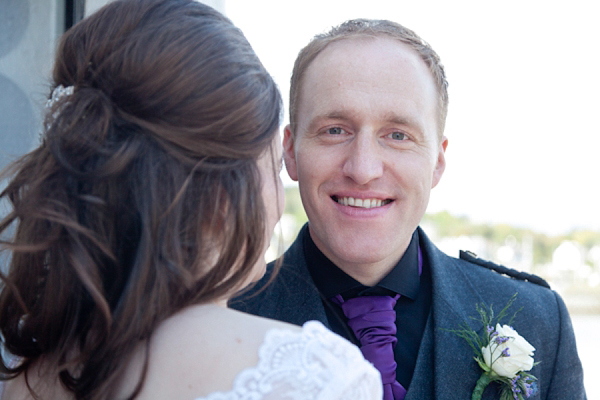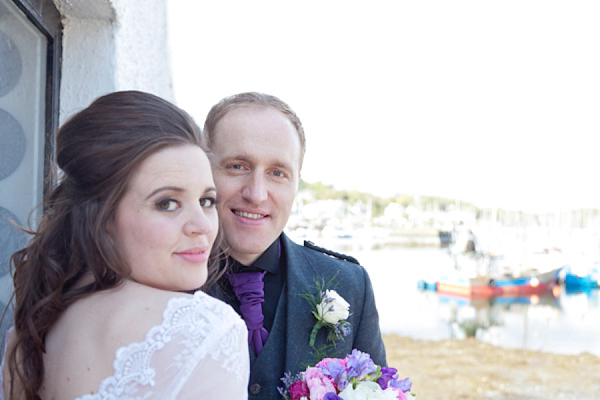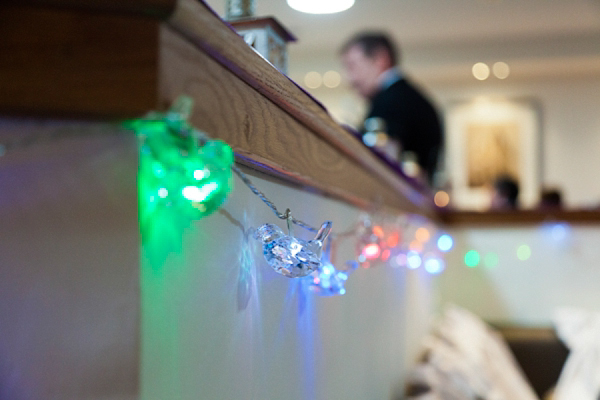 "We had amazing tapas and pink champagne after the ceremony, including fresh sushi and oysters.  Billy brodick at The Anchor Hotel is a fantastic chef.  He gave us a sample meal and his food was outstanding.  Most guests commented on the amazing choice and yummy options – the buffet was amazing too."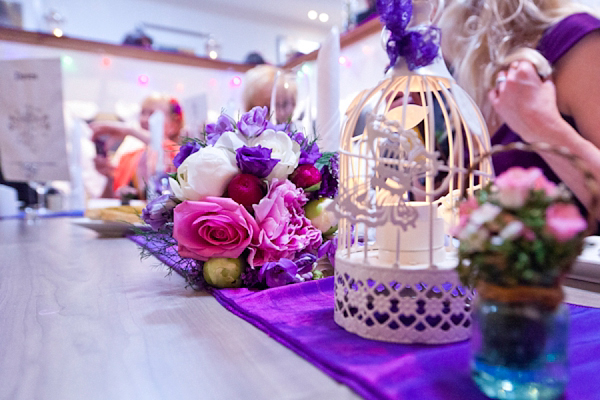 "Our cake was a gift from Alison my bridesmaid – it was a homemade
lemon sponge and chocolate sponge layer.  AAs the wedding had a lovebird
theme, I found these two wooden birds in a shop and asked if Rona could
use them as the cake topper. I also had the lace that was on my wedding
dress put on to the cake.
I thought our cake was lovely!"
"As favours, we gave mini glayva liqueurs for the lads and mini salt and pepper
bird dishes for ladies – I decorated them all myself with lace and
sterling silver bird tags – they turned out cute."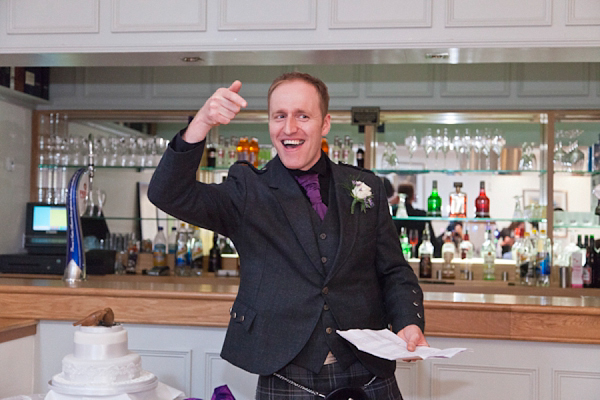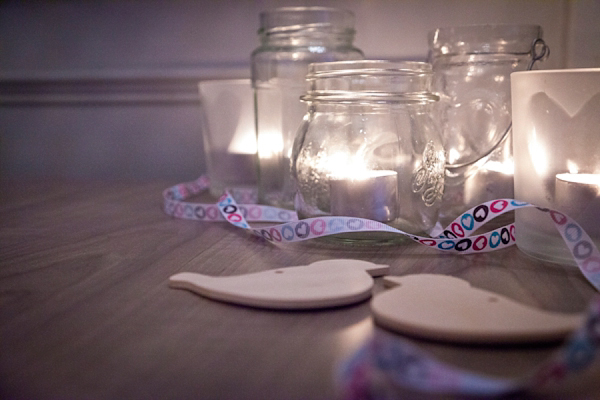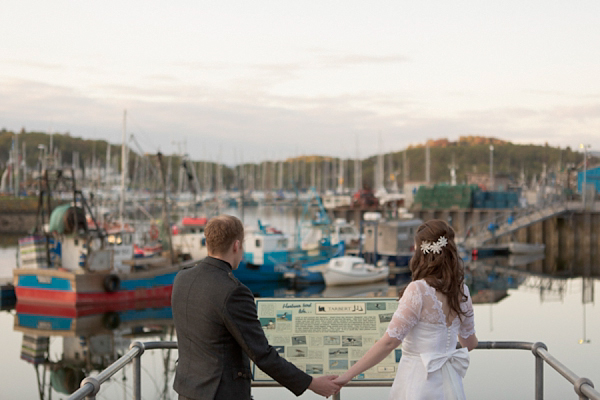 "Our first dance was 'when the stars go blue' by Ryan Adams.  
Dillon used to play this album over and over to me when we first met –
and he joked that we could play it at our wedding!  We Both love the
song and we always dance in the living room to it – we both love music
and it took so long to narrow it down."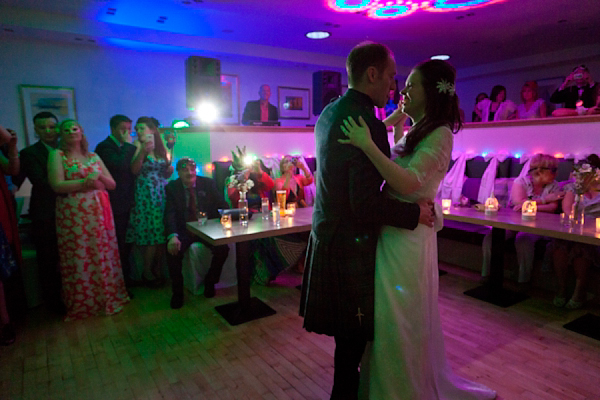 "My mask for the masquerade ball was from Just Posh Masks."
Words of Wedded Wisdom…
"I was pretty disorganised –
and I should have made a time schedule and unfortunately my bridesman
and bridesmaids lived in Berlin, Paris and London so I tried to do
everything myself – my fiancé wasn't the best at being involved in the
prep ha! But he ran about loads for me getting things.  I would say
don't try to do everything yourself – read blogs like this one for other
brides inspiration – do what YOU want – don't do what you think is
expected or try keep others happy.  I was so focused on losing weight as
well that I felt a lot of pressure before the wedding – having a dress
handmade is good if you are losing weight! 
I requested that my friends
didn't put any wedding photos on social networking sites and it makes
my photos more special.  The meal and mostly free bar was our biggest expense.
The best piece of advice I'd say is to really think about what photography you want – and the photographers
schedule is really important!"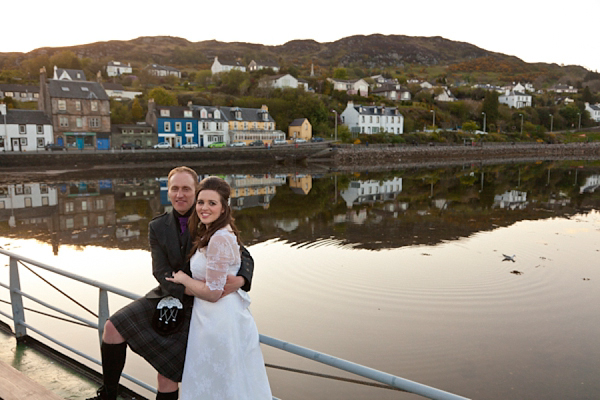 Thank you so much Dillon and Rosalyn for sharing your lovely, heartfelt wedding day.  I love all the little personal touches you incorporated and that you both look so very happy.  Not long now before you can celebrate your very first wedding anniversary – love to you from me for then.
Thank you also so much too, to Kristen from Struve Photography for sharing these lovely lovely photographs today.
This isn't the first wedding we have featured on a boat – you can see more here! Are any of our readers tieing the knot nautical style?  What about working with a dress designer to create your idea wedding dress? We'd love to hear from you.
Now, isn't it time to start relaxing and unwinding in preparation for the bank holiday weekend?
With much love,
Annabel
Photographer – Struve Photography
Venue – Venue + Catering – Cafebarge + The Anchor Hotel
Brides Dress – Flossy and Dossy
Bridesmaids Hair Accessories – Vintage clips + pearls from John Macintyre & Sons in Glasgow
Brides Shoes – BHS
Bride's accessories –
Grooms Suit – The Kilt Company
Bridesmaids – Flossy and Dossy
Flowers – The Flower Shop
Cake – Rona McKay, East Kilbride
Rings – Rings – John MacIntyre
Hair and make-up Artist – Kayleigh Sutherland