Sometimes a wedding submission comes in that quite moves me to tears – in the loveliest of ways, of course.  There is something about Fi and Tom's wonderful Scottish, Humanist wedding that really touches my heart. 
For a start, these images represent everything I truly adore about good wedding photography – every key moment captured in such a genuine way – they're so emotive, and present a real and honest (pull at your heart strings type honest) sense of the love, emotion and joy.  This is why I try to impress on our readers the importance of putting aside a sensible portion of your wedding budget to cover good, professional photography. You can hear me talking about this very issue live on BBC Radio (around 2 hours, 7 mins or so in) via this link – but only for the next 5 days, so be quick!
Fi and Tom got married on 20th April at Crear – an amazing 'blank canvass' wedding venue that has already made several appearances on Love My Dress.
Tom and I both wanted a really informal and relaxed day where our friends and family could celebrate with us. A friend had recommended that we each write a list of the things that would really make the day special to us. In the end, both of our lists were more or less the same: unique venue, seaside location, excellent food and drink, lots of dancing and a really good party! The bride
Love My Dress Wedding Blog – Photography Copyright (c) 2013, Caro Weiss Photography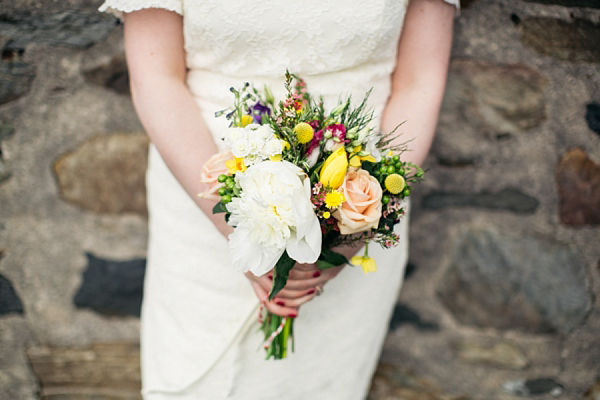 "Tom and I met in the spring of 2006 through a mutual friend. It was strange that we hadn't met before because we had so many friends in common. We hit if off instantly and ended up attending a few of each other's parties (uninvited I may add!) before we finally got together.
I think it was pretty obvious to both of us early on that this
was the beginning of something special and we moved in together within
six months."
"We got engaged on
Hogmanay 2010/11 when Tom whisked me away for a romantic night at the
Dunalastair Hotel, Kinloch Rannoch (unfortunately now closed). We had
been at a friend's birthday party the previous night and as always I had
been a little reluctant to leave the party which lead me to being
somewhat worse for wear the next day to say the least! What I didn't
realise is that Tom had told more or less everyone at the party that he
planned to propose the next evening. Prior to this we had had quite a
tumultuous few years; amongst other things we lost our house and almost
all our worldly belongings in a house fire, my mum had been diagnosed
with Huntington's Disease and I had to go through genetic testing to see
whether I carried the gene."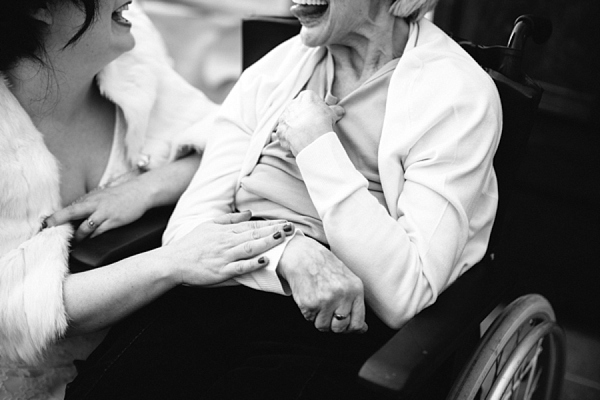 I know it sounds a bit silly but when Tom
proposed that evening there was a real feeling that we were taking charge
of things and putting an end to the run of unfortunate luck we'd had
previously. It really was wonderful to start the new year with such
amazing news. We had planned to get married in the autumn of that year
but in the end we were engaged for more than two years due other events
getting in the way, such as moving house and Tom changing jobs."

"Whilst I knew that I wanted our wedding to take
inspiration from a bygone era and make use of the beautiful collection
of crockery I have collected over the years, in the end it was the venue
that inspired us. Crear has so much white open space; we knew that we
didn't want to compromise the character of the venue and have too much
going on but I knew that with a bit of colour injected it would look
fabulous.
I absolutely adore bunting; and if I'm honest I did have a bit
of a wobbly that it was all a bit too tired and obvious these days,
but I was pretty determined that it was going to play a part in our
wedding celebrations in some shape or form. I don't care if everyone
else hates it, I love it! The fabric I collected was so colourful and
floral and it set the tone and theme for the flowers we chose and the
'show some love' guest book."
I love that you don't care what other people think about bunting Fi – we don't care either.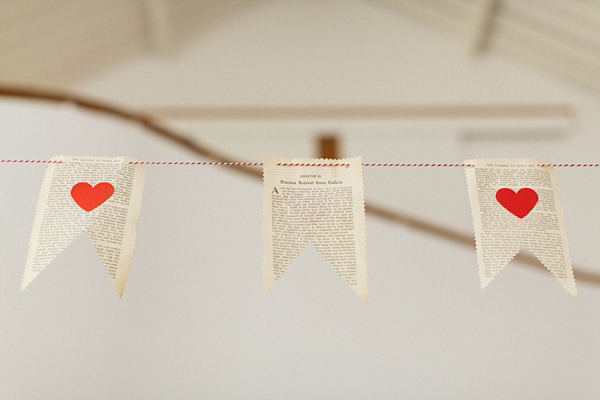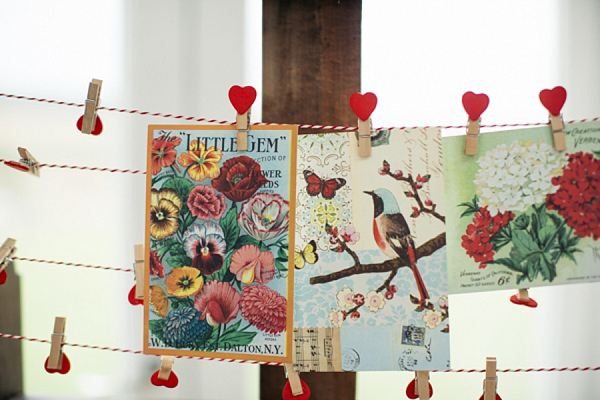 "Tom and I opted to have a humanist ceremony, which is legal in
Scotland. Neither of us is religious and it was important to us both
that we had a ceremony that was relevant and individual to us as a
couple. One of my favourite memories is the rainy Saturday afternoon
that Tom and I spent filling in our detailed questionnaire on how we
met, how we feel about each other and what marriage will mean to us a
couple; this formed the basis of the ceremony and it was wonderful to be
so open in front of our friends.
Annie Loughlin, the celebrant, really
spent time in the months leading up to the wedding getting to know us
both via email and telephone so by the time we met her it really felt
like meeting up with an old friend."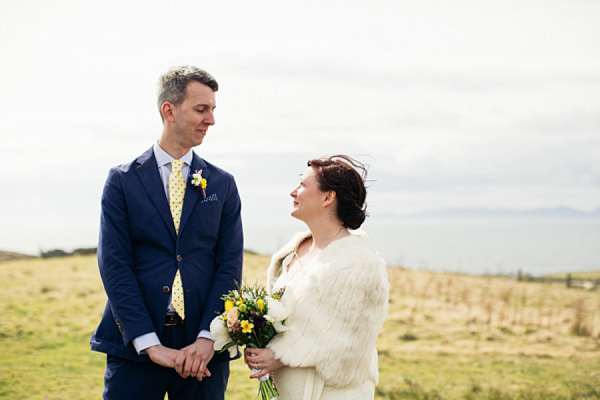 "We
asked our friends Natalie and Kerry and Tom's sister Liz each to do a
reading. We wanted their choice to be a surprise on the day and had
every faith and confidence that they would choose something that
reflected us both. Liz chose to read John Cooper Clarke's 'I Wanna Be
Yours' – which went down so well and had everyone laughing! Unbeknownst
to them until 10 minutes before the ceremony, both Kerry and Natalie had
picked the same reading, 'Strawberries' by Edwin Morgan, so they chose
to do it together; it was such a lovely moment.
The sentiment of not
'hurrying the feast' referred to in the Edwin Morgan reading is so relevant to our adventure through life
together. After the fire, my mum's diagnosis and my genetic testing, we
promised that we would try to live life to the fullest and enjoy the
journey and everything that it brings. I'm currently having the words of
the poem framed by another Love My Dress regular 'Lucy Says I Do' to serve as a lovely reminder – I was inspired by this feature by Franky."
"My dress was made by the ever so talented Wendy from Flossy and Dossy. I
found the whole aspect of choosing a dress somewhat overwhelming and if
I'm really honest I struggled to get excited about it initially. I did
however know from the start that I wanted to wear a vintage lace dress
but knew I would struggle to get one to fit. I can be a bit of a tomboy
who should have been alive in the 1920s-1950s (yes, it's a strange combo
I know) so I think there was a bit of an expectation amongst my friends
that I would go for a 50s-style tea dress,
which initially is what thought I wanted. But I realised that, for me,
the opportunity to wear a long and elegant dress doesn't come round too
often! In the end, it was Lady Mary's marriage to Matthew Crawley in
Downton Abbey that inspired my dress.
I came across Flossy and Dossy through the Glasgow Wedding Collective
and right from the beginning she understood my vision and was able to
translate all of my ideas into my dream dress. Wendy really managed to
create a dress that was simple and understated but at the same time I
felt sooooo good in it and felt rather glamorous. Believe me, that
doesn't happen often! Everyone said it was very 'me' which was all I
really wanted."
"I don't normally wear much jewellery so didn't really want to wear anything for the sake of it. Also as the design of my Flossy and Dossy
dress was becoming more apparent, I really wanted the dress to speak
for itself; the corded lace was such a feature on its own.
However upon
completion both Wendy and I agreed that small vintage diamanté brooch
via Messme on Etsy and pinned to the belt would complete the look without overwhelming it. I
spent hours on Etsy trying to find the right one; I probably spent more time searching for the brooch than I did deciding on the dress!"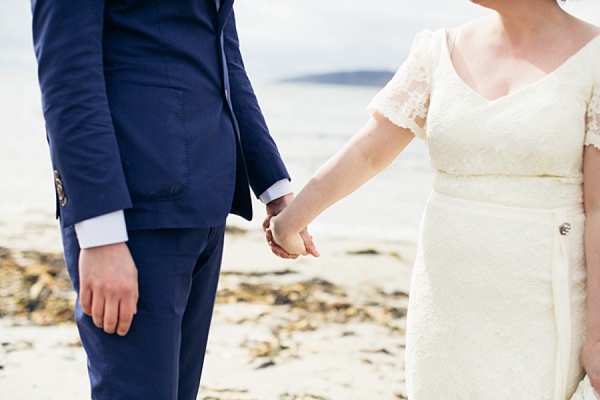 "The bridesmaid's dresses were made by Wendy at Flossy and
Dossy. Laura, Kerry and Katie and Gillian (who was a bit of a hybrid
bridesmaid as she was also Tom's best woman) each have their own
individual style so we decided early on that they would create their own
dresses and style them accordingly. We decided on a lovely soft grey
chiffon fabric and set up a Pinterest board and collected loads of ideas
for inspiration. I think in reflection that this was one of my
favourite parts of the planning process.
The girls picked their own shoes and accessorised their dresses in
their own individual style. Coincidently they all got them from ASOS."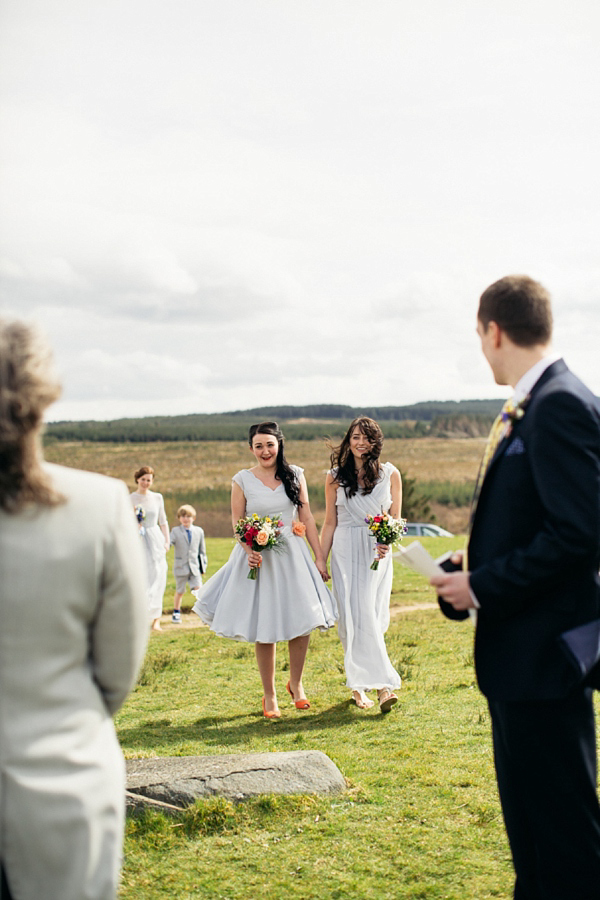 "I had such a specific idea about what flowers I wanted
– and it didn't want them to be bridal in any way whatsoever. It's
probably the detail that I researched the most so I'm so glad that Melody at Crear Flowers
was so open-minded and amenable. She understood my vision right from
the start and did an excellent job. I stumbled upon the bridal bouquets
the evening before the wedding just before I went to bed and had such a
good cry – they were just perfect.
Before the big day, we had a vague
discussion about what would hold the bouquets but still hadn't decided
by the day before (more down to my indecisiveness) but Melody came up
with the idea of using the butcher's twine that we used to string the
bunting – this was also used for the men's boutonnieres which was
perfect! I wouldn't hesitate in recommending her."
"Two
weeks prior to the wedding, Scotland had a terrible bout of weather and
the venue was under six feet of snow! The celebrant for that particular
wedding had to arrive by snow plough and leave by tractor so I wasn't
holding out much hope for an outdoor wedding!
Thankfully the weather
subsided but in the event of it being cold, I purchased a cream fur cape
from a vintage store in Glasgow's west end which I accessorised with a
vintage mother of pearl sweater guard
which I got from Etsy. I'm so glad I did as it was sooooooo windy on
the day; I thought we were going to take off at one point!"
"It was important for Tom and I to make our own vows and I think if
we are both honest whilst we deliberated on what to say for many months,
we both didn't really decide on what we would say until the very few
days before the ceremony. I was worried that I wouldn't be able to get
through them because of the emotion of the day so opted to keep mine
very brief but get across how much I loved him, I valued his love for me
and that we were family.
I wrote a more detailed and personal promise
saying everything I felt I couldn't say out loud in a card to Tom which I
gave to him on the morning of the wedding. Tom's vows were a little
more formal and structured but just as sincere."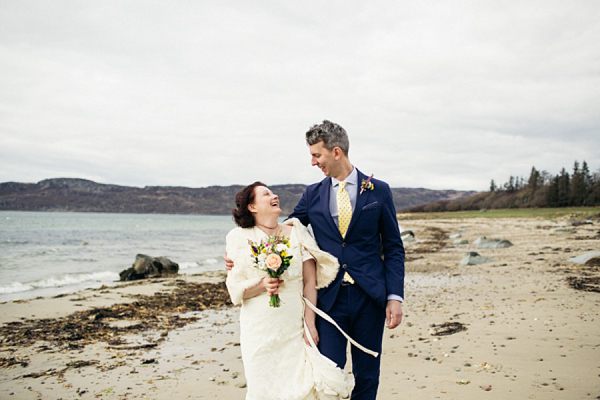 "We made the table plans ourselves using vintage apple and wine
crates planted with flowers with the guests for each table attached to
some fishing wire. This was a bit of a last minute job on the day just
before everyone arrived which was thankfully done by the ushers Mark and
Rob whilst we were all getting ready! For place cards we used
manila luggage tags which we hand-stamped with everyone's name (this
corresponded to the tea towel invitations which were tied up with
butcher's string and a hand-stamped luggage name for each guest).
This
was an awful job and soooo time consuming! But by the end of the day,
all of the boys were wearing their tags in the suit jacket pockets like
an impromptu boutonniere."
"For our wedding invitations we used the most amazing Wedding Tea Towels – everyone's reaction to them was fantastic! We didn't have any order of day booklets or menus, and we made our own table plans and place cards – see below!
We didn't provide favours at the wedding as we hoped that our tea towel invitation would serve as a memento."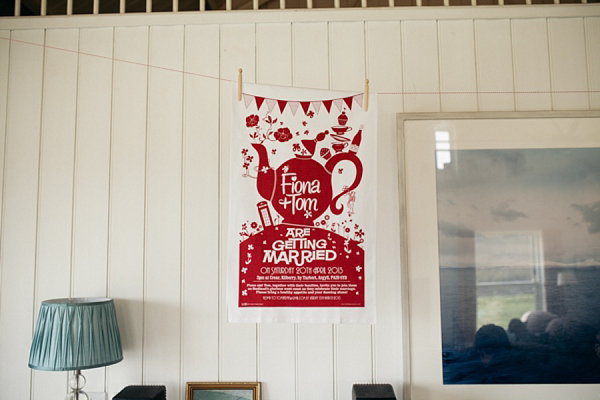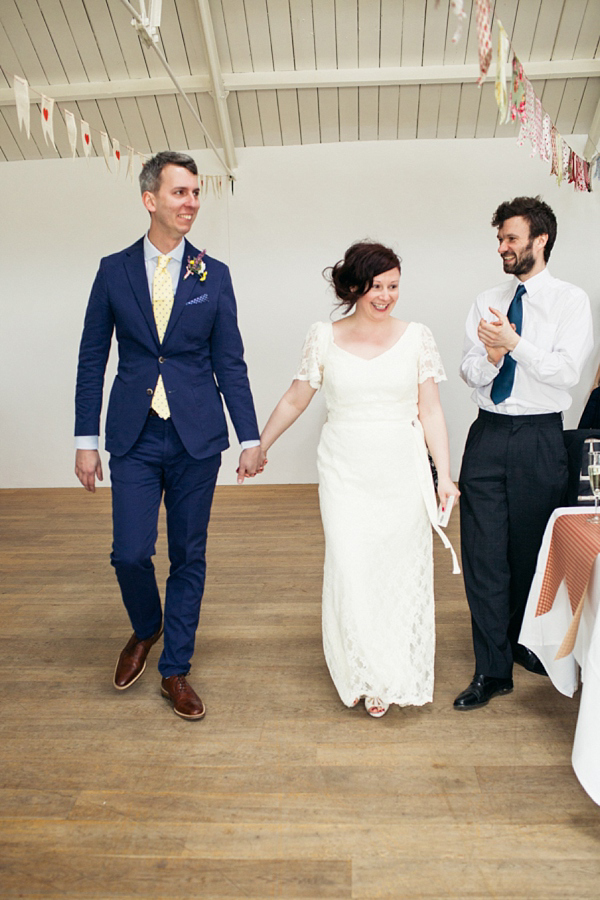 "For the table names, we painted some vintage silver trays with
blackboard paint and Laura, one of the bridesmaids, did a sterling job
of decorating them. The table names corresponded to the first names of a
few of our musical heroes (Derrick May, Kevin Saunderson and Juan
Atkins). Derrick, Kevin and Juan are not your stereotypical table names,
I know; at one point Tom's mum asked what the relevance was to which
Laura joked that they were the name of my previous boyfriends!"
Hahahaha!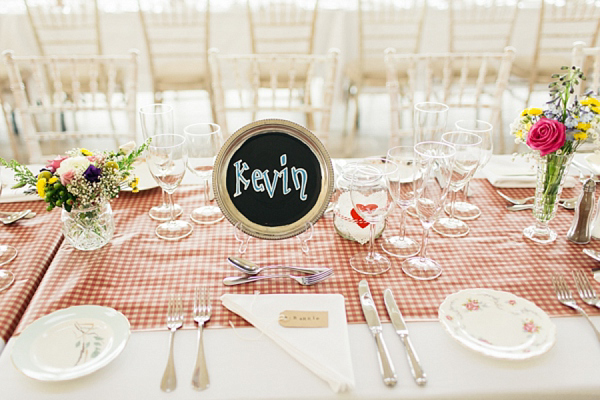 'I found our photographer Caro Weiss through The Glasgow Wedding Collective
and instantly loved her style of photography. Her pictures were so
different to anything else we had seen and seemed to capture the
informality that we were after. Both Tom and I hate getting our picture
taken – I always seem to forget how to smile and it always seems so
unnatural and forced. Caroline is so down to earth and friendly that you
almost feel like you know her already. She instantly put us both at
ease and we both knew that she would be great fun to have around on the
day."
After our first meeting, I came across a picture
on her website of our good friends Ruth and Euan – I had totally
forgotten that she had photographed their wedding a few years earlier
and then I realised that that's where I recognised her from! It turns
out she actually photographed two of our other great friends' weddings
also, so by the time the wedding came she knew a lot of our guests and
hopefully felt at home and welcome.
"Both Caroline and Pete were so
unobtrusive on the day, and couldn't believe some of the shots they
managed to capture, especially during the speeches – it really looks
like a day full of so much love and laughter. In addition to all of the
wonderful photos of myself and Tom, Caroline and Pete also captured some
really special moments between myself and my mum Nessie which I will
treasure forever.
Along the planning process, there were a few things
that we compromised on, but I really can't emphasise enough how relieved
and glad we are that the photography wasn't one of them. It's the story
book of the day, of all the little things you missed and has the
ability to transport you right back there and relive it all over again."
"I sourced some amazing thank you cards from Lucy Says I Do for my bridesmaids which I gave to them on the morning of the wedding along with beautiful robes from Plum Pretty Sugar.
I also got Tom's card from LSID that I gave to him on the morning of
the wedding which said 'You're my favourite' on the front."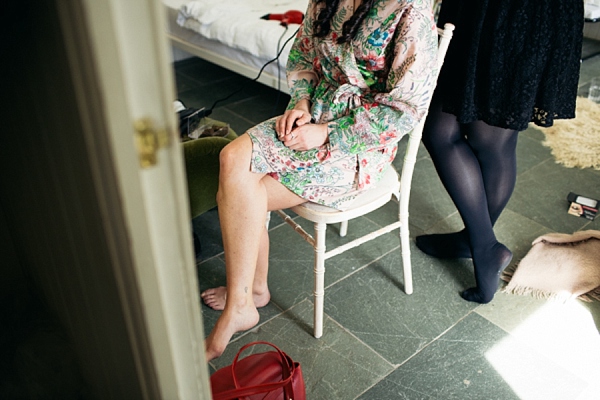 "I had my heart set on wearing the Rachel Simpson Carmen
shoe ever since I spotted them on a real wedding feature on Love My
Dress. I love a T-bar shoe and these were just so pretty. I got them
from the wedding boutique Melle Cloche in Glasgow,
which is run by two of the loveliest people ever, Jacqueline and Lisa,
who moved heaven and earth to make sure that my shoes arrived in time
for the wedding. (They arrived with the florist the day before;
surprisingly I was very calm and didn't pack an alternative!"
"My godson Lenny was our page boy and ring bearer. He has such a
great sense of style and picked his own outfit; he looked absolutely
adorable in his striped short suit from John Lewis, which he wore with a
shirt and a skull and crossbow tie from The Spitalfields Shirt Co and a
pair of navy blue vans."

"All of the girls' hair was done by our friend and hairdresser Rochelle Jolley;
she was excellent on the day and managed to exude calmness and
professionalism whilst everything and everyone else around her was
manic.
As I don't normally wear that much make-up, I chose to
do it myself on the day. I had a lesson at Bobbi Brown in Frasers and if
I'm honest whilst the make-up was beautiful it was far too heavy for me
so I just toned it down a few notches on the day."
"Tom wore an amazing royal blue suit from SuitSupply
which I was lucky to get a preview of before the wedding. That said I
couldn't believe how handsome he looked when I walked out to meet him on
the day.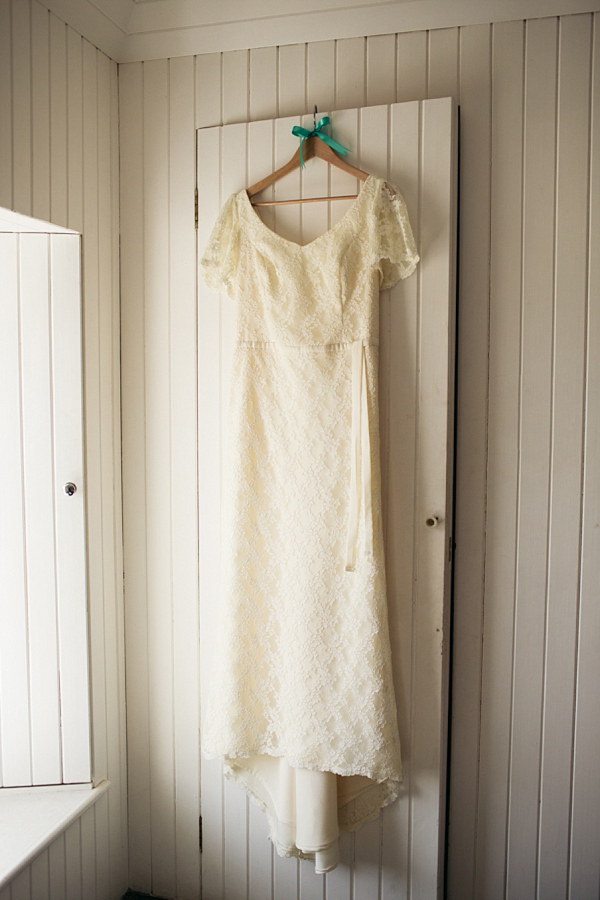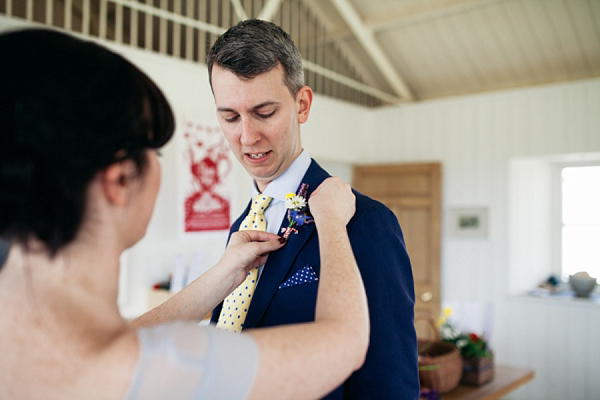 "I decided not to wear a veil; I didn't even try any on! I
contemplated a bird cage veil but in the end personally I didn't think
it was very me and I wanted the dress to speak for itself."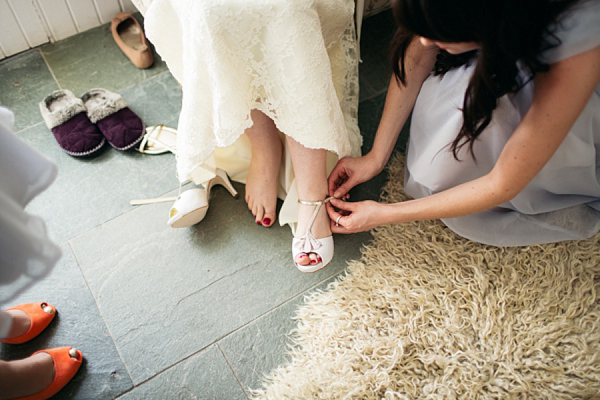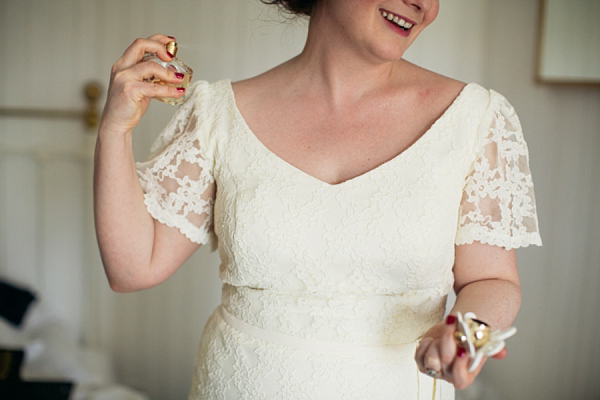 This is wedding photography I love. Just absolutely LOVE.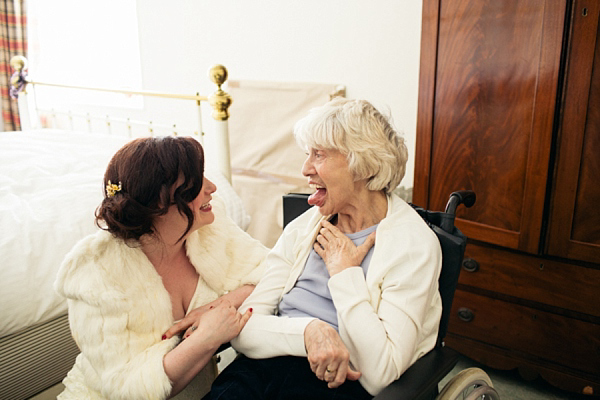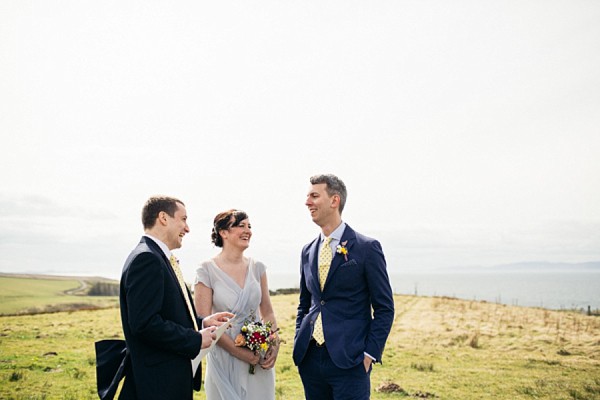 "My dad passed away when I was 14 and on the run up to the
wedding I had convinced myself that I would walk down the aisle myself.
However my uncle Jim graciously accompanied me on the day and I was ever
so glad to have him there by my side. He is almost completely blind due
to Glaucoma and I was a bit wobbly from nerves so it made for an
interesting journey out to the ceremony, which made both of us laugh and
giggle.
As we were getting married outside, we opted not to
have music as we felt it may seem a little contrived. We wanted
everything to be as relaxed and natural as possible."
"We both got our rings made bespoke from Etsy. I have an
art deco engagement ring from the 1920s which has quite a heavy setting,
so I really wanted something thin and simple that wouldn't detract from
that. I chose a very simple thin rose gold band which complements it
perfectly – it was from BlazerArts on Etsy. Tom opted for a brushed silver thin band from Kai Jewellery on Etsy."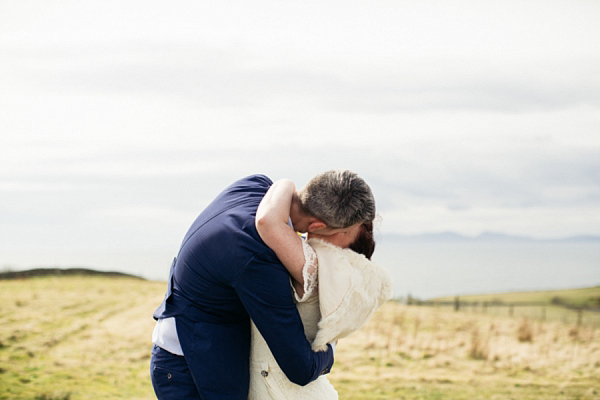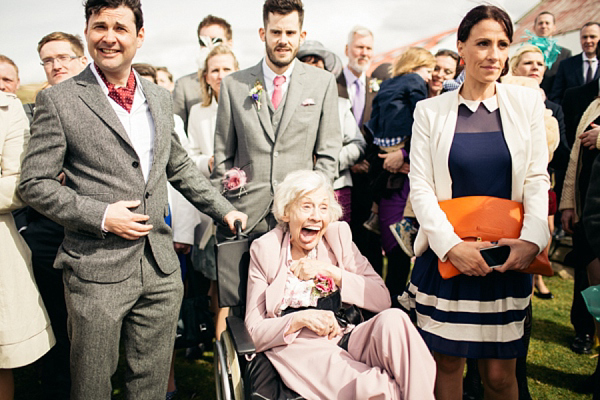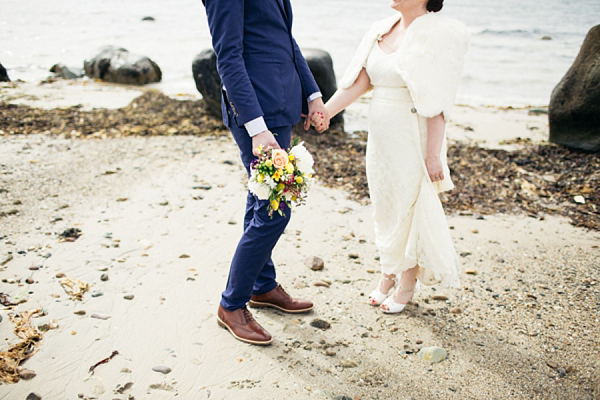 "We hadn't actually gone to visit many venues before we found Crear.
After working in the corporate events industry for over seven years I
was determined to find a venue that I hadn't worked with before,
something that was a wee bit different and special, and didn't fall into
the typical 'wedding hotel' category. In retrospect I discounted so
many venues before really properly looking at them – it must have been
so frustrating for Tom!
We both really wanted to get married in Scotland,
outside, preferably by the seaside and have quite an informal and
relaxed ceremony. (I imagined everyone sitting on blankets on the grass
as we got married!). A friend recommended Crear
to us when we were on our way to visit another venue but it actually
took us about six months to finally arrange to go and see it. The
location is magical – it sits high up at the top of a long driveway
surrounded by green fields, looking out to sea and over to the Paps of
Jura. It sounds dramatic but within minutes of entering the building I
was in tears; we both knew it was the one. There is so much light and
space, and with floor-to-ceiling windows in the main studio space it
frames the beautiful Scottish landscape as if it were a piece of art. It
has also has the most gorgeous accommodation attached which meant we
could stay onsite with our family and friends and take over the venue
for the whole weekend."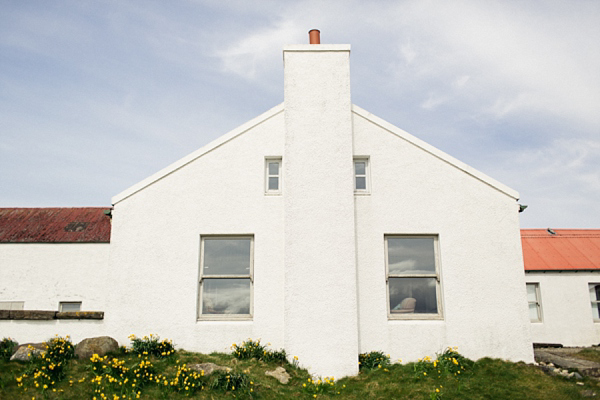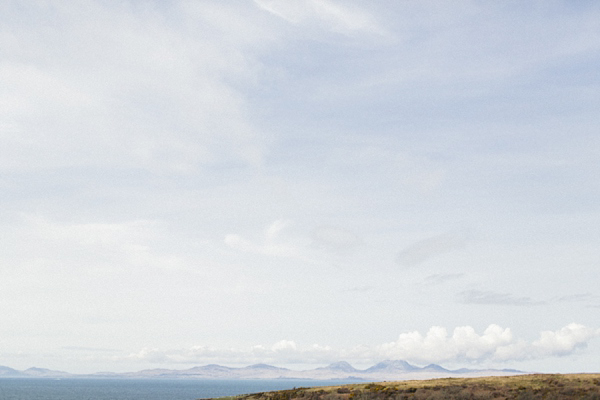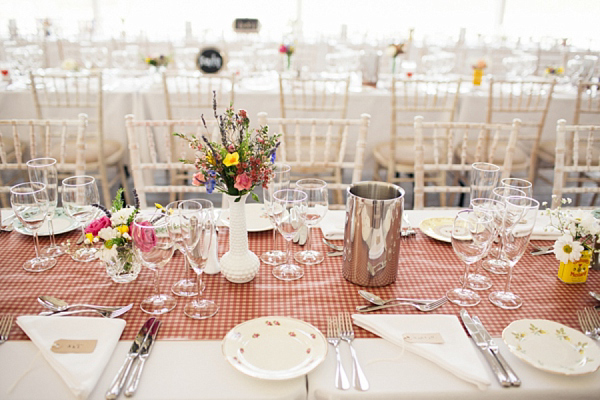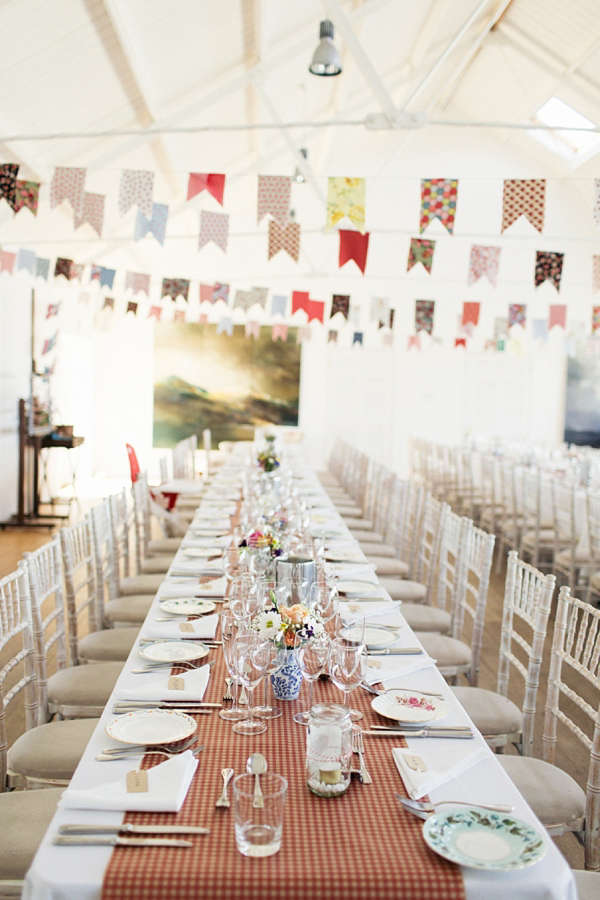 "I run an event company which specialises in sourcing and hiring vintage crockery, accessories and props, The Damson Cup,
so I was more than happy to undertake the majority of the work myself.
Although I must say that in the final week before the wedding I did
occasionally wish for another pair of hands!"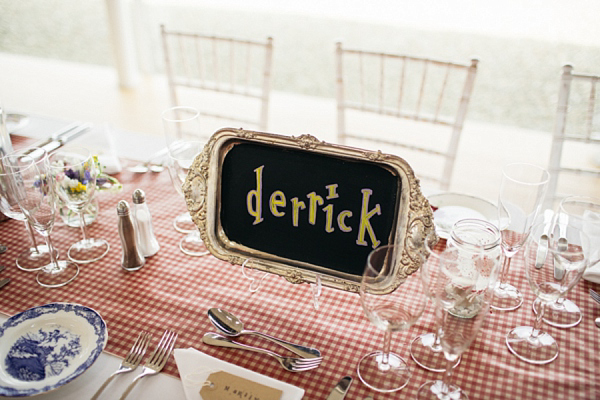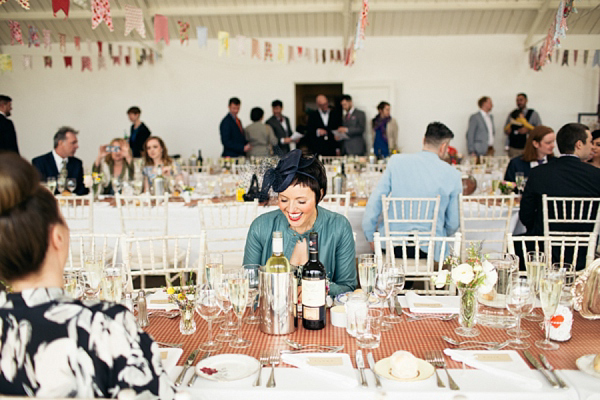 "Neither Tom nor I were too fussed about having a cake but one of my oldest friends Naomi, who runs the most amazing bakery, Whisk,
convinced me that I would regret not having one. I've never been a fan
of fruit cake or marzipan so she made us the most amazing two-tier
cake; lemon curd velvet and raspberry and vanilla with buttercream
icing. I didn't want it look like a wedding cake and for it to be very
simple. It looks a little drunk in one the pictures – our Leaning Tower
of Pisa wedding cake! It was delicious and it helped to sooth the sore
heads the next day."
"Crear Kitchen were our caterers.
The food really was out of this world and everyone commented on how
amazing it was, which was perfect as being such foodies ourselves we
said from the outset that wanted everyone to leave raving about how
excellent the food was! We ate a warm salad of seabass with crushed new
potatoes and a garden pea veloute followed by slow cooked shoulder of
lamb served with dauphinoise potatoes and green vegetables, finished by
fruit pavlova with mint chocolate crumble."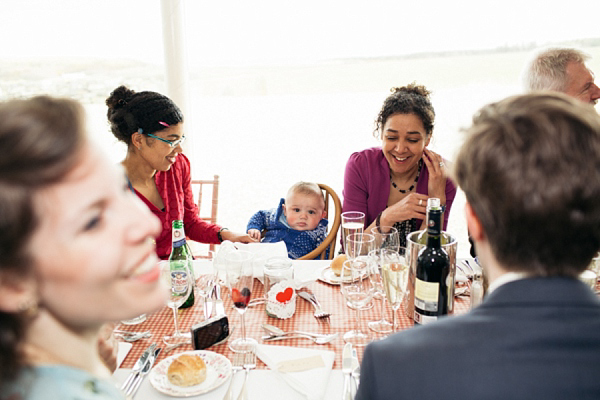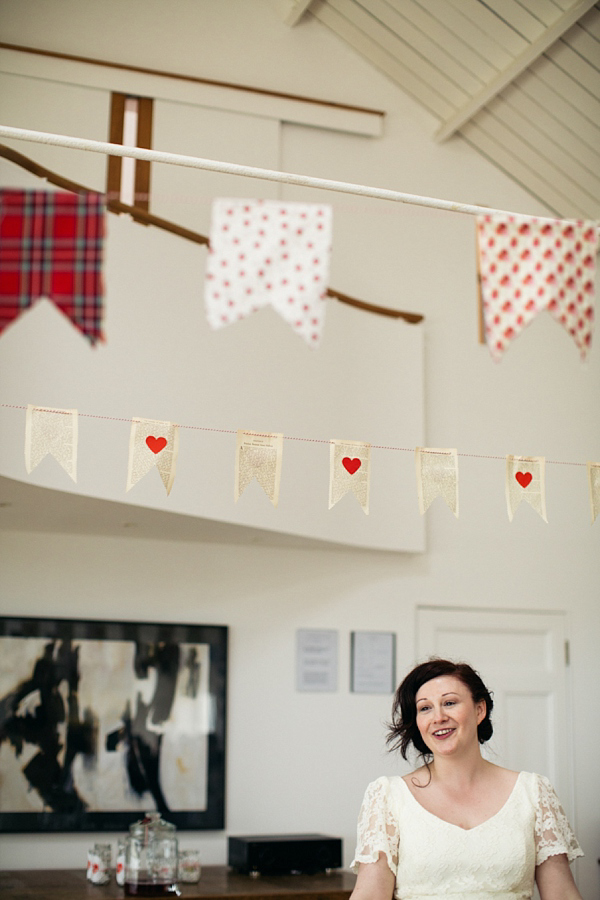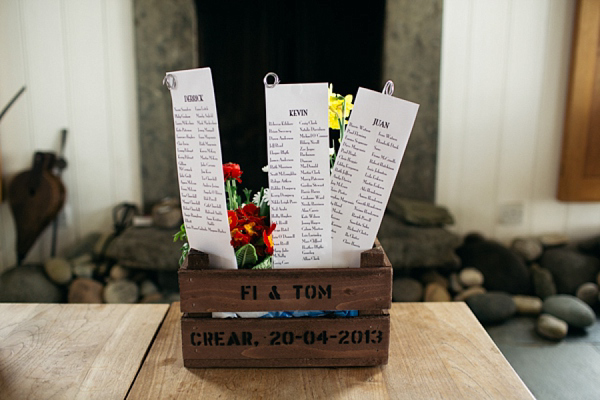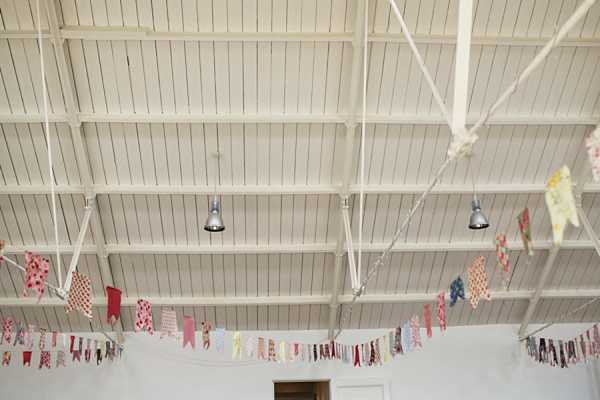 "Our 'Show Some Love' guest book was the biggest failure of the
wedding! We decopatched some cardboard letters with floral paper, strung
them on some butchers string and used an old easel and frame where you
could pin vintage flower seed postcards with guest messages.
Unfortunately, we thought it was self-explanatory and we never told
anyone what to do, or left some instructions so all in all a grand total
of 10 people left us notes! It looked fantastic in the pictures though
so all was not lost! Moral of the story is never leave anything to
chance!"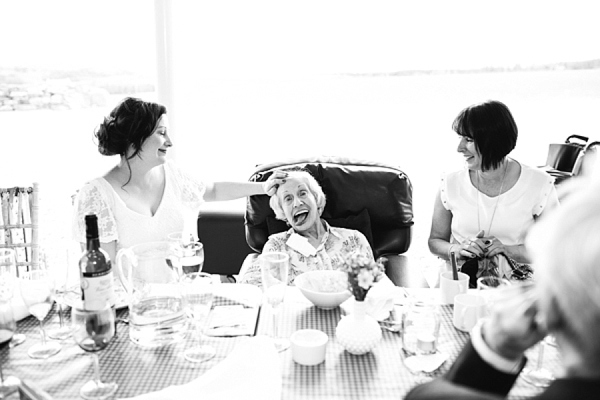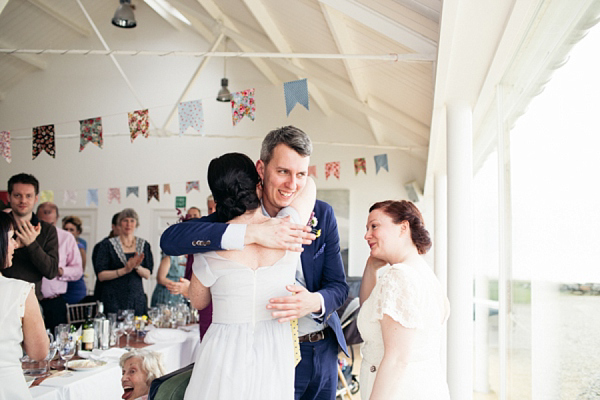 "Being Scottish (well I am, Tom's not) we had to begin with
a ceilidh! The music was provided by one of Scotland's most prominent
fiddlers, Archie McAllister and his band. We had some guests from
England, Norway and America and it was a real treat to see them all
giving it a go. Both Tom and I are real music lovers and there were so
many records that we wanted to dance to at our wedding party so four of
our DJ friends – Jack, Calum, Martin and Euan – took to the decks after
the ceilidh to finish the night off in style with a mix of classic soul,
motown, disco and 80s boogie – everything from Marvin Gaye to Whitney
Houston."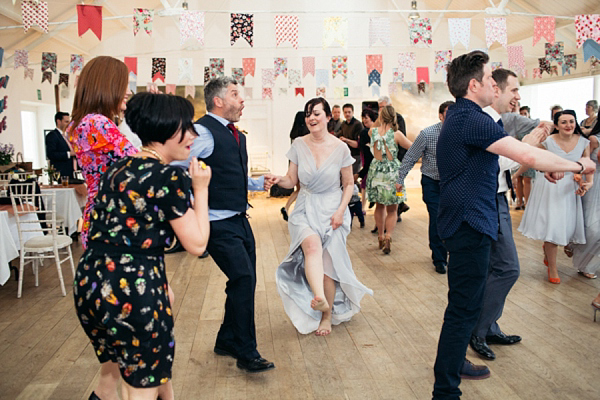 "Our first dance was 'Don't You Know' by The Beauty Room,
an obscure cover of an obscure 70s track by Jan Hammer. In the early
days of our relationship Tom was playing records in a local bar and I
had come with some friends to hang out. It sounds so corny but when he
played this as the last record that night and as our eyes caught each
other's we knew that this was the beginning of something special. The
lyrics are so special to us both and we always knew that it would be our
first dance."
Reflections…
"The whole day was incredible and there were so many
highlights. Saying our vows in front of all our friends and family and
reducing so many of them tears was very emotional; the cheer when we
arrived for dinner gave me goosebumps; the first dance into Marvin Gaye
segue was inspired; and I loved doing my speech once I got over the
nerves!
It finally hitting me at midday that this was actually 'my' wedding
and not somebody else's was amazing – walking out to meet Tom
and seeing all of our closest friends and family there and being
announced and walking into dinner to the loudest and most deafening
cheer were also favourite moments, as were managing to get through my
speech without crying, and finally as we finished our first dance,
Marvin Gaye's Sexual Healing being mixed in at which point everyone
flooded the dance floor – it's such a happy moment I'll never forget."
Tom says, he wouldn't have left the biggest crafting job (making 80 metres of bunting!) until the week of the wedding!"
Words of Wedded Wisdom…
"If you are planning to do a lot of the decoration or
crafting yourself then get the big jobs out of the way first! Friends
and family will offer to help and you should take them up on it – my
girlfriends organised 'craft Sunday' for us to get the bulk of
everything done, it was such an amazing day where we ate amazing food,
gossiped and drank Bloody Marys whilst decopatching, stamping and
sewing.
There is no denying that organising a wedding can be stressful.
There were times where Tom and I were so stressed and grumpy that we had
to remind each other what we were planning for and that it would all be
worth it in the end. I think there is such an expectation for
everything to be perfect but life isn't perfect. Things will go wrong or
not happen – like our failed guest book or the fact that we had
hand-punched love heart confetti from old books which didn't get thrown
at the ceremony, but at the end of the day it's not important because
you have each other and that's the best bit."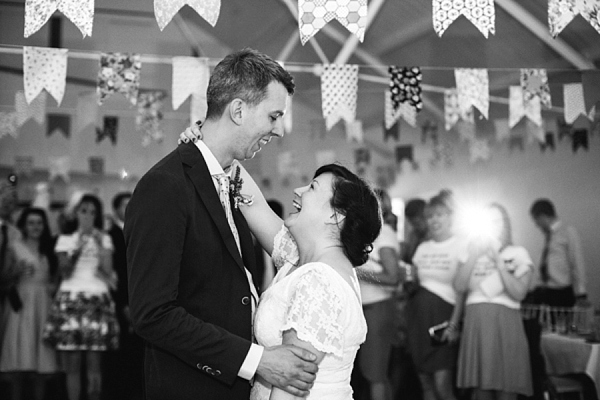 "On the run up to the
wedding Love My Dress was such a daily read for me, I really loved
being such a fly on the wall for everyone's special days in the real
weddings features. The format makes for such an easy and accessible
read and is an excellent source of inspiration. It's where we got the
initial idea (sorry we stole a little bit) for our Pimp Your Prosecco
table which we adapted using vintage drinks dispensers, fruit and
cordials – it was such a hit with our guests!
If I'm
honest I didn't read any of these (other blogs) nearly half as much as I
did Love My Dress, and I'm not just saying that. After the wedding, I
was a little lost in the mornings over my first cup of tea, as it was
the time where I would peruse wedding blogs, gather ideas and generally
get swept away in the emotion of it all. I'm still a visitor, not quite
ready to give up my wee routine yet! "
"The real life weddings on Love My Dress are invaluable. I've tried
looking at just the pictures and not reading the story but it's just not
the same – it sets the context and lets you get to know the couples
just a tiny bit. From a professional point of view it's an
excellent resource in finding suppliers and venues. It is also very up
to date and on point so it's extremely useful in trends and what's
happening in the industry now. This is never more so relevant to me
than when Scottish weddings are featured and I really look forward to
those.
Finally, I know everyone
says this but the day really does fly past! After the ceremony make sure
you take a few minutes with each other to let it all sink in and
reflect how fantastic it all is. Tom and I slipped away to the beach for
photographs for half an hour and it was great to have those precious
moments with each other and I think it also set us up for the rest of
the celebrations later that day."
Breathtaking, moving, implicitly wonderful, in every single way. I'd like to thank Fi and Tom, but espeically Fi, for taking such time and care to share so much inspirational detail with our readers – I'm so very touched that you did that Fi. I hope that you know just how much your wedding will fill the hearts of many of our readers too.
Huge thank to photographer Caro Weiss for once again choosing to have her work featured on Love My Dress. You can see more amazing Crear weddings on Love My Dress here. Also
please take a look at photographer Caro Weiss's weddings on Love My Dress too – and other links you might love; Scottish wedding, Humanist ceremonies, outdoor weddings and seaside weddings.
I'd love for our community of readers to show Fi and Tom some love.
Have a lovely Friday afternoon,
Annabel
Photographer – Caro Weiss Photography
Venue – Crear, Kilberry, Argyll, Scotland
Wedding Dress – Flossy and Dossy
Veil/Headpiece – La Belle Epoque hair slide via Melle Cloche
Brides' shoes – Carmen, by Rachel Simpson
Bride's accessories – small vintage diamanté brooch
via Messme on Etsy, pinned on to dress
Groom – SuitSupply + tie by M&S + shirt & pocket square from Charles Tyrwhitt + Dune brogues
Bridesmaids – Flossy and Dossy + shoes from ASOS, robes by Plum Pretty Sugar
Page Boys – John Lewis + The Spitalfields Shirt Co.
Flowers – Crear Flowers
Cake – Whisk
Entertainment – Archie McAllister and his band
Stationery & Mementos – Wedding Tea Towels
Additional Styling – The Damson Cup crockery (business owned by the bride)
Rings – BlazerArts on Etsy (Fi) + Kai Jewellery on Etsy (Tom)
Catering – Crear Kitchen
Hair Stylist – Rochelle Jolley