Happy Wednesday morning all!  Thanks for visiting our much loved wedding blog pages this morning to seek ideas and inspiration, I hope for all you brides who favour chic, elegant, clean and fuss free style and going to like this one.  Michael and Nicola tied the knot on 20 April 2013 with a ceremony at Old Marylebone Town Hall, followed by a reception at St. John Restaurant in Smithfield, Clerkenwell, London.
These gorgeous photographs were sent in by our sponsor and highly recommended wedding photographer Tom Ravenshear.  I'm drawn to the chic simplicity of this wedding, in particular, Nicola's flattering, fitted Roland Mouret dress – a purchase from Liberty. 
"It wasn't actually a wedding dress but an evening gown, but it
looked quite weddingy to me! I'd seen it online when doing some very
early browsing and then weeks later I was still thinking about it so
tried to order it – sold out! So I put it out of my mind until a Liberty
circular email arrived in my inbox one Friday with a promotion for the
store, picturing this dress!
I headed straight there the next morning,
on my own, there was one dress left in my size, I tried it on, took it
off, walked round the store, tried it on again and then, heart in mouth I
bought it! As the sales assistant said, 'what if you walk around twenty
bridal stores and find nothing as amazing?'.  Good sales pitch!"
Love My Dress Wedding Blog – Photography Copyright (c) 2013, Tom Ravenshear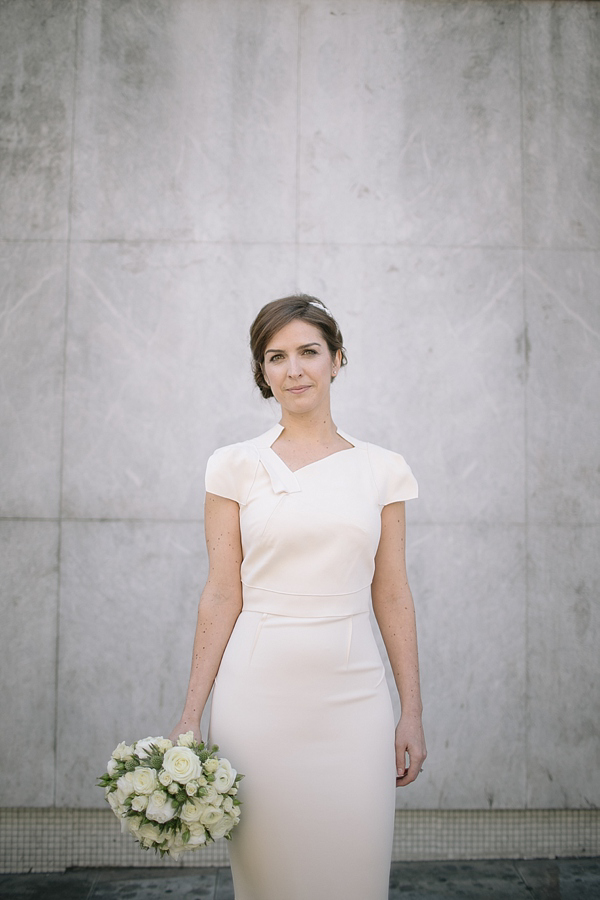 "I was
shaking as I left and then had to ring my bridesmaid and confess that
I'd bought the first dress I'd tried on, without her input! Unbeknownst
to me she'd also booked me a surprise weekend in Paris to go wedding
dress shopping!! She was amazing though, said 'well now the pressure's
off, we can go and try on dresses and just have fun'! – and that's why I
chose her as my bridesmaid!
We did go to Paris and the shop assistant
was right, I tried on some beautiful dresses but nothing that felt quite
as right as the one I already had. I loved its simplicity, the
beautiful fish tail that just gave it that wedding dress feel  – to me
it just fitted the whole feel of the day."
"I wore Dior blue
suede shoes! I was quite taken by the idea of coloured shoes, my dress
was long so they wouldn't necessarily be the focus but it meant that I
could wear them again…and that helped justify spending more than I've
ever spent on a pair of shoes before!
When trying on my dress the sales
assistant had given me some red shoes which definitely looked striking
but I wasn't sure I could pull that off on the day! As soon as I saw
this blue suede pair in Selfridges I knew I'd found my wedding shoes and
they could double up as my something 'blue'."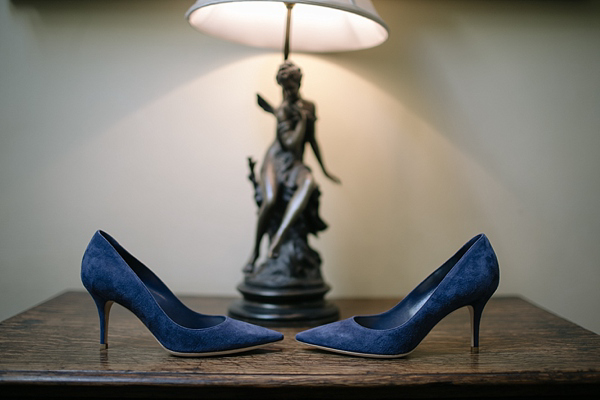 "We met at work, Michael struck up conversation in the lift and a
few months later eventually plucked up the courage to ask for a date!
We got engaged in Stockholm on a weekend break at the end of August
2012, I should have noticed his nervousness as we headed out for dinner
one evening but I was so focused on the menu that I kept interrupting
him until he just told me to be quiet so he could pop the question! He'd
been a brave boy and already picked a beautiful vintage 1930's diamond
ring. 
We wanted the day to reflect us as much as
possible and that's probably why the big focus was on the food! We
wanted it to be relaxed, easy-going, quite modern and I guess quite
pared back – the main aims were lots of champagne, for everyone to eat
themselves silly and then to dance to some fab music."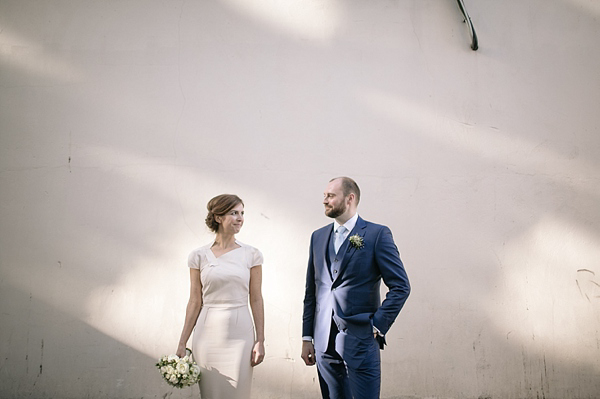 "My mum had found the veil she'd worn for her wedding packed away in
the loft of our house and I was excited at the thought of wearing
something that she'd worn when she married my dad, but when I tried it
on with the dress it just didn't quite work, it was floor-length and
somehow it just didn't fit the silhouette of the dress. My ever
resourceful bridesmaid came to the rescue, she had some beautiful lace
that she'd been beading and looking at making into a hair piece, she
wired the delicate flowers onto a head band that my hair dresser then
pinned into my hair, they were my something 'borrowed'.
I wore my gran's beautiful sapphire engagement ring that I
inherited.  It was a special link to a lovely lady and my something
'old'. I also wore diamond earrings which were a wedding present from my
lovely husband, I'd been panicking about jewellery in the weeks coming
up to the big day and he'd had to drop some quite unsubtle hints that I
wasn't to buy anything!"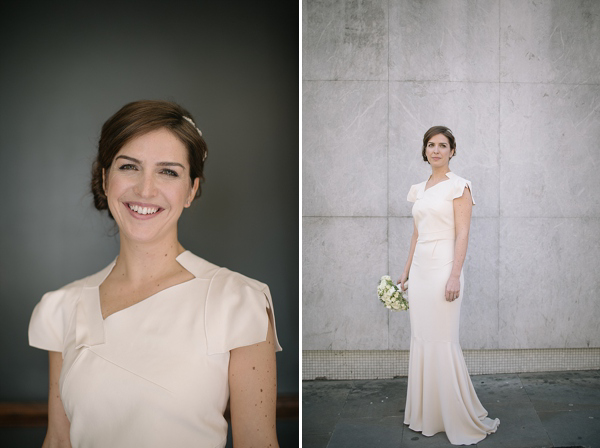 "My bridesmaid was my florist!  Her day job is being an incredibly talented florist – Emma Walker Flowers – I
wouldn't have chosen anyone else!! Concerned that she would have too
much to worry about on the day I suggested quite a pared back approach
to the flowers: bouquet, buttonholes and just a few table flowers but
once she saw the venue her creative side kicked in and the brief grew
and grew!"
"The pillars of flowers, the staircase dripping with blooms
and the hundreds of candles all softened the industrial feel of the
venue but allowing the raw edges that we loved so much to show through –
she has phenomenal vision and her and her amazing team worked
tirelessly in the week before to prep everything to put up on the
wedding morning.
Everyone mentioned how stunning the flowers looked and I
can't thank her enough for being so fabulous!"
"We struggled to find bridesmaid dresses that we liked, maybe we
were being too picky, navy, floor length, long sleeves, not
shiny…eventually during a late-night internet hunt we came across a
dress from Biba at House of Fraser that fitted the list of requirements!"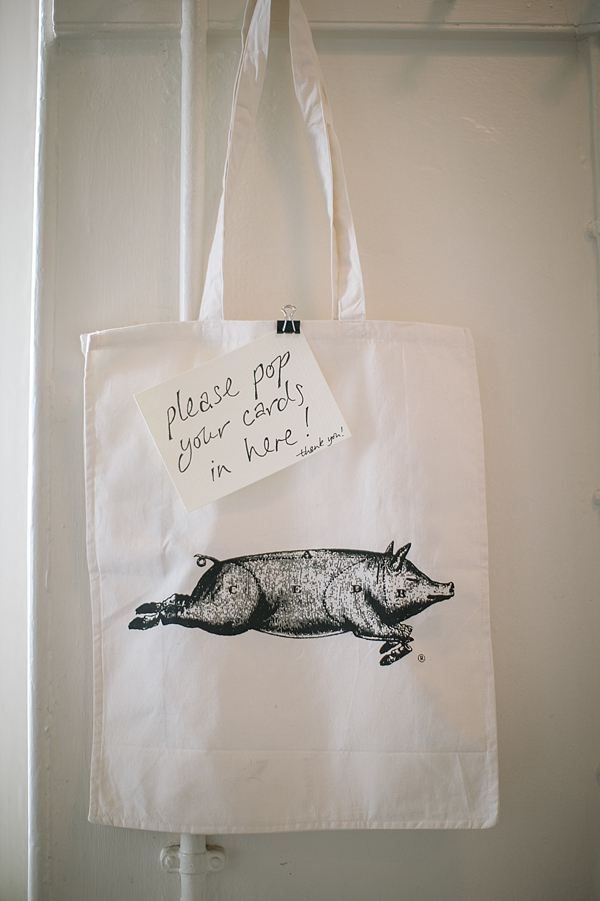 "We both wanted to celebrate our wedding day in the city that we
live in, we love, love, love London and wanted everyone else to see it
at its best on our big day! 
We chose a registry office as neither of us have very strong religious connections, and if Old Marylebone Town Hall
is good enough for Paul McCartney then we thought it would be OK for
us! Our big focus was choosing the right reception venue, we love our
food and were determined that the food should be memorable and, more
importantly, delicious."
"We had eaten at St John Restaurant in Chinatown
for a friend's birthday and had thought the food phenomenal so we
looked at options for holding a wedding in one of their restaurants. The
largest restaurant was the original venue opened by Fergus Henderson
and Trevor Gulliver in 1994 and it looked like it would fit the bill
numbers wise.
We visited on a Friday evening for a drink and it ended up
being the the only venue we actually went to, it had such a buzzing
atmosphere, a fabulous bar area with 20 ft skylights where we could
envisage the drinks reception and dancing to be and then a separate
restaurant with beautiful exposed pillars for the dinner. The industrial
feel really appealed to us and when we saw the feasting menu it was
exactly what we'd been looking for, informal but delicious food that
people could serve to themselves. We booked it there and then!"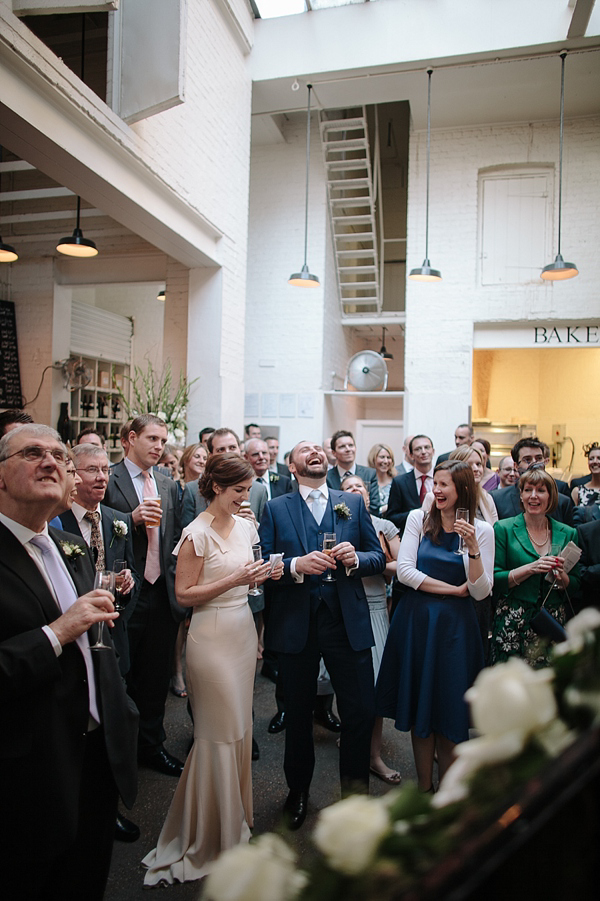 "Our photographer was Tom Ravenshear.
What a star. He was the first and only photographer we met, what was
meant to be a brief meeting in a pub led to many pints of ale (not for
me!) and a bonding over music for him and Michael. We knew instantly
that we would book him, we loved the pictures he'd done for another
London wedding and we just knew he totally got how we wanted the day to
feel and look. On the day itself he was the friendliest, most calming
and constantly enthusiastic bundle of energy and it was a joy to share
the day with him (and his lovely assistant Andy!) and have him capture
the most special moments on film for us, we are over the moon with the
results!
 
Alongside the 'official' photos Tom
also set up a photobooth for our guests to use after the dinner, we
supplied a huge variety of fancy dress and left them to cause mayhem,
which they duly did! The photos were a lovely contrast to the main
wedding photos and made us cry with laughter when Tom sent them through!  Love, love, love."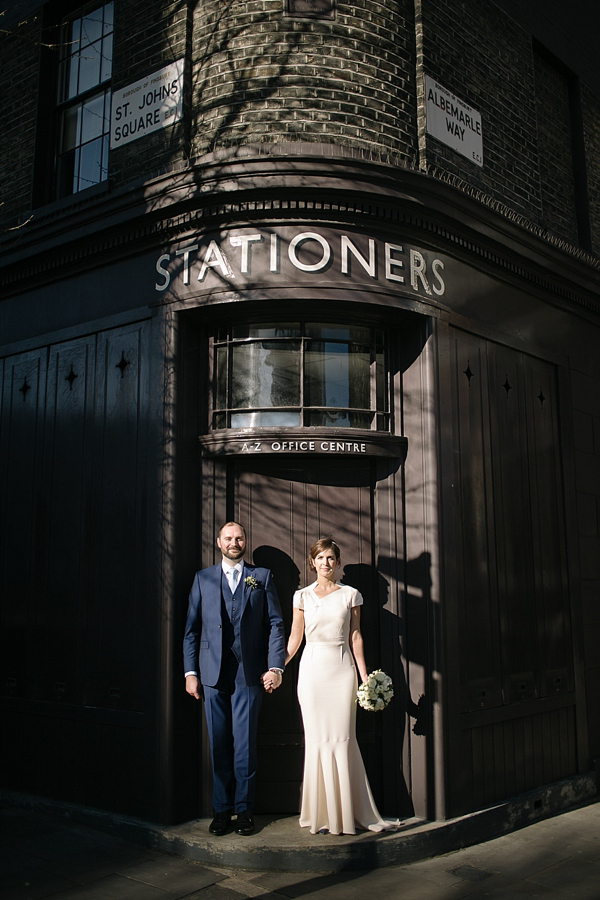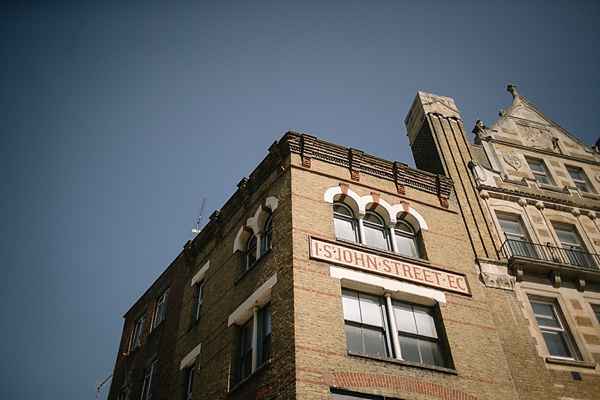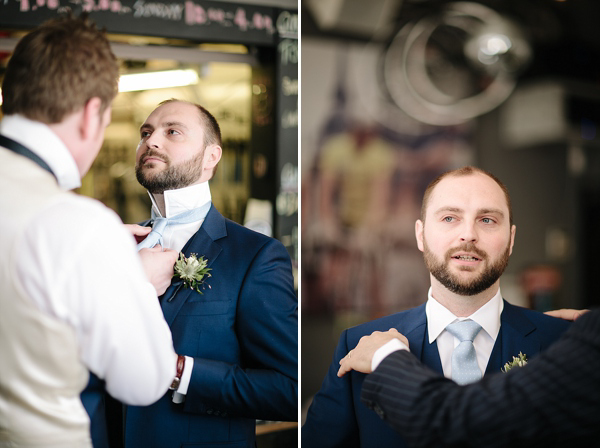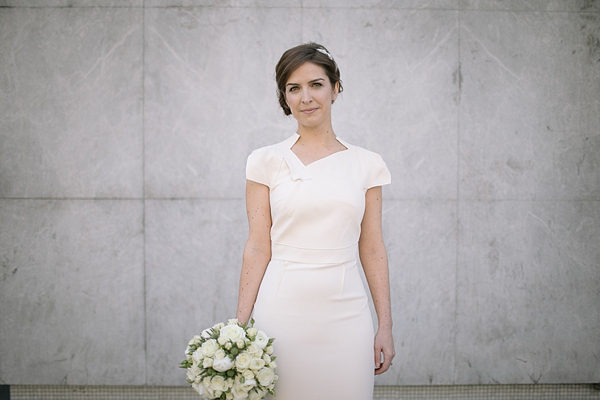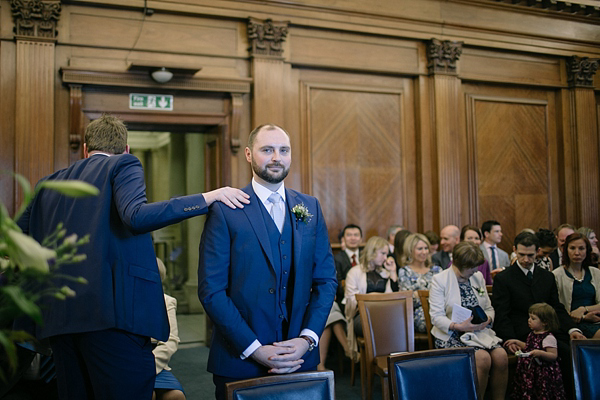 "We had three readings (I've attached the text from the order of service which has the full readings): 
The Bargain by Sir Philip Sydney
Notes on Marriage by Charles Darwin
Love is a many splendored thing by Paul Francis Webster 
We
found it very hard to find readings that weren't OVERLY soppy! We loved
the simplicity and the sentiment of 'The Bargain', 'Love is a many
splendored thing' is actually the lyrics to a song by the Four Aces,
simple but beautiful words and it fitted with our April wedding! The
Charles Darwin one was the light relief, written when he was trying to
decide whether to marry, it's basically a list of pros and cons of
marriage! Luckily it ends up with him making the decision to marry and
it must have been the right one as he and his wife went on to have 10
children and were married for 44 years."
"My lovely dad gave me away to the sound of 'Songbird' by Fleetwood Mac – I just love the words and it's a beautiful melody.  Because
it was a registry office we got to tailor our vows which was very
special, we got to say what we truly felt marriage means to us as a
couple:
'I promise, for as long as we both shall live, to love you and care for you and to always remain honest and faithful, to share in the good times and to stand by your side when life seems hard; to wipe away your tears in laughter and in sadness,  to treasure the life we will build together and to fill our days with all the experiences the world has to offer, to be the best that I can be and to always encourage you to do everything that brings out the best in you. To you I make this vow.'"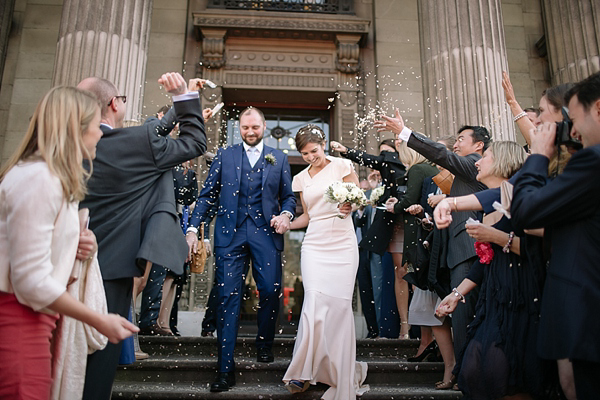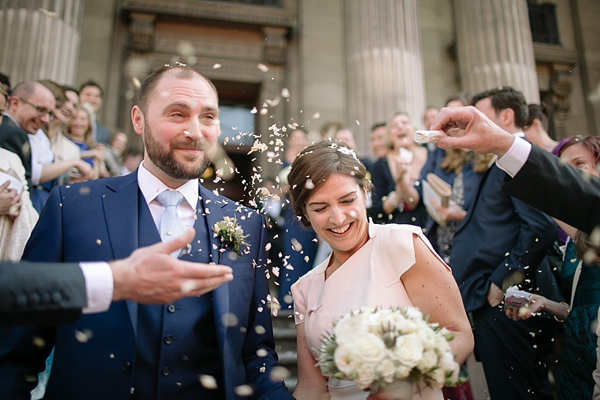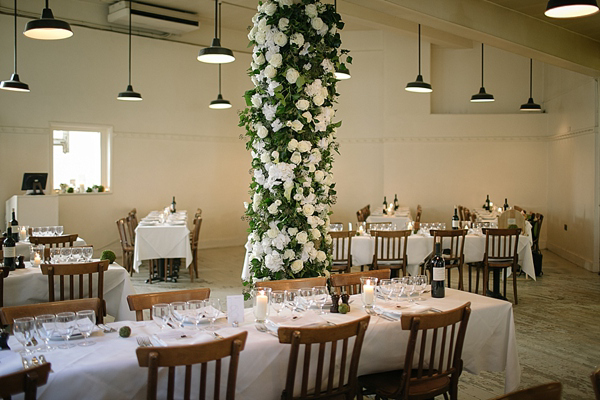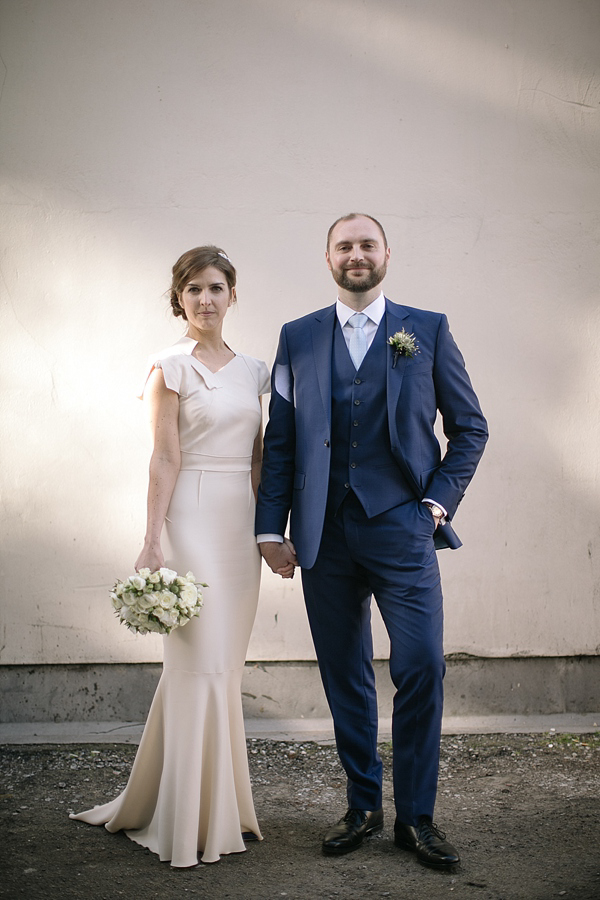 "On a suit scouting mission on Savile Row with the best man
Michael walked into Nick's shop and immediately saw the suit he knew
would be perfect for the day. Nick made the whole experience ten times
better by being the most generous and lovely man and generally making
the groom look and feel fab! Along with my dress being a secret Michael
kept the details of his suit a secret so the first I saw of it was
walking down the aisle, after months of jokes about seventies flares and
brown material I was relieved and so proud of how amazing he looked! 
White silk pocket square, tie and socks all from Nick Tentis, shirt from Brooks Brothers and shoes from Loakes. Watch was a vintage Omega Constellation, a wedding present from the bride."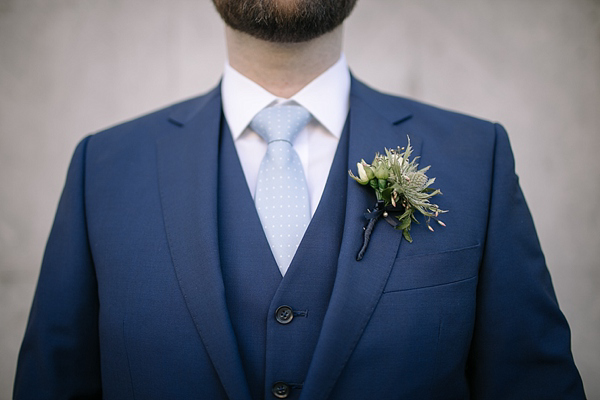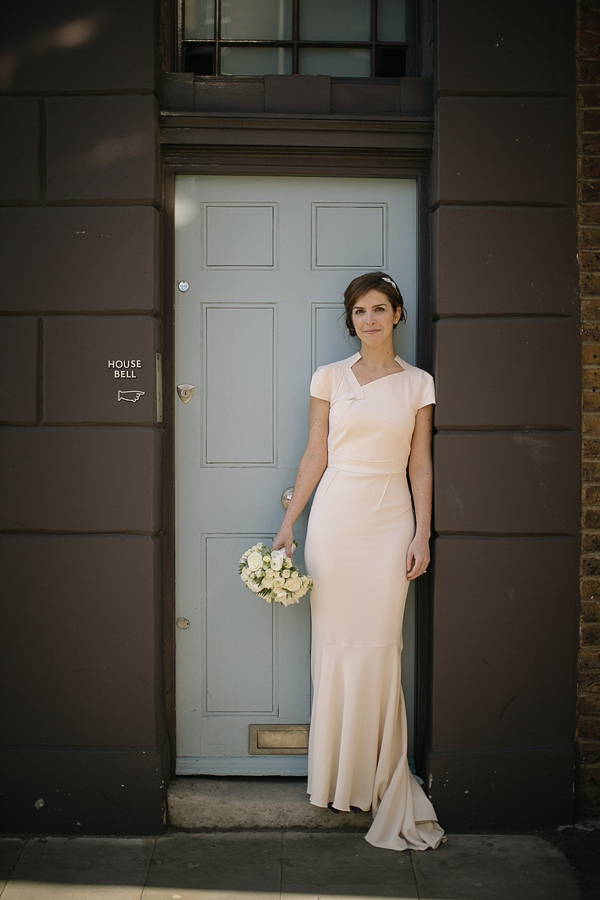 "I wanted to make a few bits and pieces to give the day a bit of a
'handmade' feel, I stuffed small envelopes with confetti to be handed
out to all the guests before we left the registry office, place-names
were made by me using paper from an old Encyclopedia Britannica picked
up in a second-hand shop and the table numbers were stamped numbers on
old library cards. The table plan was also done by me, chalk pen on a
large chalkboard, itfitted with the feel of how St John display their
menus. Etsy was my source of all things craft related, I could spend hours browsing their site!"
"All the food was by St John. Their feasting menu was ideal for us,
we got to choose two starters, two main courses and two desserts and
then the food was served on big plates in the middle of the tables for
everyone to dig into. The restaurant is renowned for its 'nose to tail'
philosophy so there was inevitably a meat focus, one of our main courses
was roast pork and the theatre as the staff wheeled in three whole
roast pigs and carved them in front of everyone was fabulous – just not
one for the vegetarians! The chocolate terrine and the eccles cakes and
cheese that we served up for dessert were just to die for, the only
downside is that I think everyone was so stuffed that they needed lots
of digestion time before the dancefloor!"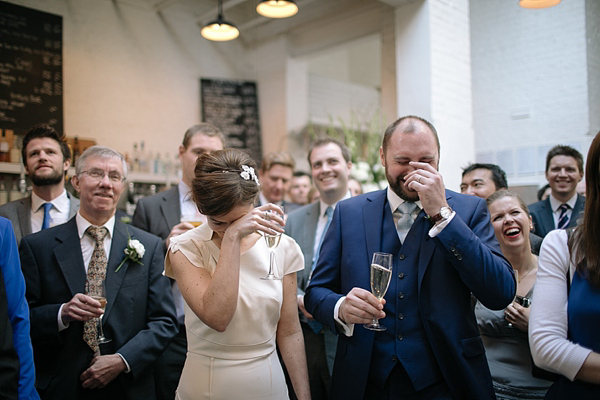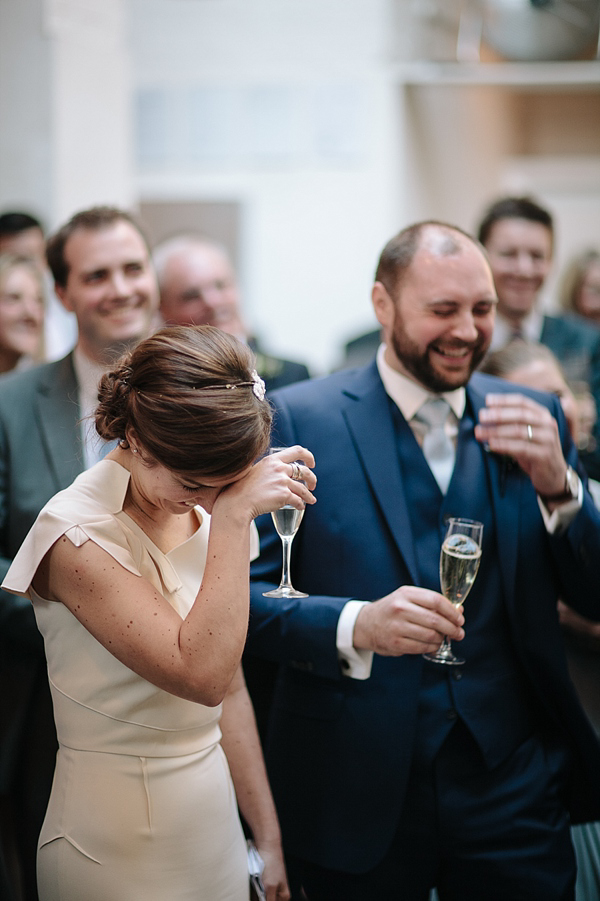 "Our cake was made by our beautiful friend Alecia! She does this as a
hobby – I know! My cakes don't turn out looking like that!  We chose a
triple layered, un-iced Victoria sponge and it was DELICIOUS, she is
truly a cake genius. We served the cake as part of the late-evening
buffet and it got hoovered up by those needing a boost from all the
dancing! Let's just not mention the groom smashing the carefully sourced
vintage glass cake-stand 6 days before the wedding."
"We had The Bonfire Band
playing during our drinks reception. We'd first heard them play at
Columbia Road Flower Market, we loved their folk sound and bought their
CD and when we were thinking of great laidback music to play during the
reception they immediately sprang to mind. They provided a perfect
back-drop to the start of the festivites and Ben's mouth organ
collection was an impressive sight to see!
After dinner one of the groomsmen, Chris (aka Sliding Vinyl)
did an awesome set, including serenading us for our first dance (more
of that later) before the disco got going, run by Sliding Vinyl."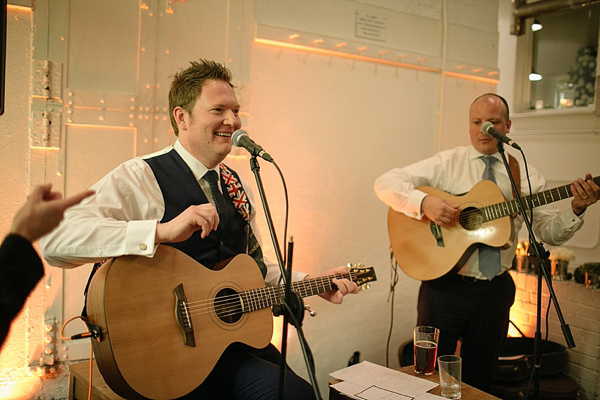 "We had no idea what our first dance should be and so luckily the
best man and one of the groomsmen, Chris, took the decision out of our
hands! They hatched a plan that they would duet together for our first
dance, it was a surprise for the bride right up to the moment that the
first chords of All About You by McFly played across the dancefloor!
Such a lovely surprise and they did a sterling job, it felt very
personal to have our close friends sing for us!"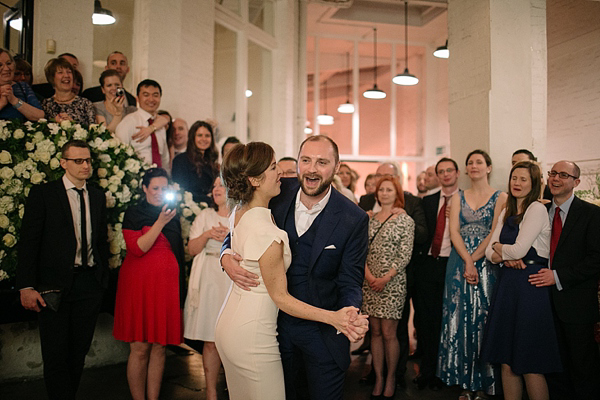 Words of Wedded Wisdom… 
"Enjoy
it, enjoy it, enjoy it. Remember there are no set rules for the perfect
day. Don't worry about the small stuff, the registrar missed a reading
during our ceremony and so the order got moved around but, other than
our poor friend wondering if he'd missed his cue, I don't think people
really noticed and it really didn't matter!
Have the day that you want with lots that is personal to you and
you'll have memories to last a life time and the perfect start to the
chapter that is being married!
So many parts of the day were our favourites, and for so many
different reasons, like standing in front of each other, and our friends
and family, and saying our vows was the most amazing feeling, a
statement to the world of how much we love each other and how ready and
excited we are to commit to each other for the rest of our lives, come
what may. Then right through the reception seeing everyone having a
ball, to the umpteen encores which ended up with us in the middle of a
big circle of people screaming along to Never Forget by Take That, not a
song that Michael thought he'd ever dance to!  Is it annoying if we say we'd have done nothing differently?"
A lovely way to start the morning, I hope you'll agree.
Huge thanks to photographer Tom Ravenshear for submitting these images for us to share, and a big congratulations and thanks to Michael and Nicola too.
Do you share similar elegant style to Nicola?
With much love,
Annabel

Photographer – Tom Ravenshear
Venue – Old Marylebone Town Hall + St John Restaurant, Smithfield, Clerkenwell
Wedding Dress – Roland Mouret via Liberty
Brides Shoes – Dior 
Grooms Suit – Nick Tentis suit + shirt via Brooks Brothers + Loakes shoes
Bridesmaids Dresses – Biba at House of Fraser + shoes by Cara
Florist – Emma Walker Flowers
Cake – Made by a friend
Cars/Transport – Vintage Routemaster
Entertainment – The Bonfire Band + Sliding Vinyl
Rings – Premier Jewellers
Makeup Artist – Make-up by Louise from SpaceNK
Hair Stylist – Hannah at Easton Regal
Stationery – Piccolo Press