It's always such a treat to be able to visit The White Gallery every spring time.  Now in its fourth year, The White Gallery London is an internationally recognised trade fair event that enables designers and suppliers to showcase their new creations to boutique owners and other sales representatives.  Basically, it's the event where all the fabulous wedding shop owners go to order their new stock in wedding dresses, shoes, accessories and so on.  They order now, you see it in their shops over the coming weeks and months.
This is the third time I've attended The White Gallery – two years ago, I wrote an 8-page spread for Wedding Magazine for then Editor Catherine Westwood.  Last year, I attended in my own right and reported here, and just as I did 12 months ago, this year, I made my way to the Battersea Park Exhibition Centre in Chelsea with photographer Naomi Kenton, who captured the beautiful images you see here today.
Naturally, we didn't have anywhere near enough time to photograph as much as we would have liked to, despite agreeing a strict routine that involved keeping socialising to a minimum and limiting time on each stand, we still just couldn't cover it all.  But we did work hard to capture as much as we could and we hope that you appreciate these beautiful photographs today that provide a sample of the craftsmanship that was on display at the show.
Love My Dress Wedding Blog – Photography Copyright (c) 2013, Naomi Kenton

First up, I simply had to share these incredible designs by Eaton Nott,
who's creations graced the main entrance to the show.  Eaton Nott, who
are made up of conceptual artist Jess Eaton and professional tattooist
and collector of all things bizarre, Jon Nott, were showcasing their 'Roadkill Couture' collection, a highly
acclaimed clothing line consisting of accessories and garments created
purely out of, yes, roadkill (or from animals that have been killed or
died of natural causes).
Weird? Controversial? You decide. What's
undeniable however is the beauty of these creations – just look at that headpiece above designed using
bleached pheasant feathers – a conceptual, avant garde take on the
current craze for all things 20/Gatsby inspired. I was blown away by it to be honest! The craftsmanship involved close up was quite incredible.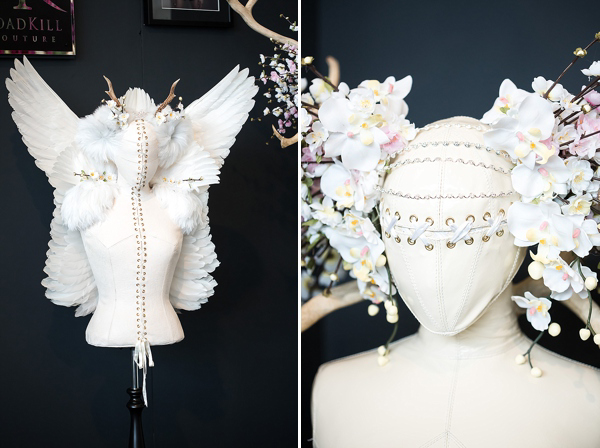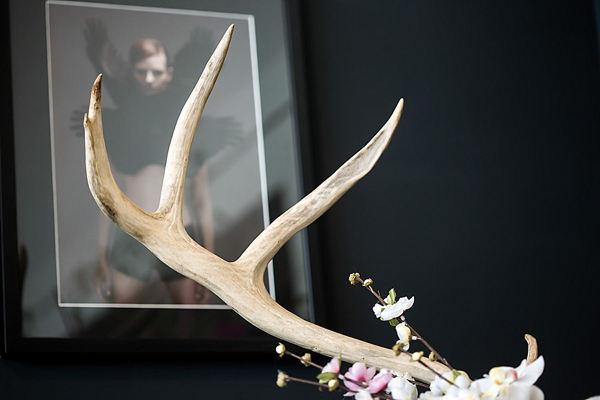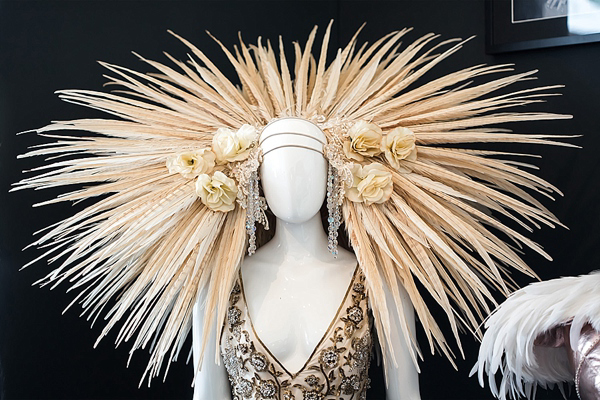 It might not be to everyone's cup of tea, but the concept was pretty original!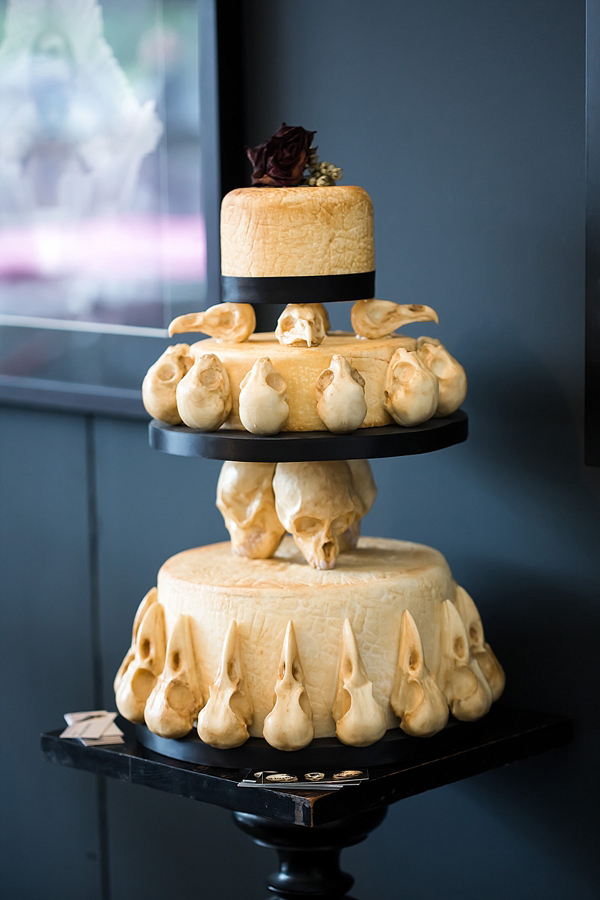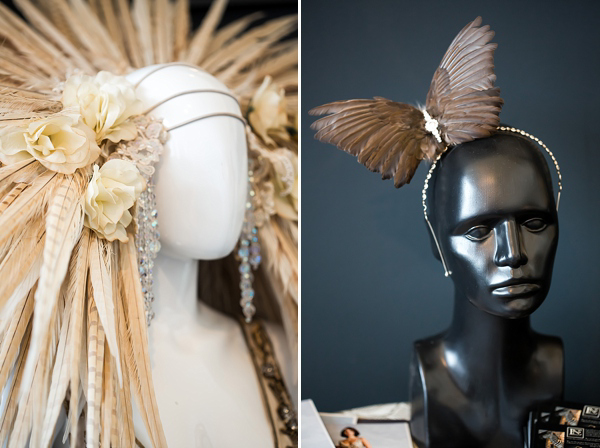 It was such a treat to see French designer Delphine Manivet
represented at the show for the first time. I'm a huge huge fan of Manivet's chic and
glamorous gowns, but this 1970s inspired design really caught my eye – I
snapped it here on my Instagram feed, complete with platform boots!
This was one of my favourite dress designs at the show.  You can see
more from Delphine Manivet on Love My Dress here.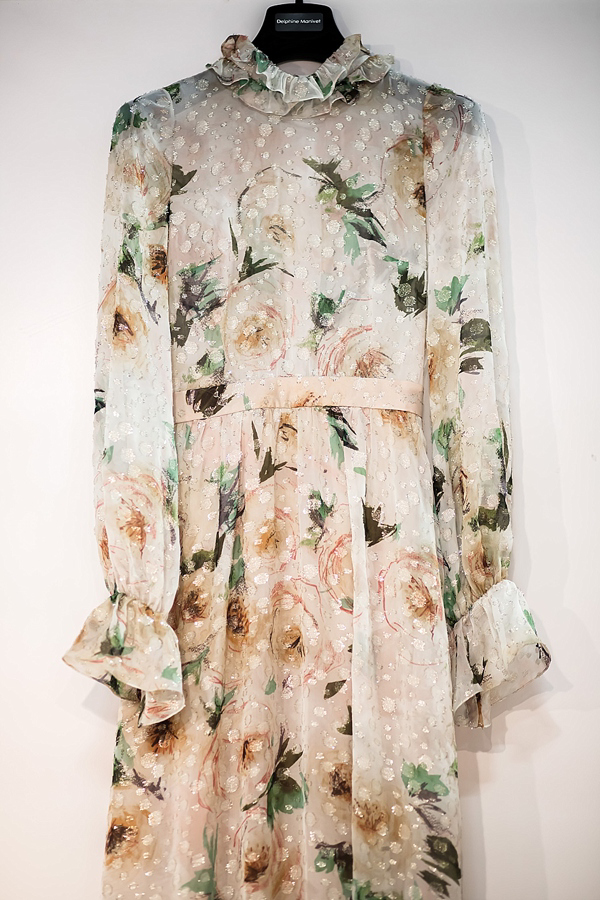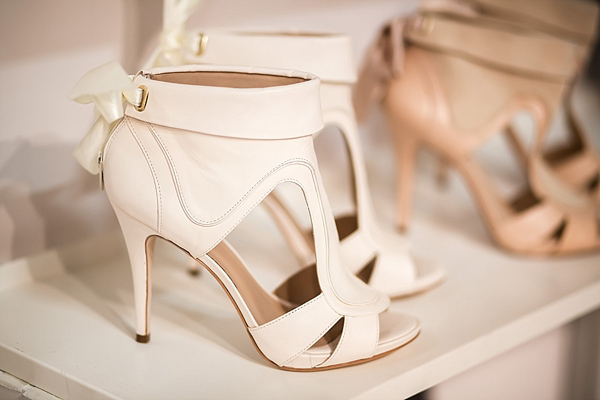 The shoes on show were as always just fabulous, but Harriet Wilde
completely stole the show with her incredible feathery designs – brand new and hot out of the secret shoe factory.
Designer Ruth Shaw had in fact just been visited by BHLDN when we got to her
stand – who had apparently expressed a keen interest in her gorgeous
flat/low heel wedding shoes.  Unsurprisingly too, they were really
stylish and chic, but these boots wanted to run away with my heart.  Aren't they fabulous? Looks like the shoemaker has been visited by the elves! Love them…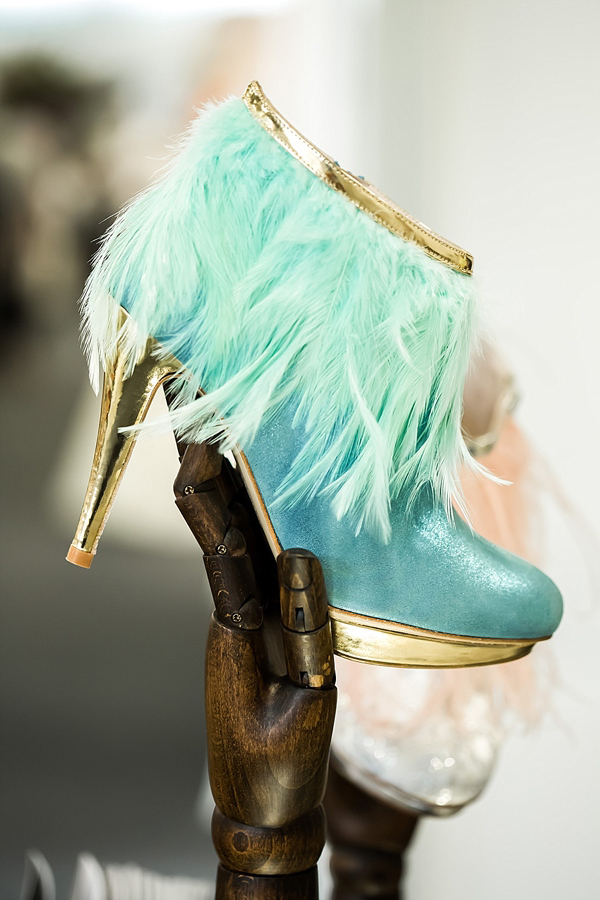 And heels to kill and die for!!! Beyond elegant…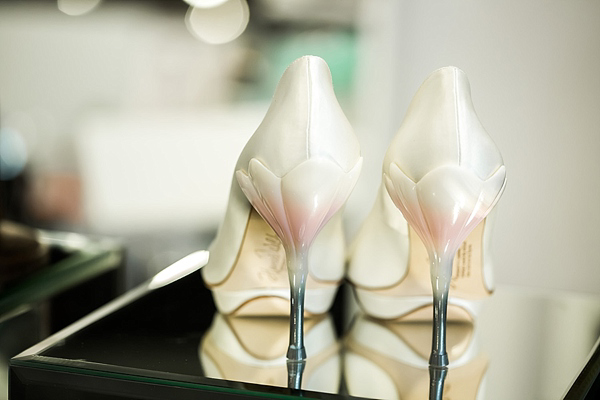 I became a little smitten with these gold shoes too. Wouldn't these look fabulous on a modern-day bride peeping out from beneath the hemline of a glorious vintage or vintage inspired wedding dress?  Actually, they would look pretty amazing with a pair of skinny jeans too. I love how they look like they have little wings!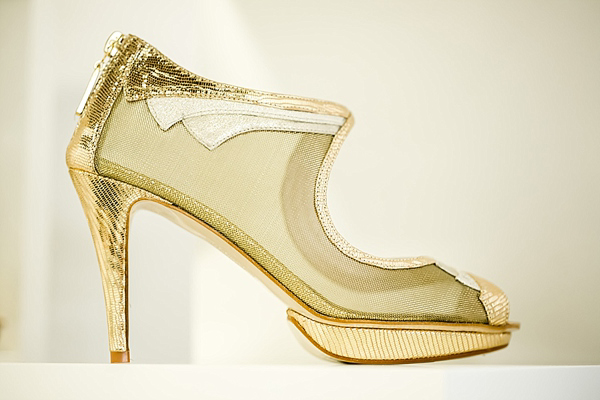 An open toe version of the elegant feather design above…
And I think this might well be my new favourite colour…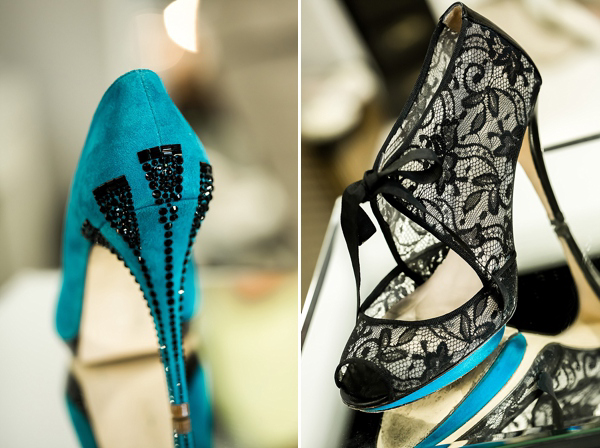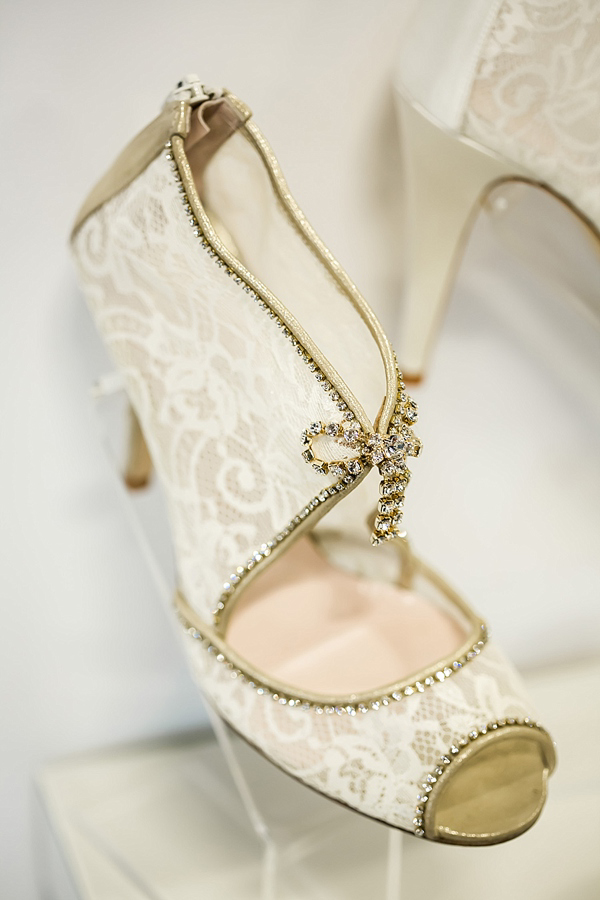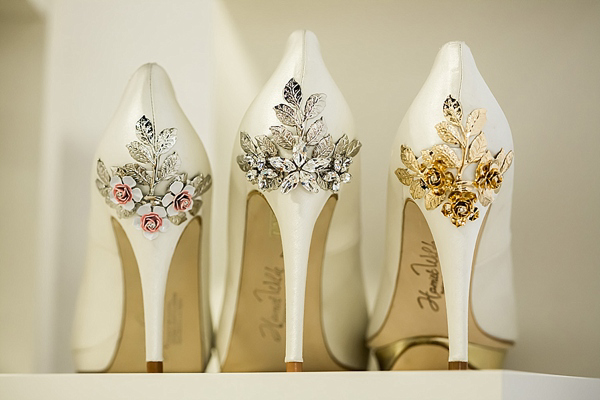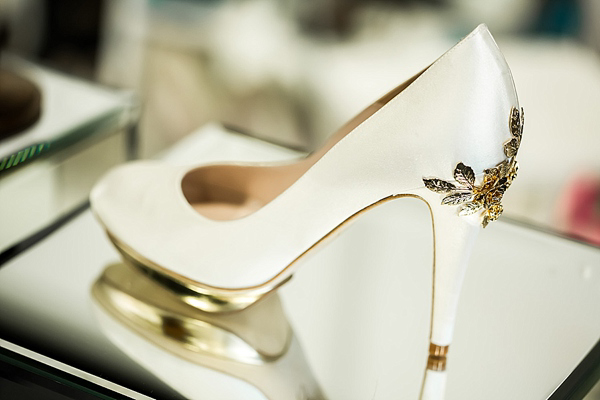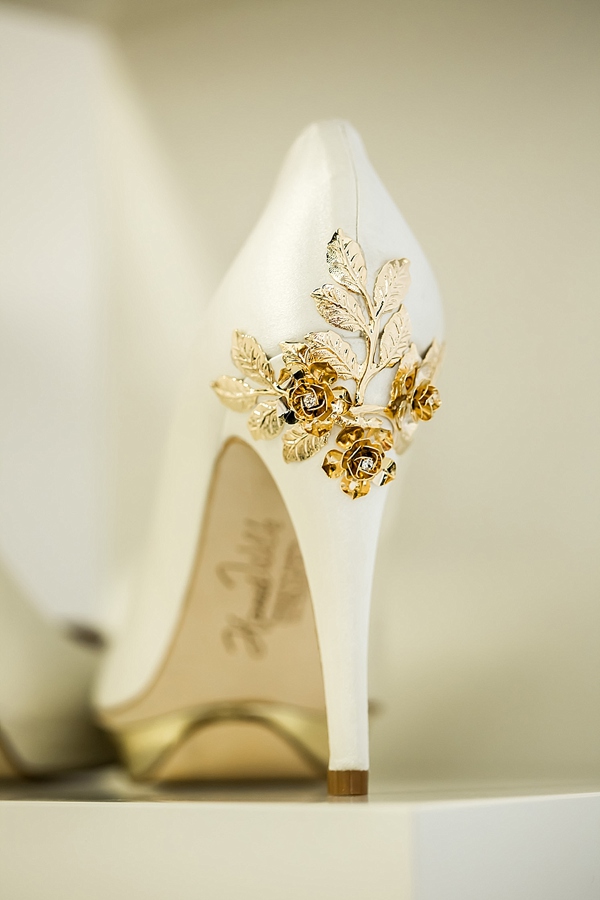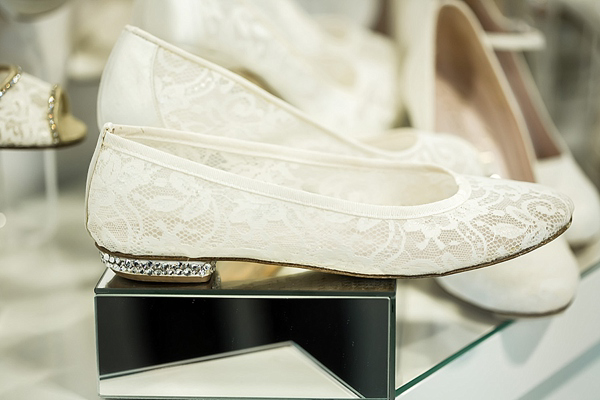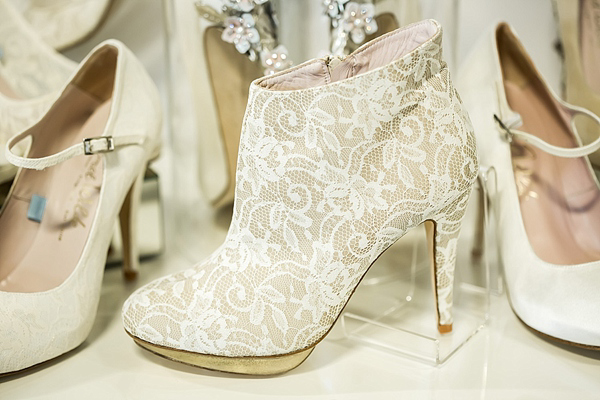 I was smitten with the pretty little flower-girl dresses by designer Nicki Macfarlane.
Nicki's craftsmanship is second to non. She takes her inspiration from
summer wedding style and her colour palette includes soft nudes,
tasteful sorbets, jewels and rich Mulberry tones.
I absolutely adored the pearl peter pan collar that featured on this pretty pink gown…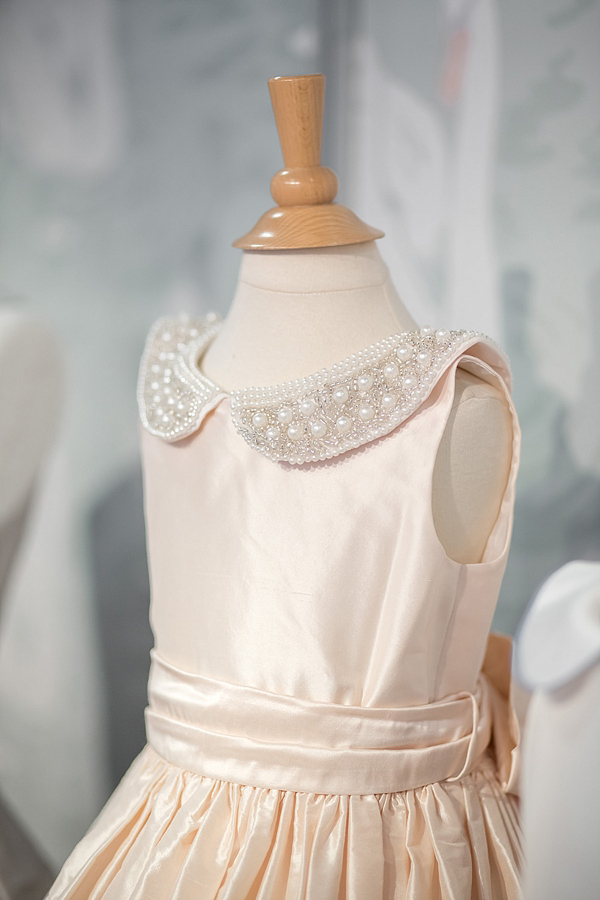 Nicki Macfarlane designs are available in the very best bridal
department stores including Harrods, but don't let this put you off –
she is a super down to earth and approachable lady. Nicki and her team are just so
lovely and I can't recommend them highly enough if you are looking for exquisite, traditional flower-girl and bridesmaids gowns – she is the best
in the business.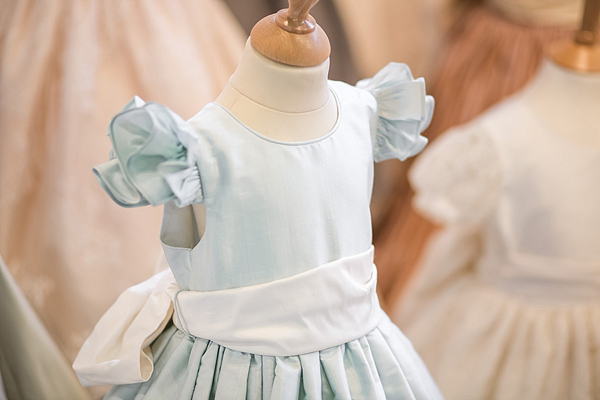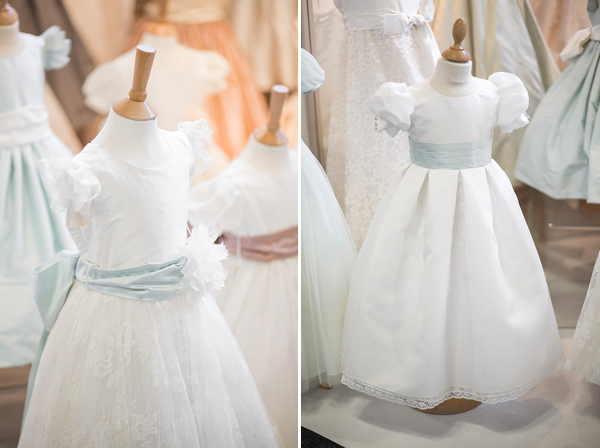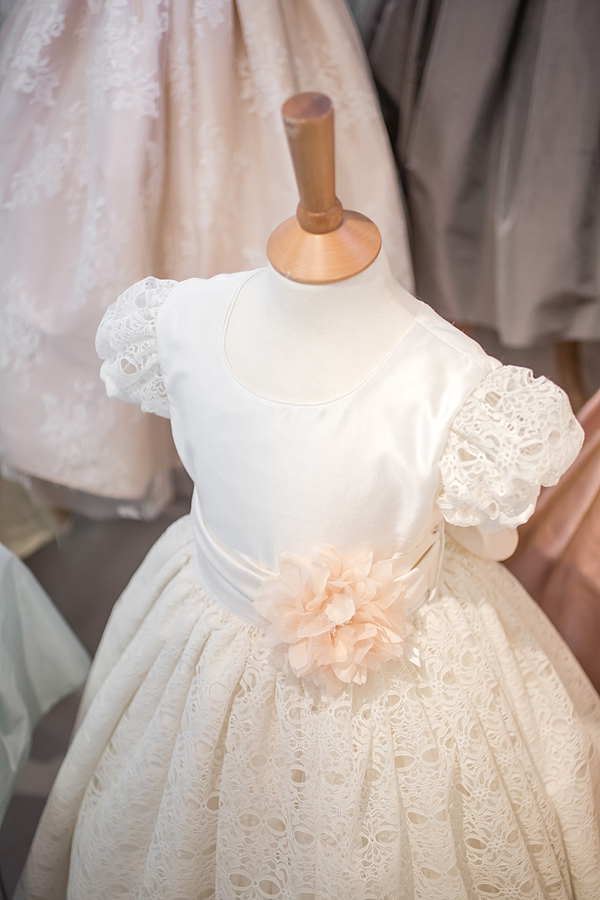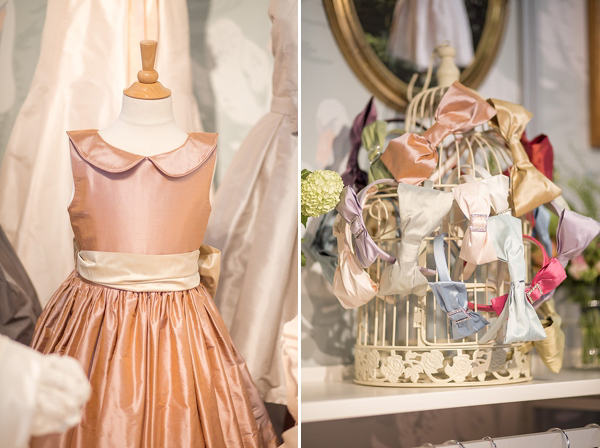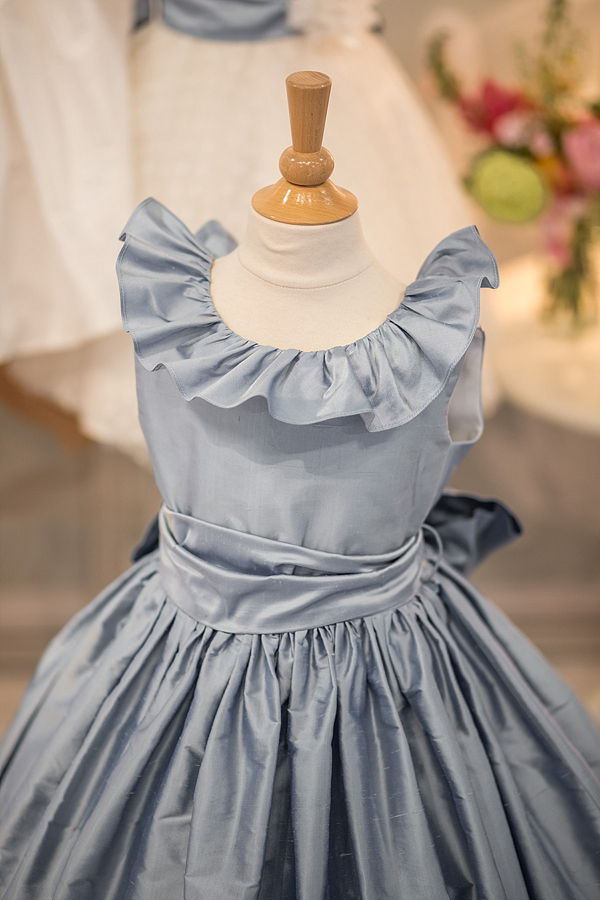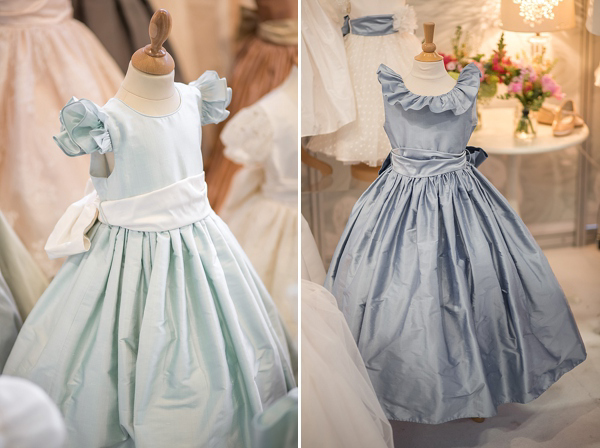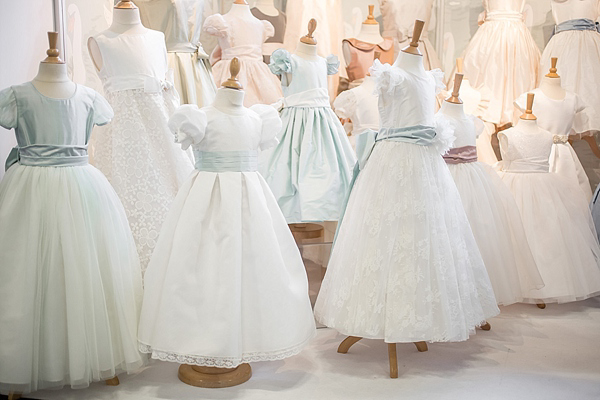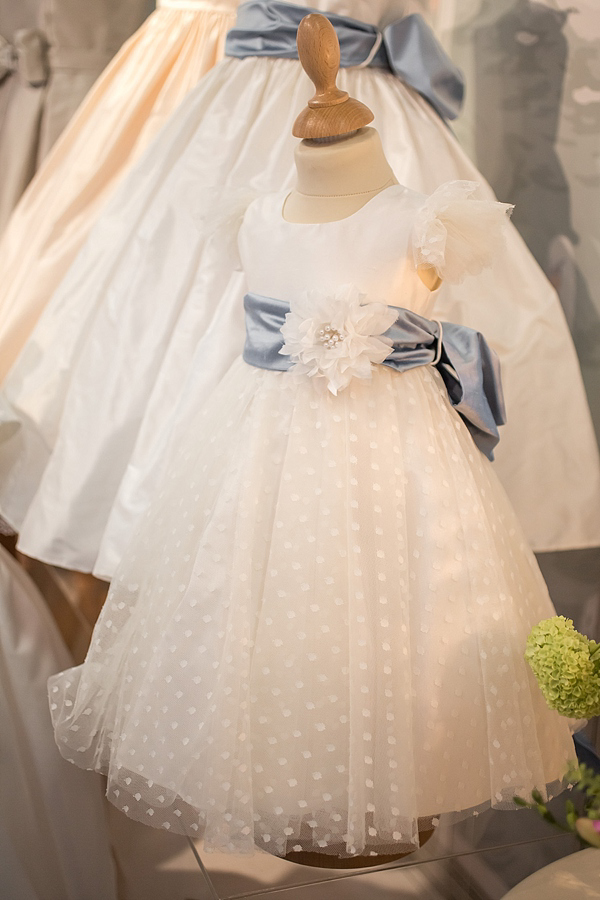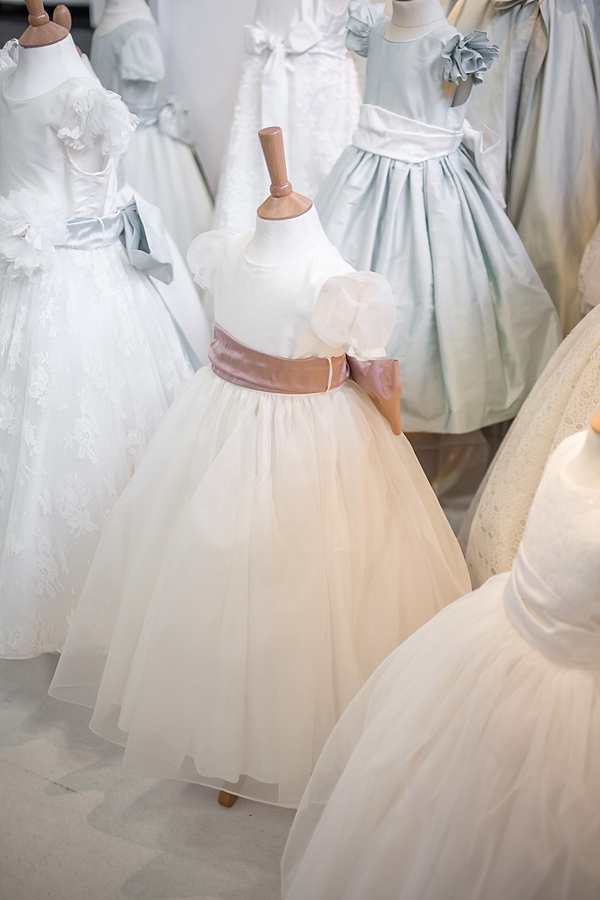 One of the designers I was most keen to see was the Spanish Jesús Peiró (no, you don't pronounce it like 'Jesus' as in God's son – you might want to clear the back of your throat before you try the correct pronunciation which is more like 'hay-zooz'. Go on, have a go!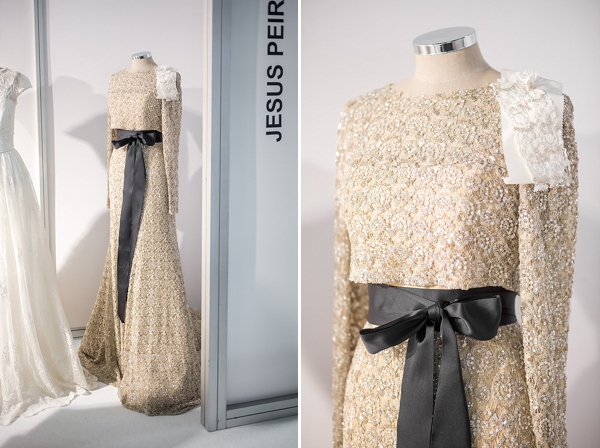 Again, for me the quality of craftsmanship really stood out with the Jesús Peiró designs – and if our sponsor MIss Bush Bridal is ready to rave about them at every given opportunity, then we're pretty convinced that these dresses aren't just beautiful to look at but extremely high quality design too.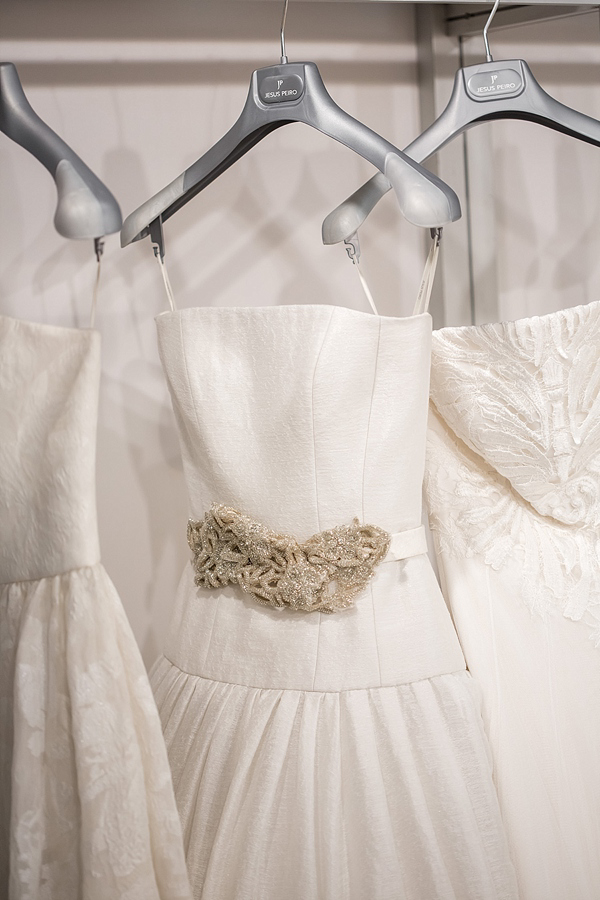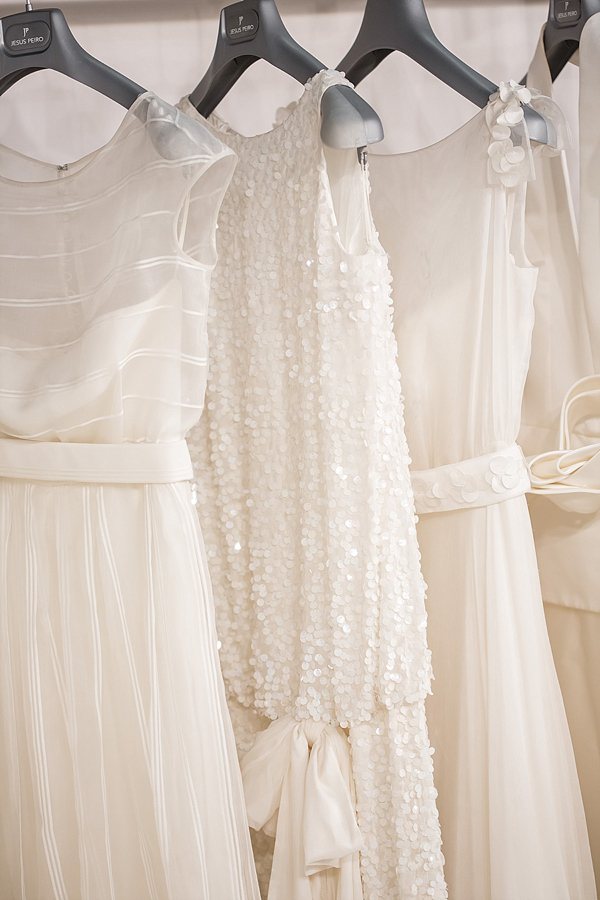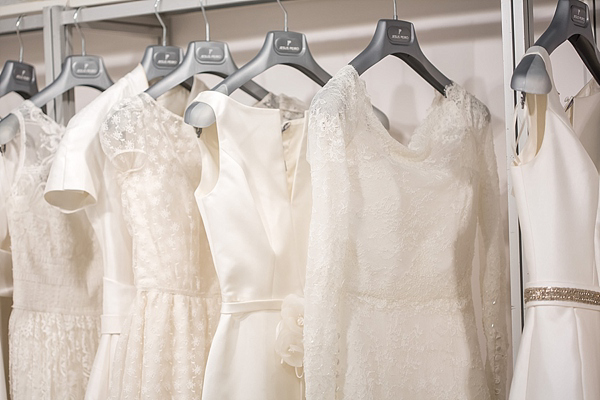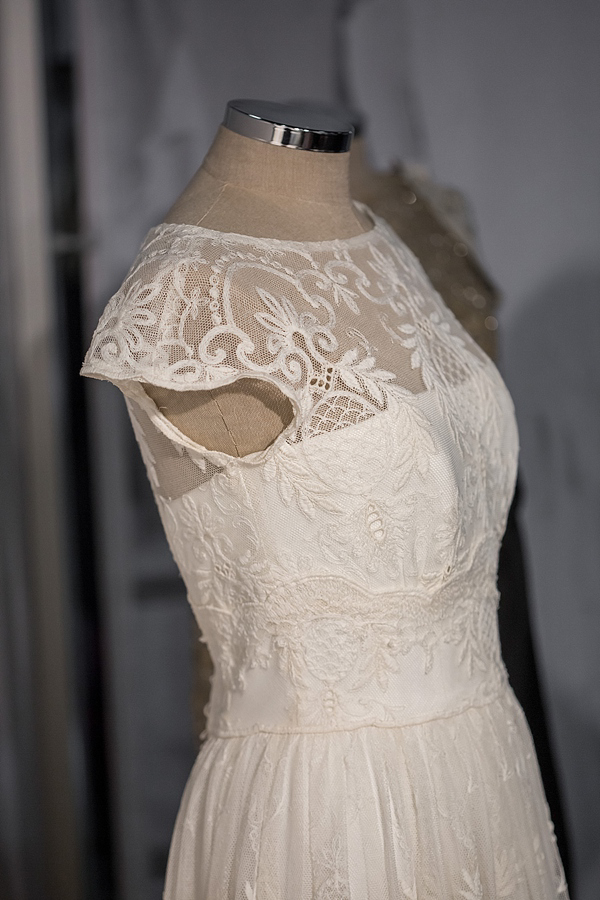 Katya Katya Shehurina stole my heart at the White Gallery last year, and they didn't fail to impress for a second year on the run either.  This fabulously talented Latvian born designer has a really strong design signature that hugely appeals to me – her gowns are all about feminine layering of the softest and lightest of laces and tulle.  Utterly charming and so damn pretty…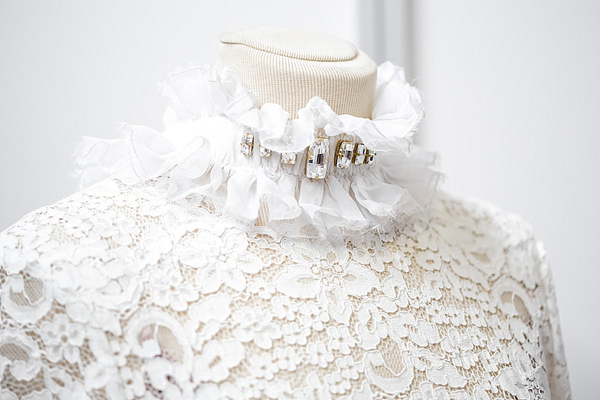 A designer new to me this year was Nymphi Designs – who I really really liked.  Designer Varvara Dimitrea was debuting her accessories collection on this occaison and so lovely it was too. I fell a little bit in love with this 1920s inspired daisy chain motif headpiece.   This label is one to watch out for, with it's statement veils, floral head pieces, sashes, cuffs, collars and shoulder pieces that ooze bohemian, vintage inspired, art deco style.  Feminine and romantic.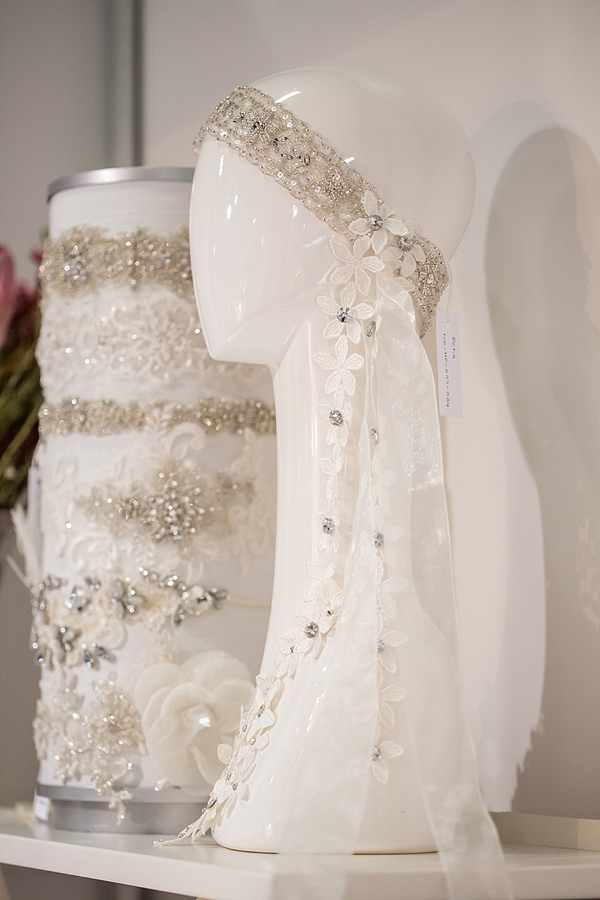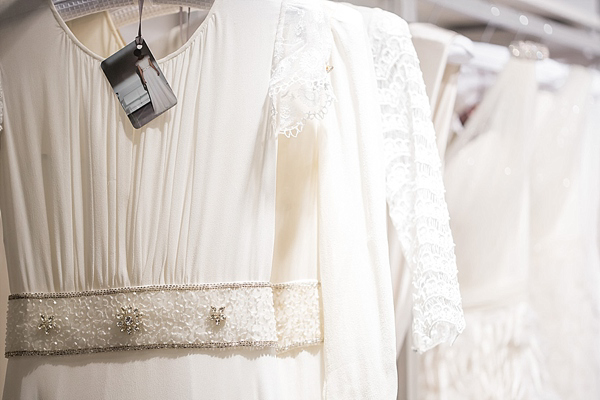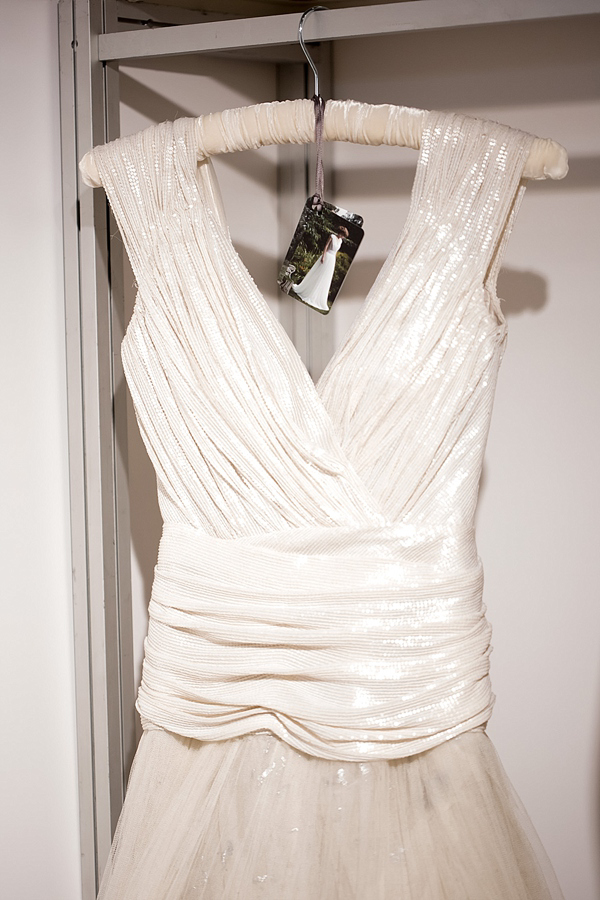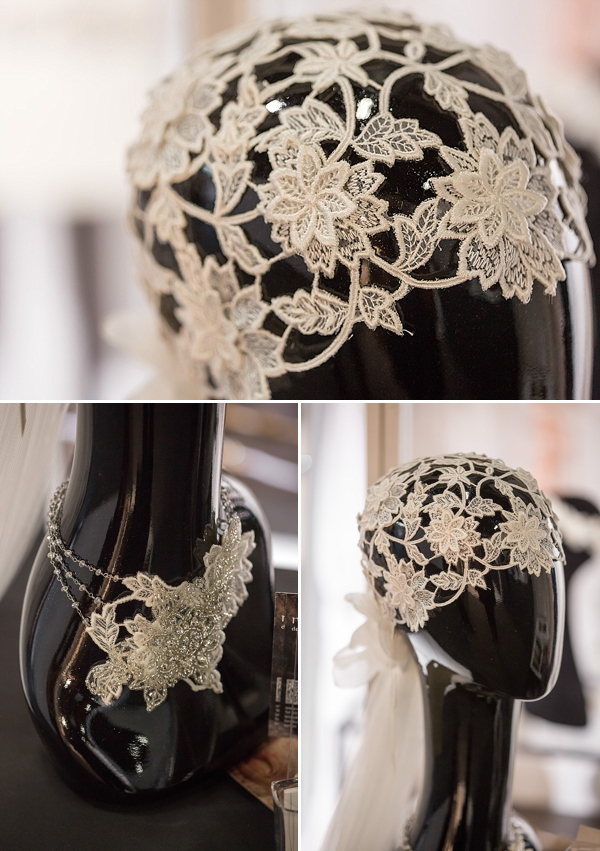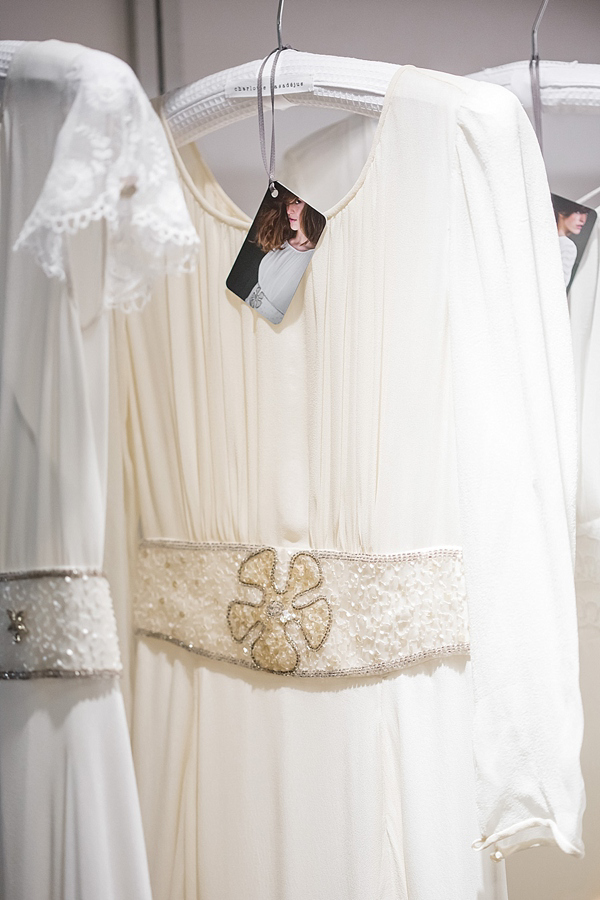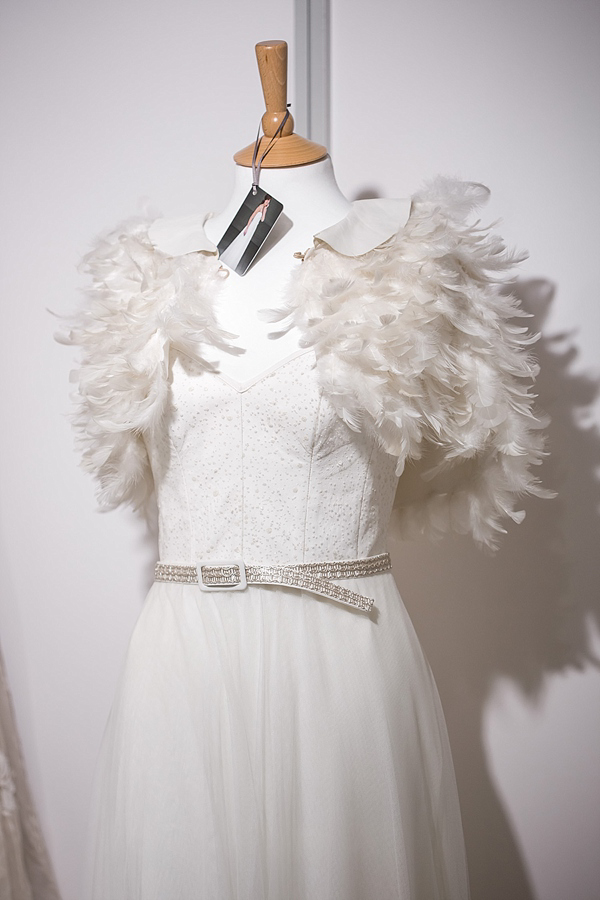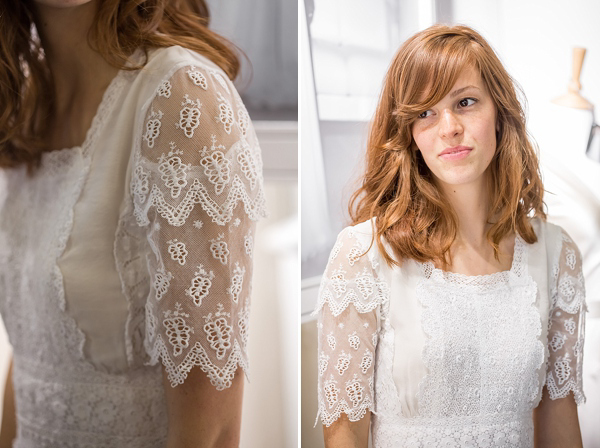 It was great fun to catch up briefly with Chenka of Ritva Westenius, whose company I love!  (no one does splits on the dance floor like ex-ballerina Chenka, that's all I'm saying).
I was immediately drawn to the 1920s flapper style gown below – again, another nod towards Gatsby fever…
I adore this full sleeved design – so chic, so simple and elegant. Less is more…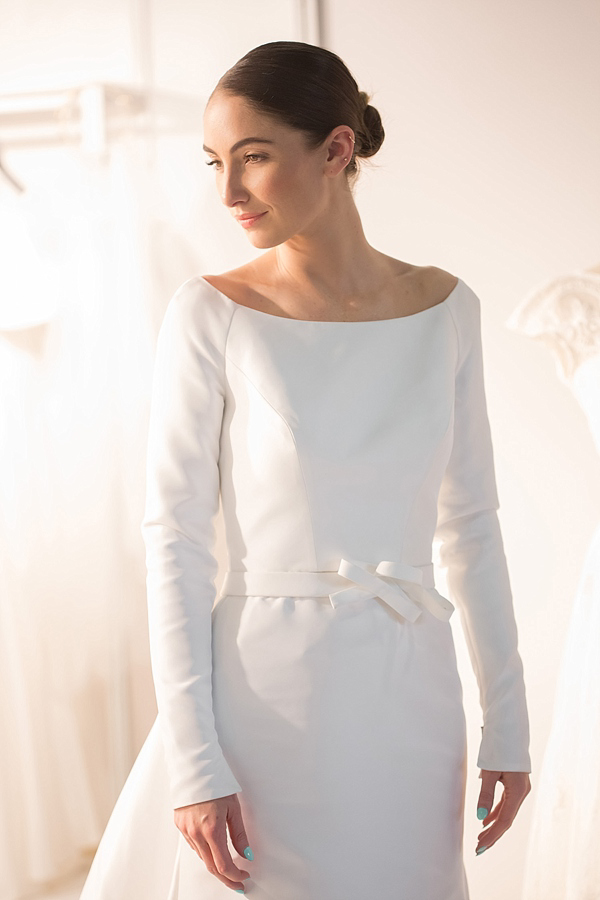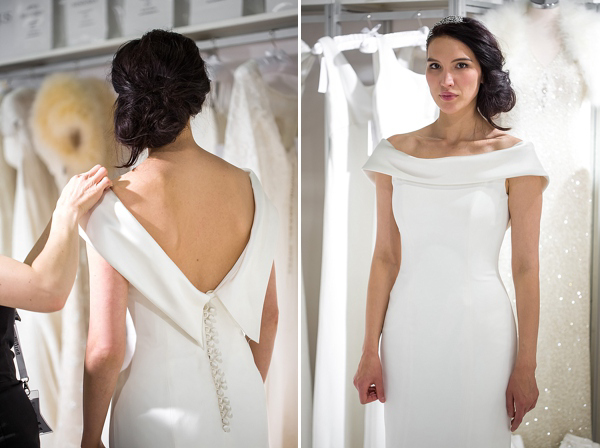 ….though there are occasions when, the more sequins, the better!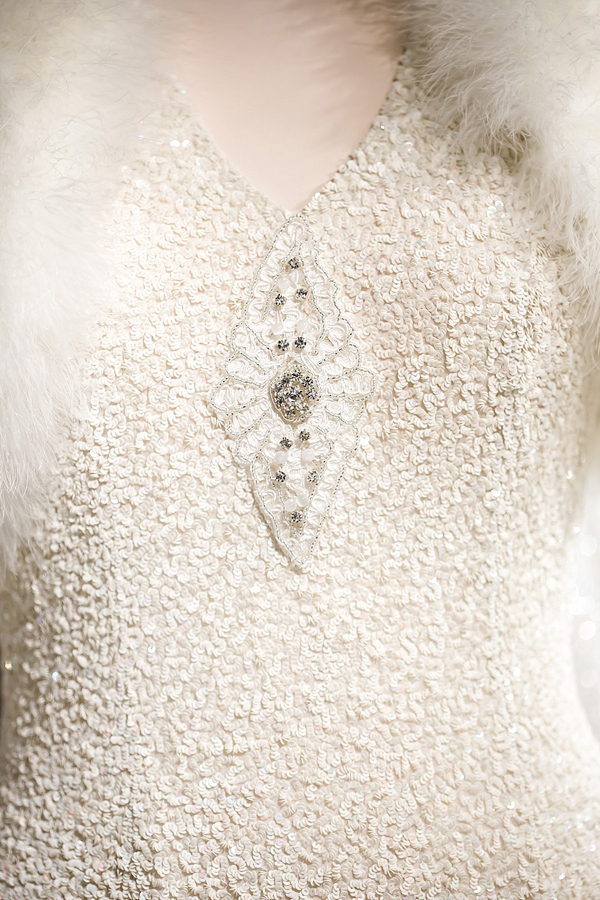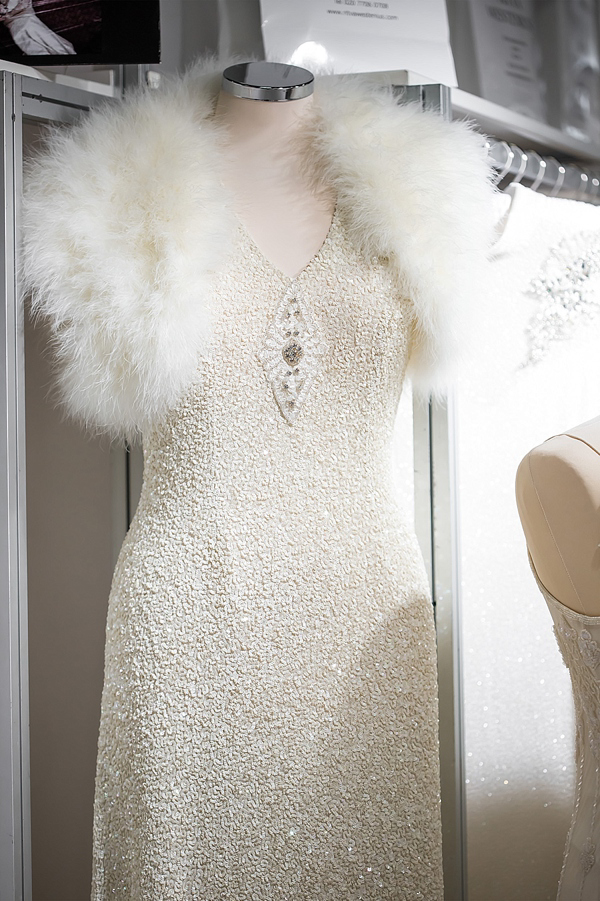 For me the Ritva Westenius colleciton was all about feminine sophistication and glamour – plunging backs, sexy necklines and 'shoulder baring elegant draping' kept these designs, modern and fresh.  Gorgeous tailoring and attention to detail and very delicate embellishment really sets these designs apart.  They are exquisite, opulent and they celebrate the very best in British bridal couture. I loved this collection a great deal and would LOVE to see more Ritva Westenius brides on Love My Dress…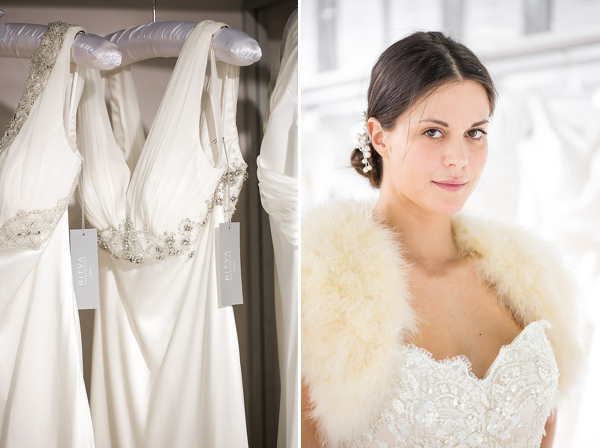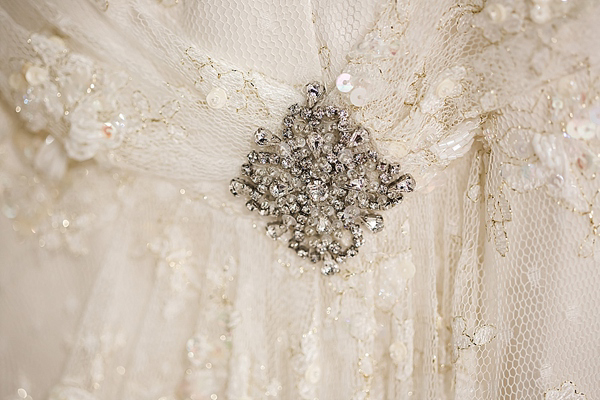 Accessories designer Polly Edwards always draws a crowd at The White Gallery – and this time was no exception.  Her statement tiaras and headdresses feature classic styling with a contemporary edge and really do stand out in a sea of sparkles and pearls.
Polly's attention to detail and finishing touches are exquisite.  She only sells on a wholesale basis however so you need to find a stockist near to you.  We recommend MIss Bush Bridal in Surrey..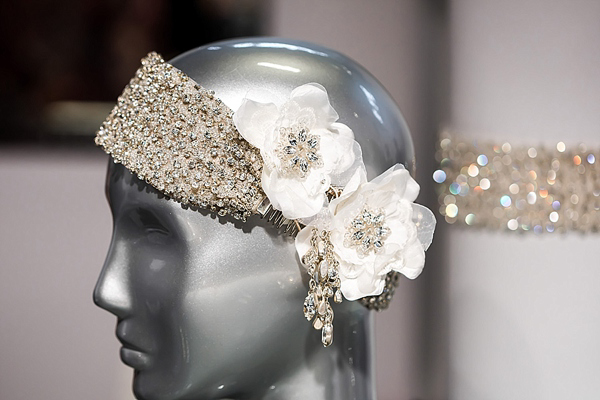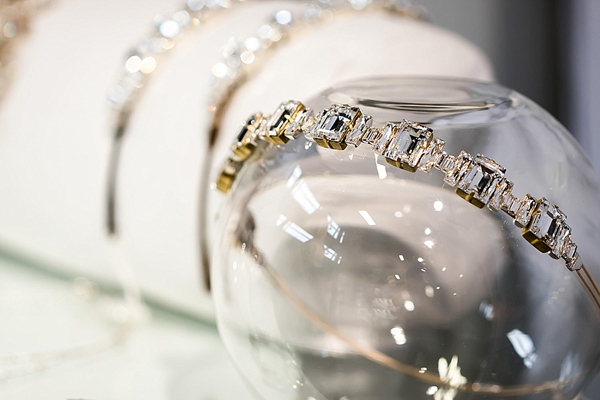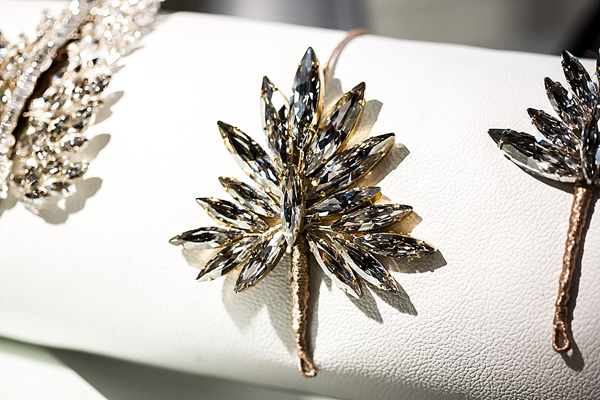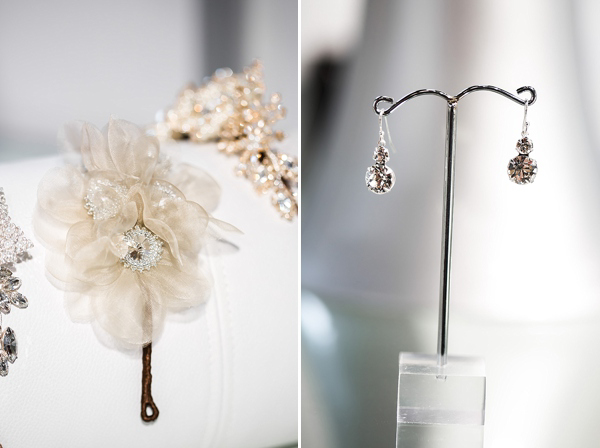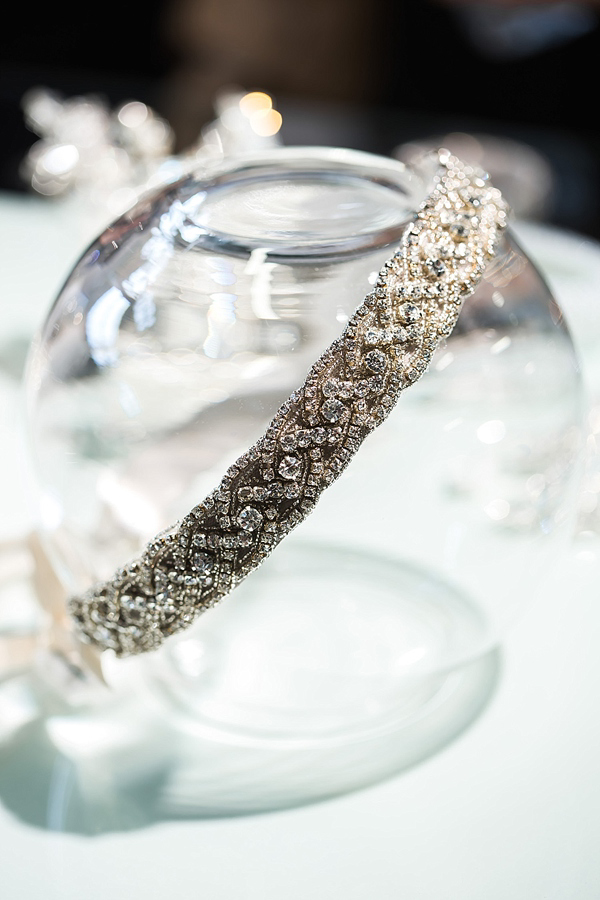 Rachel Simpson
had beautifully styled her exhibiting space with vintage props.  As
usual, she had a gorgeous collection of vintage inspired shoes to
showcase, taking reference fromthe 1920s through tothe 1950s,
and featuring new muted pastel shades this season – pinks, greens as
well as metallics.  Rachel Simpson is a very popular brand with our
readers and her designs grace these pages very regularly…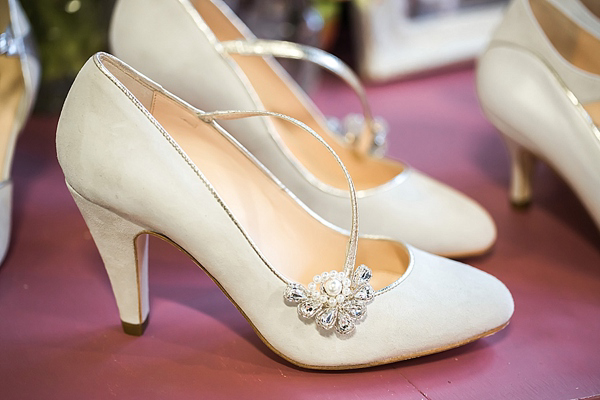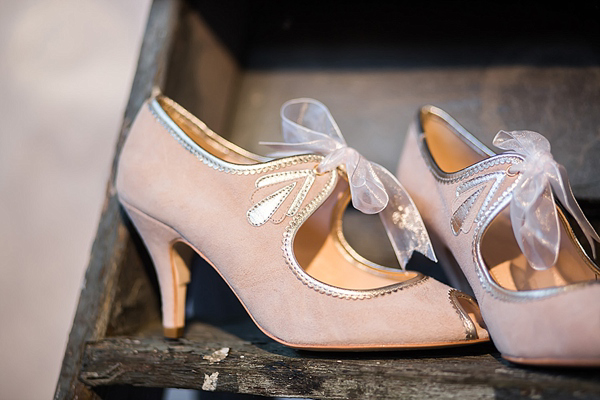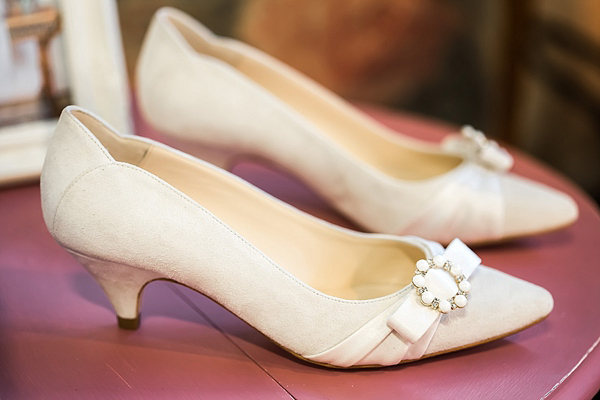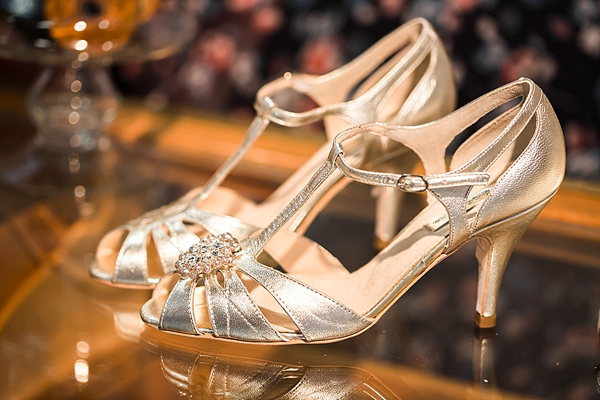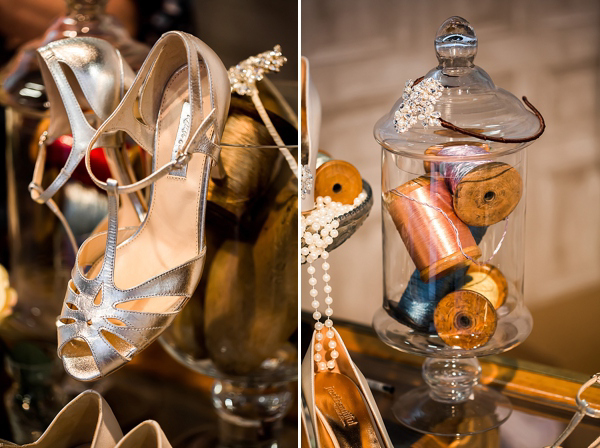 For the first time this season, Rachel was offering shoes for the groom too – her gentlemens shoe designs featured classic brogue designs with sleek seams in beautiful rich leather. Very dapper.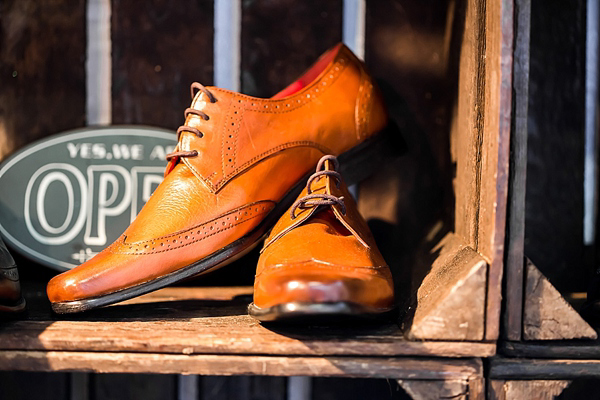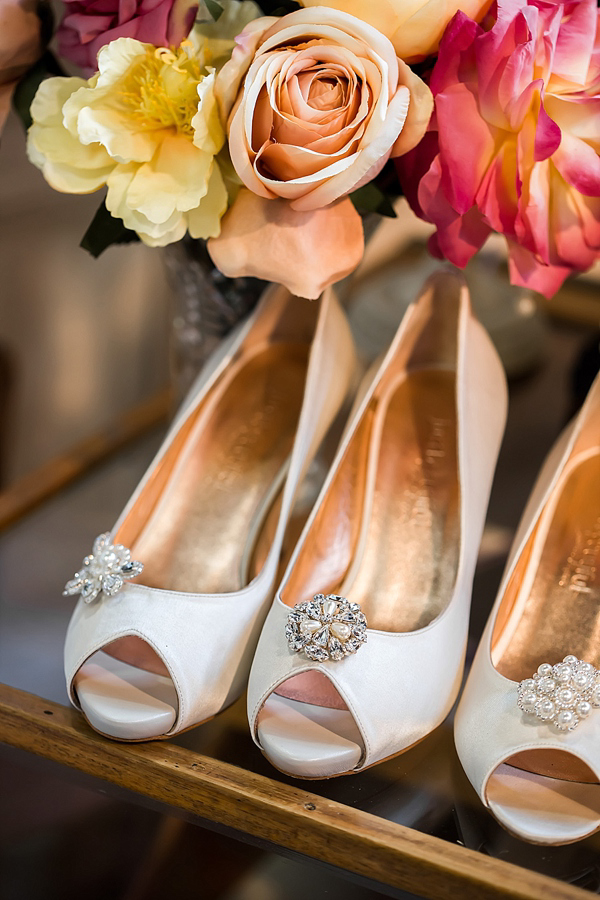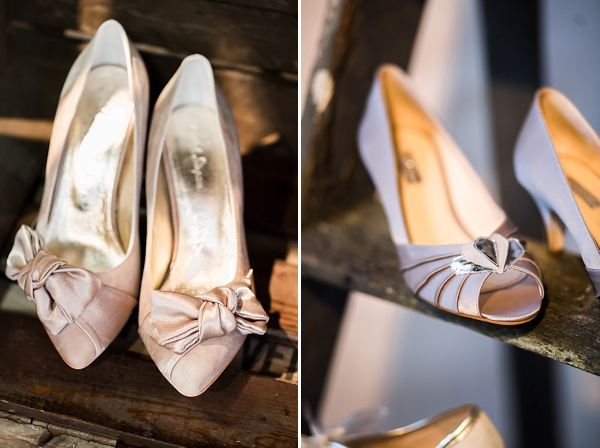 Designer Sassi Holford commanded a large area and was busy giving presentations every time I walked past. I did however get a few minutes to catch up with her husband Martin, which is always a treat.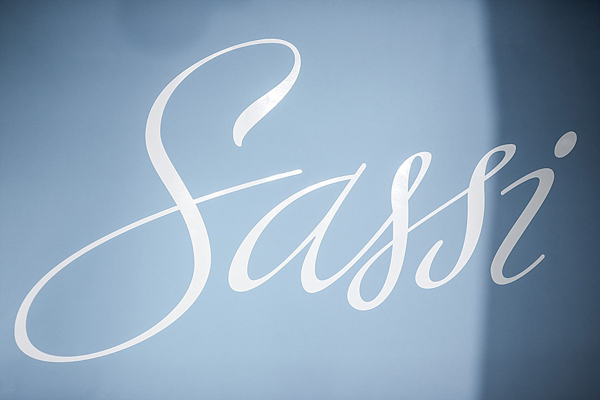 I love Sassi Holford, such a lovely lady – I admire the fact she is entirely self-taught at this design game. Quite an achievement when you consider she is one of the UK's most successful bridal wear designers and includes royalty on her client list.
Sassi's 'So Sassi' designs are fresh and feminine and feature peplum skirt details, fun flirty and fifties inspired full circle skirts and hi-lo hemlines – this makes for a collection that would appeal very much so to the younger more flirtacious and fun-loving bride.
Here Sassi Holfordline boasts a slightly more grown-up glamour look.  All her creations are 100% hand-made in England, something Sassi can proudly claim has always been the case in her career spanning 30 years as an award winning bridal wear designer. We LOVE Sassii….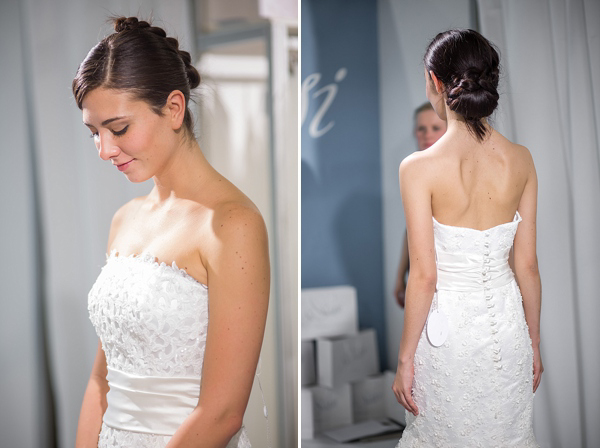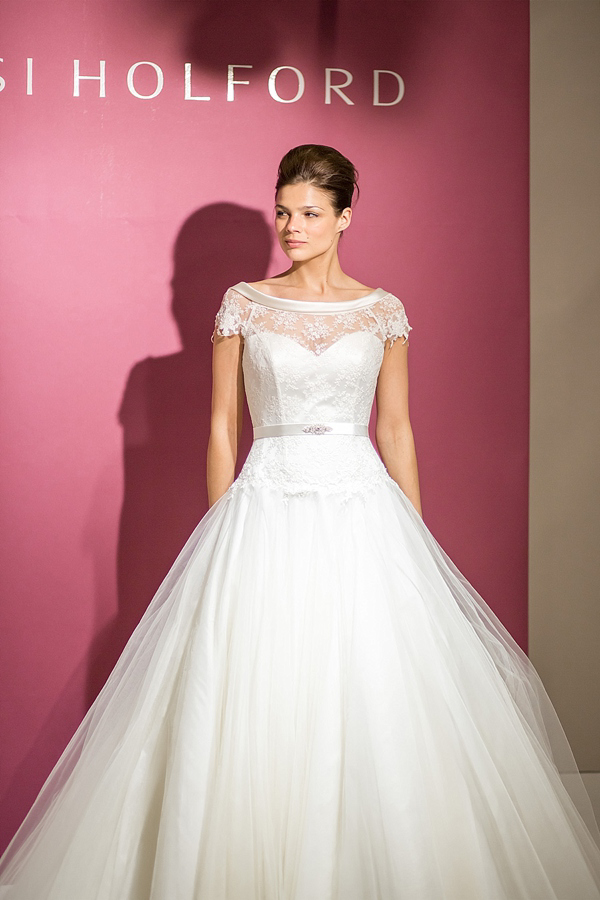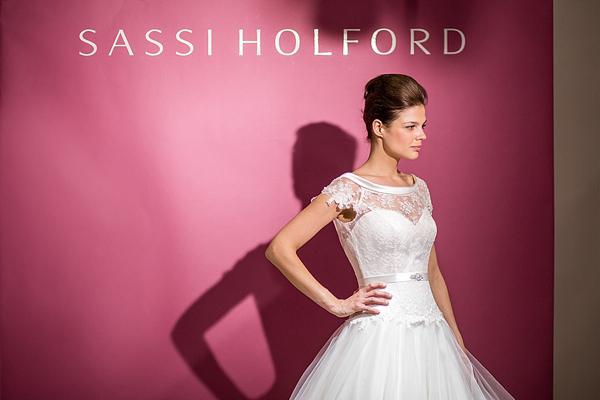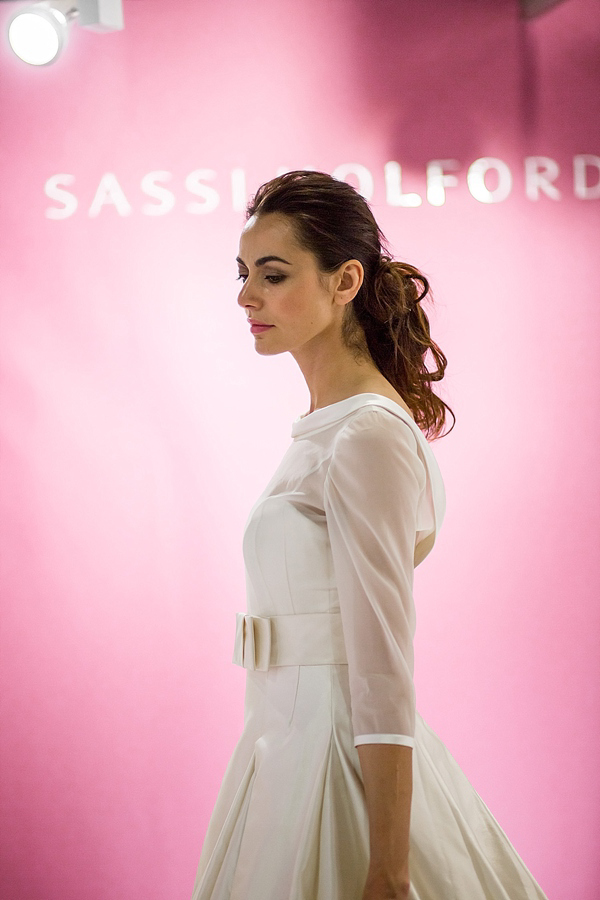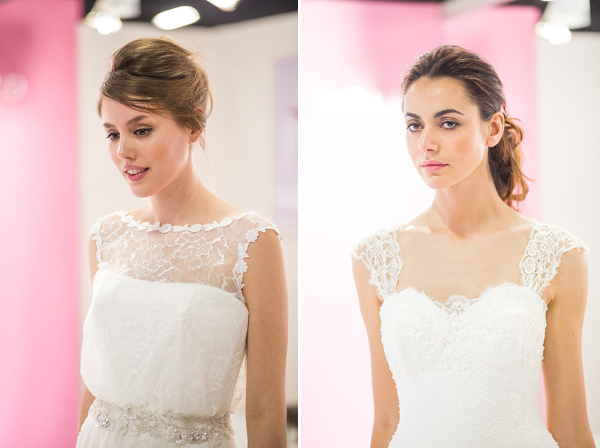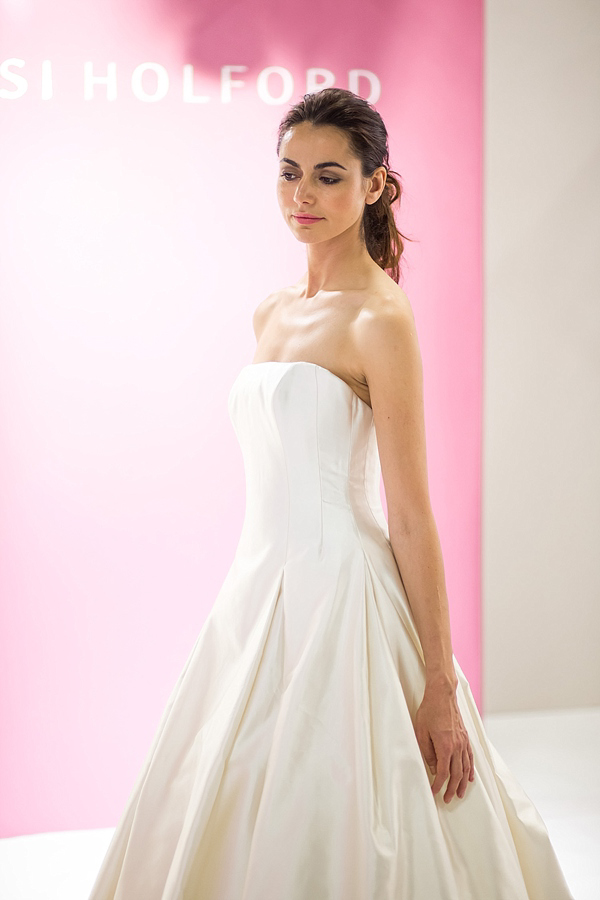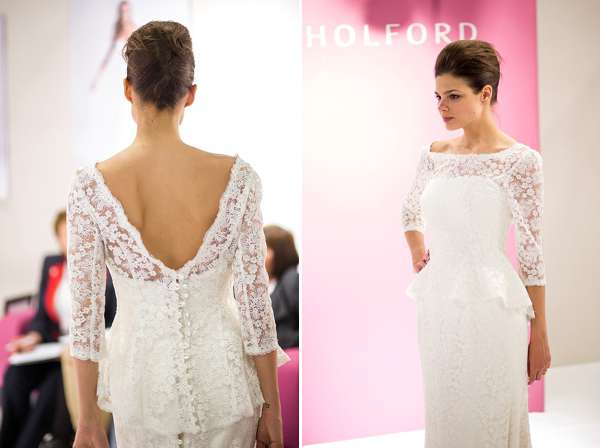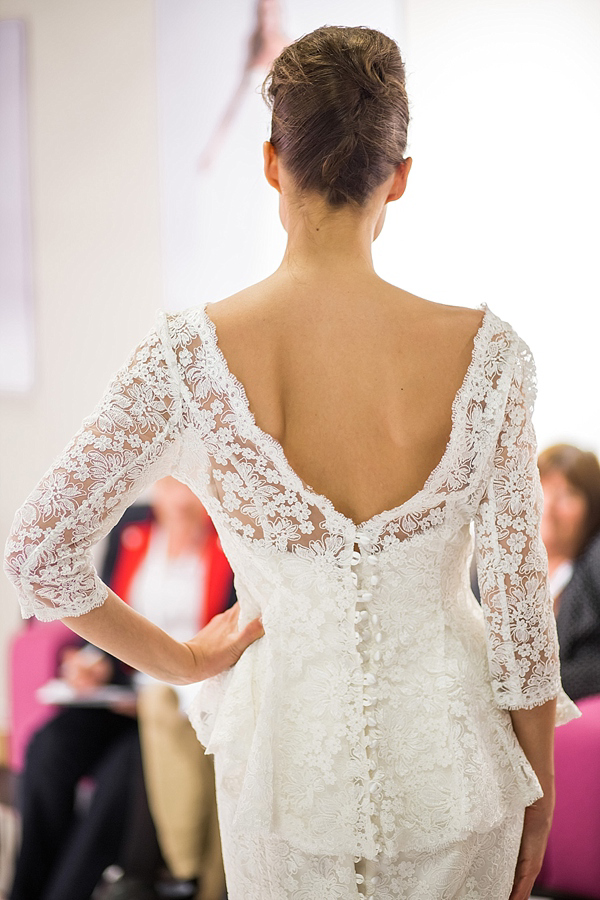 Just a couple of images from Alan Hannah's fabulous collection, because I'll be featuring all the catwalk shots in a separate feature very soon.  Just to say, I was hugely impressed with Alan's latest collection and loved how he had drawn era references from across the past decade in his designs.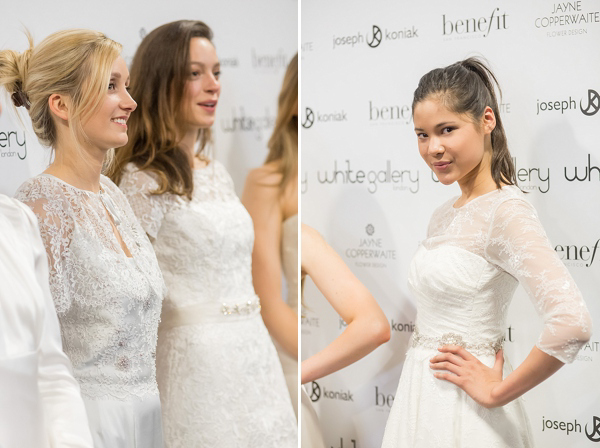 Harbridge and Bowen were present promting their 12-piece collection that featured subtle avant-garde influences. I loved the feathery nature of these designs…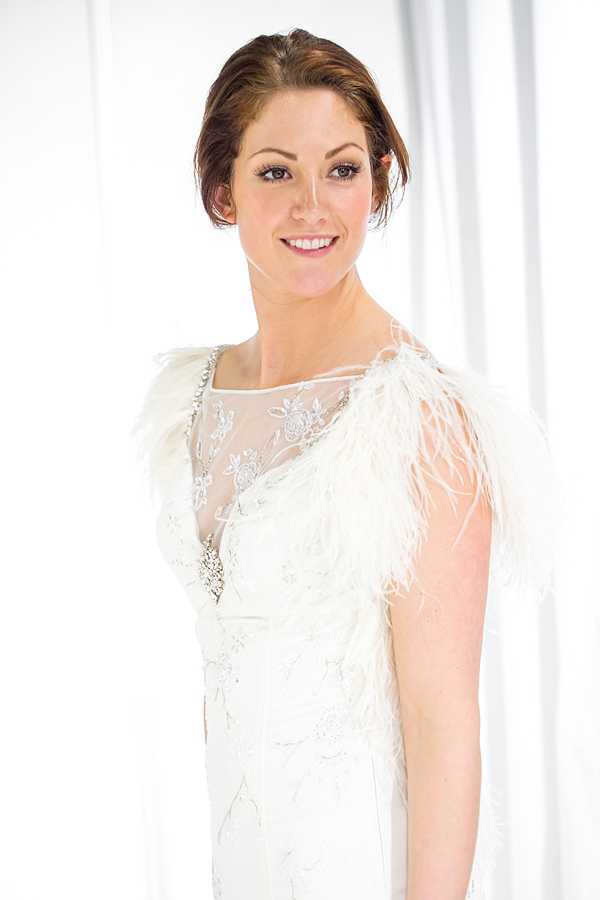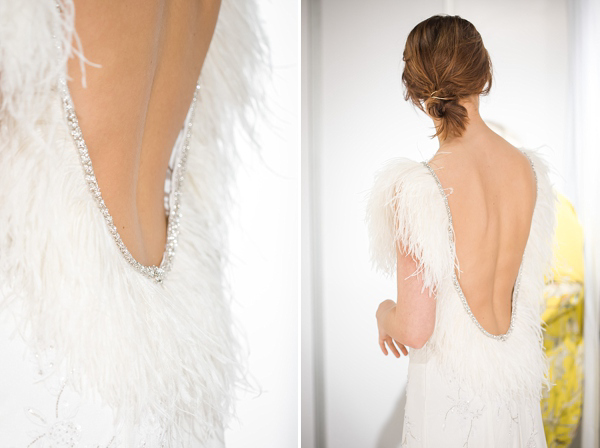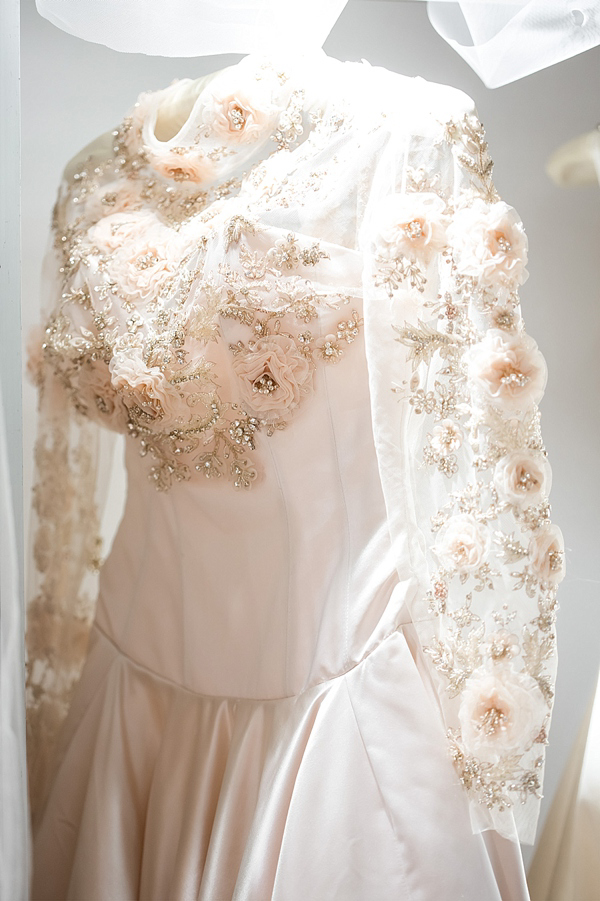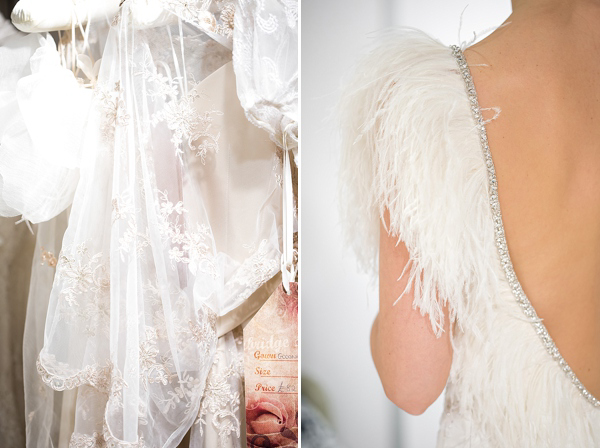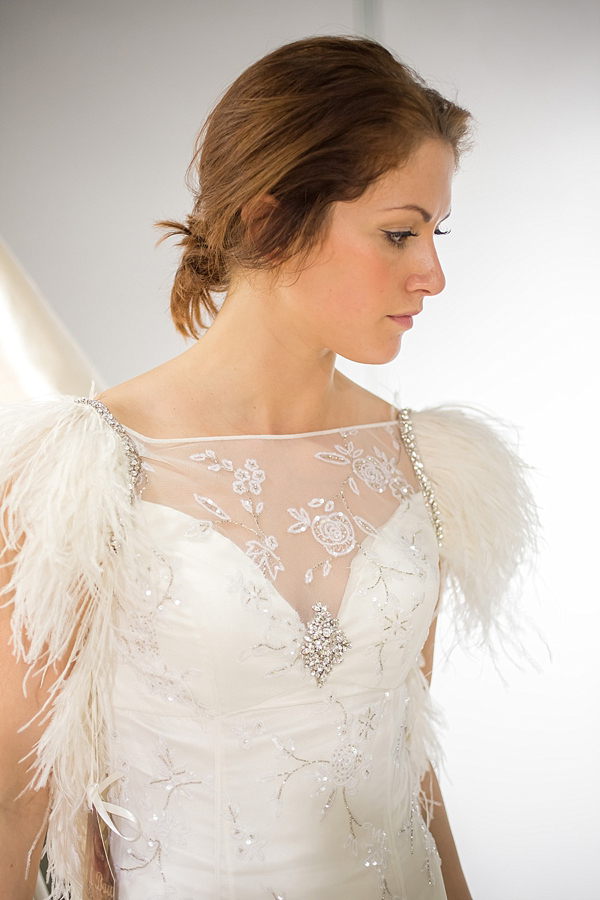 And what, what? who is that girl? I mean, really!
If you are interested in any of the images above, please take a moment to contact the designer/supplier directly, or leave a comment below if we can be of further assistance.
Huge thanks to the uber-talented Naomi Kenton for taking these photographs.
I'd love to hear your thoughts below.  Do you work in the wedding industry? Did you attend the White Gallery yourself? What stood out to you? What did you love the most?  Brides, what's standing out to you here, what are you looking for in new designs yourself? Let's feed back to the designers!
Watch out soon for more gorgeous images by Naomi following our visit to the pop up event organised by Emmy Shoes, Maids to Measure and Belle and Bunty.
With much love,
Annabel