Once again, and as with yesterday afternoon, I have the pleasure of featuring a bride who became rather attached to these blog pages during the period she planned her own wedding.  Scarlet and Tim are no stranger to Love My Dress – their laid back and relaxed engagement session on the stunning Bamburgh beach featured on Love My Dress here. Little wonder than that I leaped a little with joy when a very excited Scarlet submitted her wedding to feature in these pages – with images taken by my very own wedding photographer, Karen McGowran.

"We didn't really want a set theme or style,
as we are not a fan of matchy matchy so the key word for the wedding was
eclectic. Throughout the planning, I had no idea what everything would
look like together and did at times wonder if all the different aspects
we had chosen would look right together, but it just seemed to work.

Both Tim and myself love vintage style so it seemed natural to lean more
towards that look, I bought 'Vintage Weddings' a book by Marine Fogg
which was a huge inspiration. I did get a few weddings magazines but
found they didn't really spark my imagination in the way that Love My Dress did. I was always desperate to get online to see what the latest
wedding would be like."
Eeek, if only my book had been out at the time, I think it would have been very useful Scarlet!
Love My Dress Wedding Blog – Photography Copyright (c) 2013, Karen McGowran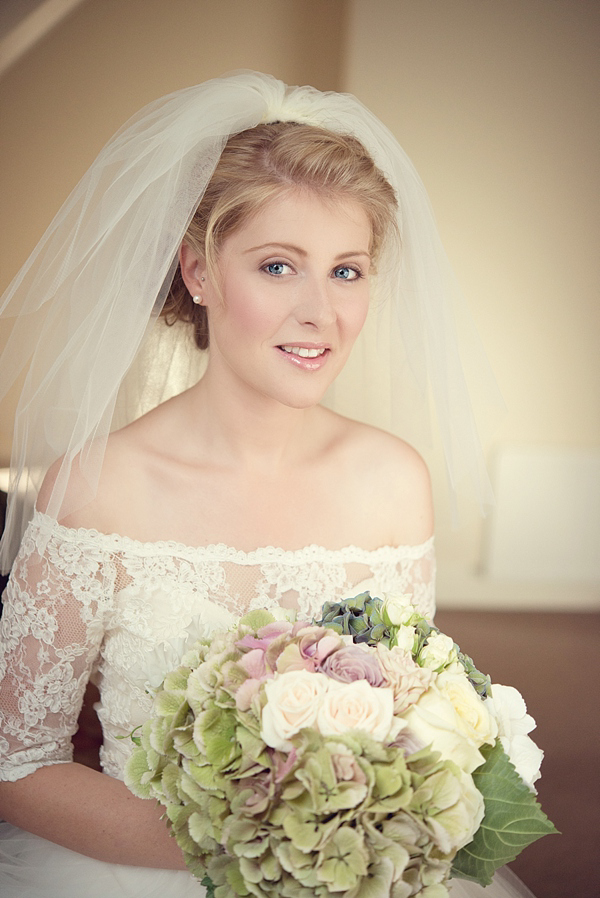 "We went to the same school and met through friends ten years ago,
seeing each other over a summer. Tim went off to University but we kept
in contact and eventually got together as an official couple a year
later.  Tim asked me to marry him while we were in Brighton
for the weekend for a friend's birthday. We were engaged for just under two
and a half years , with around one year of this actually planning the
wedding."
The couple's nuptials took place at Ellingham Hall in Northumberland.
"Ellingham Hall
has a lot of family history for us as my grandparents and my parents
both got married there, so I suppose it couldn't have been anywhere else
really! Lots of people have joked that our daughter will have to get
married there as its turned into a family tradition.  We did go and look
at other venues in Yorkshire and Northumberland but having all the
onsite accommodation and the option to make the wedding into a weekend
stay (hiring the venue from the Friday night to the Monday) made
Ellingham stand out to us!
We didn't hire a
wedding planner, although at times I really did wish I had someone to
help me research certain aspects or someone with some inside info to
point me in the right direction. It's funny as until you have planned
the wedding and it's all done, you really have no idea what you are
getting yourself in to!"
"I spotted my daughter Pearl's dress in Monsoon
very soon after we got engaged and loved it instantly. We made her a
little feather, flapper inspired hairband, which she loved and still
asks to wear constantly. Her feather cape was also from Monsoon.  With
my daughter, I was able to pop on her all the things I would have also
liked to wear myself if I had picked another dress/look!"
Tim designed all the stationery himself – here, he tells us how he came up with the design…

"I really wanted to give all the
stationary a very personal touch as there is a lot of options out there
on the market that can be customised, but none really felt that they
were exactly what we wanted and can be very pricey. As I have a
background in design I thought it could be my major input to the
aesthetic of the wedding. The main inspiration came from a piece of
artwork we love and I linked this in with the flowers we had chosen. The
image is of a skull, which is a little unconventional for wedding
imagery, but we love it!
As the wedding was over a weekend I wanted to
design an info sheet for the weekend as well as a room plan for the
guest who were staying in the main house. I also developed an Order of
Ceremony sheet for the day as well as the Menus and table numbers,
seating plan and the table questions. All of these were printed on 4
shades of recycled paper and all the edges were torn to create a more
hand crafted feel to them. Since doing these I have just designed
invites for a friend Wedding opening up a whole new chapter to my design
portfolio."
Scarlet chose to wear a Tara Keeley wedding dress, that she purchased from Morgan Davies Bridal…
"I
remember when the assistant in Morgan Davies pulled out the dress for
me to try the first time, I'd been like 'Oh, OK…..'.   it was something I
would have never picked out myself and didn't look much on the hanger
either. But I was open to try anything and so it was added to the
growing pile.
Michaela my wonderful sales assistant …more like wedding
stylist really helped to set the scene and look for me, putting my hair
up (she asked if I wanted it up on my wedding day), picking
accessories to make the dress more me.  As I stood in the dress I thought 'imagine if I wore something like this?'  I'd gone looking for a slim
line Jenny Packham style dress, so to end up with a huge Grace Kelly style
number would just be too funny, which is exactly what I did!
I tried on
so many dresses and I could have picked maybe five others (must get married
again!), but I just felt this had the biggest wow factor and I knew it
really suited me . I think I had a preconception of what I should pick
or maybe just what I would pick, I suppose that is one of the fun
aspects of finding your wedding dress, you never know what you will end
up with. The dress itself was so simple and elegant. I loved the low
back, my back is one part of my body I actually like so had wanted to
show that off. With the lace jacket, belt and short veil I really felt
like Grace Kelly, what more could a bride want on her wedding day!
"Tim's suit was actually from Topman and cost a grand total of
£90, due to a minor error on their behalf! We would have loved to get a
bespoke suit, but when he spotted this and it looked so good on him he
decided to go for it! He had always wanted a suit that had a vintage aesthetic, but had a contemporary fit and this ended up being perfect."
"He had a simple, but classic white oxford shirt from Ralph Lauren.
His tie was a navy, black and green check one from Zara and he wore
maroon polka-dot socks from Paul Smith. Other than his button hole the
only other accessory he wore was his vintage Russian Pocket watch that
he picked up from a bric-a-brac store in Macedonia."
"I managed to stumble across Plumb & Rabitts
by chance when looking for local cake makers in Northumberland.
Throughout the planning and since the wedding, Autumn, the designer and baker and I have become
very close. The amount of time, effort and energy she put into our cake
was unbelievable. Autumn is such a creative thinker and everyone who saw
our wedding cake was totally blown away!
When planning what we wanted
from the cake all we really new is we wanted a red velvet cake, I
thought the shocking red inside would be a nice surprise for the guests.
Together with Autumn we created a Pinterest board of cakes images we
liked and from there we gave Autumn free rein to create something for
us, So until the day of the wedding the cake was a complete surprise.

The cake was so moist and full of flavour – I'm a cake girl and it was
sooo scrummy!" 
"Our photographers were Karen McGowran and her husband Neil. We
seriously love these guys. You just can't help falling for them, such a
fun and hard working team. They both have such an eye for detail
and we had so much fun with them.
Not only were they both great
photographers but they both helped advise us during the day with timings
and helped keep everything on track. I think that's when you know you
have a great wedding supplier, someone who is willing to help out and
get stuck into any aspect of the day, because they care about the
couple."
"I'm not sure about anyone else but I found shoes crazy hard to
pick!! After what felt like a never ending search I bought my shoes from
Beatrix Ong –
they were just the right amount of wedding for me, classic with a
twist. Every girl wants designer shoes on her wedding day, right??"
"Tim's
ring was from Nikolai Rose.  He was looking for something a
bit different with turquoise as it's his birthstone and this company
made the ring especially for him, engraved my name inside the ring,
which is very romantic!  My wedding ring is from Dior.  Again I wanted
something a bit different and loved the twisted vine feel of the ring as
soon as I spotted it while shopping for wedding shoes.
Due to the shape
of my engagement ring I knew it would be difficult to get something to
fit together unless I had something specially made. When I tried it on
it looked lovely with my engagement ring and on its own.   I decided
to wear the rings on separate fingers to show each ring off, rather
than hide behind each other."
"I wanted the hairstyle to speak more than the accessories, so just had simple pearls twisted through the plaited up do I had.  The pearl earrings I wore were a gift from my father that morning, such a lovely surprise to open. My bracelet was from Tiffany's
another gift from my parents when my daughter Pearl was born. In the
evening when I wasn't wearing the lace jacket, I put on the necklace which was a wedding day gift from my fantastic husband."

"My Hair Stylist was Lisa Cameron,
she was my little wedding guardian angel! I found it really difficult
to find a hair stylist who was able to create the floaty , relaxed hair
style I was after and was so grateful when Lisa was able to fit me in. Lisa
was already booked for another wedding that morning but my make up
artist Kate rang her and explained the situation.  Luckily the times
worked and everything seemed to slot into place. On the day itself there
was a slight panic while I was getting my dress on as the zip was
really stiff, Lisa managed to whip it up over the seam when my Mum and I were starting to get in a tizz! I loved my hair so much,
it was exactly what I wanted, I hadn't wanted the typical bridal hair
and feel very lucky to have had Lisa doing my hair!

Kate Pymm
did my make up for the day. I have a lot of issues with my skin and it
was something I was extremely worried about affecting the day. After my
trail with Kate, I knew even if my skin wasn't how I wanted it to be it
didn't matter, as Kate would ensure I looked and felt perfect. In the
year that led up to I was on a good skin mission, which paid off as I
managed to be spot free on my wedding day, which helped take the
pressure off a little."
"With the style of the dress, I knew I wanted a shorter /
shoulder length veil, I felt it gave the whole look a more vintage
style. I did look into getting a cap veil like Grace Kelly but couldn't
really find anything quite right or that wasn't mega expensive."
"Helen from Bel's Flowers
was the first supplier I booked, as soon as I saw her website and
images of the floral displays I knew I had to have her, it was love at
first sight! I love flowers, more the merrier and wanted the flowers to
be the main focus, the floral displays Helen created for me were just
stunning, I couldn't be happier.
Hydrangeas are my
favourite flowers so I knew I wanted those from the offset, in blushing
vintage tones showing off their varied colour pallet, from there, over many emails, Helen and I discussed the look I
wanted. She was always on hand to offer advice in creating the perfect
look. Helen is such a sweetie and I just wish I could get flowers on a
weekly basis from her (um, hint hint, Tim!)"

"For bridesmaids dresses I wanted to keep with the miss match theme
and not go for matching dresses. To make the process a little simpler I
thought it may be best to pick a colour and decided on blue. While
searching pintrest I had come across a few images of blue bridesmaids
dresses and really liked the look. I wanted my bridesmaids to each pick
their own dress something that reflected them and their style. Three of
the dresses ended up being from Monsoon and the final one Topshop.
All the bridesmaids' accessories were there own treasures apart
from the bracelets I had made for them as a thank you gift. I got them
from Merci Maman and had them personalised with their name, the date and mine and Tim's initials. I can't rate Merci Maman
customer service enough, even giving me a ring when I had missed off
some info on the order form and the postage was super speedy."

"The ceremony was my favourite part of the day – it was
perfect.  To me it's the most important part of the day, the reason
everyone has gathered from far and wide. The atmosphere in the room was
just so magical and emotional; there was sooo much love in that room and
all the personal touches just made it even more perfect.  Waiting to
walk down the aisle I was a bag of nerves, I didn't think I would hold
it together as I'm such an emotional person. But some how we both
managed to remain quite composed, but I must admit to fighting back the
tears as I walked down the aisle and was glad to have my veil as a
little bit of protection when all eyes were on me.
I didn't want to be given away as I don't like the concept of it – it
just seems kind of sad to me, like leaving your family behind for a new
life, which I don't think that's what weddings are about. To me a
wedding is about bringing families together, so I decided to walk down
on my own. When I told people I wasn't walking down the aisle with my
father a lot of people seemed a bit shocked, a father walking down the
aisle with his daughter is traditionally what's done. But on the day
when everyone saw how it panned out and how close Tim and myself our to
our families I think they understood.
I walked down to 'Wherever you will go', by Charlene Soraia.  We
both love that song – it has a magical quality."
"Tim's brother Mark wrote and read this beautiful
reading during the ceremony, it felt so personal and very fitting to us
with the fabric references as Tim is a fashion designer.
Tailor-made
Love isn't Merino Wool or Bedford Cord
Chiffon, Charmeuse or Chantilly lace.
It's not Coolmax™ EcoTech™ or Ultrasuede,
Donegal Tweed or Moss Crepe.
It's not Coutille or Crepe De Chine
Duchess Satin or Liquid Lamé
Dupioni, French Terry or Habutai
It's nothing like Seersucker
or Stonewashed Denim.
Nothing like Tissue Faille
or Tricotine
Waffle or Whipcord
Pointelle or Raschel
It isn't even Nephila silk,
It isn't even Vicuna.
It's the weaving, the cutting,
the stitching, the hemming.
It's maybe even the designing.
Love is the act –
Draping her in the most beautiful clothes
The arms of the man she loves."
"At first we decided to pick one of the vow options you are
offered with a civil ceremony, when we read through them all they all
sounded so cheesy but we both thought writing our own who be even more
mushy/cringy, but I read a feature Annabel had written on Love my
dress about how she wishes she had written her own vows, Tim and myself
both talked about it and decided to go for it. So a big Thank you to
Annabel as this really helped to make our ceremony even more personal
and special.

Tim's Vows
"Scarlet, ten years ago you captured my heart by being exactly who you are. The
sweetest, most loving, compassionate, and sensitive person I have ever
known.
You have been, and always will be my best friend through all the good times and the bad.
Your belief in me makes me strive to become better and gives me the self belief I need to succeed.
I
promise to you for the rest of my life I will strive to make you as
happy as you have made me, to make you laugh, and cry with you in times
of need.
I promise to support you and believe in you even when you don't believe in yourself.
Together we are complete and when were away from each other, I cannot wait to get back to you.
Today I give you my love, my trust and fidelity.
Your're the only one I need and you will always be the best part of my day."

Scarlet's Vows;
"Standing here face to face on our wedding day , brings back so many memories .
Since we met ten years ago it always has and it always wil be you.
We have grown up together and we will grow old together and I feel so lucky to know I will always have you by my side.
You are my best friend and my soul mate, the one I can turn to in troubled times.
I promise to love you forever and always."
"Music was another favourite and important
aspect of our day – we created a play list for guests to listening to
while they were arriving, which I also listening to while getting ready.
We signed the register to a cover of 'Smells like teen spirit' by Tori Amos –
its a song we love but this version has been done in such a poignant
and atmospheric style that it really fitted in with the day."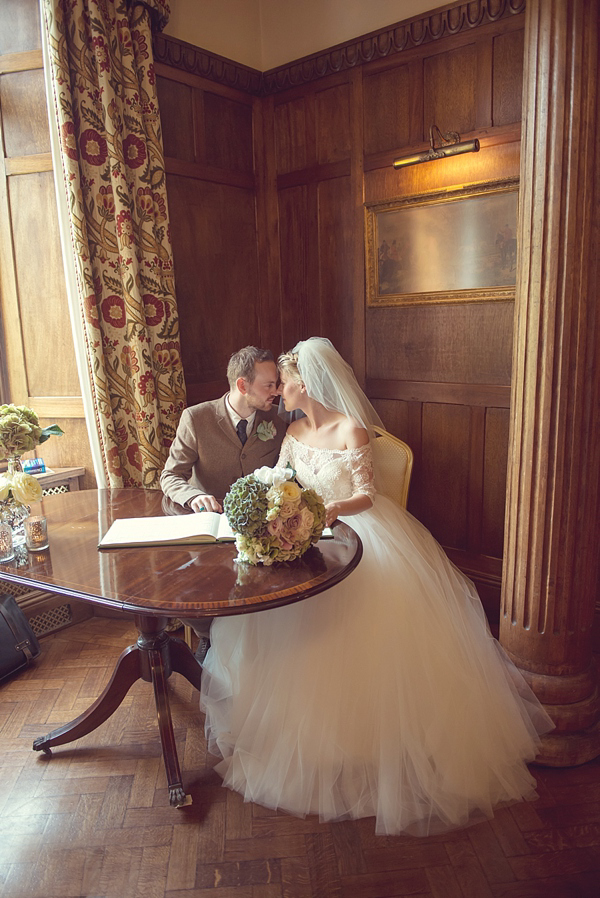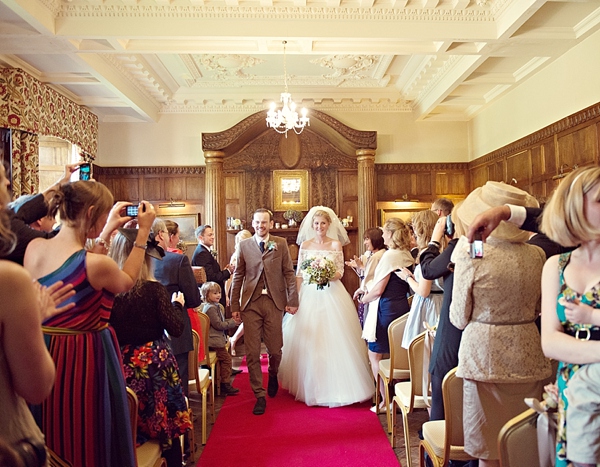 "Tim's very creative mother made our guest book, she made little
pockets and tags for the guest to leave messages for us on. I can't
begin to imagine what something like that would have cost, adding
another very personal part to the day."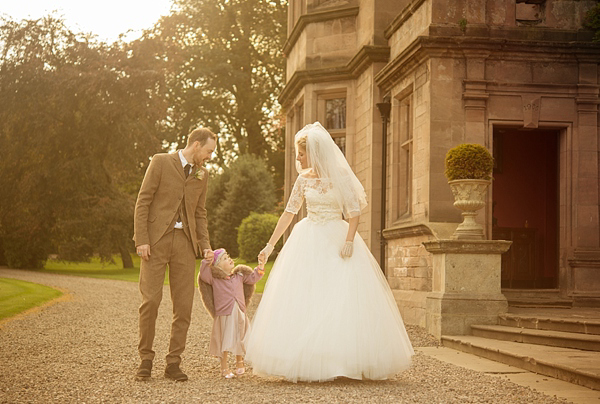 "The venue had its own catering company, which was great as
it saved us having to research something else. The food was so delicious
at the tasting it was so hard to pick what to go for as there were so
many options and everything was so good. The food is defiantly a selling
point of the venue, as often food at weddings can be a bit
disappointing."
"Our first dance was to 'In my room', by Incubus – they are my
favourite band and myself and Tim both love this track. I get chills
when I listen to this song, again we wanted something that reflected us
rather than being tradition."
Words of Wedded Wisdom…

"While researching I did take a peek at quite a few wedding blogs but there were only two that I looked at religiously – Love my Dress and Far From The Wedding Crowd.  
I love the fact that Annabel and Franky are so open and none
judgmental.  Being a bride having all eyes on you its hard not to feel
self conscious or wonder if you can live up to that image of the perfect
bride, were as you don't need to worry about that with Love my Dress.  Its
so obvious how passionate they are about wedding, it pours off the
screen into the reader – I know I would go away from seeing the blog
feeling inspired. Not just in regards to how the wedding looks but also
with things like writing my own vows or for example getting me thinking
about Honeymoons after Frankie's feature on the topic.
For entertainment we decided on a photo booth from Snaparazzi,
which went down so well with the guests. It was great as you get two
copies of the images one for the guests to keep and another, which the
booth host puts in a book for you and your guests are able to write a
message. We had such a laugh the next day looking at the images and reading
all the messages from our friends and family!
Every couple wants their wedding day to be perfect, but in reality
it can't be and quirks make life interesting. One thing I would have
liked was to have been less nervous; I come across as a very confident
person when in reality I'm not. Having eyes on me all day, was very
nerve racking and I did find it hard to relax.
I think it
would have made things a lot easier to have an order of ceremonies/Toastmaster to keep timings on track, as not all timings went to plan.
It wasn't something we gave too much thought, as we felt confident the
venue would be able to facilitate this but in the evening things did run
over.
"We didn't provide wedding favours apart from for the children, as I
feel that often the amount of time spent on favours doesn't get the
appreciation it deserves. I have been at weddings and heard from
speaking to friends they often get left on the table, so we decided to
make some table questions instead. One of Tim's friends likes to ask
random questions out of the blue so we decided to take inspiration from
these and had little boxes with a selection of random questions inside.
We had a lot of guests coming up saying how funny the questions were, so
think they went down well/
For the Children we gave them a little
calico bag and inside it had a vintage Ladybird book, a set of coloured
pencils, some bubbles in the shape of an ice cream cone, some stickers, a
handmade colouring book made by Tim and a set of multi coloured Wooden
Mini Ninja Figures from Hog Mamma Makes."
Make it
your day, keep it personal to you as a couple, your wedding is about you
as a couple, so don't be swayed by what others will think! Research is
the key to getting the wedding that you want and don't be afraid to ask
people for help! Follow your heart and go with your gut instinct, I
think you get a vibe if something is going to be right for you.
You
can never do to much organising prior to the day and if you have
crafting ability use it, as this can help make your wedding more
personal. Finding the right suppliers made our day run smother."
How lovely – I love the photographs of little Pearl, the couple's daughter, such a sweet little girl in her cute feathery headdress made by her parents!
Thank you so very much Scarlet for being such a lovely bride to work with on your wedding feature, and for visiting Love My Dress for inspiration to help you prepare and style your wedding day, I wish you, Tim and beautiful little Pearl a lifetime of happiness together.  And if you *do* renew your vows just to wear a new frock, please send me photos! 😉
Remember you can take a look at Scarlet and Tim's engagement shoot here.  I think you might quite like Scarlet's socks :)  You can also see more from Karen McGowran here on Love My Dress.
Have a beautiful day afternoon everyone,
Much love
Annabel
Photographer – Karen McGowran
Venue + Catering- Ellingham Hall
Wedding Dress + headpiece – Tara Keeley via Morgan Davies Bridal
Brides' shoes – Beatrix Ong
Bride's accessories – Tiffany's bracelet + necklace
Groom's Attire – Topman
suit + Ralph Lauren shirt + Zara tie + vintage pocket-watch
Bridesmaids – Own choice
Flowergirl – Monsoon + feather headdress made by the bride + groom (parents)
Flowers – Bel's Flowers

Cake – Plumb & Rabitts
Entertainment – Snaparazzi
Rings – Nikolai Rose + Dior
Hair Stylist – Lisa Cameron
Makeup Artist – Kate Pymm