I don't half love it when a bride who adored reading Love My Dress as she planned her wedding, ends up featuring on these very pages, just like Kate here, who tied the knot with her beau Jonathan on 27th April this year, in pretty polka-dot and pale blue style.
Our sponsor Eliza Claire who Kate discovered via Love My Dress took these lovely photographs for you to all enjoy and be inspired by today… 
"I just adore Spring,
and we got married in April purely because I said to Jonathan 'Ooh,
please can we have a Spring wedding' and he said 'Sure' because he's
brilliant. So the colours and flowers were hugely inspired by the
season.
And because of my dress, I also ended up with a lot of dots on things (cake, name tags,
boxes) – I put this down to not being able to tell Jonathan that I had
spots on my dress, so it subconsciously sprung up in everything else. It
didn't even really occur to me until the end that everything was
spotty!"
Love My Dress Wedding Blog – Photography Copyright (c) 2013, Eliza Claire
"Jonathan and I met as students at the University of York, when I
walked into a media society called York Student Television and
announced that I wanted to get involved. After finally getting together
in 2004, we've been pretty much inseparable. We moved in together when
we moved to London to pursue our respective careers (in the media,
predictably – Jonathan is Channel Manager for ITV and I work at Google,
previously at the BBC). Jonathan proposed to me in New York, in a rowing
boat on Central Park lake in 2011 so it's been a reasonably long
engagement! 
We weren't guided by any defining theme, apart from maybe the
theme of 'stuff that I like'. A lot of the styling was more practical
than anything. I love (LOVE!) sixties style and fashion, with a hard-earned
ability to apply liquid eyeliner pretty much anywhere (moving vehicles,
boats on choppy waters – you name it).  However, I've got a chest that broadly follows the proportions of
women drawn on those seaside postcards that you buy in Blackpool, so I
had to be realistic – a white high neck minidress just isn't going to
work in the way I want it to. So I went for the fifties style dress (way
more comfortable and flattering for me) and the sixties style makeup,
and thought 'bugger it' when it came to sticking to any particular era."
"Despite both of us hailing from the North (me from Halifax, my
other half from the Wirral), we chose to get married in North London,
which has been our home for nearly 8 years. Despite me growing up in the
deepest darkest countryside (we're talking miles away from a shop and a
decent mobile phone signal), I've always been a real city girl.
When I
moved down to London aged 21 extremely wet behind the ears (Jonathan
following me two months later!), I lived just around the corner from Islington Town Hall.
We have fond memories of marvelling at this beautiful building as we
were finding our way in the capital, so it felt like a natural choice.
We love how it represents the start of our life here."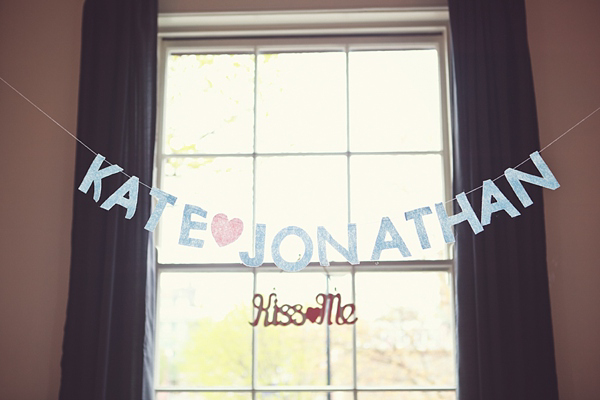 "We had our wedding reception at The Prince Albert in Camden.
I looked at a tragic amount of venues online (oh thank you wonderful
wedding blogs), but I only ended up visiting one, which is the venue we
ended up with! We were taken with pub straight away, with its beautiful
Victorian features and relaxed atmosphere. We also loved the fact that
we could have the entire pub all to ourselves for the whole day. We ate
out there in the name of 'research' several times and knew the food was
spectacular! The clincher for me was when I noticed they had Dalwhinnie
whisky (my fave) behind the bar – clearly an establishment with taste!
They also redecorated the whole pub in my wedding colours a year before
we got hitched, which was a lovely surprise!
They worked tirelessly on
the day and put on a fantastic party.  (Plus the venue came with no hire
charge, just a minimum spend, which greatly appealed to the Yorkshire
in me).  I stayed at the London Malmaison in the Square Suite
the night before the wedding, and Jonathan stayed at the Islington
Hilton. We spent our wedding night at the beautiful St Pancras
Renaissance Hotel."
"Our florist was Josephine's Flowers.
After speaking to a few florists I realised I just wanted mountains of
tulips at the wedding, as they're my favourite flower and best represent
Spring. So Josephine's were great for being happy to supply exactly
what I wanted, and really understood what we were after. The flowers
they supplied were beautiful and the simplicity worked even better than I
expected."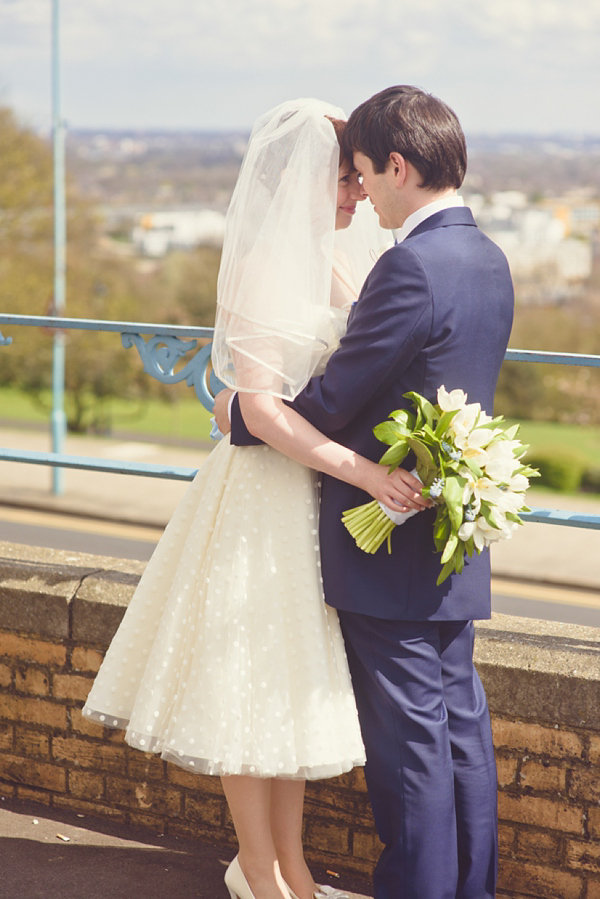 "I designed it all! The invitations, table plans, menus etc. were all designed by me and I had it printed by moo.com.
I don't have any background in design but I really enjoyed creating
them. My brothers contributed a lot with the drawings on the Save the Date, invitations and Order of the Day which was a huge help! But it was mainly me converting many, many Microsoft Word documents to PDF and downloading fonts from dafont.com."
"One of my biggest extravagances was having Invisalign to
straighten my teeth before the big day. As so many of my photos are me
with a grin bordering on maniacal I think it was money well spent, even
though it took a year! Having spent a lifetime putting my hand over my
mouth when I laughed it was wonderful to have confidence in my smile."
**Readers – see our down to earth/no holds barred feature written by the Wedding Reporter about teeth sraightening here."

We kept the transport London themed, so hired a white Hackney cab
to get me and my Dad to Islington Town Hall. We also hired a
Routemaster to get everyone to the reception venue. The guys were great,
putting on a champagne service (which my Dad very kindly brought back
from France for us!) and dropping me and Jonathan off for photos at Alexandra Palace. Having met in student television, we couldn't resist
having photos taken at the birth of TV!"
"We had two cakes! We chose Dunns Bakery in Crouch End
because that's where we live and we wanted to bring a bit of Crouch End
to Camden. They also make extremely tasty cakes and have a great
reputation. It was a very simple design, just to reflect the clean lines
of the day. I got the cake topper from Etsy and the birds as well (which she customised to reflect our wedding outfits!).  The wonderful fruit cake was made by my very talented Grandma! The cake was a secret until the day and we loved it!"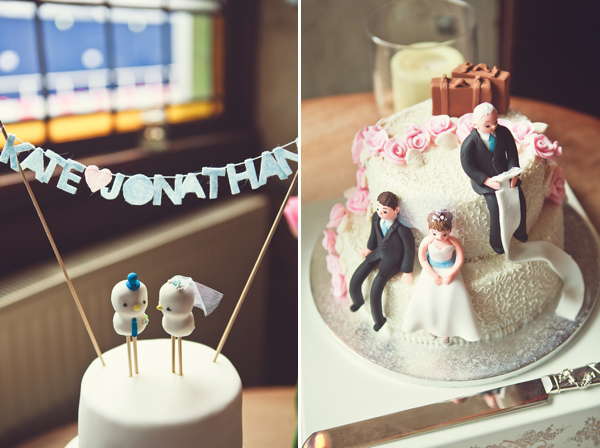 "We hired the gorgeous light up letters from Vowed and Amazed
after seeing them on Love My Dress, which added wonderful warmth to the
evening party. I ordered 10 3ft wide white spherical balloons from Oscars Den
which looked great in the space. We got a couple of cool signs over the
time we were engaged, but my favourite was what the Prince Albert did
with the 'Kate <3 Jonathan' felt banner – suspended between two of
the balloons on the top table! It looked amazing!
The best thing about
giving the reception venue all your décor and saying 'Just do what you
think looks best' takes an enormous amount of the stress off you, and
it's a lovely surprise when you arrive!"
"We thought it would be a nice idea to have our table plan based
around records that were Number 1 around important stages of our life
(well, considering Jonathan was born when 'Hello' by Lionel Ritchie was
Number 1, we couldn't resist!). I had a lot of fun getting all the
actual records and CDs off ebay. Just a shame that the execrable Pitbull
was Number 1 when we got engaged! And for the record  – Rudimental's 'Waiting All Night' was our Top Table – which was Number 1 that week!"
"Our photographer was the wonderful Eliza Claire – found through this very blog!
I emailed her saying 'I've had 5 instances on Love My Dress where the
photography was so good I was moved to check who did it. Every time it's
been your name at the bottom so I really hope you can photograph our
wedding!' Eliza's amazing use of colour and the fresh feeling of her
work hugely appealed to us. Then we met her and thought she was awesome,
obviously!
Underneath that relaxed and laid back demeanour is some serious
technical skill and pure talent for capturing all the beautiful moments
of the day. When I think about the challenges we threw at her (Sunny
weather! Cloudy weather! Sunny again! A wedding breakfast set against a
bright window!) and the time she had to prepare for everything (usually
half a second, honestly), we were bowled over when the shots came
through. Hannah, who worked as Eliza's assistant was also brilliant and
did a stellar job hanging with the boys in the morning!"

"My dress was made by the wonderful Amanda at Butterfly Vintage Brides. I chose the 'Isabelle' design but it was slightly altered to fit my needs (that chest, again).  I knew that I wanted a short, fifties-style
dress, and it's incredible how the market has really come on in the
last couple of years –in 2011 dresses that I liked were remarkably thin
on the ground (unless you head to Candy Anthony and she was a bit out of my price range)
The dress was one of the first that I saw at The National Wedding Show,
and it was love at first sight. It represented everything that I wanted
my wedding to be – relaxed, fun and allowed me to tear up the
dancefloor!).
I went to a fair few dress fittings after that, but my
heart was always with the 'short one with the spots.' It was even better
that the designer behind the dress was Amanda, a woman who is very
talented and incredibly lovely to boot. I can't recommend her highly
enough, and I was a bit gutted when I went to pick up my dress as it
meant no more cups of coffee in her studio chatting about all sorts!"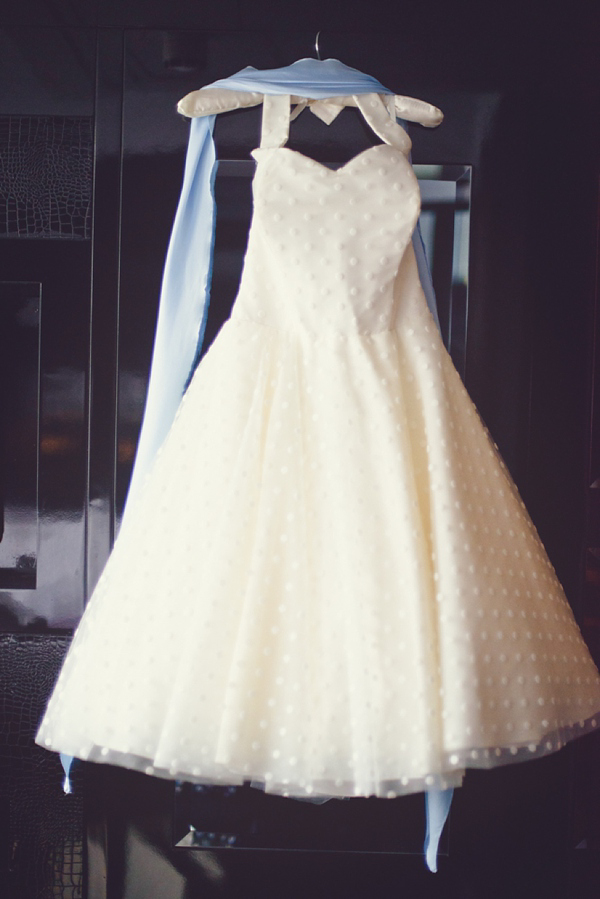 "I was so thrilled when I found out that Harriet Wilde's studio
was a short bus ride from where I live! My bridesmaid had Harriet Wilde
shoes for her wedding and raved about how comfortable they were. The
bonus of being able to go to the studio was that I could choose a
different front accessory to what's usually offered on the online store,
and squealed when I saw the big bows! It was exactly what I had in
mind, so was really chuffed. The bow was also big enough for me to
superglue a sixpence inside for luck!
Sarah from Beauty Call
did my hair and makeup, as well as my bridesmaid's. As with so many of
my suppliers, she was lovely to have with us in the morning and did such
a great job as well as having a laugh. I'm quite into hair and makeup
so I was really interested in her method and way of working. On the day I
made a conscious effort to put my trust in her and let her do her thing
and I'm so glad I did because people were still telling me I looked
fresh at 10pm!"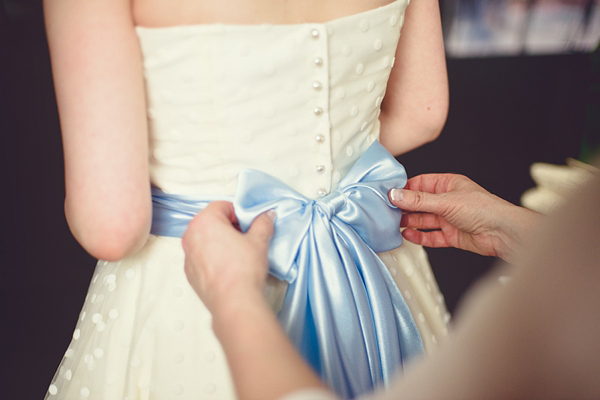 "My ivory clutch bag was by Biba, and my cardigan by Hobbs. I also had a corset made by Axfords
which was beautifully made and held me up all day (no mean feat, that's
structural engineering on a par with Brunel)! Without really noticing
it so happened that all of the suppliers for our outfits were British,
which I think is a real testament to the quality of the British wedding
industry!"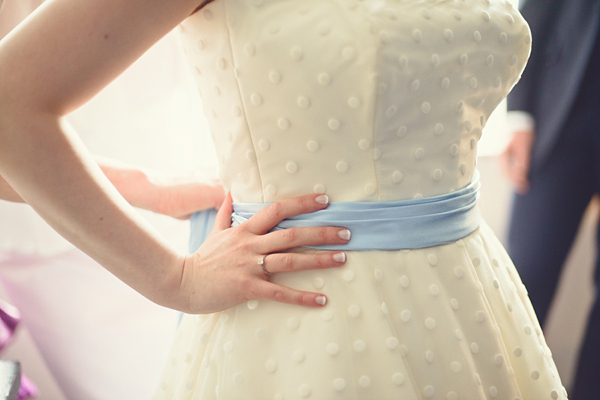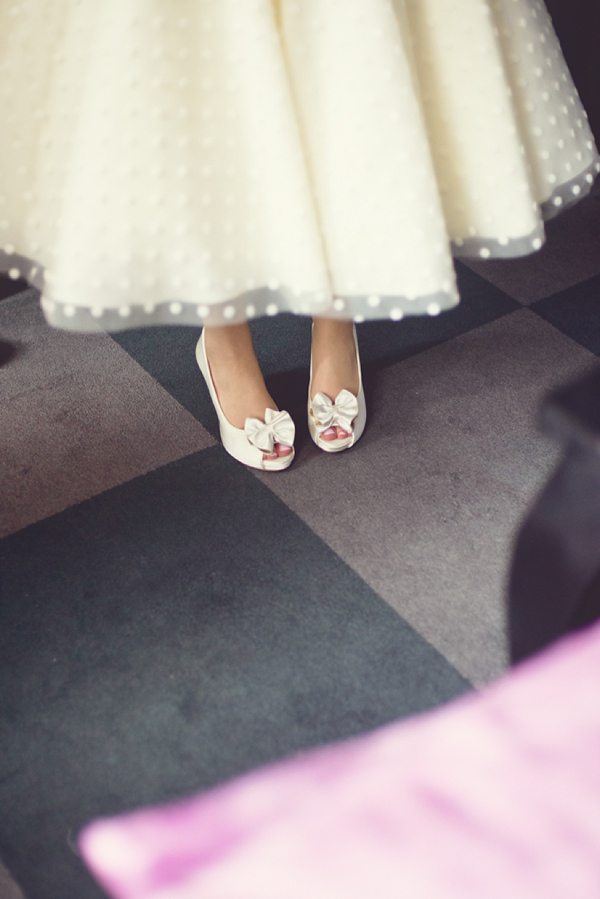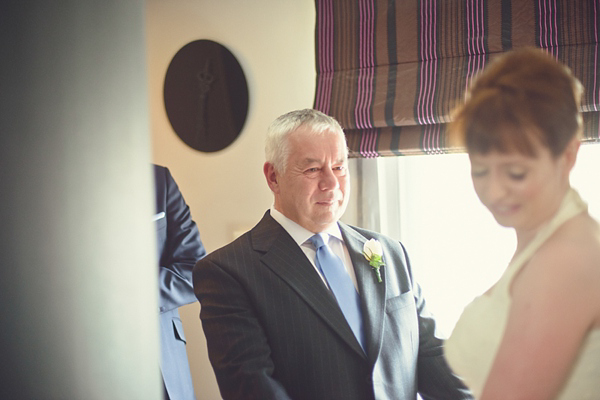 "Jonathan, the groom party and the boys in my bridal party used the fantastic Jack Bunney's Jonathan had a beautiful made-to-measure
'Harrogate' suit and we hired the 'Worcester' suit for the rest.
Jonathan's was a special 'ceremony' suit which is a jacket that's longer
than the traditional lounge suit, but wasn't your usual tails! All the
guys looked extremely dapper and it was a lot of fun going to their shop
in Barking, like going back in time! We also bought all the ties and
handkerchiefs from them as well.
Jonathan bought himself and his groom party personalised cufflinks from Posh Totty Designs, which featured vintage maps of where they all met (at university) and the Town Hall. They went down a storm!"
"As my dress wasn't typically 'bridal', I was after a short pouffy
veil to compliment the dress. My veil was the 'New England' style from Ivory and Co
which I picked up from the National Wedding Show.   I asked Amanda to
trim it with ivory ribbon to make it stand out a little more. I loved
wearing it, and felt so bridal!"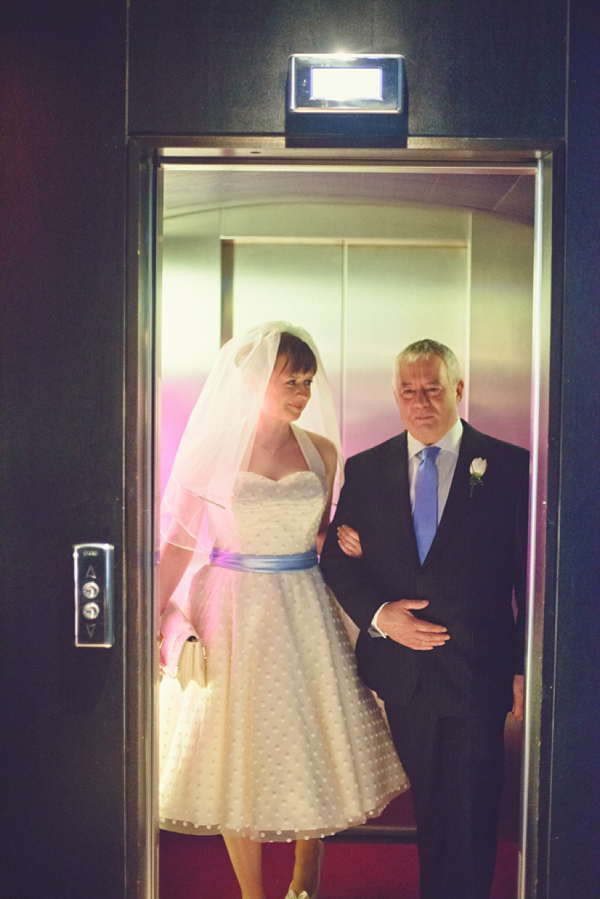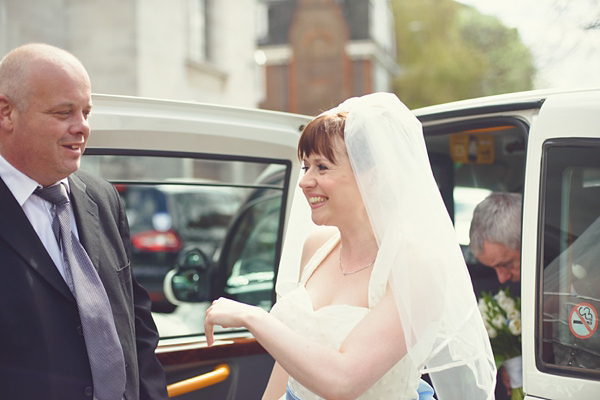 "My Dad walked me down the aisle. My Dad was quite the star of
the day – despite being very much a typical Yorkshireman by nature, it
was really emotional when he saw me in my dress for the first time, and
walked me down the aisle. In his speech he said he was not prepared for
how emotional the day would be for him, and it's very evident in the
photos! The ones with my Dad in the morning are some of my favourites. 
We
walked down to Buddy Holly's 'True Love Ways'. We went through a lot of
options and I changed my mind a LOT (still discussing it a fortnight
before!), but I'm so glad we went with that song. We love its simplicity
and honesty, and listening to Buddy Holly always reminds me of being in
my Dad's car when I was little, so was a nod to him as well.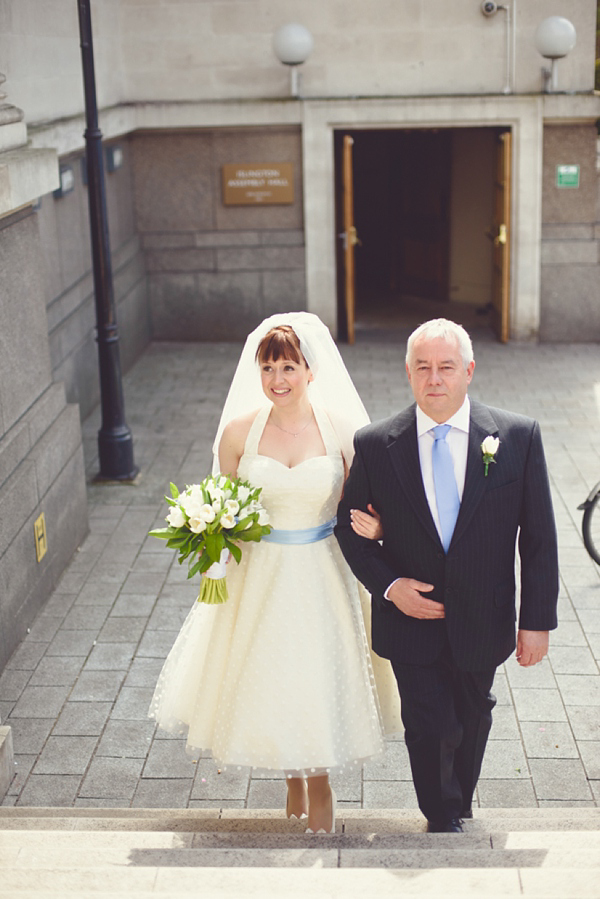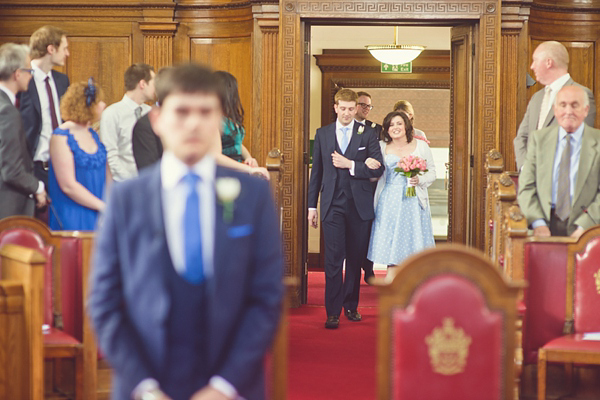 "We didn't write our own vows – we used the 'Purpose of Marriage' ceremony. However, we did include a passage from 'Goodridge vs Department of Public Health' on the back of our Order of the Day, to show support for Equal Marriage (and the passage itself is so, so beautiful!)…
'Civil marriage is at once a deeply personal commitment to
another human being and a highly public celebration of the ideals of
mutuality, companionship, intimacy, fidelity, and family … Because it
fulfills yearnings for security, safe haven, and connection that express
our common humanity, civil marriage is an esteemed institution, and the
decision whether and whom to marry is among life's momentous acts of
self-definition." 
"We picked out two poems to read: John Hegley's 'Beliefs and
Promises' which was read by Jonathan's sister Laura, and John Cooper
Clarke's 'i wanna be yours' which was read by my brother Lee. They both
did a wonderful job! We both love these poets and have seen them perform
live a few times, so thought they would be perfect to have in the
ceremony'
'I believe in dog, the rather all bitey.
I believe that saying I will do something makes me more likely to do it.
I believe that a bus is less well served by a single operator than if you crew it
but I still believe in thanking the driver when I get off, although if the exit is through a middle door
you
can't make eye contact with your thanks unless you go down to the cabin
before leaving which all seems a bit much for this small courtesy.
I believe that rules are there to suggest the possibility of breaking them,
but I don't believe that rules are made to be broken because that's just another rule.
I
promise to remember that you are beautiful. I promise to remember that I
too am beautiful. I promise to be less negative and paranoid, who are
you looking at?
I promise to sing.
I promise to dance. I promise to love.
I promise to kiss.
I promise to think before I speak. I promise to speak before I think. I promise to spink before theak.
I promise to know when to stop.
i wanna be yours by John Cooper Clarke
let me be your vacuum cleaner breathing in your dust
let me be your ford cortina
i will never rust
if you like your coffee hot let me be your coffee pot you call the shots.'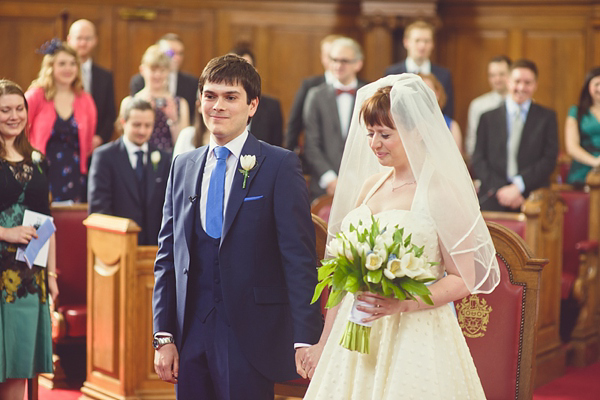 I Wanna Be Yours';
Let me be your raincoat
for
those frequent rainy days let me be your dreamboat when you wanna sail
away let me be your teddy bear take me with you anywhere
i don't care
i wanna be yours
let me be your electric meter i will not run out
let me be the electric heater you get cold without
let me be your setting lotion hold your hair
with deep devotion
deep as the deep
atlantic ocean
that's how deep is my emotion'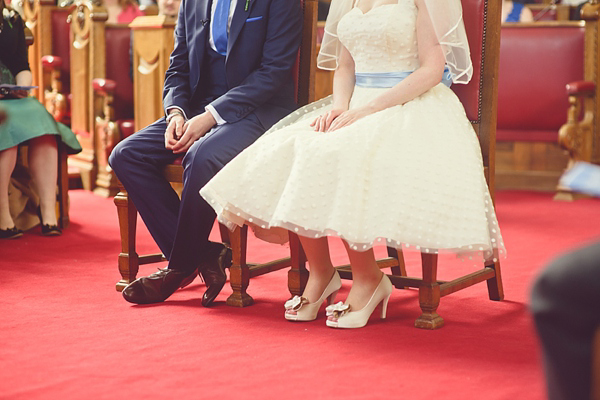 "We bought my engagement ring from Marlows in Birmingham
– I used to work in a jewellery shop so am a bit nerdy about diamonds,
and they stock really beautiful ones. So we just headed back there to
get our wedding rings, as they gave us a good deal! I got a plain 2mm
platinum court ring to compliment my engagement ring, and Jonathan got a
4mm palladium court ring because it's so much lighter (but equally hard
wearing!)"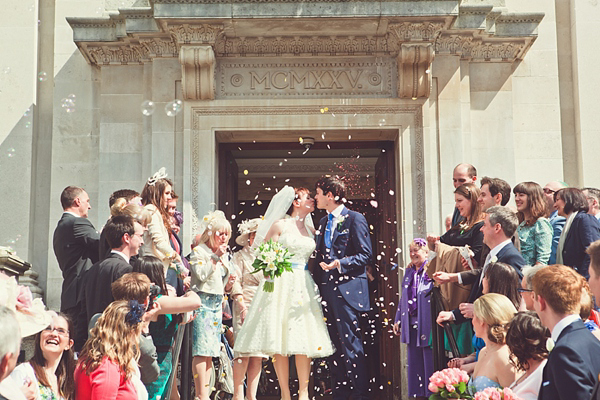 "My bridesmaid dresses were from Oh My Honey
– a gift sent from above! To find light blue dresses with white penny
spots (not polka dot, the gap between the spots is wider apparently!)
which matched my dress perfectly, with also the option of them being
customised to what we wanted, AND extremely reasonably priced – I was
over the moon!
And I just asked my bridesmaids to wear nude shoes, I think Claire already had a pair and Morgan bought a pair from John Lewis."
"I gave my Bridesmaids personalised necklaces from Alison Moore designs and my Man of Honour, Bridesman and Dad personalised cufflinks from Emroy Jewels.
Because I'm a massive nerd I looked up the Ordnance Survey co-ordinates
of where I met each one of my bridal party (and where I grew up for my
Dad) and had those hand-stamped on. So just a collection of numbers and
letters to the untrained eye, but a meaningful place for us.
I had the more unusual choice of having a 'Man of Honour' and a
'Bridesman'. Even though I wasn't remotely bothered about going against
tradition, I was surprised at how literally nobody batted an eyelid at
my bridal party! So my lovely boys had suits from the same supplier as
the groom party, but with different coloured ties to reflect the fact
that they were with me. So any brides that might be mulling it over, I
say: pick the people who you need by your side that day – that's what
matters!"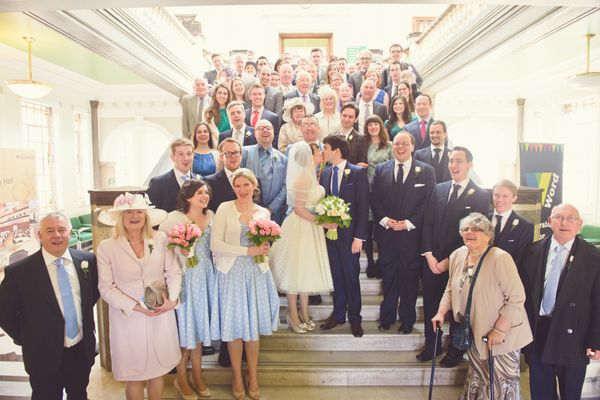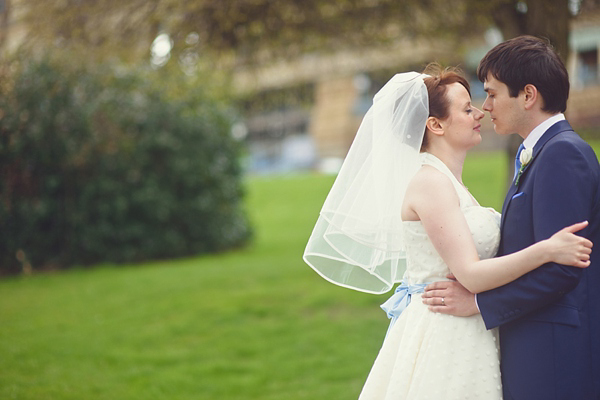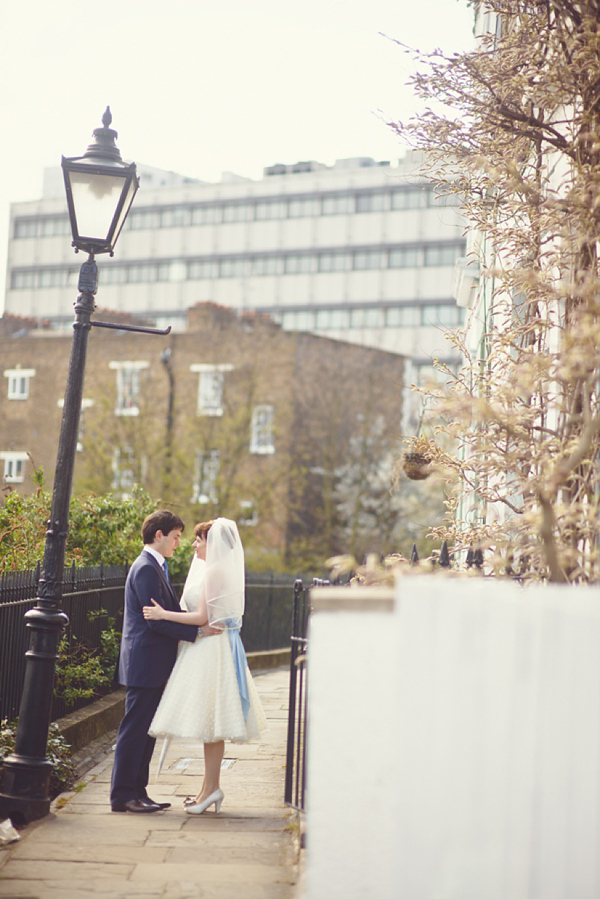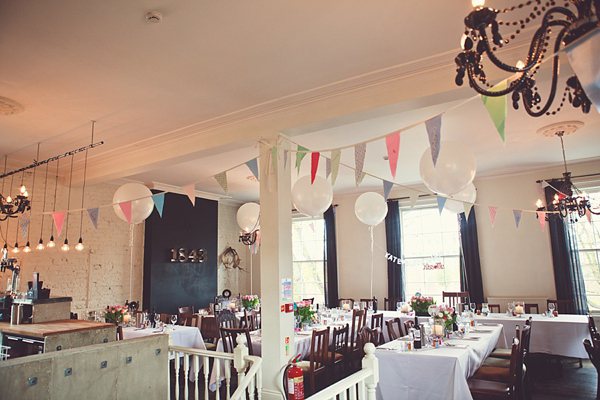 "The Prince Albert in Camden
did all our food, and excellent it was too! We got so many compliments
about the food, and there's a great satisfaction that comes with knowing
your guests have been well fed.  Having met each other in the
world of student media can pay dividends! Our friend James Wickham
provided the evening's entertainment – Radio 5 Live journalist by day,
but our Superstar DJ by night! He did such a good job at lining up so
many good tunes we were still on the dancefloor well after 1am, having
said we'd be gone by midnight!"
"We had London themed and Heart Holographic Glasses on the tables at the wedding breakfast, which provided a lot of great photo opportunities!  My
mother-in-law extraordinaire did a cracking job making us a huge amount
of beautiful bunting in pastel colours. She also made our awesome
favours by making a LOT of lovely marmalade! The favours also doubled as
the place names for the wedding breakfast by having stickers printed
and popping them on the jar lids. The bonus of doing that means you know
exactly who has forgotten to take their favour home!"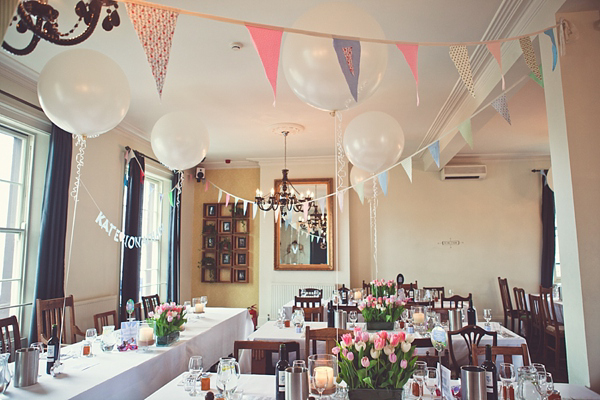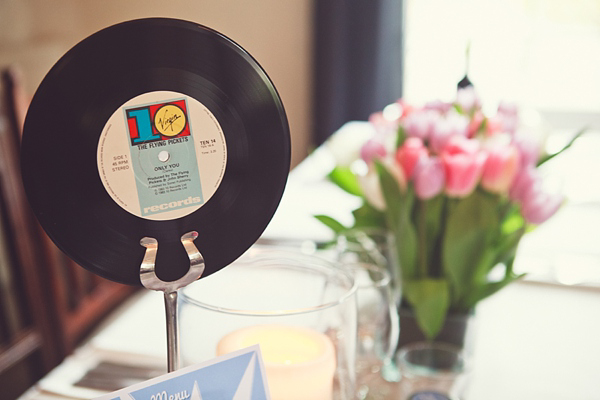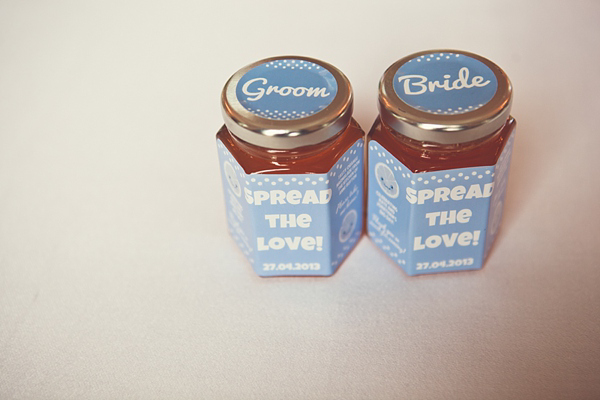 "It's really hard to pick a favourite part of the day! There are
so, so many. For me, I think it's how I felt when I got to the top of
the aisle to see Jonathan. The morning was high emotion; a jumble of
nerves, excitement and being slightly overwhelmed as countless people
moved heaven and earth for us because it was our wedding day.  When I
got to the Town Hall I was starting to think the ceremony would just be
me dissolved in a puddle of tears as the emotional weight of the
occasion would be so great. But as soon as I locked eyes with Jonathan I
felt like I'd come home. I instantly relaxed, all the nerves melted
away and I started to really enjoy myself! You just never can really
tell how you'll feel when you say your vows.
Whilst up at Alexandra Palace a lady came up to me with a little
girl and said 'Excuse me, but my niece here thinks you're a Princess.
We've just knocked on the door of the Palace to see if you were in but
you weren't there!' Cue me saying 'Oh.. yes! I'm sorry I wasn't in my
palace, I've been here in the garden this morning' and had a little chat
with the girl. Needless to say it was really magical moment, even more
for me than it was for her I suspect!  Then there's that moment after the first dance where there's
nothing left to do but to drink, dance and have brilliant time;
revelling in the collective joy of a job well done. There was so much
love from our family and friends on the day, and just seeing everyone we
adore having the best time was unforgettable. We're still on a high
just thinking about it!"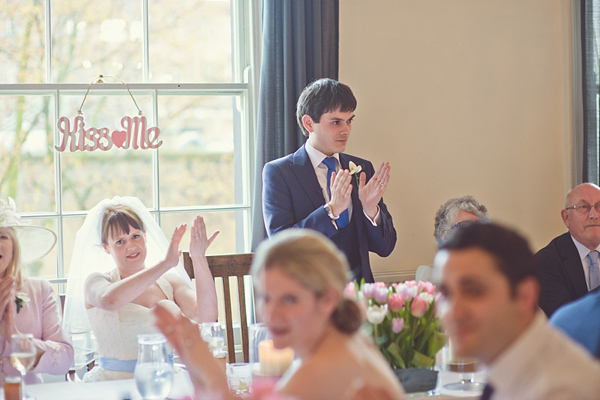 "I gave a speech at the start of the evening reception, and I
highly recommend other brides do if you feel up to it. It was pretty
scary but not being bound by any convention means you're free to make
your speech as brief or as long as you wish! It's also instantly makes
your wedding more memorable because it doesn't fit the usual flow. My
husband and I compared our notes the morning after and it was lovely to
have had that same experience."
"Our first dance was 'I Only Want to Be With You' by Dusty
Springfield. We love the simple sentiment of it – since we were quite
young, we've only wanted to be with each other; no drama or
complications. Plus it has the added bonus of being quite short, which
is always appreciated for a first dance! Luckily my Grandma and Dad came
in towards the end to help us out!"
"I had real trouble with hair accessories. I knew I wanted to
take my veil off in the evening but all the hairbands I saw were very
ornate and didn't really go with my dress. I found something suitable in
the US but it was incredibly expensive, and I was in two minds about
what to do. That's where my Bridesman came to the rescue! He has a
studio and his pieces are normally quite different to Bridal
Accessories, but he has a lot of experience in costume design.
I told
him what I was after and I was over the moon with what he made for me – a
statement piece that was still really simple in its design (and so
comfortable to wear). It's obviously now a very treasured possession,
and I feel so honoured that a part of my outfit was designed especially
for me by a dear friend I've had since childhood.  I've
basically insisted to Oliver that he sells his design online, so will
send over the link to the etsy store when it's up and running!"
Words of Wedded Wisdom…
"I am such a huge fan of Love My Dress,
and the real wedding features provided a lot of inspiration to me in
the two years when I was engaged (and I'm amazed at how I think I've
become even more interested in real weddings now mine is over!). I
particularly love how Love My Dress covers so many eras –  Annabel clearly
adores art deco and 1930s style but in no way limits the blog to just that.
I also really love it when Love My Dress tackles issues, such as buying for plus size, debates on gift lists and whether to keep your name. I think the community is so lovely and diverse it's a wonderful opportunity to get involved, and it's something that Love My Dress should continue doing!
I think Annabel's words of late that it's the emotion of the day that really counts on your wedding day  are extremely important. Details are
brilliant and I had a LOT of fun thinking about those things but they
don't really make a wedding, they make a Pinterest album. Once all your
suppliers are locked down I recommend taking a little bit of time out
from wedding magazines, blogs and the general world – otherwise there's a
danger of constantly comparing, comparing, comparing and feeling like
you're coming up short."
"Some practical things;  try not to feel guilty that you don't
get to spend meaningful time with every guest. Some people will travel
far to be there and you'll barely get five minutes with them. The fact
that they're there to share the day and the memories with you is what is
important, not killing yourself trying to divide up your time equally.
So just relax and enjoy!
If you have a menu, assume everyone will forget what they ordered
(because they will, even I was fuzzy). My menus were table specific so
on the back it detailed what everyone had picked, and it saved an awful
lot of hassle.
Stick some ballet slippers in your bag to pop on towards the end
of the night. They cost about £3 on ebay and your feet will thank you!"
"Assume that you and your groom are uncontactable for the morning
of the wedding. Jonathan drew up an awesome 'Wedding Bible', and we
divided up all the suppliers between the bride and groom party, so each
person was responsible for one or two things (and the suppliers were
often grateful for having a contact that wasn't the bride or groom).
Then the night before, we got both bride and groom parties together (in
person or on the phone where we could) and went through the timetable
for the whole day together. Pretty tedious and unspontaneous, but it
meant that everyone knew what was happening and when. We had a lot of
lovely comments on how well organised the day was, and this is down to
our amazing friends and family pulling together to ensure everything ran
smoothly.
Lastly, if you aren't hiring a wedding planner, make sure you draw
up a call sheet where everyone has everyone else's number, and a list of
all the suppliers involved (my old life in television production really
helped me out here!). We were staying in separate hotels the night
before, a new hotel on our wedding night and had a separate ceremony and
reception venue so we weren't exactly making it easy for ourselves!"
I did all this purely based on the 'Words of Wedded Wisdom' advice left by
brides on Love My Dress. Thank you to all the brides who took the time
to stress how important this aspect of the day is (particularly Anna of Far From the Wedding Crowd (formerly Anna And The Ring) whose candid, honest advice hit home enormously). I
wanted to do everything myself, but their consistent advice that you
can't do it all and you must, must delegate as much as you can
eventually hit home with me! And wow, it paid off – you've got enough to
deal with on the morning of your wedding without worrying if your
brothers have got their boutonnières."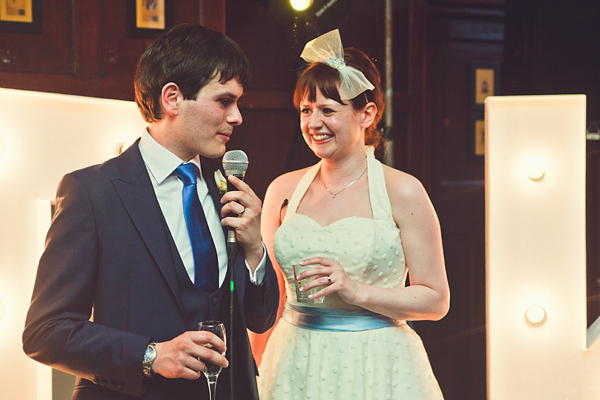 Where to I even start to thank you Kate, for all your wonderfully
warm, kind and encouraging words about Love My Dress – but thank you I
must, and I do so from the bottom of my heart.
I am so thrilled you chose to have your wedding photographs featured
on Love My Dress – it was only very recently that I spent an evening
dining your photographer and she was telling me all about your wonderful
wedding day. It is so good to see these photographs now and help you relive something wonderful.
Readers, it would be so kind of you to show some love to Kate and Jonathan for so kindly sharing so much information and inspiration with us all. 
Have a lovely afternoon everyone,
Annabel
Photographer – Eliza Claire
Venue - Islington Town Hall + The Prince Albert in Camden 
Wedding Dress – Butterfly Vintage Brides
Veil/Headpiece – The 'New England' style from Ivory and Co
Brides' shoes – Harriet Wilde
Groom – Jack Bunney suit + personalised cufflinks from Posh Totty Designs
Bridesmaids – Oh My Honey
Flowers – Josephine's Flowers
Cakes – Dunns Bakery in Crouch End + the bride's Grandma + cake toppers
Transport – White Hackney cab via Wedding Taxis
Catering – The Prince Albert in Camden
Hair + Makeup – Beauty Call
Speakers/Lighting Hire – Disco Equipment Hire
Giant Light Up Letter Hire – Vowed and Amazed