It's not often I receive an 'all-white' wedding to feature, but these nuptials make up for that.  These beautiful wedding photographs were submitted by photographer Jay Rowden, who was commissioned by couple Kristina and Paul to record their exquisitely minimalist and elegant wedding on 29 June this year at Sudeley Castle in The Cotswolds.
Kristina's dress was a design by Monique Lhuillier, that she purchased from Browns Bride London…
"I always
thought I would have had a BIG dress. But they were all just very big
with not much about them. I also knew that paul probably wouldn't like a
big dress but I tried on a dress by Monique Lhuillier, it was the very
first dress I tired but I was unsure. Then after a lot of long hard
months looking I saw a new 2013 Monique Lhuillier dress and it was exactly what I
wanted. It was as light as a feather to party it was very embellished so
it had a little wow factor and the bow belt for me just topped it off. 
I
knew I would always wear a tulle dress and this was like a little cloud
of tulle!" 
 Love My Dress Wedding Blog – Photography Copyright (c) 2013, Jay Rowden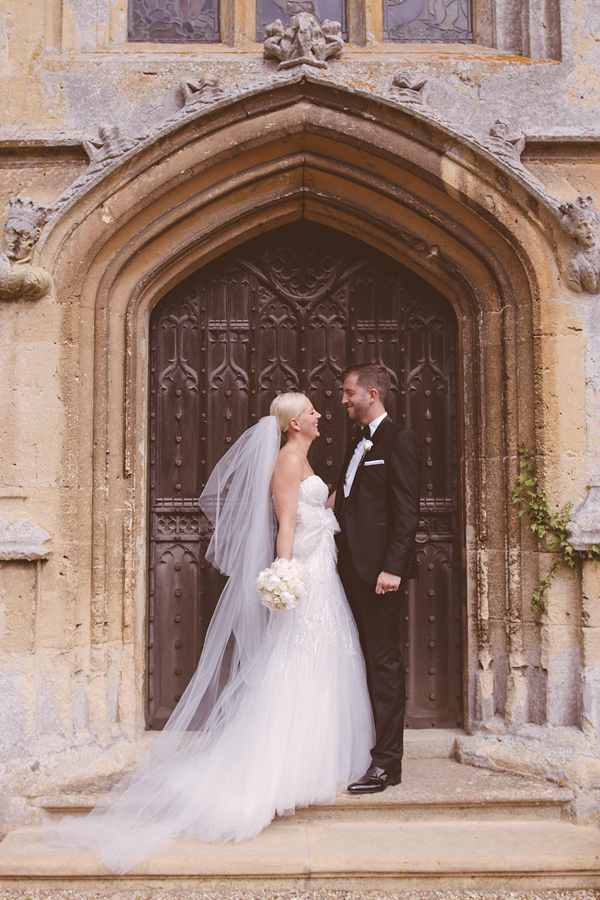 "Basically my style guide for the wedding was 'white white and more
white!'. I wanted a very sleek romantic but classic wedding then one
massive party. Black tie, large crystal chandeliers, white chesterfields
but a very soft and candle lit room with a fairy lit and up lit ruins
outside. The chairs and everything else was kept very simple as I feel
this is far more effective at creating an impact. There was also a
matching chill out area outside which had lanterns and chairs and sofas
in.
I wanted to make sure there were changes in the day so no one got
bored so each area had a musical attachment (the church a trumpet, a
string quartet for drinks an acoustic singer for the dinner and mowtown
singers and Dj for the party). The Marquee was transparent at the end to
show off the ruins but I thought of every little detail down to the
hand soap as they may not matter to some but they did to me."
"The furniture I had sourced from a hire company and created the
escort card table. I had a monogram designed by a designer of our
initials and had it etched onto a Perspex box to use as a card box which
stood on a plinth. The I DO stickers on the chairs I had found and had
added to the chairs. I had Perspex tables with flowers and Jo Malone
products for the toilets. Storm lanterns with candles and confetti
inside and poms poms added to the top to soften them.
The bon bon jars
for the cake. A sign made and in a frame for the guest book so people
could stick pictures in and leave a message."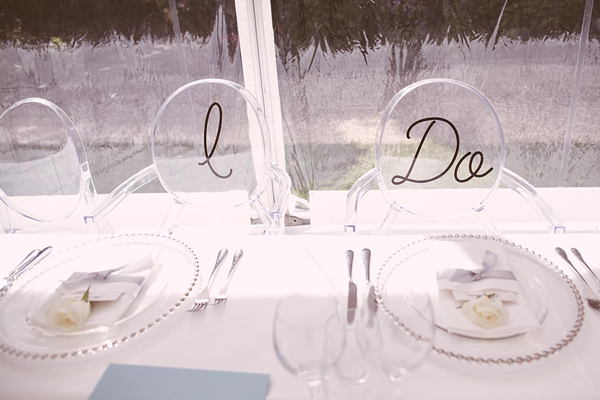 "We didn't hire a wedding planner – which was tough, but for me,
worth it in the end.   I had a vision in my mind of exactly what I had
wanted and how I wanted it to look. Paul and I have the exact same style
to there were no doubts that he wouldn't love it. Having an interiors
and events background I knew I was going to do it all myself."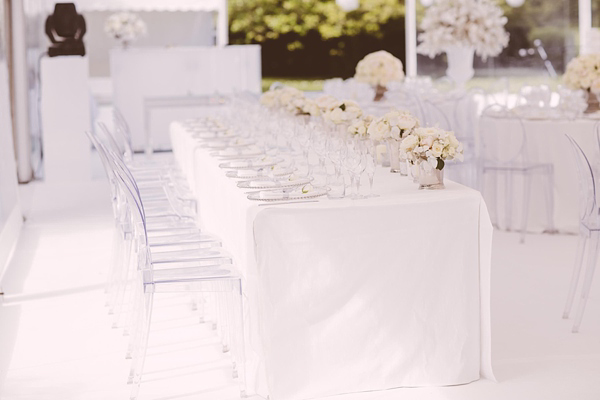 "Paul and I met through mutual friends. On the balcony of our hotel
suite in Croatia paul proposed at sunset (1st June 2012) so almost
exactly a year later we married."
"I had a very specific style about flowers in mind and so I commissioned Philippa Craddock.  Her work is amazing so it was only ever going to be her!"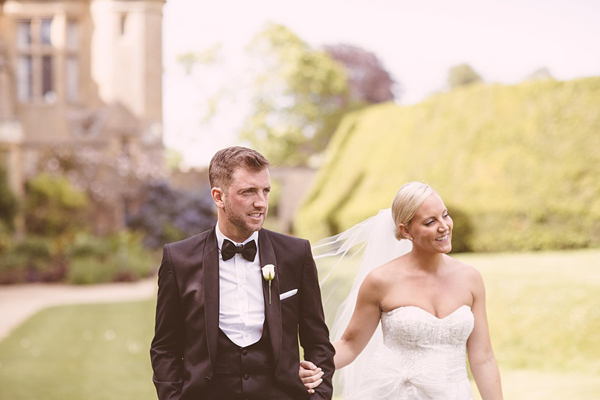 "I wore a Cartier love bracelet that was a wedding gift from paul
and a pair of simple stud earrings that were a birthday gift from paul a
few years ago. As my dress was so embellished and had a lot going on it
needed to be kept simple."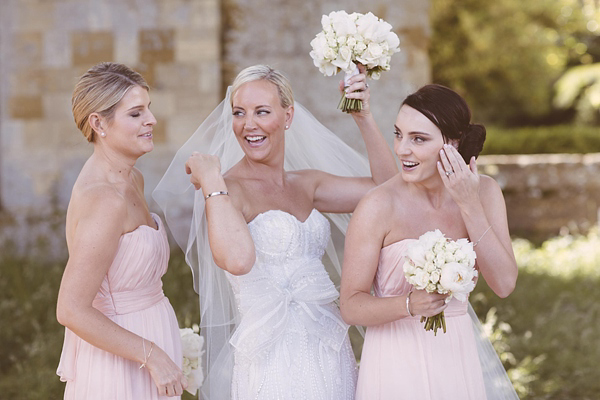 "Our cake was made by Contemporary Cakes Cheltenham.  They were fab!
I knew I wanted a bow (as there was one on my dress I just had to
convince paul without telling him the reason why). We had a 4 tier cake
with all different flavours. I didn't want a standard cake table so I
sourced bon jars filled with white bon bons and tied with white ribbon
into bows. We had single tea lights with candles and some with single
stem roses to soften the look."
"We wanted a church wedding and Paul is a lover of old churches.  Of
all the venues we looked at, they either had no church or they were
very old and dark with bad carpet or not my style so we knew very early
on we needed a marquee. After endless searching Paul ended up finding Sudeley Castle.
We went and saw it and immediately fell in love – it had everything we
wanted – a stunning old church, gorgeous gardens and a marquee area."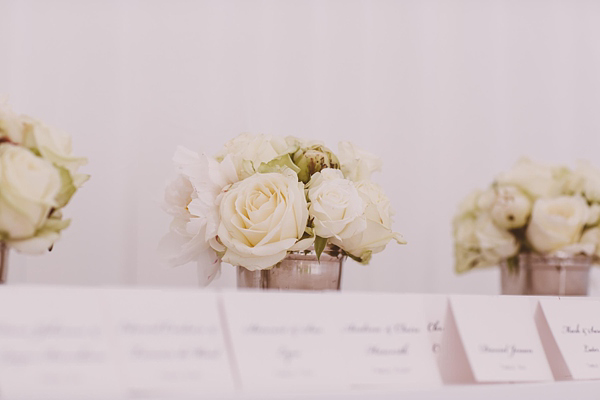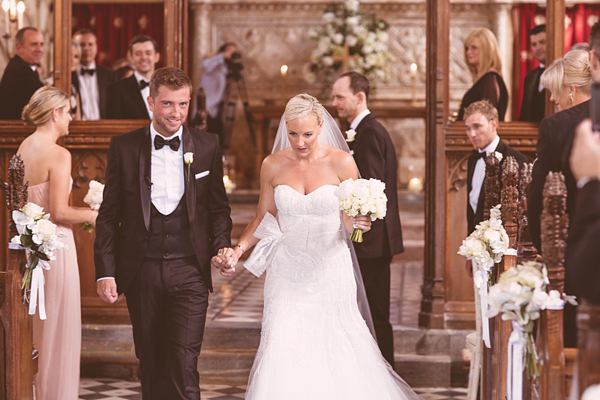 "I am a massive lover of red sole shoes so it had to be Christian Louboutin."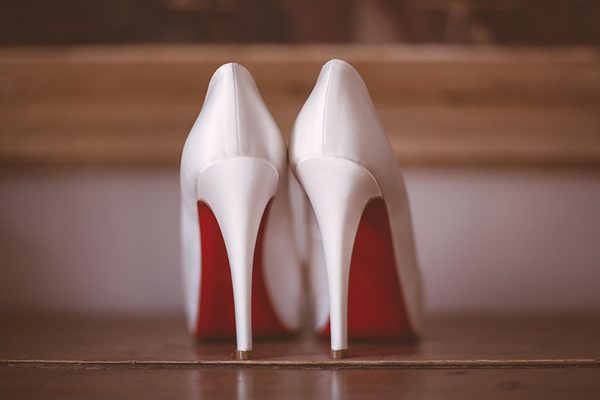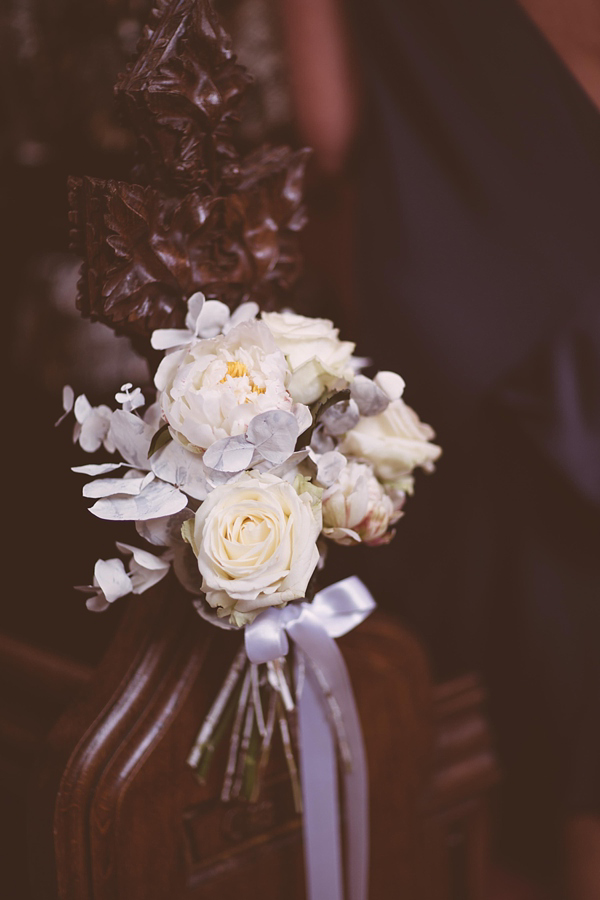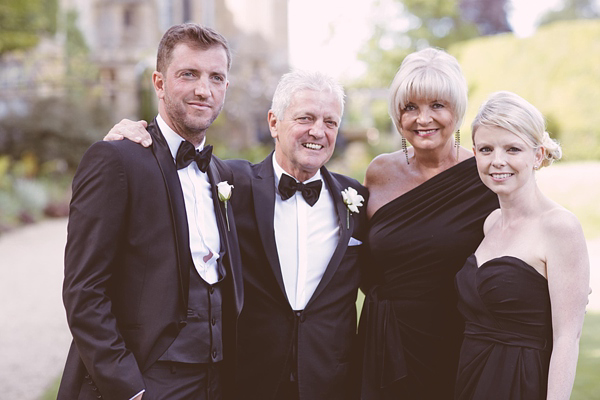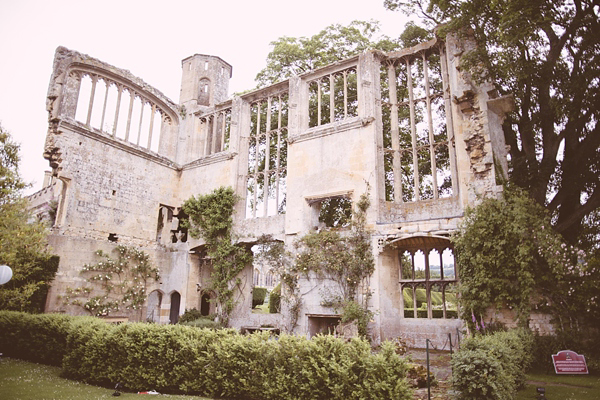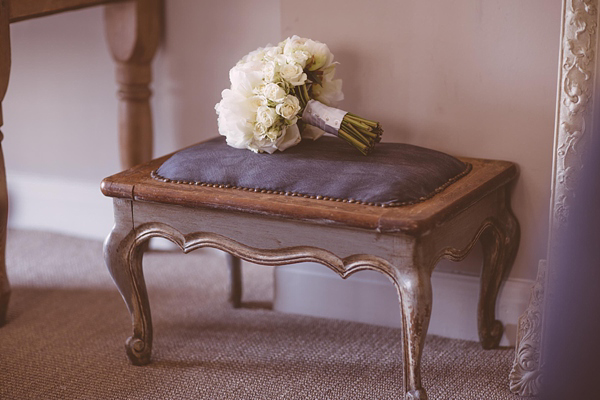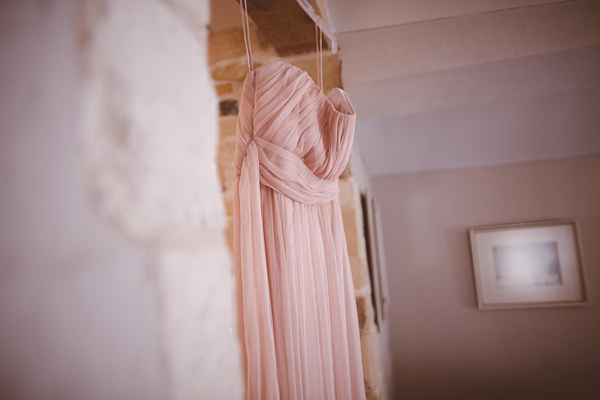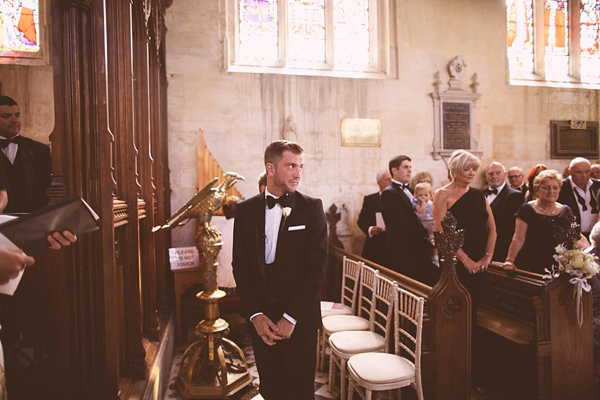 "My brother was my 'father of the bride'  An organist play the
Prince of Denmark march as he walked me down the aisle – it was
beautiful! We opted for the standard Church vows, and had Corinthians 1:13 read, as it's a wonderful piece about love."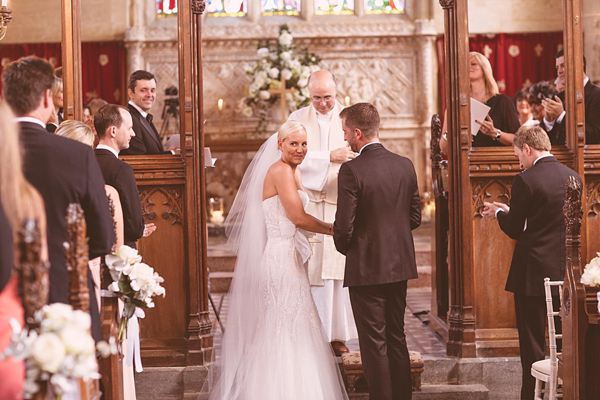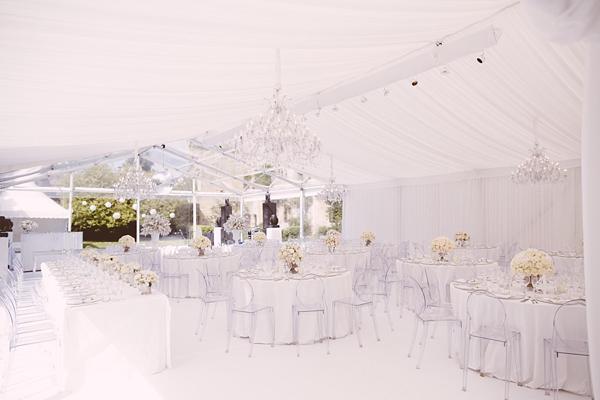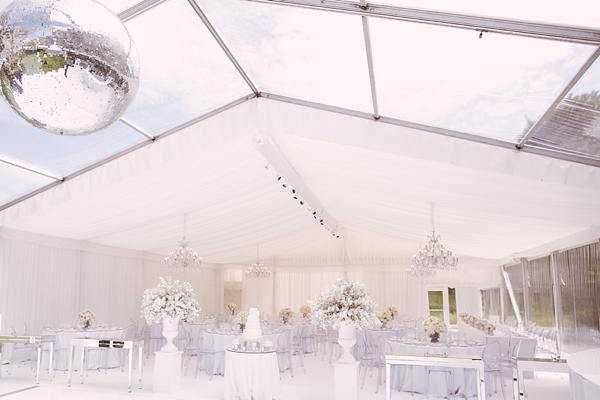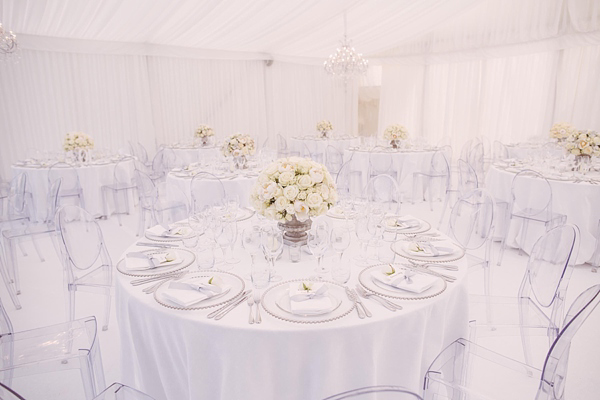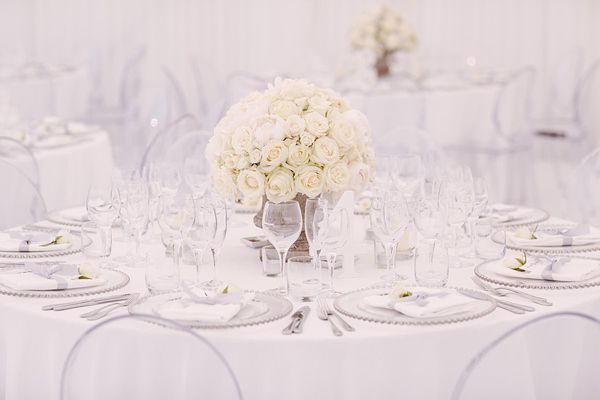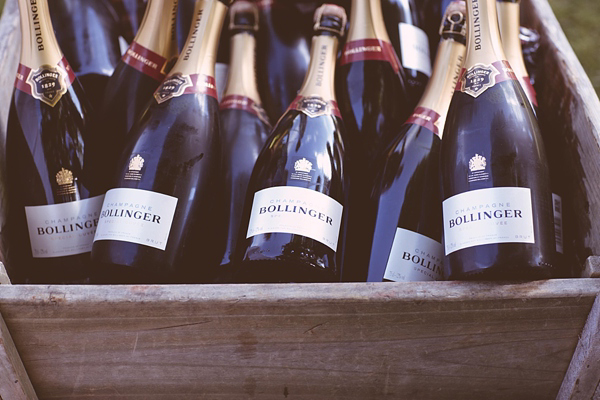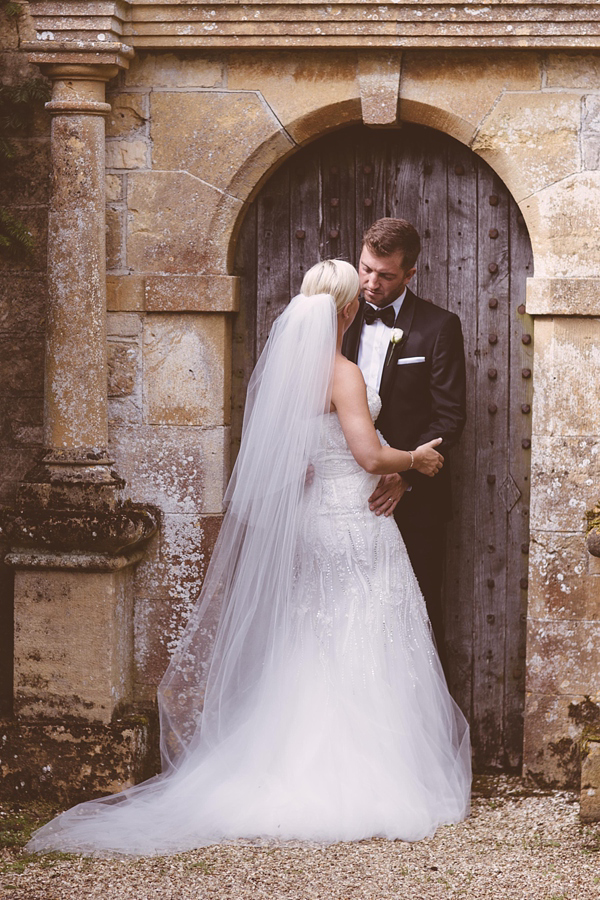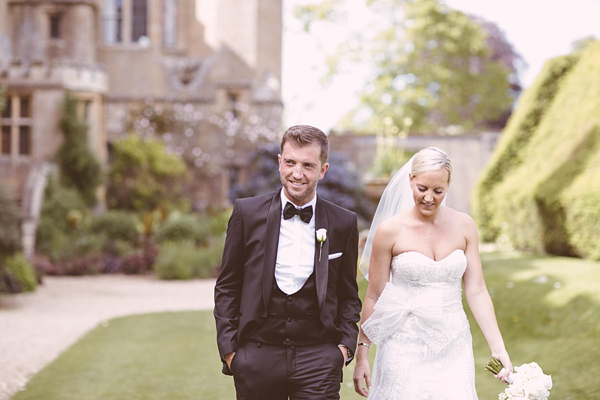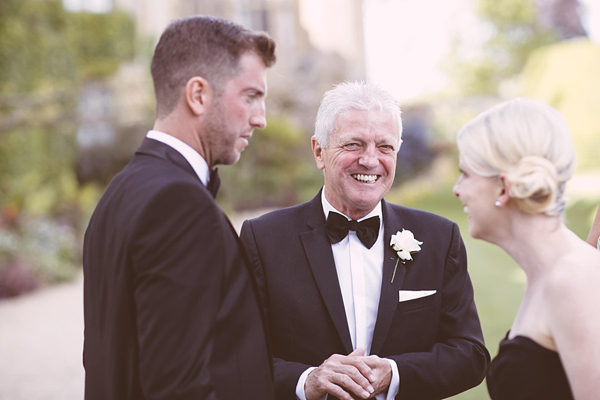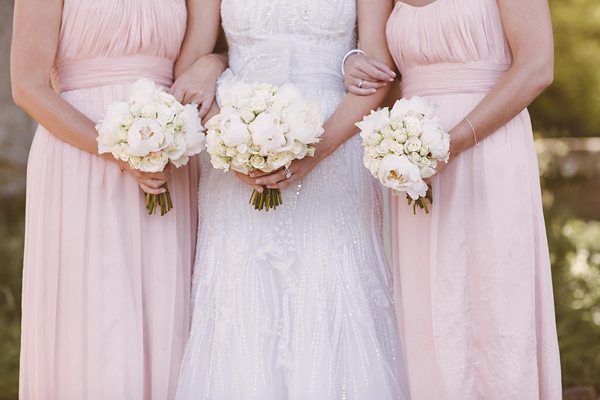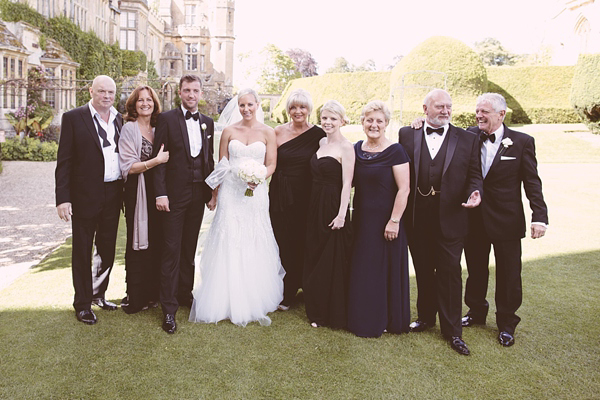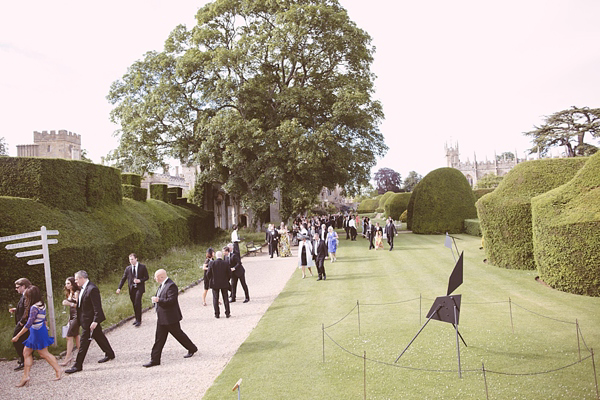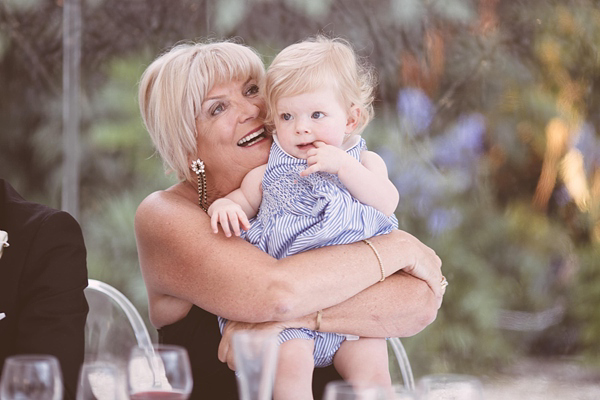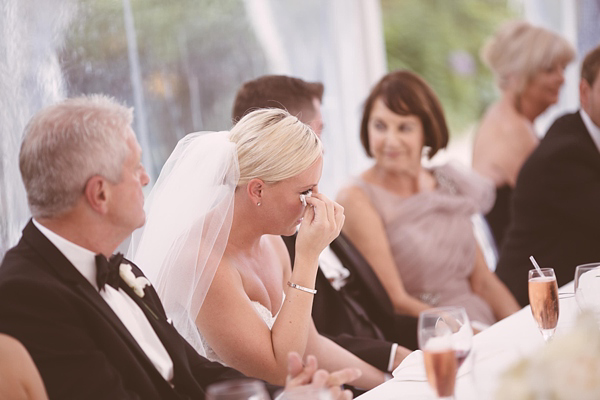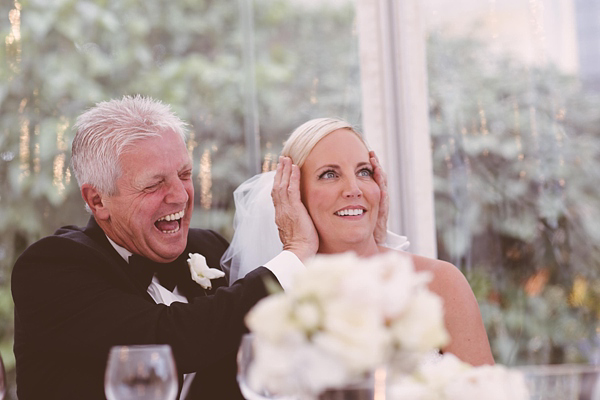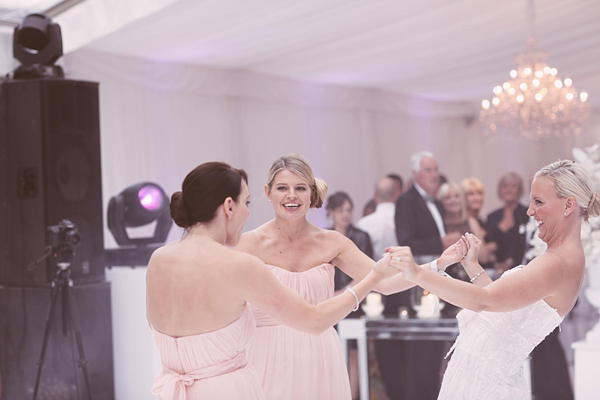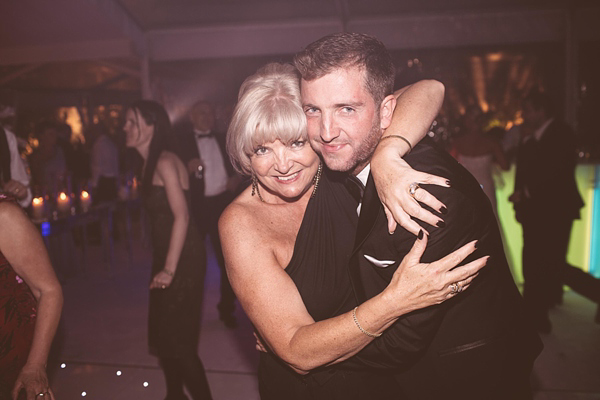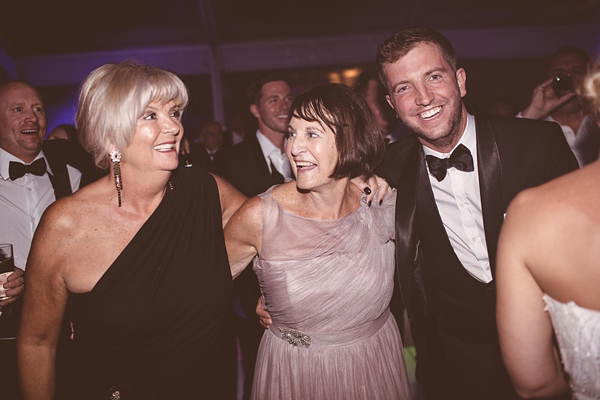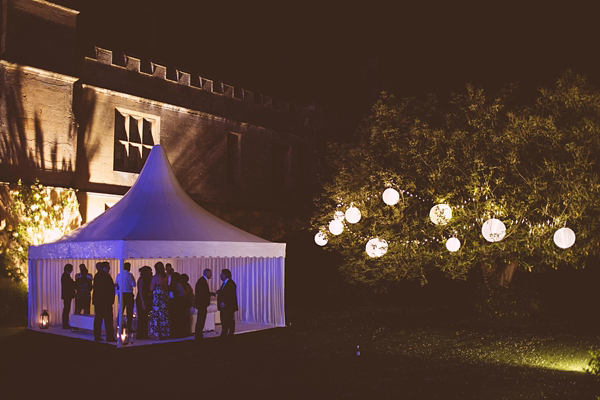 Words of Wedded Wisdom…
"Surround yourself with the
right people. My mum lives in NZ so I was on my own. I had the two most
amazing bridesmaids who supported me throughout. I learned early on
people can we very negative about your ideas  as they didn't really get
the bigger picture so to keep the magic of it and a surprise element I
kept it all very close to my chest.
Apart from my bridesmaids and of course Paul people didn't know to much. The little details may not matter to
others but it did to me and negative comments only made me panic and
questions myself so after a long conversation with my mum who has always
backed me and my ideas she said go for it, you have the vision and only
you know what will work. The smaller details you have thought of will
tie it in and make it amazing and that was all I needed to hear! Enjoy
it ! Enjoy every single little moment as its over so fast but luckily
you have the pictures and memories to keep forever!"
"We didn't provide favours as such – we have both had family
members affected by cancer but most recently a member of the family has
been diagnosed with a very aggressive form of cancer so we made a
donation to cancer research UK. On the bottom of the menu cards we had a
beautiful little note printed telling our guests.  We had an acoustic singer called Chip Acoustic for the dinner who
was so good people thought it was a CD and a Mowtown band called
'Sistacated' who were out of this world! Then a white leather chesterfield
look photo booth that went down a storm!"
My
favourite part of the day was saying my vows and having my family there
from new Zealand being in a room full of our friends and loved ones. And
of course, being Paul's wife!
I wouldn't change a thing and would happily do it again in a heartbeat!"
Elegance perfected.  The bride has since set up her own wedding planning business Sweetpea and Blossom.
I'd love to hear from brides seeking a similar style on their wedding day?  And BIG love for that amazing Monique Lhuillier dress Kristina! Do we have any more Monique Lhuillier fans reading?
We are grateful to photographer Jay Rowden for sharing his work today, please take a moment to visit his site.
With much love,
Annabel
Photographer – Jay Rowden
Venue – Sudeley Castle
Wedding Dress – Monique Lhuillier from Browns Bride London
Veil/Headpiece – Browns Bride Londo
Brides' shoes – Christian Louboutin 
Grooms Suit – Bespoke
Bridesmaids – Amsale dresses + Zara shoes
Florist – Philippa Craddock
Cake – Contemporary Cakes Cheltenham
Entertainment – Sistacated
Stationery Designer – Paper Treats
Catering Company – Wesley House (phenomenal is an understatement!)
Hair Stylist + Makeup Artist – Maks Popovs from Shu Uerma