A Moody & Atmospheric Elopement at Carnasserie Castle in Scotland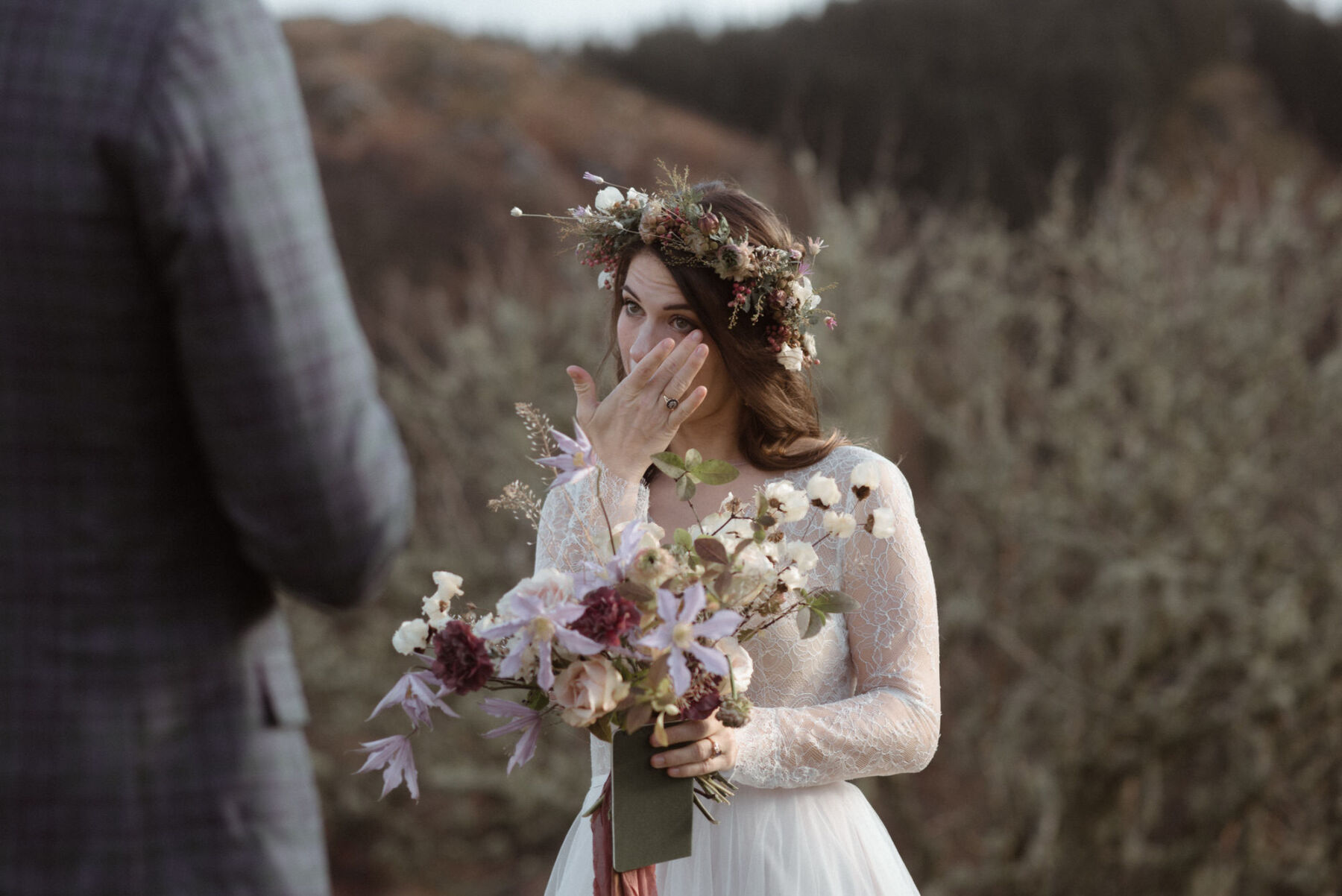 Lawyer Kaki married mechanical engineer Jeff on 24th November 2021 at Carnasserie Castle in Argyll, Scotland.
Inspired by the elegant decay of their home city, New Orleans, the couple wanted to exchange their vows amidst a moody and atmospheric backdrop and chose the ruins of this beautiful castle as their spot.
It was pure joy reading back through the through the questionnaire the couple completed – the love between these two was palpable. It was an extra delight to know they booked Love My Dress recommended elopement photographers, The Caryls, who have done the most beautiful job capturing such beautiful moments. Enjoy!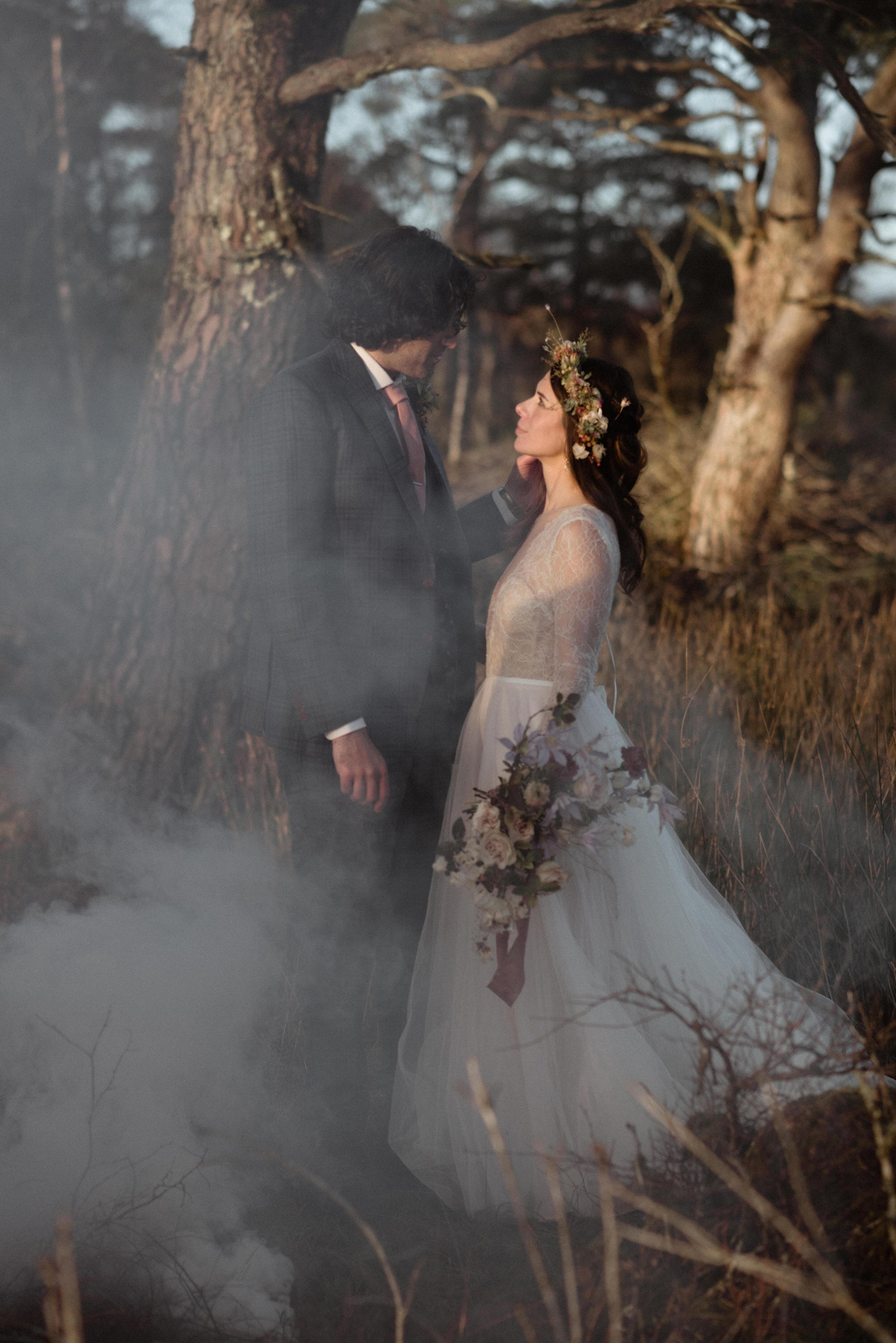 Location & Vibe
We got ready at Kilmartin Castle in Lochgilphead – I was hellbent on staying in a castle but wanted to be in smaller venue with only a few rooms (but still enough rooms so that we could sleep in separate rooms the night before!).
Kilmartin's elegant, decaying décor played into the overall vision and we quickly learned that the owners/managers, Stef and Simo, were awesome to work with. They also got married at the castle and were incredibly helpful to the overall process.
One of our favourite elements of New Orleans, where we currently reside, is the elegant decay all around us. It's not uncommon to see an early 19th century church with vines growing into it…and tropical plants surround derelict buildings all over the city. Scotland in general takes this to the next level…the buildings are much older and there are lush landscapes everywhere. We really wanted to embrace this vibe in our elopement (and also our reception in New Orleans).
I'd describe our wedding vibe as "moody, rustic, elegant decay." We were also inspired by colour—my engagement ring is gold with an alexandrite stone (that changes between purple and green), Jeff selected a custom plaid suit that was green and purple, our wedding bands are gold, and we chose floral arrangements that also had the green and purple theme mixed in. Again, I think this may have been a subconscious nod to New Orleans, where Mardi Gras colors are purple, green, and gold.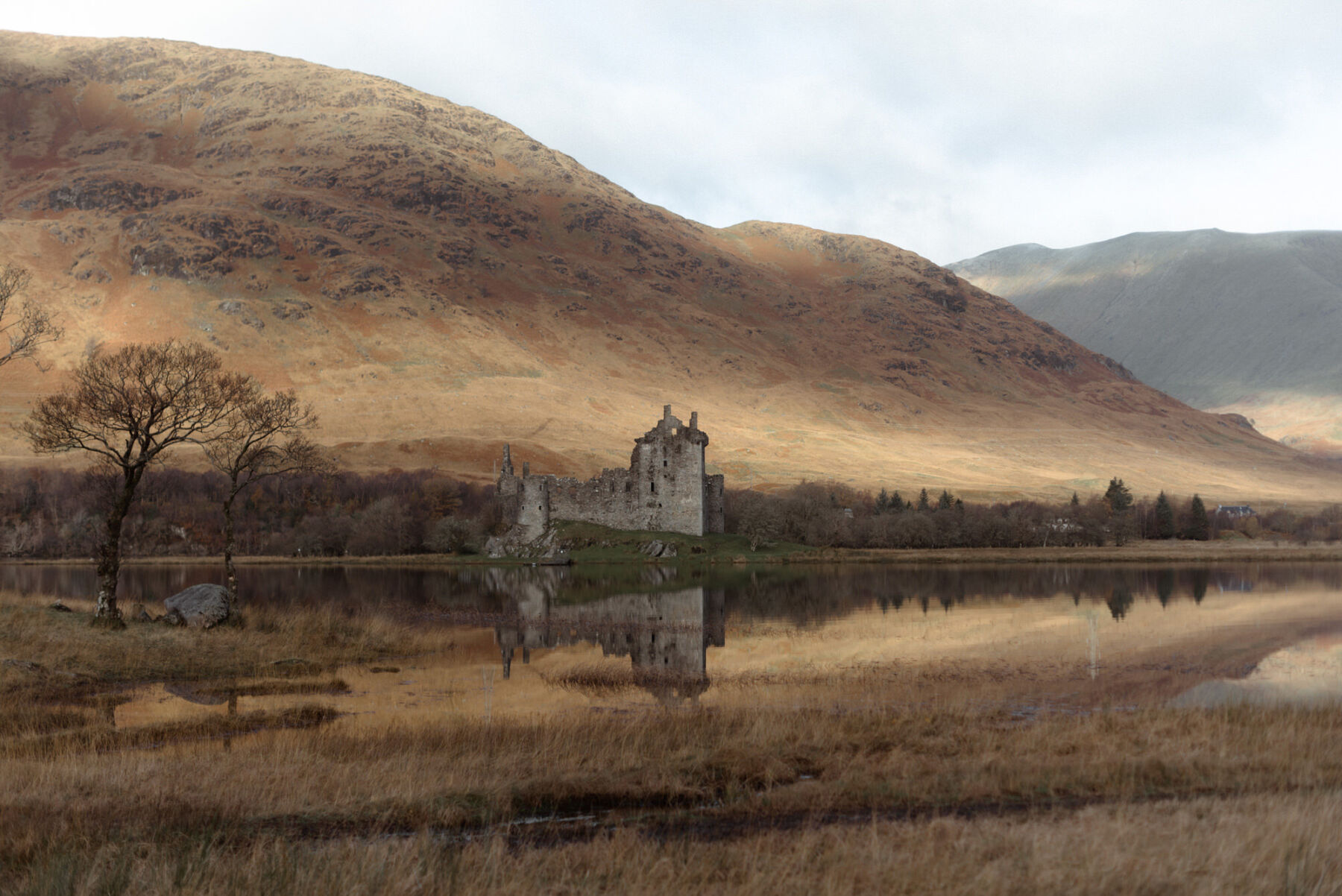 The Bride
My dress was the BHLDN Watters Rutledge Gown. I purchased this at Poshmark, however, I had an incredible tailor that helped get the fit perfect, Robert Lawlor, based in New Orleans.
I didn't want to spend a lot of money on a dress she would drag through the mud, but was very set on having a fitted v-neck longsleeved lace top with a full tulle skirt.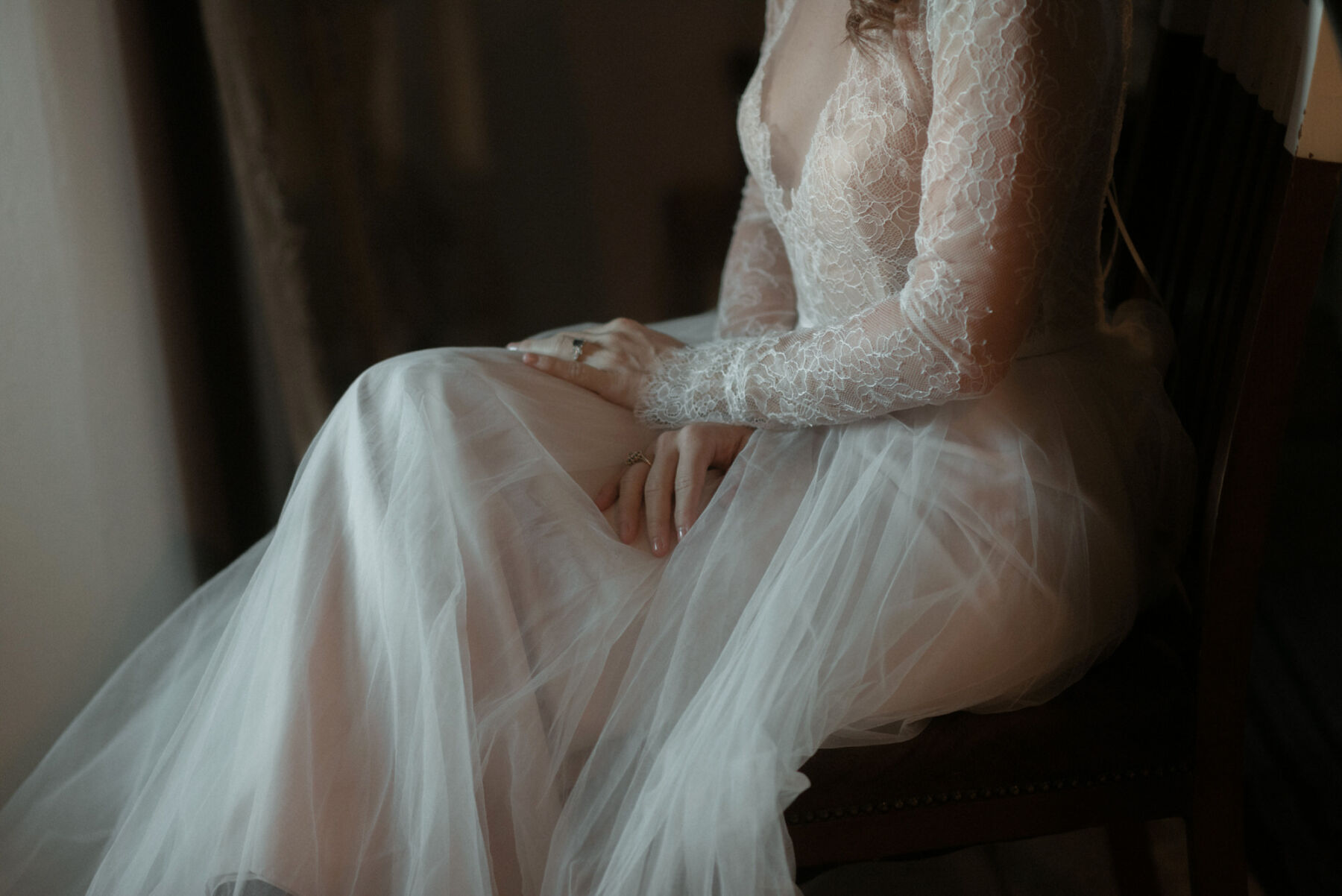 For the elopement, I wore old beat up boots that were my mom's; those did not make it too long against the wet terrain, so I then changed into my Danner hiking boots for the rest of the day. I also wore a floral crown made by the very talented Barbara Smith at Wildflower Workshop.
I did my own makeup and my hair was styled by Hazel at Fusion Hair. Hazel was great to work with!
My perfume was Flowerbomb by Viktor & Rolf.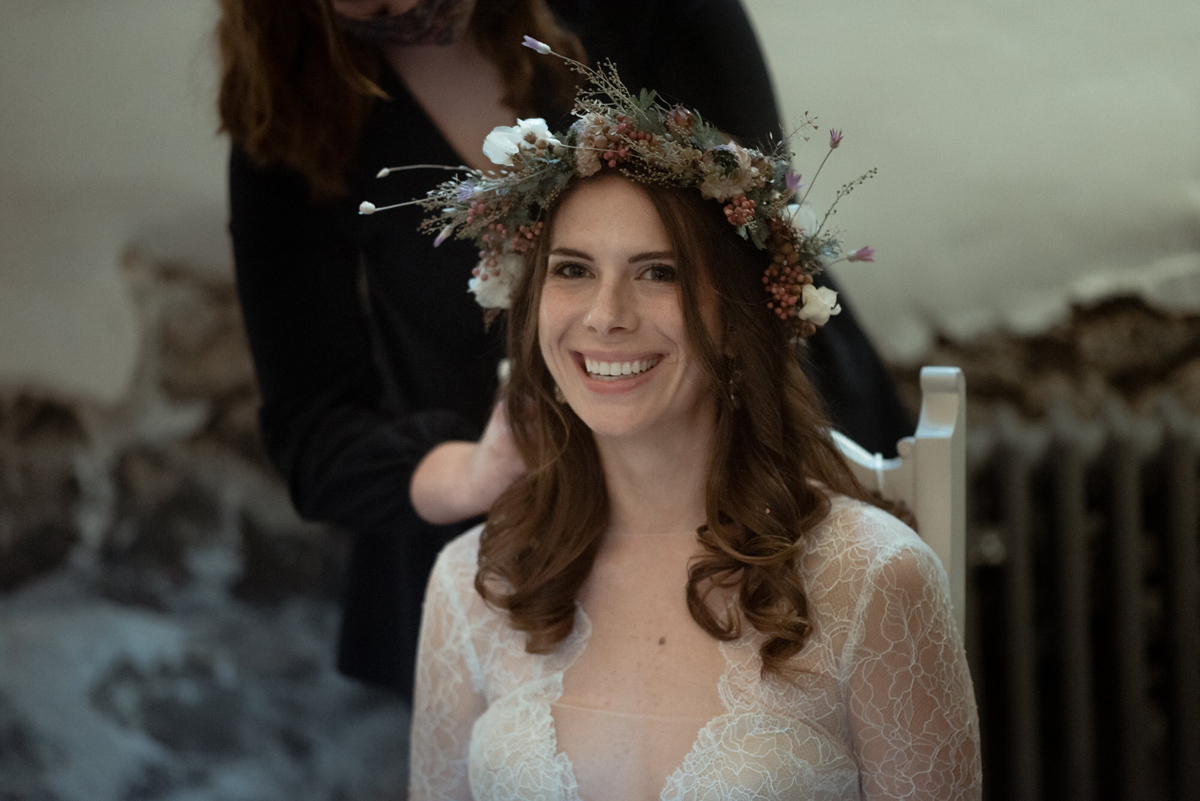 I wore a ring from my grandmother (now deceased) – it has sapphires and diamonds on a gold band. I also wore a pair of dangly earrings from Kate Spade and the other studs were from various places; two were a gift from my grandmother and the others were from Porter Lyons, based in New Orleans. The most notable among these was the crescent moon earring — to me, this both symbolises the Crescent City (New Orleans, where I was born and live now) and Charleston, South Carolina (where I grew up, as the flag of South Carolina features the crescent moon).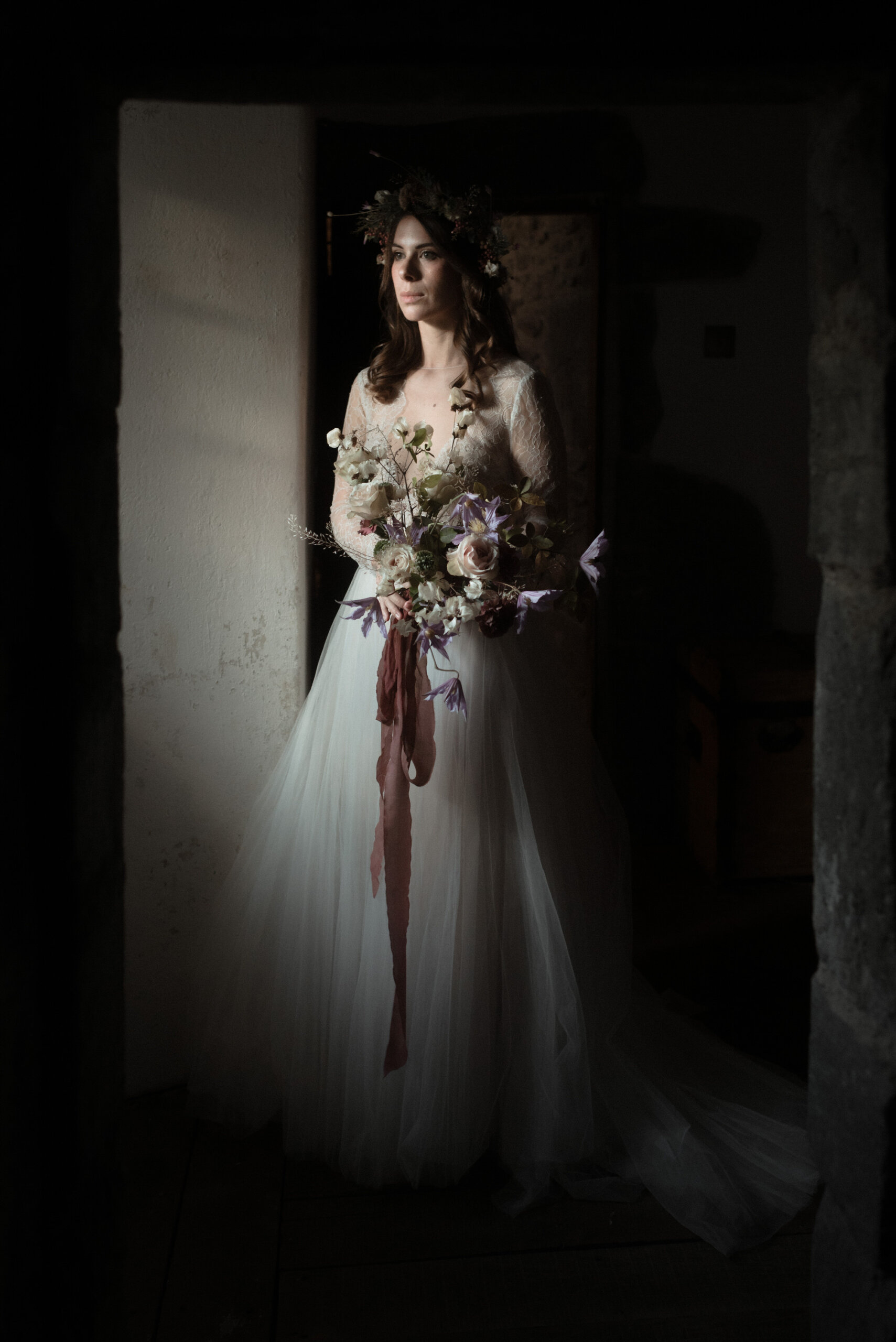 Florist
Wildflower Workshop was recommended to us by our photographers – I instantly fell in love with Barbara's work.
Barbara was easy to work with and understood our vision immediately. We described seasonal blooms, with grey/purple elements mixed in to the flowers. My bouquet came with a hand dyed silk ribbon in somewhat of a coral colour, that Jeff's tie/pocket square matched with. Barbara was great to work with.
How They Met
We got engaged December 2019 and were supposed to be married November 2020, but ended up delaying a year for Covid reasons.
Ours was a cross-country crush, a classic tale of millennial love. We matched on Tinder in March of 2018 while Jeff was visiting New Orleans but residing in San Francisco. Our first date was pure romance: an 11:30 am Wednesday lunch with no alcohol and a split check, followed by a prompt return to work. Despite the lack of 'fireworks', we proceeded to chat via social media.
In the directory The Caryls Photography
Listed in
In the directory Cluny Castle
Listed in
Venues
Eventually, Jeff convinced me to fly to San Francisco to spend Pride weekend with him. It was during this second date that we had our first kiss, and realised we might have something special on our hands. After our second date, Jeff expressed his desire to pursue a relationship, and I asked what our 'best-case scenario' was, given the distance between us.
Without hesitation, Jeff agreed that he would return to New Orleans when his lease ended. The countdown began and, in the meantime, we talked almost every morning and evening, texted constantly.
As promised, after one year of long-distance dating, Jeff and his two cats drove 2,300 miles to move in with me and my two dogs, thus 'date fifteen forever' was born. To date, we have traveled to 18 states and 5 countries together.
On December 6, Jeff believed that I was working in Miami – I was actually working in Detroit. He went to watch a Pistons game, and to his surprise, had court-side tickets courtesy of his friend Blake (partial credit to my scheming with Blake). But the surprises did not end there. At half time, Jeff's attention was directed to the jumbotron, which read: "Jeff, will you marry me? -Kaki" The feed then changed to a live video of Kaki walking across the basketball court. When Jeff turned, Kaki was at his side. She took a knee, presented the watch, and said, "Jeffrey Bazzi, will you marry me?" Jeff emphatically said "YES" and the rest is history.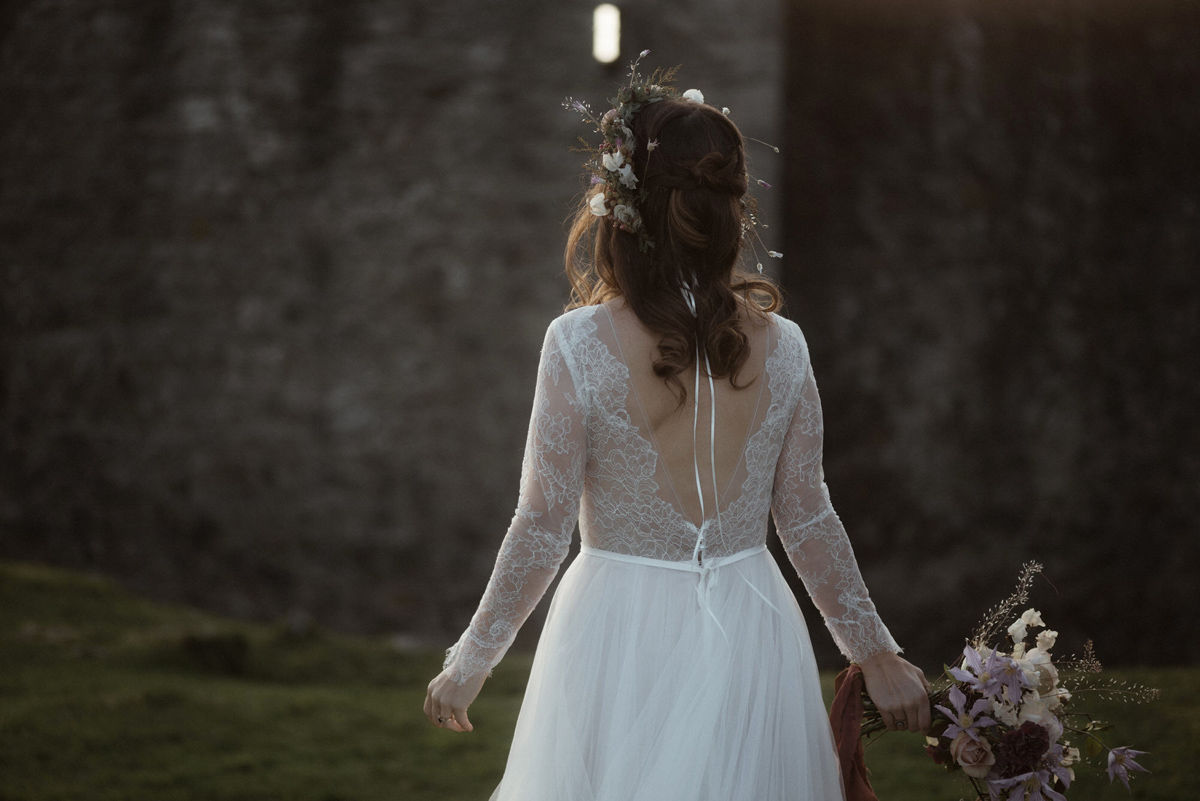 The Ceremony
Iain Campbell was the piper that led me 'down the aisle' towards our humanist ceremony.
The first reading from our ceremony were the lyrics to 'In My Life', by the Beatles. This was also our song when we made our big entrance back in New Orleans at our reception on New Year's Eve.
Our celebrant, Ashton L Easter, was amazing. He worked with us to write our ceremony from start to finish—he added in some day of improvisations that worked very well also. We had met with him in advance via Zoom and really liked his philosophy/outdoorsy background. We felt very comfortable with him running the show!
My engagement and our wedding rings were made by Sohn & McClure in Charleston, South Carolina.
Sohn & McClure's gemologist, Chevis, helped Jeff to find the emerald-cut Brazilian Alexandrite that is the center stone of my engagement ring. I didn't want a traditional diamond ring for my engagement ring but wanted something with colour (and, practically speaking, something that would retain value, given the expensive nature of the purchase). The alexandrite stone fluctuates between green and purple and it is flanked by 6 diamonds on a gold band. I call it my Mardi Gras ring due to the colours (purple, green, and gold) and the fact that Jeff gave it to her on Mardi Gras 2021.
Photography by The Caryls
We hired Jim and Katy, aka, The Caryls! Jeff sent me many many wedding photographer options to pick from and I narrowed it down to just a few, which included The Caryls. I liked the way they  embraced the lighting in Scotland—specifically, they do a great job with low light. Jim and Katy were just a clear match from the second we first spoke with them. They arrived the night before and it was so nice to meet them in person. They were so helpful
The Caryls do a great job of both engaging and knowing when to be 'less present', if that makes sense. They were like old friends to us—involving themselves when we needed help but providing space for us to be intimate. They also made us look amazing in photos. And watching Jim leap through tall grass ahead of the group to get a quick photo of us walking toward him was fun to watch.
The Caryls were really more than photographers – they were assistants, legal witnesses and tour guides! We highly recommend them. We actually wish we flew them to New Orleans for our reception!
Videography
Our video takes a bit of explaining; we didn't want a full blown video production of our day. Instead, we wanted someone to film it and provide the footage to a friend of ours back home to make a somewhat silly video to show at our wedding reception (held a little over a month after our actual wedding).
We had Maciej Gapik of Wide Studio film the wedding itself for our personal record/use of some footage for the video. He did an incredible job and ultimately ended up taking drone footage as well.
Back in the United States, we had documentary film maker Ron Small from Anchor Media Group put together a funny video for our guests at our wedding reception on New Years Eve. He used both the footage from Wide's drone and the footage Wide took on my iPhone. He also used his own footage (most of which also came from my iPhone).
The resulting video played at our reception was very much us…
The Groom
Jeff wore a custom made suit that we designed together, at Luca Falcone in New Orleans. We picked the fabric, lining, stitching, and even customised the suit to include our signatures in the lining. Jeff had a great experience designing this suit.
He wore brown Hugo Boss wingtips that he had already had and was comfortable to ruin on the day – the rest of the day, he wore his hiking boots. He also wore earrings that I gifted him on our wedding day. They were diamond studs with gold posts, custom made by our jeweller/gemologist friends at Sohn & McClure, who also created our rings.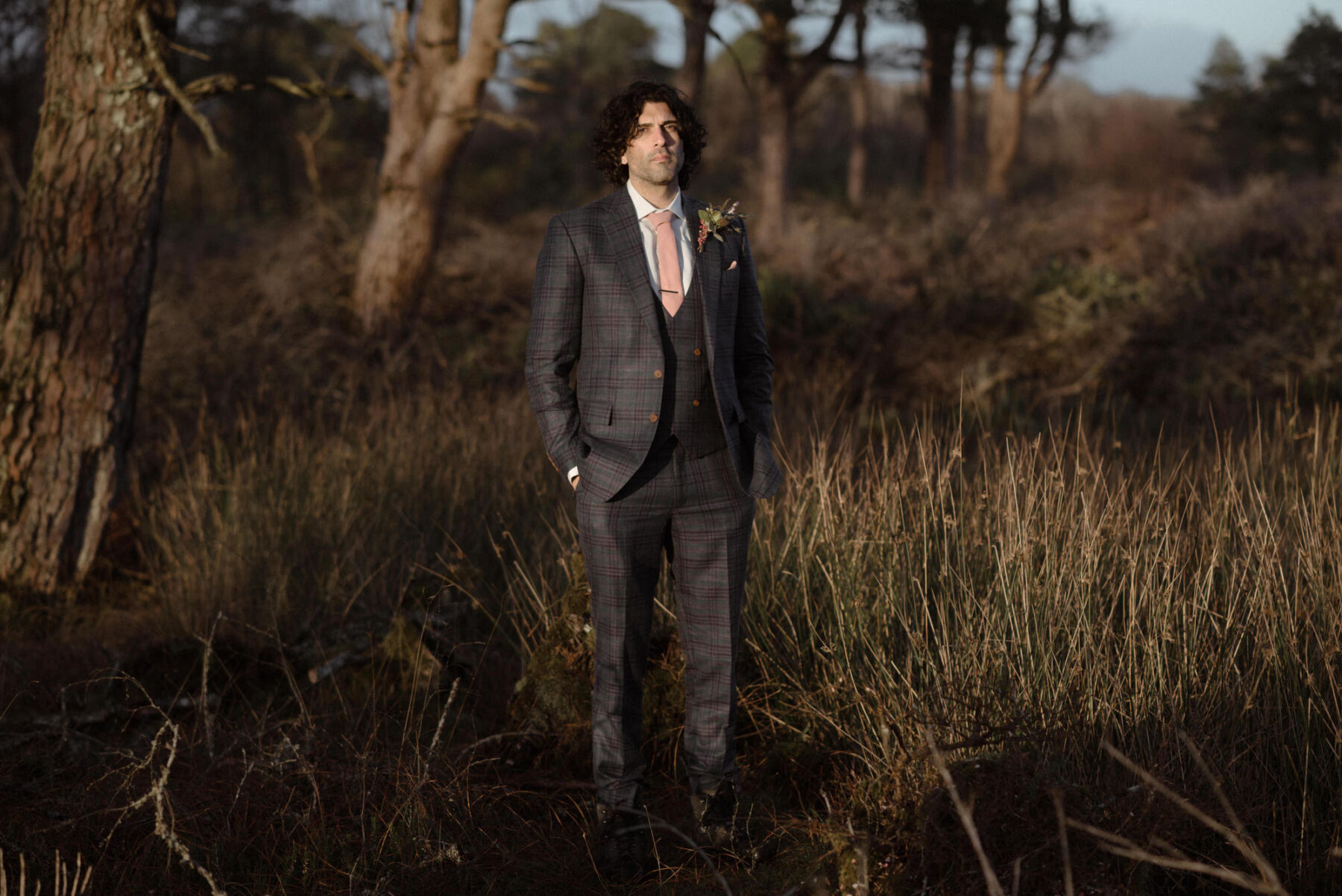 Planning in a Pandemic
We were originally planning to elope in November 2020. The only thing we had booked was lodging at Kilmartin Castle. When things didn't start to look any better, we moved that date with Kilmartin to August 2020. Then we got nervous that we may have to do the 10-day isolation period upon arrival and further pushed back to November 2021. Consequently, we ended up having to somewhat scramble to book the rest of our vendors (luckily there aren't so many with an elopement).
On the day of our wedding,  our photographers asked that we take rapid tests the day before, and once we had arrived at the castle – our photographers also tested themselves.  We were all negative (phew!) and our ceremony proceeded in a pretty normal way.
Favourite Moments
For me, these were walking up the hill by Carnasserie Castle behind Iain Campbell playing the bagpipes and seeing Jeff for the first time that day. He was crying and of course I cried too. I'm crying now just thinking about it, haha. I love him so much.
For Jeff, it was waiting on top of the hill next to Carnasserie Castle with Katy, Wide, and Ashton, looking out into the beautiful landscape with a rainbow in the background, and being filled with anticipation, excitement, and nervous energy.
Then, hearing the bagpipes start playing knowing that it meant Kaki had arrived and she was on her way up. I started crying (kept crying?). Saw Iain start coming up the hill, followed by Kaki. She looked perfect. I was elated. The whole moment was magical.
Our first dance was to 'In My Life;, by the Beatles. It didn't occur until December 31, 2021 at our reception held in New Orleans at the Marigny Opera House. I love The Beatles and we felt a connection to the words—we've always acknowledged each other's pasts but recognise that now, we love each other the most.
Words of Wedded Wisdom
Our practical advice for planning is start in advance and, if you are eloping out of the country, start your visa process as soon as possible to ensure everything is a go. We wish we'd started our VISA process earlier as we did't receive our passports until one week before our departure date!
Finding your vendors much sooner than you think, rather than later, will help avoid a lot of stress.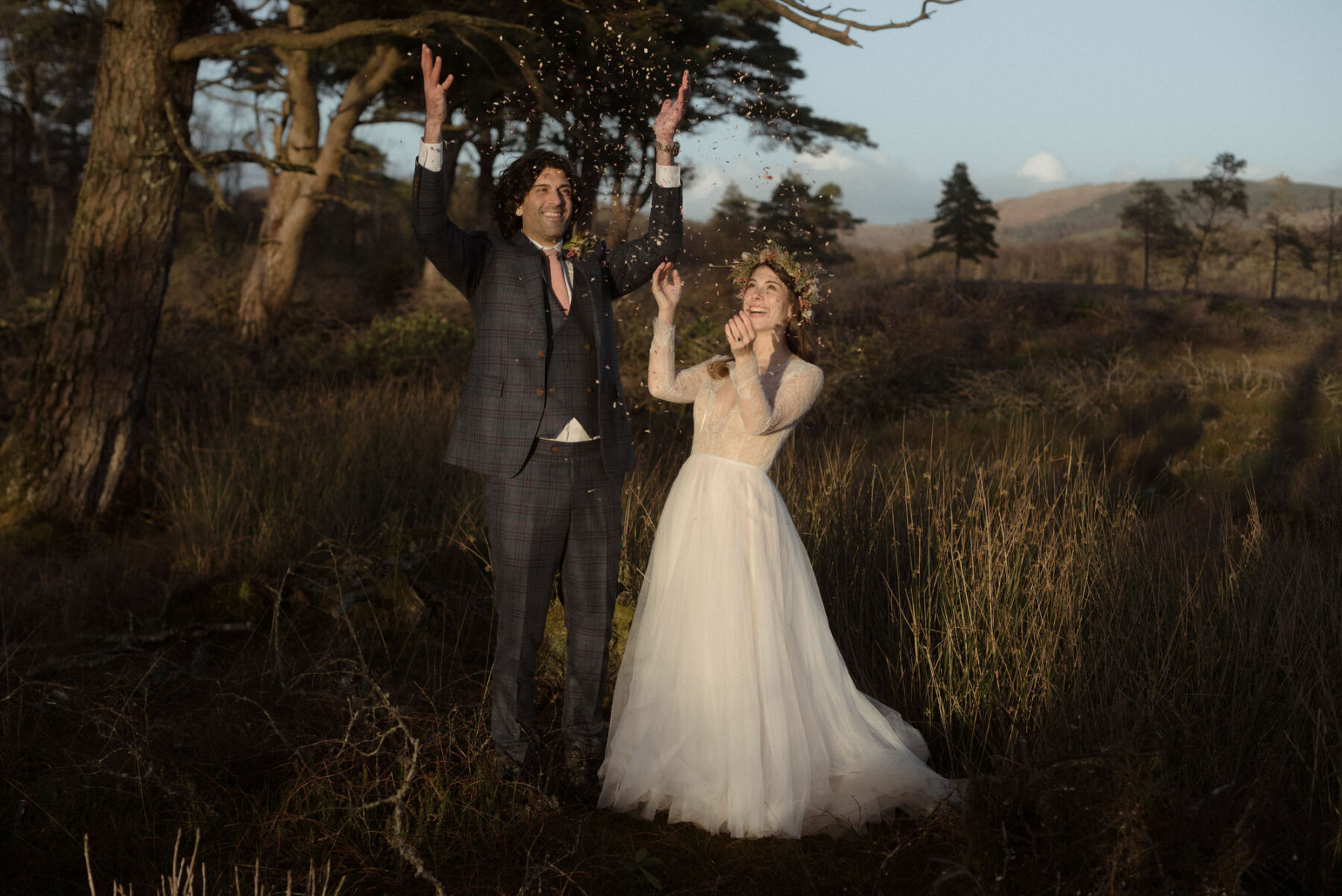 We chose to elope so that we could focus our attention on each other and the most pure expression of our love for one another, without catering those feelings or how we chose to express them to an audience. Regardless of how you get married, make sure to set apart time to reflect (both individually and collectively) on your love for one another and what it means to you in the absence of all other people. While the day may be about joining families, it is first and foremost about you and your partner's love for one another. Let that feeling overtake you on your day and don't hold it back.
We didn't really have a budget as this was all part of one large vacation but we tried to be practical about what was actually necessary for a small elopement (i.e., we didn't need unnecessary décor or a giant catered meal). But we ultimately didn't want to cut corners where it mattered. To the extent we had a budget, we would have exceeded it, haha. But no regrets honestly.