As I was preparing this particular wedding feature, I kept finding a beaming smile creeping all the way across my face. What a happy and joyous day this is, two people totally relaxed and having fun on their wedding day! I simply love that they had their dog (looking very smart I hasten to add) at their wedding. Woof!
This is the wedding of Laura and Tim, who tied the knot on 1 September 2012 with a ceremony at The Council House, followed by a drinks reception at The Band Stand at Nottingham Castle, and later an evening reception at Clawson Lodge.
"Tim and I were actually in the same year at secondary school, but didn't
meet until a few years later through mutual friends. We finally got
together at a New Years Eve fancy dress party – long after midnight! Tim asked me to marry him one night in our new house and gave me a vintage
1950s diamond and ruby engagement ring shaped in a figure of 8 – the
number of years we had been together.  The ring fitted perfectly despite
him having no idea what my ring size was (lucky or what!) We were
engaged for 12 months before getting married.
I love some aspects of 1950s
styling, especially the dresses! But mainly we wanted a relaxed,
homemade feel to the day. The main feature colours we had were yellow and purple – just because they are my favourite colours!"
Love My Dress Wedding Blog – Photography Copyright (c) 2013, Lifeline Photography
"My dress was designed and made at Frock in Nottingham.  It was based on one of their own designs but
was adapted to what I wanted. Esther, the lady that owns it is really
lovely and helpful and made the experience really enjoyable.  I knew I wanted a short 1950s
style dress and decided on a lace overlay after seeing a sample in the
shop. Whilst looking for inspiration, I tried on a 1950s style long silk
ballgown dress in a bridal shop and found a sample online for a third
of the pric – and bought it!
I was considering wearing it for the
ceremony but decided a few days before that it was too big and heavy – I
wanted to feel more comfortable! I was so happy with my choice on the
day – I felt just like myself. 
I had ordered a birdcage veil but decided a couple of days before not to wear it as it felt too fussy."
"We made bunting and bought some paper pom poms and lanterns
and decorated dozens of jam jars and put tea-lights in them. We also put
solar fairy lights in all the trees outside and set up a children's play
area with a tent, toys and dressing up box (which ended up on the
adults by the end of the night!)"

"I wore purple  Vivienne Westwood Skyscraper shoes for the day, purple sparkly shoes from Debenhams for the 'first dance', and purple ballet pumps for dancing!"
"My best friends mum, Margaret van Oudheusden is a talented
flower arranger and floristry tutor and she very kindly arranged all my
flowers for me, incorporating the wedding colours and including some of
my favourite flowers; Alstroemeria, Lisianthus and lillies."

"Tim's mum, Jan Simpson has, luckily for us, a cake and craft making business; Adelaide's Handbag. 
She produced an amazing 3 tier cake with 3 of our favourite flavours in
it, complete with fantastic lifelike toppers of Tim (and his guitar), myself and our dog! It was a definite highlight of the day."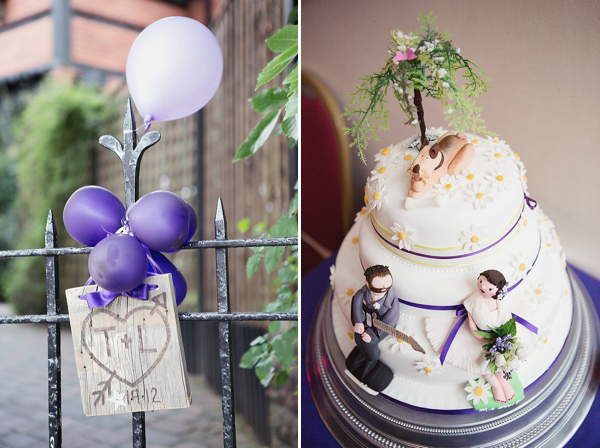 "Our wedding photographer was Hannah at Lifeline Photography.
We met Hannah at the local wedding fair also and I knew instantly she
was the photographer for us – her photographs are phenomenal and she has a
personality to match. A number of our guests have told us they are the
best wedding photographs they've seen, and I might be biased, but I
totally agree with them!"
"All the jewellery that I wore previously belonged to both my
grandmothers and I wore a silver and amber bracelet that was sentimental
to me as it was bought for me by my dad before he passed away."
"My mum walked me down the aisle as my dad died 10 years previously.
It made a potentially sad moment into a lovely one.  We walked in to
'Hard Drive' by Evan Dando – a song that reminds Tim & I of when we
first got together and we can't listen to it without getting emotional!"
"The vintage engagement ring was bought from Trinity Goldsmiths
Jewellers in Nottingham and they also made a gold wedding band to fit
around the unusual shaped ring.  Tim
decided not to wear a ring but for the ceremony we bought him a £10
one, which he then proceeded to nearly lose it several times (the exact
reason why he won't wear one!)."
"We
wrote our vows ourselves as we wanted them to mean something just to
us. My favourite bit in the vows was where we said that we hoped all the
people present would support us in keeping to our vows because they
were the people who were most special to us and who we trusted most.
We
had two readings. The first was an excerpt from When Harry met Sally,
written by Nora Ephron. My brother, Nick read this and decided to use
props to make it totally unforgettable!"
'I love that
you get cold when it's 71 degrees out. I love that it takes you an hour
and a half to order a sandwich. I love that you get a little crinkle
above your nose when you're looking at me like I'm nuts. I love that
after I spend the day with you, I can still smell your perfume on my
clothes. And I love that you are the last person I want to talk to
before I go to sleep at night. And it's not because I'm lonely, and it's
not because it's New Year's Eve. I came here tonight because when you
realize you want to spend the rest of your life with somebody, you want
the rest of your life to start as soon as possible.'
"Our
second reading was lyrics to the Talking Heads song 'This could be the
place'. Tim's sister, Hannah read this and did such a great job…Tim
& I became very emotional!"
'Home is where I want to be
Pick me up and turn me around
I feel numb, burn with a weak heart
Guess I must be having fun
The less we say about it the better
Make it up as we go along
Feet on the ground, head in the sky
It's okay, I know nothing's wrong, nothing
I got plenty of time
You got light in your eyes
And you're standing here beside me
I love the passing of time
Never for money, always for love
Cover up and say goodnight, say goodnight
Home, is where I want to be
But I guess I'm already there
I come home, she lifted up her wings
I guess that this must be the place
I can't tell one from the other
I find you, or you find me?
There was a time before we were born
If someone asks, this is where I'll be, where I'll be
We drift in and out
Sing into my mouth
Out of all those kinds of people
You got a face with a view
I'm just an animal looking for a home
And share the same space for a minute or two
And you love me till my heart stops
Love me till I'm dead
Eyes that light up
Eyes look through you
Cover up the blank spots
Hit me on the head.'
"We designed all the stationery ourselves!  We were particularly
pleased with the invites which we made to look like a 1950s comic
strip, and we included a person-specific vintage comic book with each
invite!"
"Tim's mum and I made jam with fruit from our gardens for people to take home and sweetie shop bags of sweets for the kids."
"We had a Fish & chip van come and serve delicious fish & chips…it went down a storm!"
"Tim & I chose 'Willow tree' by Jamaican artist, Alton Ellis to
dance to. We both love the sentiment of this song 'cry not for me my
willow tree, for I have found the love I've searched for' and Alton
Ellis was one of the first gigs we went to together…happy memories!"
Words of Wedded Wisdom…
"I'm not
crazy about being the centre of attention and normally before any event
I would be very nervous, but on the day I Just kept on thinking about
who was waiting for me and I felt totally calm.
Get the venue ready as early as possible so that you can have a relaxing evening (not still decorating at 11.30pm….oops!)"
See what I mean? A totally fun and relaxed day – huge congratulations to you Laura and Tim – you're the second couple to feature on Love My Dress today who is approaching their first wedding anniversary! Have a beautiful time celebrating won't you 🙂
Thank you so much to Lifeline Photography for sharing these photographs.
Now if you don't mind, I need a sunshine break! Where's the Pimms?
With much love,
Annabel
Photographer – Lifeline Photography
Venues – The Council House + The Band Stand at Nottingham Castle + Clawson Lodge
Wedding Dress – Frock, Nottingham
Hair comb – Exclusive Wedding Design
Brides' shoes – Vivienne Westwood
Bride's accessories – Heirloom pieces
Groom's Suit – Topman
Bridesmaids Dresses    Purple satin 'Bombshell' dress made to measure by Frock + Debenhams Shoes
Flowergirl Dresses – BHS
Cake – Adelaide's Handbag
Transport – Routemaster via Exclusive Cars
Pompoms – Paper Poms
Make up – Claire Elizabeth
Hair stylist – Ruby Room