I do have a mild obsession with heels. Don't most ladies? I hesitate to guess how many pairs I own, but suffice to say, it's rather a lot, but I'm firmly of the belief you can never own too many pairs. I'm fascinated by the craftsmanship behind creating a pair of elegant heels too, which is why I'm drawn to designers like Freya Rose.
Award winning London based Freya Rose specialises in the
design and creation of bridal shoes in Duchess Ivory Silk and bespoke
embellishments.  I've had my eye on these pretties for some time now and so I was quite excited to learn a couple of weeks ago that designer Freya has teamed up with one of my favourite accessories designers, Lila Accessories, to create a small exclusive
range of couture shoe clips for the Freya Rose clientele.
And I'm a
little bit in love with them…
Freya met Sofia of Lila Accessories at the The Designer Wedding Show 2012, where they both
expressed their appreciation for each others work. With both designers
having a strong appreciation for intricate handcraft, a wonderful collaboration
developed and after a lengthy design process, these three stunning shoe clips
arrived and immediately captivated the Freya Rose Team.
Made from clay (yes, clay!), these beautiful shoe
clips are a true piece of art, a sculpture created by Sofia's own fair hands to decorate your
shoes. Lila Accessories combines traditional artistry with sophisticated design and her reputation for producing some of the finest and most beautiful handcrafted flowers has risen rapidly in recent times.  After we featured Lila Accessories on Love My Dress, designer Claire Pettibone personally got in touch with designer Sofia to snap up her designs for her flagship boutique in America – amazing!
Freya Rose offers many couture and bespoke services, and is heavily
inspired by her informed background in fine jewellery. Always providing
excellent customer service, every design and delicate detail is
handmade. Freya's passion for art and traditional techniques drives her
passion for beautiful things.
Freya says 'At first sight Lila's designs blew me away. She is a
true artesian and her designs are so unique. I am honoured to be
collaborating with Lila. The shoe clips we have created together are
exquisite, the detailing of the flowers are so lifelike and it's a real
credit to her skill. They are the ultimate luxury.'
Designer Sofia of Lila Accessories says 'I am thrilled to have the opportunity to collaborate with Freya Rose.
The craftsmanship of her shoes is impeccable. They are so beautiful and
the detail is incredible. I was truly inspired by the elegant lines and
exquisite design detail in Freya's designs and couldn't have wished for
finer shoes to develop my floral arrangements on.'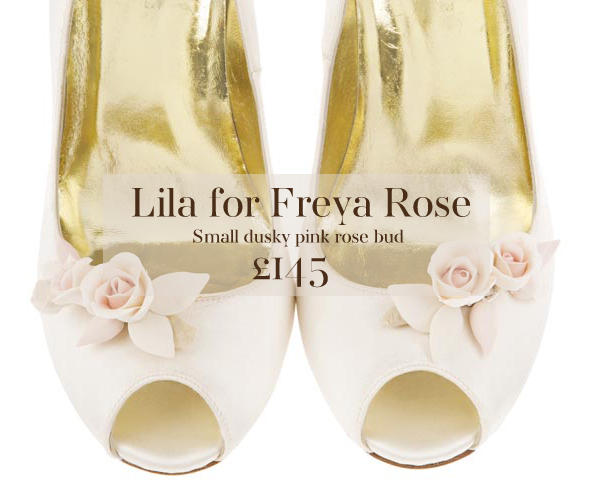 Oh how wonderful to be slipping you feet in to these golden, floral slippers on your wedding day – imagine the joy my friends!
If you love these shoes as much as I and would like to enquire about where your nearest stockist may be,  please visit the Freya Rose website, email [email protected] or telephone 0845 371 44 66 // 0207 354 84 24 for further information. 
With much love,
Annabel