It's a beautiful Friday morning and we're welcoming back Vicki and Michelle from Pocketful of Dreams today to share with you another dose of gorgeous wedding inspiration.  Over to you ladies…
Here at Pocketful of Dreams we are embracing the sunshine at the minute; there really is nothing quite like it to lift the spirits and it has certainly got our creative juices flowing.  Today therefore we are bringing you a styling guide and set of inspiration boards that would be perfect for a Summer wedding – either at home or abroad.  Inspired by the beauty of calm oceans and never ending horizons, full of tranquility and potential, we bring you Crossing The Ocean…

Image Credits: 1. Ana Montiel  2. Wedding Chicks  3. Fashion Saveur 4. Style Me Pretty  5. Nomoco 6. The Vintaquarian 7. The Lane
Drawing inspiration from still seas and the gorgeous colours found in coastlines around the world, this look is less about the beach and more about the ocean itself and the stunning textures and colours found within the sea.  Forget nautical stripes or retro seaside chic, today we're looking at how you can create a stunning day which is the epitome of pared back, natural elegance.
To create our look, we're using a stunning colour palette of seafoam green, dusky aqua and soft amethyst against a backdrop of sugar white.  The palette is delicate yet impactful and hints of coppery and iridescent tones add a sense of luxe to proceedings and echo current design trends.
Stick to natural materials which could be found on the shoreline: smooth sea glass and quirkily shaped driftwood will look stunning paired with iridescent fish scale patterns and whitewashed wood surfaces.
You may be dreaming of a wedding on the Florida Keys or the Californian coast about now but we think this concept would equally well in the UK; search out stunning coastline venues with a blank canvas feel or neutral colour base to work with.  Places like Crear (see all Crear weddings on Love My Dress here) on the west coast of Scotland or The Gallivant in East Sussex would lend themselves perfectly to this look.
The end result?  Current yet timeless.  Nature inspired yet entirely elegant.  A soft look for a tranquil and serene wedding day vibe.

Image Credits: 1. Wedding Chicks 2. Emilio Pucci 3. Net-a-Porter 4. Monica Vinader 5. Mara Hoffman
Our Crossing The Ocean bride is elegant but wants something non-fussy and low-key to suit her tranquil day.  Look for a gown in a simple cut for a sophisticated silhouette and why not wear a delicately coloured dress?  This Emilio Pucci number would be just perfect.  The one-shoulder dress with to the knee slit is the epitome of understated elegance, made in a gorgeous lightweight stretch-silk just perfect for a hot, Summer's day.  But what we love most about the dress is the soft aqua hue which gives it a beautiful twist on a classic wedding dress and suits our design perfectly.  For the ultimate in oceanic chic, go barefoot down the aisle to your man.
Wear hair swept up to ensure you stay looking pristine and elegant for those shots down on the beach and keep make up light with a cheeky twist, perhaps say a swoosh of aqua eye liner.  Accompany your look with a stunning manicure of ocean waves nail art and of course, we do love a flower crown here at Pocketful of Dreams but how about a crown made of shells?  Keep the crown low and ideally stick to all white shells to keep it looking classy.
You've saved a fortune by not buying fancy shoes, so you can afford to go all out with the jewellery and accessories!  Look for high impact yet delicately constructed pieces with semi precious gemstones in aqua or milky white tones.  Bold drop earrings would be the perfect accompaniment to your up do and to set off that one-shoulder dress, proudly wear this gold-plated sterling silver cuff on the opposite wrist.  Designed by Spanish jeweller Monica Vinader, it has a stunning hammered effect for a serene yet luxe look.  And in case you were wondering, that stunning stone is an aqua chalcedony…a guaranteed head turner!  
Dress your maids in something cool yet sophisticated to accompany you down the aisle.  Opt for something non-traditional in shape and in contrasting tones to your dress to avoid looking too matching.  We love this georgette dress from Mara Hoffman, the feather print adds an interesting twist whilst the unusual cut keeps it looking current yet relaxed.  And don't forget to arm your maids with the ultimate beach accessory: a stunning white parasol to keep you and your ladies cool throughout the day.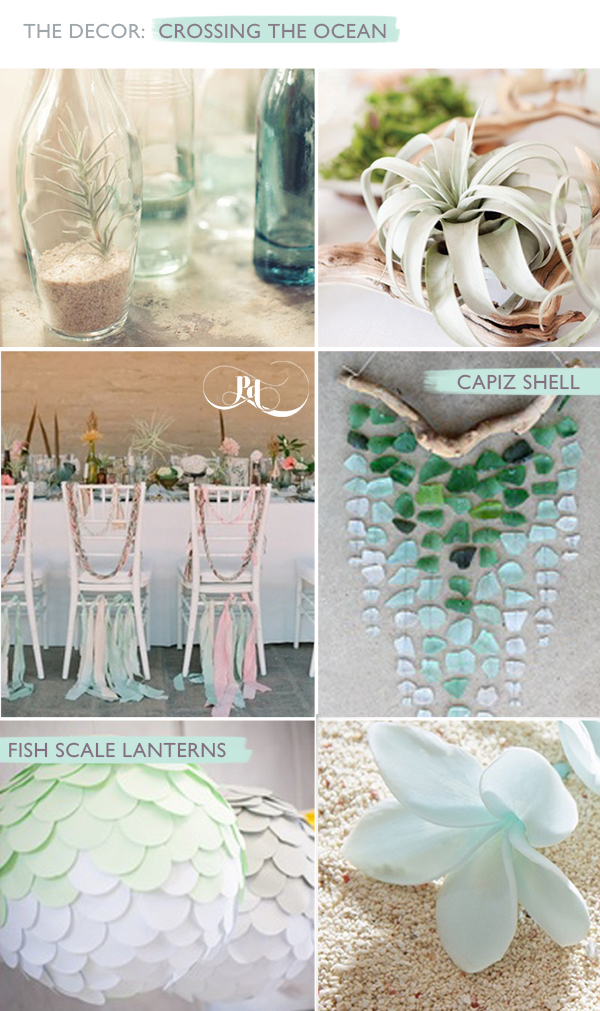 Image Credits: 1. Style Files 2. Minnesota Bride 3. Style and the Bride 4. Popsugar 5. Amarelo Ouro 6. Sheshell
When it comes to flowers, we want to maintain our serene vibe, so avoid anything too vibrant or showy.  Opting for a few colours such as white and lilac blooms will look beautiful in tonal bouquets, tied with twine.  Beyond the bouquets, look to create floral design set ups with installations of delicate blooms presented alongside driftwood pieces, oyster shells and fabulously textural tillandsia airplants which can be either positioned atop your driftwood or hanging in mini terrariums.  Tillandsia can be expensive, so use these as fabulous accent points which you can keep in your home after the wedding.  Glass bottles will also add a beautiful touch to tables and sideboards; group them together at different heights and perhaps fill some with sand and tiny airplants for added interest.
If you are lucky enough to be able to have your ceremony on the beach itself, look at creating a simple but beautiful canopy under which to exchange your vows with Balearic style bench seating for your guests, complete with piles of white and aqua hued cushions.  And what about creating a mini wooden shoe check for your guests so that they can enjoy your ceremony with the feel of warm sand between their toes?
For your wedding breakfast meanwhile, keep furniture simple and understated; we don't want the look to become too rustic so opt for white washed tables and chairs with simple white linens.  Perhaps even perspex ghost chairs for a slicker look.  You can then add colour and character through the decorative elements, such as stunning ribbon chairbacks and garlands in shades of seafoam, aqua and dusky pink and tealights presented in white and iridescent shells.
Serve food in stunning blue hued ceramic tableware and search out delicately coloured water glasses to add interest and depth to your set up.  Shell placemats and fabric napkins featuring a subtle fish scale or abstract coral pattern would add the perfect finishing touches.
Go all out with hanging decor and look to use natural materials or incorporate patterns found in the ocean.  Capiz shell for example is a truly stunning material and can be readily sourced to craft light fittings or garlands which will shimmer and catch the light beautifully.  For your evening celebrations, why not create a feature backdrop with overlapping paper circles in a soft metallic tone for a fish scale wall.  Or we love these fish scale lanterns which you can easily create yourself by attaching overlapping circles to standard round paper lanterns.  Or for something less dramatic, consider hunting down watercolour prints of jellyfish and other interesting ocean-dwellers to hang in your reception room.
Image Credits: 1. HWTM 2. Weddingomania 3. Perfect Wedding Day 4. Noel Barnhurst 5. Bubble and Sweet
If weather permits, hold your drinks reception on the beach, where chargrilled and skewered seafood would make for perfect canapés.  Set up your own bar on the sand with reclaimed wood atop wooden barrels and serve your very own signature cocktail, the Seafoam Sangria which would look just stunning served in martini glasses perhaps with a dusky purple flower to garnish.  And don't forget a cooling non-alcoholic alternative such as homemade lemonade, served in hi-ball glasses with seafoam striped straws.
Look to the sea for fresh and flavoursome ingredients for your wedding feast and create something that all your guests will remember with an oyster bar.  Set up food stations to present your beautiful shellfish and let guests select from a variety of different dressings.  Serve with bubbly and rustic breads for ultimate understated luxury.
Choose a classic white tiered wedding cake decorated with a stunning fish scale pattern in delicate shades of seafoam and aqua, perhaps with a hint of gold or copper to add a luxe finish.  And in case your guests want something else sweet to enjoy as the evening celebrations get underway, why not serve these fabulous looking mermaid cookie pops?  These are fun and quirky but you could serve a range of ocean inspired cookies which are guaranteed to be a crowd pleaser.
Image Credits: 1. Colin Cowie 2. Natural Is Beautiful 3 & 5. Wedding Chicks 4. Bandit 6. Celebrate Events
Unless you are lucky enough to already live by the coast, it stands to reason that most people will have to travel to your ocean location even if you're staying in the UK so ensure your guests feel spoiled before your wedding day has even started with personalised welcome bags awaiting their arrival.  Crammed full of little treats, bottles of water, a map of the area or perhaps local delicacies, this thoughtful gesture is guaranteed to get your wedding off to the best possible start.
The ocean has been the inspiration for this wedding day look, but think also how you can incorporate the sea into the ceremony itself.  The Hawaiian wedding tradition of casting flowers into the ocean is a beautiful one and would make for a truly heartfelt and special moment.
Incorporate quirky and personalised signage into your day, either to serve a practical purpose or purely for stylistic reasons.  Handpainted wooden signs would work well or we love the idea of painting a surfboard with your favourite quotes from poetry, a song or a novel.
Opt for a beautiful bespoke paper suite in premium, heavy stock and delicate seafoam and aqua colours.   A hint of metallic perhaps through exquisite foil printing of a personalised monogram would certainly up the sophistication.  Present on-the-day stationery thoughtfully, in glass bottles or nestled in giant clam shells filled with sand to really bring the oceanic inspiration to life.
Sea glass pebbles would make gorgeous favours for your guests; pile the smooth stones up at each place setting during your wedding breakfast, to have them double up as a cute little touch for your tables.
Our Crossing The Ocean design is a great option for couples who are looking to create a pared back yet truly elegant look for their wedding day; perfect for both an overseas beach ceremony or a UK wedding.  If you've fallen for this look, then make sure you pop by our Crossing The Ocean Pinterest board for even more inspiration.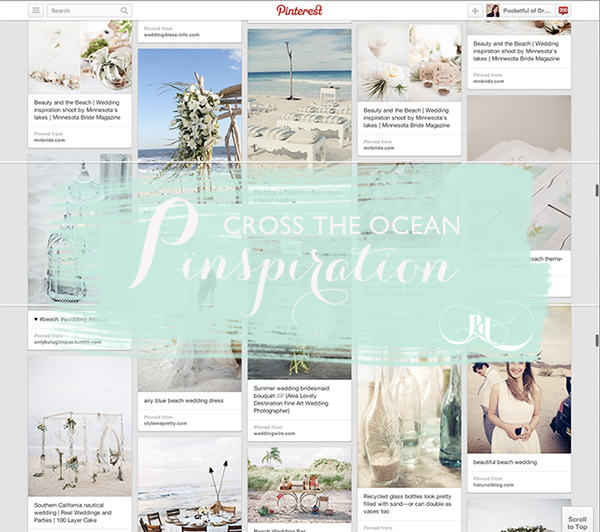 Do let us know what you think in the comments box below and if there are any colours, concepts or ideas that you'd like to see us incorporate into an upcoming inspiration board we'd love to hear from you!
Michelle & Vicki xx
Creative Event Designers at Pocketful of Dreams