You know one of the most popular bridal wear designers by far to have
ever featured on these pages is Jenny Packham. Unsurprisingly, I guess,
seeing as Ms Packham's so perfectly reflect that 'glamorous, gorgeous
and vintage inspired' aesthetic we so love here at Love My Dress.  I
wore a Jenny Packham gown for my wedding back in March 2009 and I love
seeing how other brides work the Jenny look.
Emanuela and Steven tied the knot on Friday 26 April at their local village church in Aspley Guise, followed by a reception at The Woburn Sculpture Gallery. Emanuela looked ever the radiant bride in her 'Willow' wedding dress by Jenny Packham.
"On a trip back home one day, I arranged a day with my mom and my two
sisters to try on wedding dresses. I knew I didn't want a big, shiny,
white, traditional wedding dress but I have always had a love affair
with sequin and shiny beads – after all, I did dance competitively in
gloriously flashy costumes on stage for more than ten years in my younger
days!"

Love My Dress Wedding Blog – Photography Copyright (c) 2013, Moments Captured
Photography
"I found out about British
designers Jenny Packham, Claire Pettibone and Alice Temperley through
wedding blogs like Love My Dress and fell in love with their incredible and unique bridal
collections. To me their dresses ooze the soft subtle features that I
was looking for.  When I saw Willow on the Jenny Packham
Website, it was love at first sight, so I sought out this
specific design in a boutique near
my hometown in Canada, so that my mom could see the dress that I knew
would be the one.
My appointment at the Powder boutique was the last of the three I
had arranged for the day. The first thing I asked was whether or not she had Willow –
she said yes and I think I squealed! My sisters and my mom also picked
out a few other Jenny Packham dresses for me to try on, but Willow was
the first one. It was THE one as soon as I walked out and saw the look
on their faces,  and then I cried when I saw myself in the mirror. It
was perfect and I placed my order right then and there!"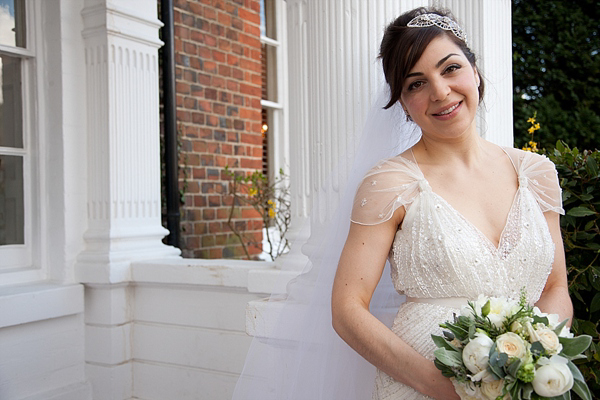 "I wore a pair of vintage Ralph Lauren shoes…."
"Steven and I met at work. He moved from Bristol to take up a new
position at our company about six months before I moved from Canada to
work there.  We become friendly with one another almost immediately, and
often spent time together outside of work with others who were also
recently hired and new to the area.  From the start, we shared a common
interest in football and he took me to my first premier league match at
Chelsea so that I could catch a glimpse of one of my favourite footballers at
the time even though he's been a Liverpool fan all his life.  We both
insisted it wasn't a date but in hindsight, I think it probably was! We
were a couple ever since he surprise kissed me at my house warming
party back in 2006 and for nearly five years before he proposed.
The proposal too place in Trafalgar Square, as we sat perched up one of
the enormous concrete lions looking at the famous Norwegian Christmas
tree.  We were engaged
for nearly sixteen months – it sounds like a long time, but with the Olympics
and the Jubilee happening in 2012, we thought we would be better off
waiting till 2013. We also needed to give my family, who would be
travelling from either, Canada, USA or Italy, enough time to plan their
holidays with our wedding in mind."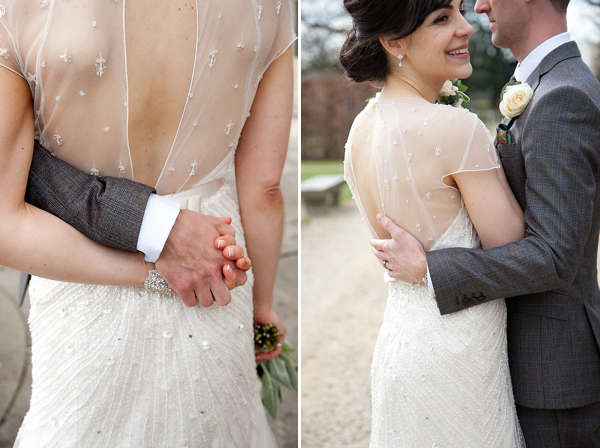 "The biggest contribution Steven and I made to the décor of the
wedding venue was the addition of the two large vintage metal travelling
trunks that our florist used as part of the showstopper top table
floral arrangement. The trunks were a gift from our families and bought
online from Scaramanga Shop. 
Our florist was The Flower Boutique in Woburn Sands.  Donata's
style and passion for flowers and natural beauty oozes from her work.
She has her own little shop in Woburn Sands which has the best window
decorations and arrangements. I would say her style is rooted in all
things antique, natural and delicate. It has that rustic vintage feel to
it, her flowers are a mix of authentic green vines and leafy stems,
soft herbs, unique succulents and gorgeous florals.  And she accents it
all with hearty wood, brushed ceramic and antique metal accents.
When
I walk into her shop, the smell of lavender and rose is all embracing,
and it reminds me of my grandma's garden. I don't particularly like
stiff, organized, symmetric flower arrangements and wanted our guests to
feel like they were walking into a garden at the reception.  So I asked
Donata to fill the Woburn Sculpture Gallery with all of her gorgeous
pieces in her shop! And wow she did. I loved how each one of the centre
pieces on the tables was uniquely arranged and the showstopping piece at
the front of our top table was so organic and cascading. Simply
stunning, and not to forget the mix of candles and brass
candlesticks, bunches of fresh cut flower in glass jars and potted herbs
that lined the archway of the Henry Holland entrance! Exquisitely done.

"She
also kept the flowers at the church very natural by sticking to
delicate white flowers and plenty of ivy and green garland.   I
didn't have a strong preference in the flowers that she chose for the
venue and church arrangements, just asking for the colours to keep to a
white and green palette, with touches of purple.
As for my boutique, it
was kept natural with white and green arrangement of soft peonies and
delicate lilly of valley to mix with the strength of roses – my
favourite. The rest of the boutique was tied with green foliage and ivy
as well as rosemary and lavender herbs."  
"None of my bridesmaids live in the UK.  Each of the five is either a
family member or close childhood friend of mine who live in Canada, but
they don't all live in one city either! The Dessy Group has such a
great selection of dresses are stocked everywhere! All I had to do was
pick a colour, a few fabrics, the length of the dress, and I let the
girls decide what they wanted to wear. It was important me that each
found a dress that they picked themselves and felt comfortable wearing.
And of course felt beautiful in!"
"Each bridesmaid ended up in a unique style of
dress complemented their own style. The length was important to me,
though. They had to be short, because I wanted their fabulous shoes to
be on show.
The bridesmaids
boutiques were made up of mainly of white roses and herbs, but each had
a bunch of their favourite flower put into theirs as well."
"I had a fun shoe rule for the girls! They could wear what ever style of dress shoe
they wanted, but the colour of their shoes could not be black!
Because
it was a spring wedding and the colour of the dresses was fairly
neutral, I wanted them to pick a fab pair of shoes that really show off
their personalities and complemented their dresses. Wow – did they ever
do a great job! The girls wore purple, teal, fushia, mint, and coral
shoes and they looked so glam!" 
"In terms of how we apporached styling our wedding, well, we were both inspired by our wedding venue, The Woburn Sculpture Gallery. I think the Gallery, in all
its richness, still feels like a country house that invites you to enjoy
its natural surroundings. 
I've also always had a love for all things
vintage and antique. My engagement ring is about 100 years old and my
wedding band has been passed down to me – it was once my husband's
grandmother's. I love how things that are old have a story, even if I
don't know what that is, I do often daydream of possibilities. I
enjoy seeking out special vintage pieces, jewellery, furniture,
clothing, fabrics, paintings, pottery, etc., particularly of art deco
and art nouveau design."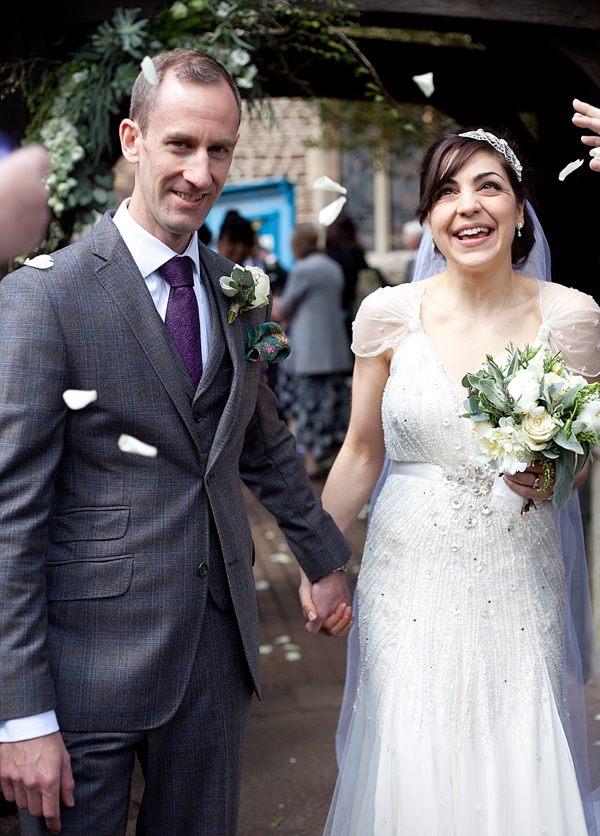 "I will also say that there were
two or three images I found soon after we got engaged and started
planning the wedding that influenced our wedding style, particularly my
wedding dress, our wedding colours, the bridesmaids dresses and our
wedding flowers."
"Claudine and Tash from Moments Captured
Photography were our fabuloso wedding photographers!  Claudine
is incredibly warm and patient! Both her and Tash were a delight to
work with throughout the day.  Steven and I are two people who don't
normally like being in front of the camera lens, but they made us feel
completely as ease! Their photos captured the very essence of our day –
romantic, natural and relaxed. 
Not only are the photos of us
incredible, but their photos of our guests enjoying our special day is a
truly lovely gift of captured moments we will cherish always. Also, and
I love love love this about their work especially, their pictures
perfectly showcased the little details at our wedding that reflect both
mine and Steven's personalities.  We will be forever grateful to them
for providing us with a huge set of snaps that help us keep our memories
from fading. 
We would recommend Moments Captured
Photography to anyone who is looking for a photographer that takes the
time to get to know you and how to best capture your own uniqueness." 

"Both our wedding venues are local to us and we wanted to include
as much of the local businesses and communities as we could. We love
the grandeur, the gorgeous wall of arched windows and stone architecture
of Woburn Sculpture Gallery – it really caught our eye, and we knew it
would be a place that neither of our families would have expected. When
you walk into the Gallery it feels like a special place, perfect for a
wedding. 
We enjoyed planning all of it ourselves with the help of the lovely staff at Woburn Sculpture Gallery! 
Emma and her team were incredible and I can't thank them enough. Also,
the members of staff at Moore Place in Aspley Guise were so incredibly
welcoming in terms of organizing all of the accommodation for our family
and friends to stay, but also made their stay so delightful and
welcoming."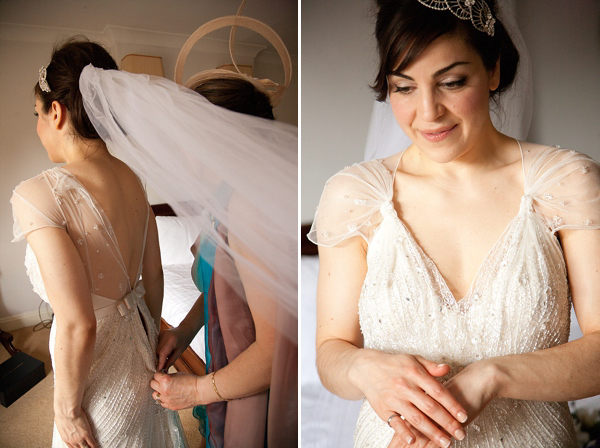 "My Art Deco Inspired Beaded Headdress was designed and made by Lucie Green at Lucie Green Couture Bridal Boutique. Lucie
also fitted my mom's 35 year old wedding veil onto a comb for me to
wear, because my mom's was originally on a lace cap."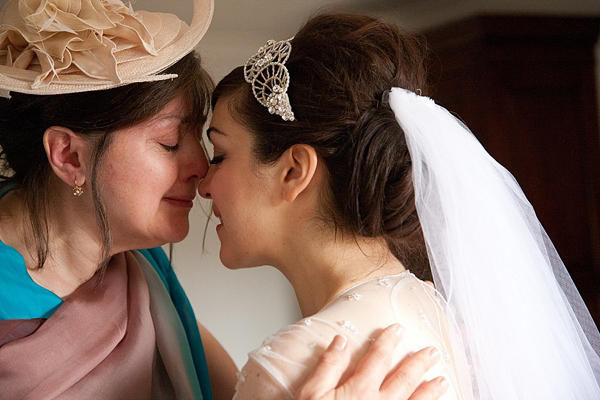 "The rhinestone crystal earrings I wore were my 'something borrowed' from a friend of mine. 
The rhinestone lace cuff was a gift from my sister, my maid of honour, who surprised me with it on the morning of my wedding."
"My sister-in-law gave me a really good bit of
advice, right before we left for the church. She said, the best way to
keep calm is to just keep your eyes on Steven when you walk up that
aisle. She was so very right – I had my eyes locked, but only after
getting through that first spectacular moment, when I entered the church
to see all of our family and friends faces gloriously beaming at me as I
took my first steps."
"My father walked me down the aisle.  I've always loved Pacabel's
Canon in D major, ever since I was little when I was a little ballerina!
It is so beautifully soft and it sounds gorgeous played on the church's
pipe organ."
"Unmistakenly, my favourite moment of the day is walking into the
church on my dad's arm and the intensity of those moments walking down
the aisle through all of our guests, smiling so brightly, and wishing
for Steven to turn around. When he did, my heart leapt."
"Our vows were traditional Christian vows. But I did enjoy choosing the hymns and the readings.  When
it came to readings, our theme was love and I was pleased that we could
include my favourite poem, 'I carry your heart' by E.E Cummings. It is
such a wonderful poem about love in its purest form… just total
consideration and devotion to a partner."
"We had a pretty unusual first dance track. Not many people knew of it. It is called Luna by Smashing Pumpkins. Steven
and I have fairly different tastes in music and there are only a few
bands whose CDs are part of both of our music collections. The choice of
'Luna' as our song was so easy to make because The Pumpkins are one of
those bands. AND it's all about love and being in love."
"The cake was mainly left up to the groom to choose! He loved the flavour of the wedding cakes made by Shelly of Cakes By Shelly in Leighton Buzzard.  Neither
of us are big fans of the traditional tiered wedding cake. We are also
not a fan of the smooth fondant icing look. Steven was keen to have a
chocolate wedding cake until he was inspired by the wide selection of
Shelly's cake flavours. Steven is a huge favourite of his mum's classic
Victoria sponge. Honestly, he just loves cake. So we decided to choose 7
sponge cakes all different in flavour and decoration. Shelly put them
on display at the top of the dance floor at The Gallery on the morning
of the wedding. Then triangular slices of cake were to be served as
dessert randomly amongst the guests. Each guest was encouraged to swap
and trade with one another should they fancy something different to what
they had been served.
Our cake toppers
were Wallace (off of Wallace and Gromit fame) and his lovely girlfriend
Lady Tottington. Years ago Steven worked as a model-maker on the Curse
of the Were-Rabbit and so it seemed fitting, besides we secretly love
Wallace and Gromit and so do Steven's parents."
Words of Wedded Wisdom…
"I think the best thing you could
do as a bride is be open to the possibilities of things not going
strictly as planned. Organizing and hosting a wedding is no small feat
and sometimes even good things can come out of going through with Plan B
or letting someone else take care of it on the day. On your day, please
forget about the planning and enjoy the moments with your new
husband/wife and your family and friends. They are all together to
celebrate in your happiness and that is a wonderful thing.
Also,
if you can schedule extra events or gatherings outside of the wedding
day to enjoy the time with those who have come from far away to enjoy
your wedding. It may be the only time to get both of your families
together for a family meal or possible the only time you will have the
most important women in your life together – so get to the spa, get your
nails done, go
for tea with all of the special ladies who have inspired you.  OH, and don't forget to eat!! You choose the
wedding breakfast to suit your tastes and for your guests to enjoy, so
take some time to sit down and enjoy it, savour it and remember it.  I
think that was the time, when I was able to look across the room at all
the tables and take in the joy of having all of our loved ones gathered
with us on our special day. Besides, it is such a long day – you will
need the energy!"
"I
love reading about real weddings on Love My Dress, and still even after our special day
love hearing other brides talk about their day or even newly engaged
friends talking about their plans.  Love My Dress does that so well – it
tells a bride's story so very well. I think our wedding has been
inspired by so many of the real wedding features here, and not necessarily directly
in terms of the choices made, but reading your features helped us to
pull out bits of our personalities and add them to the themes
surrounding all of the events that were part of making our wedding day
so special. 
Love My Dress helps you think in a more open minded way as to how to plan your wedding.  It even reminded me of silly things like how much I love balloons! I always have and love how we got to play around with
them during our secret time away from our guests.  Even the romantic
idea of stopping traffic in our local village to catch a moment to enjoy
a kiss was definitely inspired by photos I've seen of real
people at their weddings on Love My Dress. 
Love My Dress just oozes romance, love and it nurtures a
couple's creative spirit.  I'll not only recommend it to all my newly
engaged friends and family members, but undoubtedly indulge in it for
many years after our wedding day!"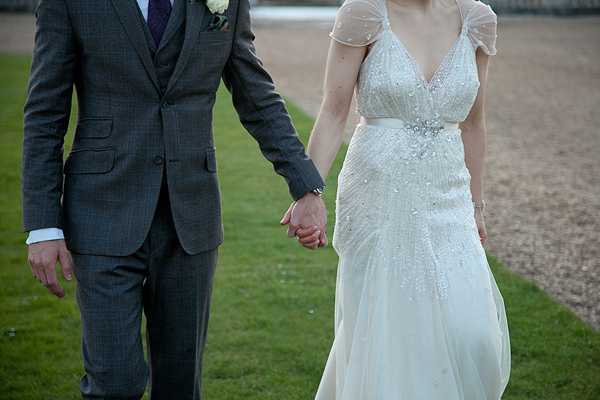 "I think the only thing that we
would have done differently is the timing and organization of the family
portraits. We arranged to have the family portraits whilst the guests
were enjoying cocktails and canapes at the Gallery. It was chilly
outside at the time when we had arranged to have them done, and we had
the difficult task of getting family and friends outside to take the
formal shots.
I wish we would have gone inside earlier to take the rest
of the photos and not forced the situation of taking group photos out on
the terrace in the cold, because I think the strain shows on the faces
of everyone in the photos. So my advice would be always have a Plan B
and be OK with using it!
Lastly, it doesn't matter how long you are engaged
for once you're married it will seem like it past by in a flash. So
enjoy using the word 'fiance' to describe your partner whilst being
engaged. It seems silly at first and it may take a while for it to roll
off the tongue effortlessly, but trust me you only have so long before
you can't say it anymore!"
I absolutely love it when a bride takes so much time and effort to share so much information with our readers – thank you from the bottom of my heart Emanuela 😉
If you love the style of this photography, readers, you can look up Moments Captured
Photography for your own wedding day.
In the meantime, I'd love to hear from those of you who appreciate Jenny Packham style.
With much love,
Annabel
Photographer – Moments Captured
Photography
Venue + Catering – The Woburn Sculpture Gallery
Dress Designer – Willow by Jenny Packham via Powder in Woodbridge, Ontario, Canada
Veil/Headpiece - Art Deco inspired beaded headdress by Lucie Green + Mum's 35 year old wedding veil
Brides' shoes – vintage Ralph Lauren
Groom – Ted Baker  suit + Thomas Pink shirt + Oliver Sweeny Oxford Brogues
Bridesmaids – Dessy Group
Florist - The Flower Boutique in Woburn Sands
Cake – Cakes By Shelly
Transport – Marshalls Coaches + Super Car Experiences
Entertainment – Concept Events in Bedford (dance floor lighting/speakers + children's garden games)
Makeup Artist – Niki Lawrence