Good morning beautiful!  Greetings on this second day of the week – that one step closer to the weekend. Not that we're counting over here, because we have a week full of really very lovely blog posts ahead for your delectation, so whatever you're up to today, sit back, take a sip on your tea and enjoy this real wedding that was sent in by photographer Jen Owens.
Sarah Jane and Iain tied the knot on 13th April this year at Canongate Kirk, followed by a reception at Thomas Morton Hall and the Leith Theatre in Edinburgh.  We love a Scottish wedding here at Love My Dress and especially when they feature a dress as pretty as this one.
This is a sweet wedding and I love the essence of Ms Hepburn that is peppered throughout (that dress an veil, that elegant up-do).  In case you weren't aware, we're rather huge fans of Audrey Hepurn style here at Love My Dress.  On this occasion, it was designer Rowan Joy (who we've been seeing a lot of on these blog pages lately) who was responsible for creating this gorgeous twirly number.

Love My Dress Wedding Blog – Photography Copyright (c) 2013, Jen Owens Images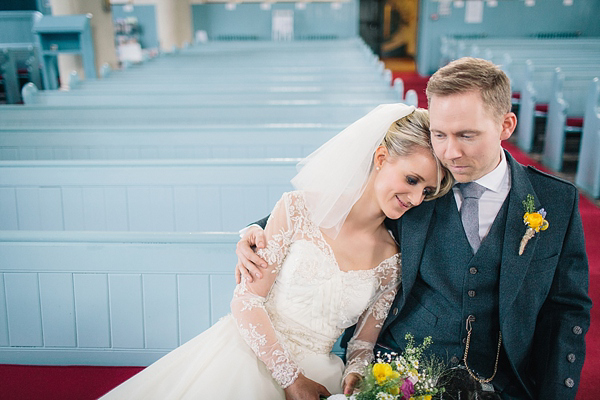 "I wanted a dress that I could dance and have fun in so really
liked the idea of a tea length style dress – I'd always loved Audrey
Hepburn's wedding dress in Funny Face. I went to a couple of bridal
shops but didn't see anything I thought was really me so a friend
recommended designer Rowan Joy. 
When I met Rowan,
we chatted about my ideas and I tried on some of her sample styles
before we decided to adapt her Chloe dress to have a full tea length
skirt with long sleeves. I also asked Rowan to finish the dress off with
pearl buttons to match my engagement ring.  I just loved the lace, the big full skirt and the way that you could see my shoes beneath the skirt!
I also asked Rowan to make me a short veil 50's style veil to go with the dress."
"After searching high and low in shops and online I came across these in a sale at Faith in Debenhams and found my shoes!   I loved that they were so simple and that they had a sort of vintage feel that matched my dress."
"Iain and I met in the Ivy Bar on Argyle Street in Glasgow over
tequila verdita shots and who would have guessed it,got engaged in the
Boboli Gardens in Florence a year and a half later in July 2012, where we chose my pearl engagement ring!
We got my engagement ring in Florence. Margaret A King
designed and made me a beautiful yellow gold and diamond wedding band
to match my engagement ring – she advised what would look best. She also
supplied Iain's yellow gold wedding band."
"We chose to hold our ceremony in Canongate Kirk and have our reception inside the Thomas Morton Hall at Leith Theatre.  We love the architecture of both venues so we wanted to be quite minimal in term of styling the spaces. 
We had a bit of fun with a theatre theme at Leith Theatre; incorporating
popcorn at the drinks reception, theatre posters, programmes and ticket
place names.
We designed and made the invitations and order of service, but our good friend Alex of Rollmo Design designed the table plans, programmes, posters, place names and menus that we used our venue – all inspired by the Leith Theatre itself."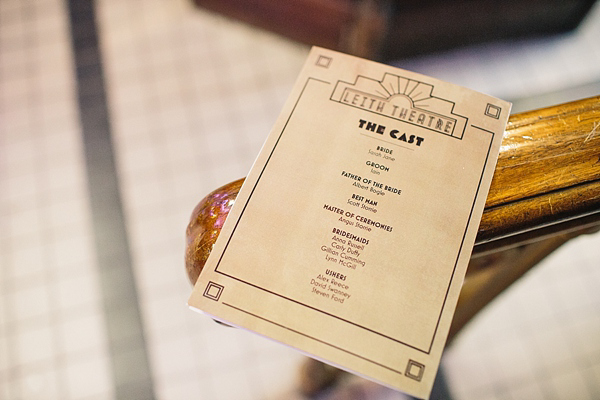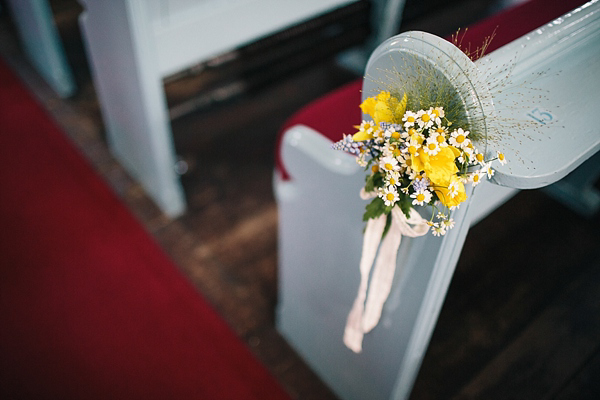 " Rose and Ammi were our chosen Florist.  Flowers
were one of the first things that I thought about when planning the
wedding. Because we were getting married in April I was keen to have
bright spring flowers with daffodils.  Daffodils were
important to me as they were my grandmother's favourite flowers. I
didn't want anything that looked too manicured.
The fresh colours of the spring flowers tied everything together."
"Originally I wanted the bridesmaids to wear completely
different dresses in spring colours that were in their own style – I
planned that the colours could all be tied together with the flowers but
my bridesmaids were not convinced! I just wanted them to look like
themselves on our wedding day as they all have quite different styles.
I saw another group of bridesmaids trying these dresses on from Debut at Debenhams and
thought that they looked really elegant and quite sophisticated so
suggested them to my bridesmaids and was delighted that they all loved
them too!
I liked that the royal blue set off the spring flowers
perfectly!"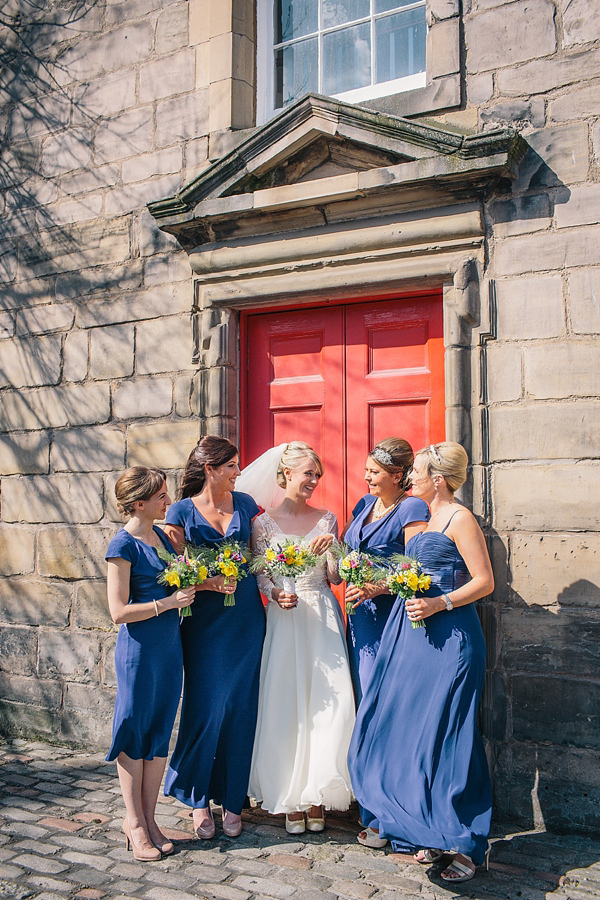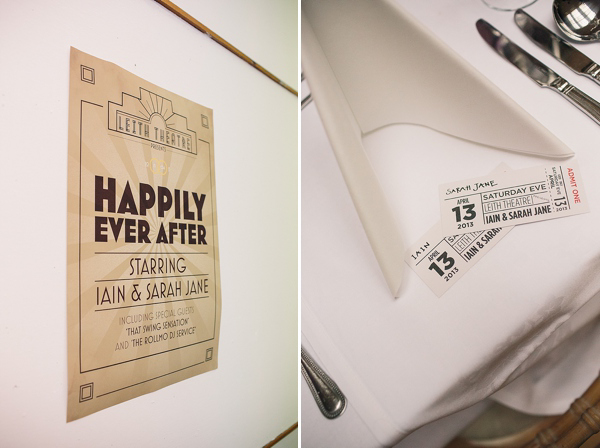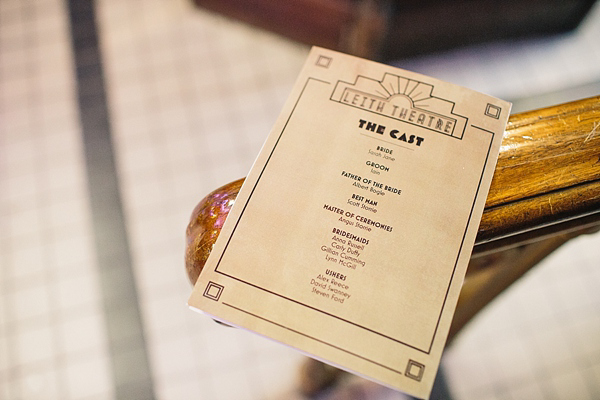 "We love the architecture of Leith Theatre so didn't want to do too much to detract from it.   We
had our drinks reception in the theatre lobby which has the original
decorative timber ticket booths – we got Alex our friend who owns Rollmo Design to design theatre style
posters to go in them.  
The
dinner and dancing was held in the Thomas Morton Hall, just off the
theatre lobby, it is top lit with a barrel vaulted ceiling and large
stage. The space leant itself to long tables which we decorated with
small cut glass vases of flowers and vintage glass and silver candle
sticks. 
A lighting designer installed a selection of up-lighters in both spaces and a star curtain on the stage.  We also hired vintage champagne saucers."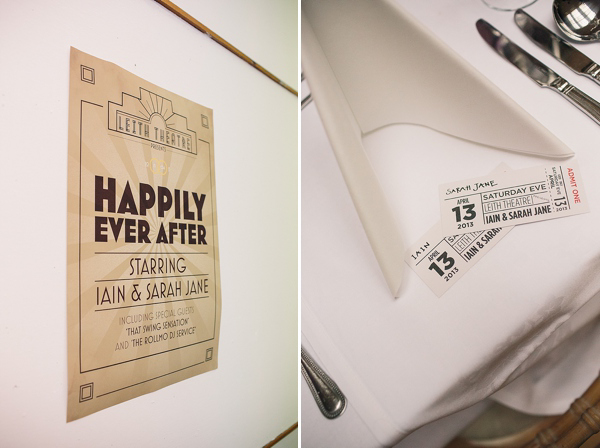 "My god daughter Logan was my flower girl – we had a fun shopping trip where Logan picked this dress from Monsoon herself, like me, she too was concerned about how good the dress was to dance in!"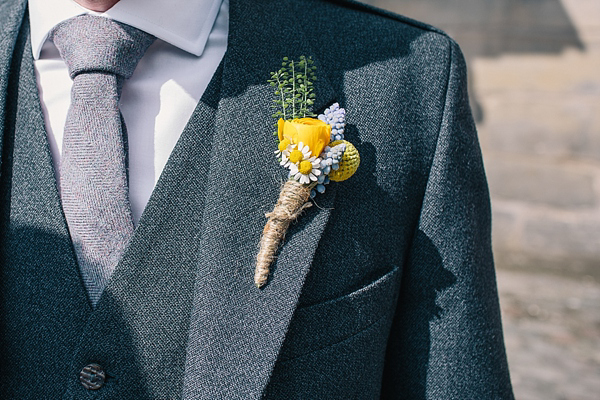 "We stamped brown paper bags using Stamps Direct and
put sweeties in them  – the kind of sweeties that we used to love
getting when we were young! We then closed them with little heart
stickers."
"Our photographer for the day was Jen Owens
and we really can't recommend her highly enough.  From our first
meeting with Jen she was so engaging and friendly! On the day she just
fitted right in with our friends and family and was a joy to have
around. We absolutely love the photos that she took – they are a
fantastic record of such a happy day!
My good friend Lindsey Parker of Mack Photography joined us at my parent's house in the morning and took some photos too!"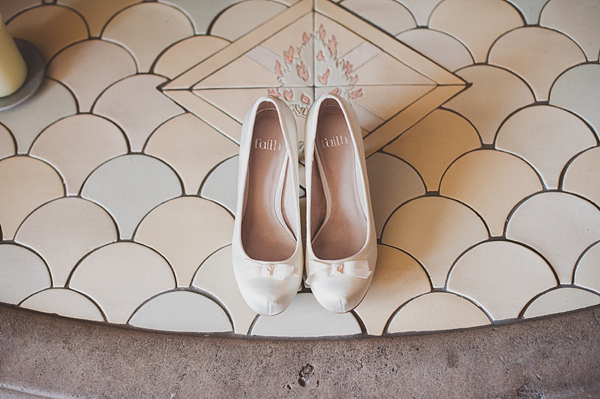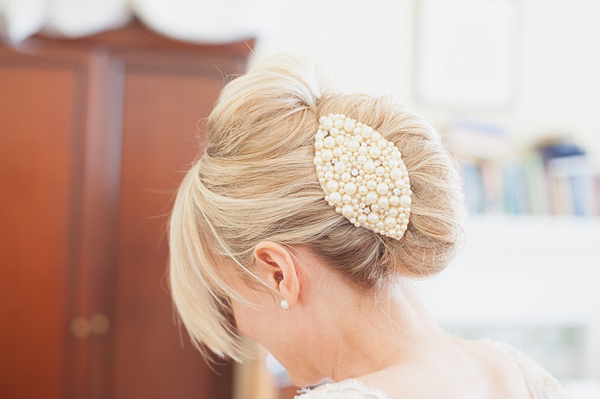 "I decided that I would like to wear my hair in
an Audrey Hepburn style French roll and that I'd like something pearl to
slide into the side, again I searched high and low but ended up
adapting an old hair band accessory, and it was perfect. 
I
decided not to wear a necklace as I thought the lace of the dress was
detailed enough and the sleeves of the dress were too long for a
bracelet so the only jewellery I wore were Tiffany pearl earings that
Iain had given me for my 30th birthday."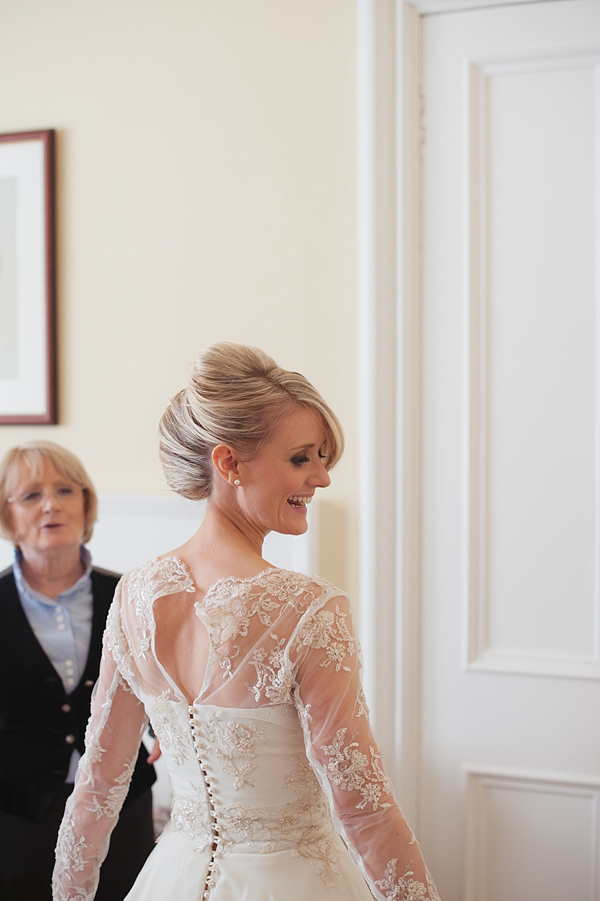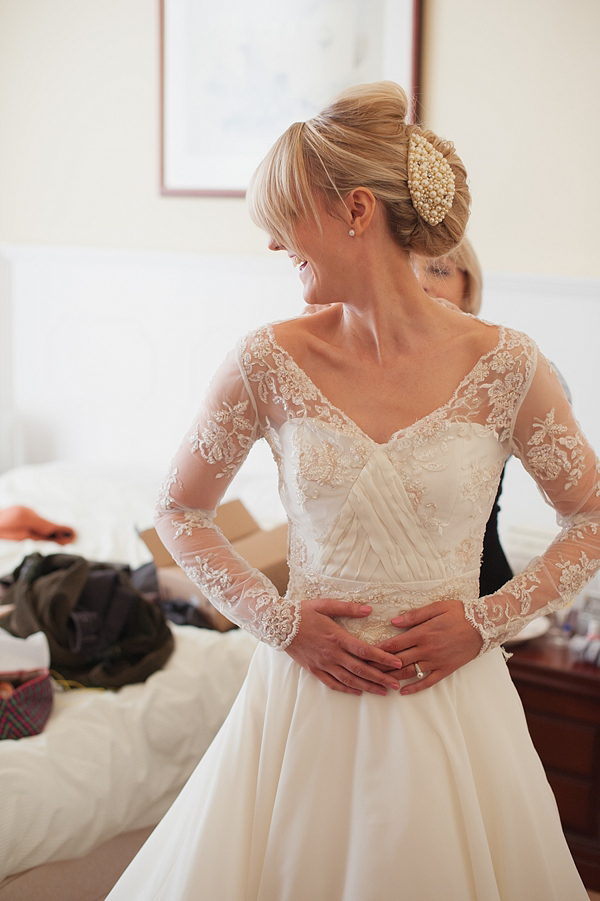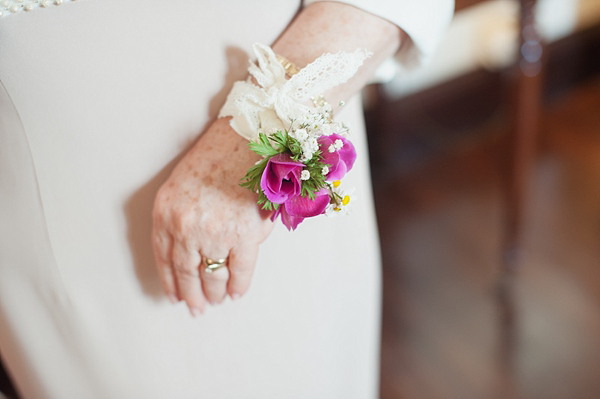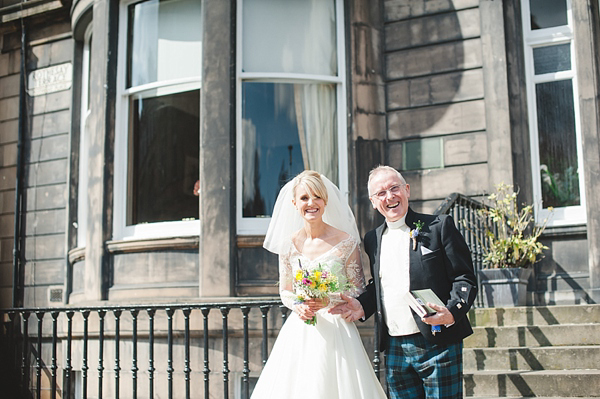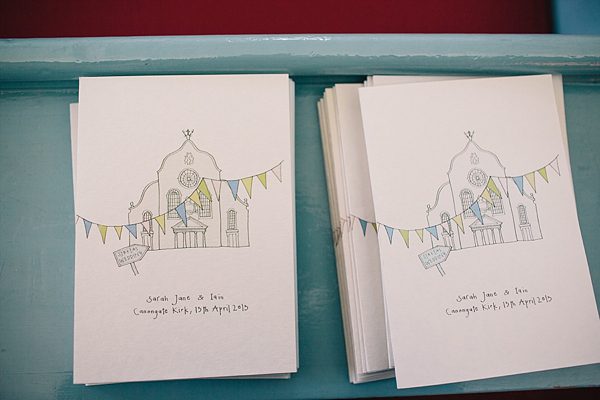 "Iain wore the kilt he got as a gift on his 21st birthday.  Everything else including his shirt and tie and all the groomsmens suits was from Anta."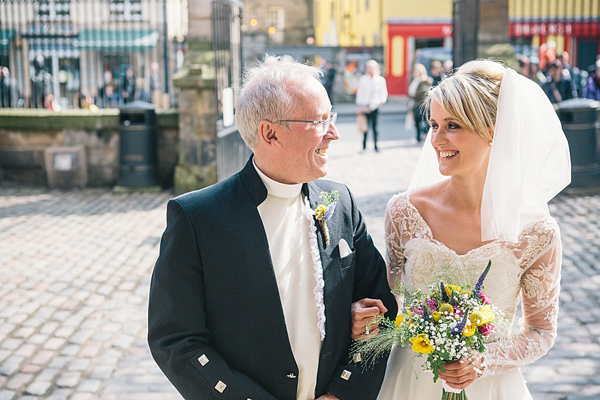 "We didn't tailor our vows from traditional church of Scotland ceremony.  Our reading was 1 Corinithians (the Scottish version), as we both think it's a beautiful description of love and particularly enjoy the verse – 'love keeps nae nic stick' in this version."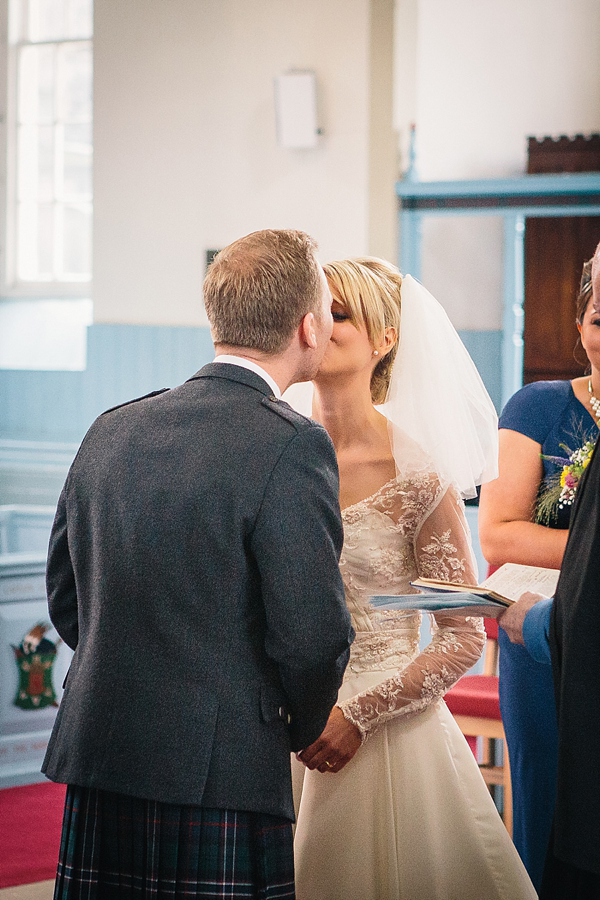 "We loved every minute of the day but the bit that stands out for me was when we were leaving the church – my brother's band (We See Lights)
plus Erica, who had been playing at the ceremony, surprised us by
playing their own version of 'All You Need Is Love'! It sounded amazing
and was particularly special as my parents walked down the aisle to the
same song! It was so happy!"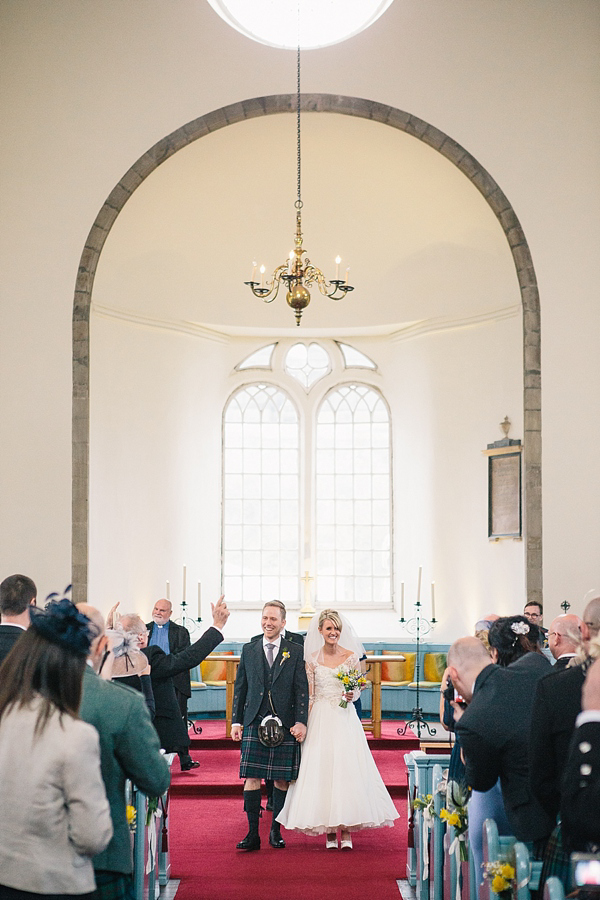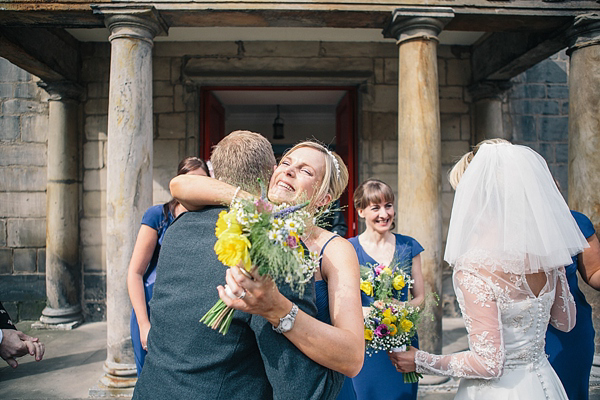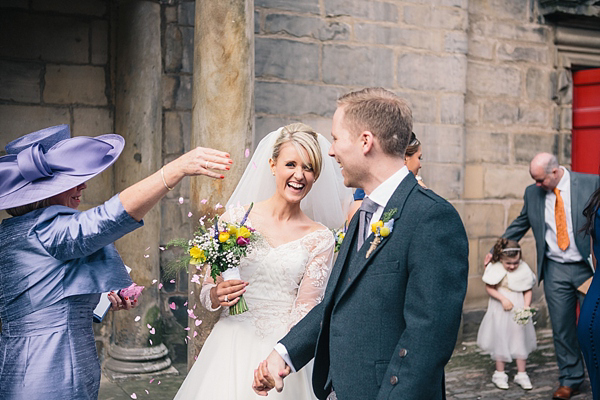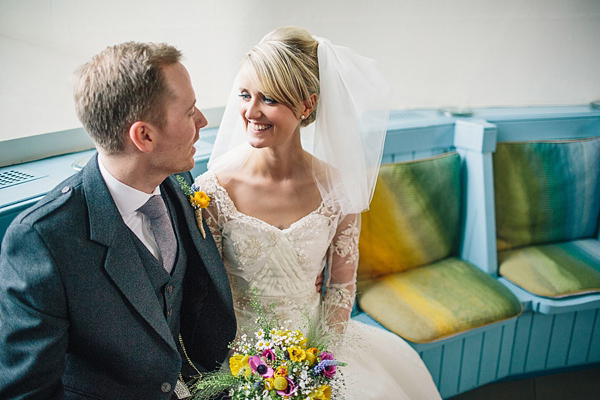 "Our caterers were Butterflies Café – a great family run business.  We
changed our caterer 3 months before the wedding as the original caterer
had pushed their own ideas on us and were resistant to anything out
with their standard package. We also lost confidence in them when they
didn't reply to queries and when they made comments about other brides
in correspondence to us!  Butterflies on the other hand gave us
good advice but listened to how we wanted the day to be – can't
recommend them highly enough!"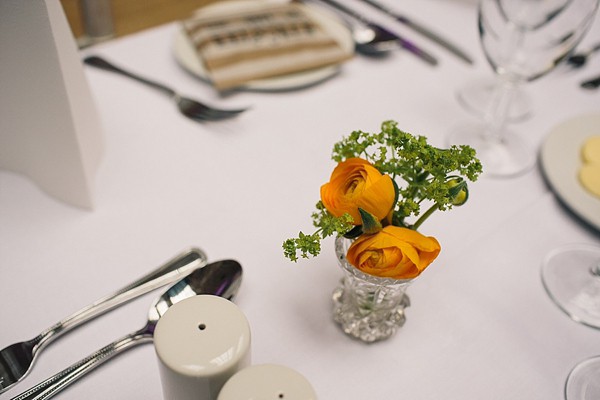 "We had a cheese cake provided by   Mellis.  We
selected the cheese from Mellis and our caterer put it together and
decorated it. We got bride and groom mice from House of Mouse."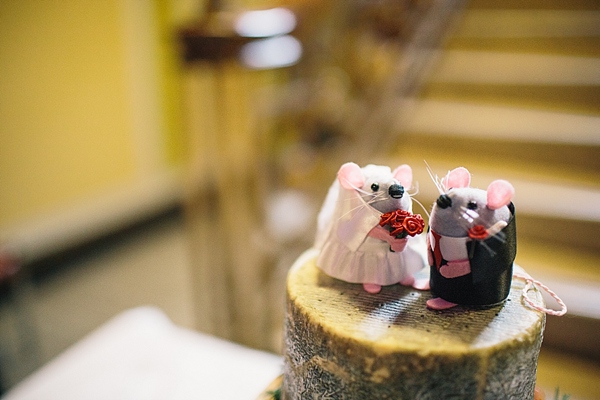 Words of Wedded Wisdom… 
Have fun and do what you want to do not what you think you should!  We also discovered quite a few of our suppliers from Love My
Dress.
Neither of us would do anything differently – we were really happy
that we had kept control and done everything ourselves, just the way we
wanted it!"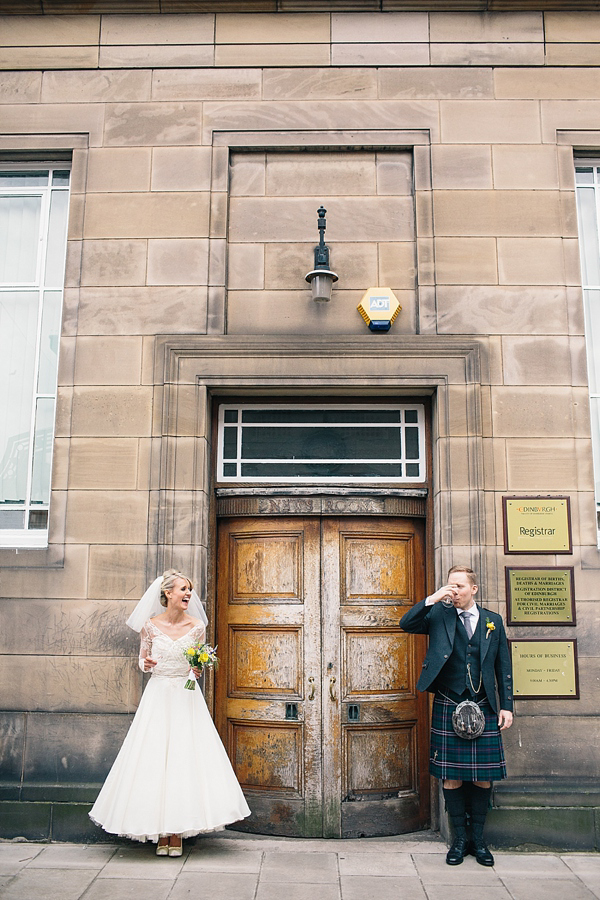 You can see more theatre and Audrey Hepburn inspired weddings here.  Are you an Audrey Hepburn inspired bride, or are you going for a sweet, fun an twirly dress like Sarah-Jane? We'd love to hear from you dear readers. Have a good morning, we'll be back at noon with something for all you brides looking for a wedding favour suggestion.
Much love,
Annabel

Photographer – Jen Owens Images
Venue – Canongate Kirk + Thomas Morton Hall, Leith Theatre, Edinburgh
Brides Dress + Veil – Rowan Joy, Edinburgh
Brides Shoes – Faith at Debenhams
Grooms Extras/Accessories – Kilt + Anta + Pocket watch
Bridesmaids Dresses – Debut at Debenhams
Flowergirl Dresses -  Monsoon
Florist - Rose and Ammi
Cake – Mellis + mouse topper by House of Mouse
Favours – Stamped paper bags with sweets, using  Stamps Direct + Peach Blossom
Entertainment – Entertainment – That Swing Sensation
Decor – The Green Cockatoo + Blue Parrot
Catering Company - Butterflies Café
Rings – Margaret A King