'There's something therapeutic, almost hypnotic about writing in
calligraphy. Every letter stroke has to be done slowly and carefully,
and watching the ink flow as I write is always lovely. I have favourite
letters – the descender (loopy bit) on a y can be so playful and swirly.
A capital S or F in Spencerian script is a piece of art in itself… and
every name or word has a character and life of its own.'
All Calligraphy Images on this page, by Calligraphy for Weddings
As a child I was obsessed with my handwriting. I spent hours practicing with a fountain pen, carefully shaping the words and adding creative flourishes to my letters. I was desperate to master a delicious swirling script and to one day have my penmanship described as 'elegant'.
I'm not sure I ever achieved my goal, but my love for artful hand lettering has never waned. So, when Claire from Calligraphy for Weddings sent through the images for this feature, I let out a genuine squeal of delight! I mean, did you ever see handwriting so pretty and so perfect?
Originally launched in 2005, Calligraphy for Weddings provides a simple calligraphy
service for invitations and envelope addressing, as well as all the extra bits and pieces creative
couples are looking for in 2013.
Claire now runs a
busy studio and writes calligraphy for hundreds of couples every year. I asked her to explain her craft in a bit more detail…
'Calligraphy is the most beautiful handwriting you can imagine. Calligraphers write with traditional dip pens and metal nibs in all kinds of shapes and sizes. Most calligraphy you will see at weddings these days is written with what we call a pointed pen – a really narrow nib which gives deliciously thin lines and thick swells to letters.'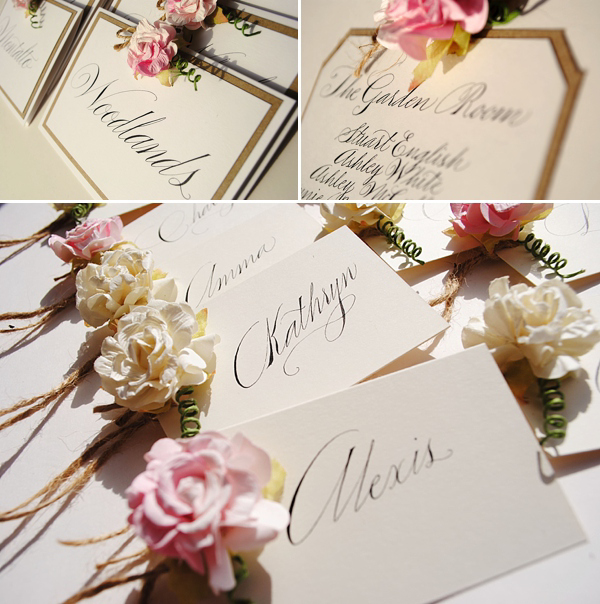 'Couples choose calligraphy to give a more personal touch to their wedding stationery and place settings. Everyone loves to see their names written with love and a bit of a flourish. Place name cards become little treasures when they're beautifully handwritten. Candy buffets with a calligraphy sign look more authentically vintage. Escort card displays with calligraphy can be the most amazing thing to behold. The world is your oyster – anything with names, words or instructions can be made a million times better with calligraphy!'
Annabel and I adore Claire's reimagining of the ingenious Coca-Cola slogan that encourages us to 'share a Coke with friends'. Wouldn't it be fabulous to have something similar to those named bottles
at your wedding? Inspired by Coca-Cola, but with a personal twist and
maybe even a vintage look? Claire could help you create a
gorgeous escort card display with little bottles featuring each of
your guests' names on! They would love it!
 Claire ensures ordering her calligraphy is really simple and affordable.
'Most people have never worked with a calligrapher before but it's an easy process. I offer free samples so couples can see the quality of my calligraphy before they order, either on their own stationery or on my cards or tags.'
'Couples choose a calligraphy style and ink colour, and either buy tags from my online shop or send me their own stationery to write. All I need is an email name list, online payment and delivery address to complete an order for a wedding.'
'Customer service is so important and I'm always happy to answer questions or make suggestions about styles and colours. Something I love most of all about my work is that every order is different. Strange questions and unusual requests are welcomed with open arms and a big smile!'
Claire's prices are clearly listed on the website and in her Etsy shop and she is happy to ship all over the UK and overseas.
'People often expect hiring a calligrapher to be really expensive, but it's not! For example, 50 calligraphy place names will cost from £50. My place name cards and tags with calligraphy start at £1.25 each with the luxury paper rose cards costing £25 for a pack of 10 on Etsy.
Invitation calligraphy is £1.35 and envelope addressing is £2.85 per address. Items like signs and handwritten wedding vows, readings or poems are priced by the word but there's a guide price on my website and I have plans to put some of the most popular readings on Etsy at lower prices so watch out for those!'
Claire is offering all Love My Dress blog readers a 10% discount until the end of September in her Etsy shop.
The discount is available on all orders over £100. To claim, simply
quote code LoveMyDress1 when you place your order for wedding
calligraphy.
As if this isn't generous enough, how would you like to become the proud recipient of an envelope sample? I can only imagine how lovely it must be to receive a beautifully handwritten envelope in the post! Just email [email protected] with a few details and Claire will post a sample envelope to the first 50 couples who get in touch! Please provide the following information:
* both of your names (bride and groom)
* wedding date
* your postal address
* a little about your wedding style: will it be vintage, classic or quirky?
You can find more examples of Claire's striking work on facebook and via her blog. I don't know about you, but I've suddenly got the urge to dust off my fountain pen and start practicing my neatest handwriting! 
Much love,
Franky