Three years ago, I participated in a maternity bridal photshoot that featured on Love My Dress.  Don't ask me what possessed me to do something that 'sounds' so utterly mental, but let me tell you that that day spent in London with good friends and amazing industry suppliers was absolutely wonderful. We laughed until we cried and we were pampered until we looked and felt amazing – and even more proud of our respective baby bumps.  My fellow pregnant models were my friends Tiffany Grant Riley and Vicky Rowe of Vintage Teasets and Clara Bows. We had a blast!
Our photographer, Emily Quinton, was also early pregnant with her 3rd child, and even our makeup artist Sally Riceman was expecting.  You could say there were a fair few buns cooking in the oven on that gloriously warm and sunshiney day in London!
The reason I'm raising this today of course, is because the bride in this morning's real wedding feature is expecting, and personally, I think she looks out of this world beautiful for it.
I adore the whole nature of this wedding – the way the bride talks about her bump and shows it off proudly, the children running around carefree and having fun, those gorgeous florals, the relaxed London pub reception and that dress.  Yes, you can still be a drop-dead beautiful bride with a baby bump my friends!
Photography Copyright (c) 2013, Ross Talling
Andrew and Lucy aka, aB and Lulu, tied the knot on 8 June 2013 with a ceremony at Islington Town Hall, followed by a reception at The Bull and Last Pub in Highgate.  The couple, who live in Berlin, planned most of their wedding via email and Skype…
"It was a bit of an organisational and logistical jigsaw puzzle at times!  We wanted a day that reflected us and that was really personal; a
really laid back, chilled out affair that was fun for all the family and
friends. We wanted to do lots of it ourselves and with the very kind
help of friends and family we were able to so. Both venues already had
their own unique style and with a few touches here and there we just
made them feel a bit more personal."
"My wedding dress and veil were designed by Annalise Harvey.  I was instantly struck by Annie's
website, by the designs that she had made and her whole approach to
dressmaking. When I first initially got in touch with her, I wasn't
actually pregnant and was like many brides planning on losing weight and
having a fitted dress. We spoke over Skype and then started both doing
lots of pinning on Pinterest coming up with ideas, she immediately
understood what I wanted and had a real sense of how to make it work,
whilst adding some beautiful touches.
I then found out I was pregnant
and we had to go back to the drawing board a bit and adjust the design.
Annie was brilliant, she really put me at ease and was so understanding
and accommodating of the ever growing bump. I was very self-conscious
leading up to the wedding, yet Annie really worked wonders and I felt
really comfortable and relaxed on the day."
"We met at a drinks event in Shoreditch, Andrew remembered my name
and found me on Twitter and got in touch to ask me out for dinner. Our
first date was in King's Cross at a lovely restaurant called Konstram,
which is sadly no longer there. We had a reservation for 7.30 but
actually stayed chatting until the restaurant closed – the chefs had
even cleaned the kitchen and were sat waiting for us to leave.  It was
such a magical evening.
We moved in together whilst we were living in
London and then in late 2011 Andrew got a job in Berlin, so I moved out
to be with him at the beginning of 2012. Last May, he whisked me away
for a weekend to Prague where we spent a very romantic few days, we got
engaged whilst there and were engaged for just over a year before we got
married."
"My little sister recommended our florist Jam Jar Flowers
to us as she had a friend who had worked for them. I adore wild flowers
and wanted a real natural look. Everything was done over the phone and
pinterest and Melissa and Joce were fantastic at taking my ideas and
coming up with suggestions."
"Also knowing that
our baby was with us, albeit in my tummy, just added an extra special
feeling to the day."
"We got cabs to the town hall and then rented a big red bus from The London Bus Company to take all of our guests on to the venue."
"We wanted something really personal for everyone as favours, so we
got one of my sister's friends to bake some biscuits and personalise
them with everyone's names so they were not only placenames but a little
favour too. We also had temporary tattoos, bubbles and big glasses on
all the tables as well."
"My little sister Charlie
created all the stationary for us, including the table plan, invites,
decorations and was hugely helpful with helping style the tables and the
general look and feel of the day."
"Our photographer was Ross Talling,
who was truly fantastic! In the run up to the wedding we emailed back
forth with ideas and shared links with him as to what we wanted the
general look and feel to be like. On the day, he was calm and really put
us all at ease and was not intrusive in anyway. He really captured the
mood of the day and we were absolutely over the moon with the results."
"I did my own make-up and my Mum's next door neighbour, Zoe, did our hair."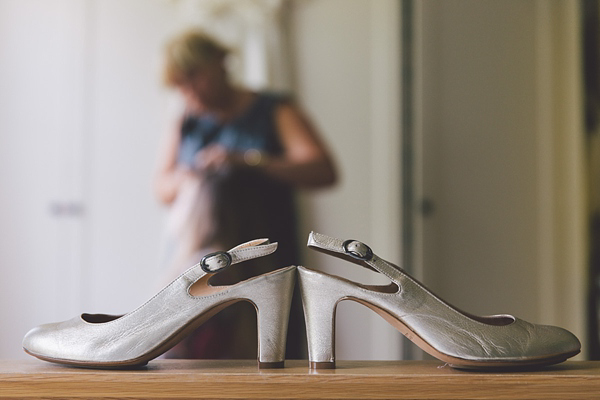 "My father, Jeremy walked me down the aisle to Bach's Cello Suite
No. 1 in G major and then exited to the Beach Boys, Good Vibrations."

"We had two readings starting with Love's Philosophy by Percy Bysshe Shelley;
'The fountains mingle with the river,
And the rivers with the ocean;
The winds of heaven mix forever,
With a sweet emotion;
Nothing in the world is single;
All things by a law divine
In one another's being mingle;–
Why not I with thine?
See! the mountains kiss high heaven,
And the waves clasp one another;
No sister flower would be forgiven,
If it disdained it's brother;
And the sunlight clasps the earth,
And the moonbeams kiss the sea;–
What are all these kissings worth,
If thou kiss not me?'"

"Our second reading was from the story of Fantastic Mr Fox by Roald Dahl;
'I therefore invite you all," Mr Fox went on, 'to stay here with me for ever.'
For
ever!' they cried. 'My goodness! How marvellous!' And Rabbit said to
Mrs Rabbit, 'My dear, just think! We're never going to be shot again in
our lives!'
We will make,' said Mr Fox, 'a little
underground village, with streets and houses on each side – separate
houses for Badgers and Moles and Rabbits and Weasels and Foxes. And
every day I will go shopping for you all. And every day we will eat like
kings.'
The cheering that followed this speech went on for many minutes.'"
"Ab's ring was from Notonthehighstreet.  He
wanted something different and unique so got two rings made with a
quote from the BFG which says 'This is where dreams is beginning, we is
in dream country'.  My ring was from Beaversbrook. 
I wanted something that suited my engagement ring, which is a really
unusual and unique shape, despite never trying my wedding band on before
we bought it, it fitted really well!"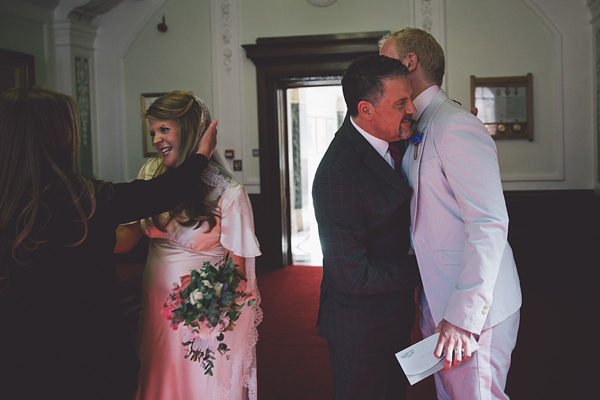 "My Mum, Nicola, made the cake … She is an amazing baker
and we really wanted something chocolately – we both have a bit of a
weakness for it!"
"It's really hard to name one favourite part of the day, I
thoroughly enjoyed all of it. On the morning of the day it was lovely to
spend time with my siblings, my parents and niece and nephew. The car
journey with my Dad to the town hall was also very special – just having
a quiet moment to chat with him before the ceremony.
The moment when I
walked into the room for the ceremony and saw Andrew I did not stop
smiling, just thinking now about how we held hands during the ceremony
and saying our vows to one another makes me teary now.
Words of Wedded Wisdom…
"Arranging everything from another country can seem like a rather
mad idea, especially when pregnant and when planning a house move for
after the wedding, but if you're organised then it can work. I would
say, try not to put too much pressure on yourself just do what you and
your partner want and enjoy the process of planning as it can be great
fun! I spent hours looking online and through research and help from
family and friends you can make it affordable and a really enjoyable
process.
As we now live abroad, it was just so special having
everyone we love there to join us on our day. 
It was a mad trying to do everything over email, Skype and phone
and at times it was quite difficult juggling everything but there really
isn't anything we would have done differently.  In fact, I'd do it all
again.
Finally, I visited Love My Dress on a regular
basis and really love how detailed and personal each post is – there is a
true plethora of information, it's a bit like an aladdin's cave of
weddings!"
Oh what a glorious day, so utterly beautifully captured on camera, I'm in total love with these photographs. Huge thanks to photographer Ross Talling for sharing these heart warming images. 
And of course the biggest congratulations ever to Ab and Lulu.
Are you an expectant bride? What are your thoughts on tieing the knot whilst pregnant? We'd love your feedback below readers!  You can see more pregnant brides on Love My Dress here, as you can London weddings and pub weddings too!
With much love,
Annabel
Photographer – Ross Talling
Venue – Islington Town Hall + The Bull and Last Pub
Brides Dress + Veil – Annalise Harvey
Brides Shoes – Riccardo Cartillone 
Grooms Suit – Vivienne Westwood
Bridesmaids Dresses – French Connection + ASOS+ shoes by   Zara
Flowergirl Dresses – Zara Baby
Page boy outfits – Zara Boy + bowtie from Lumistyle on Etsy (the brides sister)
Florist – Jam Jar Flowers
Cake – family member
Transport – The London Bus Company
Entertainment – Playlist prepared by Tourist (the bride's brother)
Rings – Notonthehighstreet + Beaversbrook
Catering Company – The Bull and Last Pub