Good morning loved ones, did you have a good weekend?  I'm in London today to attend The Perfect Wedding Magazine 2013 awards – cannot wait to catch up with some of my absolute favourite wedding industry suppliers, it's always such a pleasure to spend time with some of the people behind ensuring these pages are furnished with so much pretty.
As normal I'm welcoming a new week with one heck of a gorgeous wedding.  Emma, a web Content Supervisor at Travco, and Tim, Director and Designer at Cult Loves You (check out some of Tim's amazing animated music videos!) tied the knot on 22 June at Hackney Town Hall, followed by a reception at Stour Space, Hackney Wick.
These gorgeous images were shot entirely on film by photographers Taylor and Porter…
Love My Dress, Photography Copyright (c) 2013, Taylor and Porter
Emma told me "I just knew I wanted something different. I could never see us
having a 'normal' wedding. And I don't think our friends and family
could either. I realised I didn't have to follow rules if I didn't want
to, so we basically just went with what we liked and hoped they would
come together, and somehow they did."
"Tim and I met at a gig eight and a half years ago (we both had
dreadlocks at the time!) and got engaged last September. Tim proposed on
a holiday in Sri Lanka.
We were split between a
'wedding in the woods' and something very gritty/urban. I was worried
about the weather and decided the venue should be indoors. We moved to
Hackney 3 years ago and love it, so it seemed like the right choice.
We
both love the Town Hall and Stour Space is somewhere we've discovered whilst living here. It's a social enterprise art gallery in Hackney Wick and is home to the Counter Café – some of the best food in Hackney Wick. It's also directly opposite the Olympic stadium and has huge windows and decking."
"The bridesmaids dresses were all different, I let them choose and the rule was 'neutral' – and the 'shoe rule' was 'bright'."
"The trip on our friends canal boat before we turned up to the
reception was probably our favourite part of the day.  It was just us, Rosie and Greg who own the boat and Louise
and Teo photographing us.
At one point we went past Crate brewery and
everyone there cheered for us. We finished a bottle of champagne and had
time to chill and take it all in."
"Tim designed the invites. We didn't have a table plan, We opted for informal seating."
"My mum made our cake – we asked for turquoise, orange and peacock
feathers. It turned out fantastic. They also bought the tree trunk wedge
to stand it on."
"My dress was by Cristina Adami.  I knew I didn't want a traditional wedding dress. I could never picture this, but I did know I wanted something with a 20's
style. So I searched online a lot and found the dress. It's actually a
sample from Cristina's first collection. She was selling it on Ebay for
£100 so I took a gamble and bought it, luckily it fit.  It was unique,
modern but with a modern-day nod to the 1920's."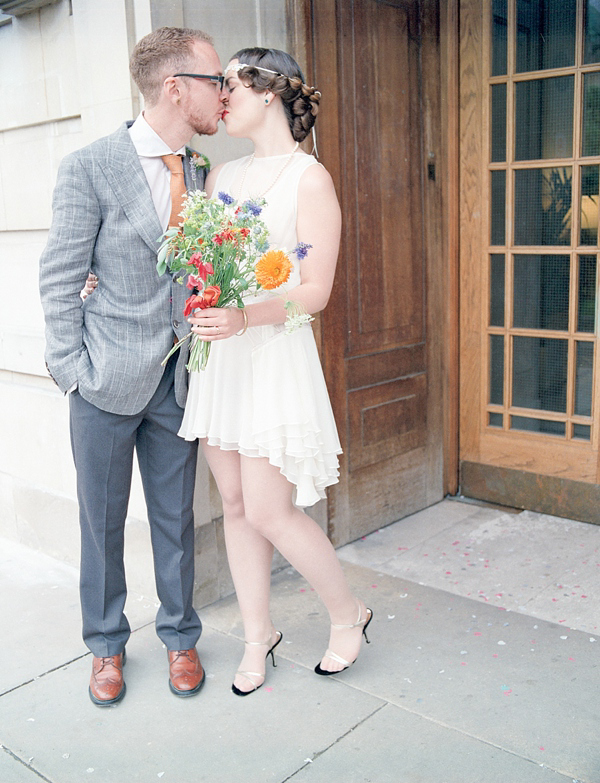 "I bought the headpiece from a seller on Nononthehighstreet.com – the seller is Silver Sixpence In Her Shoe
and it was handmade from vintage lace.  I also wore my grandmother's
pearls and Tim's grandmother's bangle. I wear green onyx plugs in my
ears."
"We hired Rebel Rebel
florists to provide the flowers.  They are located on Broadway Market
so the location was great, they also have some great pics on their site.
We weren't really sure what we wanted to be honest.
But they were very
good at suggesting what might work, we also liked the idea of a few
herbs. When they suggested wildflowers, we just said 'yep you know what
you're doing' It's actually just luck that they worked with the
bridesmaids colours."
"We used lots and lots of festoon lights. Small rustic candle
holders and old fashioned bottles with wild flowers. The décor was quite
simple really. The main feature we had was a great big piece of art. A
big neon heart sign, hired from Chris Bracey who owns God's Own Junkyard. Tim shot a music video there a while back and we knew we had to have one."
"Our photographer's were Taylor and Porter.  Louise
and Teo were amazing. Firstly they shoot on film, which is the reason
we went with them. As Tim put it in his speech, it really shows a love
for their craft and it makes for some very special pictures when you
have to take a lot more into consideration. They also seemed to really
understand our style and were genuinely excited to photograph our
wedding.
I really loved their enthusiasm and their hard work.
I think they put in so much more than we expected. They were also
incredibly thorough and fantastic at organising it all, what with
scoping out venues beforehand and really going into so much detail. They
were also very easy to get on with. The handmade albums at the end are
also beautiful. We honestly couldn't be happier with the results and we
would definitely recommend them for anyone looking for something above
average."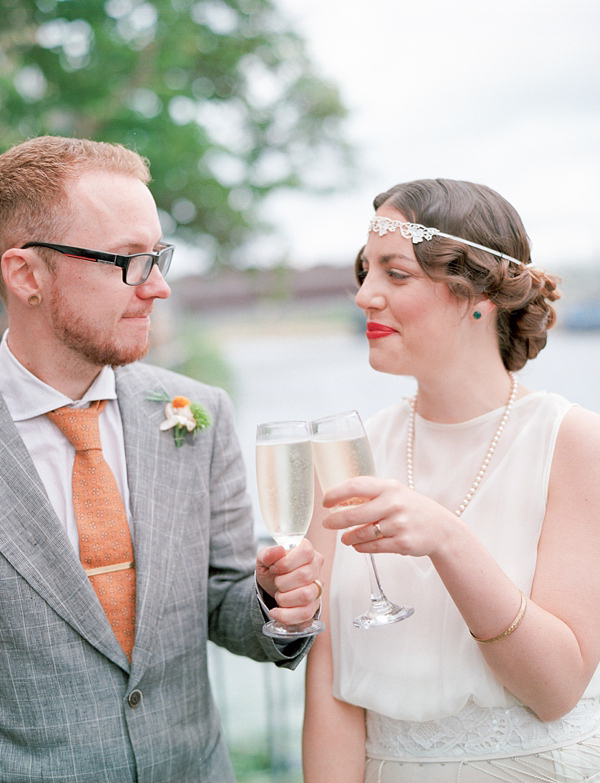 "Amanda Moorhouse and her colleague of Lipstick and Curls styled my hair and makeup…"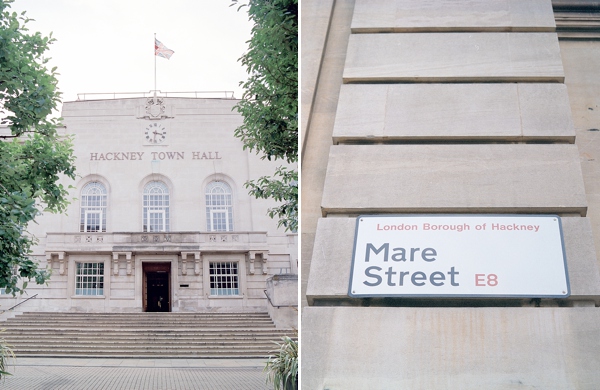 "My Dad walked me down the aisle – the entrance music was the
Vitamin String Quartet's cover of Race for the prize by The Flaming
Lips.
Tim's mum chose the Velveteen
Rabbit reading. I chose the John Cooper Clarke reading    Excerpt from
the Velveteen Rabbit. And 'I Wanna Be Yours' by John Cooper Clarke.
For signing the register we had the Vitamin String Quartet's cover
of Reckoner by Radiohead and the exit music was the Vitamin String
Quartet's cover of Where is my mind by The Pixies."
"The engagement ring is a vintage opal from the Chelsea
Galleries on Portobello Rd. Tim took me ring shopping after Sri Lanka.
This was the only ring that stood out for me, I knew I wanted an old
ring and diamonds just aren't my thing. Again it's different and very
me. The weddings rings are also different. Tim bought his at the Dazzle
contemporary jewellery exhibition that I took him to, (that was for me,
we didn't expect to find a ring there, but we both loved it) Mine is
Tim's mothers, grandmothers. It's Rose Gold from India. The hallmark
looks to be in Hindi."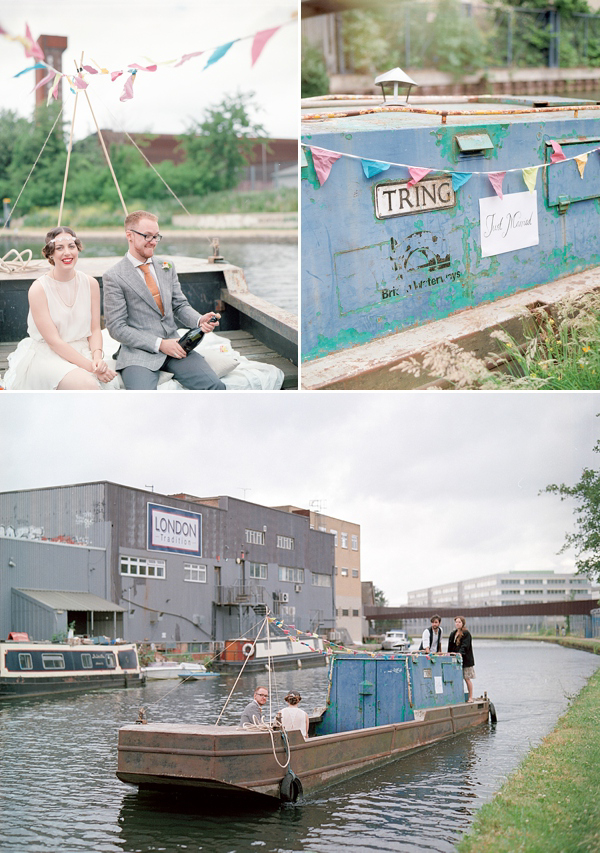 Words of Wedded Wisdom…
"Don't
think 'you have to do this because it's a wedding' Aside from the legal
things, there really are no rules, so enjoy it, don't worry about
displeasing anyone and really make it something special and fun.
We hired a gypsy jazz/swing band named Trio Manouche,
They really fit the vibe of the wedding, really good to dance to. We
also had my friends fiancé Jake DJ for us, he DJ's for a living. We
suggested something along the lines of the Craig Charles funk and soul
show on 6music. He compiled an amazing playlist."
What an absolute beauty of a wedding, so effortlessly stylish, I adore it completely and would to congratulate you both so much Emma and Tim – thank you so much for so kindly sharing your day.
Huge thanks too to photographers Taylor and Porter, whose work has rather impressed us this morning.  If you are lover of film photography, please take a moment to view the Taylor and Porter website.
If you love Emma's style, you can see more 1920s style weddings here.
Where to start about what I love most about this wedding? What about you?
Have a lovely morning all,
Annabel
Photographer – Taylor and Porter
Venue – Hackney Town Hall + Stour Space Hackney Wick
Bride's Dress – Cristina Adami
Veil/Headpiece – Silver Sixpence In Her Shoe via Nononthehighstreet.com
Brides Shoes – vintage gold Dolce and Gabanna sandals
Grooms Suit – Suit Supply
Bridesmaids – own choice
Flowers – Rebel Rebel
Cake – the bride's mum
Transport – Wedding Taxis
Entertainment – Trio Manouche
Favours – old-fashioned sweets
Catering – Counter Café
Stationery – The groom
Hair Stylist + Makeup Artist – Lipstick and Curls
Neon heart sign – God's Own Junkyard