In contrast to this morning's colourful celebration, this afternoon I'm focusing on a much simpler colour palette to whet your wedding planning appetite.  There something so pure and elegant about these images submitted by Glasgow based fine art wedding photographers Craig & Eva Sanders on behalf of wedding planner Louise Macpherson.
Louise was responsible for the concept, design and planning of this shoot and worked with members of the Glasgow Wedding Collective to bring her chic white vision to life.
I genuinely love the Glasgow Wedding Collective – I've not only featured the work of many of their members many times on Love My Dress, earlier this month, I exhibited my book at The Glasgow Wedding Collective wedding fair – I loved being a part of their fabulous gang for the day and sold a stack of books to my readers – it really was a super cool wedding event, by far one of the best, most vibrant, creative, fun and totally on trend style fair events I've ever been to (and that as a result, I plan on attending again in the future).
Photography Copyright (c) 2013, Craig & Eva Sanders
Below, Louise Macpherson tells us a little more about these images, how they came about and why they were created…
'Our 'white on white' shoot brought together some of The Glasgow Wedding Collective's
finest, along with other local suppliers, on what ended up being one of
the hottest summer days – the images look serene, despite the crazy heat of the day.'
'The home of the The Glasgow Wedding Collective's Handpicked Fair,  The Lighthouse,
is a Glasgow hub for art and design but is also available for weddings.
It offers couples a fantastic mix of industrial loft style with a
modern twist, and was the perfect backdrop for our White on White 
concept.'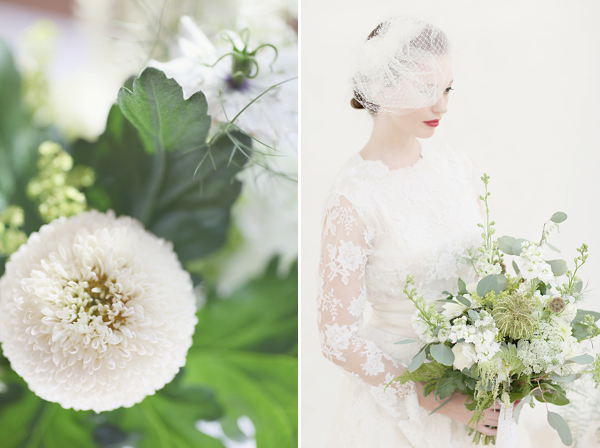 'Whites
have been a key fashion trend over the summer, and although it's a
traditional wedding colour, i'ts more often used as an accent colour.
I
wanted to show how white can be pale and interesting – it's a perfect
tone to bring in lots of texture, and mix up modern and vintage styles.'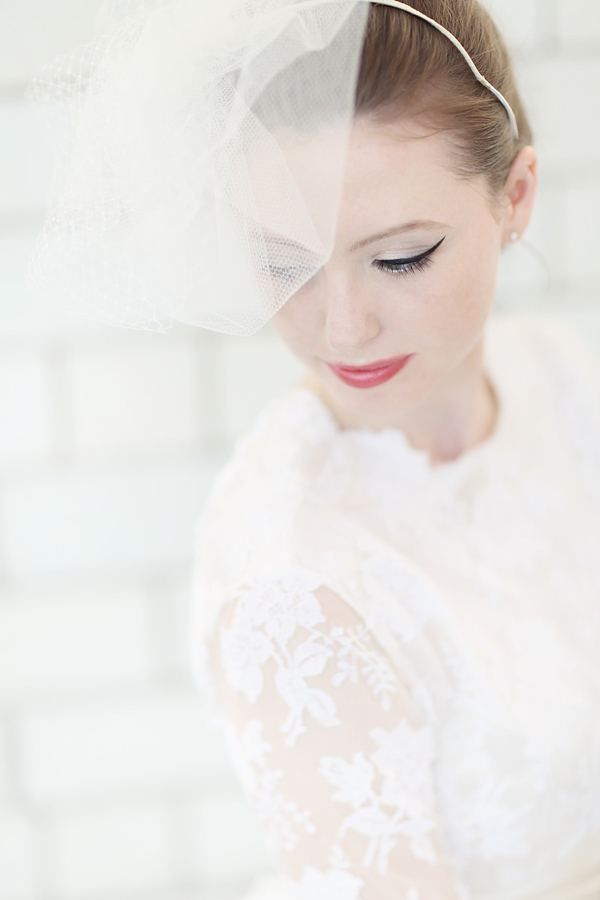 'With white as the lead colour, texture and shape become the star
features. We used a mix of ceramics and white glass, along with
stronger textures like lace and matte sequins. Rose and gold were our
accent colours; we used these to bring in strong geometric shapes to
contrast with the softer style of the dresses.'
'I love a dessert table so for me this was a central part of the
shoot. This is a really easy look to achieve; using white ceramic plates
and bowls to display the desserts, all set on a coloured tablecloth to
make the white pop. Here we used a gorgeous rose gold matte sequin
tablecloth, again giving us a great texture contrast next to the
ceramics.'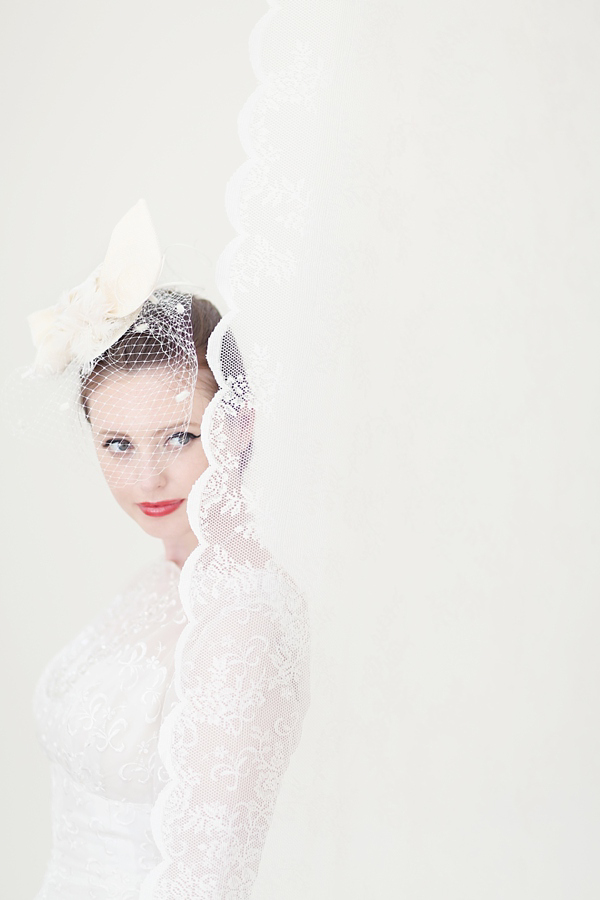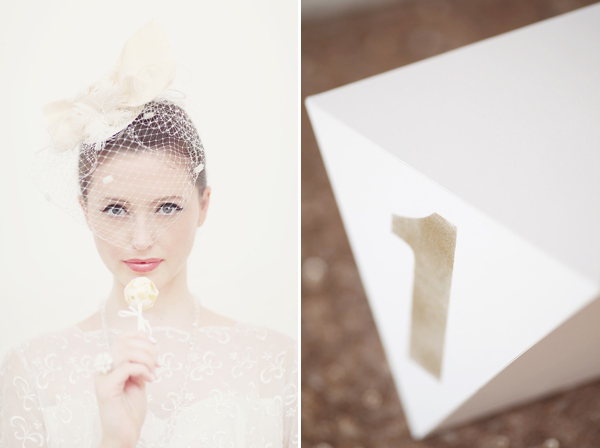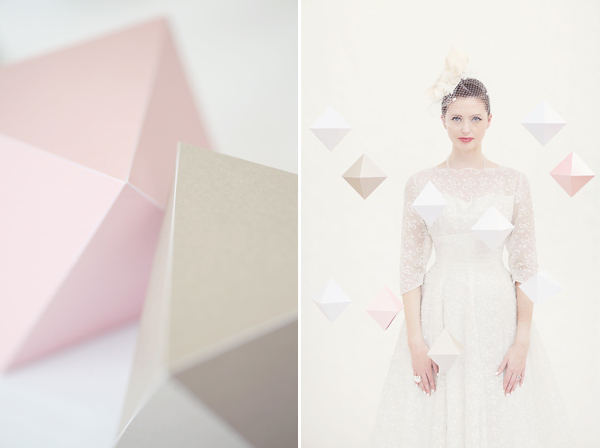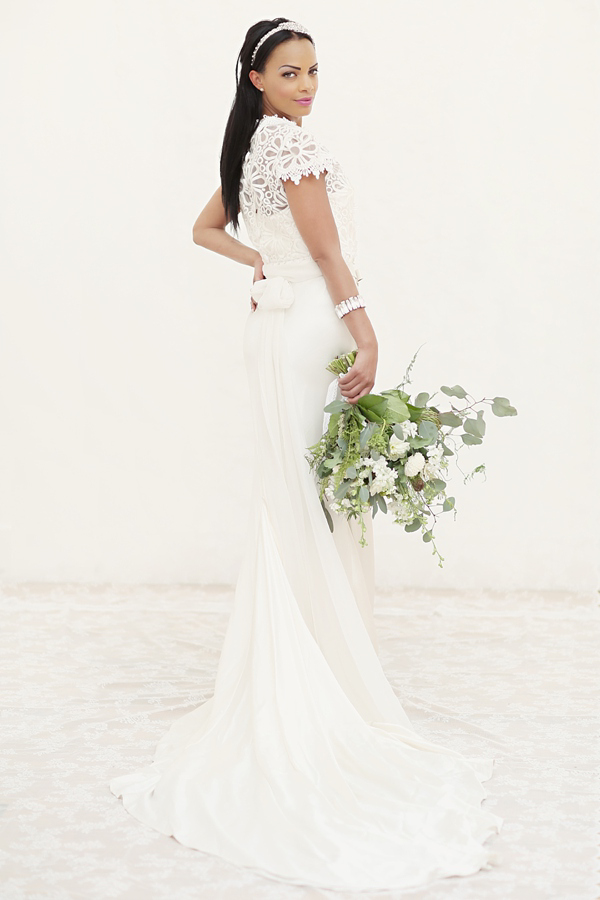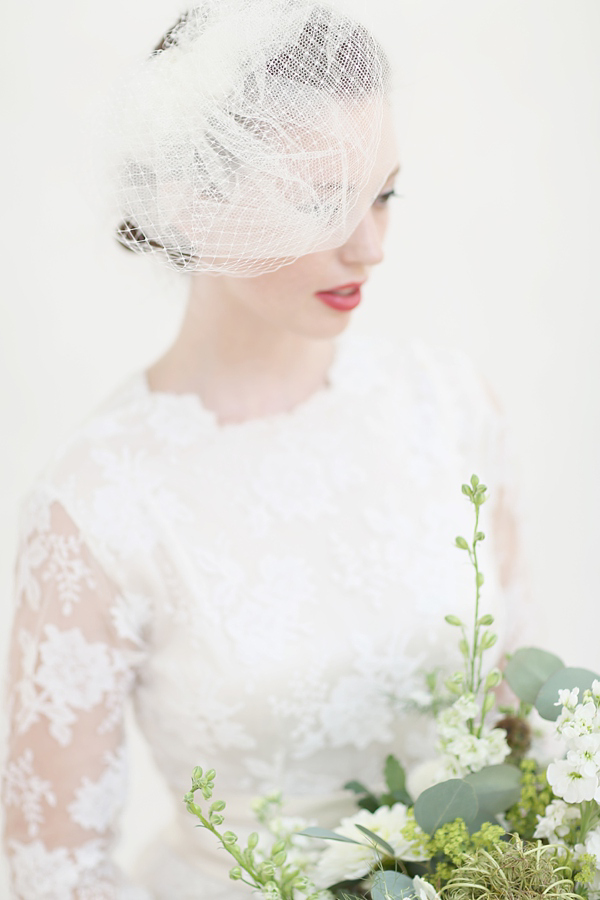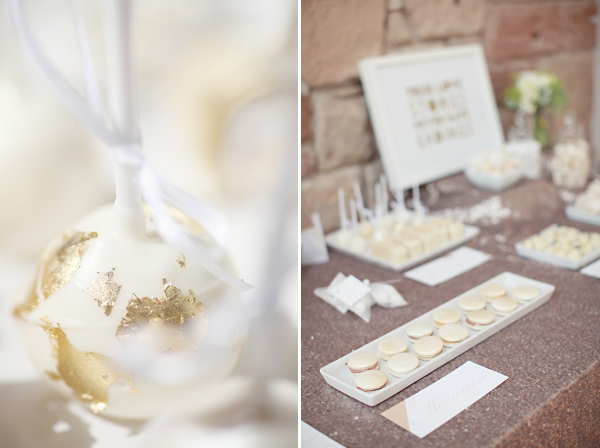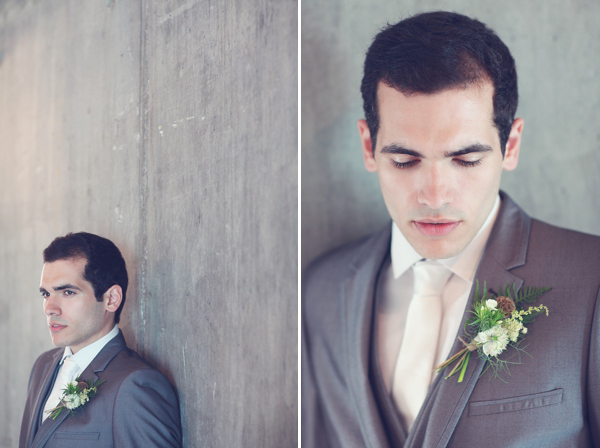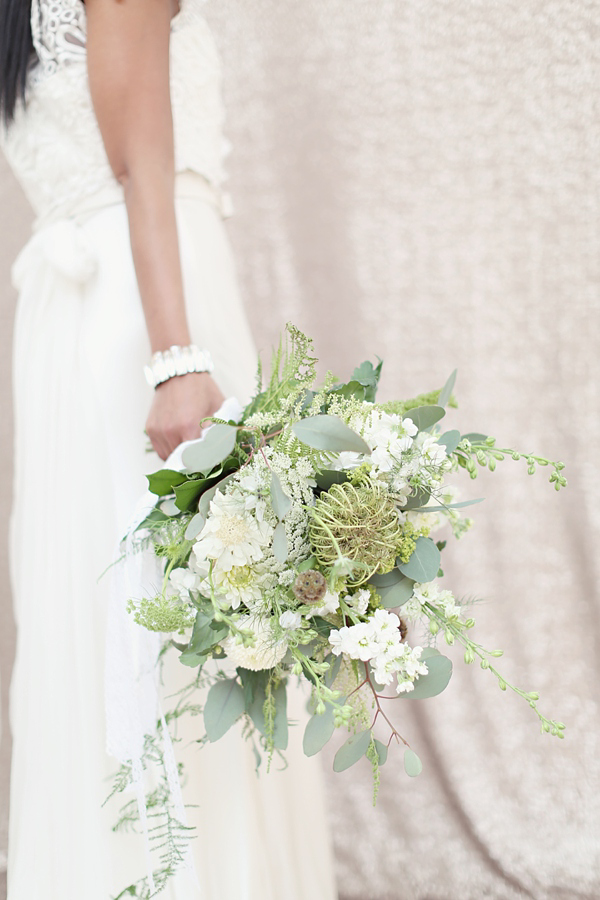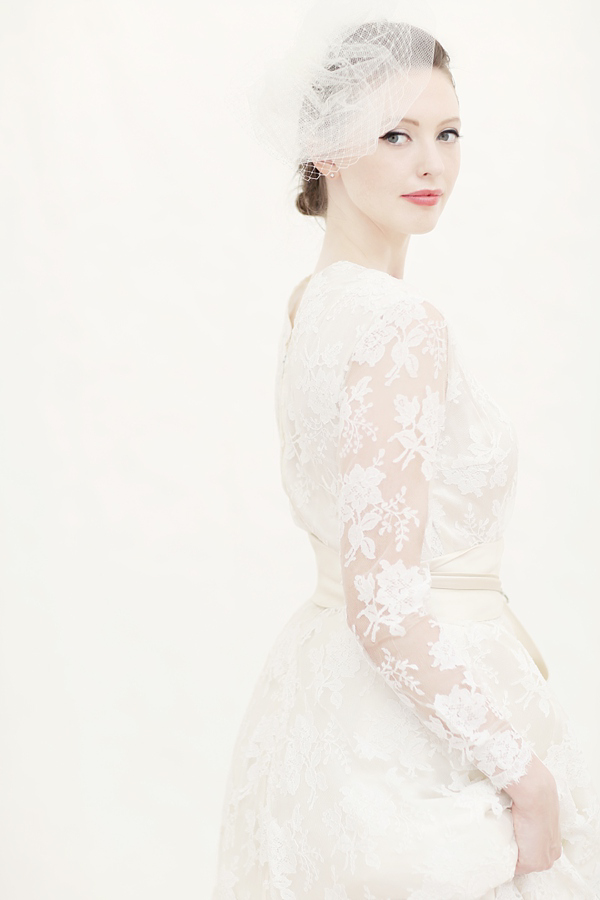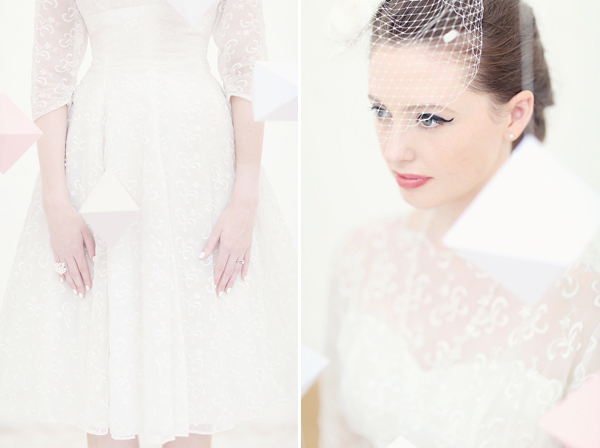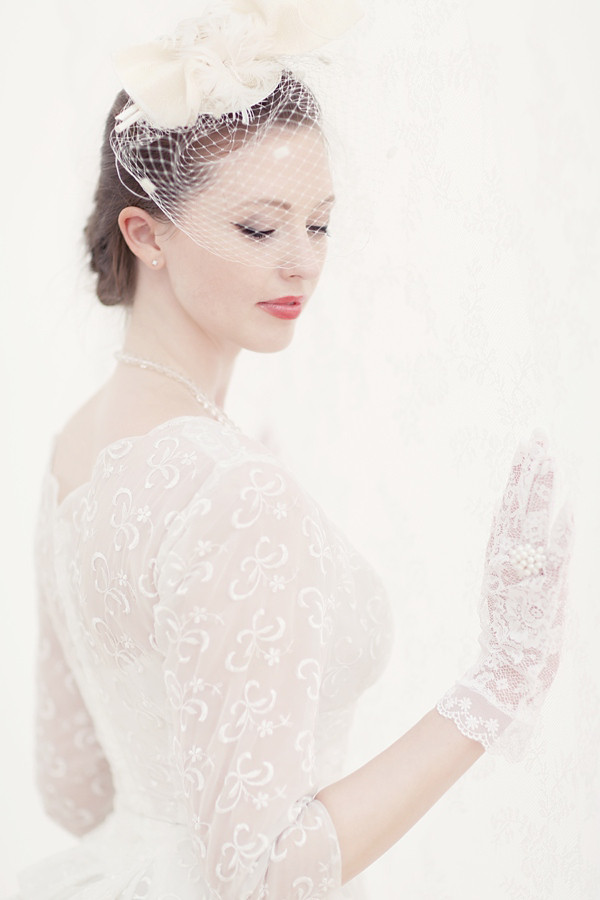 Pure and elegant.
Why not pin some of these images to your wedding inspiration Pinterest boards?
Special thanks to Louise Macpherson and Eva Sanders for producing and sharing these beautiful iamges with us today.  Brides in the Glasgow region, if you are looking for some assistance in planning your wedding day and styling your ceremony and reception, do get in touch with the clearly very talented Louise Macpherson, who would be delighted to hear from you.
Annabel
Photographer – Craig & Eva Sanders
Concept, design, planning & shoot stylist – Louise Macpherson Wedding Planning & Design
Assistant Stylist – Made by Molu
Florist – Little Botanica
Dresses – Maida Veil
Make up & Hair – Andrew James Make Up
Cake – Custom Cakes By Lynsey
Suit – Slaters
Macarons – Madhatter Macarons
Chocolates – Guppys Chocolates
Venue – The Lighthouse
Stationery – E.I.Y.Love
All the above suppliers are members of The Glasgow Wedding Collective