I've been so looking forward to blogging this particular wedding so this morning brings excitement as well as sense of genuine pleasure for me as I'm finally able to share this lovely wedding film and photographs with you;  Ed and Kerri's wedding is one of those occasions that I completely fell in love with from the minute this little film arrived in my inbox.   Everything about this wedding oozes Love My Dress appeal.
The couple got married on 5th July 2013 at Kingscote Barn in Tetbury, Gloucestershire, and I'd like to open up this feature by sharing what is probably my favourite wedding film in the world.  I'm not kidding or over exaggerating one tiny little bit.  When film makers Magic Hour submitted this movie to us, I literally wept happy tears (for real!).  Watch this film and observe the movie making mastery – this gorgeous 3 minutes and 59 seconds of footage is so exquisitely crafted by Magic Hour, I cannot rave about these film makers enough right now, but I'll let you make your own mind up.
Film Production Copyright (c) 2013, Magic Hour
Isn't that just incredibly wonderful? I adore the moving soundtrack, that scene around 1 minute in of Kerri on the vintage bus on the way to meet the love of her life – a brief but beautiful moment.  That part where they are looking at each other and holding hands during the ceremony, the moment where Kerri's voice falters with emotion as she tells Ed how much she loves Ed, and all his quirks, and is looking forward to laughing, being silly with him and cherishing their life together.  Tears are welling in my eyes as I type this.
To accompany this magical film, we have photographs from the equally talented Nabeel Khan.  I just love these photographs so very much, they exude such warmth and love.
"I'm a printed textile designer with a passion for all  things print, which over the many years has rubbed off on Ed. We love to collect beautiful objects and imagery from our travels and car boot sales creating an eclectic mix of styles to our home.  We wanted to bring this sense of fun, colour and imagery to our wedding day."
Love My Dress Wedding Blog – Photography Copyright (c) 2013, Nabeel's Camera

"Ed and I met twelve years ago at Loughborough University and have been together for nine years. Ed proposed to me in Helsinki just before Christmas 2011.  We loved spending time in Scandinavia after I spent two years working in Stockholm – Ed would visit regularly to see me during this time.

We loved the venue, Kingscote Barn,and location of our wedding, which was a blank canvas set in beautiful surroundings. Ed also grew up in the Cotswolds which we both enjoy visiting."
"I was always looking for something with a vintage feel, that had beautiful lace detail and was light and easy to wear. I had pretty much decided on the dress when first seeing it online at Saja Wedding and subsequently falling in love with it. I did purchase two airs of shoes but never got to wear heels – in the end, I felt more comfortable in my Repetto pumps."
Sadly Kerri's dad passed away a few years ago so Kerri's brother in-law did the proud job of walking her down the aisle. Kerri knew her dad was still close to her and she had a lovely photo broach of him attached to her bouquet.
"I walked/danced down the aisle to the theme tune for the classic eighties 'Never Ending Story' theme tune by Limahl – as it reminds me and my sisters of our childhood.  I'm a true 80's girl at heart."
"We wrote our own vows; this journey started a few months before the big day when the two of us sat down together and wrote down individually all the things a marriage meant to us. We shared what we had written and both laughed and cried, we then crafted them into our vows feeling so excited about the next chapter of our life together.
Within my vows, I said how much I loved Ed's quirks and being silly with him and Ed vowed to support me to fulfil all my dreams. We gave our friend Nick the daunting task of writing a piece about what marriage means. He absolutely excelled at this and delivered a heartfelt personal reading which we absolutely loved."
"My bridesmaids wore skirts using a pattern  that I designed and printed myself – the skirts themselves were made by a local dressmaker and the tops were from Warehouse." 
Readers, if you love the idea of having a custom bespoke pattern designed for printing on to fabric of your own, you can contact Kerri on [email protected].
Ed's bowtie and pocket square was handmade by Kerri using the print she designed for the bridesmaids dresses…
Kerri made the bunting from her prints and some old maps she and Ed had of the Counties they grew up in…
The vintage bus was supplied by A D Rains and decorated by Kerri.
"Ed's Aunty who has an amazing talent for flower arranging, brought to life my vision for the flowers and bouquets."
"We did all the styling and had help decorating from friends and family the day before.  We had giant balloons from topballoon.co.uk which we filled with helium and tied with vintage scarves that I had been collecting for years.  We also had pompoms from Deco Pompoms."
Kerri designed all the stationary herself and Ed put together their wedding website, created using the gettingmarried.co.uk
service.  The table plan and the circus faces photo board was inspired
by a pack of playing cards Ed found while we were in a market in New
York.
"Ed's mum baked the cake and along with Ed's Best Man, Carlos, decorated it with fruit and cream the morning of the weeding."
"My sister Gemma sang and our friend Oli J played the guitar during the signing of the register. This was a magical moment which we will remember forever."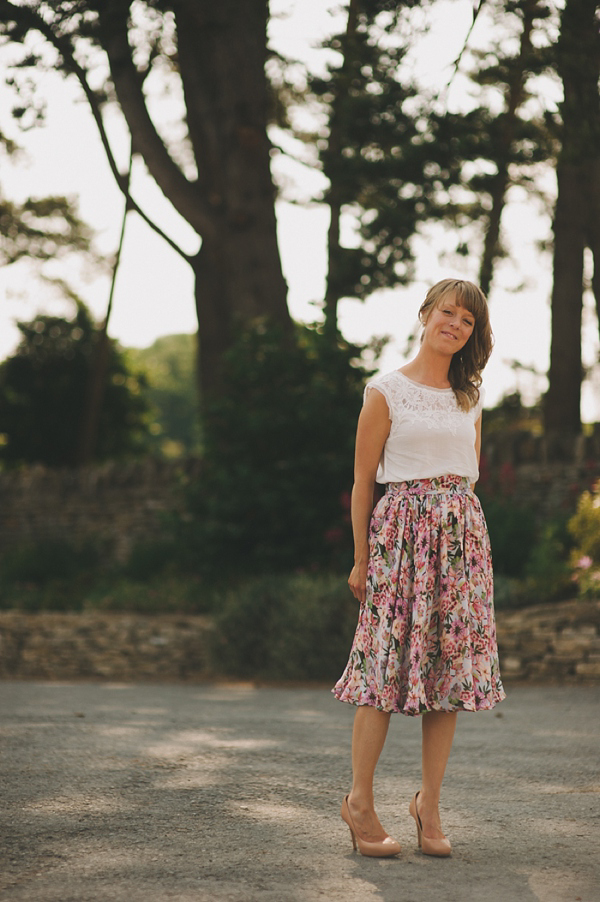 "Our catering company were Fosters.  Andy Cole the manager was amazing and brought our vision of a delicious summer barbeque to life.Ed
loves real ale and craft lagers and he sourced 9 beers and lagers from
local breweries to their home in Hackney and the Cotswolds, bringing his
very own mini beer festival to the day."
"We choose Don't Stop Believin' by Journey for our first dance. This
was due to Ed's secret love for Glee!! and of course my love for the
original.
We had a Irish Ceilidh Band 'Spill the Whisky' followed by a DJ our friend Oli B of 'Collective Futuro' (http://colectivofuturo.com/) who put together a custom set we loved."
Words of Wedded Wisdom
"Be true to yourself as a couple and do what makes you both happy, its your day and you can't go back and do it again. Relax during the day as it goes so fast and remember to find some time alone together to reflect on the day. We found a few beautiful minutes together in the twilight of the rose garden.
Our favourite part of the day was the ceremony whilst holding each other's hands and reading our vows in front of all our fantastic supportive friends and family.
Ben of Magic Hour Films did great job, the film captured all the elements of the day and was perfectly set to the music we choose.  We hardly even noticed the videographer was there due to the unobtrusive way the day was shot. The result was lots of natural imagery which captured the essence of our wonderful day.
We felt relaxed in Nabeel's  company as soon as we met in a local pub. His friendly approach to photographing the day made us feel at ease in front of the camera. We were over moon with the results and feel he caught the day beautifully.
Also, Love My Dress was great for getting inspiration, reading other people experiences and supplier ideas."
What an absolutely wonderful, wonderful day – thank you so very much Ed and Kerri for so kindly allowing me to share your beautiful wedding, I wish you many years of love, joy and happiness.
Thank you too, to photographer Nabeel and film makers Magic Hour you can see more from both these talented suppliers on Love My Dress here and here. Remember too brides that Kerri is available to design individual and bespoke prints for dresses, skirts, bowties and pocket squares and can be contacted on [email protected]. I'd love your thoughts on this wedding, this film and these photographs – which is your favourite part of it all?
Have a beautiful day everyone,
Annabel