Well hello there beautiful! Have you been pouring over our colourful wedding dresses post this morning? I hope it has offered some inspiration for those of you looking for a non-white wedding dress.
I have been excited about sharing this wedding with you – definitely one for you brides planning a wedding with a rustic, rural appeal – perhaps a summer-time barn or outdoor wedding? Step this way for some really beautiful inspiration courtesy of photographer Claudia Rose Carter, who was on hand to capture all the lovely detail of Hannah and Jordan's wedding in July.  The couple tied the knot at Minster Abbey on the Isle of Sheppey and went on to celebrate with a reception at The Great Barn in Rolvenden, Kent.
Hannah, who is an event organiser in the corporate arena planned and styled the wedding by her wedding herself…
"We have both grown up in the same area (where we still live now) and it felt right to have our service in the local church, the church I went to as a child. What made it extra special is that the vicar that I had grown up with who has now retired came back to conduct the service for us. As we live in a rural location we wanted a stick with our roots and go with a country style wedding."
Photography Copyright © 2013, Claudia Rose Carter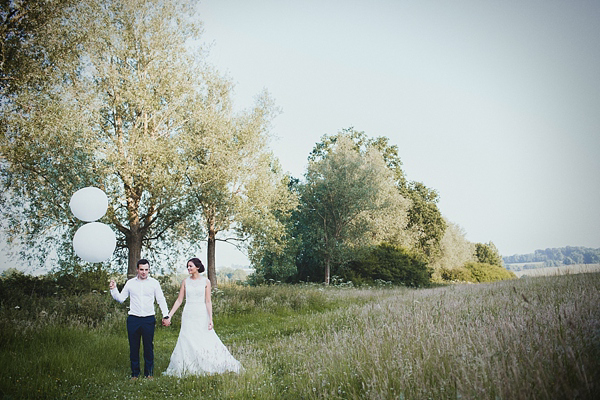 "We are very family focused so wanted the day to reflex this and
made the day a real family affair by including as many family members in
the lead up and on the day as possible. We also filled the barn with
family photos.  We had no set colour scheme, neutral bridesmaid dresses, the men in navy and indigo and then the venue was a miss mash of pastel shades. 
Most of all we really wanted a relaxed personal day, neither of us
liked the idea of anything too formal and we live in a fairly rural area
so we liked the idea of a country style, rustic wedding. We also agreed
early on we didn't want to buy a 'package' and both wanted something
unique."
"Our 'how did you meet story' isn't really that impressive, it
was at a 70th birthday party 7 years ago and from there we became
MySpace friends and the rest is history! Our engagement story however is
a little different.
Jordan doesn't do things by halves so when he decided
he wanted to propose on new year's day 2012 (which would be our five year
anniversary) he wanted to find me a very special ring. He found a
jewellers on 5th Avenue in New York with the perfect one that he thought
would really impress.  It took about three weeks to arrive and when it
finally did the package was half open, he checked the contents and the
box was empty. At some point on its journey they ring had been stolen."
"He
was so gutted and didn't see how he could keep it from me, so that
evening confessed all about his plan and the stolen ring. It was awful
and retelling it to our family and friends made it even worse. Were we
engaged or not?  Jordan followed it all through over the next few days
and the courier company confirmed the ring was missing on delivery and
the jewellers agreed to make a replacement free of charge as it was
insured.
But Jordan was set on putting it right so came
home a couple of days later and announced we were off to New York in a
weeks' time the day after boxing day, to pick up the ring for ourselves
and have an engagement holiday.   On our second day in New York we
picked up the ring and Jordan got to do his proper proposal in Central
Park – maybe the stolen ring drama wasn't so bad a Christmas trip to New
York and Central Park proposal couldn't really be topped.  We were
engaged for a year and a half year before the big day."
"I think from our photographs, you will see we had a lot of decoration; my
grandma's garage was full to the brim as was our spare room in the lead
up to the wedding. We tried to fill the barn with as many personal
touches as we could. 
My lovely mother in law handmade all of the
bunting.  We asked family and friends to collect glass bottles and jars
(I think we must have had over 150) which we decorated with ribbon,
hessian and lace and painted on our initials. We filled these with
flowers and tea lights and placed them around the barn, they also made
or table centres.  Our rustic table centres were made up of tree trunks
and decorated bottles and jars filled with flowers we styled ourselves.
The fire pit and hay bale area was enjoyed by many in the evening."
"A week or so before the wedding I spotted the
light up LOVE sign post on your blog and decided me must have one! We
hired ours from Doris Love they were great
and delivered and collected the sign from the barn. It was the best last
minute purchase, it really finished the room and looked great
surrounded by all of our family photos."
"We named our tables after types of tree, the grandparents were on the
Oak table and our table was Willow as that was the name of Jordan's pet
dog when he was growing up. We really wanted a family feel so covered
three of the barn walls with framed photos of past family weddings and
memories. We also framed sayings and hung signs like 'Remember as far as
anyone knows we're a normal family.' 
At the top end of the barn we
hung a large wooden heart that our friends made for us and surrounded it
with pastel paper pom poms, I was a bit concerned about hanging a heart
about a table of guests, you know health and safety but I'm glad Jordan
persuaded me, it looked great.   He also made us a giant heart
sculpture which included our initials that made a nice feature in the
garden."
"The search for our venue wasn't easy! We had our heart set on
the reception being in a traditional barn but there wasn't much of a
selection in our area and the majority couldn't offer the flexibility we
had hoped for.  Eventually after a lot on internet trawling we came
across the Great Barn, 36 miles from us which was one of the only dry
hire venues we had come across – they literally give you the keys for up
to a week and you can do what you like as long as you leave it how you
found it! 
As soon as we walked in the barn we loved it,
it was a beautiful blank canvas with a lot of character, just what we
were looking for. I knew all the ideas we had had would work perfectly
and we could really go to town with a handmade style – and any
decoration was possible.  We loved the fact that everything at the barn
was personal to us, everything that went into it for our big day had
been personally picked, organised or made by us and our family and
friends. It was lovely to look around the barn and think that's what the
girls and I made on one of our craft days or there's mums bunting, all
of the personal touches meant so much and made it feel really homely."
"I wore an Essense of Australia dress it didn't have a name just a code D1357, purchased from Bridal Gowns At Jodi, in Canterbury. It was originally a strapless dress. 
Straight
away I knew I would have a lace dress, I wanted something timeless.   I
fell in love with the lace, belt, scalloped hem, train – the whole
dress despite it being a strapless gown which was a big no no for me.   From
day one of the dress search we decided a bateau neckline was best for
me, but dresses that style were few and far between, so after visiting
the 5th bridal store we found my dress which had the whole package – apart from the right neckline.  With the Jodi's team we styled it into my
very own unique dress. It was a great way to do it as I got to design
the top and back of the dress and decide where each applique should be
sown, it added to our personalised theme.
I went for a
corset style back which I never thought I would pick, I think it's a bit
old fashioned, but they really do give you a good shape so I would
recommend all brides to be to give them a go."
"Denver my
sister in law and one of the bridesmaids made us all personalised
hangers which were a lovely touch and look great in the photos.   They
were all brilliant in the lead up and we had a very calm morning getting
ready it was perfect, I couldn't have imagined doing it without my
girls."
"I wore Zara pumps, and my bridesmaids wrote messages on the soles in blue, for my 'something blue.'
 I
just went for a simple look as my dress had a lot going on, so wore my
Grandma's vintage watch and earrings that Jordan brought me for the
wedding.
 A pretty blue Pandora ring that my bridesmaid who flew over from Australia brought me."  
"With
six Bridesmaids we didn't like the idea of them all in matching dresses
with, matching accessories and hair styles; I felt like it would give
the impression of formality and tradition, which is what I was trying to
avoid.
I'm lucky enough to have friends with very
different personal styles and I wanted everyone to feel comfortable on
the day, and themselves, not in a uniform.  We also wanted to keep them
simple and neutral so we wouldn't be limited on our colour scheme.  We
found their dresses in the Wallis
sale, and thought they would be a great starting point. A family friend
who has a seamstress business E Fern's Sewing Services removed the
sequin waistbands and then the girls gave their ideas and she designed
the new straps and tops to the dresses."
"We hired a local florist called The Flower Company and went
with a wild flower look, with creams, lavender, purples and peaches.
We did the table displays ourselves, my mums friend Ann is very creative
so came down for the wedding a day early to help with the displays and
she spent the whole day creating them – they were beautiful done.
Our bouquets were made up from a mix of peonies, roses, lavender and gypsophila finished with a hessian tie.  The button holes were roses, gypsophila and lavender, finished with twine."
"We had two (well technically three) cakes.  My Cousin made us
amazing head cakes, which were a huge talking point, and something not
many people had seen before. I think she should go into business making
them, although she goes already have a business. 
And a cheese tower as we love cheese! We ordered personalised toppers from Creative Butterfly on Etsy of us two and our dog Lola."
"I had both of my cousins daughters as our little bridesmaids (my
second couusinds), we got them pretty tulle and lace dresses from Monsoon and they wore floral crowns."
"Our photographer was the extremely talented Claudia Rose Carter.  We wanted a reportage-style for our wedding, not too many staged portraits; just capturing the day as it happens.  Claudia
is full of initiative, something we appreciated, as we're both quite
camera-shy. She captured every special moment of our day and did an
amazing job keeping it relaxed and informal. 
Pearl Productions made up of the super talented Suzie and Dan Joyce created a film of our wedding day.
Jordan didn't initially like the idea of a videographer he said it
would be too intrusive but our friends clubbed together and booked them
for us as our wedding present, I was pleased they over ruled him, and he
is also so happy they did now, as we absolutely love our video. It
shows just how happy, fun and lovely they day was."
"My cousin Katie Holroyd Davison did the hairs, I wanted a
timeless up do which Pinterest came up trumps with. She did a brilliant
job as my hair is quite thin and not very long but she managed to create
the full bun I wanted.
 The very talented Lucy Jayne
did my make-up. I wanted a really natural look with a bit of wow factor
which sounds like a contradiction in terms but she achieved the perfect
look for me and I really did feel lovely. I think that's the most
depressing part of your wedding being over, I'll never look that nice
again! My make-up stayed on perfectly all day and night… and even the
next day and Jordan forgot to pack our toiletries bag so I didn't have
any face-wipes at the hotel."
"Our local church which is on the highest hilltop on the otherwise
flat Isle of Sheppey. It's a special church with beautiful stain glass
windows, monuments and tombs dating back to the 14th century. As there
was a 36 mile journey between the church and our reception venue, The
Great Barn at Rolvenden in Kent, we provided coaches for our guests and
the journey was a great opportunity for Jordan and I to have an hour
just us two."
"My mum read the religious reading during the service she chose '1 Corinthians 13 verses 4:8'" 
'Love
is patient, love is kind. It does not envy, it does not boast, it is
not proud. It is not rude, it is not self-seeking, it is not easily
angered, it keeps no record of wrongs.
Love does not delight in evil but rejoices with the truth.  It always protects, always trusts, always hopes, always perseveres.
Love never fails.'
"Whilst we signed the register a member of the choir sang Ellie
Goulding – Your Song and Adele – Make you feel my love, I don't think
there were many dry eyes in the congregation, she sang beautifully.  Throughout
the day we had a mixture all of our favorite songs playing like the
Wannadies – You and me and Wolfman featuring Peter Doherty – For
Lovers."
"And
our lovely friend Jenny did the second reading 'How Falling in Love is
like owning a dog' which she found and thought suited us two perfectly
as we own a crazed springer spaniel."
'First of all, it's a big responsibility,
So think long and hard before deciding on love.
On the other hand, love gives you a sense of security:
when you're walking down the street late at night
and you have a lead on love
no one is going to cross you,
because love is unpredictable.
Who knows what love could do in its own defence?
On cold winter nights, love is warm.
It lies next to you and lives and breathes
It needs nurture and care so it will grow and stay healthy.
Love doesn't like being left alone for long.
So when you come home love is always happy to see you.
It may break a few things accidentally in its passion for life,
but you can never be angry at love for long.
Sometimes love just wants to go for a nice long walk.
It runs around pulling you in different directions
at once, or winds itself around and around you
until you're all wound up and you can't move.
Throw things away and love will bring them back,
again, and again, and again.
Love makes you meet people wherever you go.
People who have nothing in common but love,
build relationships to last a lifetime.
But most importantly, love needs love, lots of it.
And in return, love loves you and never stops.'
"During the reception drinks, upon arrival we had a guitarist playing and singing Javier Moreno, which my sisters organised as our wedding present. It was lovely and chilled and created a gorgeous atmosphere."
"Jordans god father made us a brilliant cut out which entertained our guests."
"As an event organiser it pains me that at all of my events I can
never go with the most exotic option, or what I would like to eat as you
always have to go with safe option so a three course sit down meal,
with a chicken main was a no go for us.  We wanted a relaxed feel a
guests to eat what they like so a bbq was ideal.  The
wedding breakfast provided by Australian Style Catering included steaks, moroccan lamb burgers, Chicken Fillet
Goujons and my favorite were there 'snag' sausages. Accompanied by a
selection of salads, coleslaw and barbequed vegetables. The meal was a
real hit with the guests. And for desert we had a selection of three
Belgium chocolate moose, banoffee pie and summer fruit pavlova. 
To
accompany the evening cheese and antipasti boards a café called Basil
based in Tunbridge Wells supplied cakes and their famous brownies that
went down a storm. We also made a sweetie table for the kids (and adults!)"
Words of Wedded Wisdom…
"We are
lucky to have really supportive friends and family who were all keen to
help out in any way. Make sure you take up any offer of help, it really
was special to look around the room at all of our amazing friends and
family who had made our day, and pinch myself that it has all come
together perfectly. I'm a perfectionist/control freak and if I can take a
step back and delegate, you can too.
Don't stress about
the small stuff when planning, you will spend hours choosing each
detail (which I thoroughly enjoyed doing, many evenings we spent
pinning) but none of that actually matters on the day, no one is likely
to spot that your napkins match your invite shade, all that matters is
you two.  And everyone says to enjoy every moment
because it goes so fast…but it really does! We had a 12pm service as we
wanted to make sure we had a full day of celebrations and it still flew
by. Make sure you two take some time out together during the day to take
it all in."
You can see more beautiful photography from Claudia Rose Carter here on Love My Dress.  You can also explore more barn weddings, rustic weddings, pastel shades and colourful weddings.
Huge thanks to Claudia Rose Carter for sharing these photographs.
What do you love most about this beautiful wedding day?
With much love,
Annabel
Photographer – Claudia Rose Carter
Venue – Minster Abbey (Isle of Sheppey) + The Great Barn (Rolvenden, Kent)
Wedding Dress – Essense of Australia
Brides Veil – something borrowed (her sister's)
Brides Shoes – Zara pumps
Love Sign – Doris Love
Groom – Moss Bros bespoke suit + Debenhams tie + M&S shoes
Bridesmaids Dresses – Wallis (sale)
Flowergirl Dresses – Monsoon
Florist – The Flower Company
Cake – Cow & Co + cake topper by Creative Butterfly on Etsy
Entertainment – Izzy Chase-Philmore
Catering – Australian Style Catering + Basil
Makeup Artist – Lucy Jayne
Videographer – Pearl Productions