Hey you, have you see our very latest competition to win £1000 worth of Twobirds Bridesmaid dresses, in association with Brides The Show? Skoot on over here if you haven't, and once you've entered, come right on back here to enjoy this gorgeous, bright and colourful Irish wedding.
Aideen and Barry (Baz) tied the knot on 27th June 2013 at The Red Door Country House in Fahan, Donegal, Ireland. 
"We wanted to make our day as fun and colourful as possible, with
lots of things to play with and do! We wanted a relaxed, fun atmosphere
for our friends and family to let their hair down and enjoy themselves –
sort of like a mini festival!"
Love My Dress, Photography Copyright (c) 2013, Paula Gillespie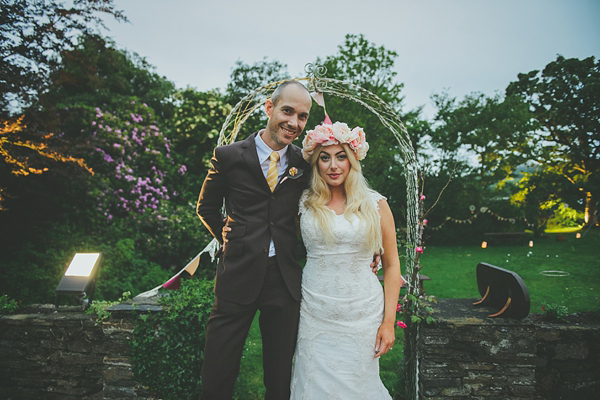 "Baz and I met about nine years ago – more than that if you count
the first couple of encounters.  He is a musician and I am a singer – we
noticed each other in passing at a festival but never actually met each
other that night.  A few years later we were stranded on the same bus as
each other in a random town but didn't actually speak to each other! We
were the only people on the bus too-hahaha! Then, as fate would have it,
he turned up on my doorstep with a mutual friend to a party I was
having! At last!
Baz popped the question to me on a
beautiful Sunday afternoon. He asked me if I'd like to go for a drive,
to which I agreed, and asked me where I'd like to go, to which I
replied, 'Malin Head'. He said, 'ah- we'll see where we end up…'.
(Thankfully, I wasn't stubborn that day).
He drove me to the beautiful
Kinnego Bay in Donegal, where we'd spent a blissful weekend camping a
few years before- I'd almost forgotten it existed! When we came around
the cliff overlooking the bay, I spotted a beautiful white bell tent
pitched on the beach."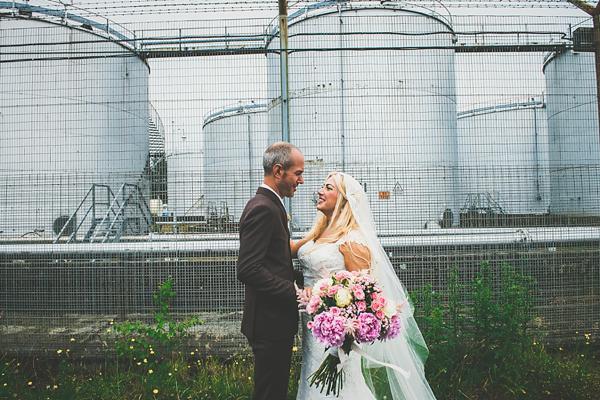 "We parked the car and walked toward it. As we drew
closer I noticed the beautiful bunting around the front, the lanterns
(with candles burning – I don't know how he did it!) placed around the
sand at the front of the tent and hydrangea (my favourite flower) – EVERYWHERE! It was so beautiful.
Baz opened the tent and I walked in to
find a bottle of Moet chilling on ice, a beautiful picnic hamper
filled with my favourite foods – with proper china cups for tea, and more
hydrangea in a little vase on the table! He'd even packed me an
overnight bag! After presenting me with a cup of tea in a real china
cup(!), he got down on one knee and asked me to marry him. I said 'yes'
and we popped the champagne and celebrated, just the two of us, on the
beach! It was the happiest day of my life, besides our wedding of course."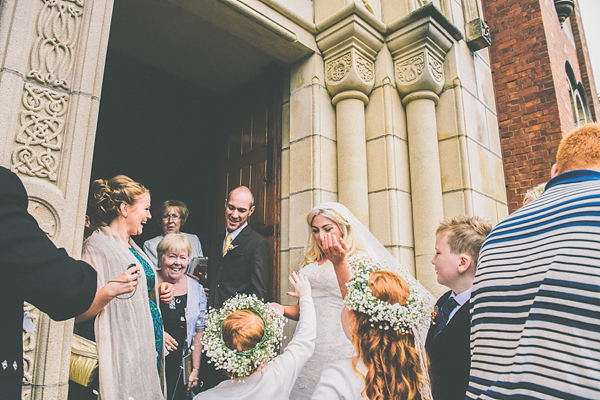 "We fell in love with The Red Door
instantly! The beautiful décor and the prettiest gardens overlooking
Lough Swilly- it really is heaven on earth! The food is absolutely
delicious- all cooked fresh to order, and the menu is exciting! On top
of all that Frances (I'm certain Frances is wonder woman in her spare
time- she's fantastic!), Leanne, Shea and their team are the most
amazing bunch of people.
They are so genuine and friendly- and made us
feel so relaxed in the lead up to our wedding and on the day itself. The
hospitality we, and our guests were shown by everyone in The Red Door
was second to none. One of our wedding guests actually knocked on the
kitchen door to compliment the chefs on the amazing food halfway through
the meal! There is a very special vibe in The Red Door, and that is
down to a very special team of people."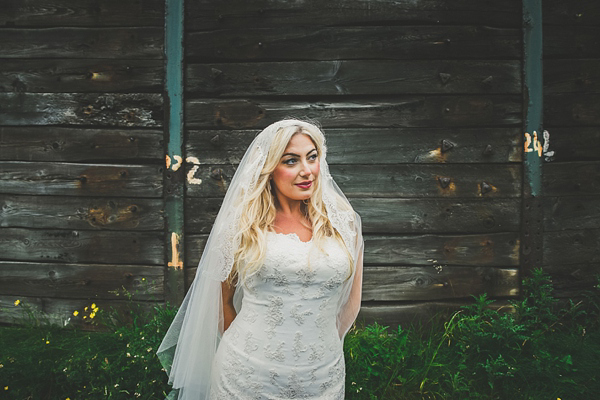 "We
designed our wedding invitations to the theme of 'All you need is
love'; we also had this inscribed on our wedding bands. We wanted the
day to encapsulate this sentiment and had it printed onto hessian
bunting to hang from the main tree in the garden!   We also
hung wind chimes, hearts, pom poms, beautifully decorated cd's (again
lent to us by our lovely friends!) and lots of bunting (all made by my
sister in law and friends)."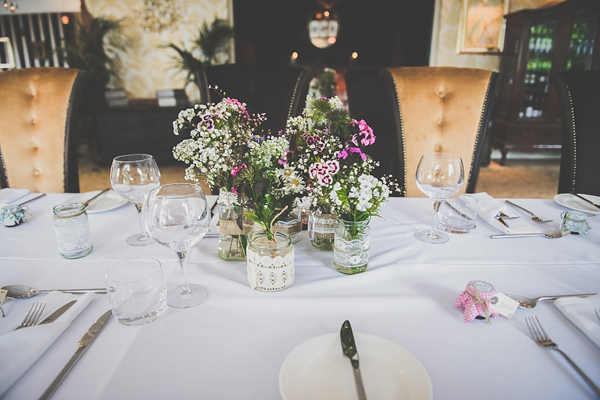 "We made as much as we could! Jam jars decorated with lace, hessian
and natural twine, we had pom poms and a million hanging hearts and
chimes and decorated cd's hanging from all the trees. A fab Indian
inspired structure (courtesy of our lovely friends Mark & Mandy),
our engagement tent that we'd set up as a photo booth and a million meters
of bunting (courtesy of my lovely Sister in Law, Sally.
We also had an old typewriter that my Dad sprayed sea
foam green for me, our Wish Tree outside with old vintage suitcase
containing ribbons and lace to tie onto the wish tree. We had paper
chains, lots of lanterns, tea lights in jam jars hanging in the trees
and placed around the venue."
"I had little picture frames with my mum's
photo inside hanging on trees, a fingerprint tree drawn for me by my
best friend (and bridesmaid) Mairead and her daughter Daire. Our polka
dot and stripy signs (that matched my shoes!) for the gardens were made
by my handsome husband Baz, as were the hessian table numbers.
The young
people of Youth First in Derry made the tissue paper flowers that
decorated the main pole of the tent! The photo booth props – top hats,
moustaches, pipes, dickey bows etc, were all made by friends. The
beautiful gold frame on easel for the photo booth, and our fabulous lawn
games were rented from a great company called the Vintage Style Hire
Emporium – they were excellent. We also had Chinese wish lanterns for
after dark – very funny trying to get them lit and floating after a few
drinks."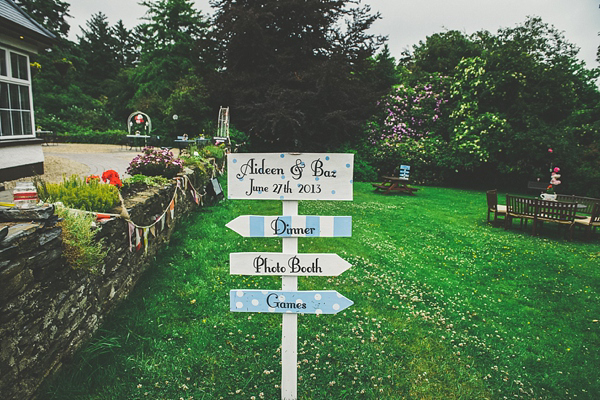 "My dress was by Essence of Australia. I purchased my dress from Beautiful Day Bridal Cottage in Greysteel.
Ciara and the girls in the shop were fantastic- they made me feel so
special every time I went for a fitting. I lost quite a lot of weight
after I chose my dress and I wanted to play with the silhouette to make
the dress more fitted. I also added capped straps/sleeves for a little
extra coverage, so quite a lot of alterations were required! Ciara has
endless patience!
 I fell in love with the timeless simplicity of my
dress. I didn't want any 'bling', (Poor Ciara from Beautiful Day even
had to painstakingly remove the sparkly bits from the sleeves that we'd
ordered!) and I wanted something simple that I could team with a
statement veil/headpiece for an overall boho chic look. I have a
weakness for lace and I was immediately drawn to the corded lace of my
dress."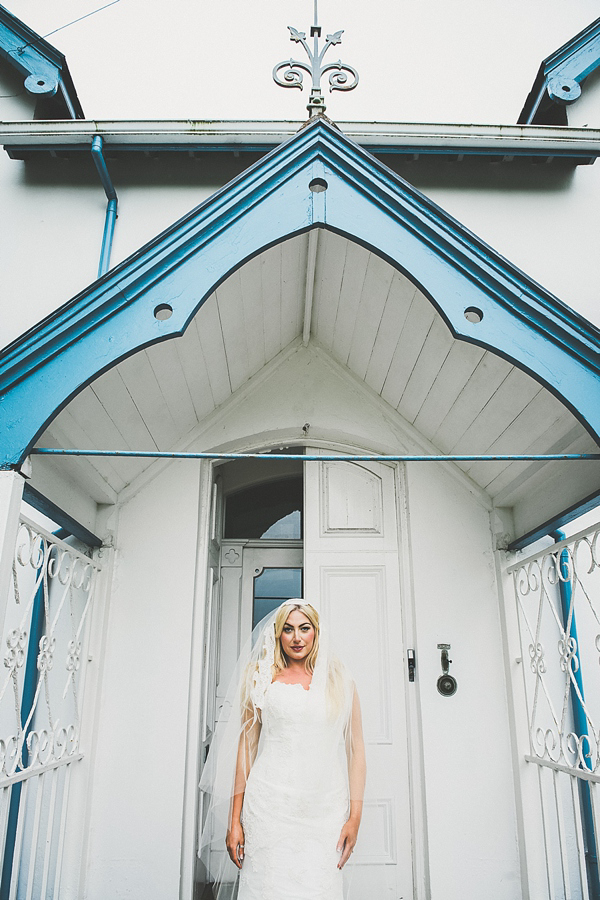 "My shoes were the polka dot d'Orsay design by Bettye Mullar from BHLDN.  They were my 'something blue'!"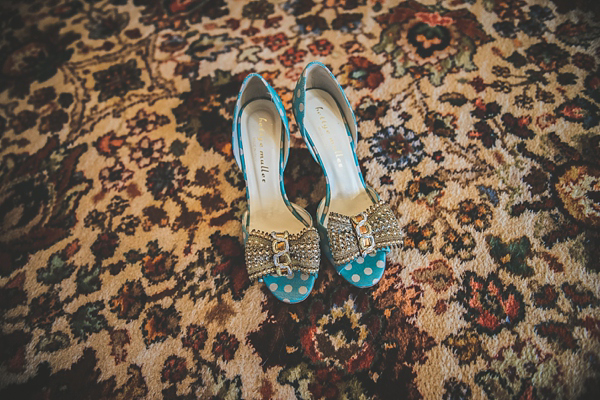 "Baz got his suit from Jump The Gun
in Brighton. Fantastic shop selling mod style suits.  I bought Baz's
pocket hankie for him as a little gift after he picked up his suit, I
purchased it from the Tie Locker and I made his boutonniere."
"Ahhhh my veil! I loved it so much!! It was custom made for me by Megan Ferguson Couture Bridal Accessories. Her pieces are so beautiful-vintage inspired and boho, and Megan is a sweetheart!"
"I lost my mum seven years ago to breast cancer and I wanted her
to be all around me on my wedding day, so I hung little photos of her
from the trees and nestled a little picture of her in my bouquet too. I
liked that there was a little piece of her everywhere but you'd have to
look to see it."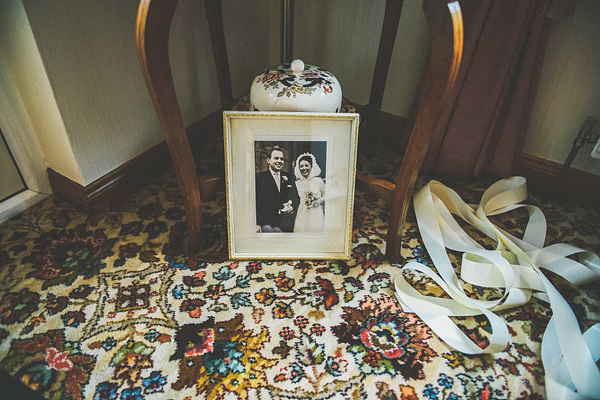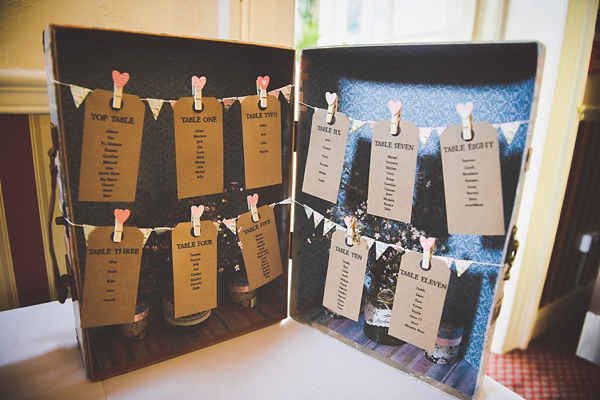 "My big sister Caroline (matron of honour!) and her husband Adrian
made our wedding cakes.
They spent the full day before the wedding in the kitchen. The main cake
had three layers; victoria sponge, coffee and walnut, and chocolate.
They made a separate carrot cake too! Both cakes were decorated with
fresh strawberries and were absolutely delicious – I loved them!
Their
number is 07789…  hahaha! Only joking! Hmmm, I wonder if they'd make me
another?!
My sister in law, Sally, made the cake topper."
"The bridal party flowers were designed by the Daisy Chain in Omagh.
Sarah is incredibly creative and I knew as soon as I gave her an idea
of what I wanted she'd produce something beautiful- she didn't
disappoint!
I only ever wanted to carry fresh flowers and I really
fancied something really big and eye-catching, all in blush tones to
compliment the bridesmaids. I love peonies and had to have them in there
too! We wrapped my bouquet in hessian and lace and Sarah attached a
little picture of my mum that I'd had made especially, into my flowers."
On
the morning of the wedding I was still without 'something old and
something borrowed', so I borrowed an antique mother of pearl brooch
from my mums jewellery box and pinned it into the hessian and lace.
I
wanted the bridesmaids bouquets to be soft, simple and tied with lace.
Their bouquets were stunning! I couldn't have imagined better! My
nieces, the flower girls, wore Gyp halo rings on their heads and carried
little Gyp posies, again tied with lace. All of this was provided by
the Daisy Chain."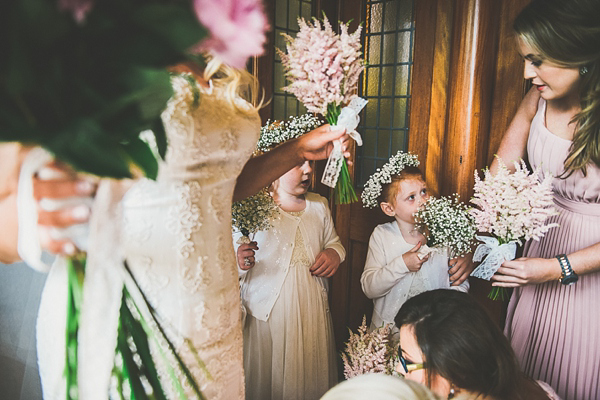 "I got the bridesmaids dresses made for the girls in china. I
ordered them on a wing and a prayer and altered them at home when they
arrived. I loved the softness of their dresses and how the fabric moved
when they walked. I was kinda sorry I didn't order myself one!
The bridesmaid's shoes came from eBay! No expense spared lol! I
didn't want anything too high or formal, and wanted them to be as comfy
as possible. The shoes were in taupe and grey tones which complimented
their dress colour- although their dresses were so long I doubt anyone"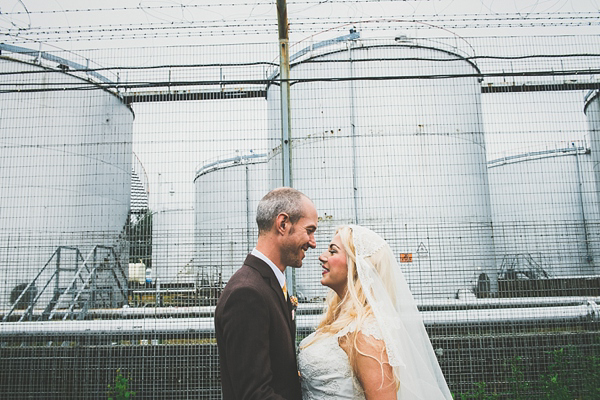 "The stationary was a team effort! Our good friends Marty
Doherty at Fifth Limb Designs (close friend also one of Baz's best men),
and Marty Coyle (close friend and bouzouki player in our band!) from Red Folk Posters designed our Save the Dates, table plan luggage tags and order of services.
I
assembled the table plan itself, from a vintage style suitcase, mini
bunting that I found in a local interior shop, brown luggage tags and
mini love heart pegs! I placed a few jam jars with flowers inside the
case also."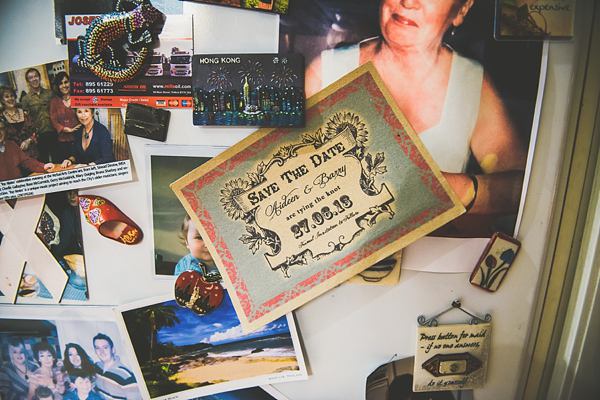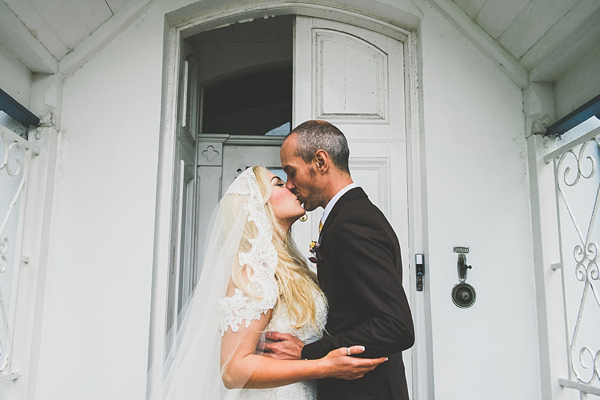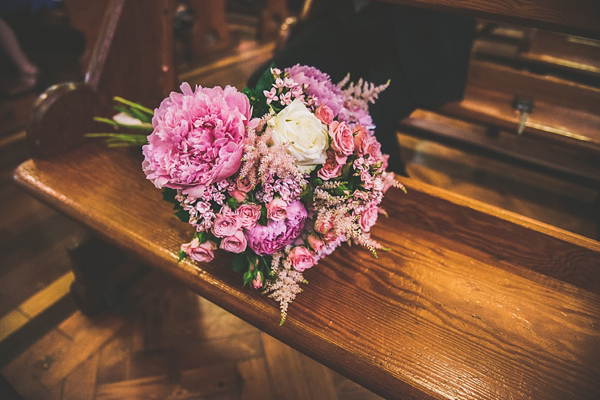 "Favours were little individual pots of strawberry jam. We purchased them from Tiptree.
We had planned to make the jam ourselves, but with neither of us having
made jam before and not wanting to give anyone food poisoning, we opted
to play it safe!
I ordered the material to decorate the jars from the 'Vintage Fabric Market'
online, and Baz designed the 'Spread the Love' label, which him and his
mum transferred onto each piece of fabric. We tied everything together
with natural twine and used mini luggage tags, with our guests' names
hand written on, as place settings."
"I purchased my flower crown from Rouge Pony on Etsy. Karin was excellent to deal with and had my beautifully wrapped flower crown delivered in days!"
"Our wedding photographer was the inimitable Paula Gillespie.
From start to finish Paula was an absolute pleasure. Her ability to
make everyone feel so at ease and comfortable shines through in her
work.
Paula was a beautifully calm presence on the day itself and we are
totally blown away with her photographs! Everyone who's seen the
pictures have said they're the best wedding photographs they've ever
seen! We couldn't agree more! She captured our day beautifully and we'll
treasure these photos forever."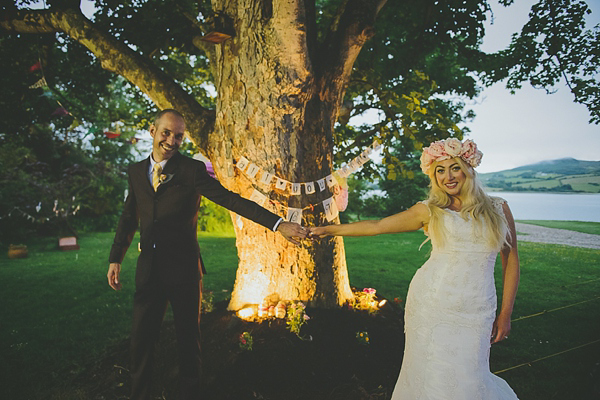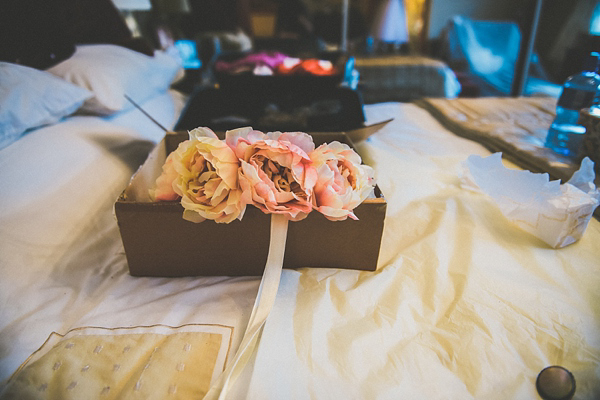 "Hair was by ExSalonce, Omagh, and The Loft, Longford. The bridesmaid's makeup was by Omagh based makeup artist Aine McSorley.
I loved the bridesmaids make up – they looked fresh and natural.
I
planned to do my own make up, which I did, as I'm a bit of a control
freak when it comes to that area! Apart from that I really wanted to
just look like 'myself' if that makes any sense?!  Having
time alone at home, doing my make up was a lovely time to reflect on the
day ahead. It was a little piece of my usual routine that I couldn't
bear to part with."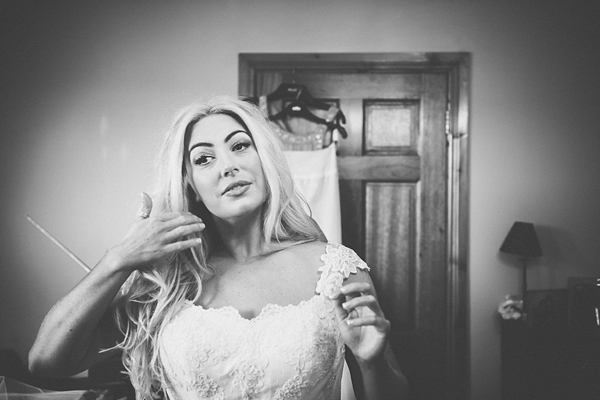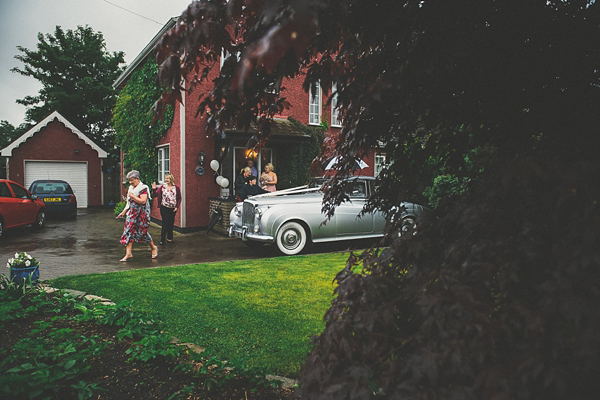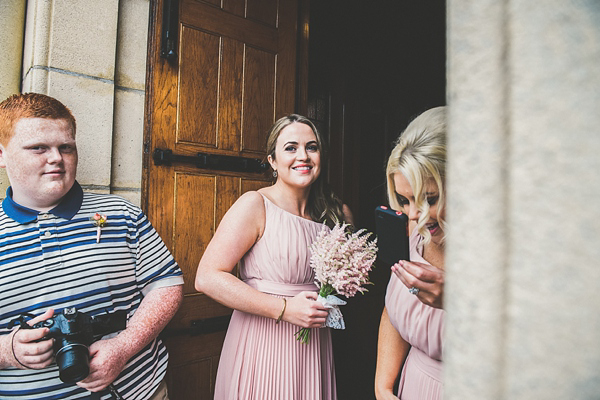 "When it came to the flowers for the church and The Red Door, it was a
real team effort! My obsession with the jam jars finally paid off! My
bridesmaids and friends stopped at every supermarket, every garden,
every hedge and side of every road that looked colourful! When they
finally met me at the venue with their cars loaded with flowers we had
quite a collection!
They sat out in the sunshine the day before the
wedding at The Red Door and arranged all these flowers into the jam jars
and the results were just stunning! I was over the moon with the
flowers and incredibly impressed with the women!
When I
arrived at the church for the wedding, my good friend Tina had been in
that morning and arranged beautiful flowers into more jam jars, some
that she'd decorated even matched the colour polka dot of my shoes
perfectly! She's wired the jars and attached them to the end of each pew
on the aisle. It was just beautiful. We were utterly overwhelmed by
everyone's support and generosity, and we'll never forget it.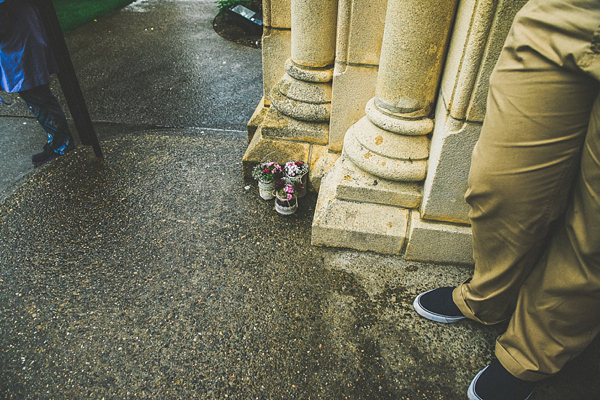 "Our church/ceremony music was just beautiful! My good friend
Melissa McDermott is an amazing singer and guitarist. I couldn't have
imagined anyone else doing the church music for us! Throughout the
ceremony she sang:
Hey Ya (slow acoustic cover of the Outkast song),
You Are The Best Thing (Ray LaMontage),
You and Me Song (Wannadies),
Hey Ho (The Lumineers),
Oisin Cannon and Robert Peoples performed:
Book of Love Peter Gabriel,
Happy Together The Turtles,
and our exit music as we walked back down the aisle as husband and wife,
Caravan of Love The Housemartins.
Everything sounded absolutely amazing! I wish I could go back and listen to it all again!"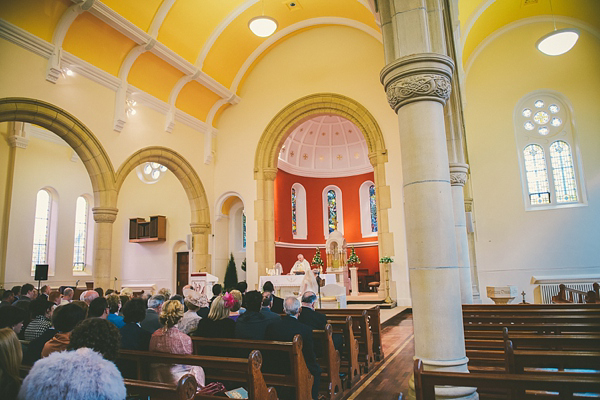 "My Dad gave me away. I'm his baby; it was so emotional walking down
the aisle together to 'The Book of Love' by Peter Gabriel, performed by
one of my oldest and dearest friends Oisin Cannon and accompanied on
the violin by another good friend Robert Peoples. It was absolutely
gorgeous, I watched a video of it back the other day and cried!"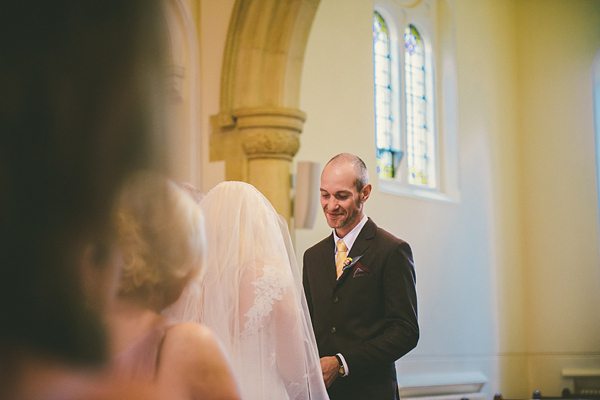 "Baz really wanted to say the words, 'I do', and so, we changed a few things about to make sure we could say that!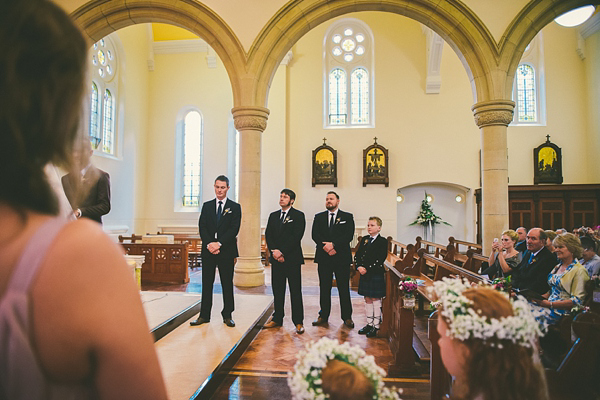 Aideen and Barry's first reading came from The Song of Songs;
'Come
then, my love, come with me.  The winter is over and the rains have
stopped, in the countryside flowers are in bloom.  This is the time for
singing; the song of the doves is heard in the fields.  Figs are
beginning to ripen; the air is fragrant with blossoming vines. 
Come
then, my love, come with me.  You are like a dove that hides in the
crevice of a rock.  Let me see your lovely face and hear your enchanting
voice.   My beloved is mine and I am his.'
Their second reading was from the first letter of St Paul to the Corinthians';
'Love
is always patient and kind; it is never jealous, never boastful or
proud, never haughty or selfish or rude.  Love does not demand its own
way.  It is not irritable or touchy.  It does not hold grudges and will
hardly even notice when others do wrong.  If you love someone you will
be loyal to them, no matter what the cost.  You will always believe in
them and always expect the best of them.  There are three things that
last, faith, hope and love and the greatest of these is love.'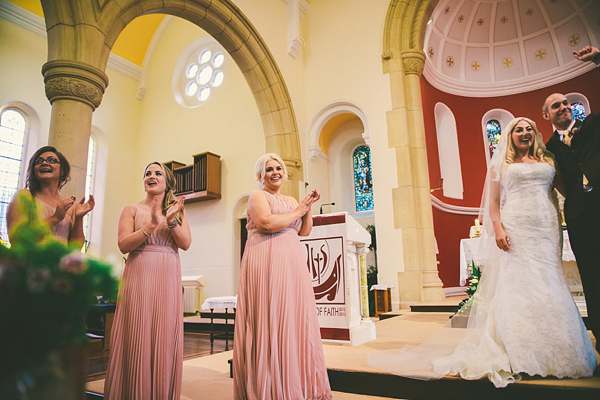 "The
readings we chose had a strong 'love' vibe running throughout. I think
the first reading is so beautiful and romantic; the title, 'A reading
from the Song of Songs' seemed very apt also. Within all the romance of
this reading it even talked about singing! It was perfect. I love the
simple message in the Corinthians reading, it's strong and gentle at the
same time.  Our aunts, Chris and Rosaleen read the readings for us at
the ceremony and they were fabulous, it was very emotional."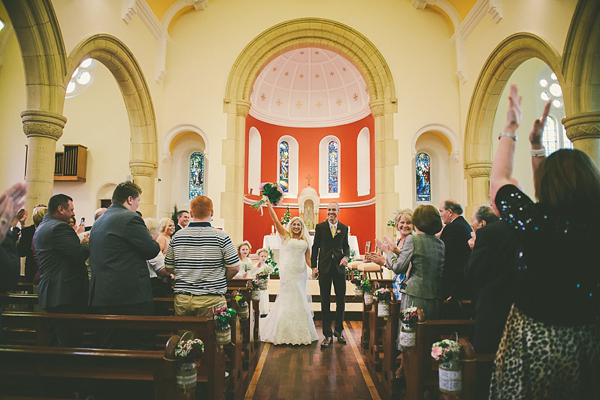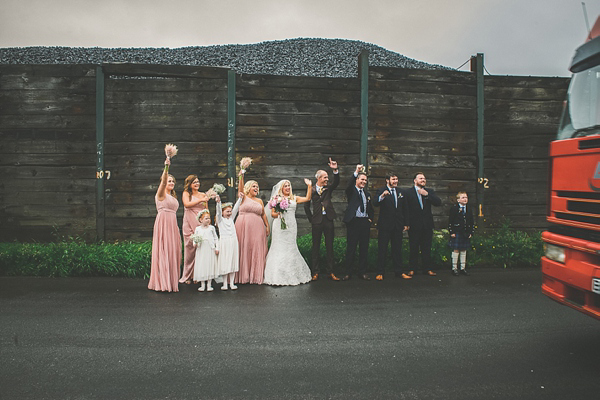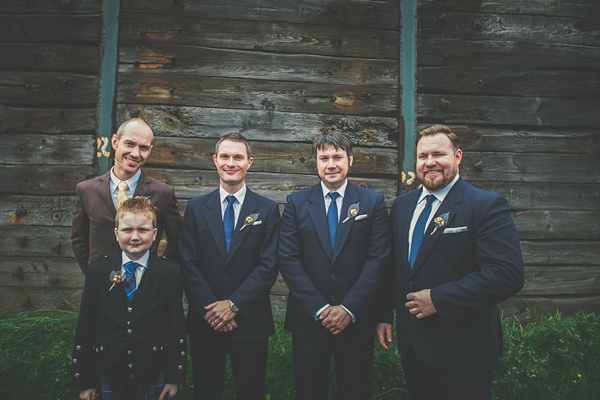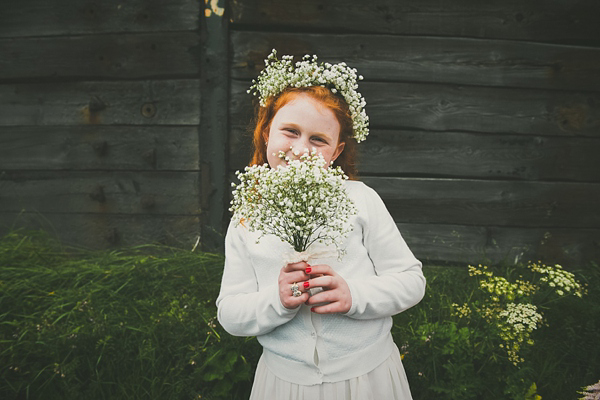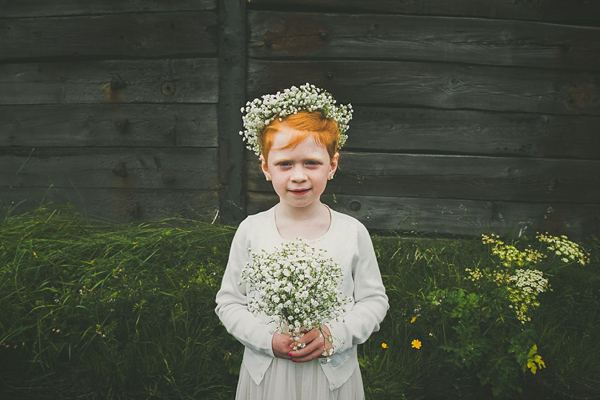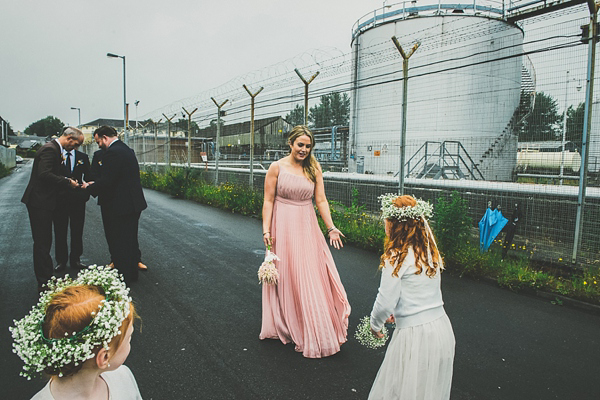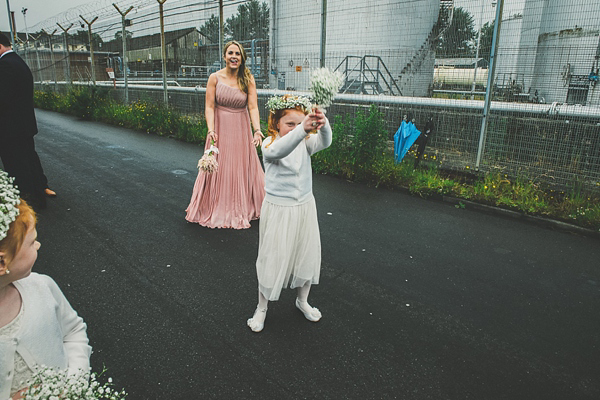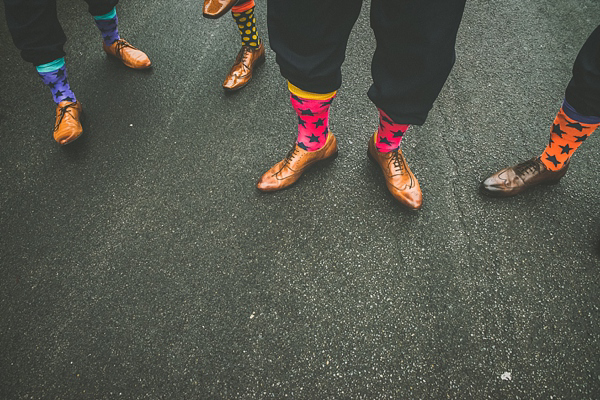 "We spent the day before the wedding at the
venue puffing pom poms, arranging flowers for the jam jars, putting up
the tent, hanging chimes, hearts, cd's, picture frames, decorating the
photo booth and assembling the table plan suitcase! Lots of work, but so
enjoyable and so worth it! We couldn't have done it without our good
friends and family. I loved the day before- our friends and us all
working together in the sunshine!"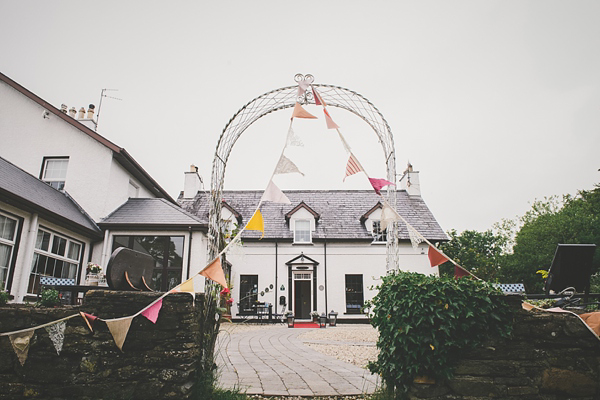 "On the day of our wedding, we wanted to incorporate the tent that Baz proposed to me in, so we
pitched it in the gardens and turned it into a photo booth, complete
with moustache props and gold guild frame! We decorated it with paper
chains to make a backdrop."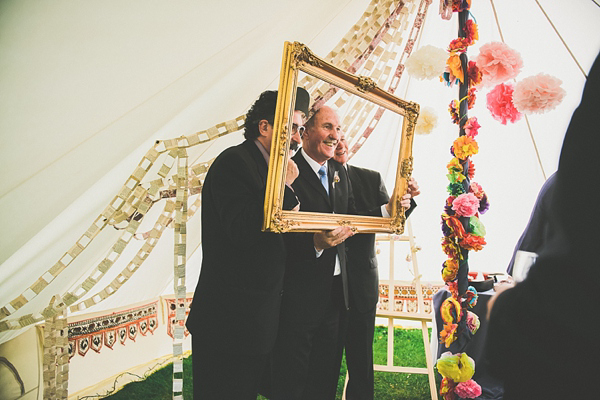 ""Friends of ours (Mark and Mandy) run a beautiful festival company
and loaned us a fabulous colourful Indian inspired structure for the
gardens."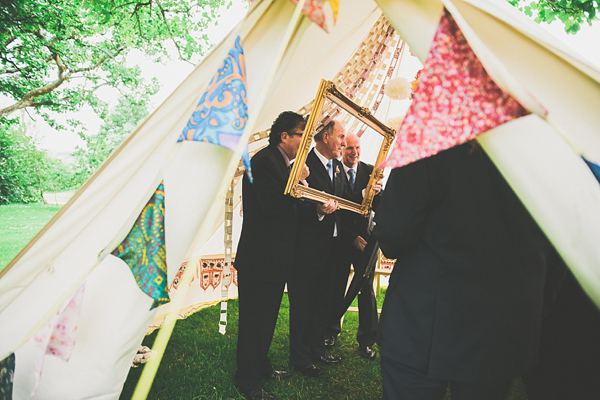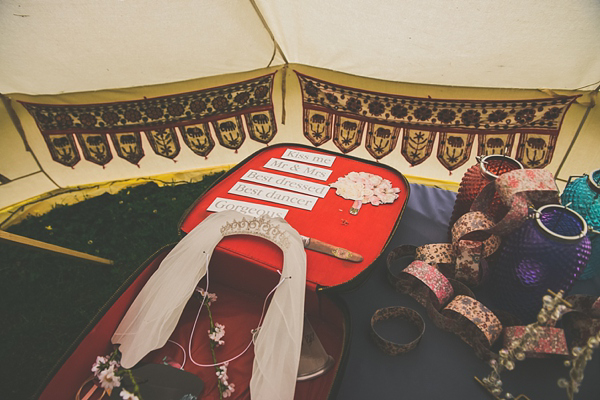 We had garden games including croquet, quoits and
hula hoops, along with wish trees – one to make a wish on
and one to make a wish for us, and a fingerprint tree as a guest book."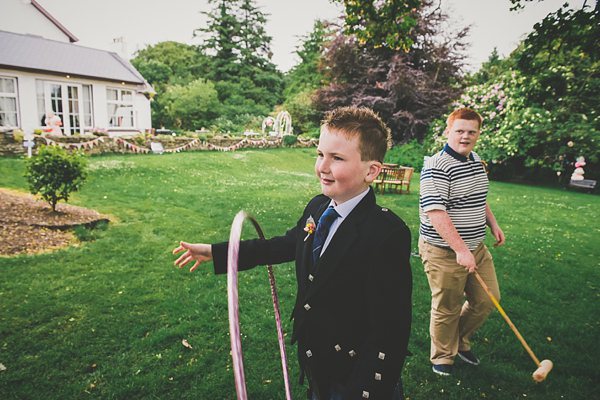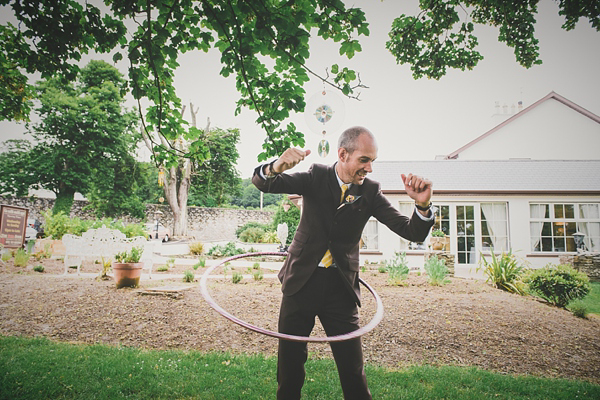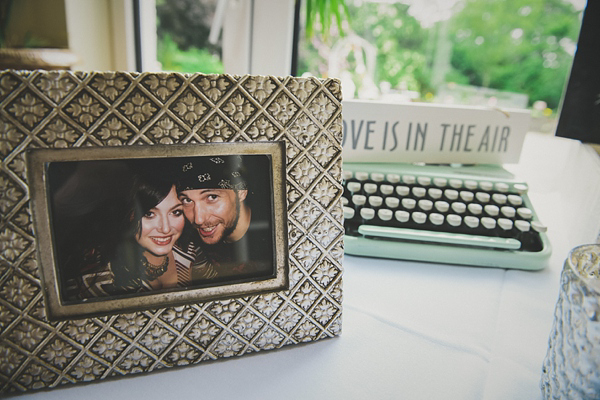 "As we really wanted to have a homemade and personal feel to the day, I
spent months collecting and decorating jam jars with lace, hessian
fabric and natural twine. The jam jars turned into a bit of an obsession
toward the end, no one could enter our flat without getting a glue gun
thrust into their hand and made to decorate some! The week before the
wedding, my sister, her husband, their kids, and myself all sat around
their kitchen table and finally finished the jam jars- we had lots of
fun!
For table numbers, we used empty, stripped clear glass
wine bottles, and with hessian fabric cut into the shape of luggage tags
and numbers stencilled on, to display each table number. I also made
the men's boutonnieres."
"Our first dance was an original song by our friends Ruairi and
Marty. Their band is called 'Little Hooks', and their music is simply
stunning. We'd always loved their song; 'Please say it's alright' and I
always imagined it playing on our wedding day. To have it as our first
dance was a dream come true. When they started playing the first few
chords we had goose bumps, it was a perfect moment. About halfway
through the song, Baz and I called everyone around us to come and dance
with us.
It was so amazing to be dancing to our favourite song, played
live by the wonderful people who wrote it, surrounded by our friends and
family. It's a memory we'll always cherish."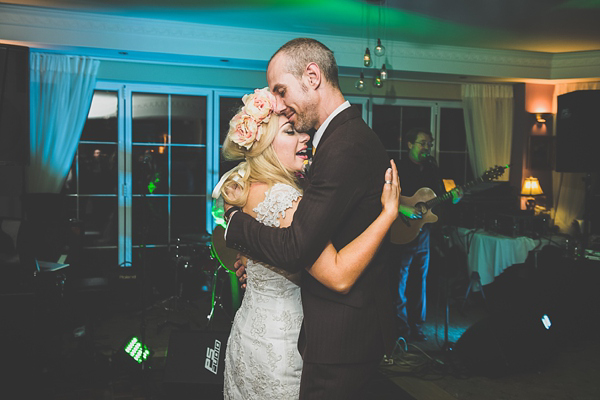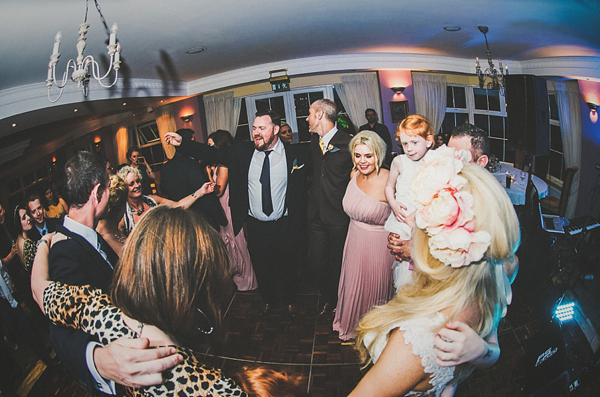 "The music was a huge deal to us as music is basically our lives! We
really wanted a festival like day with loads of great music all the way
through.  At The Red Door while our guests were arriving and
enjoying a glass of bubbly, we had 'Taj Bell', a singer songwriter with a
unique style of pixie pop! She performed in her tutu and fairy wings-
she was fabulous! 
After dinner 'The Inishowen Gospel Choir'
performed outside in the gardens, they were amazing and ended their
performance with one of our favourite songs, 'Home' by Edward Sharpe and
The Magnetic Zeros! It was a really special moment for us! Dancing
about to them was the perfect way to work off dinner!" 
"Next up we had 'Little Hooks',
one of our favourite bands ever. Their music is heartbreakingly
beautiful and we'd always dreamed that their song, 'Please say it's
alright', would be our first dance! It was and it blew it us away. I get
teary thinking about it!
 After that 'Thumping Jellyfish' (brilliant rock band) played- Baz plays in that band, followed by 'Balkan Alien Sound' (the band I sing in)- an eastern European, gypsy folk band- total party music.  The night was capped off with a set from 'The Haciendas' – a brilliant band (that Baz is also in!) playing a huge range of funky stuff.  At
one point in the middle of all that we even had Elvis! Baz's dad
planned it as surprise for us- I nearly died laughing when I seen my new
father in law running out in a full Elvis outfit! He sang a whole half
hour set! He was amazing!"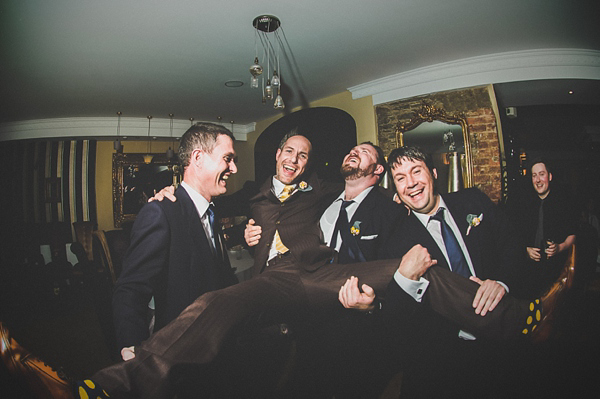 "There were so many little moments that I just loved about
the day – when I came down the stairs of my house on the morning of the
wedding, there seemed to be so many people there to see me! It was
amazing! All friends and neighbours, some of whom I hadn't seen in a
really long time! I couldn't stop smiling- I felt so special!   Walking
up the aisle, on my Dad's arm, towards Baz was one of my favourite
parts of the day. Seeing each other at the alter was overwhelming and we
both felt so emotional. We'd been dreaming of that moment and we
couldn't wait for it to happen! I was incredibly proud to see Baz
standing there- he looked so handsome.
Our whole wedding ceremony was
just beautiful. Father Graham was amazing. Dancing outside to the Inishowen Gospel Choir was brilliant too- especially when they sang, 'Home'.   Our first dance- that was incredibly special too, and having all the people we love surrounding us was unbelievable.  There
are so many favourite parts!!! The whole day was just incredible, we're
so lucky to have these memories, and so lucky to have the people in our
lives that made them happen."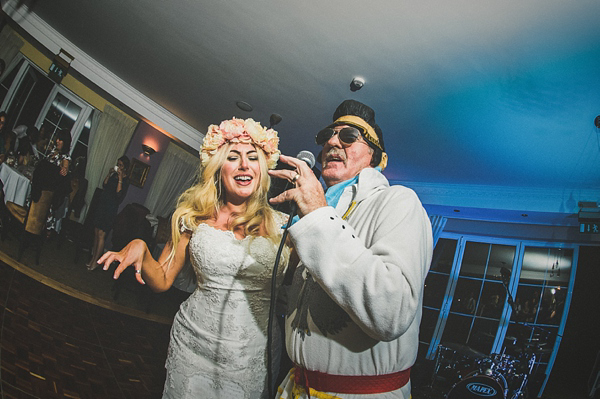 Words of Wedded Wisdom…
"In the
lead up to my wedding day and on the day itself, so many people told me
to make sure I took some time to take everything in. That's good advice;
if you're not present in the moment, your day can pass you by in a
blur! I was glad of that advice on my day and made sure I was absorbing
every beautiful moment alongside my new husband!
Another
piece of advice is, if you are dreaming of your wedding being a certain
way- just do it! It's worth any stress you might feel! There can be so
many little details to worry over- some might say those details don't
matter- but if they matter to you- they matter! Just make sure you give
yourself enough time to see them all through- even if it sounds crazy to
everyone else! The little details mattered to me and I love looking
back on our day, knowing everything was exactly how I dreamed it would
be!"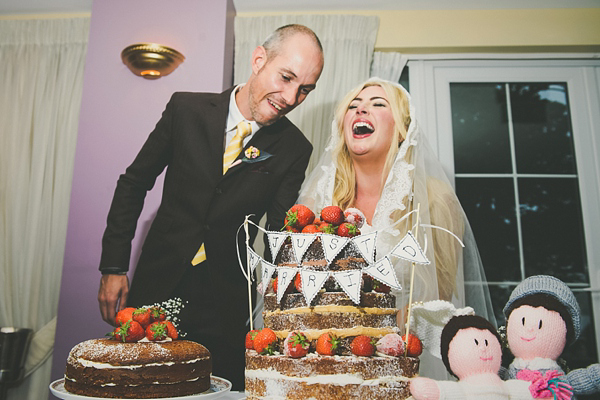 "I don't think there's anything I regret. I knew I was giving myself a lot of work, but I
didn't want to regret not having the wedding I'd always dreamed of. So,
we just pushed on through the pain barrier and it was totally worth it!  
The only thing I'd do differently, I think, is purchase
the bridesmaid dresses locally. I loved the girls' dresses, but they
needed a lot of alterations when they arrived. (Fortunately, Fidelis,
the lovely dressmaker who altered them, is a very talented and very
patient lady – I'd have been lost without her!) I fell in love with the
design of the dresses though, and I didn't see anything similar closer
to home at the time.
Finally, Love My Dress is easily the best blog. It's easy to navigate,
colourful and every wedding you feature is unique and beautiful. Thank
you for all the inspiration over the last few years! Keep up the good
work!"
What a beeeeeeeautiful day!!! Just so darn beautiful!
Huge congratulations to you both Aideen and Barry – Aideen, I had so much fun reading through your questionnaire, thanks for sharing so much of your day with our readers, who I know will love your wedding.  Huge thanks to photographer Paula Gillespie too.
What do you love most about this gorgeous day? You can see more colourful, Irish, polka dot and rainy day style weddings here on Love My Dress.
With much love,
Annabel

Photographer – Paula Gillespie
Venue + Catering – The Red Door Country House in Fahan, Donegal, Ireland
Wedding Dress – Essence of Australia via Beautiful Day Bridal Cottage in Greysteel
Veil/Headpiece – Megan Ferguson Couture Bridal Accessories
Brides Shoes – Polka-Dot d'Orsays by Bettye Mullar from BHLDN
Flower Crown – Rouge Pony on Etsy
Groom's Attire – Jump The Gun
Bridesmaids – Ordered from overseas
Flowergirl Dresses + Shoes – Next
Flowers – Daisy Chain in Omagh
Additional styling – Vintage Style Hire
Emporium + Chinese wish lanterns
Cars/Transport – Vintage cars came from Glendale Omagh
Entertainment – The Inishowen Gospel Choir + Little Hook + Thumping Jellyfish + Balkan Alien Sound (the bride sings in this band) + The Haciendas'
Pots of strawberry jam from Tiptree decorated with vntage fabric
Rings – Faller
Hair Stylist – ExSalonce, Omagh, and The Loft, Longford
Makeup Artist – Aine McSorley
Save The Date Stationery/Poster – Red Folk Posters