This afternoon folks, we've got TWO weddings to share with you. Two. See, we have so many beautiful beautiful days waiting to be published to our pages that we've ramped things up a little this afternoon and are going all-out overload on the inspiration factor.  Starting, with this lovely, relaxed and colourful celebration of Robin and Tara who tied the knot on 11 May this year in Edinburgh.
"Although I grew up in the UK, I'm originally from India
and Robin from Warwickshire and we decided quite early on that some
kind cultural 'mash up' wasn't really our thing. So we decided that we'd
have a British white wedding in the UK and at the insistence of my
parents who are based in India, a 'small' ceremony out there later in
the year.
The wedding in Edinburgh was always going to be the official
ceremony and we both wanted it to be traditional but also quite relaxed
and not too fussy. That was probably the theme – traditional, relaxed
and colourful."
Photography Copyright (c) 2013, Lisa Devine
"Robin and I met on the first day of university in the glamorous
surroundings of Edinburgh University student halls back in September
2002. Robin was wearing shorts and flip flops even though it was raining
outside and sporting a rather dubious 'gap year' haircut. I was trying
desperately to figure out how on earth I had managed to arrive at
university a day later than everybody else. This question still remains
unanswered!  Luckily though, we became friends. 50 cent was playing on
the radio and we were probably throwing some pretty dodgy dance moves
amidst the haze of 50p shots. After a year of pretending we liked
everyone else except each other we decided to go 'official'.
In
February 2012 Robin took me to the edge of a cliff on the Isle of Skye
overlooking the Outer Hebrides. I was convinced he was looking for the
ultimate opportunity to test out his binoculars, but despite significant
danger to both their lives, he got down on one knee and proposed. We
laughed, jumped around a lot, I tried not to throw the ring into the
North Sea and then we drank a bottle of cava from the local Co-op."
"My shoes were £50 from Topshop!
I loved my shoes. I always wanted cornflower blue shoes (no idea why)
and when I stumbled into a local topshop whilst waiting for a friend, I
fell in love with this pair. My bridesmaids were more than a little
reluctant giving their approval, with my sister proclaiming that I would
look like Jayne Torvill of Torvill and Dean fame but I never had a
doubt. If not at your wedding, when else can you get away with massive,
gold glittery heels."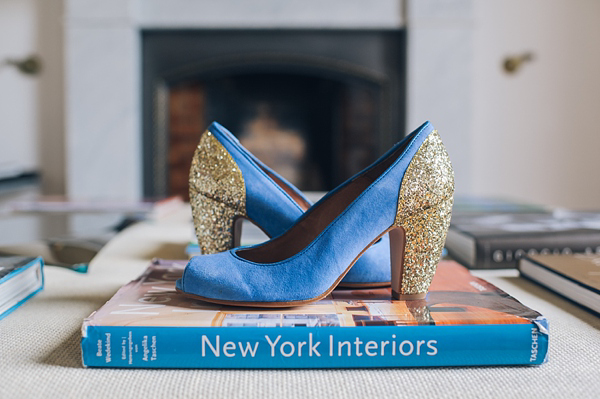 "We had our flowers from Planet Flowers who were incredibly patient with us as
we changed our minds about a million times about what we wanted. I
wanted my flowers to be bright and seasonal and as a result chose to
have wonderful but simple blue and white hydrangeas for the bridesmaid's
bouquets and as pew ends in the church."
"My dress was made by a local designer who had made a friend's
dress.   The dress I decided on was a combination of lots of different
dresses I tried on. I had never thought I would be confident enough to
wear a satin dress but a combination of the material, which made me feel
like a real superstar, and the wonderful cowl-back design with the
buttons and the puddle train really topped it off.
I also loved the fact
that the dress didn't try to hide or change me. Sometimes the corsets,
material and other aspects of the dress try and hide and smooth away the
body under the dress. My dress fell beautifully and didn't cling but it
didn't try and change the shape of my body (which is by no means
perfect!) but I liked that natural fluidity of it. Me, but on a good
day!"
"My Dad gave me away – he also made the most AMAZING speech.  I
walked down the aisle to 'Moon River' because it always reminds me of my
grandmother and also the lyrics seemed very like an appropriate way to
commemorate the start of a big adventure.
 We
didn't tailor our vows. Actually we felt that the words and the
seriousness and sincerity of them was just right.   In hindsight, we
spent a lot of time choosing our readings. We had 'Us Two' by AA Milne
and for our Bible reading we had Romans 12, v9:18. We wanted the
readings to be both symbolic of our relationship as it is now but also
aspirational, about the people we want to become together. The AA Milne
reading, which one of our friends bought us a first edition of
thoughtfully, was about companionship in a very honest way, whilst our
Bible reading was about how we could keep growing but as a couple.
The
Minister picked up on a line 'Outdo one another in showing honour', and
said how wonderful it would be if people lived their life like this.
That really stuck with us both. Having a strong moral compass, being
generous and showing respect to one another and others, and looking to
develop these qualities, seems like a good advice to start your lives
together."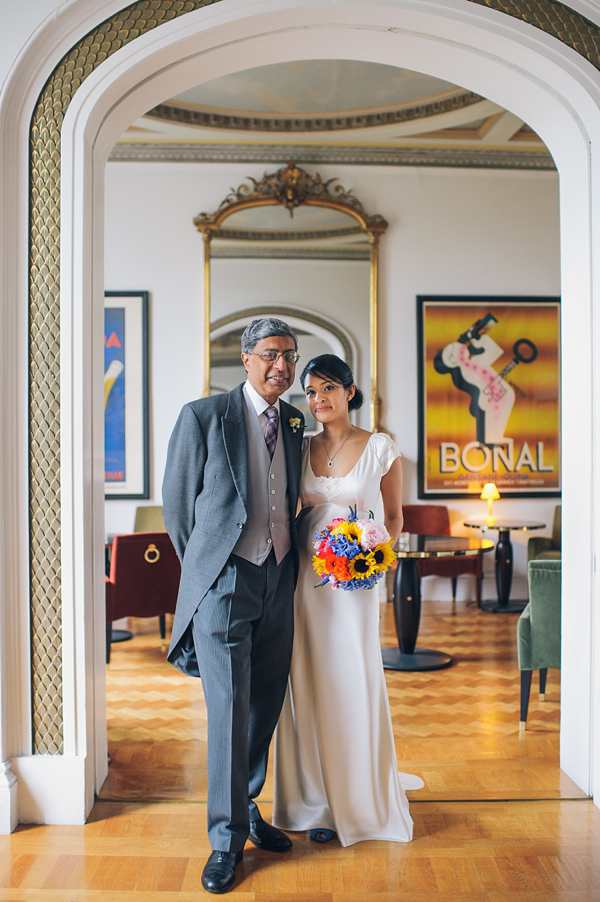 "I wasn't too fussed that the bridesmaids wore the same thing but
were keen they wore similar colours. In the end I sent them a few ideas
and they picked out the same dress, so that was lucky.  I let the
bridesmaid decide and coordinate their own shoes. One of them (my
sister) is 5'0 and the other is 5'7 so it was hardly fair I should force
them into the same thing."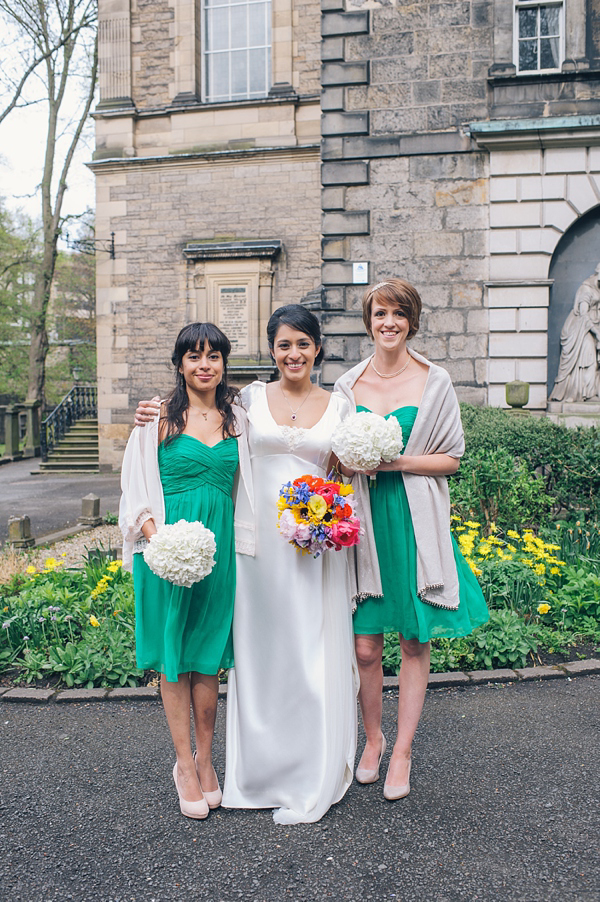 "I didn't really wear any accessories.  For my parents, the
jewellery I wore on the day was a big deal because of its importance
with Indian culture. My mum hadn't seen the dress until a couple of
weeks before the wedding though so I really wanted to emphasise that
bold, Indian inspired jewellery wouldn't really go. In the end it worked
out really well. For my wedding presents my parents designed me some
exquisite, classical diamond studs which I love. My uncle got my
necklace made especially, a simple but unbelievably beautiful diamond
and ruby pendant. Apparently when I was very young and lived in India, I
went for a walk with my uncle and picked up a lot of red seeds from the
road but couldn't pronounce my 'rs' and (as the legend goes) said, 'I
got a led lubie from the load'.
In India, bangles and
bracelets are generally considered to be auspicious, especially for
married women. In particular, my mother had an iron 'loho' bracelet made
for me that signifies marriage (like the wedding ring) and is meant to
be worn for the protection of your husband. I consider this as important
as my wedding ring, really. I also wore two antique pearl and gold
bangles from my grandmother on the day itself. "
"For our table plan we had a large map of Scotland and each
table named after a different whisky distillery, which was good fun to
make up the day before! Robin and I also had a nice time drinking all
that whisky in the year before the wedding so that we had the right
bottles to put on each table. Needless to say, we had a bit of help from
family members! Other than that, we just had a lot of tealights and
some large lanterns for the hallway.
I spent ages thinking about
decorations but in the end went quite minimal because the venue really
didn't need too much."
"Robin had his kilt especially made by the Hugh Macpherson shop, although on the morning he realised he didn't have a waistcoat so had to make a mad dash to Moss Bros."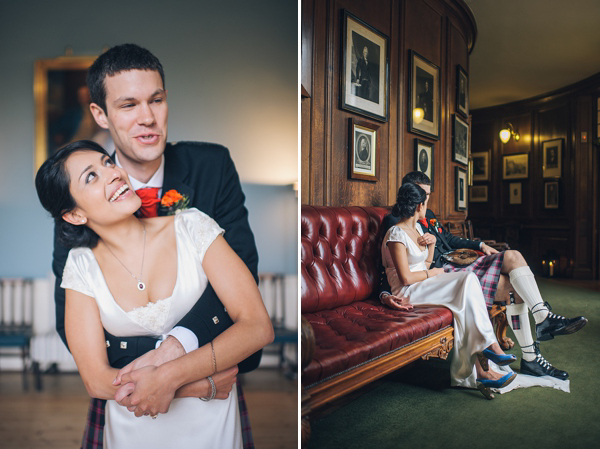 "Our photographer was Lisa Devine.
Lisa really was amazing. She completely understood the look we were
going for and really was brilliant on the day. She made us both feel
completely at ease and it was actually really great having her around
before the ceremony as well (I wasn't initially very sure about having
getting ready photos).
Lisa also sent the photos to us really promptly
and in the most wonderful packaging ( I love stationary) and made a
really brilliant slideshow to music which we both LOVE! I couldn't
recommend her enough."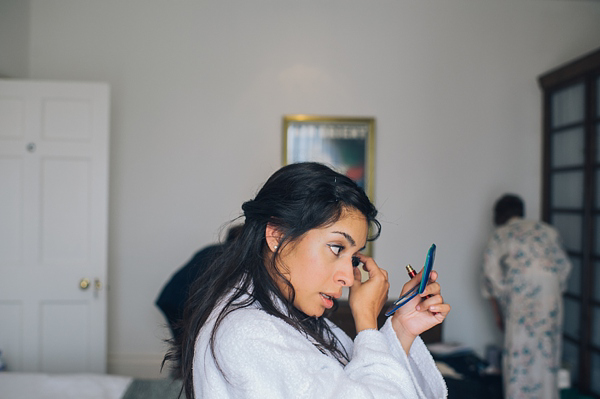 "The orders of service and menus were quite a labour of love. Along
with my wonderful friend, Jane, we individually stamped and dry embossed
the cover of each one. My parents brought some wonderful handmade paper
from India which the running order and menus were printed on."
"As per Indian custom, my grandma who passed away many years ago
now had left me some gold jewellery for my wedding day. As it was
unlikely I would wear any of this, my parents melted a bit down for our
wedding rings. The wedding band is slightly thicker than my engagement
ring because we have each others names and the date engraved in them but
I don't mind them being distinct from one another."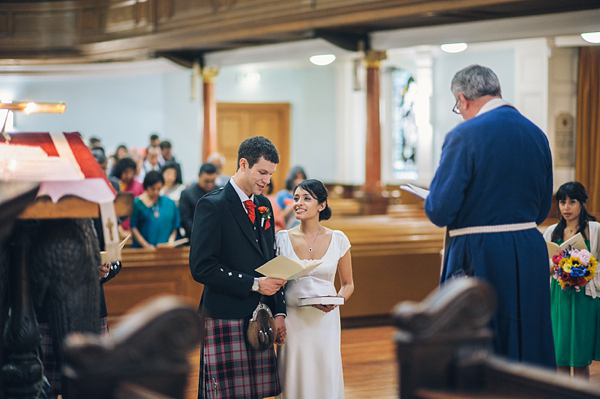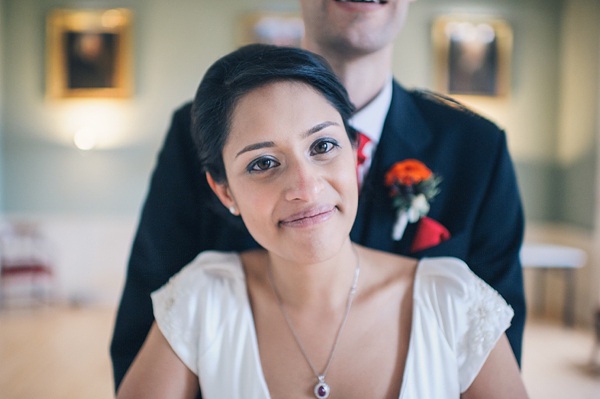 "Our wedding favours were another real labour of love! Robin and I
made individual pots of apple chutney and garam masala (sugar and
spice)  which we gave each male and female guest respectively (women
obviously deserved the spice). Robin's mum, who passed away a few years
ago, was renowned for her jams and chutneys so he wanted to do his own
version and I thought that having an Indian inspired spice also made
sense. Shame that Edinburgh airport confiscated quite a few of the
chutneys the next day – I hope they enjoyed it with some nice cheddar.
For the reception, Robin's
dad's partner and his aunt just put single gerberas in whisky bottles on
the table. We had thought about getting larger arrangements but in the
end decided something simple would be just as good and significantly
cheaper!"
"Our caterers Pinkertons Catering  were
absolutely brilliant. The food was fabulous, tasty but not pretentious
and they were completely and utterly on top of everything on the day.
Sally, our events manager on the day took care of everything, set the
tables up exactly as we wanted them to and packed everything perfectly
at the end of the evening. Really great."
"The ceremony and the speeches were definitely my favourite part of
the day. I was much more nervous than I thought I would be for the
service but once it started everything about if felt just right – even
though I did take Robin to be "my wife" (I followed the Minister who
went wrong!). The hymns and the voices of the congregation, the readings
and the wording of the vows felt like the perfect way to celebrate a
new beginning. The speeches, as well, were so joyful. I was a bit
concerned that my dad would get really sentimental but on the day he was
composed, funny without trying too hard and touching. Robin's was also
very moving and funny and I could really tell he had spent so much time
thinking what to say.
The best men were both brilliant as well, just the
right combination of mockery and affection. I'm also pleased that I got
up to say a few words despite having completely lost my  voice – it
felt important that I got a chance to thank certain people, and Robin,
in my own words in public. I love the photos Lisa took during the
speeches because it really captured the laughter and love in that room. I
felt so overwhelmed by the amazing reception our friends and family
gave us when we walked in for the wedding breakfast – if I could bottle
that feeling, I really think it would get me through anything."
"Our first dance was 'Home' by Edward Sharpe and the Magnetic Zeros.
Tara has probably spent many hours over the last decade thinking about
what her first dance would be but when it came down to it, we just
couldn't make a collective decision. Although it's a current song it
captured just the right level of joyfulness we both felt about the day
and the future."
"We had the Homecoming String Band to play some Apalachian inspired,
Scottish folk (it genuinely worked well) for the drinks reception and
also do the ceilidh later. They were incredibly patient since I think we
made an attempt to be the rowdiest, worse bunch of ceilidhers ever
seen. Many people after the wedding commented on how much they enjoyed
their first taste of ceilidh so it really is a credit to the band!"
Words of Wedded Wisdom…
"I loved the styling that
was featured on Love My Dress and there were many parts of our wedding
that was influenced by it. More than anything else, I loved that it was
about real people, not some ridiculous focus on perfection and money
that a lot of the wedding industry is dominated by. I HATE the images of
bridezilla and the wedding being such a 'stressful' occasion for the
bride, which Love My Dress doesn't give into.
There is a
lot of focus about planning the reception, but at the end of the day
that bit is just another party so all you need is food, music, alcohol
and the place to look nice. The main thing is the ceremony so try and go
against the magazines and all the rest and focus on this part – this is
really the "once in a lifetime" part of the day.
If I'd have done *anything* at all differently, perhaps I'd have
been a little less boisterous in the days leading up to the wedding so
that I would not have lost my voice on the day! But then again, it was
really good fun to celebrate with a few family and friends before the
big day especially since so many people had travelled such a long way.
So no, no regrets. Oh maybe I would have taken Robin to be my husband
instead of my wife, as well."
If you love this photography, you can see more work from Lisa Devine on Love My Dress right here.  You can also explore more colourful weddings and Scottish weddings.
Will anyone else be showing off a pair of blue and gold glittery heels on their wedding day?
With much love,
Annabel
Photographer – Lisa Devine
Wedding Dress – Bespoke/local dressmaker
Brides' shoes – Topshop
Groom's Attire – Hugh Macpherson
Flowers – Planet Flowers
Cake – Family member
Entertainment – Homecoming String Band
Favours – Homemade chutney
Rings – melted down family gold
Catering – Pinkertons Catering