Yes, sofas swinging in the trees!  I thought this totally relaxed, laid back and fun wedding would make the perfect feature to share with you this Friday afternoon. Joanne and Neill's amazing eco-friendly wedding took place on 6 July this year at Whetstead Farm in Tonbridge, Kent… 

"We really wanted our wedding to be as relaxed as possible and to reflect our personalities. We loved the idea of being outside in woodland and that was our starting point. Whetstead Farm had it all, the beautiful woodland we had been looking for, two treehouses, including one as the bridal suit, sofas swinging in the trees, large ponds and a clearing for the Indian Marquee. Once it got dark there were light installations through the wood and a fire pit.

We had Christabel from One Life Ceremonies
perform our ceremony for us in the woodland and she worked with us to
taylor it all to how we wanted it, she made it very personal for us
both.  We went to Tunbridge Wells Registry Office with our very close
family to have our legal service and to sign the register."
Photography Copyright (c) 2013, Sarah Legge
"There
were a few things that inspired our style. One of them was my Great Grandmother's necklace that my Nana gave to me on my 21st birthday. It is
a beautiful gold Victorian design with two emerald coloured stones and a
small pearl. I knew it would be my something old and I had it in mind
whilst trying on dresses. This lead to our vintage theme with the old
suitcases and stout bottles for the wild flowers.
Secondly,
living and working in the city is fast paced and stressful and we are
both originally from more rural areas and wanted our wedding day to be more a part of our roots and we love being outdoors.  I'm
a bit of an eco warrior too so everything we had I wanted to be able to
recycle. This influenced us to handmake everything out of buff paper
and card."
"Neill and I met after University whilst working in a bar in
Loughborough. After only a few months together we both got our dream
jobs in London and decided to move down to the city together to see if
we could make a go of it and here we are 6 years later as Mr and Mrs.  Neill
took me away for a weekend in the Cotswolds for my birthday last July.
We were walking through woodlands after having a few pints, there were
lovely old bridges,  and ponds, it was very beautiful.
He asked me to
marry him with a washer that he had bought from Leylands, the hardware
store. This might seem a little weird but it was significant to us! I
wore the washer all the way back to our hotel, luckily there was a place
holder ring waiting for me there as it had started to give me a rash!
We chose our engagement ring together when we were back in London, so I
got three rings! Very lucky!  We got married a year later."
"I loved my veil! It was a 1920's scattered lace pronovias
veil,  I think it really made the whole look as the dress was quite
simple it needed something extra."
"We used birdcages, fairy lights, bunting, wooden hearts, old fashioned trunks, lampshades and plenty of tea lights in jars…"
"My dress was from Rembo Styling and I got it from Angelica Bridal in Camden passage, Islington – a beautiful shop with great customer service.
I wore the Antique bouquet side tiara from Glitzy Secrets,
which I chose because of it's vintage look and the gold and pearls went
well with my necklace. It was very reasonably priced too.  My
'something borrowed' was a simple gold chain bracelet from my Nana and
my earrings I already had, I got them from a vintage market in London a
few years ago."   
""We originally booked a vintage bus but were let down at the last minute, and thought we wouldn't be able to find something suitable with such
short notice. We ended up finding something even better. Quirky Wedding Cars
supplied us with an amazing 1953 Leyland Tiger called Bluebird.
We
loved her, and the guys at Quirky Wedding Cars were extremely helpful,
kind, and reasonably priced. Everyone was admiring bluebird as we drove
by!"
"We bought stamps, buff paper, string and ribbon from ebay, amazon,
not on the high street and etsy and handmade everything ourselves. We
also designed our own wedding invitations and had them printed by our
friends dad who has his own business called Dove Coat Press based in Loughborough."
"Jan and Cynamon from Country Gardens in Tonbridge Kent did our flowers. We had a variety of wild flowers, seed pods and herbs.   I
had lots of references to show them and we took in one of the
bridesmaid dresses, Neills tie and a few of the vintage stout bottles.

We chose a few flowers together but left them to be creative. We were so
happy with what they put together for us.  We also took a pair of scissors to our massive rosemary bush in our garden and displayed them around the venue in Jars."
"The bridesmaids dresses came from Monsoon.
We had a great day out trying on all kinds of styles but we all loved
the lace and the embellishment on the Beatrice dress in Nude. Of cause
we would fall in love with their best seller and they were selling out
in all shops and online. So we managed to get three of the girls sorted
out but it resulted in months of stalking ebay, my maid of honour came
to the rescue!
I let the girls choose there own shoes, I
wasn't worried about them all wearing the same thing, my sister is very
tall so she chose flats but some of the other girls wanted to wear
heels. They all went for neutral colours that worked with their
dresses."
"The girls either wore very simple vintage hair combs found on ebay
or a simple white flower. Again I wasn't worried about them matching
exactly with their accessories, they all have their own individual
tastes." 
"Our Photographer was Sarah Legge.  We
knew Sarah as she had shot my maid of honours wedding a few years
before and a few of my other Uni friends.
Sarah has an excellent way with
people and I felt comfortable and confident that she would do a great
job for us. Everyone said it must have been a hard decision for me to
make as I am a photographer myself but it really wasn't, I knew she
would capture the day perfectly and she did.

"I wore a pair of sandals from Dune. Heels wouldn't have been appropriate in the woodland, they suited the
look I was going for and I wore them right through until the bar
closed."
"My hair was done by Elvire Roux.
She works in the Fashion industry and is an excellent professional hair
stylist. She is also my good friend and felt very comfortable giving
her full control. I gave her a rough idea and she went with it and
created something I was really happy with. It didn't budge all day!
I did my own make up, I've been to Mac on a few
occasions to ask for advice, I went to their store in Westfields White
City and found their Artists very helpful. I bought all my make up from
there. I made sure I got primer for my skin and eye make up, it's very
important if you want it to last right through the day. I used Smashbox
primer.
"Neills suit, shirt and tie came from The Kooples
in Westfields Shepherds bush and Selfridges. The staff were just
amazing. They really helped with styling it and choosing the colour of
the tie. It was surprising how difficult it was to speak to someone who
knew what they were talking about when it came to a good suit so we were
so relieved when we went into both of these stores."
"We decided to walk down the aisle together hand in hand to the sound of 'To build a home', by The Cinematic Orchestra.  We had
a slightly more contemporary version of the traditional wedding vows.
We wanted it more relaxed but still with the traditional values. We had
two readings, one from Neill's brother, which was a quote on Love by Bob
Marley and, my sister read 'The Commitment Reading' which was shown to
us by Christabel at One Life Ceremonies." 
"We chose the rings at Bernstones in Hatton Garden.
We had been looking for a square cut diamond and found a rare asscher. I
customized the band to have it made in rose gold with a white gold
clasp, and we ordered our wedding rings from the same place, a rose gold
band for me and a palladium ring for Neill."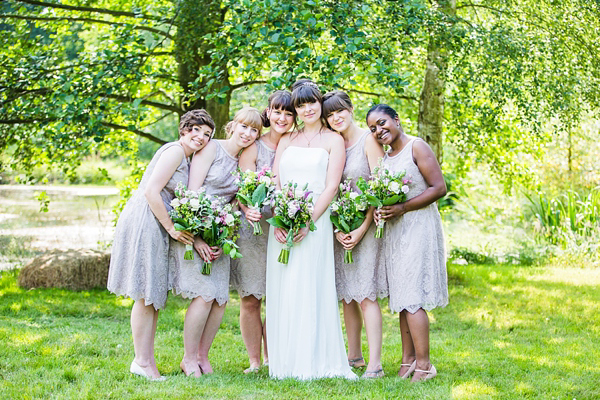 "We gave everybody a packet of wild flower seeds as we thought it
was in keeping with the theme of the wedding. They had our names printed
on the packet with the date of the wedding. We got them from Wildflower Favours."
"Our cake comprised a selection of cheese wheels stacked. After
being let down last minute by our original supplier, we were lucky
enough to stumble across Paxton & Whitfield
in Green Park. They were really nice and helped us decide on our
selection of cheeses, which included a Cheddar, Stilton, Shropshire
Blue, and Tete De Moine.  It was delicious and everyone loved it!
We used The Spitting Pig Company.
They provided canapés, a hog roast and chicken spit. We had a variety
of pasta and salads to go with it and strawberry cheesecake for dessert.
Everyone loved the food. Later in the evening they hosted a BBQ for us
with some of the food left over from the meal and some extra sausages."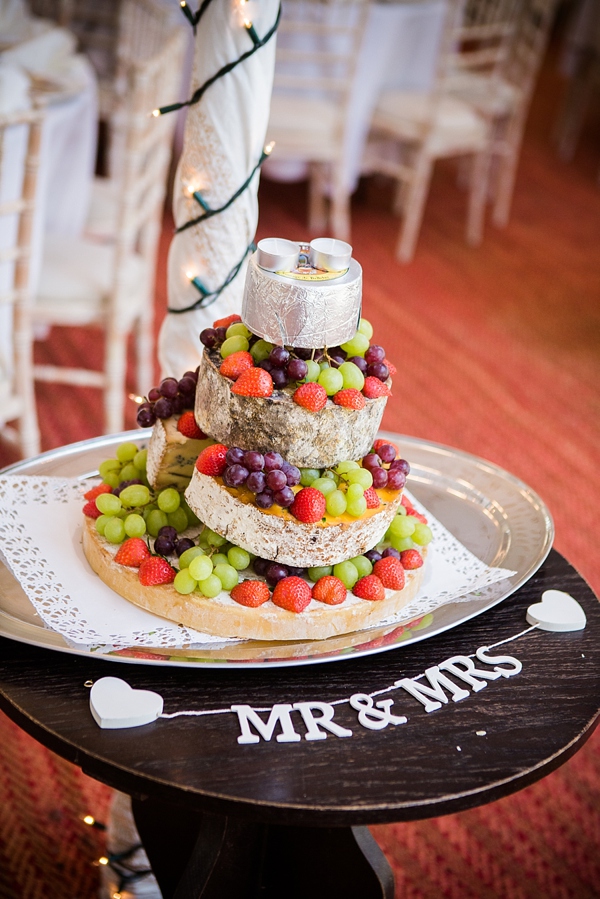 "We had a version of 'No Diggity' by Chet Faker. We chose it
because it was fun but also a slowed down version which was perfect for a
first dance.
Our music was all done through Spotify! Cheap and cheerful, and
allowed us to maintain control of the music, which was really important
to us. We put together a few playlists for the day, and it worked out
perfectly. We also had DJs, Cut Wires, perform later on as one of the
best men is half the duo. They were awesome."
Words of Wedded Wisdom
"Firstly, I loved the inspirational weddings. I was addicted! Secondly, just do
what you want to do and don't get caught up in trying to make other
people happy. When it comes to the actual day every body just gets on
and enjoys themselves.
The whole day was amazing, we were so lucky with the weather and
being with our closest friends and family for the day. For me my most
memorable part was driving up to the edge of the woods and seeing Neill
for the first time before we walked down the aisle together. It felt like
we were about to do something huge and exciting together, it was an
emotional moment.For Neill Walking down the aisle hand in
hand.
All the hard work we had invested into preparing for the day was
behind us, and this was the start of a whole new page in our lives."
What a fun and lovely relaxed day! You can see more woodland wedding inspiration here – also be sure to visit the One Life Ceremonies website if you are looking for an officiant who will tailor your day exactly how you want it to be.
You can see more eco-friendly, rustic, outdoor, woodland and Summer weddings too.
Have a beautiful Friday evening all – come back this weekend – we're got two days of posts scheduled for you delectation 🙂
With much love,
Annabel
Photographer –Sarah Legge
Woodland ceremony – One Life Ceremonies
Venue – Whetstead Farm in Tonbridge, Kent
Brides Dress – Rembo Styling via Angelica Bridal, Camden passage, Islington
Veil/Headpiece – Antique bouquet side tiara via Glitzy Secrets
Brides' shoes – sandals from Dune
Groom's Attire – The Kooples
Bridesmaids – Monsoon
Flowers – Country Gardens
Cake – Paxton & Whitfield
Transport – Quirky Wedding Cars
Favours – Wildflower Favours
Rings – Bernstones in Hatton Garden
Catering – The Spitting Pig Company
Stationery – Dove Coat Press
Hair Stylist – Elvire Roux
Vintage Photobooth – The Photo Emporium