Happy lunch time my darlings.  Ladies, you have to see our latest giveaway – it involves a £399 pair of shoes and is a competition open to all in the UK, Europe, US and Australia. That's all I'm saying!
The real wedding I'm featuring today is a beautifully classy affair.  London bride Alex, a chef, married her Barista boyfriend, also called Alex, on 24 August this year at Asylum, at Caroline Gardens Chapel in Peckham.  I love this wedding for how dedicated the couple were to keeping costs sensible, how utterly charming Alex looks in her two vintage wedding dresses from Ebay (that together cost just £65!) and how Alex made all the wedding cakes herself – not only that, the couple invited their guests to supply all the food! What a genius idea!
"We had a 'potluck' wedding. We collected recipes online and created a 'Google Doc' which was emailed out to all our guests. Everyone picked a dish and made enough for 6 people and bought it in a Tupperware.  The results were amazing, people really pulled out all the stops – even the least confident cooks had practiced their dishes to perfection.
The entire menu was vegetarian and not one person complained. It was also great that we had lots of Tupperware on hand at the end of the night so anyone who wanted leftovers could take them, which reduced the amount we had to throw away." 
Love My Dress Photography Copyright © 2013, Chiron Cole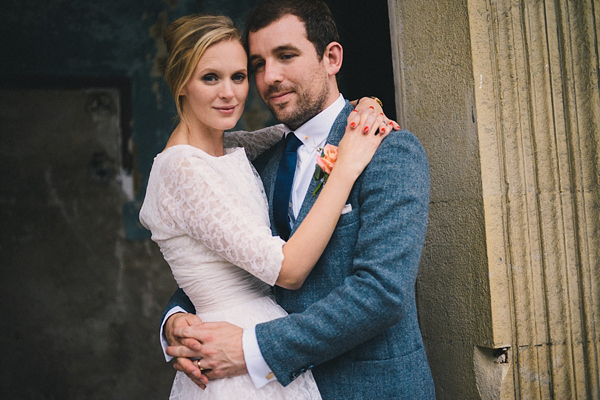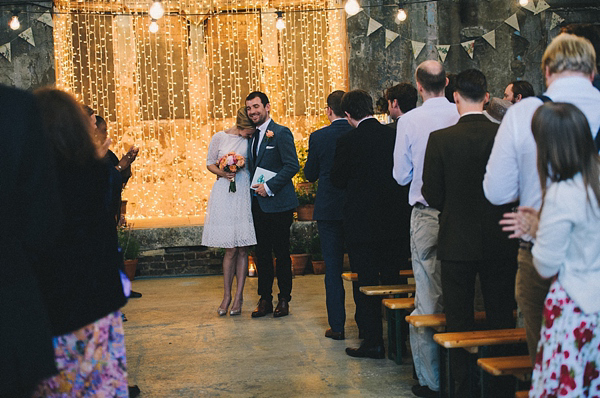 "Whilst we were working to a tight budget we also wanted to
avoid as much wastage as possible. A lot of the decisions we made were
practical i.e. jam jars are considerably cheaper than glasses, and much
more useful in the long run. The venue by it's very nature dictated a
particular mood & the rest was just an eclectic mix of the things we
both like."
"I wore a pair of second hand stilettos that I glittered myself, and a pair of black pumps from H&M in the evening."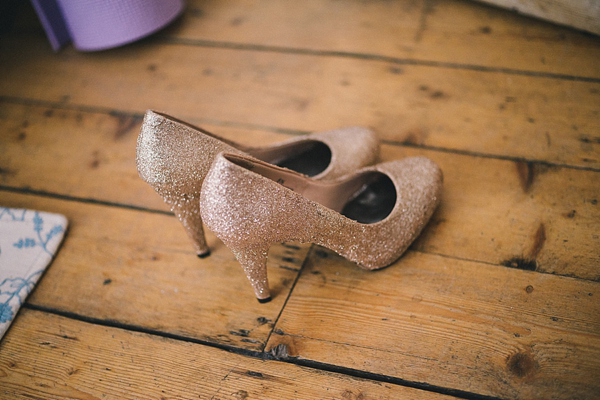 "I wore two dresses on my wedding day and both of them were vintage and purchased from private sellers on EBay.
I own a lot of 1940s and 50s vintage, I prefer it stylistically and I
find it tends to fit me better. A lot of the nicer clothes I own are
from ebay – if you invest the time in to finding good products via EBay,
it will yield amazing results.
The dress I wore for the ceremony was
£45, my back up dress was £20 (although I bought it years ago as an
evening dress). Both fitted perfectly so nothing needed to be taken in. I
wouldn't have felt comfortable in a theatrical dress, both were very
practical and comfortable but also cheap enough that I didn't have to
feel self-conscious."
"We wanted to choose a local venue. We have both lived in and around
Peckham for the last decade so it felt quite alien to consider getting
married anywhere else. A lot of venues in South London are locked in
with a particular caterer, which I felt uncomfortable with. Caroline Gardens Chapel
is a blank canvas, there are no major restrictions or corporate tie
ins. They are very flexible, nice folks and the rates are more than
reasonable."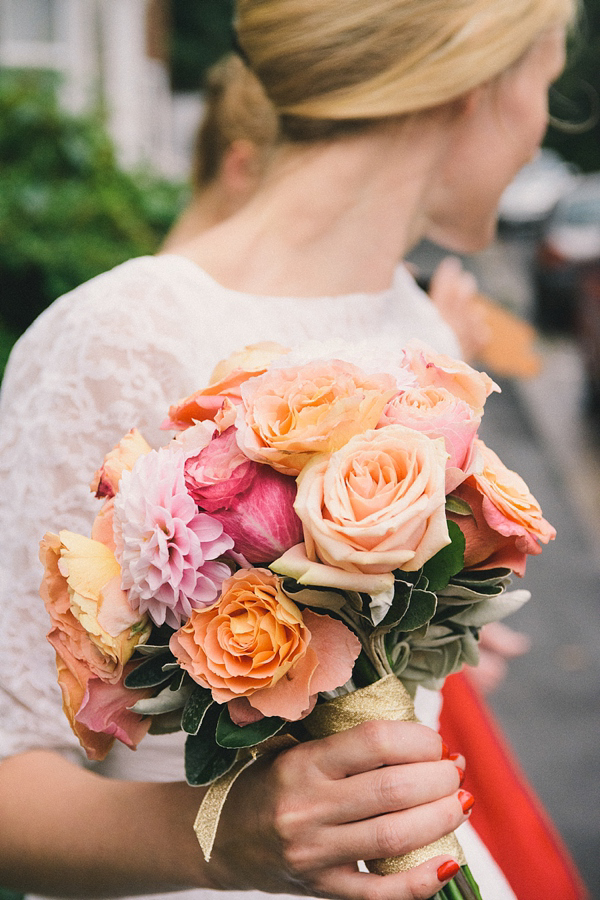 "I really struggled with
idea of cut flowers (not wanting waste) so in the end we decided to grow the plants used to
decorate the venue. In the run up to the wedding we created a container
garden using a combination of existing pots, reused containers from
work, mixed with odd bought bits and pieces. Everything was not only
decorative but all the plants are also edible."
"We didn't have the budget to buy the girls dresses. I sent them a
colour scheme to work within, suggesting dresses I knew they had where
possible, I also had a few things in my wardrobe I thought might work.
In the end, two of my maids borrowed dresses and the rest wore their
own."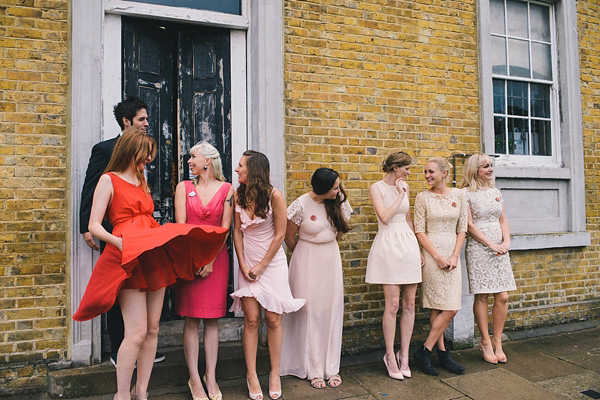 I felt very strongly that bouquets would be wasteful and wanted to
give the girls something they could keep, so I commissioned Rosita Bonita
to create custom rose brooches, which complimented the colours of their
dresses. No two are identical. Rosita Bonita also made the clips which
were in my hair so it tied us all in together.  My maids also were
custom made brooches by Rosita Bonita."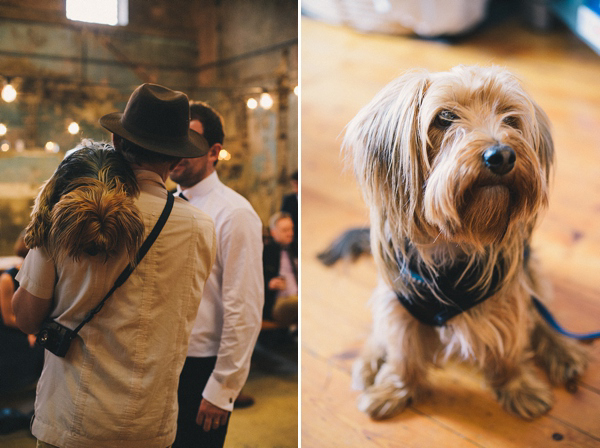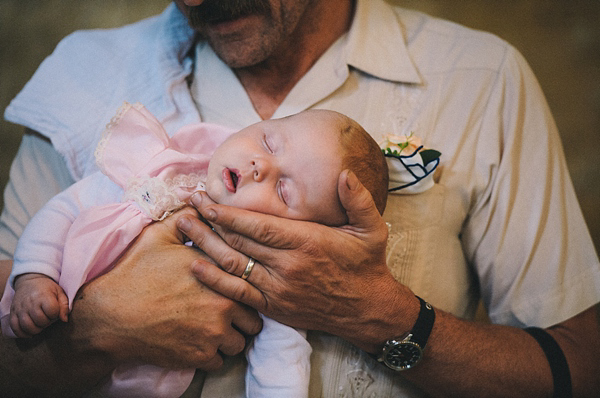 "As I'm a Chef, I made our wedding cakes, everyone thought I was mad
when I suggested but it worked out well. We didn't want a traditional
wedding cake – in my experience no one ever seems very eager to eat
them. I'm delighted to say that all of our cake vanished, probably
largely because our guests wanted to try a bit of everything!"
Wow! Alex actually made the following delicious sounding cakes:-
Victoria sponge
Coffee & walnut cake
Carrot cake
Blue & sour cream cake with cream cheese frosting
Brownies
Beetroot brownies
Courgette, lemon & poppy seed cake with mascarpone frosting
Chocolate cup cakes with rose frosting
Lavender cupcakes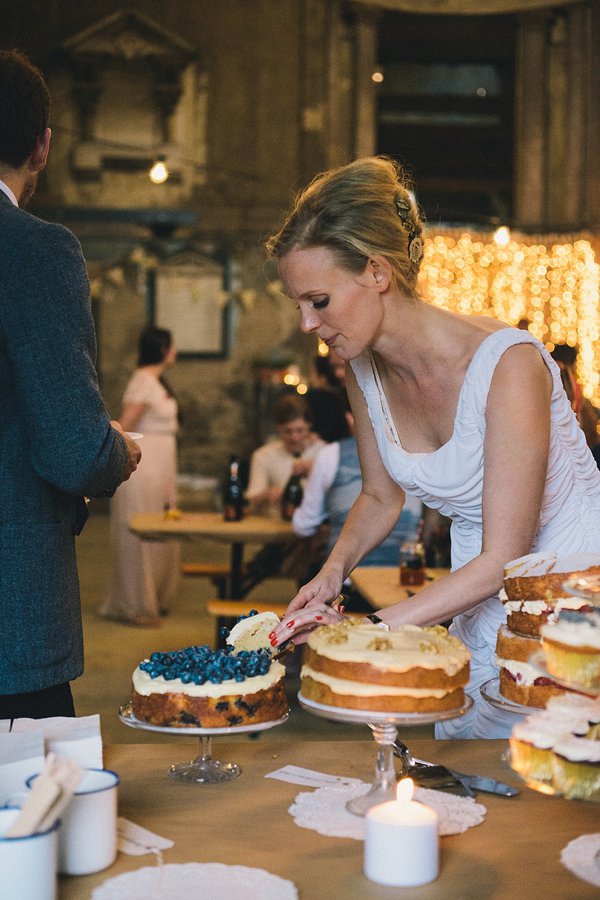 "Tim and Chiron of Chrion Cole
did an amazing job of our wedding photography. From start to finish
they were a pleasure to work with, Chiron helpfully sent me
questionnaire before the big day to help clarify what we wanted from the
photography, I felt entirely confident that everything was in hand
before we even got started.
Neither of us particularly like having our
picture taken, and we were keen to avoid having too many staged
'wedding' classics (they will never be unavoidable) but we breezed
through them really quickly so we could get on with shooting reportage
which feels more intimate. Chrion Cole also had to face fairly grotty weather,
which greatly limited the number of locations we could use, but they did
so with great patience and cheer.
We couldn't be happier with the end
result. It was a pleasure to have them with us on our wedding day, I
can't recommend them highly enough."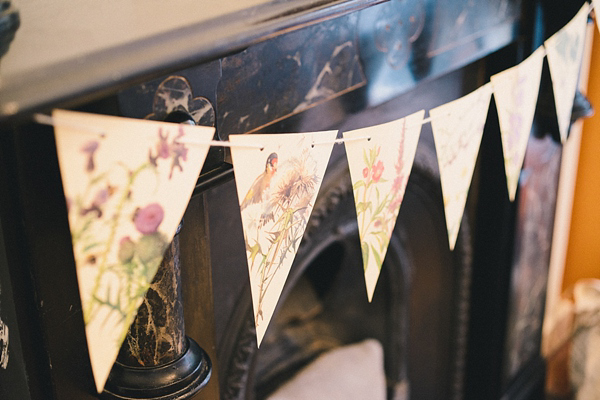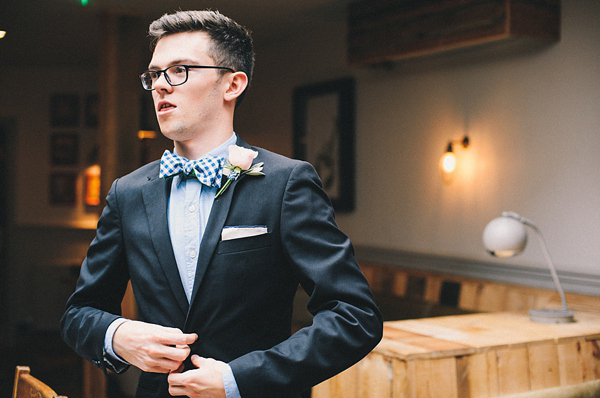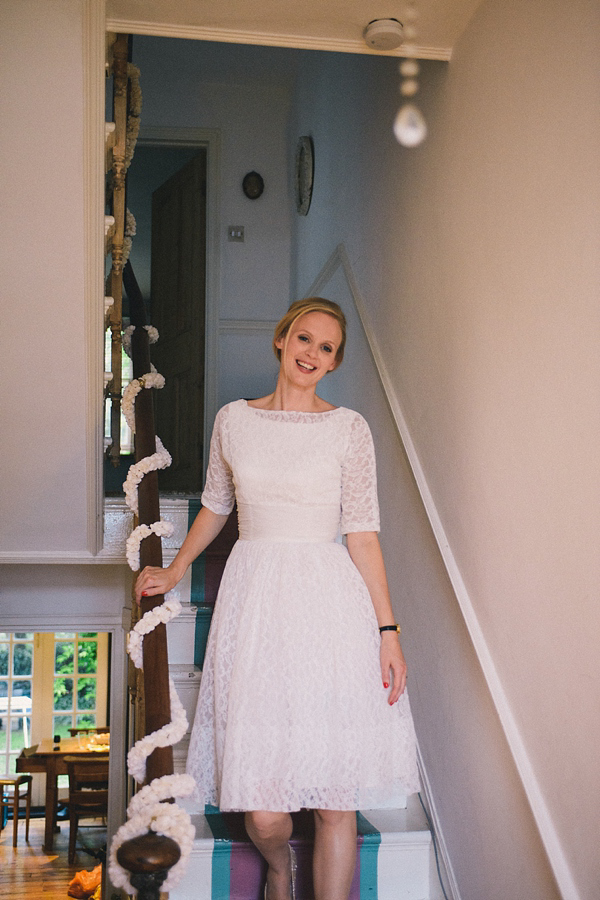 "My friend Luke walked me down the aisle to the sound of 'Toothpaste Kisses' by The Maccabees. 
We did the standard, our registrar had very fixed views on what was being said!
Our
readings included Ernest Hemingway's 'A Farewell to Arms', Margery
Williams's 'The Velveteen Rabbit' and Sandol Stoddard Warburg's 'I Like
You'.  The night we finally decided to stop breaking up Alex read me the
passage from "A Farewell to Arms". He had heard it when he was best man
at Elviss's wedding and felt it was fitting in that moment. It was
the first reading we chose, Elviss returned the favour, he was best man
at our wedding and read the passage for us. I was insistent on "I Like
You", I love the rambling nature of it, it makes be beam from ear to
ear."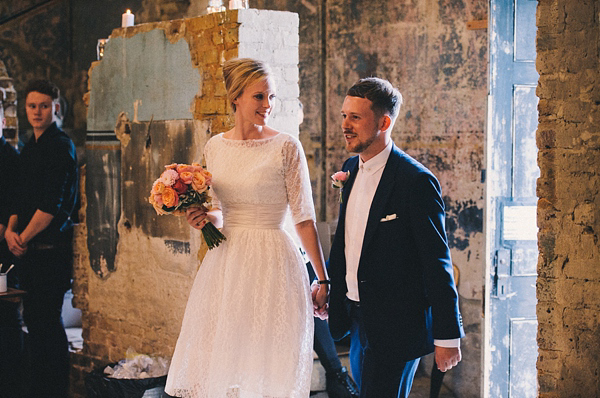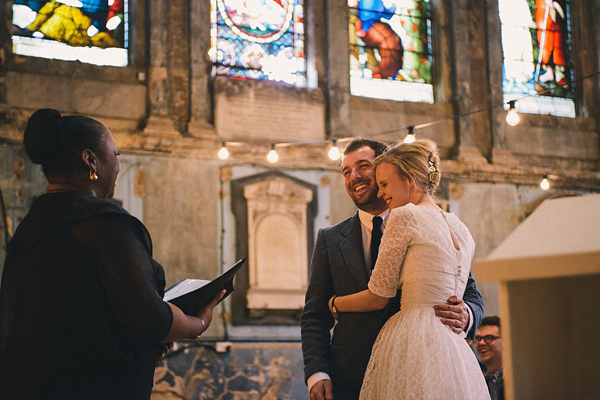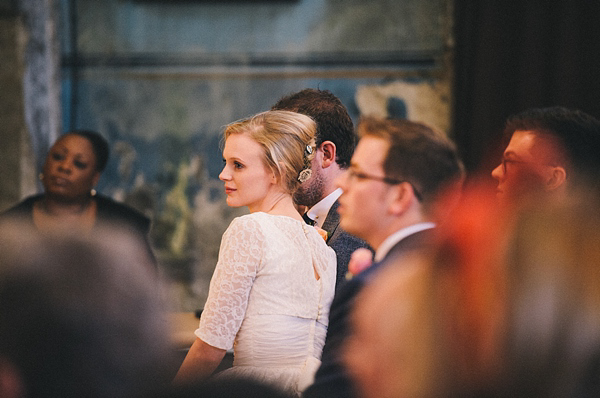 "Both rings were bought in the North Laine antiques market,
Brighton, from 2 different shops facing each other.  His from 1895, hers
from 1950.  The engagement ring was from the groom's hometown dated
1930."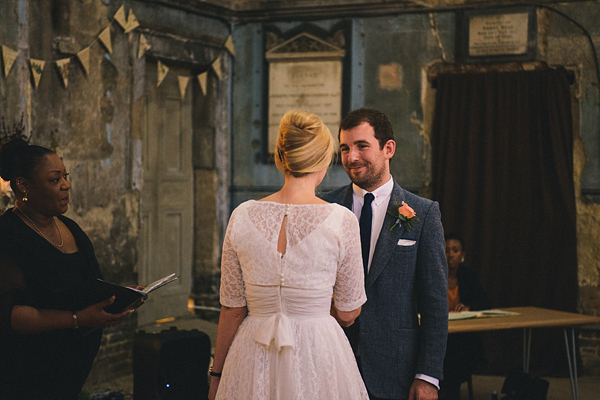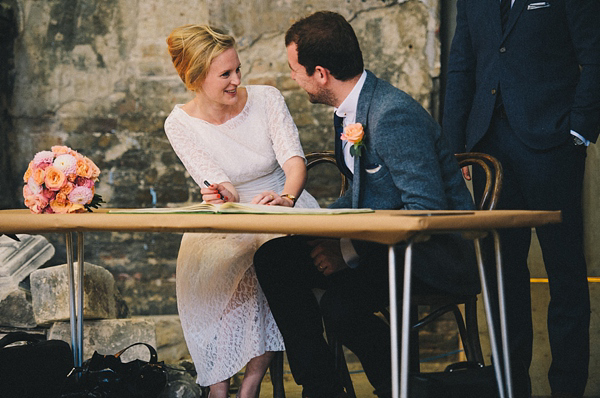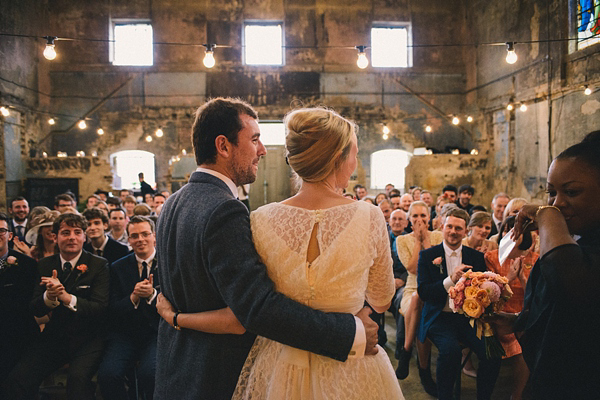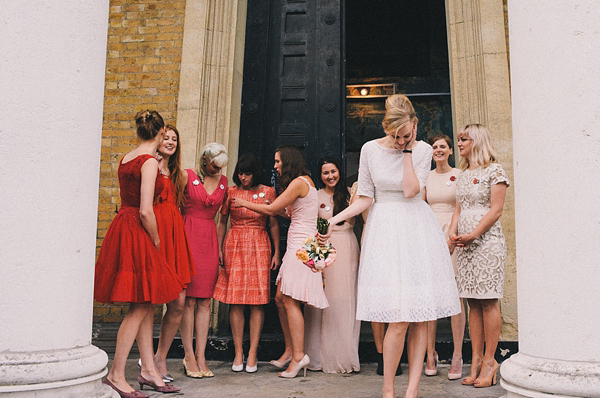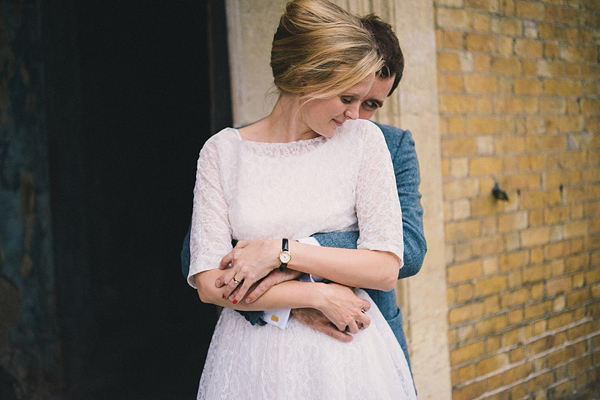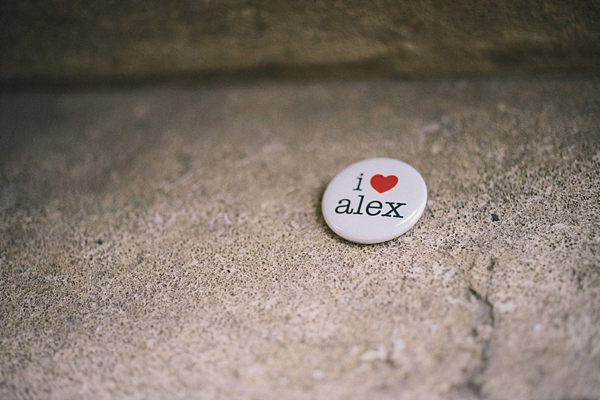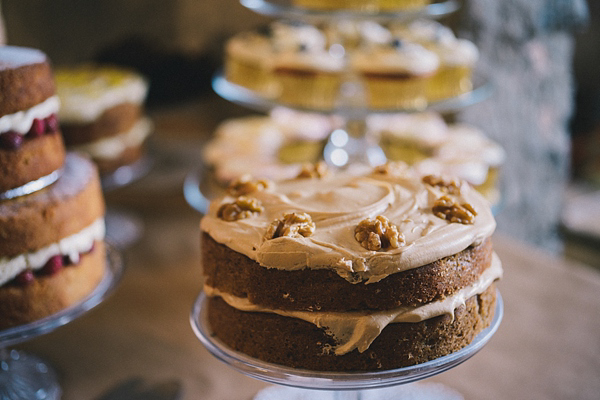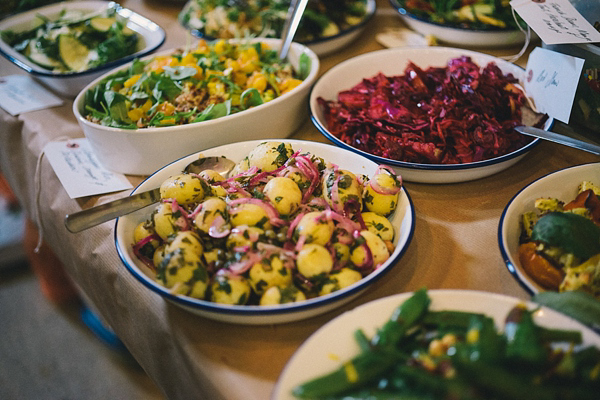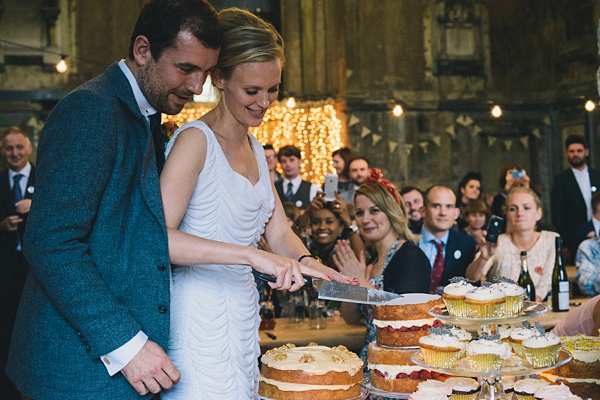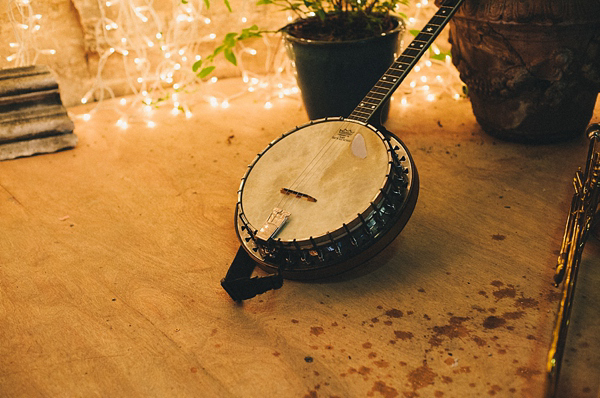 Words of Wedded Wisdom… 
"It's
very easy to get caught up in it all but a wedding is just one day try
to remember that you are promising to spend a life time together and
focus on that.
I also wish I had panicked less and slept a little more in the run up to the day itself.
Also, the two minutes we took after the service to walk round the
building without anyone else, just us 2 now married, making out like
teenagers in the rain was probably our favourite part of the whole day".
I truly adore bride Alex's effortless elegance and am inspired, not least impressed with her commitment to plan her day along a sensible budget, and involve her guests in a fun and rewarding way.  Bravo Alex, and congratulations to you and Alex for the most beautiful wedding day – your photographs have done you proud.
Are any of our readers going the Ebay wedding dress route? We'd absolutely love to hear from you if so.
Leave a lovely comment below for Alex and Alex if you have a moment.
Much love,
Annabel x
Photographer – Chiron Cole
Venue – Asylum, at Caroline Gardens Chapel in Peckham
Wedding Dress – Vintage finds via EBay
Brides Shoes – Second hand stilettoes the bride glittered herself + H&M black pumps
Bride's accessories – Rosita Bonita hairclip + Aalicia Wedding garter
Grooms Suit – Ebay vintage Harris tweed jacket + Uniqlo trousers + Peckham Rye shirt/tie/tiepin & pockets square + Barker shoes
Bridesmaids – dresses borrowed from the bride + already owned by the bridesmaids
Cake – Alex Fitton (the bride!)
Transport – a friends vintage Citroen
Entertainment – John's Cranky Trio
Stationery – Digital design by Rosita Bonita
Hair and make-up Artist – Ellie Tobin
Bunting – Peony & Thistle