Lovers of gorgeous hosiery, you might want to hold on to your seats for this one – it features *amazing* tights.  Christine and Gary tied the knot on 24th November last year, at the Sacred
Heart Church in Cumbernauld for the wedding ceremony and then The Blythswood Hotel, Glasgow, for the wedding meal and reception.
"Glasgow
is very close to our hearts as our relationship blossomed during
university there, so it was so special being proposed to back in our
favourite city, the next day we went for a walk around the city
including the art school. At this point I couldn't even think about a
wedding but after a few months we decided we didn't want too long an
engagement. I couldn't handle the thought of one day to taking over our
lives for years therefore we decided to get married within a year on
November 24th 2012.
I don't think we had a theme really, we just chose things we both
liked. We wanted to keep it as simple as possible and not to allow it to
make us stressed. Living in London and organising a wedding in Glasgow
was complicated enough. We wanted to organise it together as a team."
Love My Dress, Photography Copyright (c) 2013, Mack Photography
"Gary and I met when I was 17 while I was on a night out with my
cousin. I  think I fancied his friend at first but his silly dancing and
cheeky nature won me over! We spent a year only seeing each other every
so often as I lived in Linlithgow and he lived in Cumbernauld then I
moved to Glasgow to go to The Glasgow School of Art and I suppose that's
when our relationship properly began.
We have always lived
quite independent lives and given each other space to do our own thing.
Gary was very supportive when I decided to go travelling around the
world with my best friend, this 6 months apart really cemented our
feelings for each other.  Within a year of my return we moved to London and a year and a half later Gary proposed on December 22nd 2011."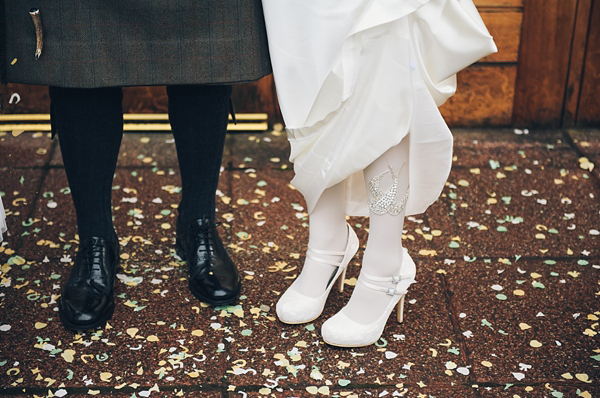 "It
was a complete surprise, I thought we were just flying home for
Christmas but Gary took me to The Blythswood Hotel – I still just thought
I was there for a lovely Christmas present at the spa! After a day of
pampering, an amazing meal and having a beautiful suite to stay in –
Gary proposed at the very end of the evening. He even managed to choose
the most beautiful rose gold and champagne diamond solitaire ring all on
his own, i could not have chosen better myself!"
"Gary's uncle Colm is a retired priest, we have always been very
close to him therefore that was the main reason to have the wedding in
Scotland (and the fact that most of our friends and family are there),
he didn't feel he was up to travel and we couldn't imagine anyone else
marrying us. That then led to the church venue – Colm's pre-retirement
parish and the chapel that Gary's brother and sister married their
partners in."
"We loved the The Blythswood Hotel already
and when we realised how intimate it could be with everyone sitting
around one big table that really sold it. We wanted a small wedding and
knew that the banqueting table sat 52 so it was perfect. The whole
package was great- staff attitude, hotel rooms, drinks selection, food,
spa and location- within walking distance of The Glasgow School of Art
(I graduated from here in 2005 and the mac building holds such special
memories for me). Being in the city centre it also meant our guests
could get easy transport and hotels.
"My beautiful tights are from Bebaroque. My
wonderful friends Mhairi and Chloe (I lived with Mhairi while at Art
School) gave me a pair of their Love bird tights which are just stunning
and just gave that extra special touch when I had to gather my dress up
when I walked up stairs or when I was on the dance floor. The encrusted
bird design is made from finely cut vintage inspired crystals- I love
them and can wear them again and again.
My
shoes were from, would you believe – BHS!  They
were a real bargain but I loved them and have wore them again since our
wedding."
"My mum and I made my bouquet on the morning of the wedding, we
picked flowers from her lovely garden and supplemented them with some
loose purchased flowers from a local florist in Linlithgow. I didn't
really mind what my bouquet looked like as I didn't really have a colour
theme, something simple and loose.
When my mum went to the florist to
pick up some extra flowers she came across micalmus daisies- this was my
gran's favourite flower and in the latter stages of life she called
every flower a micalmus daisy so it felt really special having this
little purple flower in my bouquet!   A colleague of mine used to be a
florist so she actually gave my mum and I a lunchtime lesson on creating
the bouquet, which was fantastic.
As I was getting
dressed my mum bound the flowers with black ribbon and surprised me by
topping the bouquet off with a broach that used to belong to each of my
gran's, another really special thought- it felt like a little part of
them was with me on my special day especially as the last thing I told
my gran Myers before she died was that Gary and I were engaged, she was
delighted and I will forever treasure her reaction!"
"I purchased my dress through John Lewis after one of my many trips to Oxford Street, London.  It's by Damsel In A Dress. 
I wanted to feel great in my dress and really comfortable but also a
big driver for my dress was a budget (that I set myself) that was under
£500, I felt really uncomfortable about spending more than that then
feeling stressed out on our wedding day about spilling a drink or
picking up one of our nieces or nephews and them marking it (which did
happen straight after the church- our niece Orla managed to put a muddy
footprint on the front of my dress when I picked her up!).
I
actually tried a bright blue dress in the same style as my wedding
dress and just felt great in the shape, it was very womanly, elegant,
sexy and perfect for my shape. I would have went for blue but I already
had the bridesmaids dresses in green so thought that wasn't such a great
idea! I had a look online and realised there was a wedding dress
version of the same dress. I was delighted. It needed a small amount of
alteration (2 weeks before the wedding, I forgot about it!) then I
adored it.  It just felt right."
"I didn't wear a veil, but I wore a beautiful head piece by D.C. Bouquets, which I bought at A Most Curious Wedding Fair,  which I think I found out about through Love My Dress. I wasn't planning on buying anything in my hair but i tried this on I loved it and Gary convinced me to buy it."
"As my bridesmaids are very different heights and after trying on
lots of high street dresses Gemma suggested her Auntie Elaine made our
dresses. She is very talented dress maker who runs her own business
called Pins and Needles (email [email protected]).  My lovely maids wore patent nude heals by Kurt Geiger. It was important they bought shoes that they would want to wear again."
"I bought the girls pearl bracelets as a present from Highland Angel on NotOnTheHighStreet.com.  They had beautiful little paper flower bouquets by Dana's Paper Flowers on Etsy
in black and cream and covered with 'I love you' text, there were
little pearl or black button centres. They each still have them
displayed in their homes. Dana's Paper Flowers were so helpful and prompt
in all discussions and produced the most beautiful objects. These
matched the button holes for the boys and we got both ours mums matching
corsages from the same company."  
"My Dad walked me down the aisle – although he almost didn't!  He
managed to close the door to the chapel behind him as we walked in and
trapped my dress – completely unaware, he tried to carry on walking
holding my arm.  I had to pull away and run back to open the door and
release my dress. Everyone thought I was crying emotional tears as I
walked down the aisle but actually I was trying to contain my hysterical
laughter, it led to a very relaxed day full of hilarity and laughter!"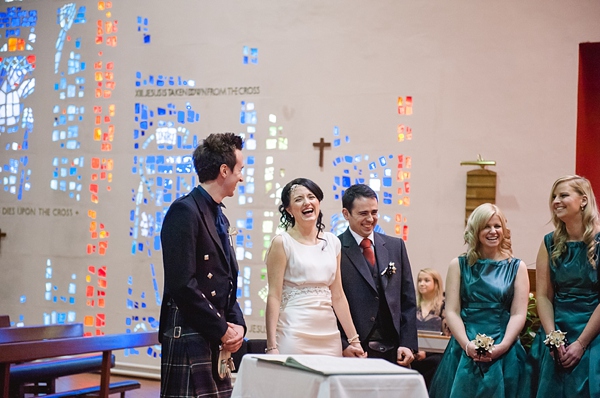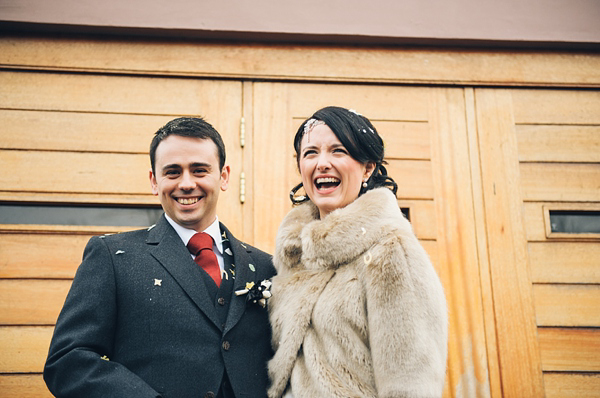 "The venue, The Blythswood Hotel, was so beautiful it hardly needed any extra styling.  Michelle (Blythwood's
resident wedding planner) organised bowls of cream roses so no flowers
were required. We only added some extra bits to the tables – large
mirrored plates with groups of large, cream piller candles and I scattered little cut love hearts in brown paper, black card and cream printed
paper all around."
"I made all of the invitations, order of service, table names, table
plan etc. I took my time and had a little production line going, I
really enjoyed the process. I bought card online and stamps from not on
the high street."
"In place of a traditional wedding cake, we went for Tunnocks Tea Cakes and wafers on a 7 tier cake stand as our cake- I think we allowed
about 4 per person, there were so many! It was great though as lots of
people took one for the road as they left! We then also had a cheese
cake from Marks and Spencer's – unfortunately on the day we realised
that the tiers to create the cake were not with it, so we just decided
to cut the cheese up and give it out with the evening buffet."
"It was a to have Lindsey of Mack Photography as our photographer. I may be biased as she is my friend but I really do
believe that whether Lindsey was my friend or not you would always feel
comfortable with her being there at some of your most special moments. 
As she is a qualified architect as well as a photographer she
sees things differently, the composition of every photograph is
stunning. Many of my friends and friends of friends have booked  Mack Photography since seeing our photographs."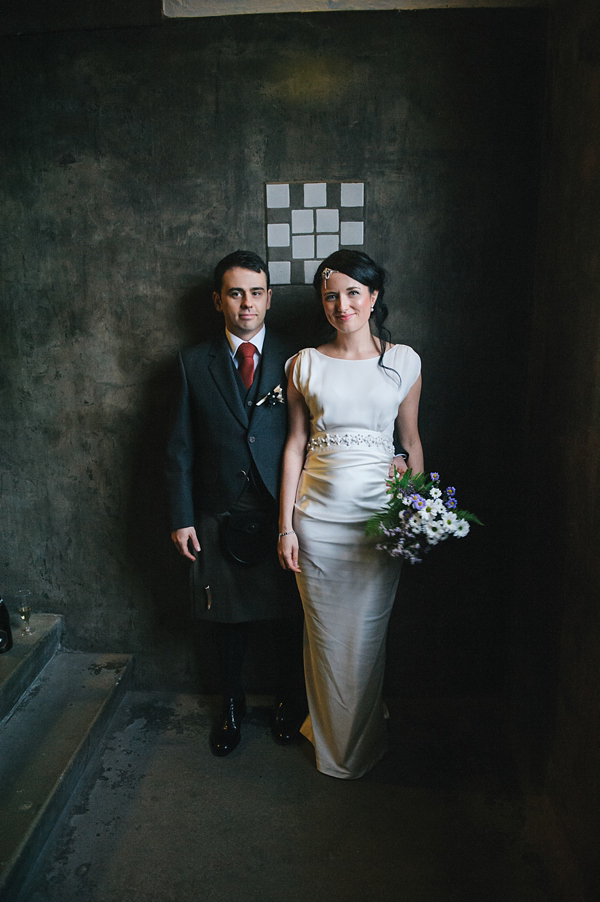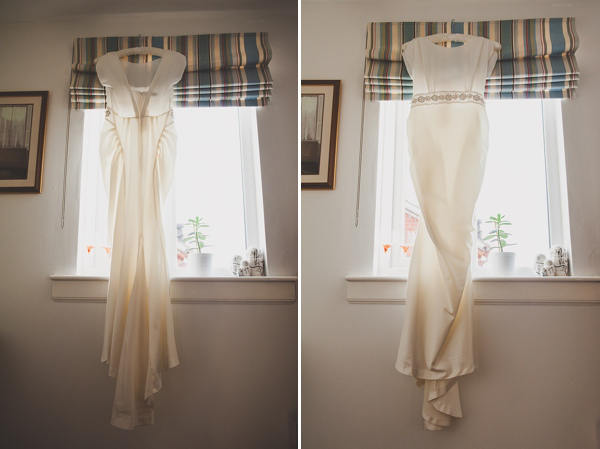 "Michelle at Michael J Hair Design in Falkirk did my hair and I did
my own make up. I knew I wouldn't feel comfortable with someone else
doing it so I went to Space NK
for a make up lesson in Glasgow and bought all of the products –
although it felt like a lot of money at the time it was definitely a
good investment as nothing has run out yet!"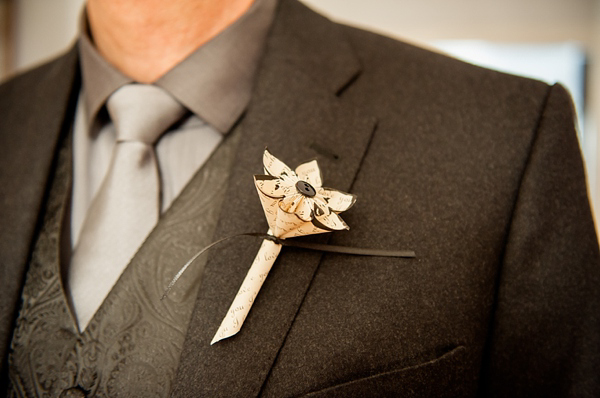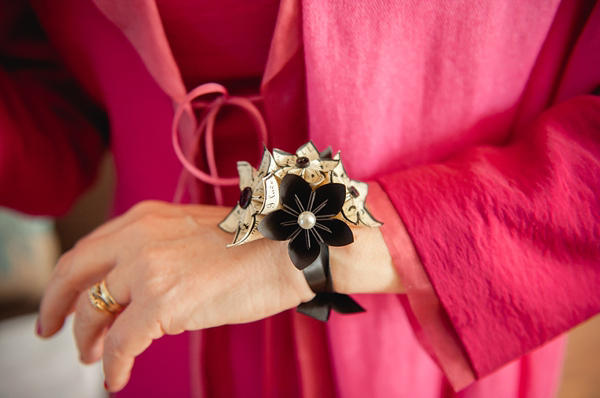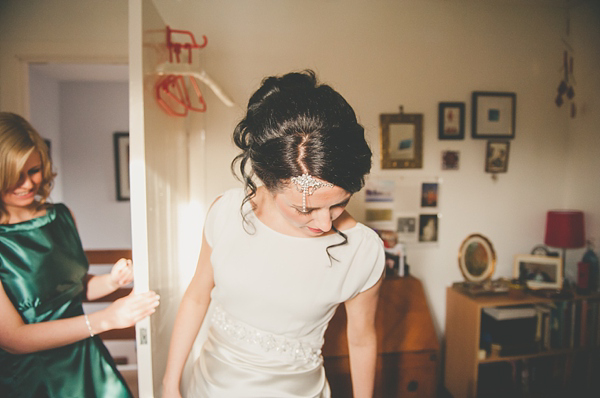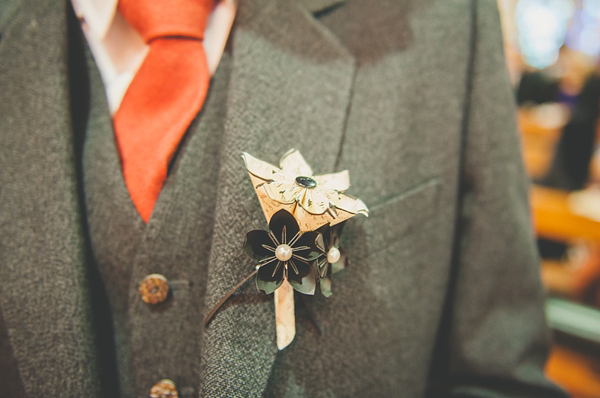 "I
walked down the aisle to Bic Runga 'Smile'- one of my favourite
artists. I listened to this album when I was travelling and needed to
relax- it is so soothing and the song says a lot about our relationship.
It was sung by Carissa Bovill  https://myspace.com/carissabovill a very
talented family friend of Colm. She learned the songs we wanted during
the ceremony and when we were unsure of anything she sent us lots of
suggestions."
"Our first reading was from 'The
Song of Songs', page 269, 2:8-10.14.16;8:6-7. Love Is Strong as Death
and read by Veronica my cousin. My favourite part from this reading was
'My beloved is mine and I am his, set me like a seal or your heart, like
a seal on your arm, for love is strong as death.'
Our
second reading was from the first letter of St Paul to the Corinthiansm
oage 276 – 12:31-13;8 and was read by Stephen one of Gary's best
friends from university; 'Love is always patient and kind; it is never
jealous; love is never boastful or conceited; it is never rude or
selfish; it does not take offence, and is not resentful. Love takes no
pleasure in other people's sins but delights in the truth; it is always
ready to excuse, to trust, to hope, and to endure whatever come. Love
does not come to an end'.
Although our readings were
religious as our wedding was Catholic it was important that the readings
really spoke about love and understanding. Colm really helped us choose
poems that were right for us."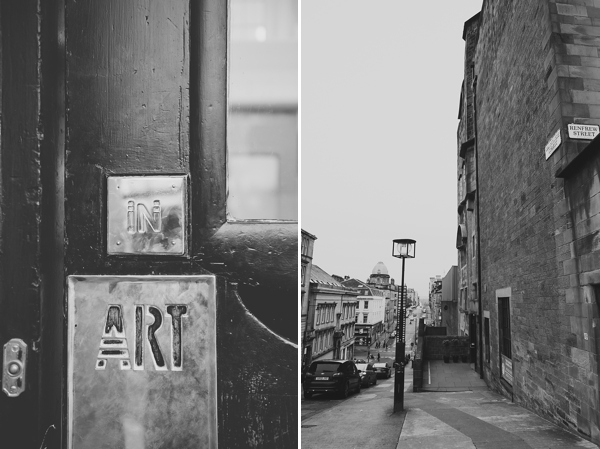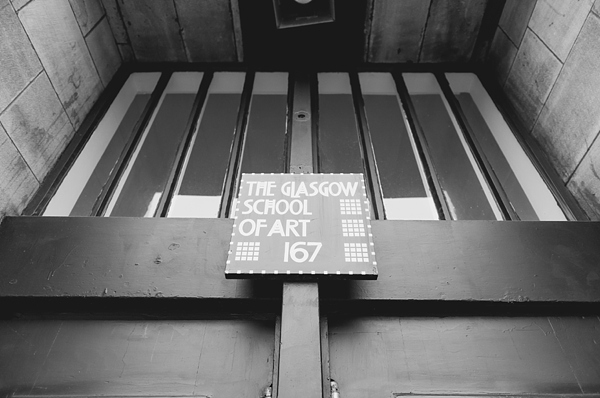 "Gary purchased his first kilt for our wedding from Kinloch Anderson.
Our friend Kirsty is a very talented designer and works for Kinloch
Anderson who produce the most beautiful kilts, she recommended we look
at their range. Gary went for a herringbone tweed rather than
traditional tartan with a charcoal grey jacket and a red wool tie."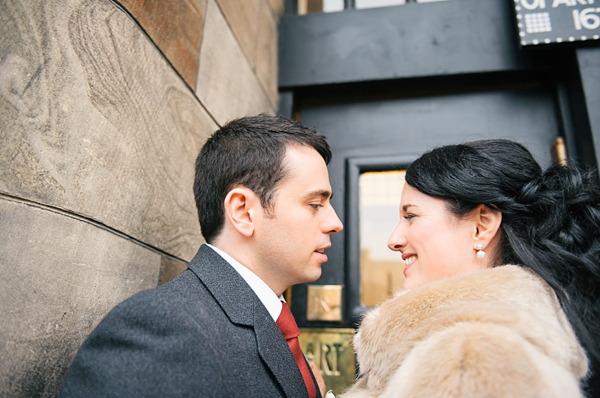 "I wore my Gran's marcasite watch – my Gran originally gave it to my
mum, who allowed me to borrow it. My cousin, Kirsty, is going to wear
it at her wedding in a few weeks.   I also wore a vintage pearl necklace
as a bracelet – this was my mum's friends, May's that she bought in
Spain while she was in her 20's, she is now in her 80's and has always
passed beautiful things down to me."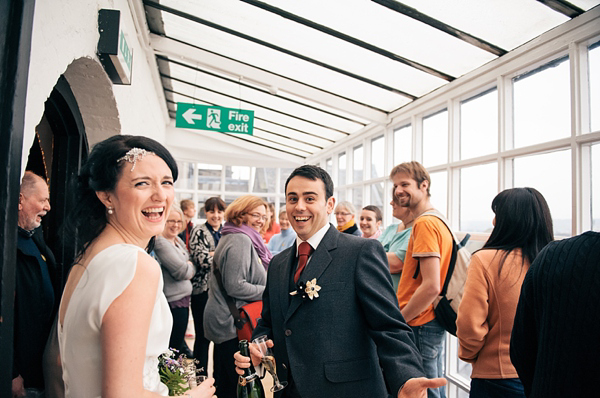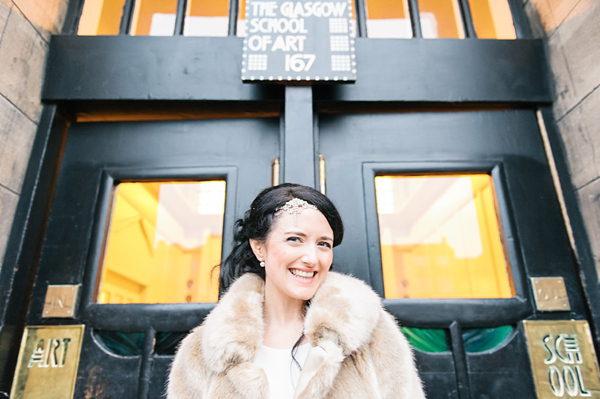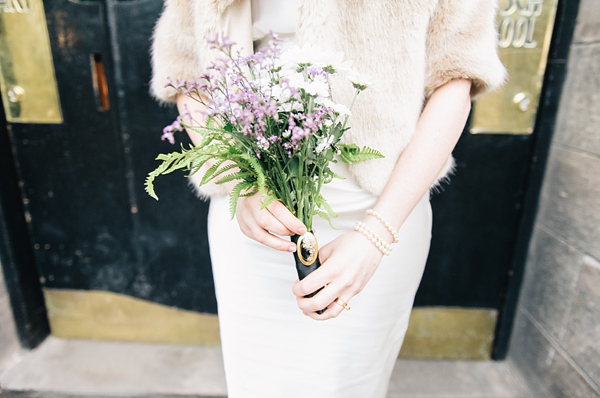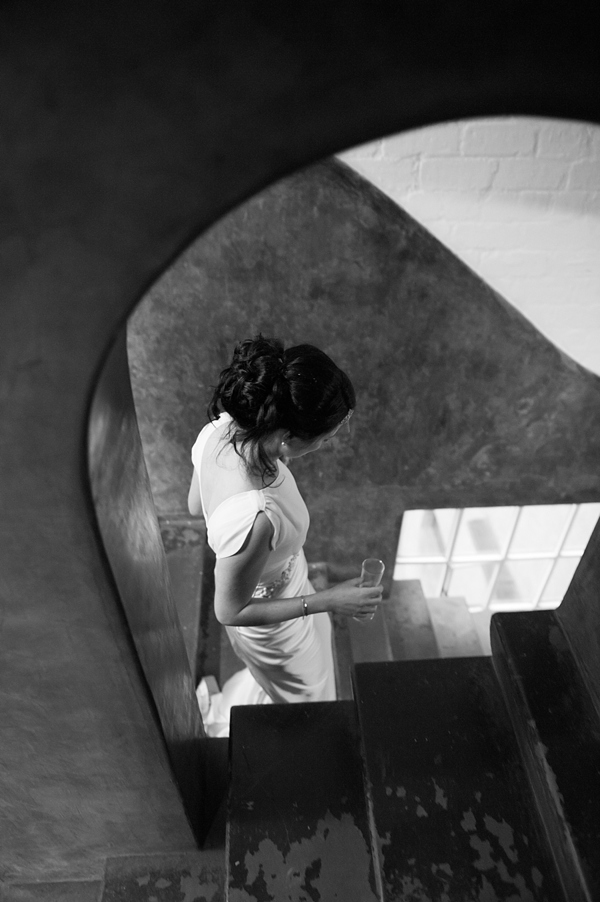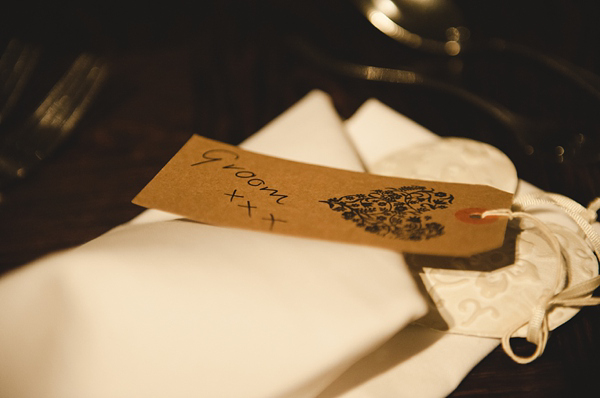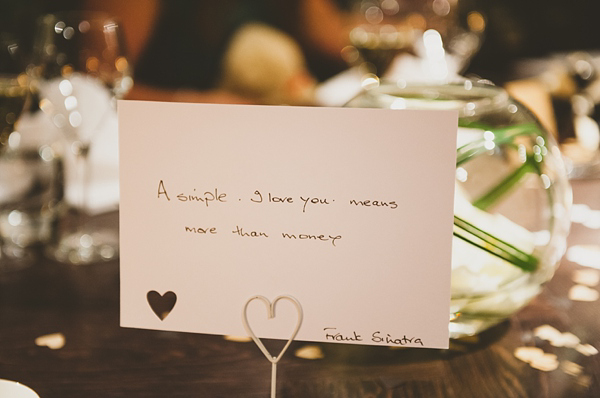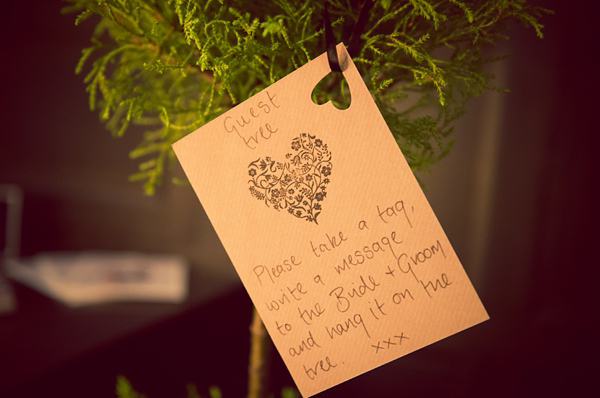 "We hired the fantastic Something Blue Band,
who have an amazing lead singer. They learned our first dance jack
Johnson Better Together and had everyone up dancing all night. I was
VERY happy with our choice especially as we didn't have time to see them
live beforehand.
Our first dance was to Jack Johnson's 'Better together'. We wanted a
song that we could have all of our family and friends on the dance
floor for a good boogy! A symbol of our future- happy and in the company
of great people. The words to this song are perfect for how we feel
when we are together- it's just better! We are so excited that we will
be seeing him live later this year!"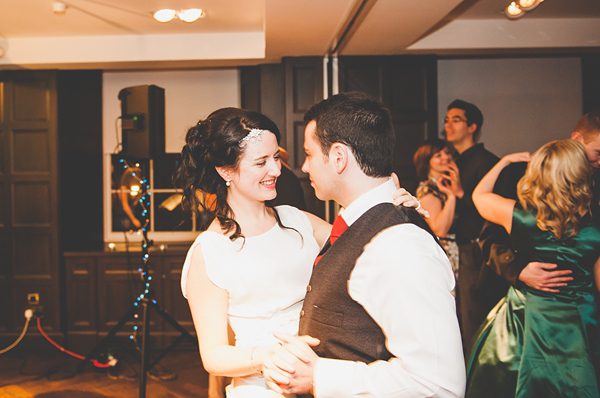 Words of Wedded Wisdom…
"Enjoy the planning and
enjoy the day. Do not get caught up in one day which is only the
beginning of a lifetime of 'best days of your lives'. Plan and organise
everything together equally- let your fiancé help-it not only takes
pressure off you but makes them take more ownership of the day too- I
could totally feel Gary's pride when he was sorting his jobs out. Start
your married life as a team. Have a spreadsheet – keep a note of
EVERYTHING that you buy as this will stop you going over the top and
help you feel in control of your spending.
I loved the speeches  and the meal, I was so happy that we had a
banquet table that everyone could sit around- all of our favourite
people in one room around one table- it felt very symbolic. The speeches
were wonderful and really from the heart. Or perhaps my favourite part
was Gary on the dance floor with his friends tie wrapped around his head
dancing his socks off- just hilarious! mately my favourite part was
when it was all over and it was just Gary and I, married!
I
am sure there are lots of little things we could have done better or
differently but then it wouldn't have been our wedding day- and I
wouldn't change a single part of it! I loved it all but it is chaotic
and manic and exhausting and I know for sure I wouldn't want to do it
again – I am happy the wedding is over and the marriage has begun, I have
all the memories and Lindsey's wonderful photos so it will always be
remembered!
Finally, I visited
Love My Dress lots, and just loved reading about what other people were
doing and when I was stuck with an idea I knew I would find some
inspiration on you site. It felt very real."
Those tights!  Be warned lady, you might be some time on the Bebaroque website!
Huge thanks to Mack Photography for sharing these lovely photographs and huge congratulations to you Gary and Christine 🙂
What do you love most about this wedding?
With much love,
Annabel
Photographer – Mack Photography
Venue + Catering – The Blythswood Hotel, Glasgow
Brides Dress – Damsel In A Dress + faux fur coat by Ted Baker
Veil/Headpiece – D.C. Bouquets via A Most Curious Wedding Fair
Brides' shoes – BHS
Bride's accessories – Earrings by Swarovski + Love bird tights by Bebaroque
Groom's Attire – kilt via Kinloch Anderson + buttonhole by Dana's Paper Flowers on Etsy
Bridesmaids – dresses made by [email protected] + paper wrist corsages by Dana's Paper Flowers on Etsy

Flowers – bouquet made by the bride and her mum using flowers from a local florist in Linlithgow
Cake – Tunnocks Tea Cakes
Transport – Glasgow Taxis
Entertainment – Something Blue Band
Rings – Ruberg
Table plan – made by the bride
White Tights – Love bird tights by Bebaroque