Good morning lovelies, I do hope this Thursday morning finds you well and looking forward to the weekend!  This morning's real wedding could be described as a very elegant affair.  The newlywed couple, Aimee and Michael, tied the knot on 15th June 2013 at Lartington Hall in Lartington, Teesdale and these lovely wedding photographs were sent in by Leeds based Paul Joseph Photography.  I adore their elegant nature and the way the photographer has captured those special moments of joy and laughter between family and friends.
"Michael and I wanted our wedding day to be full of things we enjoy and love. Most of our family supported us by making things for the day, so it felt like a really collective effort. Music was really important to us too, so we wanted make sure there was music playing in the hall all day long – we wanted to have a  soundtrack to the wedding of all our favourite bands.
We also wanted there to be a bit of a classic vintage feel to the day (a bit Victoria and Albert), in keeping with the grandeur of beautiful Lartington Hall. Apart from that though we never really picked a colour scheme or theme, we just picked lost of things we really liked and luckily they all went together on the day."
Love My Dress – Photography Copyright © 2013, Paul Joseph Photography
"We have known each other for ten years now, but didn't get
together until seven years ago.  The night we first met, I was 21
and Mike was just 17! We met in the pub and instantly hit it
off, we stayed up till 3am and even climbed a tree together at the end
of the night, seems like a long time ago now.  We've
had the most amazing seven years together, and done so much cool stuff.
We've lived in Australia, travelled round Asia, lived in various cities
in the UK. We even went skydiving together in Blackpool and regularly
like to have snowboarding adventures in the Alps. 
We
got engaged in May 2013 on a canal boat in Oxfordshire. It was a really
special setting for a proposal – I was steering the boat down the
secluded river and Mike popped up through the boat hatch and proposed! 
Mike got the most beautiful vintage 1920's diamond and sapphire
engagement ring from John Joseph at Gray's Antiques. We spent the night
drinking champagne in a local pub to celebrate. So we were engaged for
just over a year before we got married."
"As soon as we set eyes on Lartington Hall
we knew it was going to be amazing. The hall was still being renovated
when we first saw it, so was it was a building site. It took some
imagination to see how it would look when finished, but despite the
works, it was still so amazing that we knew it would be perfect and it
was! It was the perfect venue!"
"My dress was by Stewart Parvin and was purchased from The Bespoke Wardrobe
in Ingatestone, Essex. The shop altered it to add a sash that wasn't on
the original design ('I Could Have Danced All Night').  The ladies at the
shop did a fantastic job with the dress, it was perfect.
The
dress is covered at the top in the most beautiful Guipure lace. I
actually thought I had chosen the wrong dress at first and spent months
wondering if I'd made the right decision. I wasn't sure if I'd just
bought one in a panic – especially as I only went to one shop! But when
it came to my first fitting (and I'd lost some weight!) I was blown away
and so in the end, so glad that I had chosen the dress. It was just perfect."
"My shoes were burlesque red dancing shoes from Love Burlesque."
"My mum created the bouquets – they were stunning, and made of pink and cream Astilbe."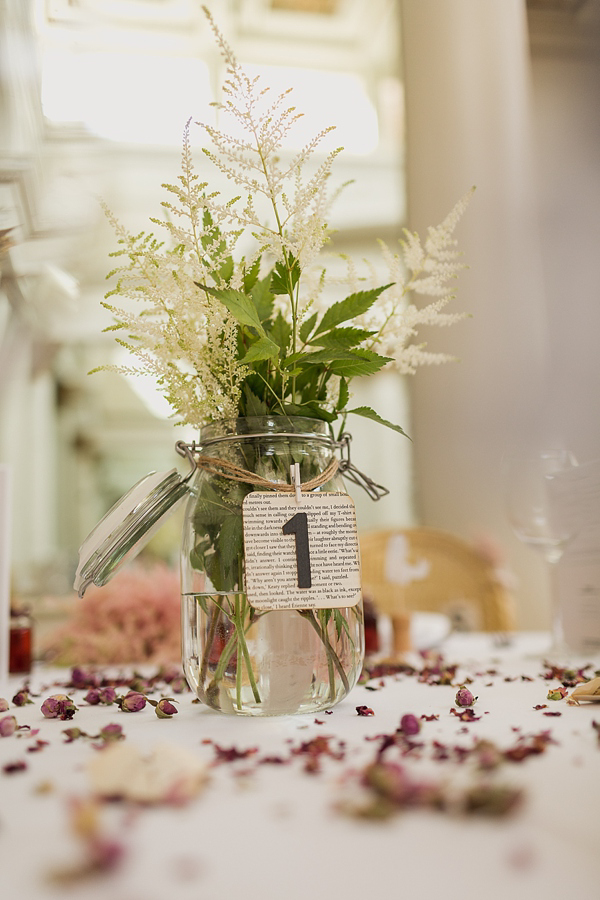 "My Dad gave me away, and we walked down the aisle to the sound of 'Toothpaste Kisses', by the Maccabees.
We wrote our own vows.  We also had a candle lighting ceremony, where our mums got up to light candles.  Our
readings included the lyrics to 'Such Great Heights' by the Postal
service and an extract from the Tarrentino film "True Romance" called
'You're so cool'.   The postal service song is a favourite of ours that
was around he we first started seeing each other and we really like the
lyrics especially the bit that says 'and god himself did make us into
corresponding shapes like puzzle pieces from the clay'."
"Our photographer was Paul of Paul Joseph Photography
– who we would 100% recommend. Paul is a fantastic photographer, he
made the photos loads of fun and the pictures are better than we could
have imagined.
We really enjoyed the whole experience, our favourite bit
was when he got the Bridal party to troop into a nearby field (which
involved climbing over a fence in dresses and suits!) for some photos,
it was a really good laugh and we will remember it forever!"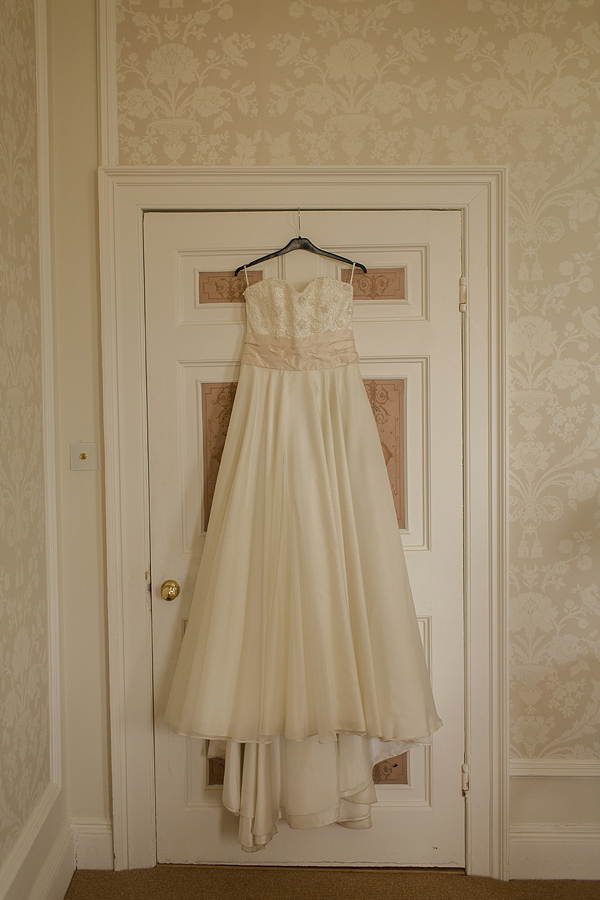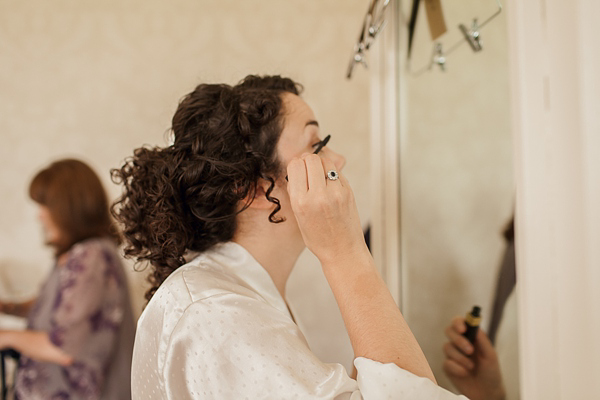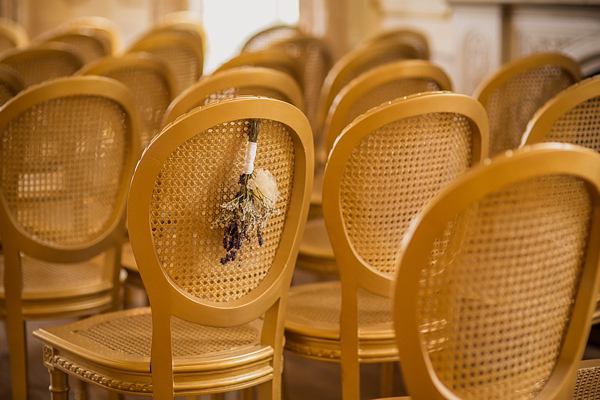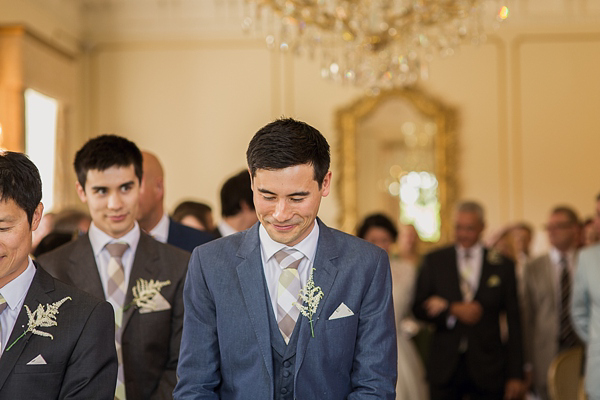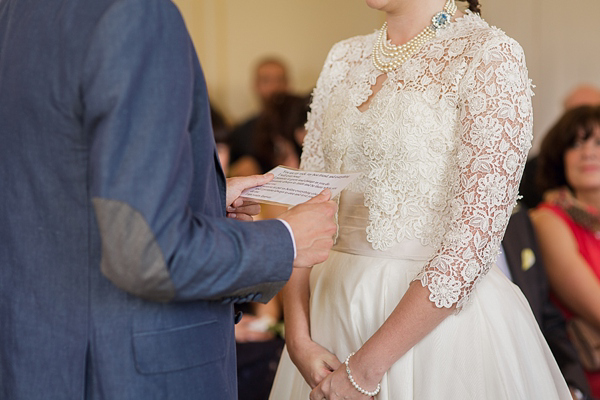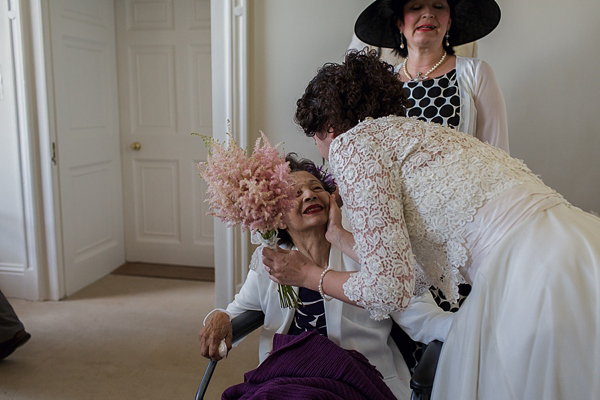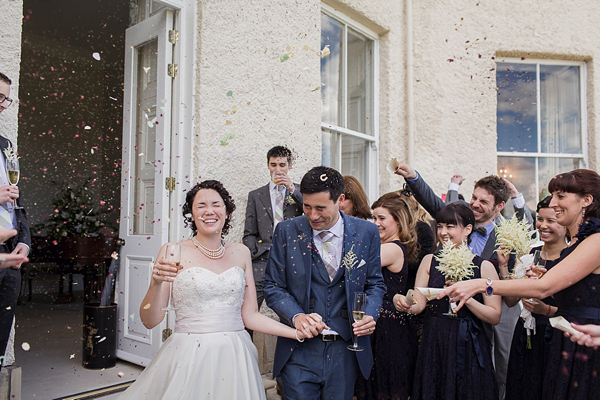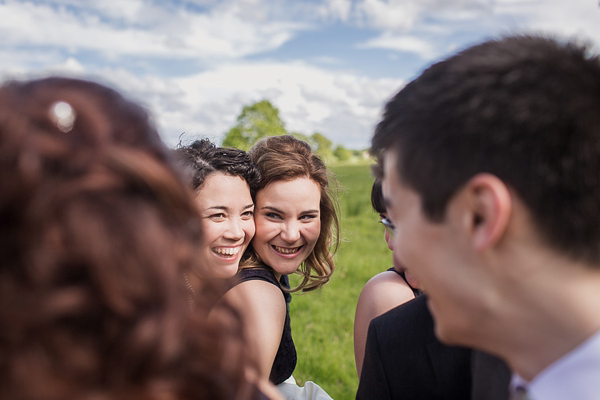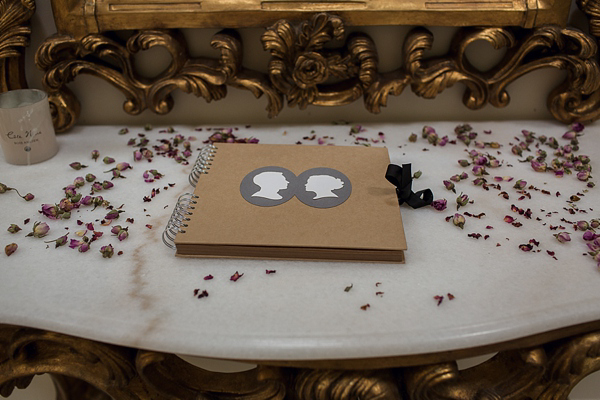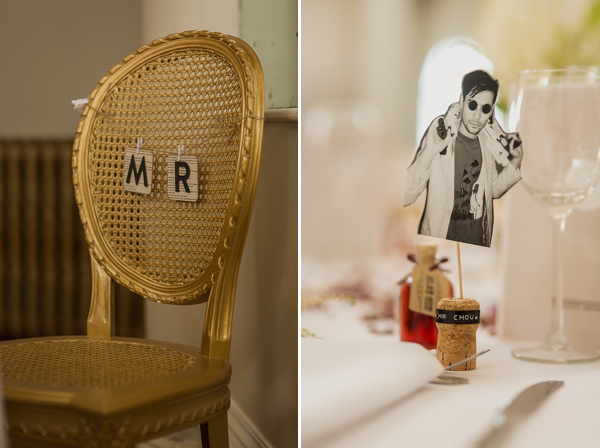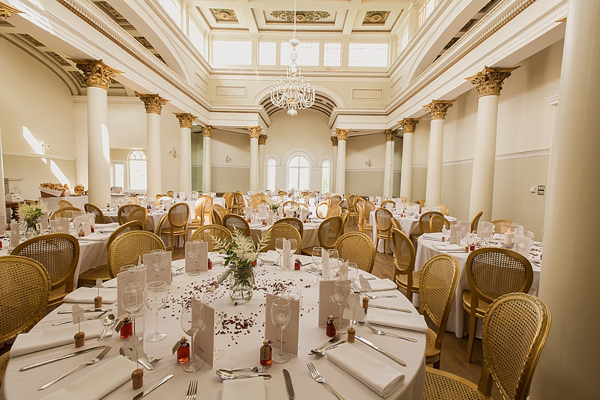 "Michael's mum and her partner made the favours, they started
making their own sloe gin back in October the year before, there was
enough gin to feed a small army!"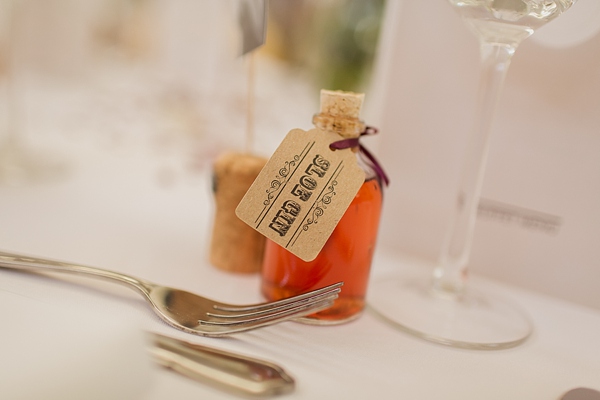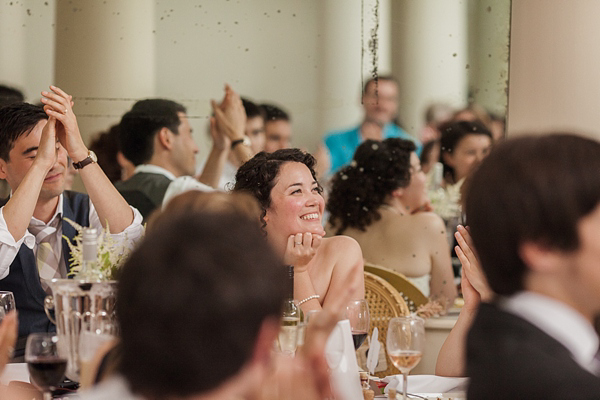 Words of Wedded Wisdom… 
"Make
sure there is music playing all day, there's nothing better than
spending the most amazing day of your life to a soundtrack of your
favourite songs – its means when you listen to wedding playlist again it
brings it all flooding back! 
Not stressing so much, we
found wedding planning very stressful, spent way to long thinking about
table decorations when we didn't need to as we ended up deciding what to
have at the last minute anyway!"
I would like to thank Paul Joseph Photography for submitting these very lovely photographs – you must go take a look at Paul's website, it has a rather fabulous about page!
What do you love most about this wedding readers?
With much love,
Annabel
Photographer – Paul Joseph Photography
Venue – Lartington Hall in Lartington, Teesdale
Wedding Dress – Stewart Parvin via The Bespoke Wardrobe in Ingatestone, Essex
Brides' shoes – Love Burlesque
Brides Accessories – Silver combs via Highland Angel + vintage necklace from Fur coat no Knickers
Grooms Suit – Oscar Milo + Mosaic Brand
Bridesmaids Dresses – Fever London
Flowers – The bride's mum
Cake – Made by the bride's friend
Entertainment – Chris Tarn
Favours – sloe gin created by the groom's mum
Rings – Bernstones, Hatton Garden
Catering Company – Steve Thompson from The Anchor Hotel
Hair and make-up Artist – Sami Nash via Tinsel Tiara