Good afternoon loves.  I have such a sweet wedding to share with you
this Wednesday afternoon, these images have really warmed my heart. Amy and Rich tired the knot on 22nd June 2013
at Sudbury Hall, followed by a reception at Lower Damgate Farm, both in
Derbyshire. The couple, who run a children's charity in Kenya called Milele, told me their wedding was inspired by their love of all things
vintage and antique.  In fact they enjoyed 18 months visiting flea markets and antiques fairs in the run up to their wedding day, to collect pretty, vintage decorate pieces.
"The most important thing for us was that the day felt really
personal and unique to us. We both love car boot sales, ebay, antique
and flea markets and really enjoyed spending the 18 months before the
wedding bargain hunting and collecting little bits and pieces to use on
the day, especially the china – we now have full china trios, teapots,
sugar bowls and milk jugs for 100 people!
This also
meant that on the day everything had memories and was special to us. I
really enjoy lots of different types of crafts and my mother-in-law and I
had great fun crocheting blankets and rugs to use, making 100 metres of
bunting with loads of pretty and significant fabrics such as childhood
bedsheets, doing all the invites and save the dates ourselves."
Photography Copyright (c) 2013, Cassandra Lane
"Rich and I met at school doing our A-Levels and had been together
for seven years before the wedding! As soon as we got engaged we started
planning the wedding, we ended up setting the date to get married 18
months after our engagement."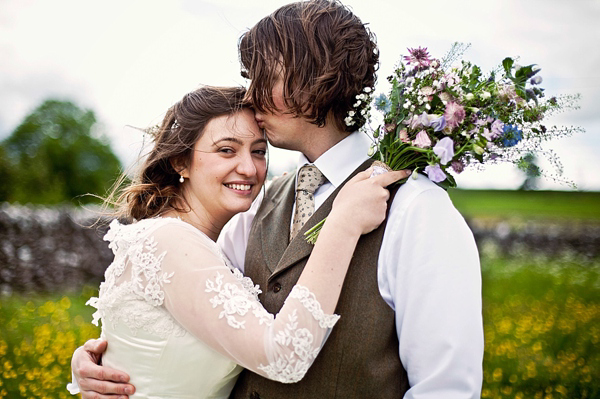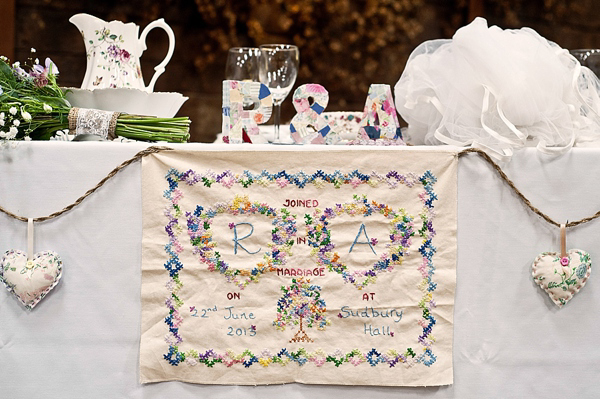 "The ladies at Timeless Couture
are absolutely amazing! Truly talented and so dedicated and lovely, I
thoroughly enjoyed the whole process of designing and having my dress
made. I was really intimidated about designing a dress at first, but I
really struggled to find designers who were ethical. So many of the big
labels now are made in the far east; even the really expensive ones; and
when I asked the sales staff how I could be sure that they were fair
trade I was really shocked to find they couldn't give me a good answer.
Many told me that was the first time they had ever been asked!   
I
was really worried that I would try on a dress and fall in love with
it, only to find I couldn't trace where it was sourced and I was at a
loss until I met the ladies at Timeless. They shared my tastes so
completely (literally everything they have ever made is gorgeous),
listened so well and were so wonderful I honestly couldn't recommend
them highly enough.
 The very best part about
having my dress made was all the lovely times I shared with my mum and
my maid of honour in designing it. If you just go in to a dress shop and try
it on it's such a short process; by having it made for you the whole
experience is so much more special and personal. We had so many lovely
days out to do the dress – memories I will have forever."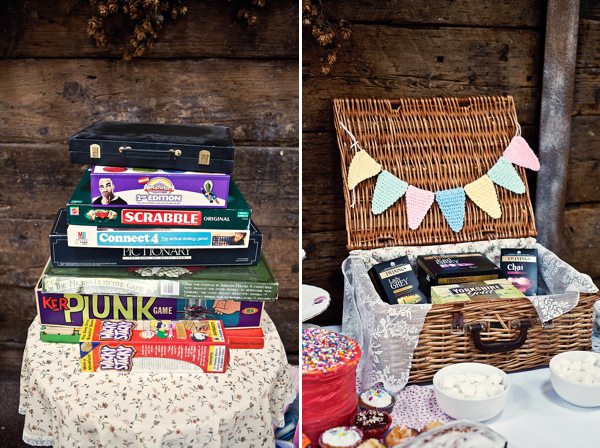 "We wanted a different feel for the ceremony and reception so
chose them in two separate venues. Sudbury Hall is an incredible
building, which we wanted to be quite formal to reflect the important
commitment we were making to each other. Also, it's a National Trust
property so the money we were paying for the hire fee was going back
into preserving and caring for the building for generations to come. On
the other hand, we wanted the reception to be really relaxed and laid
back as well as very personal.
Lower Damgate Farm was perfect – we
rented the holiday cottages for the week before the wedding so we could
have a lovely holiday with all our closest friends and family and
decorate the barn with all the homemade, personal touches."
I'm not usually a fan of chair covers at all, but these pretty lace chair-back decorations are so so pretty!
"I made lots of fabric bunting using meaningful fabrics such as our
childhood bedding, fabric inherited and given to us by relatives and
friends. The father of the groom built us the most beautiful sweetie
cart which we decorated with traditional scales and jars collected from
flea markets and car boots. We put meadow flowers in mismatched jars and
glasses and made lace covers tied with twine for the back of each
chair."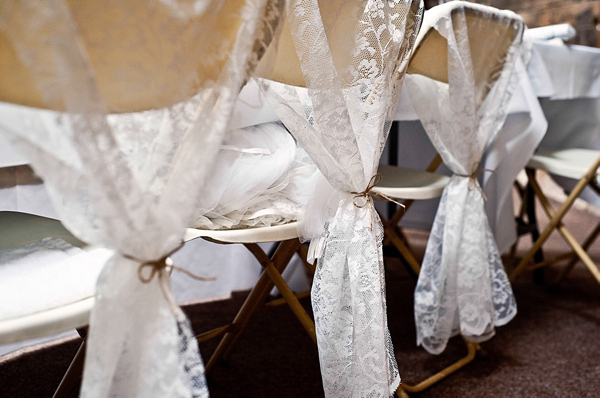 "Rich is a photographer, and thoroughly enjoyed himself collecting a
huge variety of 30 old film cameras from eBay to use instead of
disposable cameras! They were very inexpensive – not much more than
disposable cameras – and were so much fun both for the guests on the day
to play with and for us to develop afterwards!
We also took inspiration
from Kenya. Rich and I run a children's charity in shanty towns in
Kenya called Milele, so we had all the
guests wash their hands in the Kenyan traditional style (using a bowl
and a jug) before the meal!"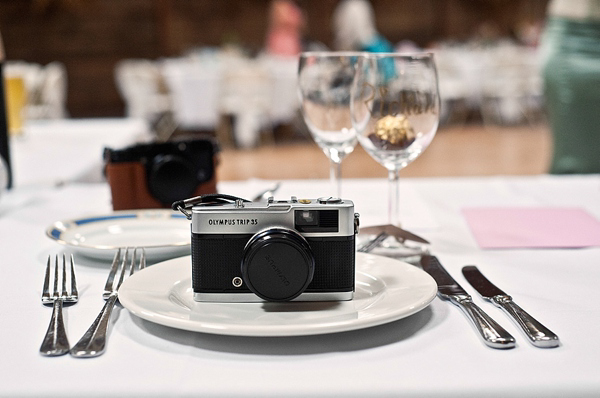 "Rich's suit was lovely quality in the end but a little nerve
wracking to get it – just two weeks before the wedding, months after we
had ordered, they were still telling us they were not sure if it would
be ready! Sadly therefore I'm not comfortable recommending the supplier to other Love My Dress readers."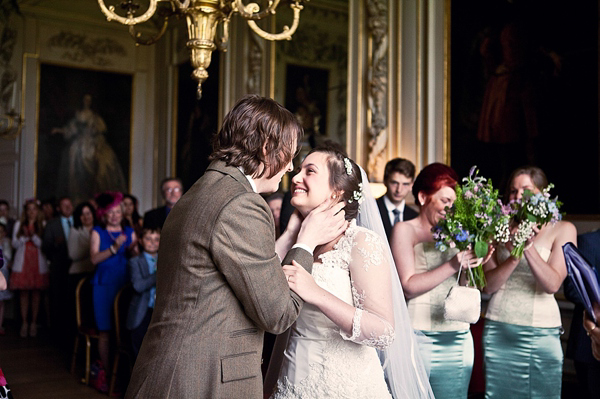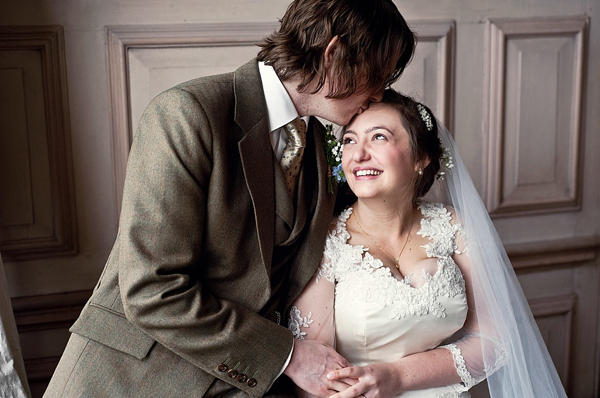 "We used Tracey Campbell Flowers,
as we wanted a really relaxed, natural look and ethical, British grown
flowers. She did a lovely job overall."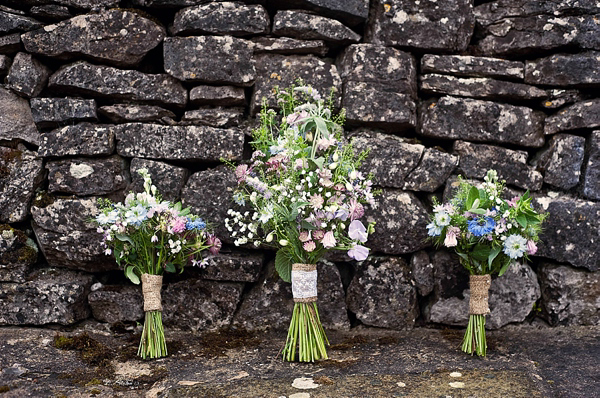 "We made the stationery ourselves. The save the dates were printed
onto paper which was then folded into origami teacups attached to
tea-party patterned card with a tea bag inside! The guests pulled on the
string of the teabag to open them. The invites themselves were printed
onto long, thin strips of paper and then stuck and rolled into a used
photo film canister in place of the film! Guests pulled a small metal
camera charm to reveal the invite!"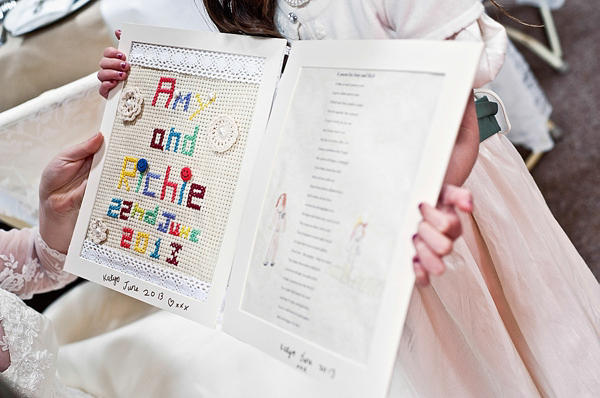 "I wore a cameo pin left to me by my great grandmother was pinned to
the back of my dress at my neck.  I also wore pearl drop earrings set
in gold, by Gillian Million.  Rich made this using the leftover gold
from when we made our own wedding rings and sent it as a gift for me on
the wedding morning. (Rachel Jeffrey Jewellery School."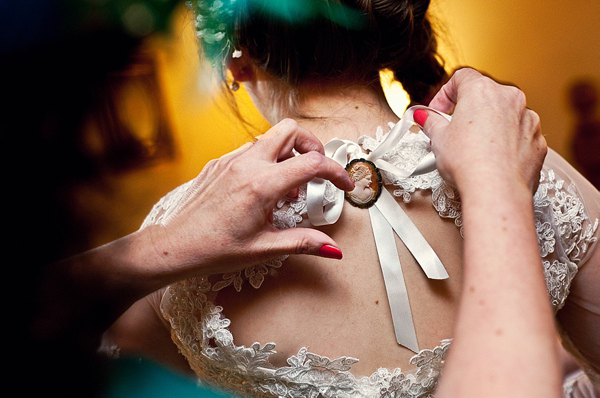 "For wedding favours, we wrote guests' names on wine glasses; these
then acted as place cards, favours and also saved a lot of washing up on
the night as we ran our own bar!  We also had a patchwork guest book!"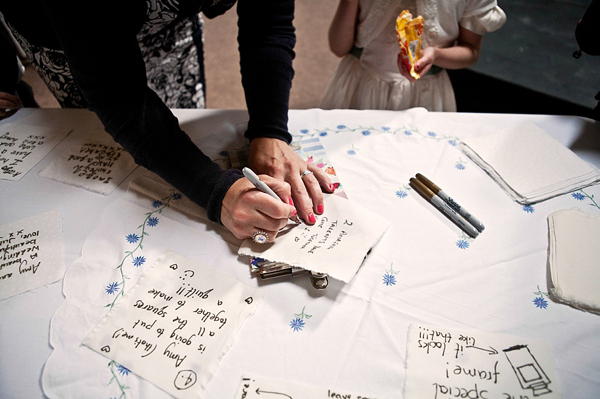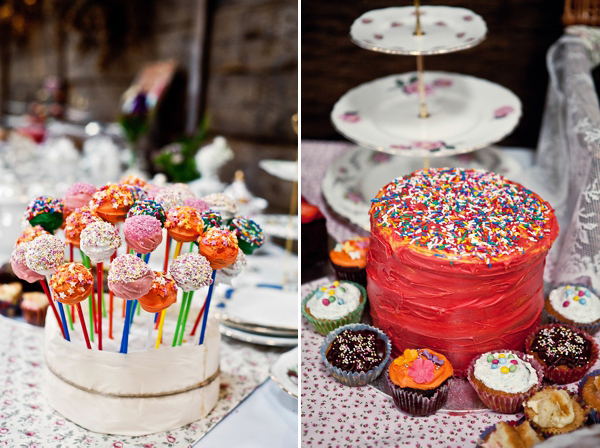 "Imogen (close family friend) wore a John Lewis
dress and my other little flower girl wore a dress from the Red Cross charity shop in Hinckley – it was only £6! Timeless Couture then added some green lace to the underskirts, some green pins
and a satin tie to them. They looked really lovely together!"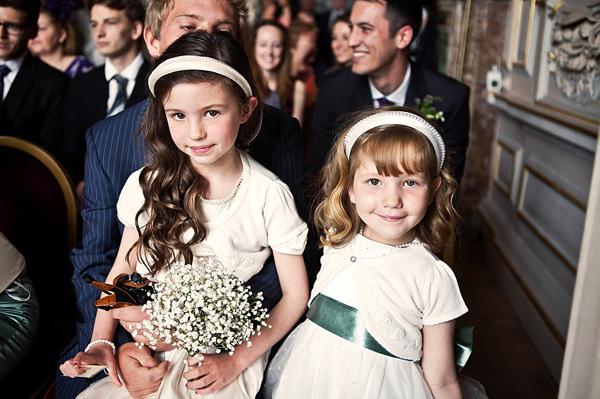 If you love the idea of gifting your bridesmaids a bag like the one below on your wedding day, visit Alphabet Bags!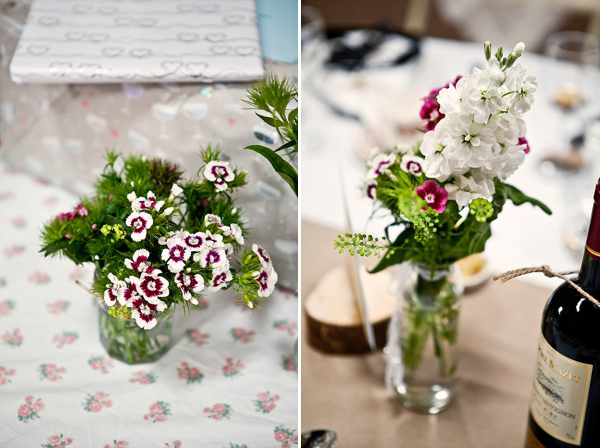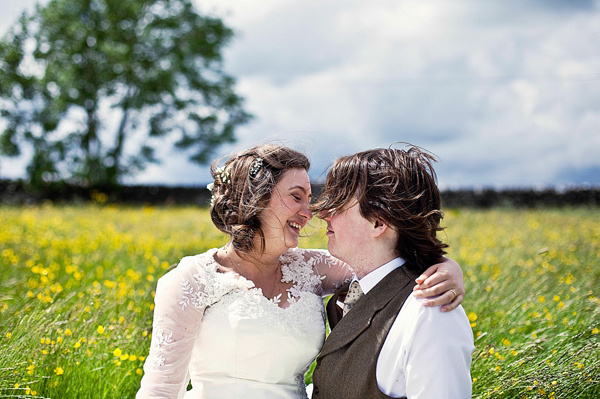 "Our photographer was Cassandra Lane
(and her second shooter Jennifer Peel) were both absolutely amazing! Rich is
a photographer – so finding someone who even he couldn't find fault
with, who had such a perfect, relaxed style and who was reasonably
priced was near-impossible. It was a real bonus that Cassandra was so
lovely and made us both feel so comfortable the whole time!
Jenny also
was absolutely fantastic and really listened to us. We had lots of fun
with them – I think it's so important that you get on!"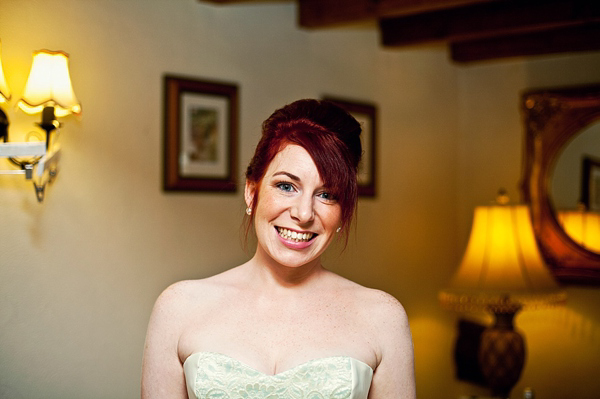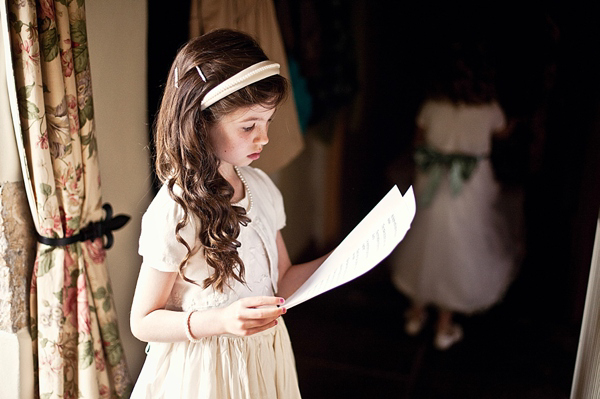 "My, Auntie Beverley, a close family friend of my Mum's who is now retired, has done my hair since I was born.   I did my own make
up, but used fab 'Extra Virgin Mineral' stuff from the Body Shop. Really
lovely quality and the staff in the Wimbledon store were so friendly
and helpful. Plus now I've still got the make up to use!
As a wedding gift, Rich bought me a gorgeous pearl cluster headband
from Gillian Million, and we
ordered some pearl cluster pins from Timeless. I also had some fresh
Gypsophila in my hair."
"I wore my mother's veil. She and my father have been married for 28
years and are still going – it's a fabulous start! I'm also incredibly
lucky that it's beautiful! Cathedral length and really soft (the lovely
ladies at Timeless who made my dress added some appliqué to cover the
occasional small hole… shhh!)"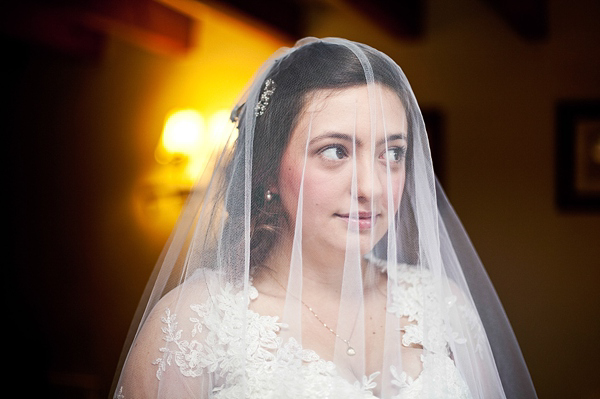 "Shoes were very difficult to find! We had to have wide heels to
protect the floor at Sudbury Hall. In the end Rich found me some
beautiful ones online."
"Kevin at Derby Wedding Cars
was fantastic. It is a really small company and he is so passionate
about his car. The most consummate professional, he was thoughtful,
reliable and reassuring."
"My Father walked me down the aisle to the sound of the Romantic Piano March, by Miranda Wong."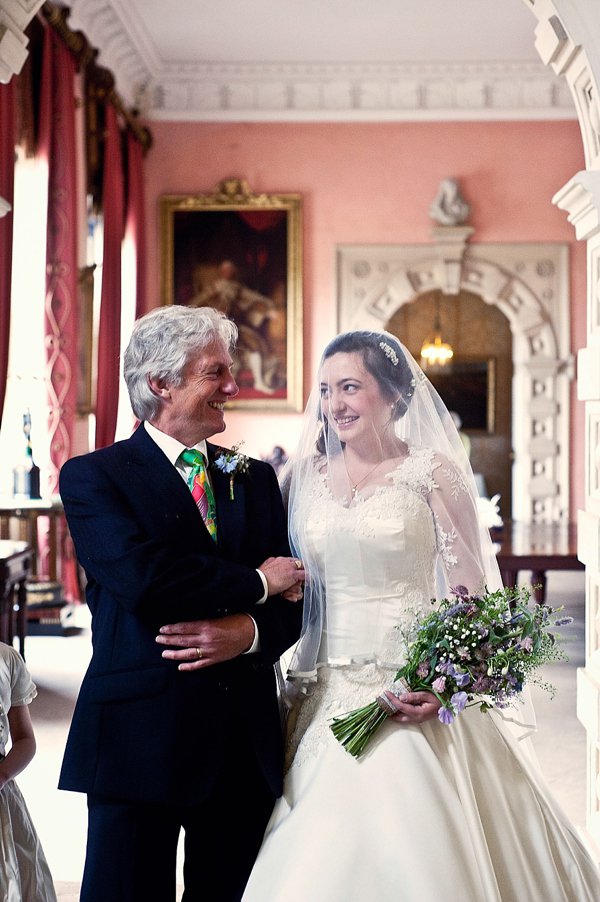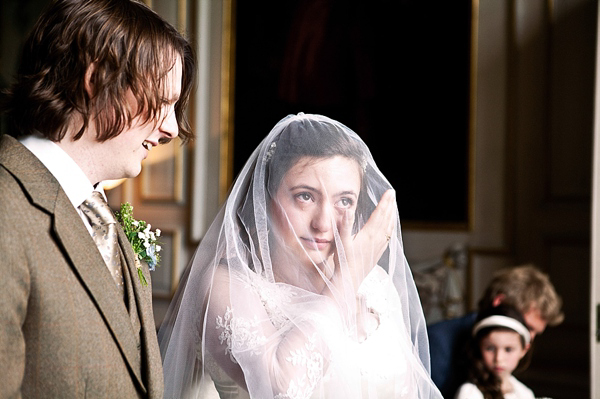 "My little sister (Katy, aged 7) read a poem which we had
written by Bespoke Verse. Katy gave them lots of ideas and things to put
in the poem and then they put it all together into a really personal
poem for her to read in the ceremony."
'I'd like to read a poem to you
It gives a little sister's view
Of Rich and Amy, perfect couple
Who fit together like a puzzle.
I've got a lovely sis, you see,
Amy's always kind to me
She likes to crochet, talks a lot
Listens to problems that I've got
She's pretty and happy, a caring girl
To her Milele means the world
(Rich and Amy really care
About Kenya and the children there).
Rich is hairy, tall and clever
And the best photographer ever!
He helps with homework, reads me books
They make me dinner, love to cook.
They're happiest on their trips to Kenya
Or when they're just at home together
There's lots – like jumpers – these two share
That makes them such an ideal pair
(And even though I am quite titchy
I'd like a husband just like Richy!)
I'm so glad they found each other
And that I've got a new big brother.
So let's wish them love and laughter
And a very happy ever after.'  
"It was just so personal and really appropriate."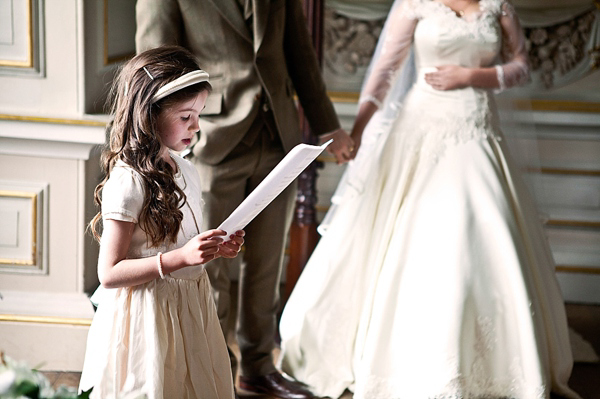 "We got our rings from the Rachel Jeffrey Jewellery School. Rachel was so friendly, helpful and the whole experience
was absolutely unforgettable. The rings started life as strips of metal
and Rich and I did every single bit ourselves, melting, hammering,
filing and polishing them by hand. It was so, so much fun and really
satisfying. It is so lovely to know that they are truly two of a kind
and that we have made them specially for each other.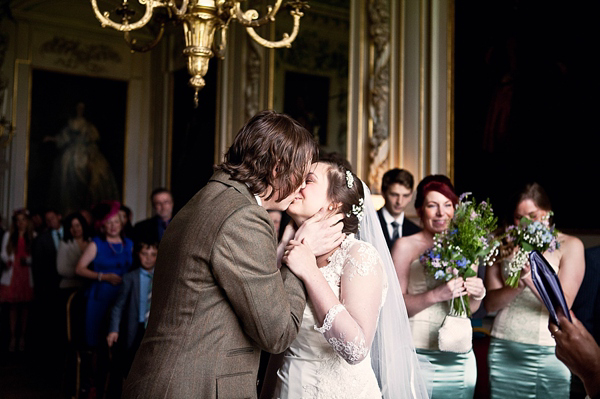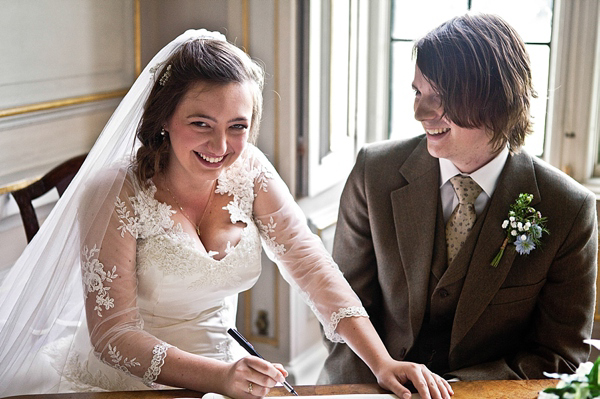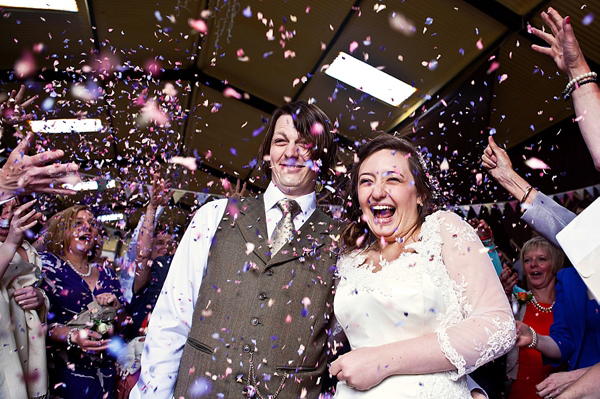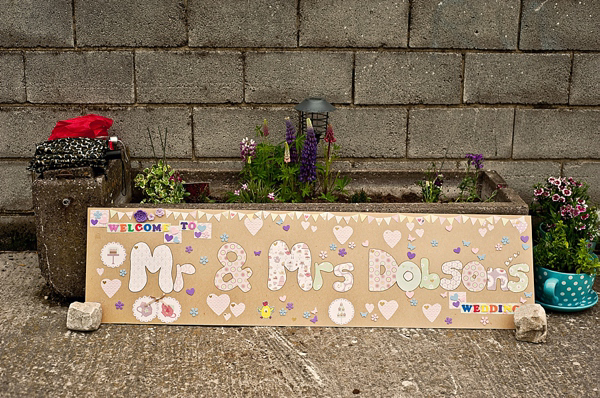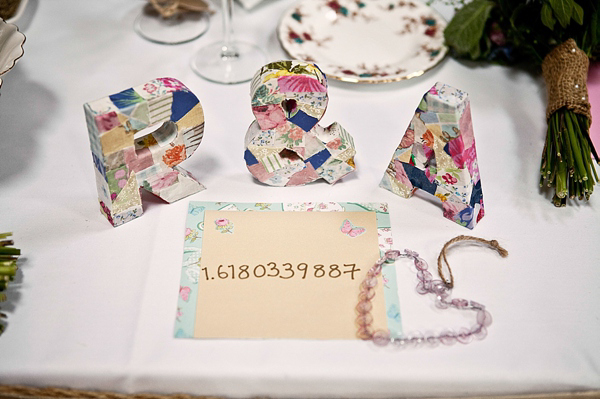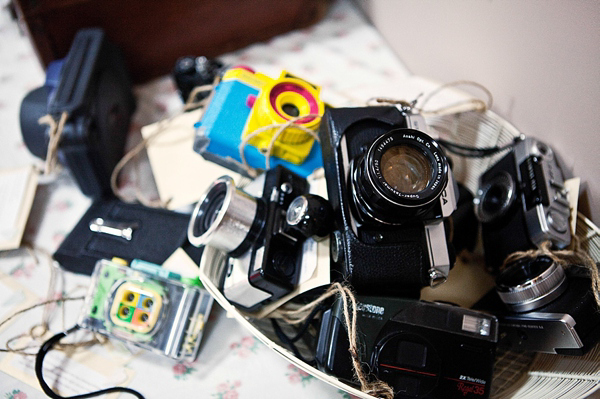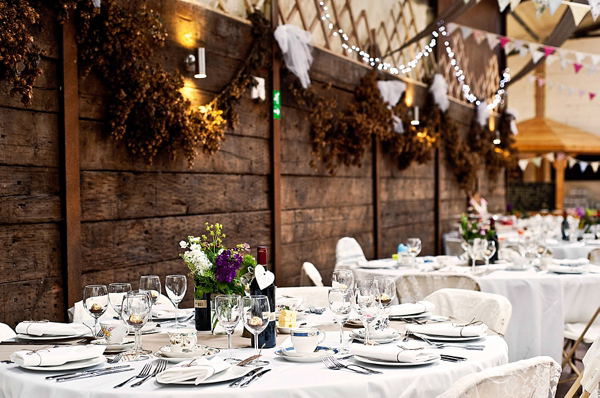 "My mum made our cake! She has made my birthday cakes
with some amazing decorations over the years but is by no means a
professional – she was more than a little nervous when we asked her! Her
best friend valiantly agreed to help and they had a lovely time
learning about the world of icing and sugar paste!
The whole thing was a
complete surprise and had layers representing important parts of our
lives, both separately (film for camera-mad rich and the lace appliqué
from my dress) and together (Kenyan jewellery to represent our charity
Milele) and the incredible top layer was the most amazing replica copy
of the Brighton bandstand (where Rich proposed!)."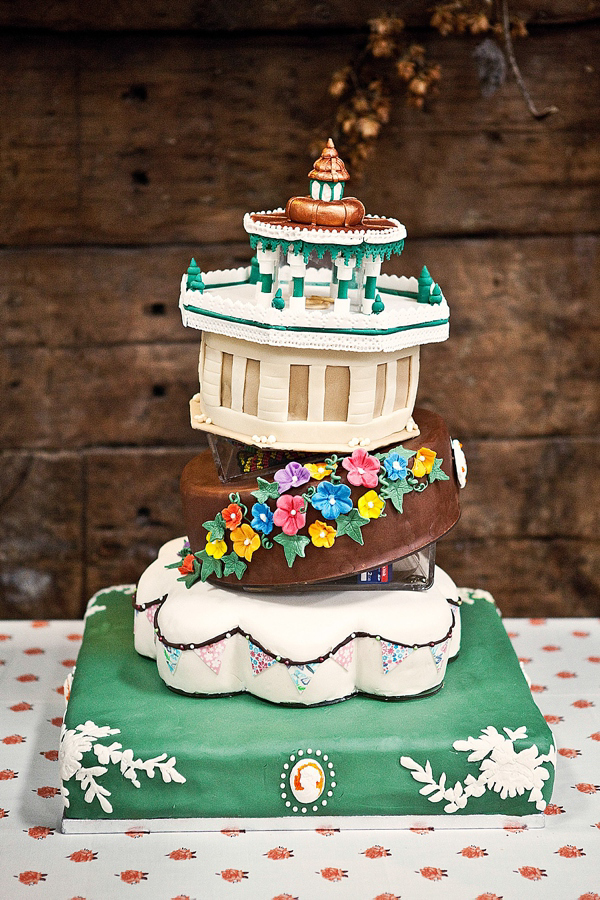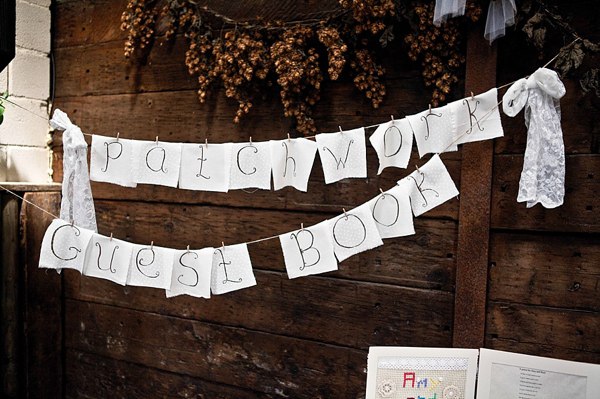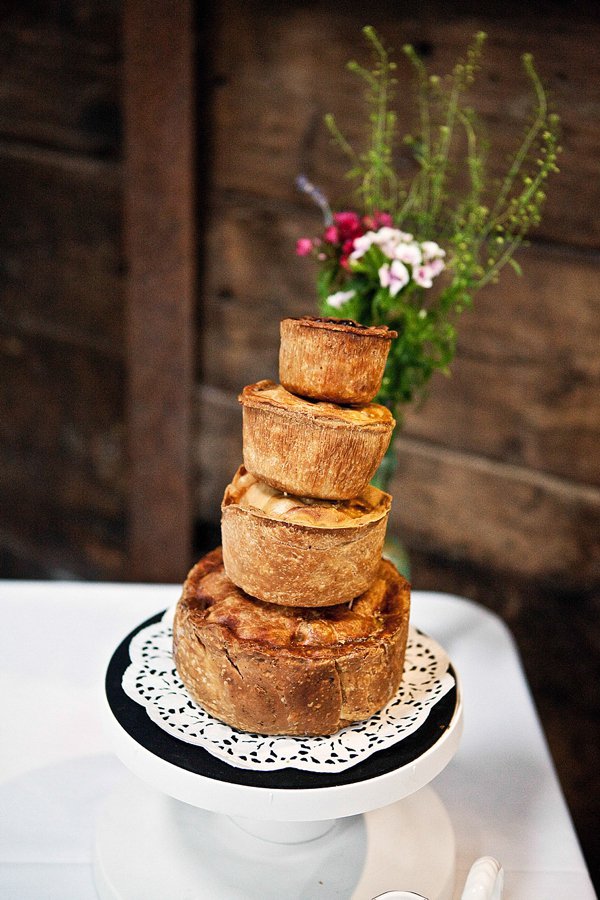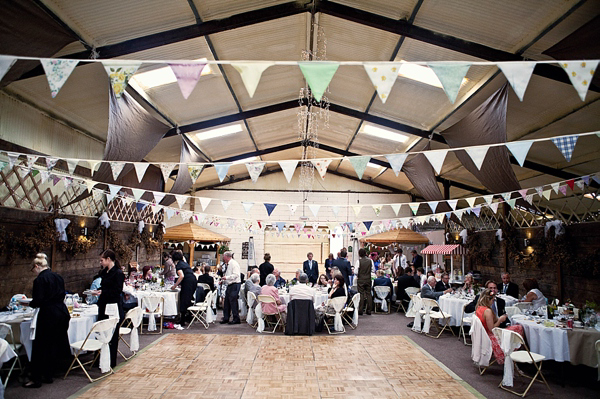 "We hired The Retrosettes – they were absolutely incredible! Everyone loved them and were all on the dancefloor from the very first song!"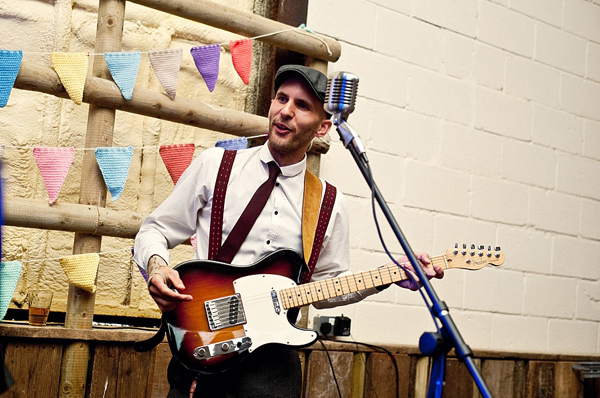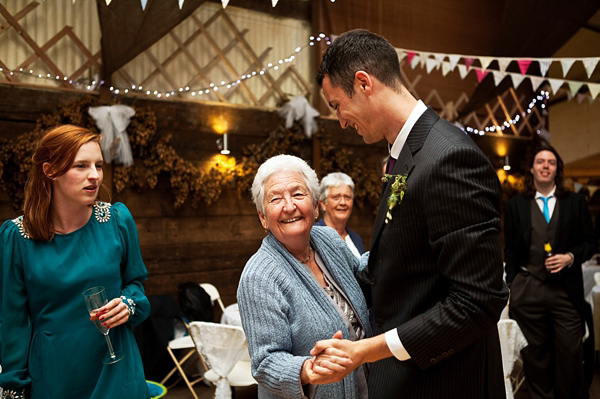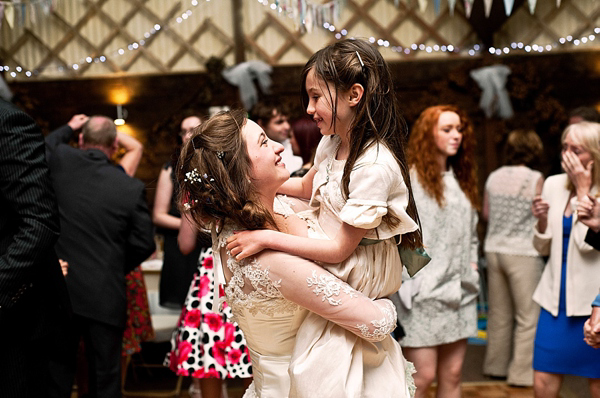 "As my wedding gift to him, Rich wore a silver pocketwatch I got
from Ebay and had it hand engraved by Rachel Jefferey Jewellery School."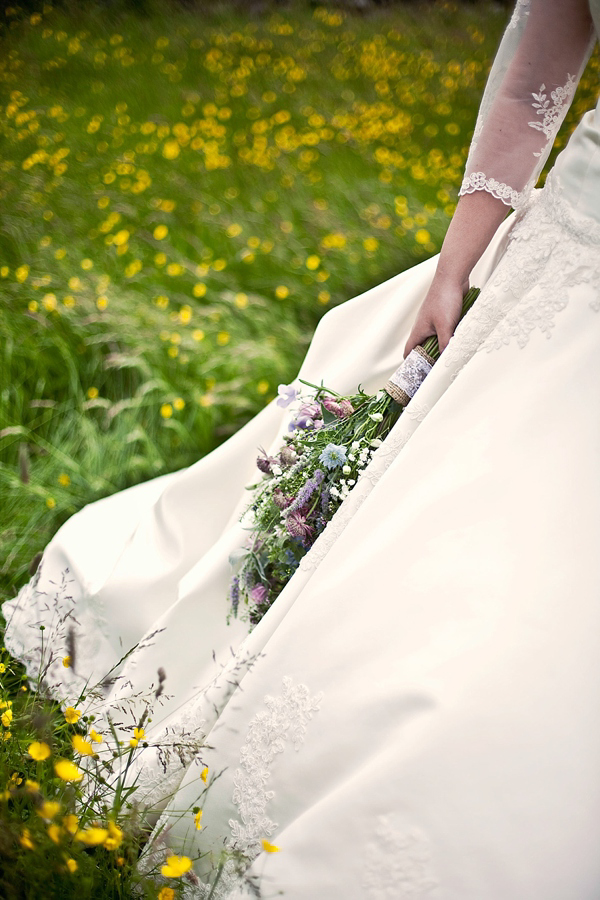 Words of Wedded Wisdom…
"Just enjoy it. Spend as much time as possible with your husband. Smile a lot!"
Such a lovely, lovely day, congratulations Amy and Rich, and huge thanks to photographer Cassandra Lane for sharing these photographs too.
Please do take a moment to visit Amy and Rich's charity website, Milele.
You might also want to take a look at other farm weddings to be inspired by.
With much love,
Annabel
Charity ran by the Bride & Groom – Milele
Photographer – Cassandra Lane
Venue – Sudbury Hall + Lower Damgate Farm
Brides Dress – Timeless Couture
Veil/Headpiece – heirloom/vintage/the bride's mum's
Bride's accessories – Gillian Million
Groom's Attire – Supplier not recommended (bad experience) + Rachel Jefferey Jewellery School
Bridesmaids – Timeless Couture
Flowergirls – John Lewis + the Red Cross charity shop
Flowers – Campbell Flowers
Transport – Derby Wedding Cars
Entertainment – The Retrosettes
Rings – Rachel Jeffrey Jewellery School
Catering Company – Kemp and Kemp
Personalised poem/reading – Bespoke Verse