I do love that I have the ability to feature so many different weddings on Love My Dress.  Of course, we tailor our content to a certain aesthetic that we know our readers will appreciate, and for the most part, our weddings are UK based – showcasing beautiful British brides.  But occasionally, it's nice to be able to look at something a little different.
Alli & Rúnar got married on July 6, 2013 at Víkurkirkja in Vík í Mýrdal, Iceland, followed by a reception at Hotel Rangá in Hella.  These photographs were sent in by the couple's wedding photographer, Levi Tijerina – I love how he has skillfully juxtaposed the drama of the Icelandic backdrop with the
tenderness shared between this couple – the results are quite breathtaking.
Levi believed that Alli's bridal style would resonate with our readers.  And he wasn't wrong. Here, Alli tells us a little more about her beautiful wedding in Iceland…
"Rúnar and I wanted the day to be relaxed and natural, and we drew
inspiration from the landscape and surroundings in South Iceland.  We
both wanted to wear clothing that we felt comfortable in, but I think we
were in agreement on a classic, or early 20th century look/Edwardian inspired look – hence the
wedding crown, three piece suit, textured fabrics, natural hair, etc."
Photography Copyright (c) 2013, Levi Tijerina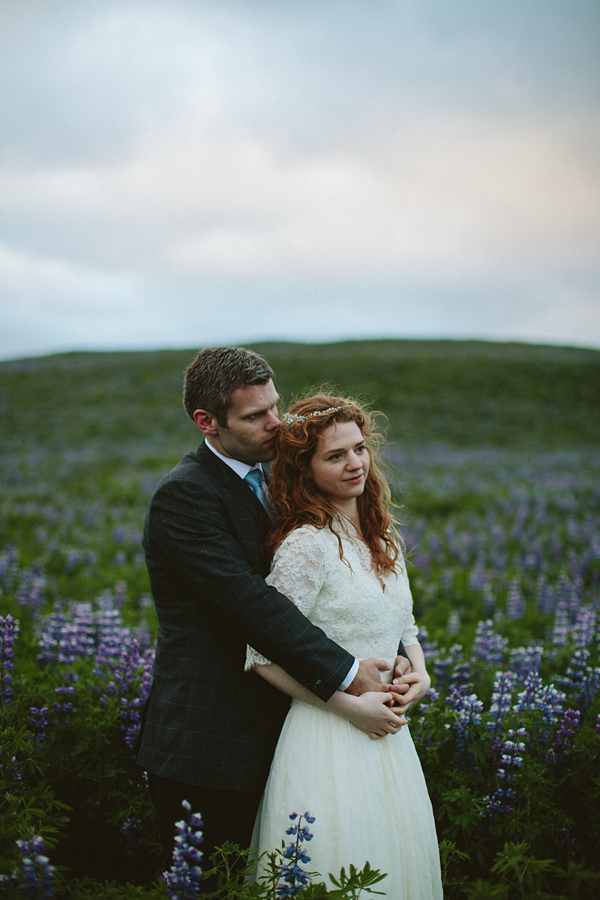 "We got engaged when we were in Vík í Mýrdal in 2012, and it is
just so beautiful – truly the perfect place for a small summer wedding.
The church is located on a hill overlooking a black sandy beach
surrounded by mountains and fields of flowers. There is a beautiful view
of the landscape from the church, and likewise the view looking at the
church from below is lovely. 
We also have family in Iceland and wanted
our American relatives to have an unforgettable experience to
commemorate the event.  So, there were many reasons for us to choose Vík
as the location for our ceremony. We chose Hotel Rangá as the reception
location because it is first and foremost a beautiful, cozy place with
amazing staff, but it was also a place where we could relax, enjoy
wonderful food, and spend time with our family while enjoying the
natural beauty of South Iceland."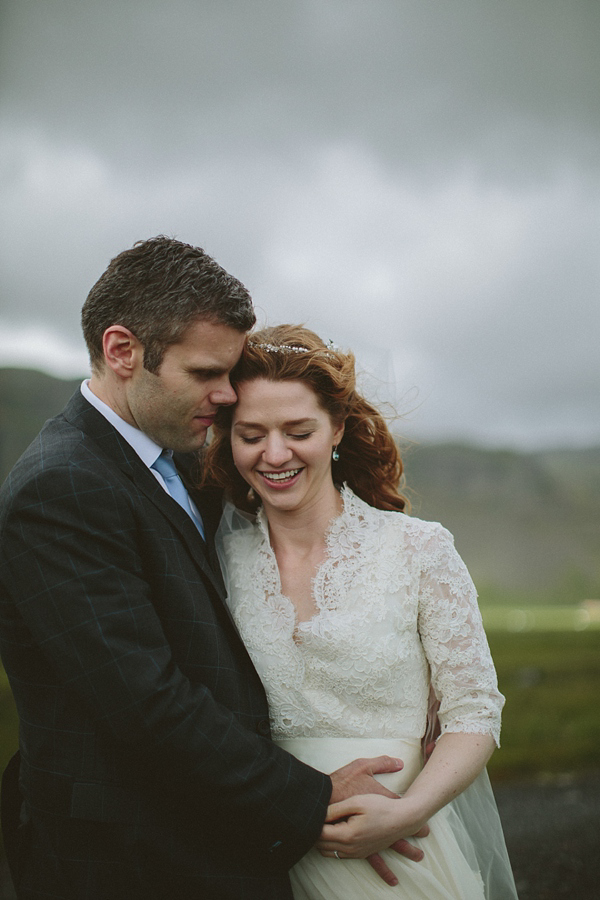 'We arranged room reservations with
the hotel well in advance, and guests were able to get a discounted rate
as they confirmed their booking.  We booked the honeymoon suite, which
was so spacious and comfortable, especially in the morning when all of
the ladies were getting ready together. The guests were all very pleased
with their rooms.
Hotel Rangá also has a wonderful restaurant and bar,
where we all ate dinner together the night before the wedding."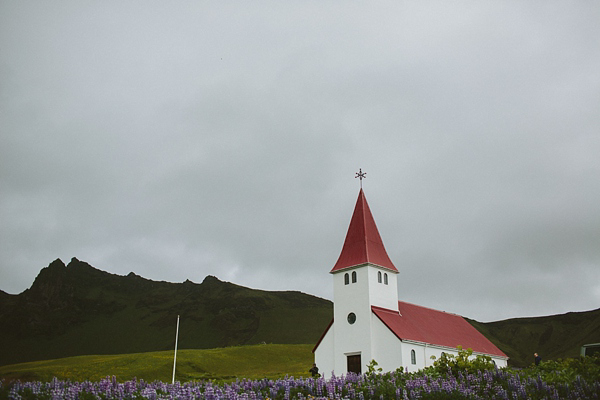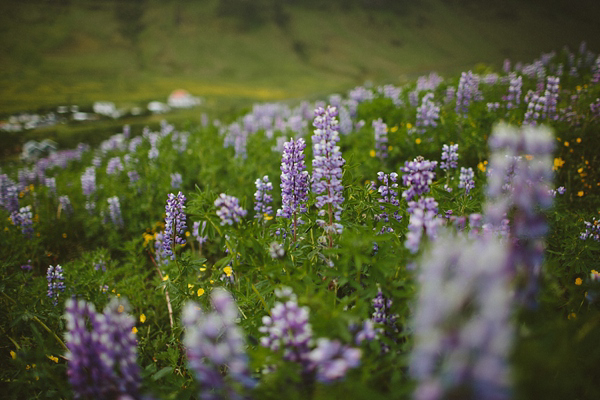 "We met in Boston where we both live, and we were engaged in
Iceland during a trip that we took in the summer of 2012.  We were
staying the night in Vík í Mýrdal, and we realized we had a flat tire as
we were pulling into the hotel.  Just as Rúnar was finished fixing the
tire, he suggested that we take a walk. Seemed like an odd suggestion
when he was covered with grease and dirt, but we took a walk up to the
hill that overlooks the valley. 
When we got there, music began to
play—it was our favourite song, being played by a string quartet hidden
inside the church.  It was a wonderful surprise. Towards the end of the
song, Rúnar got down on one knee, and of course we all know what
happened next.  We decided within a few days that we wanted to bring our
families to this beautiful place for our wedding; there really was no
other option discussed.  Almost exactly a year later on July 6, 2013, we
did indeed get married in that church with the same string quartet in
attendance to play our favourite song as we walked down the aisle."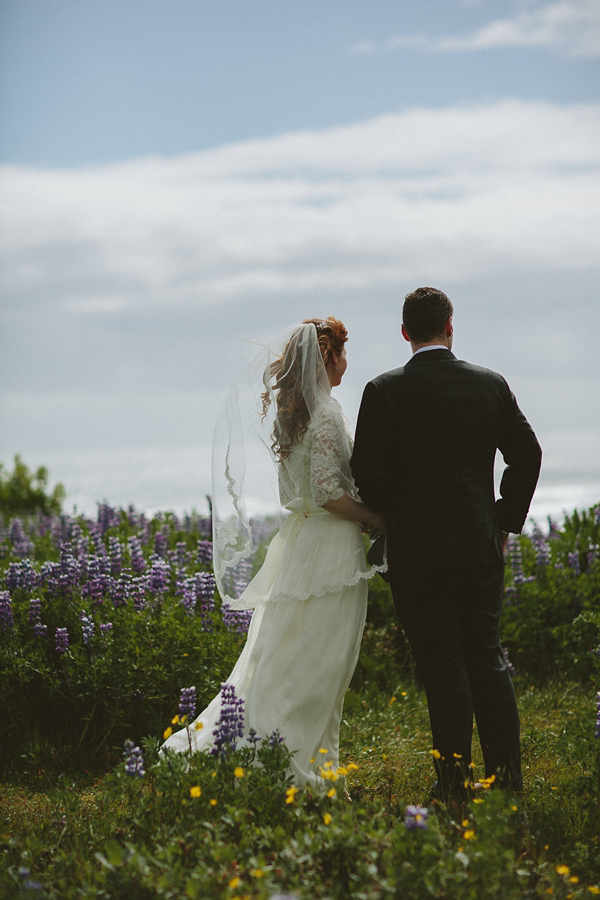 "The dress is from J. Crew, and the jacket is Monique Lhuillier,
which I purchased through The Bride Room in Nashville, TN, USA. (I am
originally from Tennessee, hence some of the purchases were made there
with my mom and sister).
I knew I wanted a Monique Lhuillier lace jacket from the moment I saw one in a picture years ago.  There is just
something so lovely about the alencon lace and the details in the
scalloped edges.  After I had picked out the ML jacket, I chose my dress
based on what would really highlight the jacket: I wanted something
that would not overshadow jacket, but that would have a complementary
texture and lots of movement when I walked."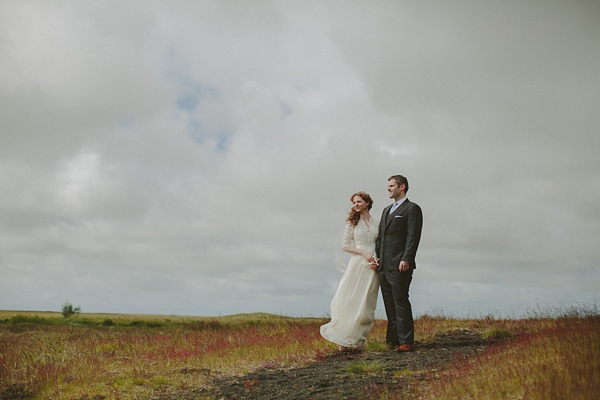 "Many ML skirts that are
paired with her lace jackets are just too stiff and voluminous for what I
had in mind, so I had to do a lot of searching and I did not have a
picture or advertised look to work with.  I went with the J. Crew
dress because J. Crew's chiffon is so soft and drapes beautifully.  Out
of all of the designer dresses and skirts I looked at, nothing
complemented the jacket nearly as well.  A major plus was that J. Crew makes some dresses in petite sizes, so few alternations were needed."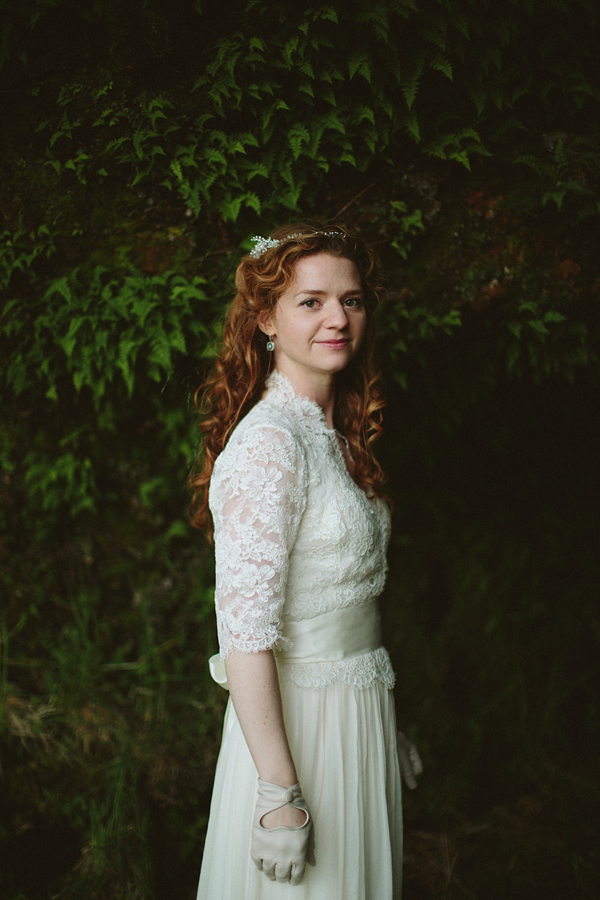 "My cape was from Ellsworth & Ivey…" 
"My shoes were by Rachel Simpson – they were so comfortable and well made.  But more importantly, they were truly a work of art: just stunning."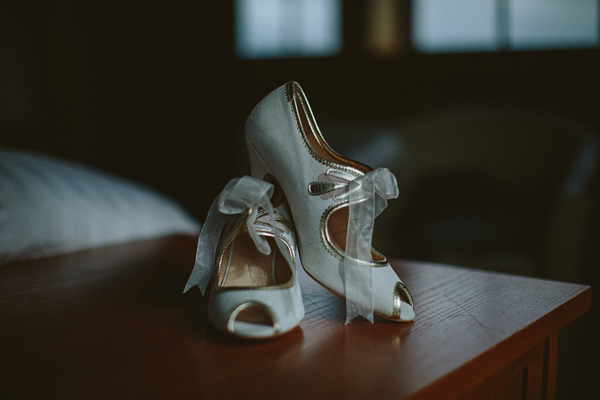 "We didn't observe a tradition of remaining separate until the
ceremony. Instead, we drove to the church together, hung out in the
vestibule to greet everyone, and enjoyed the music in the back of the
church together before the ceremony began.  Just being together in the
church and enjoying the moment before the ceremony was one of my
favourites. 
We also both enjoyed having our own table at the reception
because it was an opportunity for us to slow down a bit and have some
time to ourselves. 
Our wedding day seemed to go so fast, but those
moments together really helped us stop and reflect.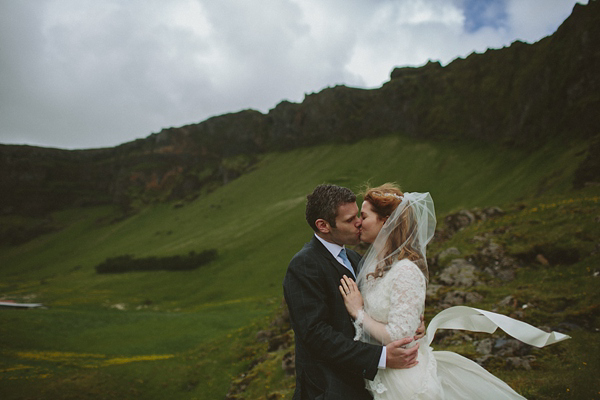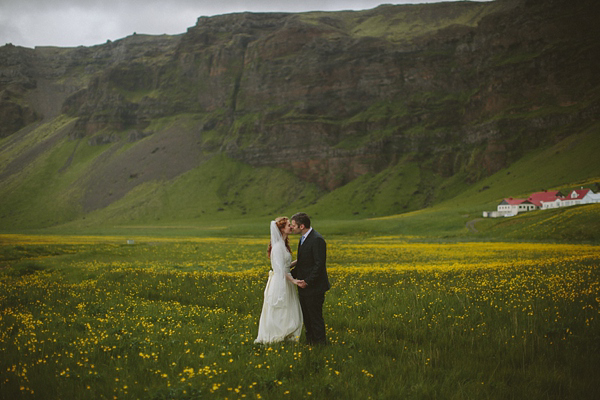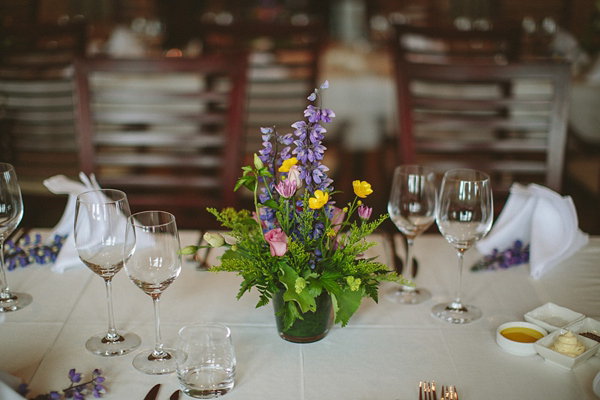 "Hotel Rangá
provided the flowers; we sent them photographs of wildflower bouquets
beforehand, and they used a mixture of local seasonal flowers and others
that complemented the wildflower look."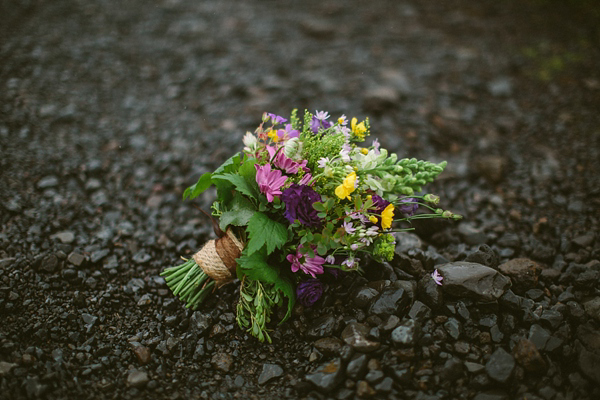 "In the traditional Icelandic ceremony, the bride and groom each has
a witness, which would typically have been the bride and groom's
fathers.  We chose to have our siblings as witnesses, so it was a blend
of traditions.  So, there was no 'giving away' – we simply walked in
unaccompanied."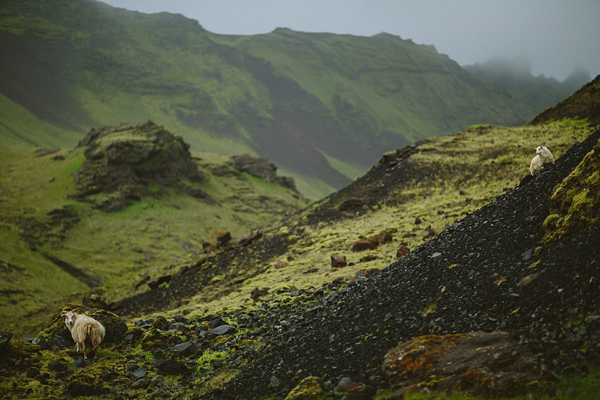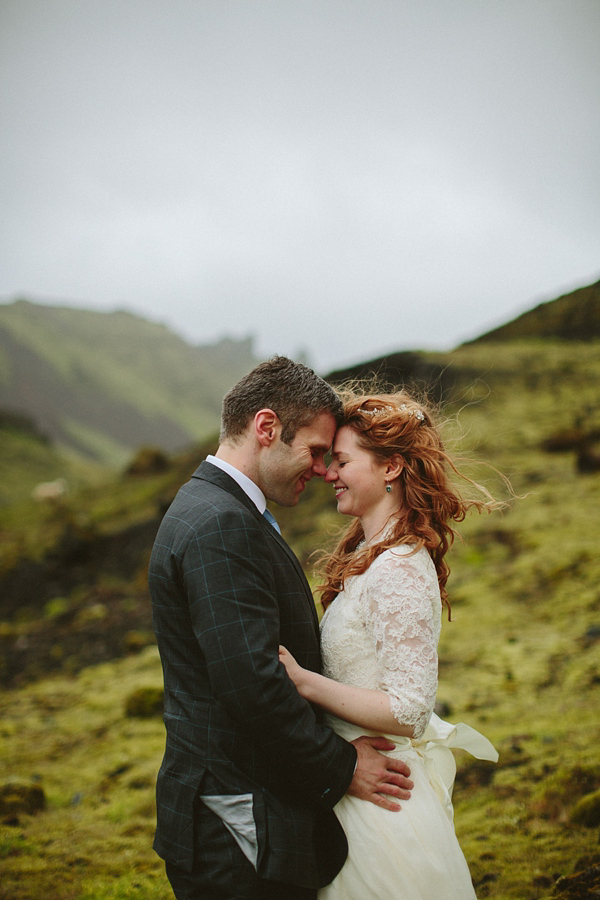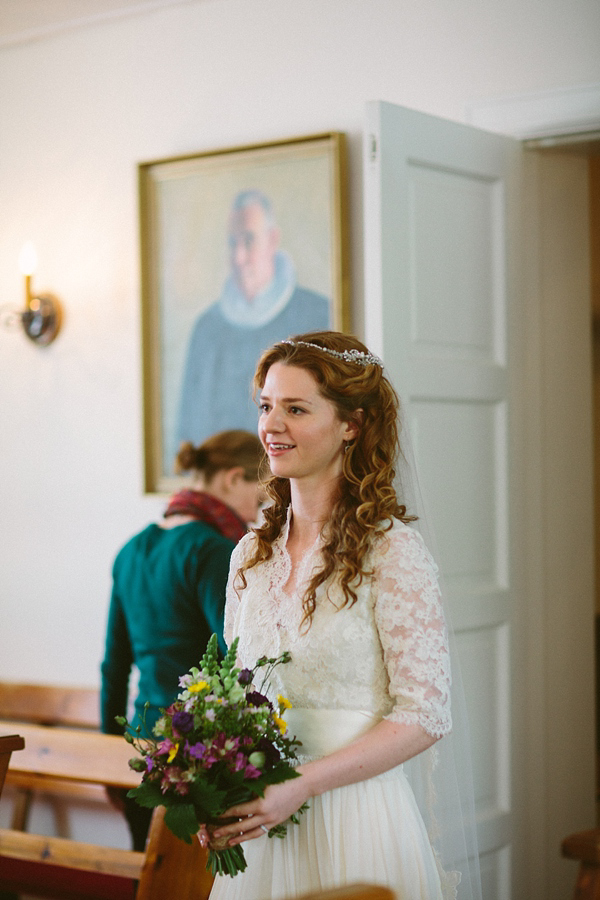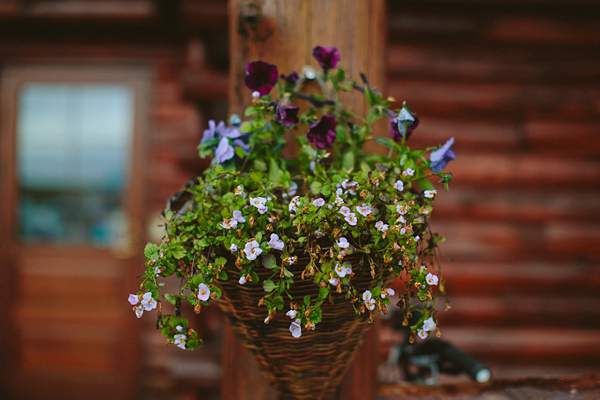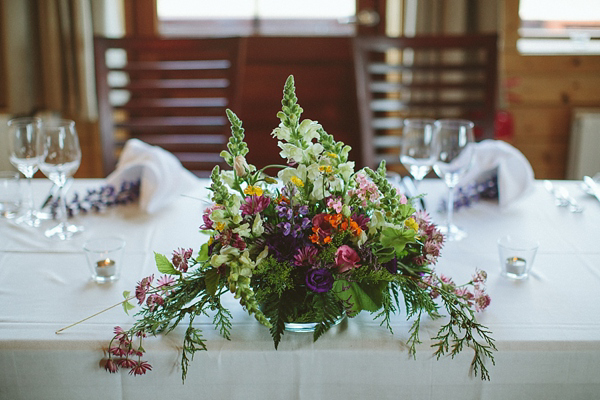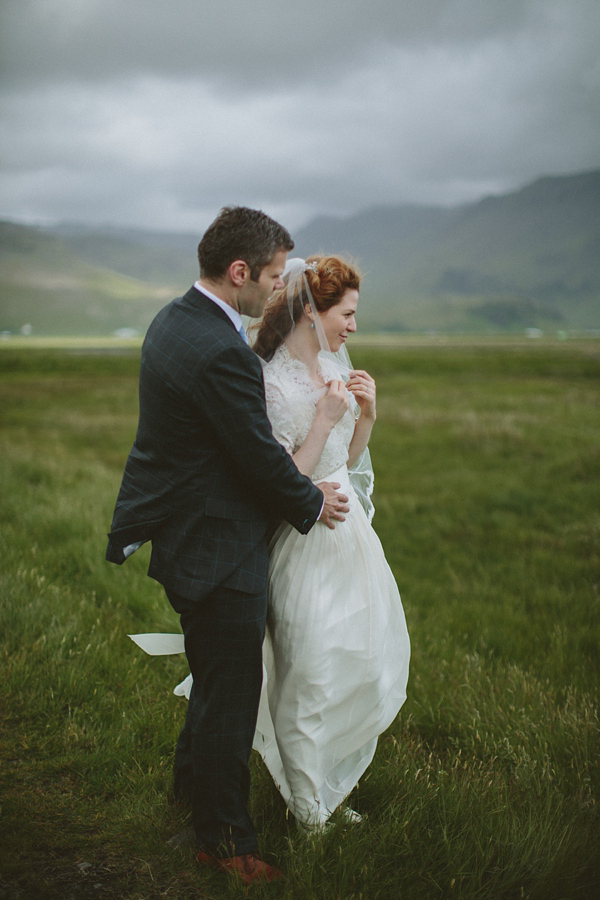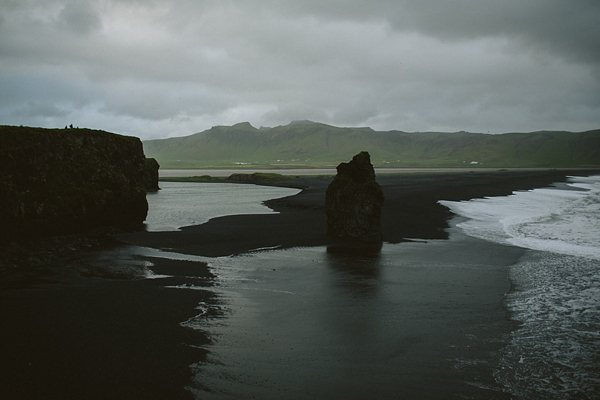 "Alli & Rúnar of Levi Tijerina were our photographers, with assistance from Nirav Patel.  When
we were searching for a wedding photographer, we cringed at some of the
pictures we saw: we thought we would never find someone who could
capture the moments in a natural and artistic way AND who would be
available in Iceland.  One google search led to another, and we found
Levi.
We looked at a few of his photographs and it was love at first
site.  Words cannot describe how awesome and talented this guy is.  He
is a pleasure to work with, and his pictures captured the day so well
that some people have been moved to tears when looking at them. He is
open to traveling anywhere and certainly welcomes a challenge. Rain or
shine, he will take amazing pictures that you will never tire of looking
at—certainly the best investment we made in our wedding planning."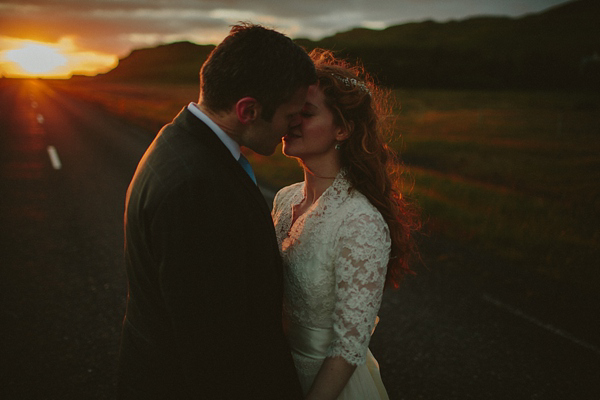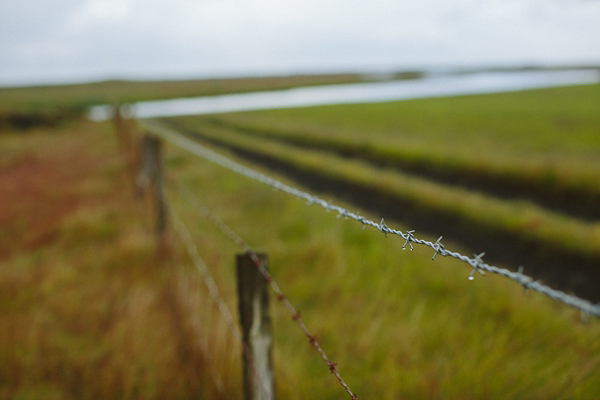 "I did my own makeup, but Hotel Rangá provided someone to help with hair."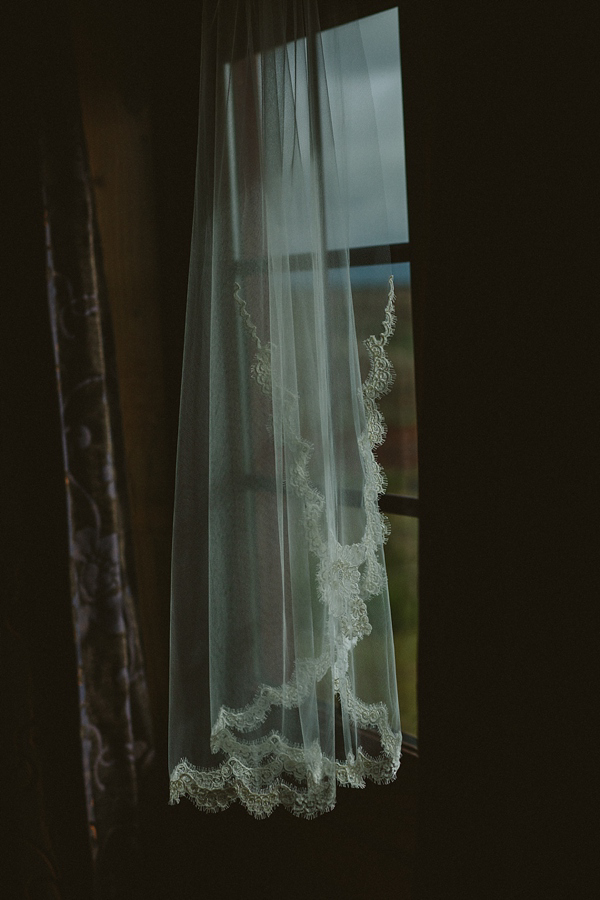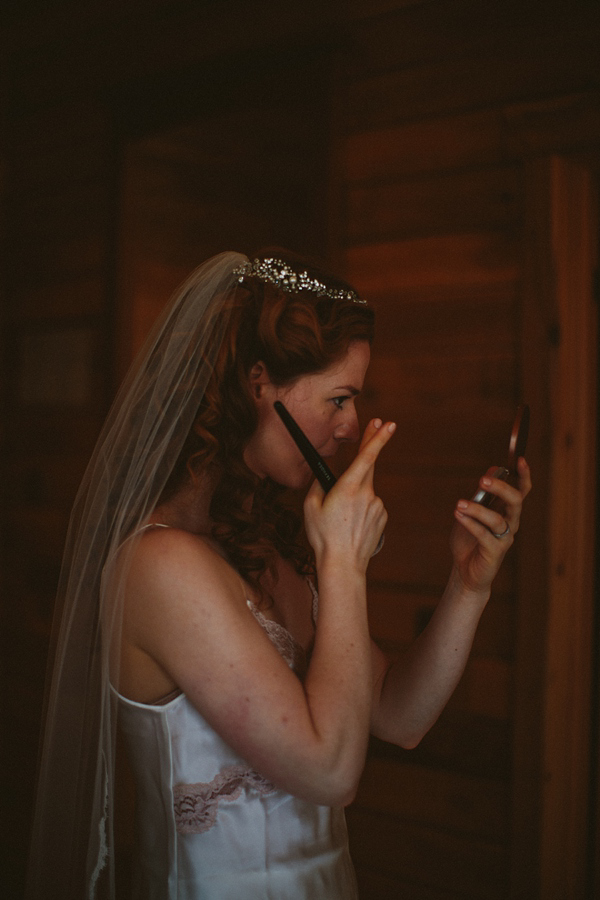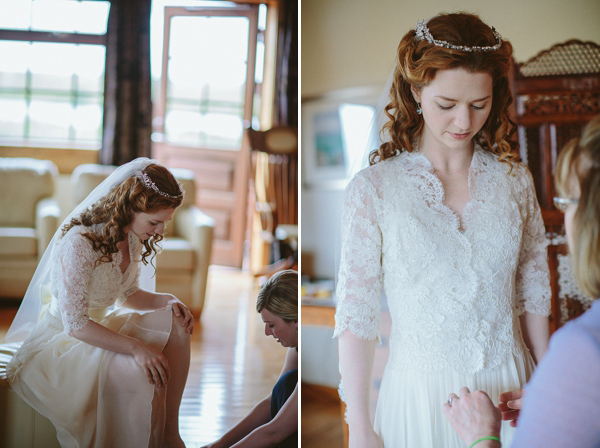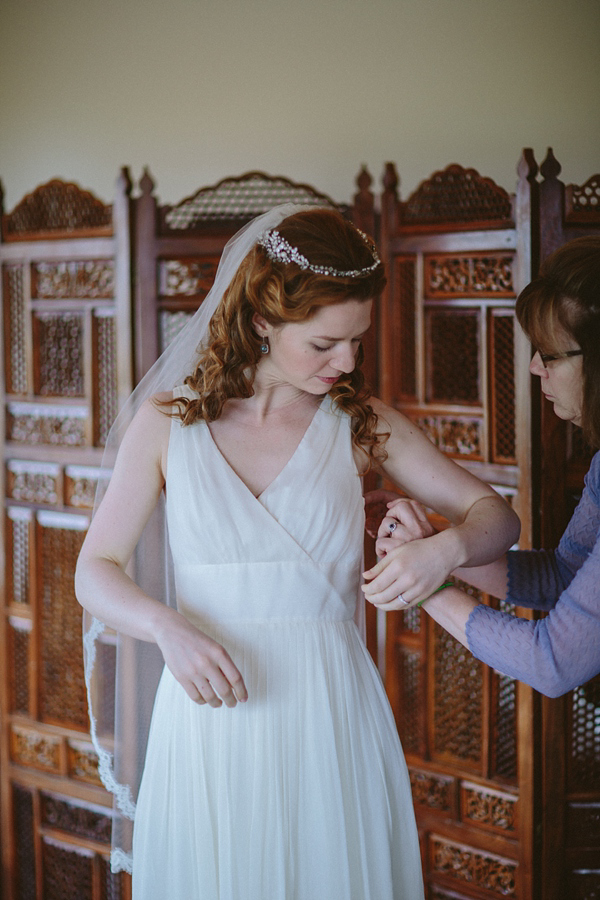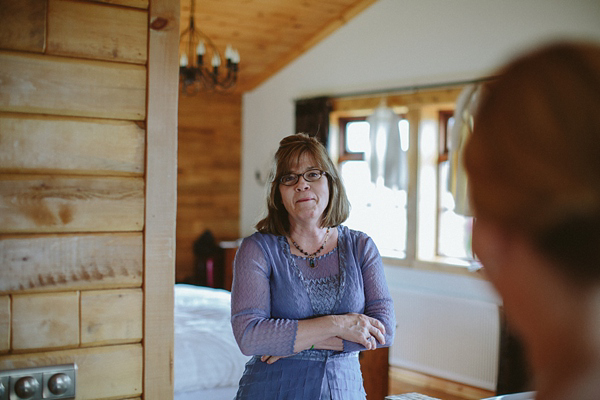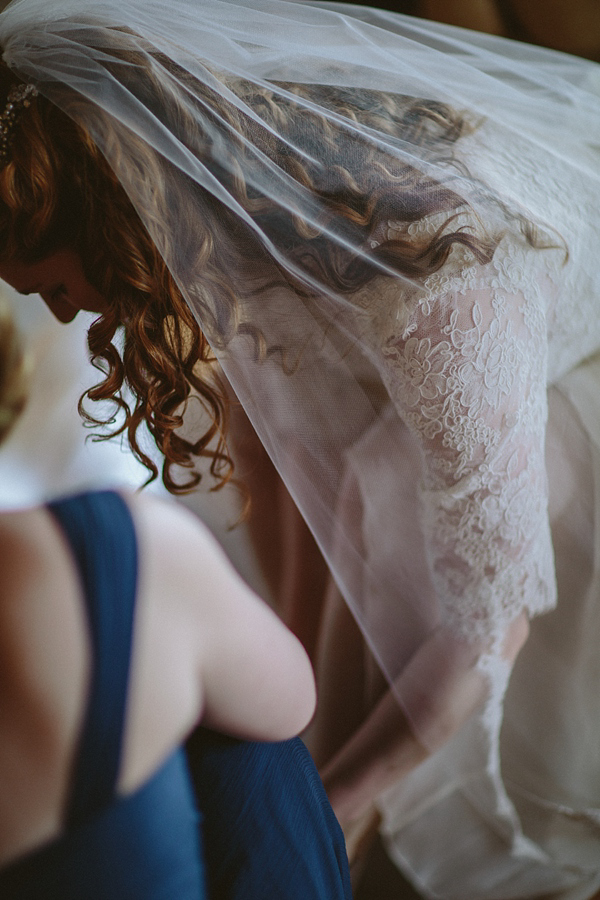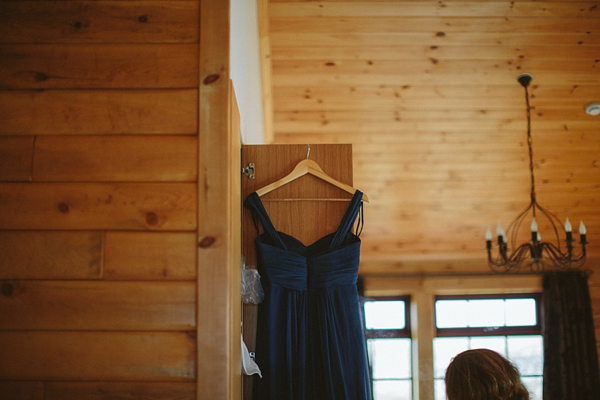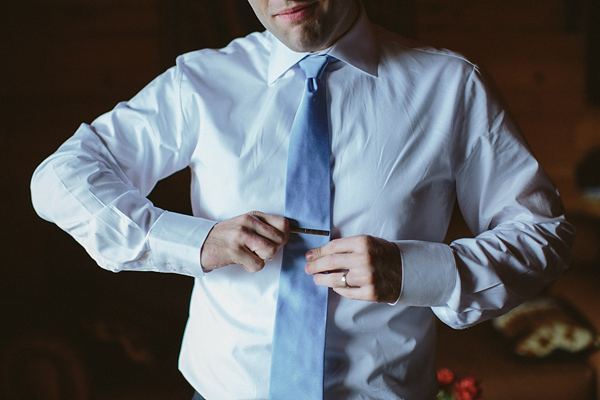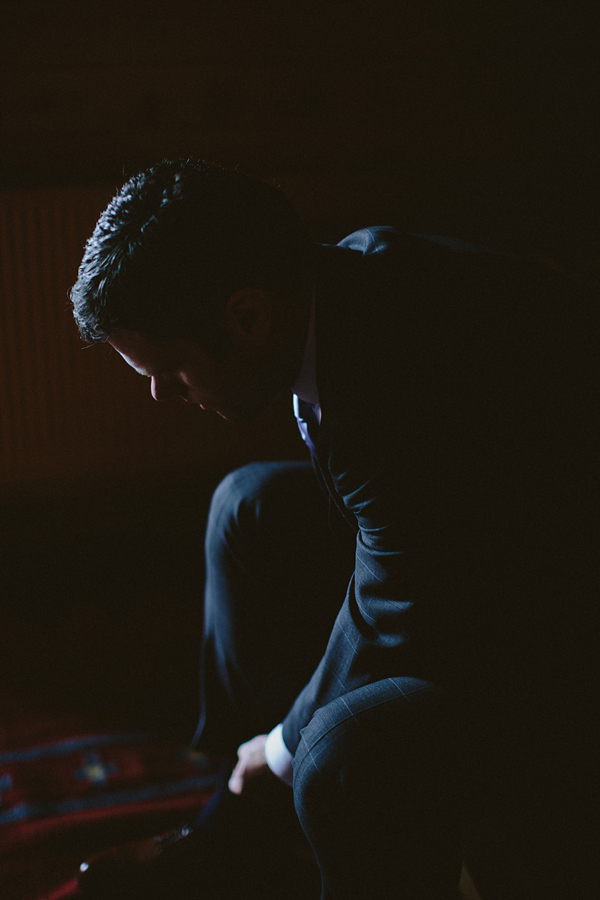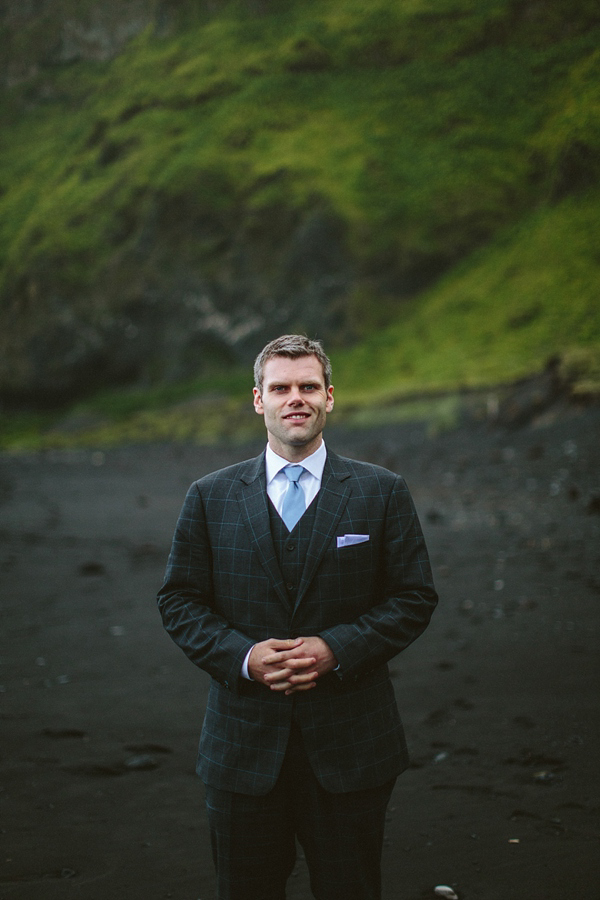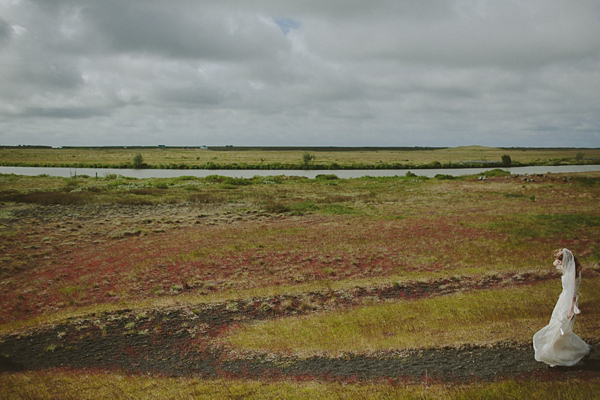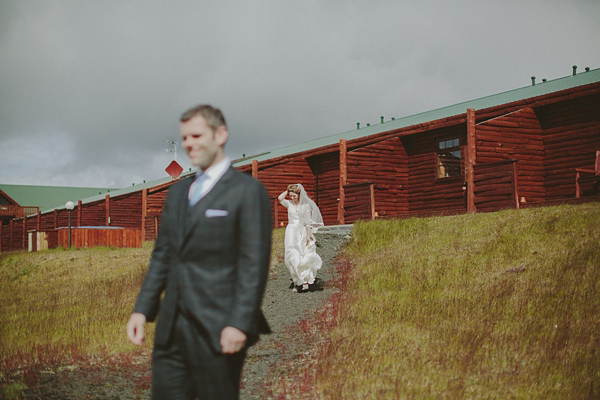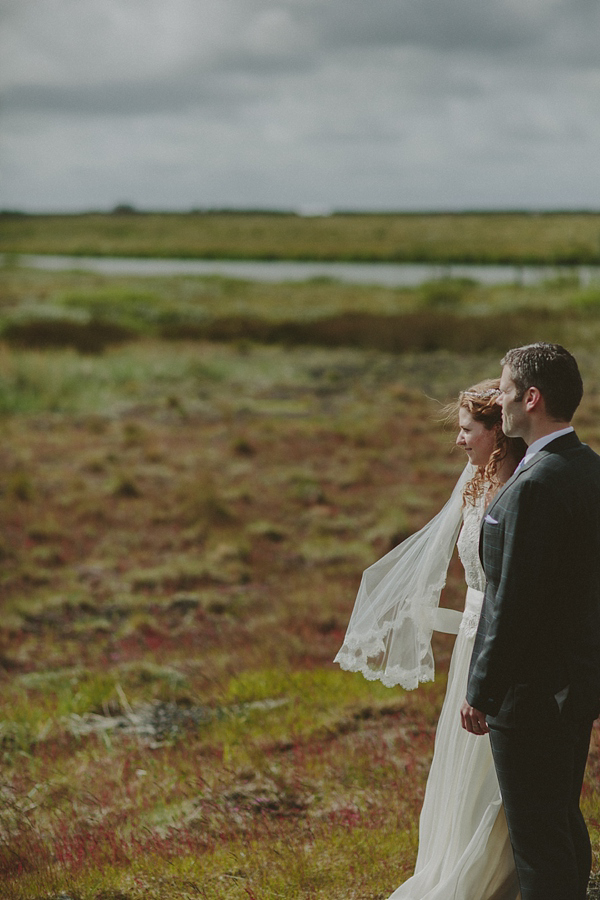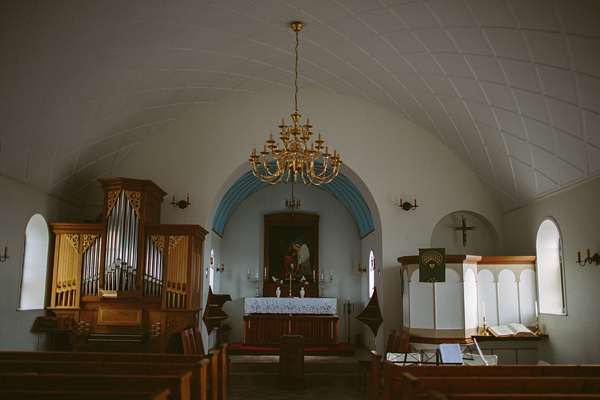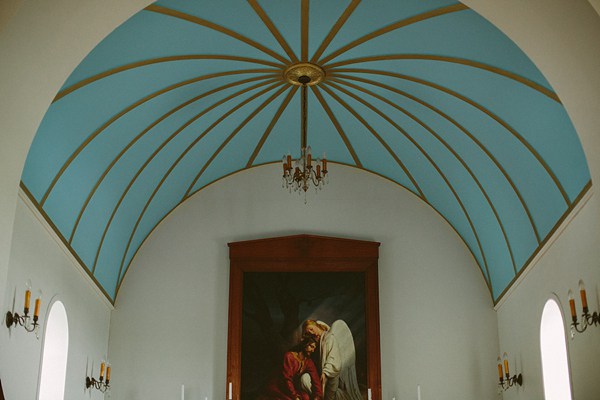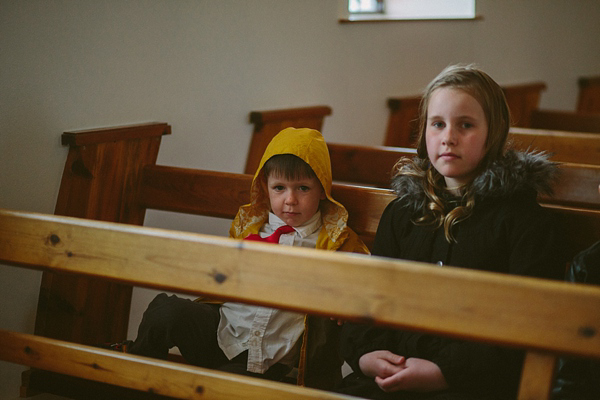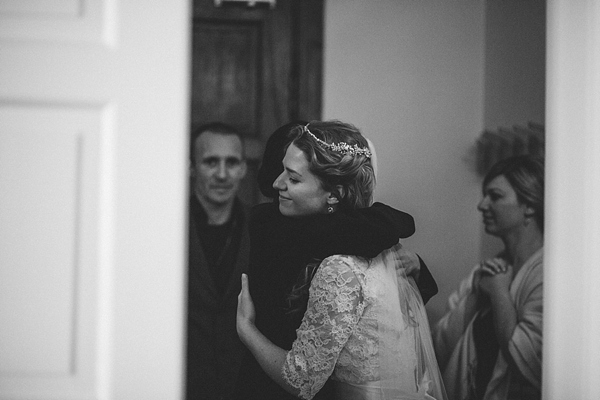 "On entering the church, we had an instrumental version of 'Can't Take my Eyes Off You' by Lady
Antebellum, arranged and performed live by the string quartet that
also played at our engagement.  Upon walking out, the quartet played an
instrumental arrangement of 'Nessun Dorma' by Puccini.  We had
traditional Icelandic wedding vows, half in Icelandic and half in
English. 
Rúnar's mom read an excerpt from one of our favourite works of
poetry, The Prophet by Khalil Gibran.  (See "Love" from The Prophet for
the text).  We chose this poem because it reflects how we both
personally feel about love and relationships, and it additionally speaks
to how we feel about each other."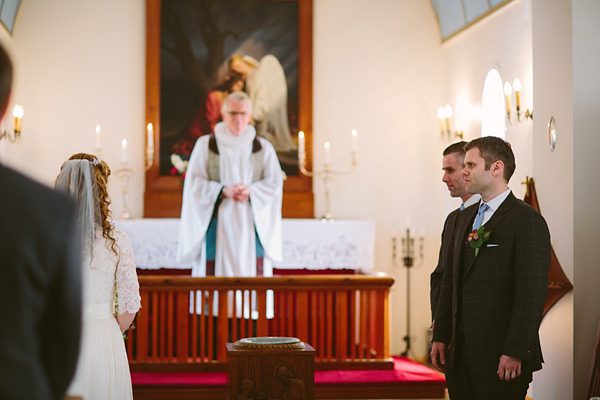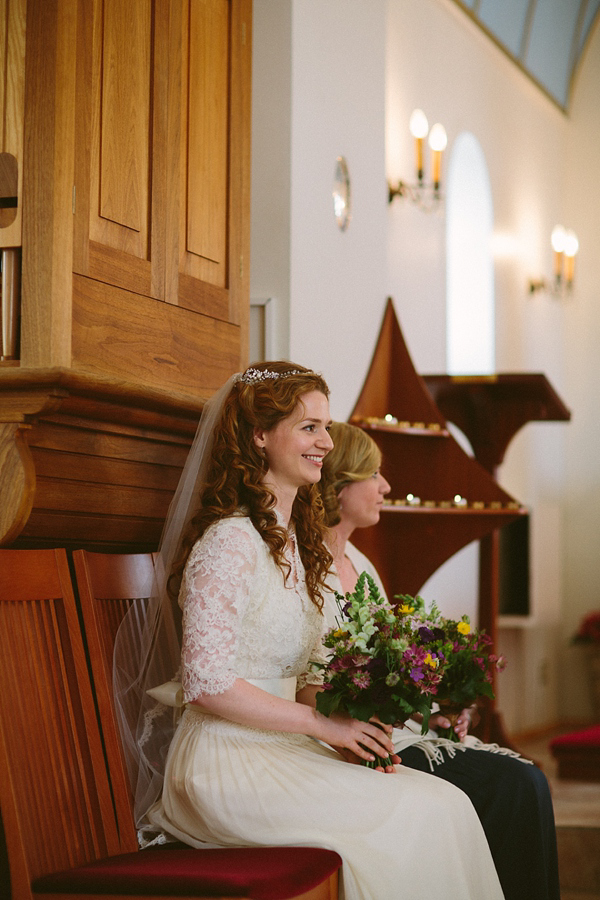 "Rúnar bought my ring at David Yurman, knowing that I did not
want a traditional single-stone engagement ring and wedding band.  The
ring is two platinum and diamond bands that overlap and connect, as a
reference to infinity and to two lives coming together as one. In
Iceland, it is a tradition that men and women each wear one ring, and
often the couple picks out their rings together as a matching set at the
time of engagement.
Shortly after our engagement, we went to a
jeweller in Reykjavik called Carat and picked out a ring for Rúnar,
which he wore throughout the engagement.  Rúnar's ring is hammered gold
plated in palladium, with the hammering technique made to mimic the
two-band, glittering design of my ring.  Carat made the ring to Rúnar's
specifications and shipped it to him within 10 days."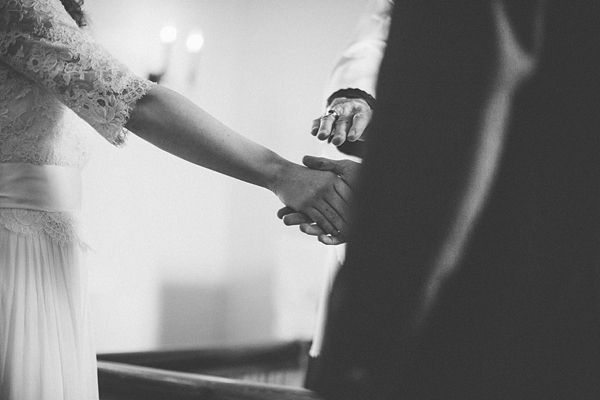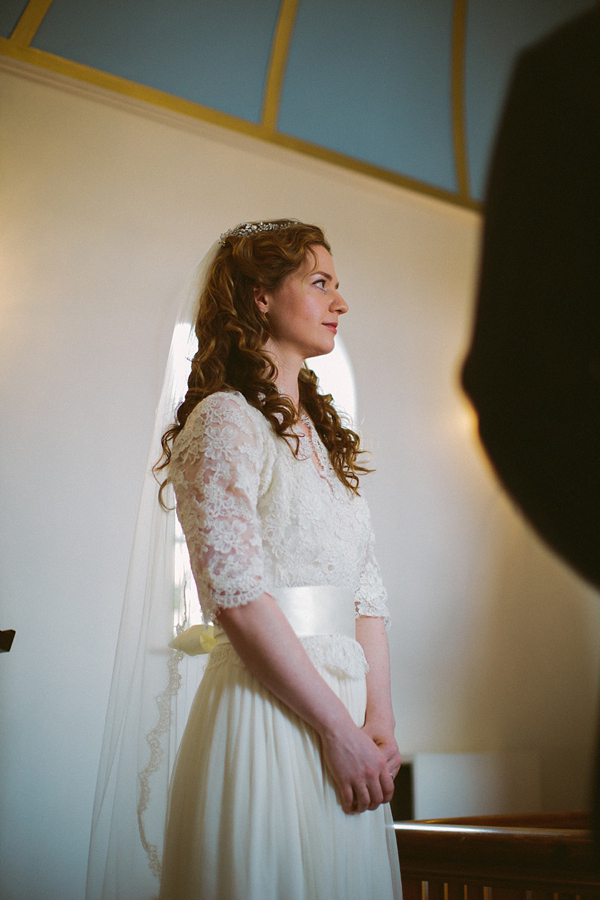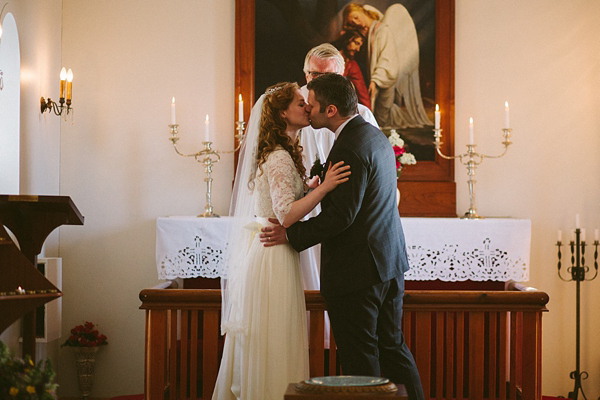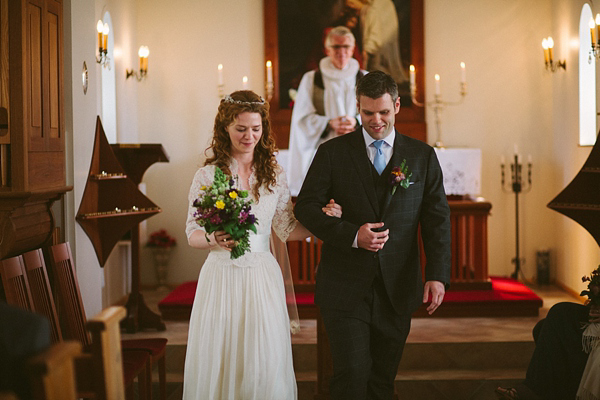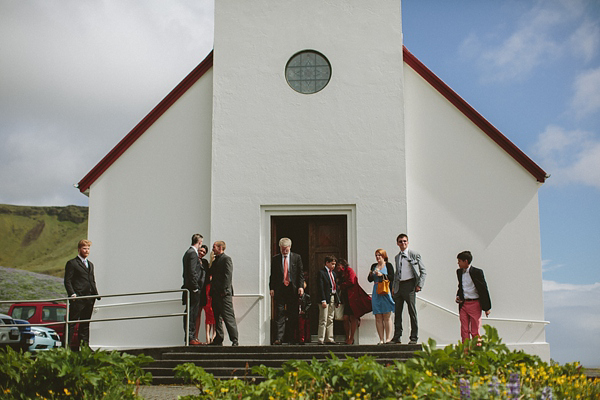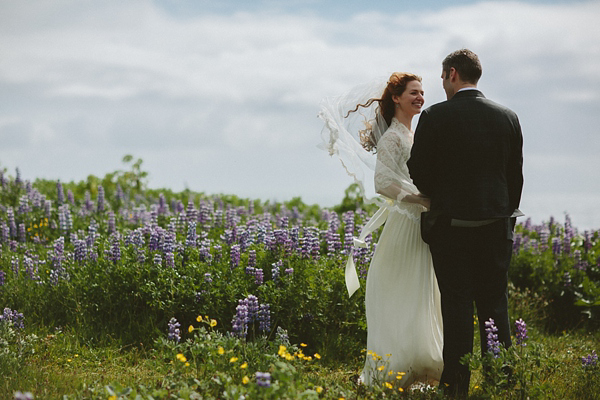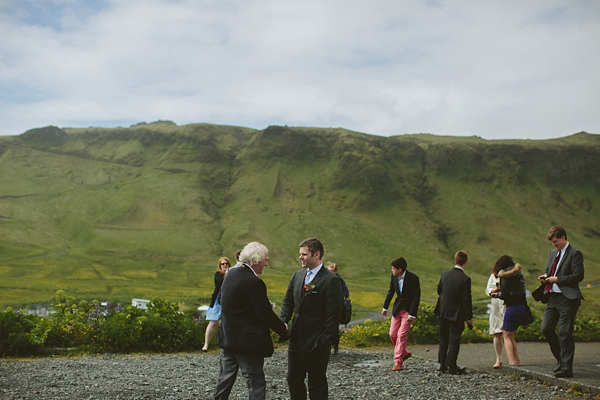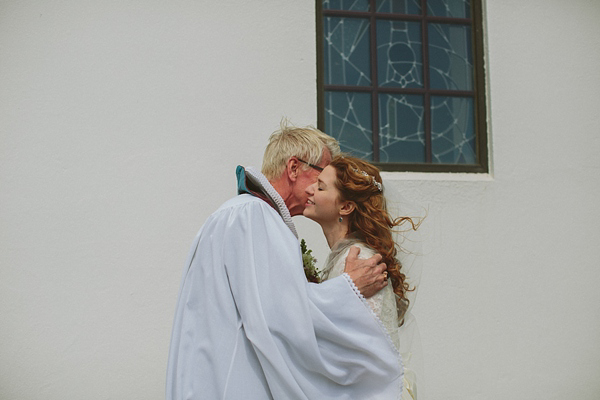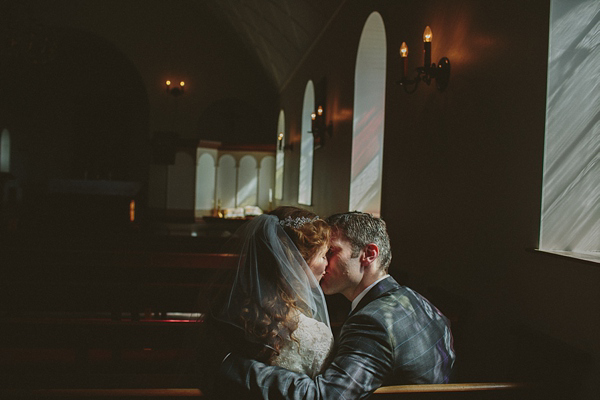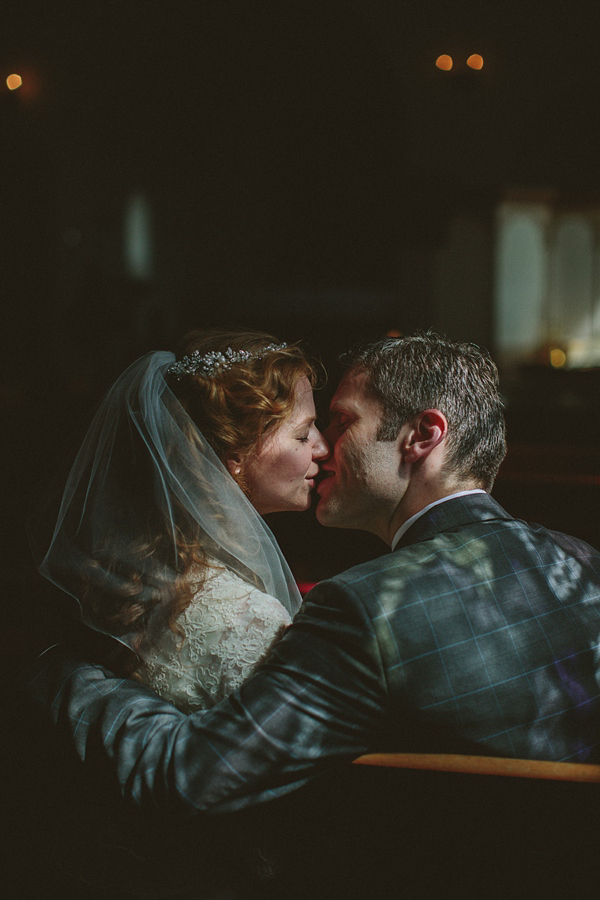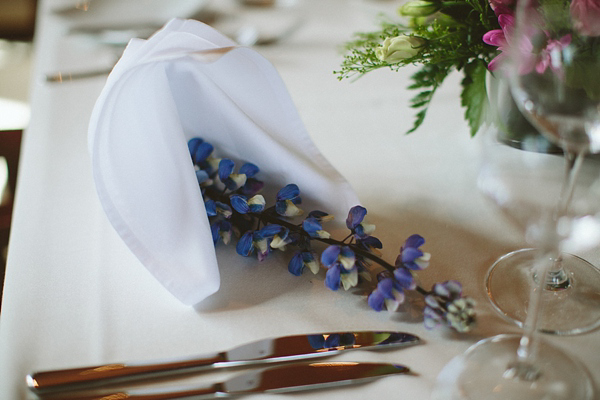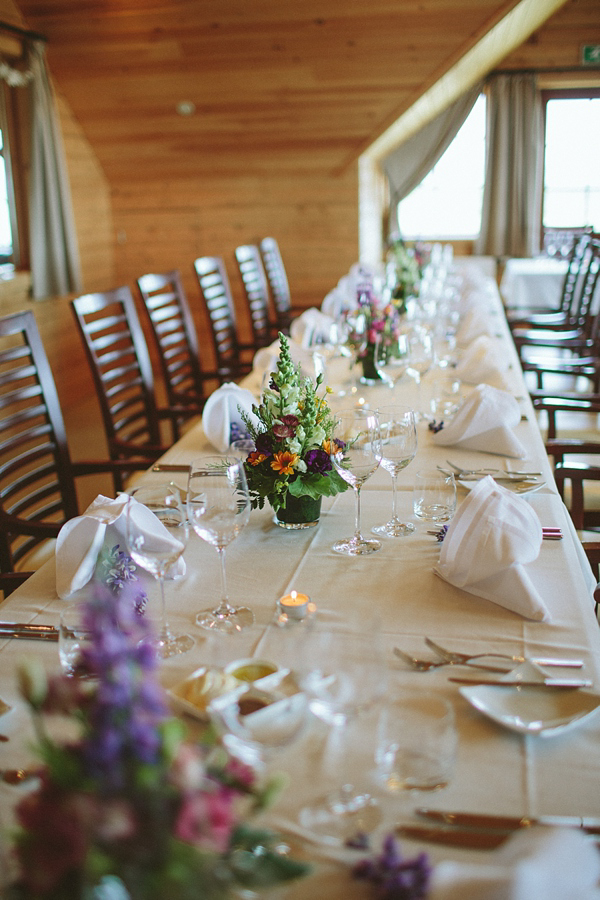 "Hotel Rangá
supplied the cake; while the cake tasted absolutely amazing, the
decorator apparently missed our style notes.  The appearance of the cake
was a surprise (it looked very different from what we expected), and we
all had a laugh about it.  In terms of taste, we told Hotel Rangá that
we wanted to cake to be a more gourmet version if the traditional
Icelandic cake called mömmubiti, and the chefs definitely delivered on
that.  It was delicious."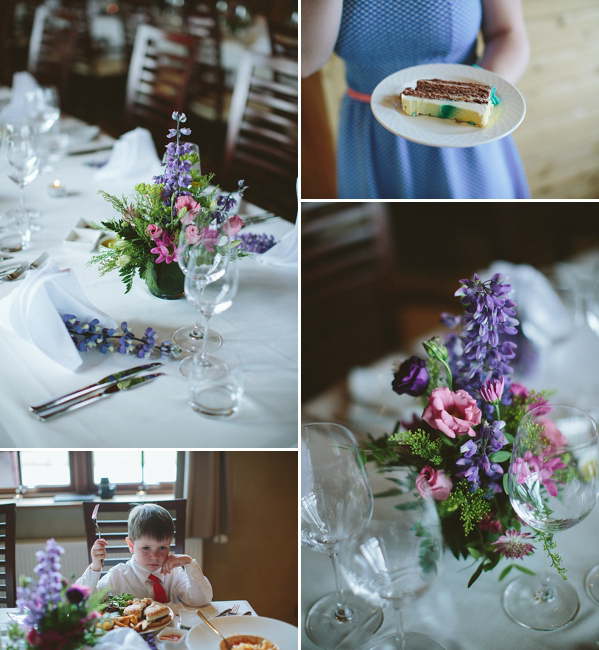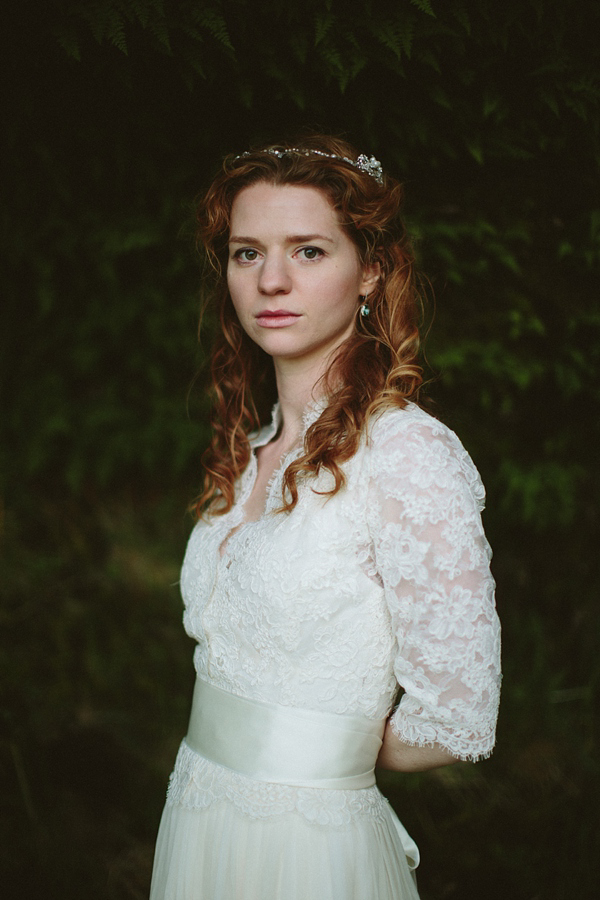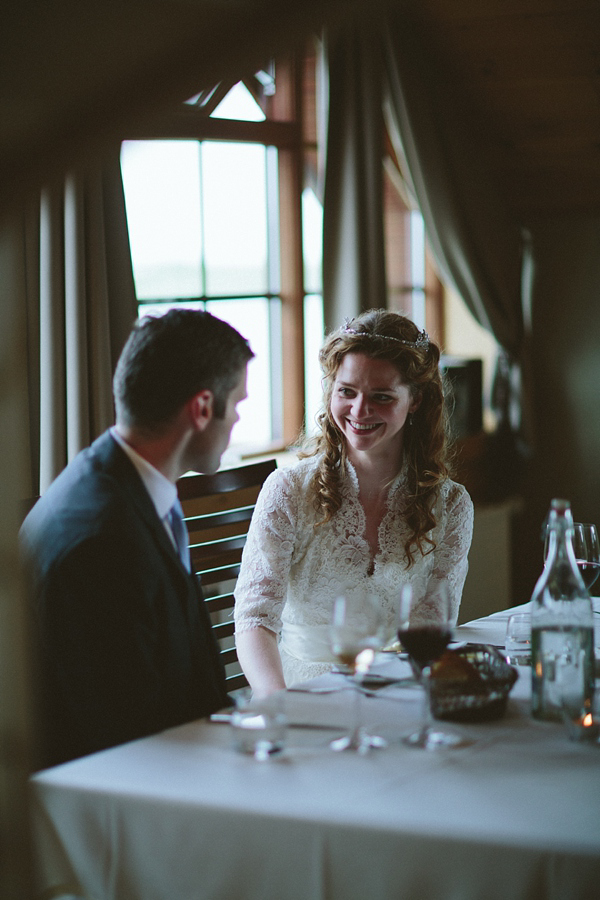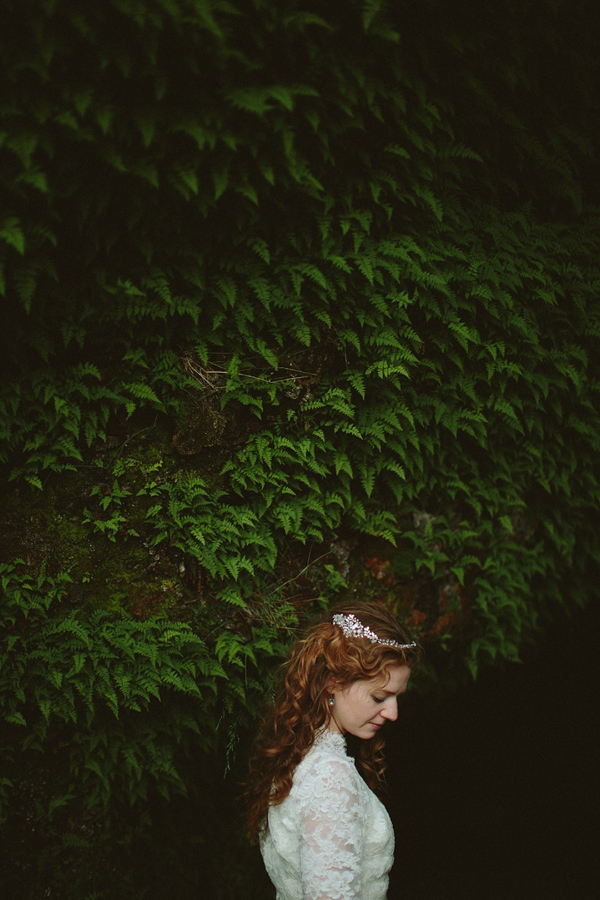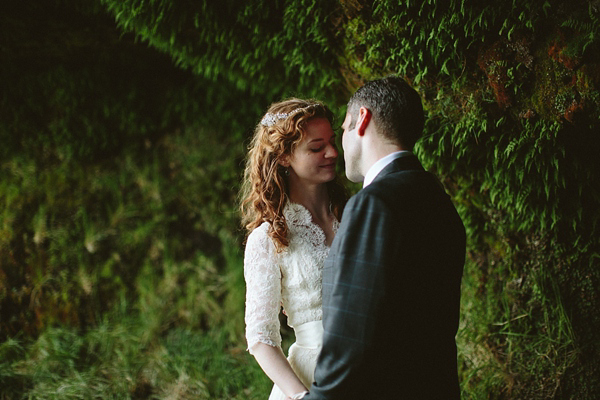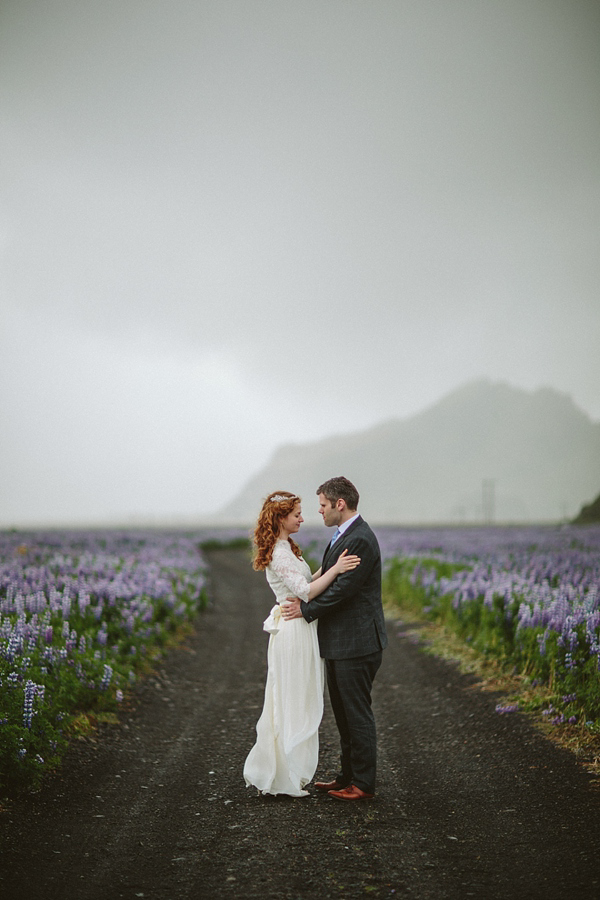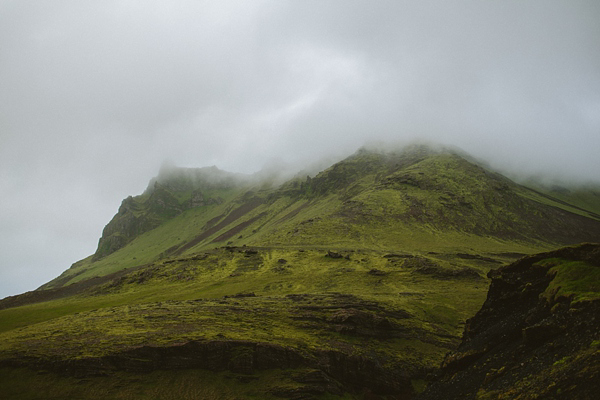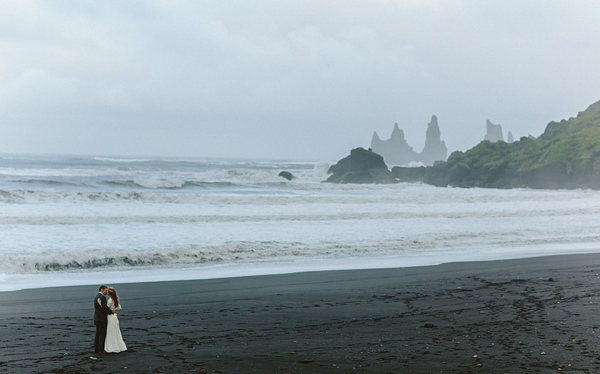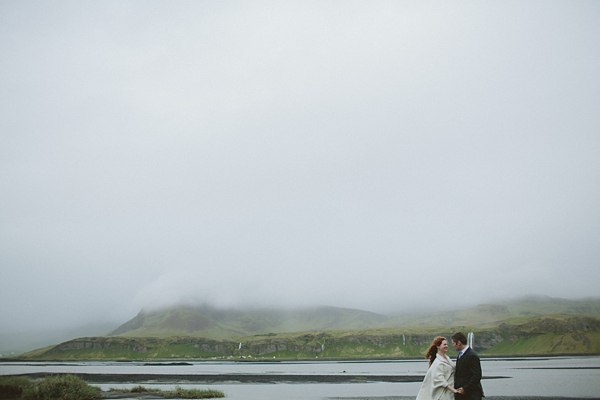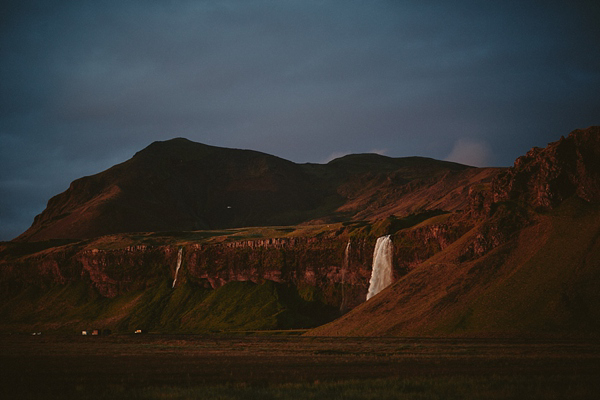 Words of Wedded Wisdom…
"We did not hire an event planning service, though Hotel Rangá does
have a wedding coordinator, Hugrún Pétursdóttir, who was so professional
and attentive.  She took care of everything at the hotel, including the
reception, menu, wine and champagne list, flowers, and hair stylist.  I
don't know what we would have done without her.
I would
just iterate that you should definitely make opportunities to stop and
reflect throughout the day. It is going to go so fast.  When you have a
list of events to go through and they go smoothly from each one to the
next, it will be over in the blink of an eye.  Make some time to cherish
the moment with your spouse.  I would also suggest having someone to
keep you "on task" because you may find that your head is not screwed on
quite right on the morning of your wedding.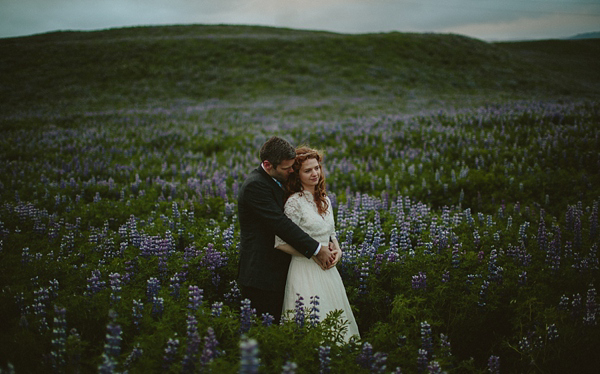 "I was so relaxed and
nonchalant in getting ready that morning, and even though I'm usually so
organized, I was just so happy that I forgot to worry about things. I
didn't have my phone or a clock nearby. I wasn't really paying
attention to time or to all of the things I was supposed to be doing.
 
If my sister and mom hadn't been on top of that, I probably would never
have made it to the church."
"For anyone interested in
planning a destination wedding in Iceland, we definitely encourage you
to do it! Amazing food, 24 hours of sunlight in the summer, beautiful
landscapes, many picturesque churches, friendly people, excellent
pricing on venues and entertainment, relaxing atmosphere: what's not to
love?
I cannot think of anything I really would have done differently. 
Perhaps I would have taken my sister or mom with me when we went out for
photographs with the photographers.  It was very windy and it rained
off and on throughout the day.  I was a bit dishevelled, and it would
have been nice to have some extra help and an extra pair of eyes."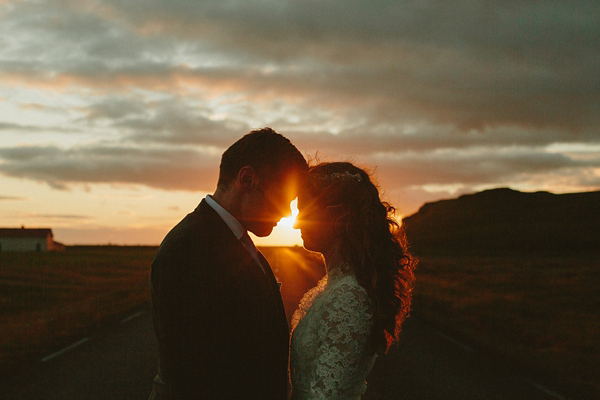 What an exceptionally beautiful day, how impressive is the naturally wild and rugged scenery and Alli's beautiful vintage inspired wedding dress?
Iceland is somewhere I have always fancied visiting – have you been, or would you like to visit? We'd really love to hear from other brides planning a wedding in this incredibly beautiful environment.
Levi Tijerina shoot weddings world-wide and are available for new commissions now.  If you adore the images above and would like to learn more, please visit the Levi Tigerina website.  Please also take a moment to leave a comment this morning, as we'd dearly love to hear from some of our readers.
Thank you everyone,
Annabel
Photographer – Levi Tijerina
Venue + Flowers + Cake + Catering – Hotel Rangá, Iceland
Wedding Dress – J. Crew
Brides Veil – Deborah Moreland, through BHLDN
Brides' shoes – Rachel Simpson
Bridal Gloves – BHLDN
Brides Hair Accessories – Elin Henderson, through L'Elite Bridal in Boston, MA
Grooms Suit – Suit via Alton Lane, Boston, MA + Hugo Boss tie, Shoes+Belt
from Allen Edmonds +  Watch from  Tense Wooden Watches, Canada (through
tensewatch.com) + shirt from Thomas Pink, Boston, MA. Ring from Carat,
Reykjavik, Iceland
Bridesmaids Dresses – Amsale, through Bella Bridesmaid
Bridesmaids Hair Accessories – Justin & Taylor, through BHLDN
Additional Styling – BHLDN
Rings + Earrings – David Yurman, Boston, MA
Bridesmaids Hair Accessories – Justin & Taylor, through BHLDN