Good morning beautiful 🙂 I hope you've had a lovely weekend.  If you're arriving at these pages freshly engaged, come settle down – may this blog bring you hours and hours of inspiration over the course of your wedding planning adventure. If you're a regular – welcome back my friend.
Chrissy an Si, both entrepreneurs, tied the knot on 27th July this year in France, and celebrated after their church ceremony with a reception at La Caillere at St Hilaire, Vendee. I see a certain book making a regular appearance within these photographs too! Chrissy says she was inspired by my book Style Me Vintage: Weddings in planning her wedding…
"Buying our first home in France was a bit of a roller coaster
but when we saw our house I knew it was the one!  That was where our
love for all things vintage began. I have personally loved the
decorating stage of our renovation, inspired by all things vintage,
shabby chic – the house inspired our wedding day.  Our wedding reception took place at my parents home. It has beautiful grounds and we couldn't think of a more relaxed setting."
Photography Copyright (c) 2012, Anneli Marinovich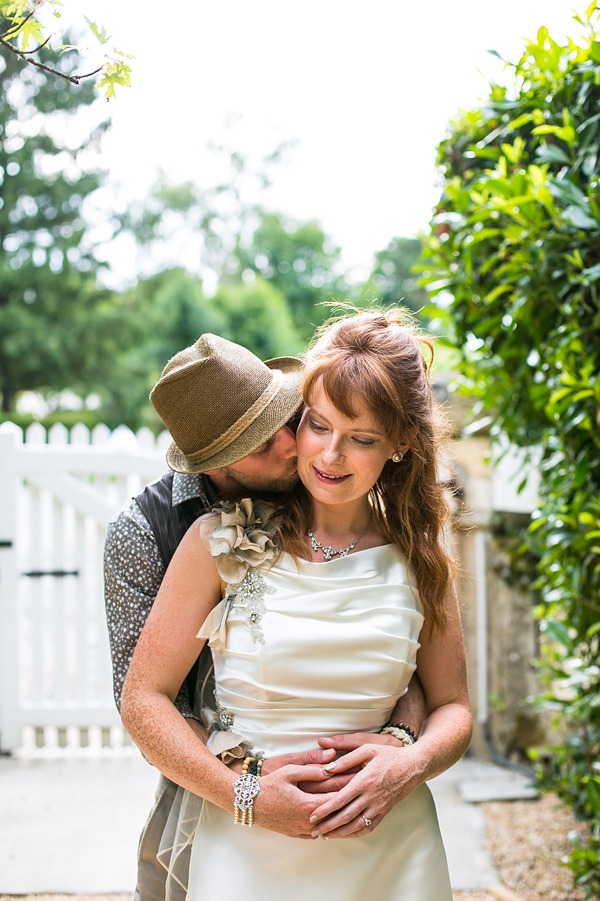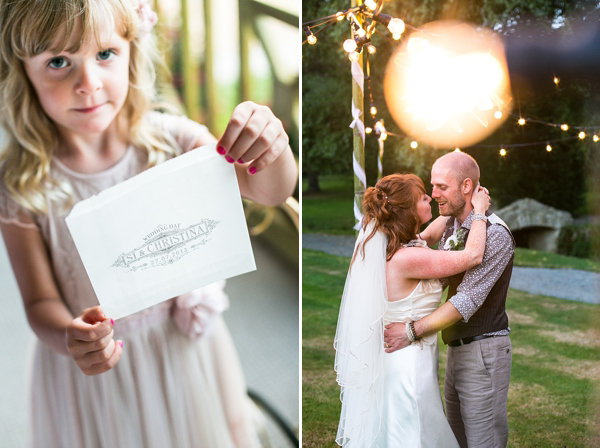 "Si and  had been engaged for seven years and together for nine years.
We met through friends at a house party, that was the day I (Chrissy)
went home with stars in my eyes as my mum describes.
I knew very quickly
that I wanted to marry Si so I was playing the patient game (not very
well haha). We had a lovely engagement party with lots of our family and
friends in the UK before moving to France. We then got a little delayed
with our wedding plans due to buying our first home together which
was/is a huge renovation project."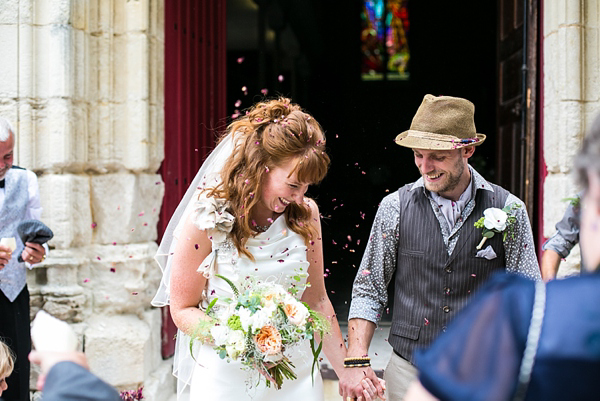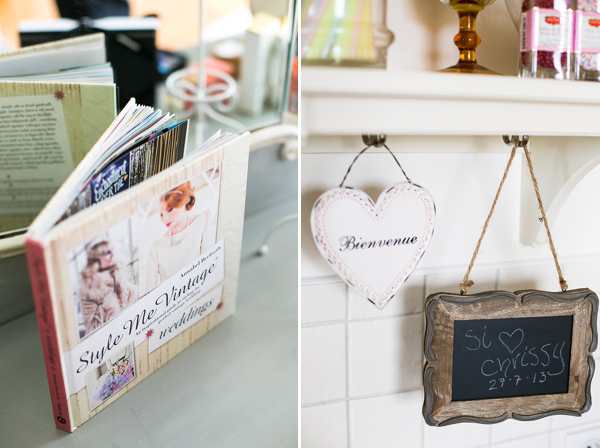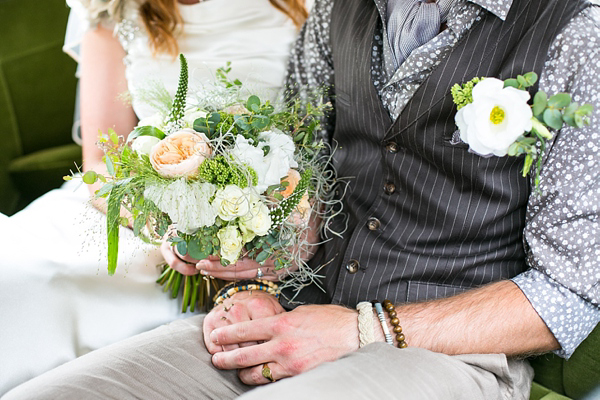 'My dress is a funny story really – we think it was meant to be! I chose my lovely dress in February 2013 at the Espace Mariage store in France.  I
waited for it to arrive and went back that June for my fitting.  Off it
went for adjustments. We (my mum, sister and niece) returned to the
shop nine days before the wedding to collect my finished dress.
To our
horror it was no longer the beautiful dress I had chosen, the seamstress
had made so many errors the dress was destroyed. They did try to salvage
the dress but they knew in the end it wasn't possible.  
Luckily
that morning, just outside my changing room hung a beautiful wedding
dress that I had commented on, it turned out to be THE dress."
"To style the ceremony we used bunting that my sister in law Olesia made, and pom poms from EBay. 
We also used old suitcases a vintage typewriter, vintage phone and
other pretty bits and bobs  – these were all
sourced by the bride from vintage fairs and Vide Grenier's and Emmaus."
"Si's ring was a family heirloom over 100 years old, resized and engraved for the occasion.  Mine was an aquamarine and diamond ring from Chisholm Hunter."
By the way, folks, you can pick up my book below in all good book stores or for your convenience, order via Amazon today!

"I looked for flower inspiration online and set up my own vintage flowers board on Pinterest so that I could share it with our Florist, Brin De Paille.  The florist used flowers from our gardens (Sweet peas and Hydrangeas)."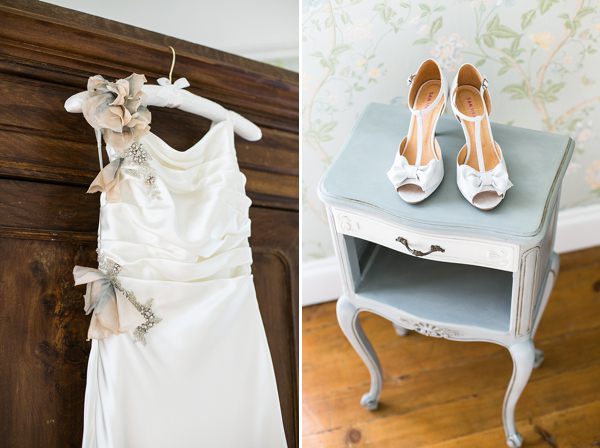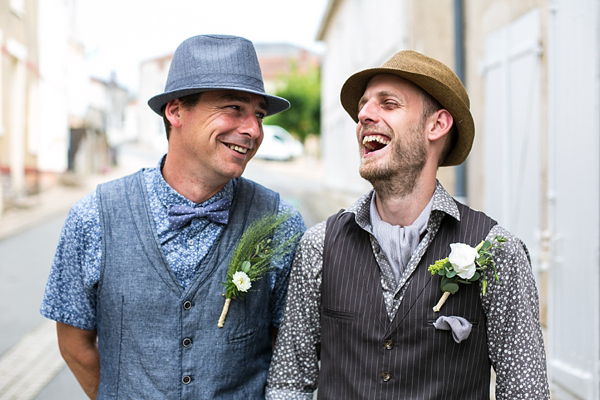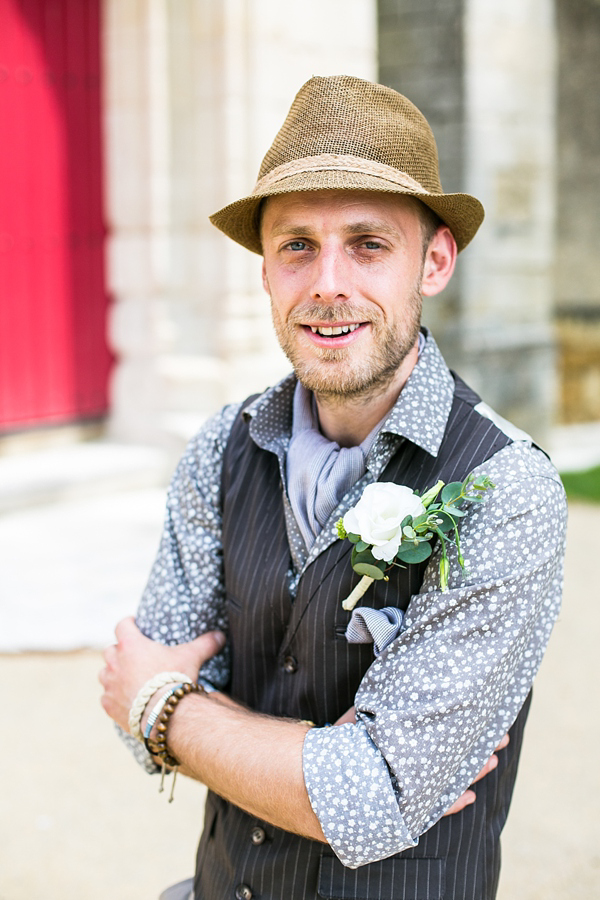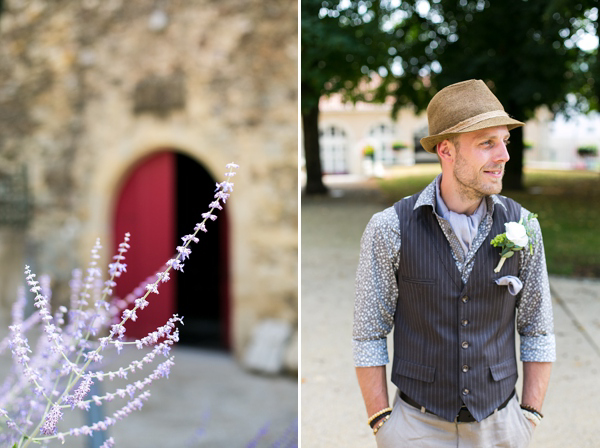 ]
"We had macarons instead of traditional wedding cake because we both love them and love the supplier, L'Atelier du Caramel.  A lovely friend also made us some yummy cupcakes.  We displayed the macarons and cupcakes on a beautiful cake stand from Opulent Treasures in white."
"Our photographer Anneli Marinovich
surpassed all expectations and delivered wonderful memories we will
treasure forever. We hope to have her photograph a christening or
pregnancy shoot one day. We have fallen in love with her work and we
would highly recommend Anneli to anyone who is looking for a wedding
photographer that goes the extra mile."
"We set up  games of croquet, coconut shy, hoopla, boules and pallet. We also had an outside disco.
To help set the tone, we also had
era inspired music played during our afternoon tea such as (Songs from
Ella Fitzgerald, Michael Bublé, Louis Armstrong, Nat King Cole, Bing
Crosby & Frank Sinatra).
Si handmade the sign post himself and it was painted by me and my bridesmaid…"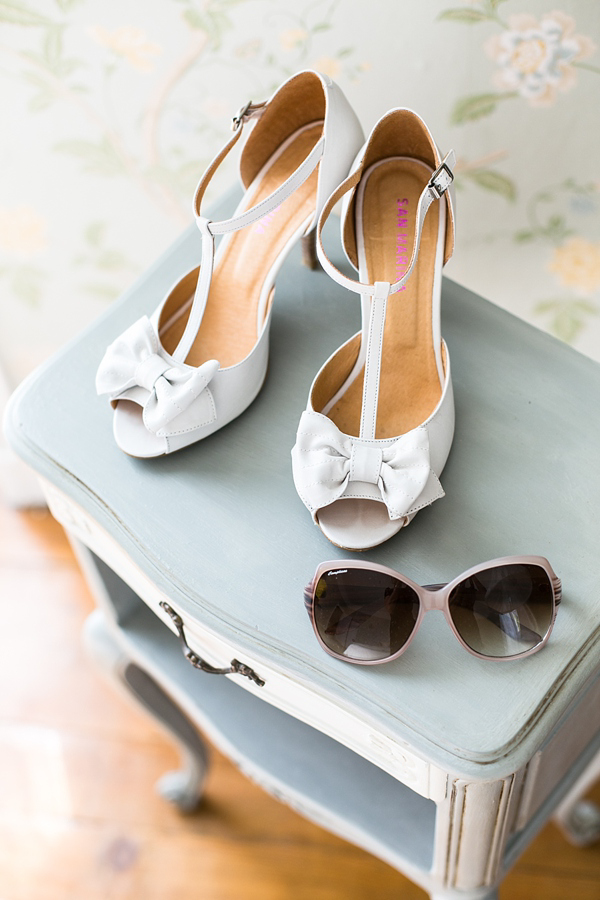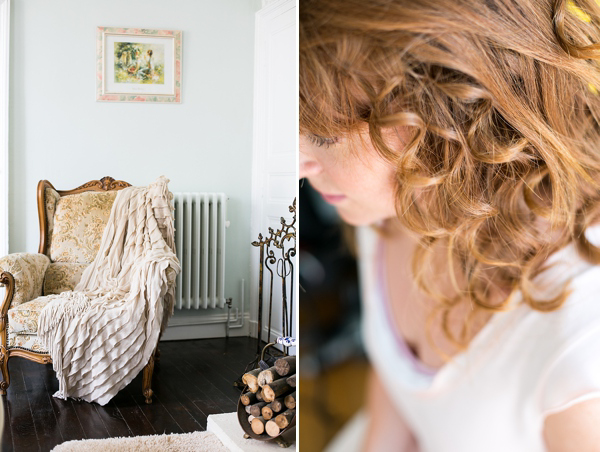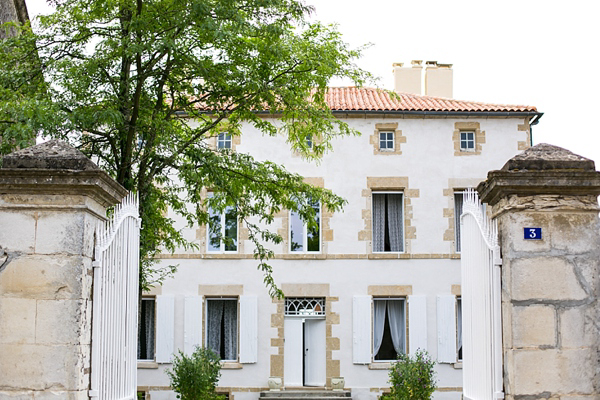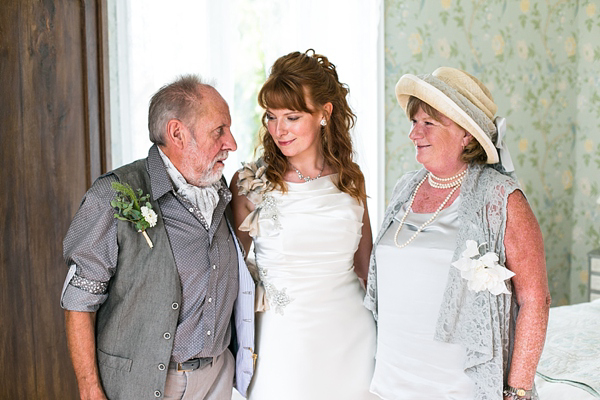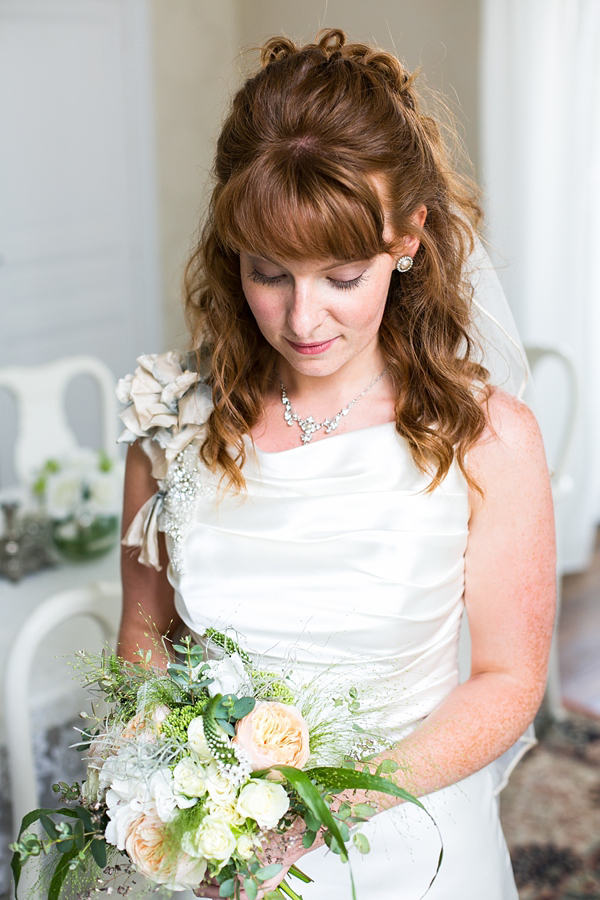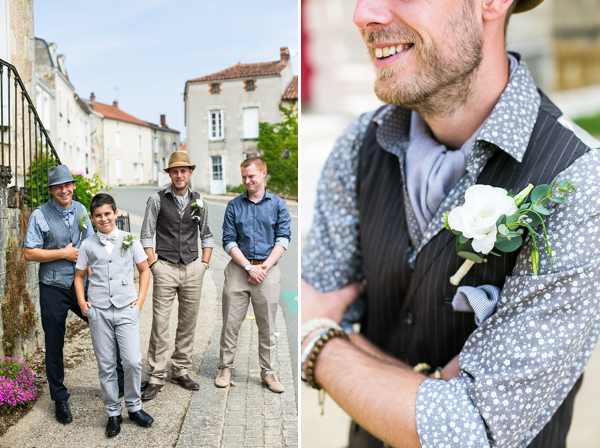 "We chose the church as it is our village church and as it's where
we bought our first home together it's a very special village to us, all
year round you can hear the bells from our home.
My lovely Dad walked me down the aisle, to the sound of Wagner's Bridal Chorus.
We loved the traditional vows read during the ceremony.  My mum read 1 Corinthians 13, 'The Gift of Love."
'If I speak in the tongues of mortals and of angels, but
do not have love, I am a noisy gong or a clanging cymbal. And if I have
prophetic powers, and understand all mysteries and all knowledge, and
if I have all faith, so as to remove mountains, but do not have love, I
am nothing. If I give away all my possessions, and if I hand over my
body so that I may boast, but do not have love, I gain nothing. 
Love
is patient; love is kind; love is not envious or boastful or arrogant
or rude. It does not insist on its own way; it is not irritable or
resentful; it does not rejoice in wrongdoing, but rejoices in the truth.
It bears all things, believes all things, hopes all things, endures all
things.
Love never ends. But as for prophecies, they will come
to an end; as for tongues, they will cease; as for knowledge, it will
come to an end. For we know only in part, and we prophesy only in part;
but when the complete comes, the partial will come to an end.
When I was a child, I spoke like a child, I thought like a child,
I reasoned like a child; when I became an adult, I put an end to
childish ways. For now we see in a mirror, dimly, but then we will see
face to face. Now I know only in part; then I will know fully, even as I
have been fully known. And now faith, hope, and love abide, these
three; and the greatest of these is love.'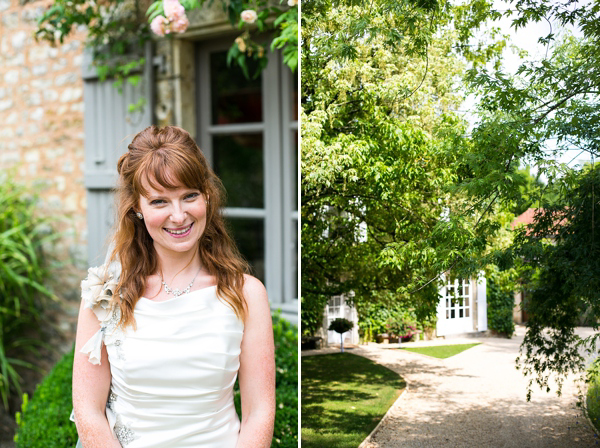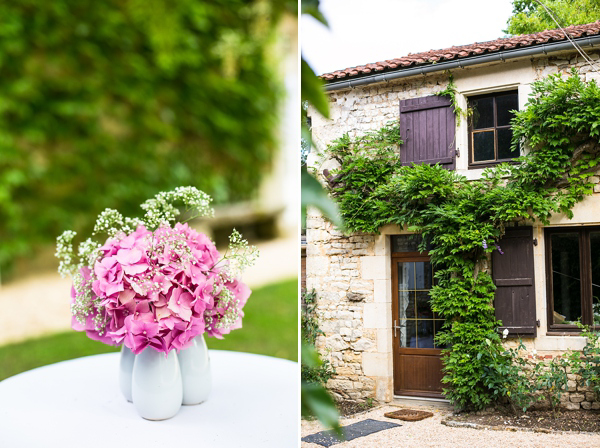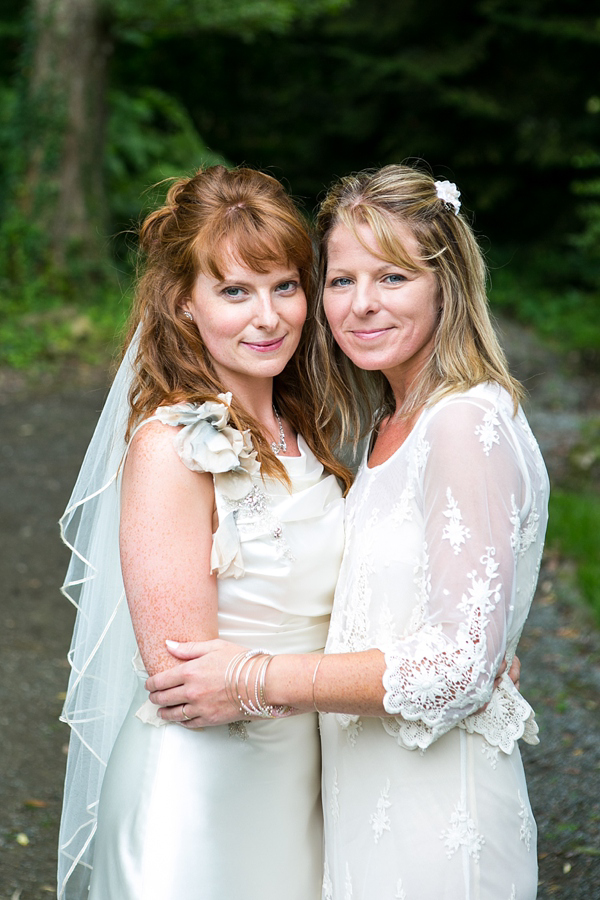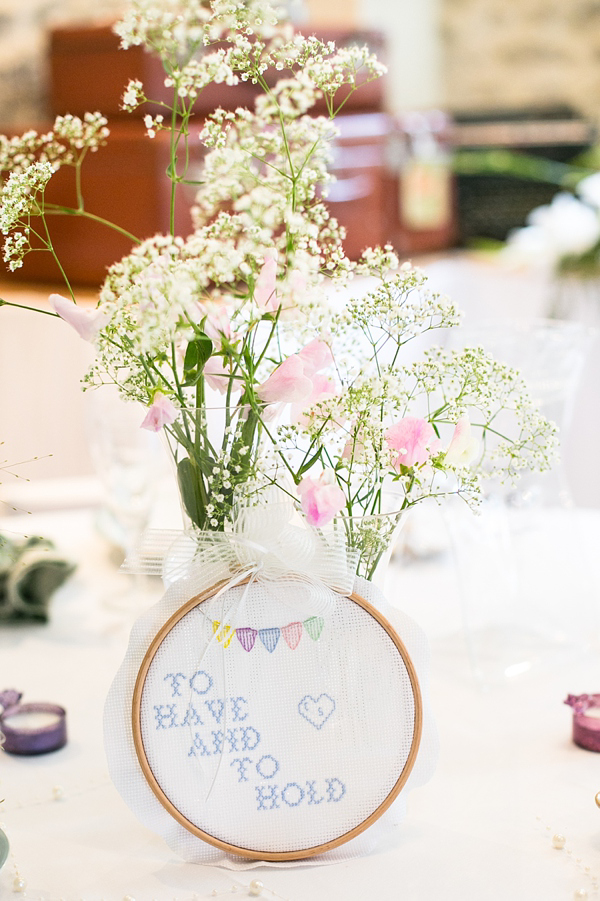 "My favourite part of our wedding day was walking down the aisle,
even though I was very nervous when I saw Si waiting for me at the alter
it struck me at that moment WOW we are actually getting married – this
is our day, the moment we have been waiting for….I need to savour this
moment. It felt so great to celebrate our love for each other. 
Si
says his favourite part was the service. The vicar was amazing &
made us both feel so relaxed. But the icing on the cake for Si was when
he sneaked a look over his shoulder as Chrissy was coming up the aisle –
he says I looked absolutely stunning and that he got such a rush of
emotions & the biggest lump in his throat! He said that in that
moment, he knew that this was going to be the happiest & best day of
our lives – and he was right!"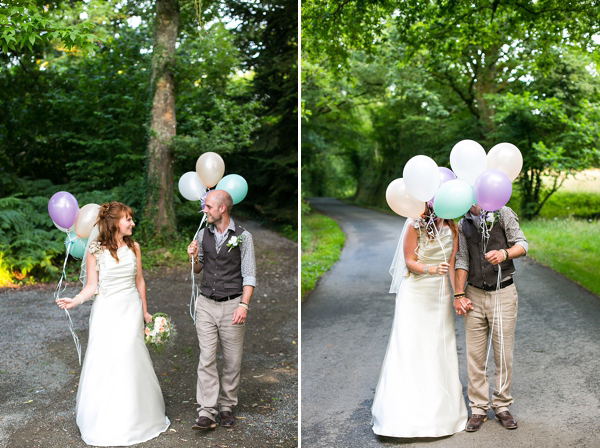 Word of Wedded Wisdom…
"To
help the wedding day last and last I recommend a good budget for a
wonderful wedding photographer, we will treasure our photos for a
lifetime. Only when having Anneli shoot our wedding and after seeing the
pictures did we realise the magic in the photography!
We highly recommend Anneli.
I'd also say a videographer is a
must (we hired a friend), when the wedding is over (which happens far too quickly) its such a
wonderful thing to have to watch whenever you want to be transported
back to that magical moment.  I think people can underestimate the
importance of these two elements."
What a lovely way to start a week full of wedding inspiration.   Congratulations to you
Chrissy an Si and thank you ever so much for sharing your lovely day with our readers.  Thanks also to photographer Anneli Marinovich whose work actually features in my book, Style Me Vintage: Weddings (I recommend you go and get yourself a copy if you haven't already!).
Are you planning a wedding in France, or abroad? What have you learned so far in the wedding planning process? You can see more French weddings here and other destination weddings here.
Have a lovely morning all,
Photographer – Anneli Marinovich
Venue – La Caillere at St Hilaire, Vendee
Brides Dress – Espace Mariage
Veil/Headpiece – The bride's sisters's (about 15 years old)
Brides Shoes – San Marina, La Rochelle
Accessories all from Monsoon – Necklace + Earrings + Bracelet + dress rings by Stella & Dot
Grooms Suit – Suit, hat and shoes from Devred 1904 + scarf made by the mother of the bride
Bridesmaids Dresses – Zara
Young Bridesmaid – Monsoon
Flowergirl Dresses – Next
Pageboy outfit – Sergent Major
Flowers – Brin De Paille
Macarons – L'Atelier du Caramel
Bride and Groom Place Settings – Vintage Twee
Afternoon tea menu – Vintage Twee
Catering Company – Cafe Cour du Miracle
Balloon Release & Fireworks from – Sarl Horizons
Bows and seat covers from – Glori Housse
Vintage crockery, vintage fairs, car boots
Tea china – PiP Studio + Typically English