Hello there beautiful ones! So, which of you have recognised the groom in this morning's real wedding feature, hey?
This afternoon's wedding is a true vintage inspired affair – Ann and Matt tied the knot 1920s jazz garden party style, on Friday 12th July 2013 at Kelmarsh Hall in Northamptonshire.
"I didn't really start off with a style in mind as such, I think it
was all driven by my choice of beautiful 1920s original vintage dress really and my love of good old
fashioned jazz music."
Photography Copyright (c) 2013, Jordanna Marston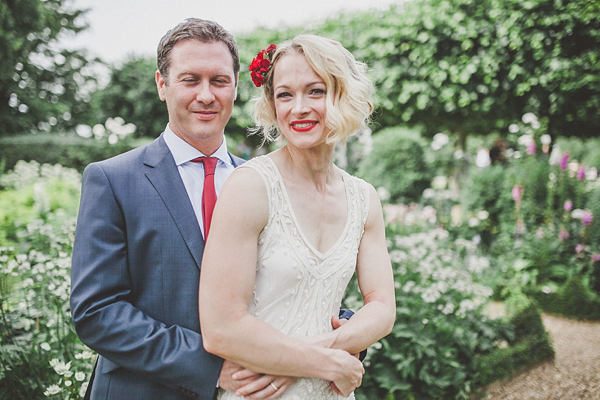 "My
dress was from the vintage wedding dress expert/supplier in London, Elizabeth Avey.  This was the second dress I tried on and as soon as I
saw my reflection, my face lit up and I felt so special.
The dress
fitted like a glove and I loved the all the beading, especially the
fringing around the bottom which swooshed as I walked."
"Matt and I have known each other for over ten years, having met on a
work graduate scheme back in 1999. We got engaged on New Years Day
(this year) over a sausage sandwich (I think). A bit unconventional
perhaps, but kind of perfect none the less.
We chose Kelmarsh Hall
as our wedding venue because the moment we stepped inside, it felt
right. We were looking for a venue with character and style that was
large enough for our guests to be at ease but still had an intimate
feel – Kelmarsh Hall ticked every box.
The Hall itself is grand yet
understated and the gardens are very beautiful with long sweeping views
out into the countryside – perfect for a relaxed summer wedding.  Jill, the Wedding Co-ordinator at KelmarshHall was the closest we had to a planner, and she was fantastic."
"To add to our jazz inspired day, we hired Miscillian Jazz and KingTastic via High Times Entertainment – and both of them were brilliant. We had Jazz during the day and rocked out after the sun went down."
"My shoes were bespoke, and by Emmy. 
I chose the basic suede shoe which I dyed green to complement the
bridesmaids dresses. These where then embellished in crystal and mother
of pearl shell embroidery."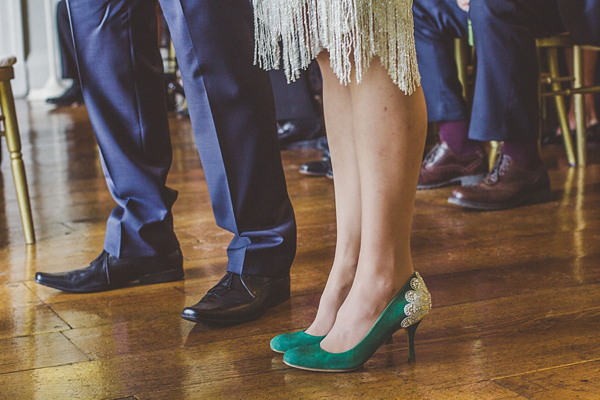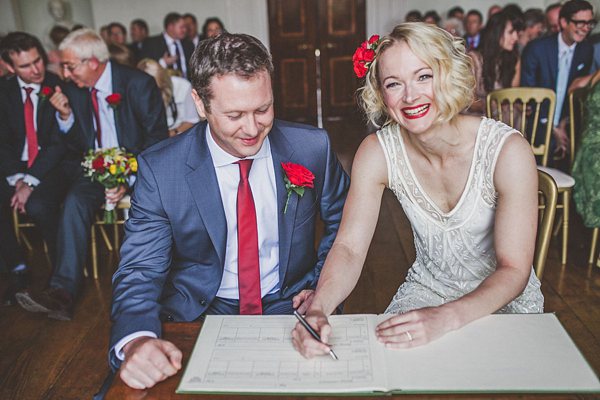 "Emily of Manic Botanic was
our florist – she took one look at the green bridesmaid dresses, my
1920's flapper dress and Matt's blue suit (with red tie), and suggested
that a "riot of summer flowers" was the way forward and we agreed! We
discussed colour and left the rest up to Emily, so the flowers were a
complete surprise on the day, a very lovely surprise."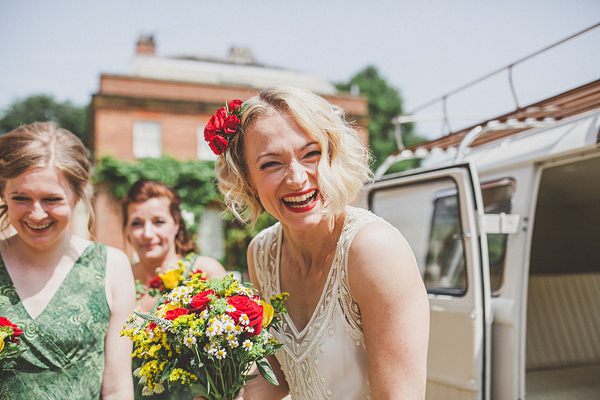 "The bridesmaids dresses were made my by Mother. The fabric was from
Liberty and chosen to be a complete contrast
to my dress, as it would have been impossible to get fabric to match it.
I also love green and the bold print with sunflowers caught my eye. 
They bridesmaids all wore sandals from Dune."
"Our photographer was Jordanna Marston. 
Jordanna is an extremely professional photographer who made everyone
feel at ease, capturing some really special moments on film for us. Her
photographs are skillfully crafted with a twist of quirkiness."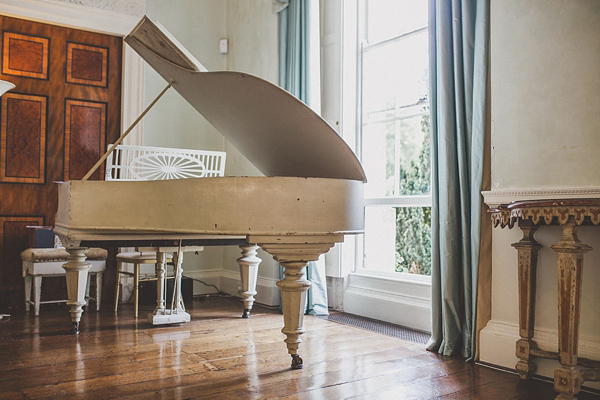 "My Father Roger gave me away.  I walked down the aisle to 'Dream a little dream of me'.
We opted for the modern vows with no tailoring. Just those 3 sentences were nerve-wracking enough to say!
My
sister Helen (one of the bridesmaid's) read "He never leaves the seat
up" by Pam Ayres. It was chosen by Helen and reflected how we wanted
that part our day to be….serious with a splash of laughter."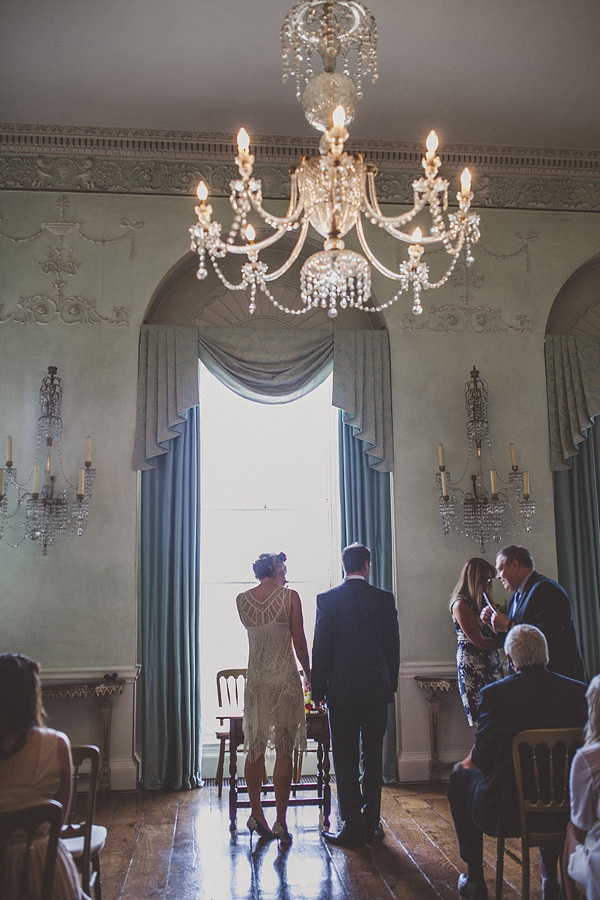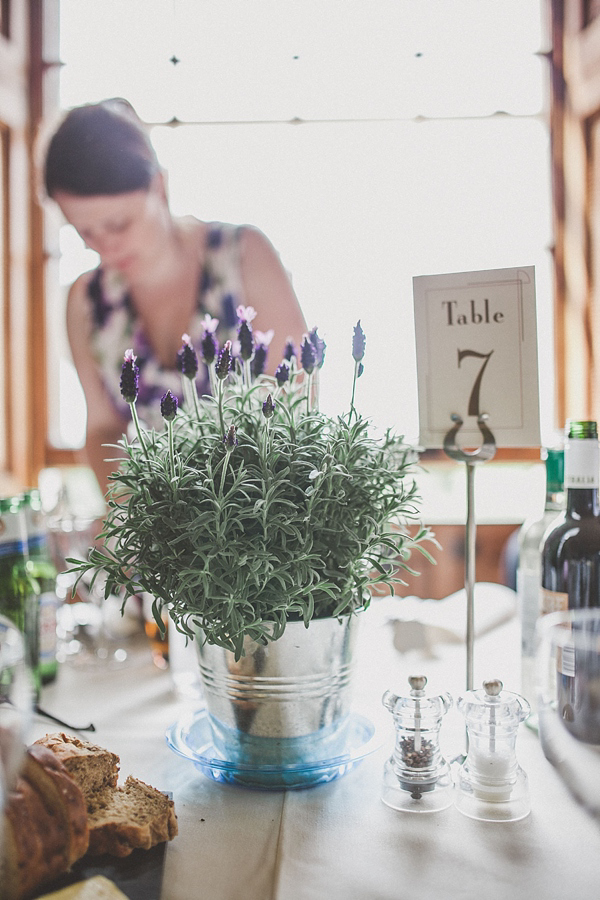 "Ceri of The Funky Cake Company
made our cake – we couldn't decide what cake flavour to go with so we
decided to have them all with separate tiers of carrot, lemon and ginger
cake. It was simply decorated with buttercream and fresh flowers."
Words of Wedded Wisdom…
"The
one thing I would say is that any bride and groom should focus on what
is important to them as they should feel comfortable and relaxed on the
day…. so order the food you like, pencil in the music you love and
invite those people who are most special to you.
My favourite part was the speeches made by my father and Matt, both
of which were funny, thoughtful and were met with raucous cheering and
applause. Running a close second would be sipping Pimms on the lawn,
while chatting to our family and friends with the sound of the Jazz band
floating on the air."
With foresight I think I would
have tried to spend a little more time with Matt, having a quiet moment
in amongst all the glorious madness!"
What a gorgeous day, I do love it when a bride embraces the fun of the 1920s and Ann has done so with such effortless style – working her red lipstick to the max!
You can see more 1920s inspired weddings here, and watch out for an
interview feature with Ann's wedding dress supplier (and one of my
favourite 'wedding' people) Elizabeth Avey very soon!
Huge thanks as always to the very lovely Jordanna Marston for sharing these photographs.
With much love,
Annabel
Photographer – Jordanna Marston
Venue – Kelmarsh Hall
Brides Dress – Elizabeth Avey
Brides' shoes – Brides Shoes – Emmy
Brides Hair Accessories – Red spray rose hairclip (provided by Manic Botanic)
Grooms Suit – Hugo Boss blue suite + accessories
Bridesmaids – Made by the brides mum using Liberty  fabric
Florist – Emily Campbell of Manic Botanic
Cake – The Funky Cake Company
Entertainment – Miscillian Jazz + KingTastic via High Times Entertainment
Rings – Tiffanys (Canary Wharf branch)
Catering Company – Portfolio Events
Hair and make-up Artist – Aimee Garner