Facebook fans might have caught a glimpse of this morning's wedding last night, when I sneaked this gorgeous image out before bed time.  I just couldn't help it – that one image seemed to capture the essence of this whole wedding so very beautifully.
David and Ellie tied the knot on 25th May this year with a ceremony at Shoreditch Town Hall, followed by a celebration at 06 St Chads Place.  Their day was packed with a punch of joy and merriness, and the day seemed to sweep along in a haze of laughter, hugs and smiles.  I love the way photographer Emma Case and super8-mm film maker Mark W. Brown have curated the memories of this day so beautifully, from Ellie's divine Elizabeth Fillmore gown, to the pretty DIY flowers and cool, East London vibe.  I hope you enjoy this wedding just as much as I have and that it inspires you too…

Film Production Copyright (c) 2013, Mark W. Brown
"Our wedding film was shot by the lovely Mark W. Brown.  We
hadn't budgeted for a wedding film, and initially thought it was
something we could do without but the more we thought about it, the more
we realised it would nice to have the day captured – I love the
timeless feel of Super8 film and when I began to look into it, I
realised very quickly that I didn't want to go with anything else. 
Mark did such a sensational job and he was joy to have around on the day. 
We did go back and forwards on the budget for this one but I am so, so
glad we went down this route.  He really does create a beautiful little
memory which is a joy to watch and such as precious thing to keep."
Photography Copyright (c) 2013, Emma Case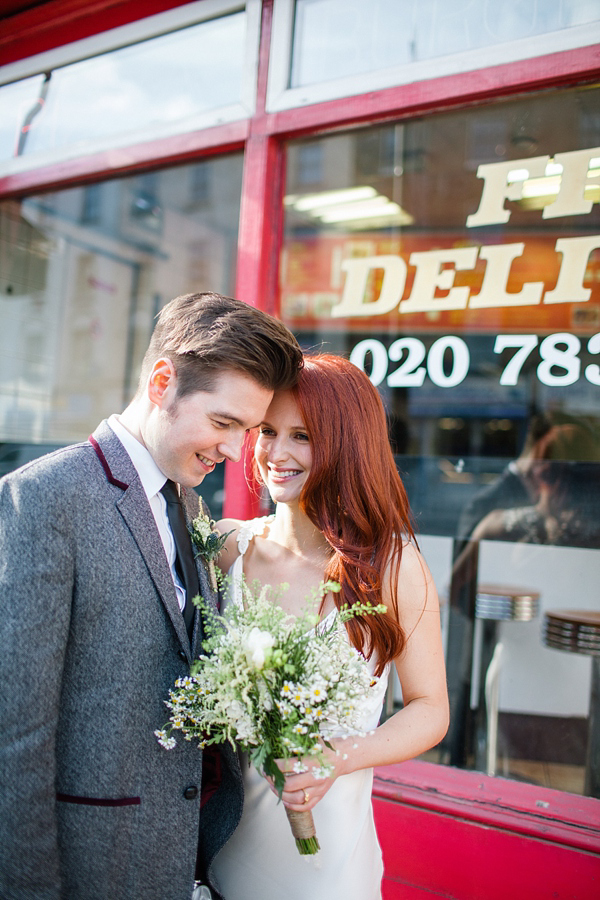 "David and I have been
together for twelve years and yet despite this, his proposal was still very
unexpected.  We got engaged on my 30th birthday in 2011 among a flurry
of surprises, all of which required precision planning on David's part. 
He did very well!
We
both dislike the identikit nature of the wedding industry (although
this is getting much better – what people did before blogs, I have no
idea!).  If you want chair covers, that's great, but have them because
you want them, not because someone has told you that's how weddings have
to be done.  The style of our day was shaped by our loves – food, music
and personal projects – and we found that one thing fed quite naturally
into the other.  So although we didn't have a theme, all of our little
elements tied in quite nicely."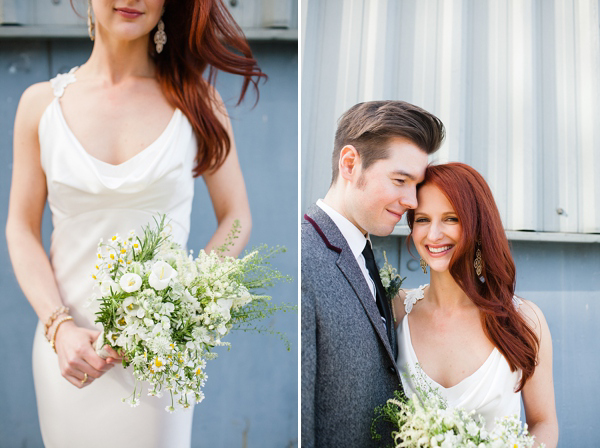 This is the first time we've ever featured a bride wearing Elizabeth Fillmore, but I'm hoping we see more. I'm in love with the feminine, sexy, slinky nature of Ellie's wedding dress…
"My dress was called Kara and was designed by Elizabeth Fillmore.  I
always liked simple dresses and my two prerequisites were no strapless
dresses and no crystals.  There is always the fear that the image you
have in your head doesn't translate and that it will look awful on but I
was delighted when I found my dress.

I was aiming
for simple but elegant, with a touch of vintage glamour and hopefully I
got halfway there!  I loved the delicate back and the unfussy nature of
the fit."
"Elizabeth Fillmore
herself just happened to be there when I was booked in for one of my fittings and
this was a godsend.  She ensured that the dress was properly fitted,
something which wouldn't have happened had she not been there. 
She gave
me the best piece of advice, she said 'you have to speak up and be
strong, if you think it isn't fitting properly, you are probably right'.

My dress was awesome and I loved it!"
"I wore shoes by Christian Louboutin.   I
didn't set out to buy statement shoes!  I looked at a million websites;
everything from Clarkes to McQueen and eventually went to Selfridges
the week before my dress fitting with the intention of not leaving until
I bought a pair of shoes.
I didn't want to buy pair of shoes that I
didn't like and I couldn't find a neutral pair that I was happy with.  I
didn't set out to buy neon orange shoes either, but when I saw them all
the gold/silver/white options paled into insignificance!"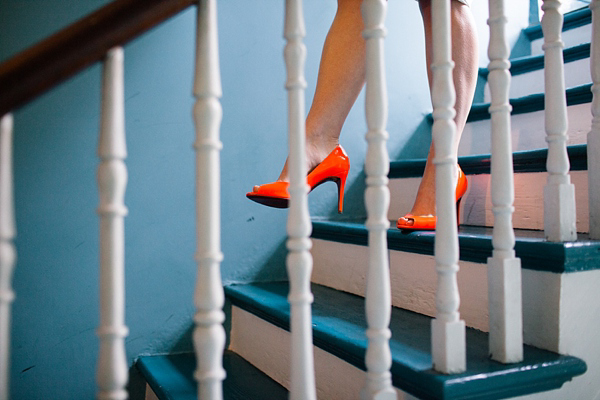 "We've spent the past 10 years living together in London, and although neither of us were born here, we are now
lucky enough to be able to call this amazing city our home.  We were
keen to have a city wedding because it seemed daft to trek off to the
country when we have everything we need right here on our doorstep.  The
large committee room at the Shoreditch Town Hall
provided the perfect space. It was light, airy and not too polished. 
The fireplaces, big arched windows and upright piano give the room
character without needing any extras.
06 St Chads Place
was the first reception venue we looked at and it had exactly the vibe
which we were looking for – one large room so 'wedding suitable', lots
of character, urban and not twee.  About as wedding appropriate as you
can get and still be a bar.  We have been to many a superb country house
wedding but it breaks my heart when the main room that you spend most
of your time in is a soulless function room.
We had large white paper
decorations which our ushers hung from the beams at the reception
venue.  Most of these I bought in the US as they were so much cheaper
and I was lucky enough to have some people who were able to bring them
back for me."
"We did our flowers! They were one of the things I was most proud
of and one of the things I enjoyed doing the most.  My mum used to have
a flower arranging business and I guess I must have picked up a feel
for it.  A couple of years ago I did the bouquets for my friend's
wedding and thought well, I did it once.  In preparation we had
collected loads of glass jars (pickled egg jars from the chippy are
particularly useful!) and decorated them with lace, brown string and
brown paper.  I ordered the flowers from Trevor at SR Allen at Covent Garden flower market (lovely guy) and collected them on the Wednesday morning.
 On the Friday morning, our flat was in utter chaos as Ryan was
trying to practice the piano surrounded by stalks, string, twine and
blocks of soggy oasis.  But it was all worth it and I wouldn't have done
it any other way.  My mum, sister and I made 3 x bouquets, 13 x button
holes, decorations for the chairs and filled jar after jar after jar
with cut flowers.  In terms of colour, we stuck with simple
light greens and white and I am a fan of the natural, unstructured
look.  I also had stems of rosemary in my bouquet which added a nice
earthiness to it. 
"Our bridesmaids dresses were a labour of love.  My maids Alice and Pauline
chose their dresses from online sites selling vintage patterns – I
wanted them to wear something that they liked and had chosen
themselves.  We then had a group outing to Joel and Sons to choose the
fabric.  My best friend had her wedding dress made from fabric bought
from Joel and Sons and she recommended it to me – if you can't find your fabric there, then it probably doesn't exist!
As the bridesmaid dresses were both quite tailored, we found this
gorgeous light green, matt, cashmere/linen blend that really worked
with a more structured look and we decided to add detail by overlapping
lace.  My incredibly talented Mother, Ann Roffe, made my
sister's dress and we enlisted Charlotte Newell to make Pauline's dress.   Being based in Glasgow, Charlotte
overcame the problem that I had with having one bridesmaid in London,
the other in Scotland and my main seamstress in Devon.  She did a
cracking job.
The bridesmaids chose their own shoes – I think they were from
Topshop.  In the evening they changed into gold glittery trainers.  They also wore heart enamel earrings by Tatty Devine – I love their stuff!"
"My dad, Mike Roffe gave me away, we walked down the aisle to the sound of 'Tiny Dancer', by Elton John.  We
decided to stick to the script for the vows.  I was worried that I
would be a blubbering mess during the ceremony and writing your own vows
makes them so much more emotive – I felt this might have pushed me over
the edge!  Our first reading was 'Ordinary Morning' by Joyce Grenfell.  Beautifully simple, short but also touching."
'It felt like an ordinary morning
It began in an ordinary way
And then, without warning
Ordinary morning
Became extraordinary day.'
"Our
second reading was a poem which David wrote and I wasn't allowed to
hear until the day.  I don't want to say much on this, but it did bring a
tear to my eye."
"I surprised myself by how much I loved the whole day from the
getting ready to the last song, our day rocked.  I also loved 'being a
bride' something I never thought I would say.  I did have a 'moment'
when everyone was gathered together for the obligatory group photo, I
turned over my shoulder and had this
amazing view of everyone smiling and confetti flying around everywhere."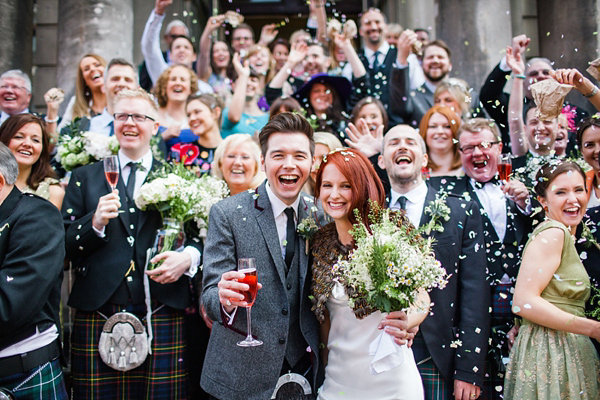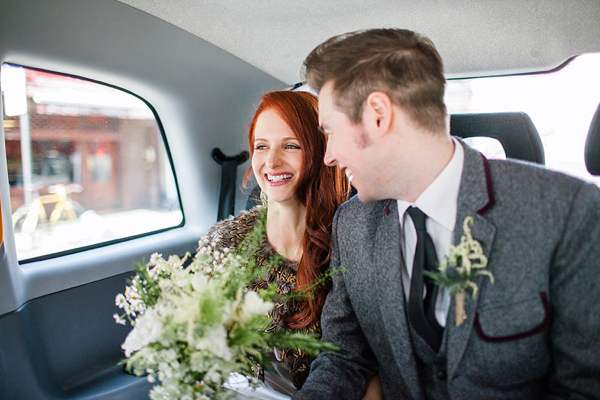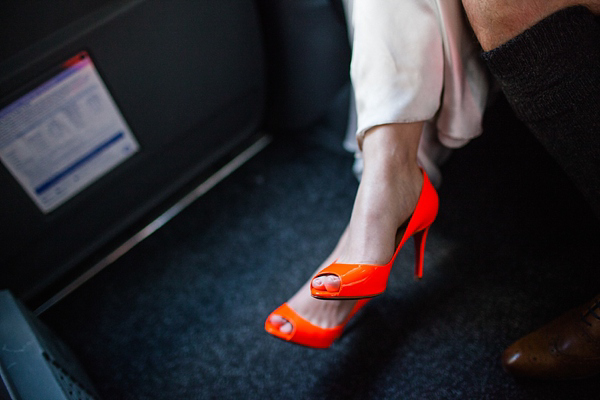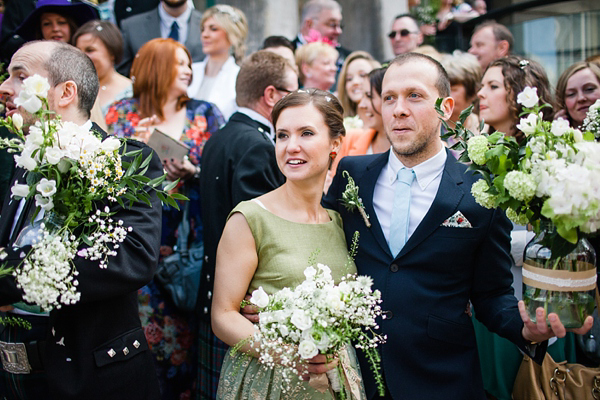 "My feathered shrug was from Ted Baker."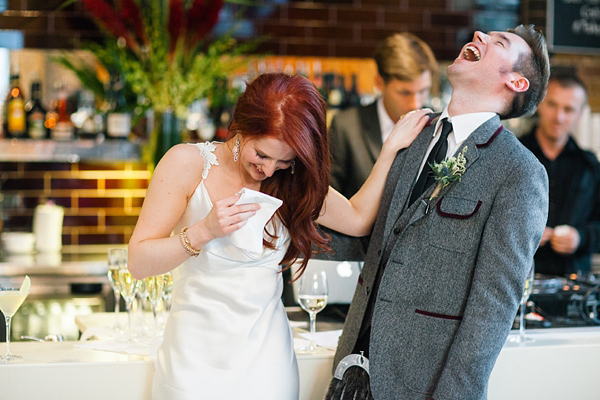 "My earrings are from Hirst Antiques in Notting Hill and my two bracelets were from the London Vintage Fashion, Textiles & Accessories Fair."
"Ahhhh, Team Emma Case. 
I generally feel incredibly uncomfortable in front of the camera and
was very apprehensive about the photos, yet this gorgeous couple helped
me so much with all of my nerves.  Emma & Pete take wicked,
non-cheesy photos and they make you feel so at ease.  We were blown over
by our pictures, they captured our day perfectly."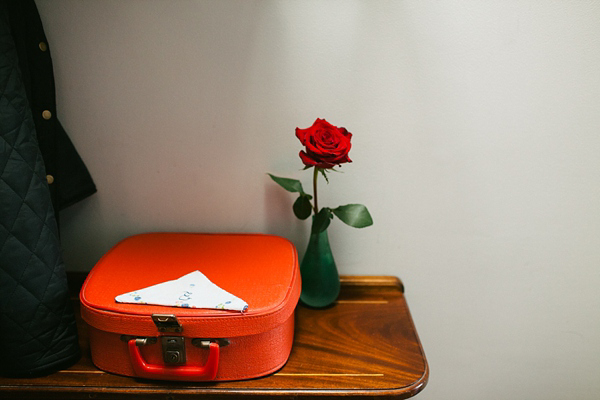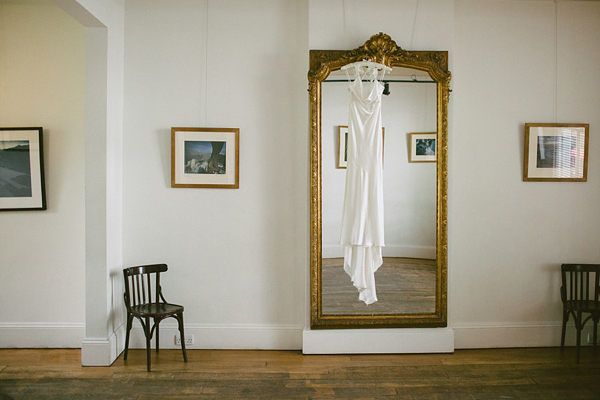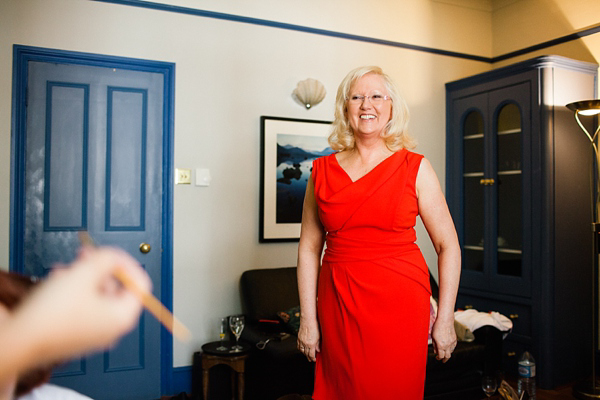 "David and I have known Makeup Artist Claire Hanson
for many years and it was so lovely that she was able to be part of our
day.  We were so lucky to have so many people that we know involved! 
Claire and her team did hair and make up for myself and the bridal
party.  We had a trial and she understood completely what I was looking
for, she was an amazing calming influence on the day and exactly the
kind of person you want to have around you on the morning of your
wedding."
"David's jacket and waist coat were part of bespoke suit made by the very talented Cian at Beggars Run.  His kilt was hired from what we would say is the best kilt hire shop in Londo, 'Kilts 4 All'. 
If you want to hire a kilt that actually fits you, my advice would be
to go here – Stephen and Victoria were so accommodating.  David wanted
to avoid kilt shoes so went with a pair of brown brogues instead."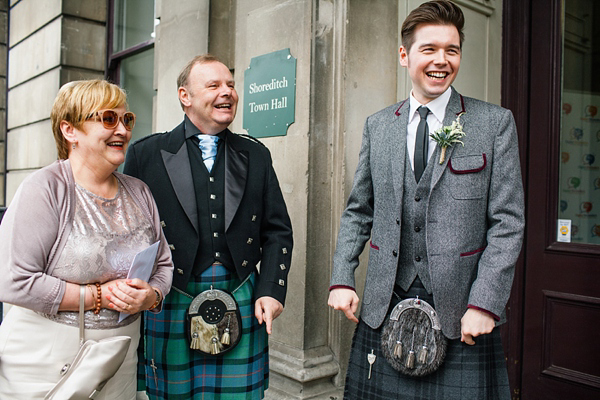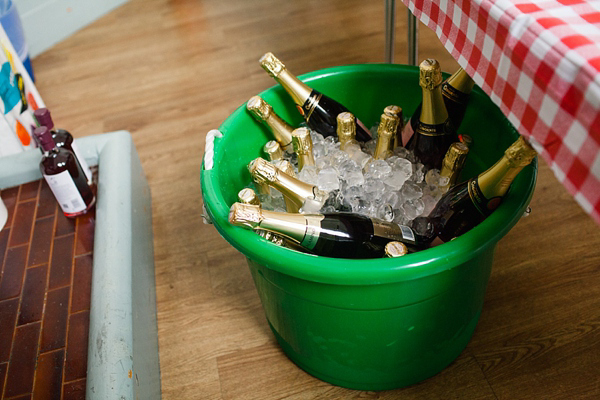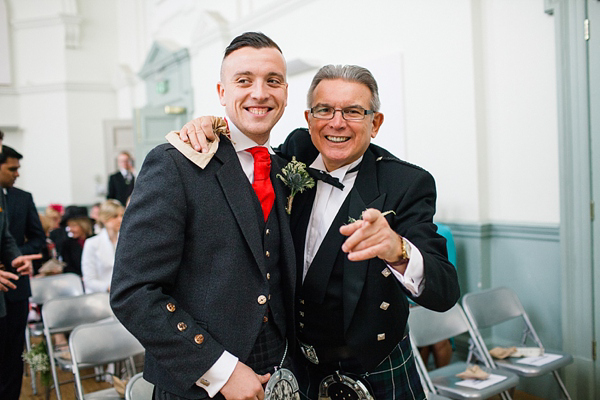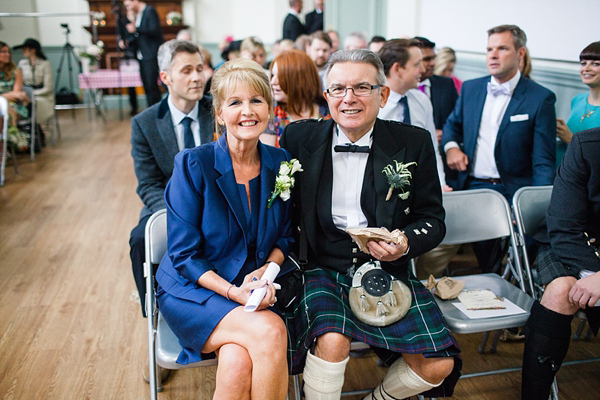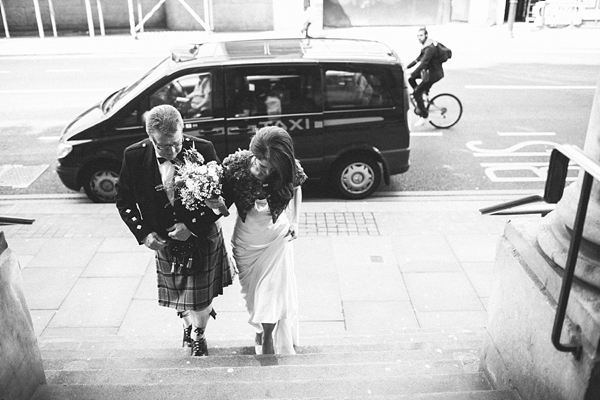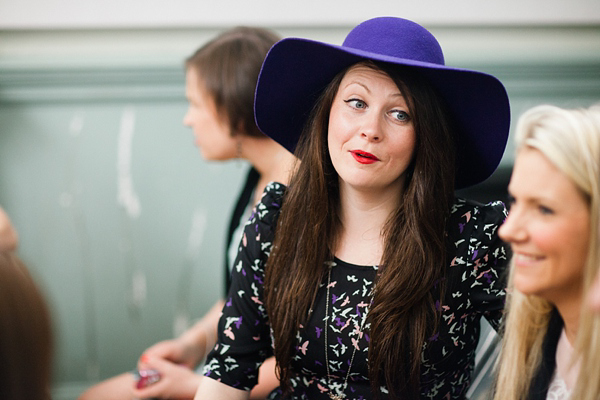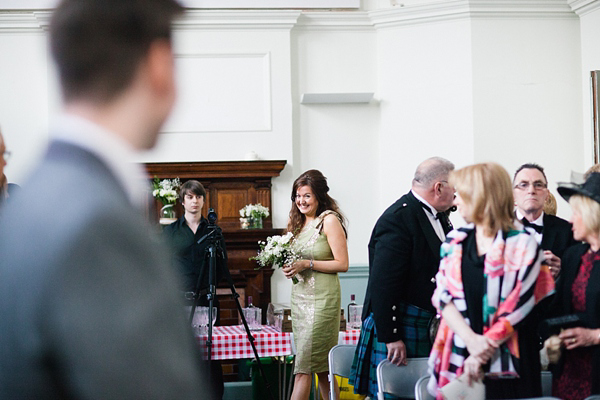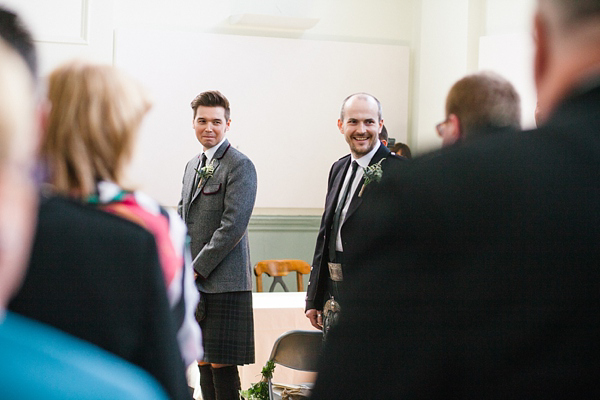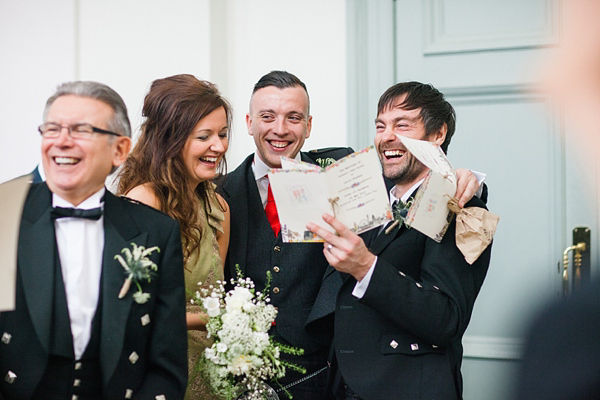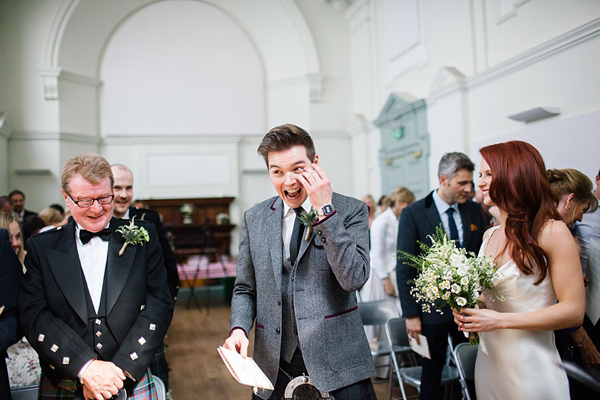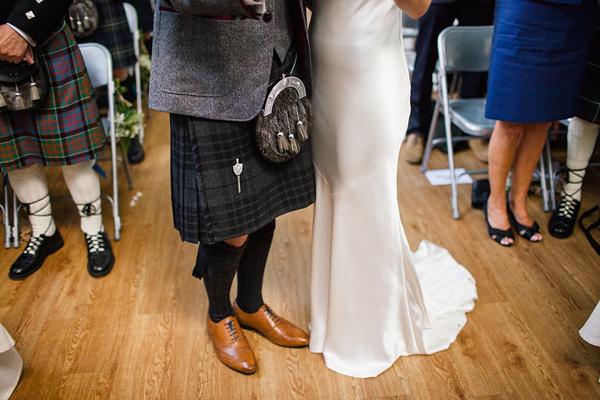 "One of David's friends, Ryan Ashley, played for us during the
ceremony, we had a couple of sing-a-long songs instead of hymns –
excellent  for relaxed vibe, you can't sing 'Love Is All Around' with a
straight face.  Still can't believe we did that.  When everyone arrived at 06 St Chads The Cash Cows were waiting for them – these guys rock.  David and I had seen them independently when they were busking on Portobello Road.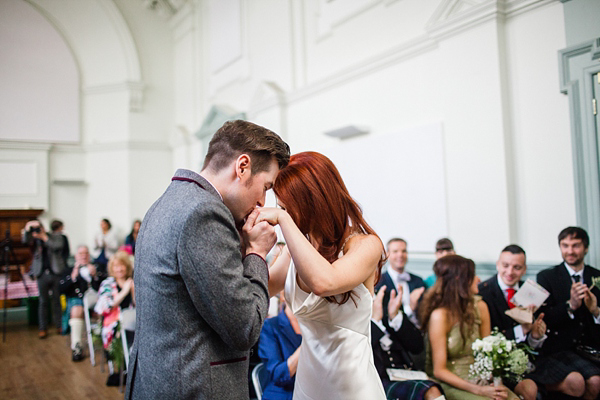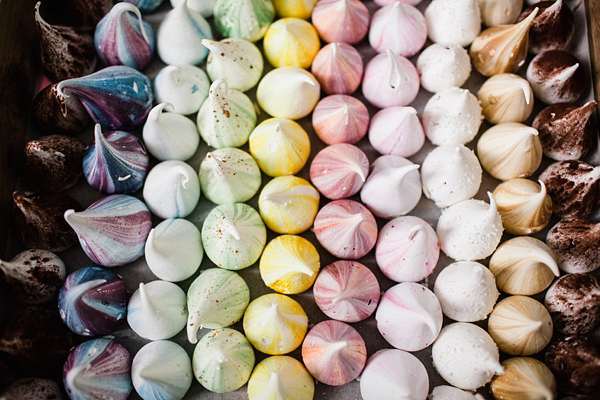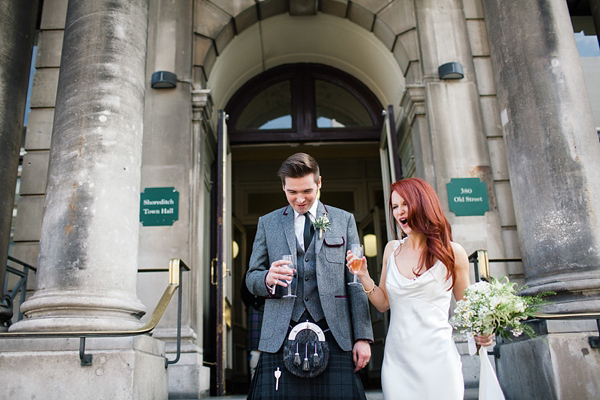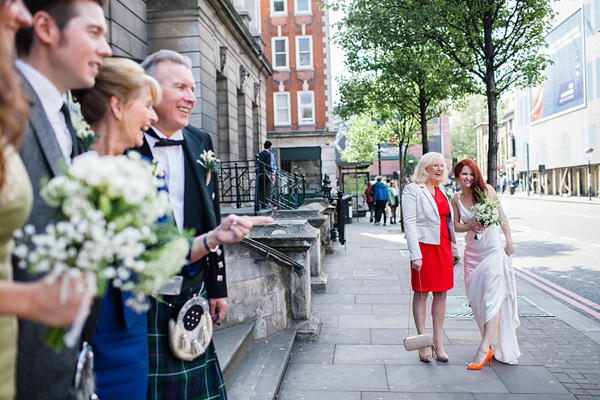 "The ushers where instructed
to bring the large jars of flowers from the town hall to the venue which
ended up looking great in all of our photos – there are flowers
everywhere!"
"I made up little brown paper bags filled with confetti and I think
this is one of the best things I did as mostly people don't bring it
with them.  I love the traditional paper confetti shapes and we have the
most amazing photos with confetti blowing in the wind!"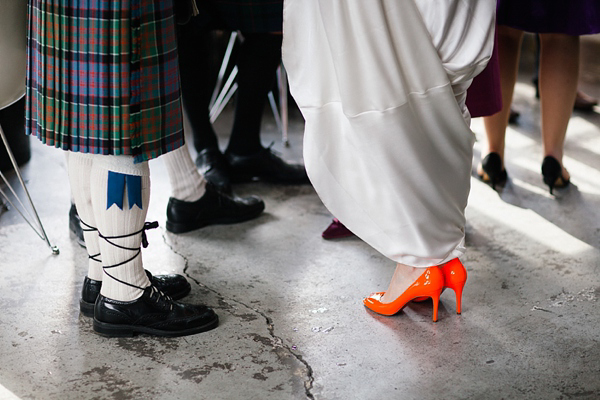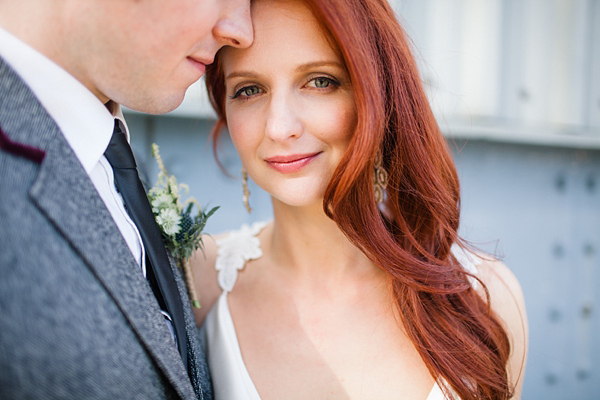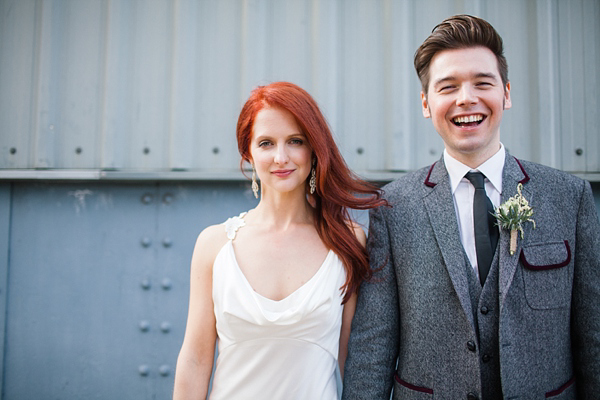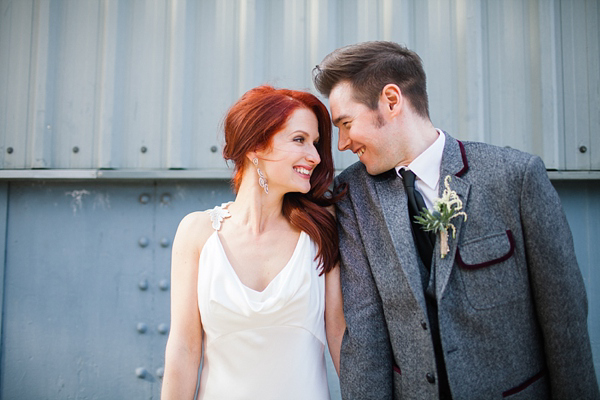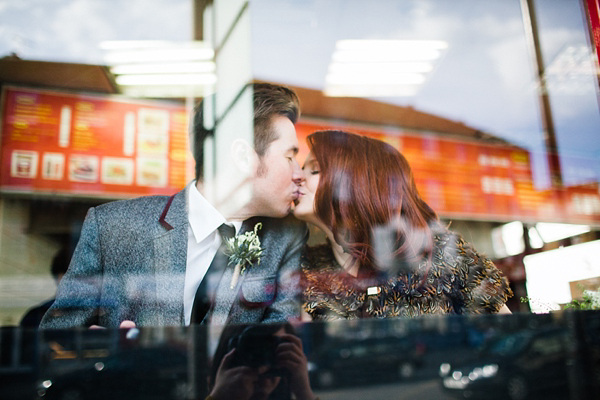 "Food. One of our other loves.  Wedding food seems to be one of
those areas where you can pay through the nose and yet get something
substandard.  We wanted to avoid this do we did a trawl of some London
street food markets and then we contacted a couple of companies to see
if they would consider weddings.  We had two in the running but when we
tried the meat from The Wild Game Company we knew we had found a winner.
Their
venison is sourced from the Scottish highlands and our menu consisted
of either venison burger or venison steak with beef dripping chips.  The
fact that handsome Andy donned a kilt for the occasion was no bad thing
either…….
In the evening we had delivery of Beigels from
the Brick Lane Beigel Bake (man, those things are amazing) together with
a bulk order of Tunnocks tea cakes.
After the ceremony at the Town Hall we had bubbly mixed with Sipsmith Sloe Gin and a crate of Meringues provided by The Meringue Girls."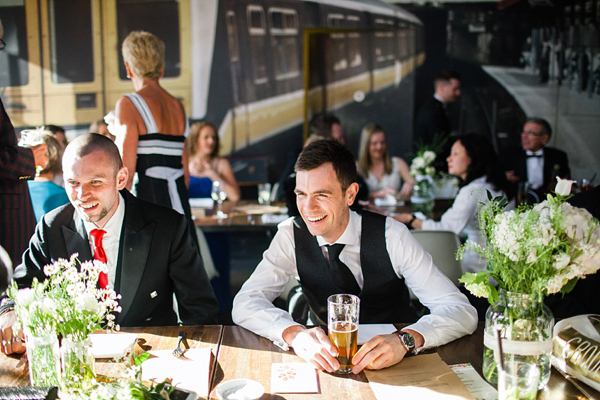 "Our favours were vintage shot glasses collected from charity shops
and car boot sales.  Each glass was individually tagged and the labels
were made from sheet music from a song that reminds us of 'the early
years'.  The men's glasses were filled with a single malt whisky and the
women's were filled with homemade Lemoncello made by my mum (she was a
very busy mother of the bride!).
We also had customised temporary tattoos for people to play with (everyone loves a prop!)"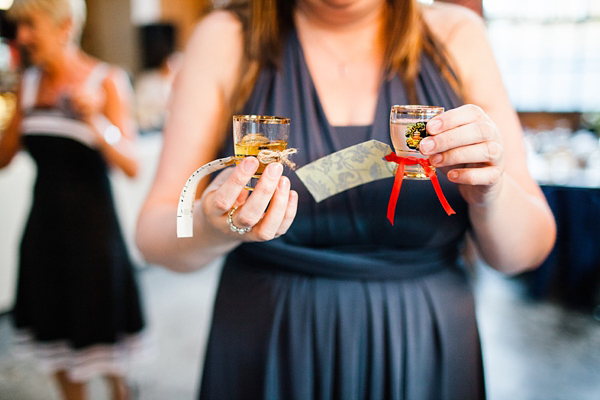 "I asked my four best friends, Jo, Frith, Clare and Ange if they
would kindly contribute to our wedding day by baking a cake and luckily
for us, they all agreed, albeit with varying degrees of enthusiasm.  One
opted for the carrot and stick method – she bought herself a bottle of
wine which she wasn't allowed to drink until, after she had baked the
cake. 
On the day we had a fabulous selection of cake crafted by our
nearest and dearest, what more could you ask for?!"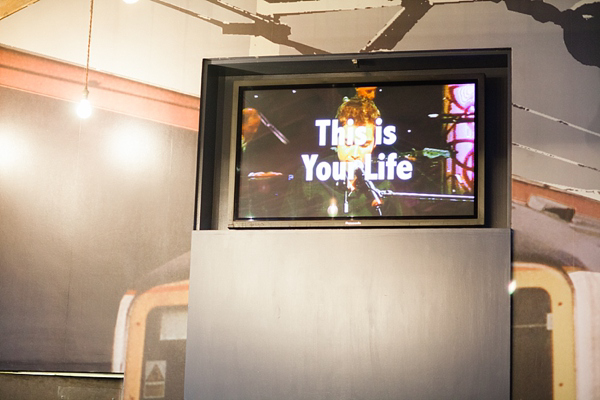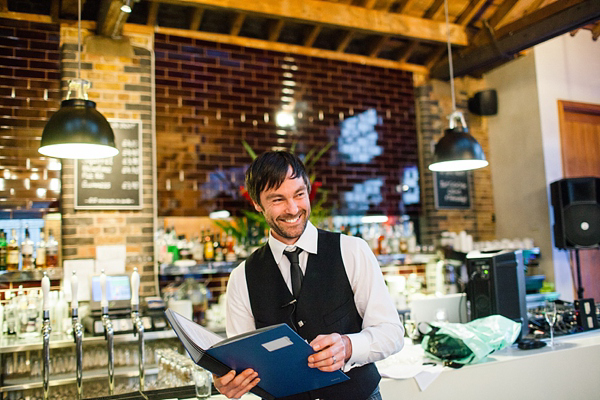 "Our first dance was to The Beach
Boys' 'Wouldn't it be Nice' – simply because it's an upbeat song that we
both like 'we could be married, and then we'd be happy.  Wouldn't it be
nice'"
 In the evening The Wedding Smashers
did an awesome DJ set for us.  They are friendly and totally matched
the vibe we were hoping for (plus they stuck to the 'no play' list!),
very happy."
Words of Wedded Wisdom…
"We wanted the wedding planning process to be as
stress free as possible so decided to give ourselves around 18 months to
plan – not essential by any means but it made things easier for us. 
Not being tied to a specific dates when looking for photographers and
venues meant things fell into place quite easily.
When
you have your timings for the morning, add on half an hour and move
everything forward.  I was meant to have half an hour with the photographer
once I was ready and the time just disappeared.  It was the one stressy
part of the day and an extra half an hour would have made all the
difference! 
"Do what you want, not what others think you should have.  If you
don't want a cake, don't have one, if want a fucking huge cake remember
it's your wedding and probably the only time in your life you get to
have a party totally your way.  Spend money on your photographer and video.  These are your memories and your day will fade so quickly without them.  Don't ignore niggles.  If something isn't right, push for it to be fixed, you'll only be cross with yourself if you don't.
I work in television, so schedules and budgets are part of the course.  We
were incredibly lucky to have two 'TV' friends, Rachel Tomlin and Katie
Gore (or Team Awesome), to help us out on the day.  We couldn't have
done it without them – everything ran like clockwork and it was a joy to
have them there with us.  The only thing I'd maybe change, would be getting ready a tad earlier and not be the last people to leave…!
Also, Love My Dress was invaluable for suppliers and inspiration."
What a gorgeous, gorgeous day! If you love the sotry these photographs tell, why not check out more
photography by Emma Case on Love My Dress here, then visit Emma's website, where you can make an enquiry for her availability to shoot
your own wedding.
Huge congratulations David and Ellie – I hope you have the most wonderful life together – thank you so much for sharing your beautiful day with our readers, we're grateful and proud to inspire our readers with such beautiful photographs.
Have a lovely  morning all,
Annabel
Photographer – Emma Case
Super8-mm Film – Mark W. Brown
Venue – Shoreditch Town Hall + 6 St Chads Place
Wedding Dress – Kara by Elizabeth Fillmore
Feather Shrug – Ted Baker
Brides Shoes – Christian Louboutin
Bride's accessories – Earrings via Hirst Antiques + bracelets via The London Vintage Fashion, Textiles & Accessories Fair
Groom's Attire – Jacket + Waist Coat via eggars Run + Kilt hire via Kilts 4 All
Bridesmaids – Mother of the bride + Charlotte Newell using Joel and Sons fabric
Flowers – The bride and groom
Cake – Friends and family
Transport – red route master bus
Entertainment – The Wedding Smashers + The Cash Cows
Favours – Vintage shot glasses with homemade Lemoncello + customised temporary tattoos
Rings – Doug Blai
Catering – The Wild Game Company + The Meringue Girls
Makeup Artist – Claire Hanson