Good afternoon Friday people.  As always, we've been saving a completely beautiful wedding to inspire you this afternoon.  It doesn't get much more fabulous than this at 3pm on a Friday let me tell you, so sit back, switch off a little while the boss is too busy thinking of the weekend to care, and enjoy!
Emma and Jordan, who found their wedding photographer Danielle Benbow through Love My Dress, tied the knot on 10th August 2013 with a ceremony at St Gregory's Church in Welford, followed by a reception at Templars Barn in Shefford Woodlands.
"From when we started planning the day, we tried not to be too specific about a theme or colour scheme. I'm quite girly and like soft, pastel colours, where as Jordan likes the natural rustic look so we used that as a starting point and thought the two styles would compliment each other well.  It was important to us that our wedding represented our individual tastes.
We wanted the barn and decorations to reflect us as a couple and the whole day to show off elements of our different personalities. We also wanted our wedding to be as fun, relaxed and personal as possible. We thought a lot about what we would enjoy at a wedding and hoped that if we were having fun, ultimately everyone else would too!"
Photography Copyright (c) 2013, Danielle Benbow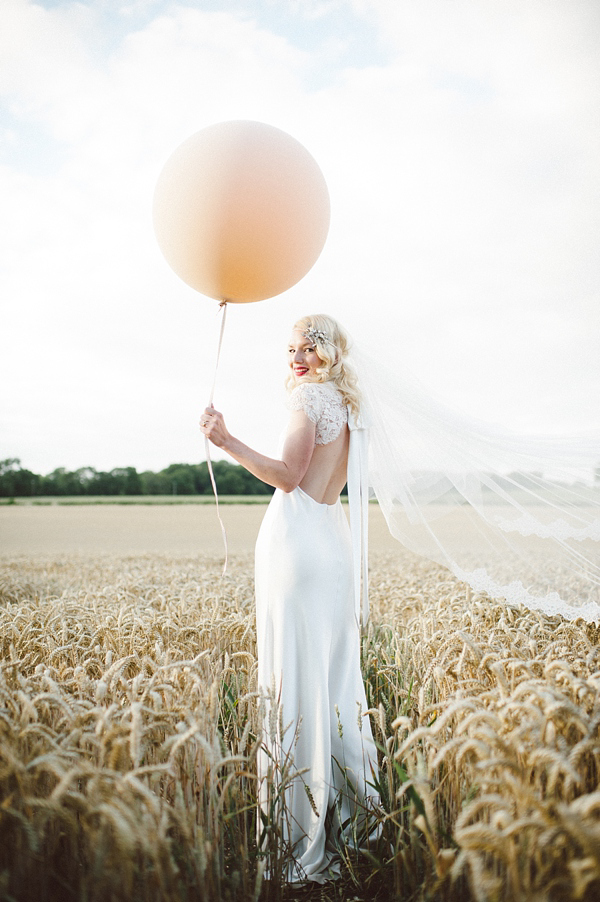 "Jordan and I are both from the same town of Newbury, so wanted somewhere local, close to our family and friends, but far enough away from the centre of town to feel relaxed and calming. We hoped to find somewhere nearby that our guests hadn't seen before, as the number of nice wedding venues are quite limited in our area.  We met at school and became close friends. Jordan proposed on our fifth anniversary together and we got married fourteen months later.
We got married at St Gregory's Church in Welford. Templars Barn is just down the road from the church, in Shefford Woodlands. We fell in love with it as soon as we saw it and knew it would be the ideal setting for our reception. The church is in a rural location and the barn is surrounded by wheat fields. This naturally gave the wedding a relaxed, country feel and created the laid-back rustic look that we wanted."
"We decided to make our Order of Service as we wanted it to tie in with the rest of the day. We printed them on brown paper, tied them together with raffia and then attached a bag of natural confetti on the back. We got these from Shropshire Petals. They're a brilliant idea because you can customise your mix of petals, so when your photographer takes the confetti shot you get a sea of pretty petals all in your chosen colours. We also ordered dried wheat and lavender from them too that we used for the place settings."
"Local florist, Alicia Billyeald of The Wessex Flower Company, did our lovely flowers. I went along to one of her wreath making workshops the previous Christmas and loved her relaxed, country style. She uses cuttings from her own garden as well as local producers. 
My original plan was to have a few lessons with Alicia and then take on the task of arranging all of my own wedding flowers. I soon realised that planning this wedding was going to take up a lot of my spare time and taking on the flowers would be a very stressful task so close to the wedding day. I went to Alicia with my mood boards and took one of the bridesmaid dresses with me for an example of one of the colours. I didn't want anything to be 'matchy' or perfect looking, but I wanted the bouquets to look like they had been hand picked out of a garden.
To achieve this I wanted all of the bridesmaids to have a different flower for their bouquets and mine to be a combination of all five. We had blue hydrangeas, lilac stocks, yellow daisies, vintage pink roses and peach David Austin Roses, which were very close to the colour of the dresses."
"This was the most beautiful and we decided it should be the main flower in my bouquet and on Jordan's buttonhole. Alicia was full of creative ideas for decorating the barn with floral displays inside and out. The flowers looked and smelt incredible in the church and reception venue and it felt as though you were walking into an English country garden."
"I got my dress, veil and headpiece from Carina Baverstock Couture in Bradford-on-Avon and had a lovely experience there. I knew as soon as I put the David Fielden  dress on that it was the one. The fabric was beautiful, I loved the lace and the satin. It felt incredible to wear and I felt my best in it; I didn't want to take it off!"
"My shoes were 'Mimi' by Rachel Simpson…"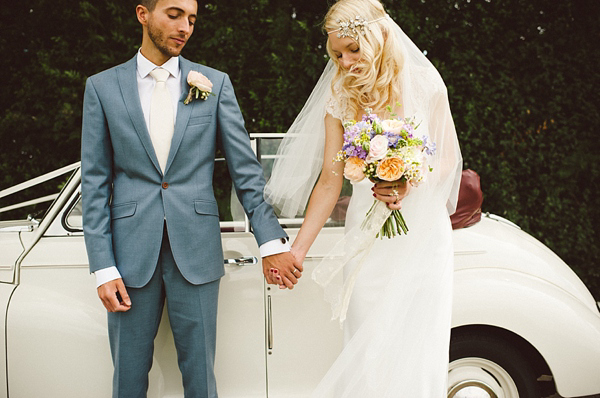 "I collected lots of magazine cuttings and created mood boards to help me visualize how I wanted the barn to look – rustic, vintage, English country garden with a handmade feel. I gathered lots of different ideas and finally started piecing everything together in my head. I knew what I wanted the end result to be – the challenge was pulling it off!
One of the things I found most difficult was bringing my different ideas together. I had lots of mini themes that I was trying to merge together. My biggest fear was that what I imagined to look good in my head wouldn't when we put it all together, that the colours would clash and it would all be a big mess! Thankfully it wasn't and I couldn't have been happier with the end result. It made me very proud on the wedding day when I looked around the barn at everything we had created."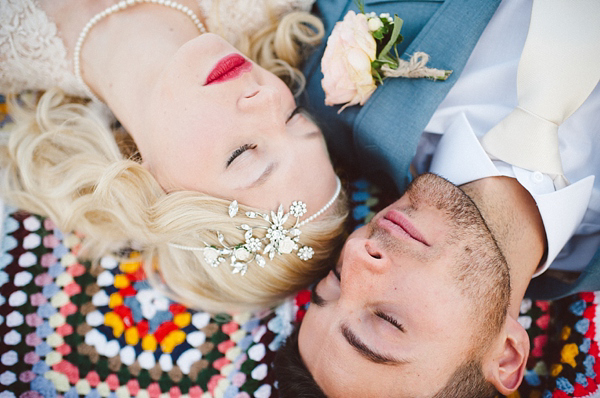 "When we first started talking about wedding ideas, Jordan requested no pink, as he said it was too girly and cliché for a wedding. But I still managed to buy pink, floaty bridesmaid dresses with ruffles as my first purchase!  They were a sale bargain from Warehouse at £42.00 each, and I couldn't resist. I had 5 bridesmaids and thought I was going to struggle to find anything nice within my budget so I was thrilled. I showed him a photo and said they were peach, so technically not breaking the rules at all.
I bought my bridesmaids a little goodie bag of treats for the morning of the wedding, including a friendship bracelet with a gold heart from Accessorize, which they all wore on the day."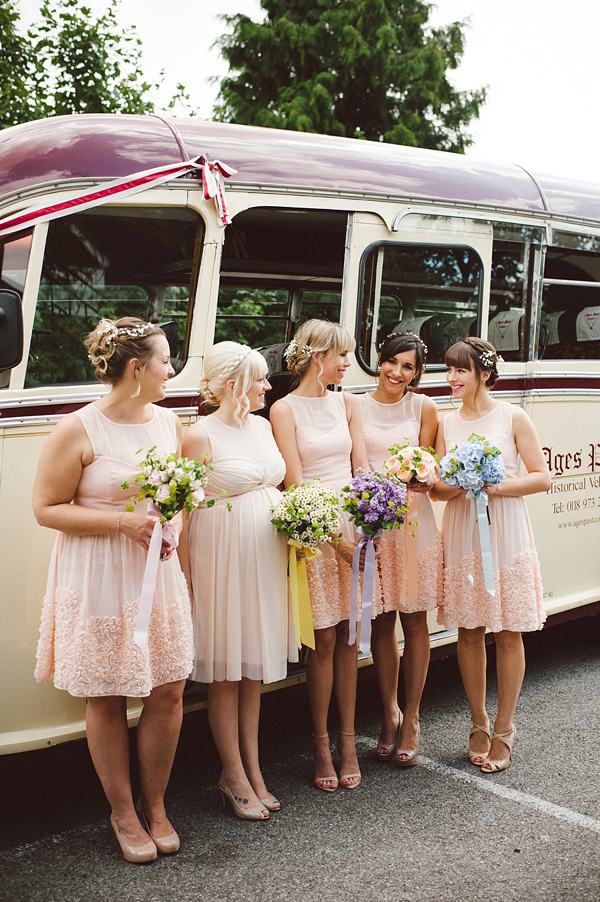 "We decided we would try to make as much as possible ourselves, to give it the handmade feel. It's a good thing we both have large families who were very willing to help, so I roped in some friends and family and we set to work crafting (although some of us had never sewn or picked up a knitting needle before!).
We wanted our guests to be able to take a piece of the wedding home with them as a keepsake. As well as the strawberry jam and onion chutney favours my brother's girlfriend made, each chair had a heart hanging from it – my mum knitted over fifty and Jordan's mum helped me sew the other fifty.
I visited local charity and antique shops with my Mum, where we collected vintage plates, teacups and books for the centre-pieces. I also incorporated some of my own things from home to try to keep costs down, like the enamel jugs, birdcages, cake stands and jam jars, which we filled with flowers to decorate the tables and the barn. On my hen weekend we had a craft session on the Sunday afternoon, where everyone helped by making a pompom or decorating a heart or a jam jar. I made the hessian and lace runners for the tables."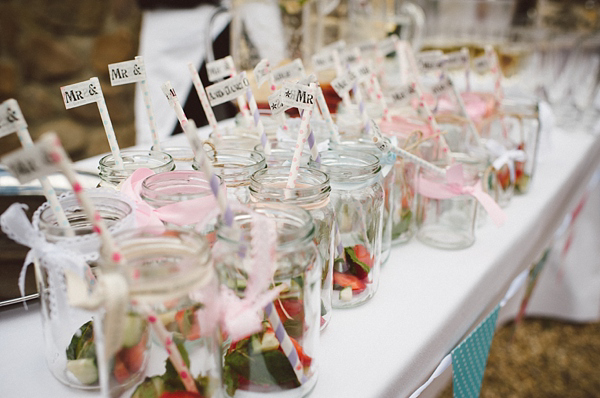 "My sister and her boyfriend made the bunting by pegging doilies onto string –  simple and cheap but so effective! It added something beautiful and soft to the rustic beams in the barn. We made a washing line of family photos to hang above the cake table, which was a great talking point and made lots of people smile. We added bursts of colour with the pompoms throughout – at the church, along the driveway, in the barn and as the centre-piece above the dance floor. Everyone came together in the few days leading up to the wedding to help decorate the barn. It was a huge task and stressful at times but so rewarding and totally worth it!"
"My Mum and Dad took on the seating plan as their project. They found an old wooden door at a scrap yard in Bristol, cleaned it up and then collected vintage keys to hang from the nails my had Dad hammered in. Mum stamped the guests names onto luggage labels, tied them to the keys and hung them on the door. It added a bit of fun and the guests enjoyed finding the key to their seat, which they could take home afterwards."
"We ordered our stationery from Wedding in a Teacup, a wonderful website which I kept going back to for creative ideas, thank you presents and all the little details. The invitations were really important to us because we wanted to set the scene for our guests without giving too much away. I chose the 'Love is the Key' themed DIY invitations, which they design for you and then you make them up yourselves (my bridesmaid Laura and I had a fun evening doing this!).
Their attention to detail is amazing – each invitation had its own little key attached. I also ordered some of their ribbon to tie it all together. We were really pleased with how pretty they looked!"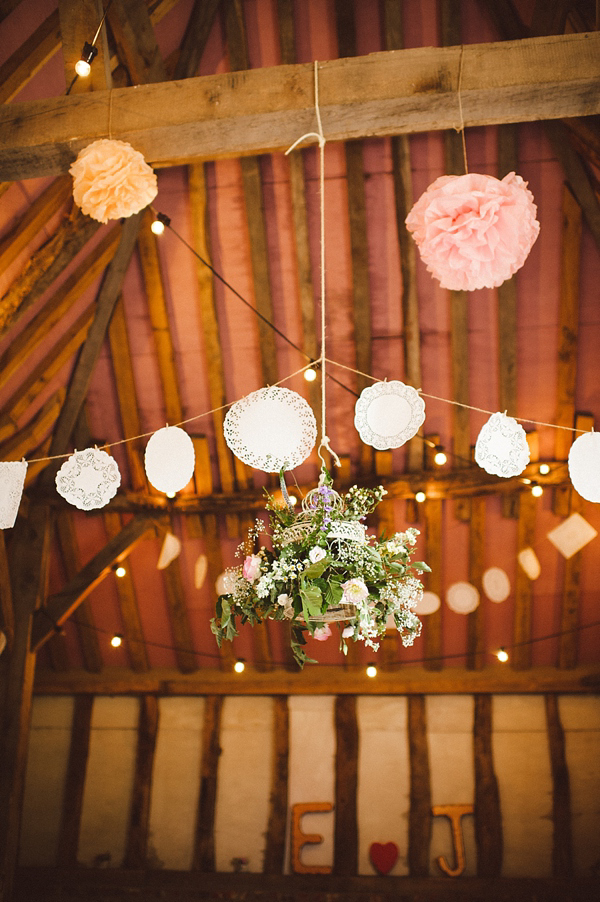 "Jordan's Dad owns the local suit shop, 'Suits Newbury'.  He had his suit tailor made for him from Italy and Jordan chose everything himself, from the blue cloth to the brown buttons."  
"We knew that lighting was very important in the barn. There wasn't much of it to begin with and we were unsure how much to hire at first because it was expensive and we were scared it might look over the top. As it turned out, it was definitely worth spending a bit more on because it totally transformed the barn and completely changed the atmosphere. We hung strings of festoon lights from CineMATTaG, along the centre of the barn and above the dance floor."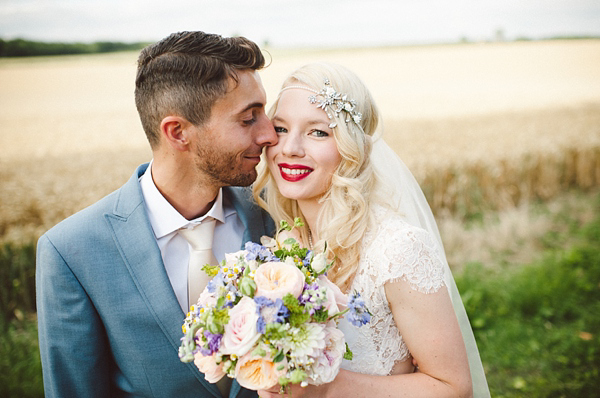 "Then we put Chinese lanterns over the ones for the dance floor. One of my favourite things of the whole wedding however, was the LOVE lights sign, which stood across the corner of the dance floor. It added a sense of fun inside the barn and it looked incredible when it was all lit up! We hired it from Vowed and Amazed." 
"Our photographer was Danielle Benbow.  I was browsing Love My Dress one day and stumbled across some of Danielle Benbow's work. I wasted little time searching for other photographers because Jordan and I both loved her relaxed, quirky style and agreed that it was exactly how we wanted our wedding photography to look.
 We first met Danielle and her Husband, Rob, on a Love Shoot they did with us while we were engaged. Danielle isn't one of those scary photographers who shouts orders and tells you to do awkward poses, she has a very calming and friendly nature and has a way of making you feel completely comfortable around her. It was lovely to get to know her before the wedding too, because it put us both at ease on the day. The guests loved her and said what a great job she did of the formal photos, which were very organized and efficient! I am so happy we found Danielle because she captured our big day perfectly."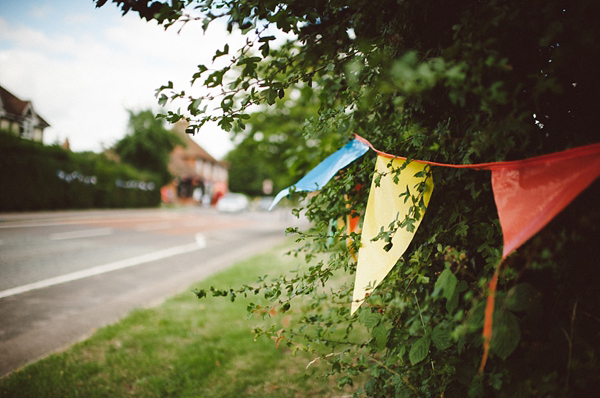 "My Auntie, Debbie Kimber, did my hair – she's the only person I'd ever trust with my hair! I decided to brave doing my own make-up. I had a couple of trials at my local Chanel counter and they suggested the right products to create the vintage look that I wanted. Even the lipstick stayed put all day." 
"My mum's mum gave me a pearl necklace to wear on the day that belonged to her grandmother. It went perfectly with the style of the dress, I loved that it was simple but so personal. My dad's mum gave me a mother of pearl brooch (that I wore on my bouquet) which belonged to her grandma, so it was nice to have something old from both sides of the family."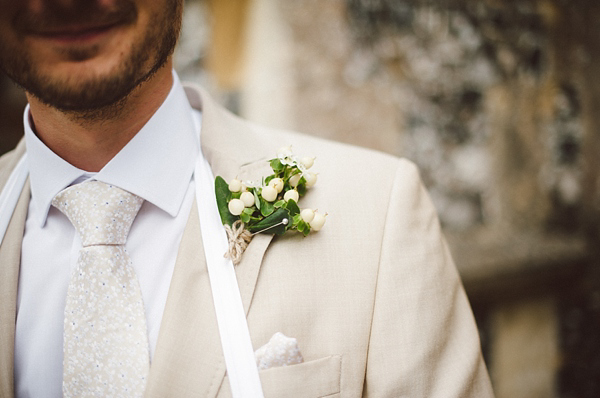 "My Dad walked me down the aisle.  I was a member of my local county girl's choir when I was younger, and my favourite song was For the Beauty of the Earth by John Rutter. The lyrics are really beautiful and it is such a happy piece of music so I knew it would be the perfect choice to walk down the aisle to. My brother's girlfriend and her 3 sisters sang while Jordan's best man, Alex, accompanied them on the organ. He learnt the organ part especially and it was very emotional hearing them as I stood in the doorway of the church.
It's so difficult to choose from so many wonderful moments, some of which I am still remembering now because the day went by so quickly, but nothing beats seeing Jordan for the first time in the church and walking down the aisle to him, with my Dad by my side, the beautiful music playing and all our of family and friends there too."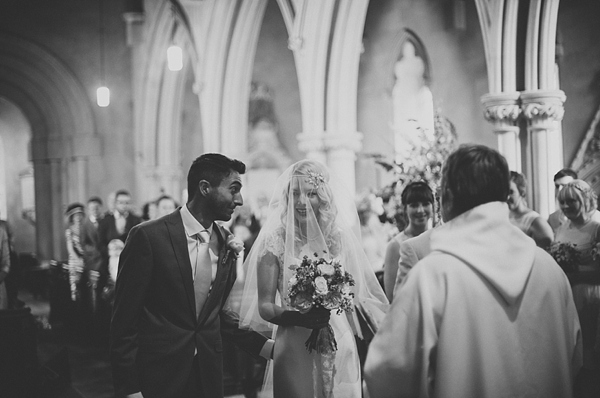 "Alex Monroe is my favourite jewellery designer. Jordan has given me a couple of their pieces for my birthday before and also went there to design my engagement ring, so I wanted to get the wedding ring to match."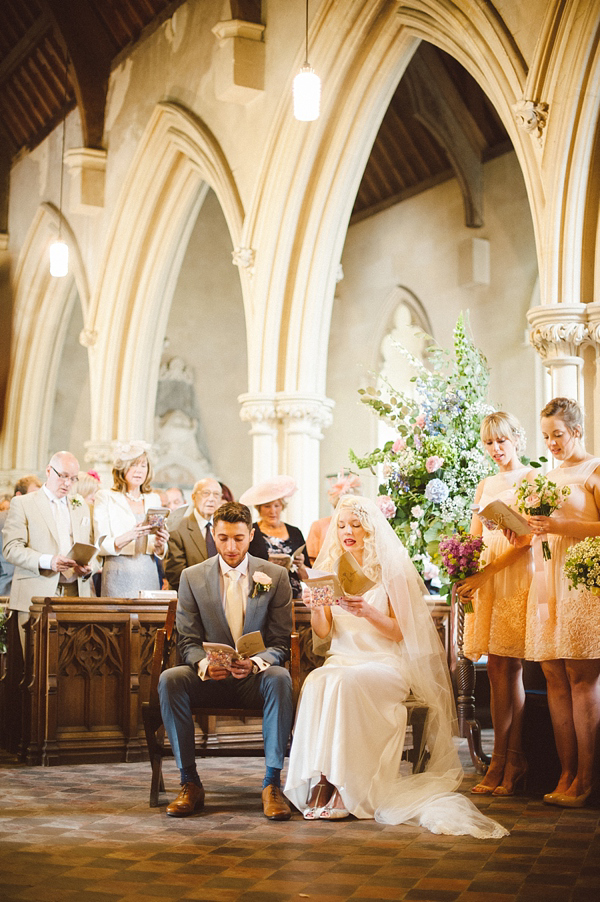 "Jordan hired a Morris Minor for our engagement weekend, so we wanted to have one for the wedding day too. We hired the Bedford Bus from Ages Past to transport the rest of the wedding party to the church and barn. It was lovely to see it driving along the country roads – everyone loved it!"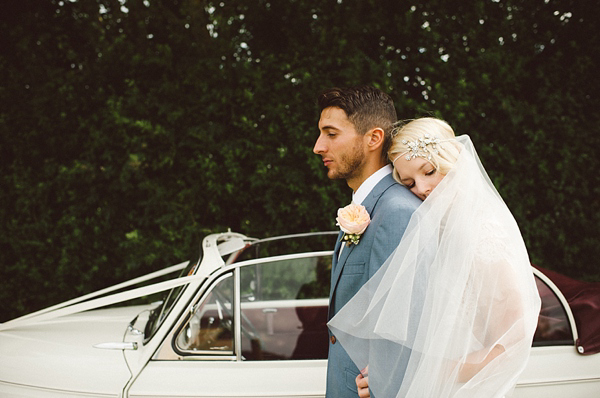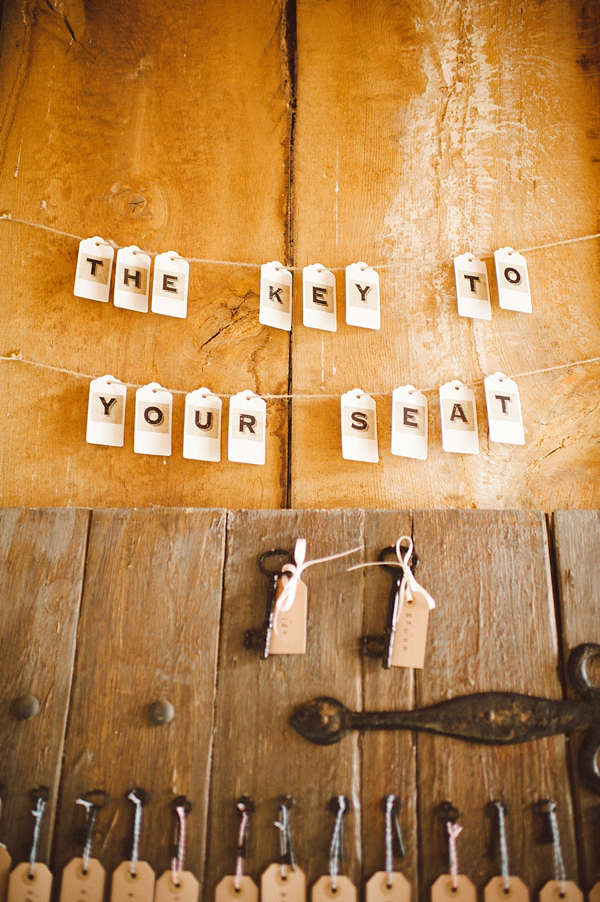 "We wrapped the cutlery in a paper doily, tied it with string and the luggage label place name, and then poked a piece of lavender and wheat through the top."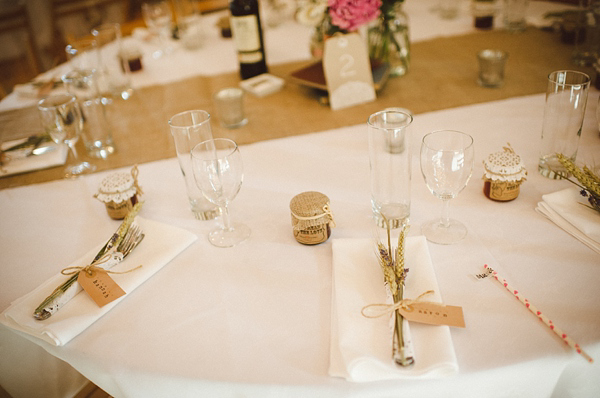 "Jordan's mum made our cake. She's done wedding cakes for other people before (including her own) and whenever she bakes at home it's always amazing so we knew it would be good. We spent some time going through different ideas together and I said I wanted something that represented the style of the wedding and incorporated the pastel colours. I showed her some photos of the flowers I was having in my bouquet and Gina set to work practicing each cake (we had carrot, madeira and fruit), the sugar flowers and the polka-dot icing.
She spent hours perfecting each colour and once finished, it was kept a surprise for Jordan and I on the day. We were blown away by how it fitted in so perfectly with everything around it in the barn, and it tasted even better!"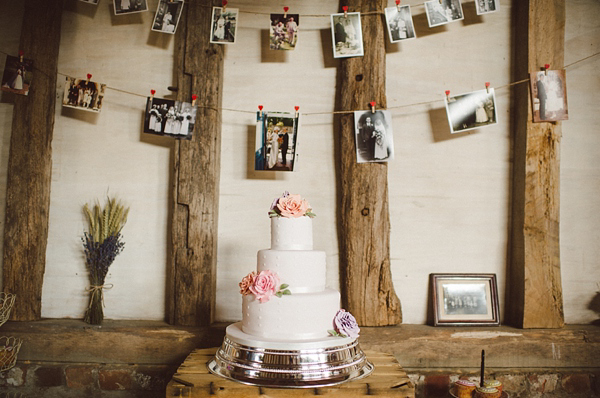 "It was lovely to see our guests at the end of the night taking so many pieces of the Wedding day home with them – jam, chutney, hearts, pompoms, tea cups and flowers. It is really rewarding knowing that you have put so much time and effort into planning and making those things and it has finally all paid off. People are so much more grateful receiving something that you have made yourselves."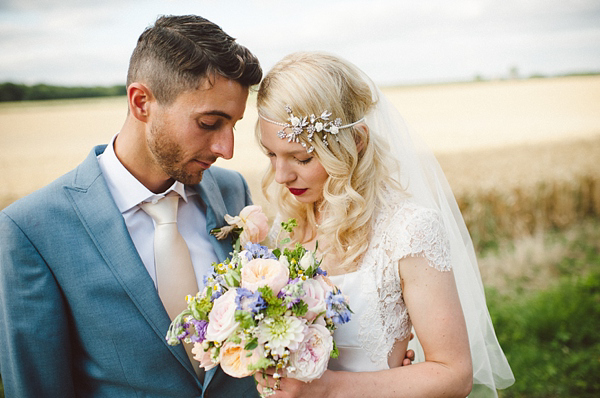 "Music was a very important part of our day. Jordan is a musician and has lots of musical friends, so we were spoilt for choice. One of his Ushers played guitar during the wedding ceremony, and he and his sister are also part of the band we had in the evening, Got It Covered. They had everyone up on the dance floor the whole night!
Before the band a couple of Jordan's friends played a folk/acoustic set, which sounded amazing in the barn. We also had local DJ Dave Browne at the end of the night.
When we first moved into our house, I bought Jordan a record player for Christmas and he bought me an Ella Fitzgerald record to play on it. We played it on repeat and danced around the living room to Paper Moon. I love the lyrics and the song brings us happy memories so we thought it would be the perfect first dance. 
Words of Wedded Wisdom…
"Find time during the day to take your husband to one side, stand back and take everything in. There won't be many opportunities to be alone on the day and these moments will be just as important as the group ones. One of my most special memories was the journey we spent in the Morris Minor from the church to the reception, it was such a happy moment and one I will remember forever. Cherish every minute because the day goes so fast and as soon as it's over you will want to live it all again.
I spent a lot of my time on Pinterest and browsing various wedding blogs, Love My Dress was one of my favourites.  I am still a regular visitor now, even after my wedding – is that weird?? But I love looking through Love My Dress  and find it really interesting to see what other bride's have chosen for their own weddings.
When I was planning my wedding, what I found most useful was reading about real bride's experiences, looking at their photos for inspiration and clicking on the links to the many different stockists and designers. Love My Dress  focuses on the details, which really helped, and I like how this blog features different photographers, dress designers and stationery ideas etc. I found that Annabel and Franky brought it all together in a very clear way that was easy to read and understand. I will definitely recommend to all of my friends!"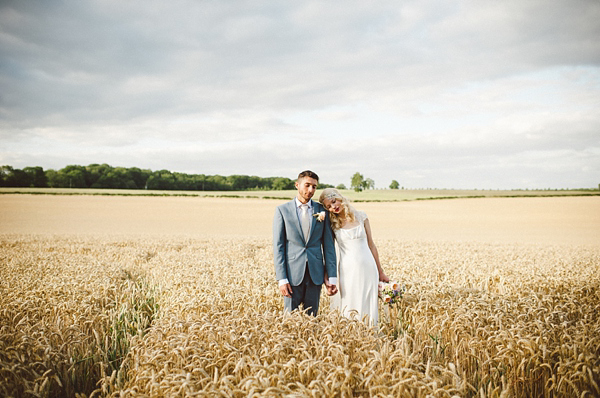 Goodness me, I adore this WHOLE day so much, it's absolutely beautiful, and I'm thrilled to bits that Emma was able to source so much inspiration, and find her photographer Danielle Benbow through these pages.
I'd love to know what you adore most about this day. I'm still making my mind up!
Have a lovely afternoon and Friday evening everyone. Thanks so much for dropping by today.
With much love,
Annabel

Photographer - Danielle Benbow
Venue - Templars Barn in Shefford Woodlands
Brides Dress - David Fielden 
Brides Veil - Nieve Couture
Brides Shoes - 'Mimi' by Rachel Simpson 
Brides Accessories – Headpiece Flo & Percy  
Grooms Suit - Suits Newbury  
Bridesmaids - Warehouse
Florist - The Wessex Flower Company
Cake – The grooms Mum
Cars/Transport - Morris Minor Wedding Cars
Entertainment - Got It Covered
Rings - Alex Monroe
Catering Company – Gig Lees
Wedding Stationery - Wedding in a Teacup 
Festoon lights – CineMATTaG
Giant light up letters – Vowed and Amazed