Afternoon lovely ones, have you had a chance to see the urban meets vintage elegant parade of this morning? I do so love that dress.  This afternoon's feature see's Jess, a Trainee Psychologist and Chris a Chartered Engineer, tie the knot on their 29th June 2013 wedding day.  The couple had a ceremony at Our Lady of Mercy and St. Philip Neri Church in
Melbourne, Derbyshire, followed by a reception at The Priest House Hotel in Castle Donington.
Our main inspirations for the way
we styled the day was the colour palette of my favourite shades, fresh
flowers and my love of pretty vintage and rustic styling. We'd decided
to have a traditional canvas marquee to create a pretty, country style
and I love fresh flowers so I knew I wanted them to be a big part of the
styling and decoration..."

Film produced by Simon Clarke
"I wanted to incorporate my favourite colour,
sage green, with antique pink and ivory colours to create a vintage
feel. When I was browsing wedding dresses on the internet I realised I
was really drawn to the shape and romance of twenties style gowns.
I
think then the styling of our wedding revolved around the vintage style
colour palette, the rustic romance of the marquee and flowers and the
pretty elegance of the twenties and art deco era."
Photography Copyright (c) 2013, Theresa Furey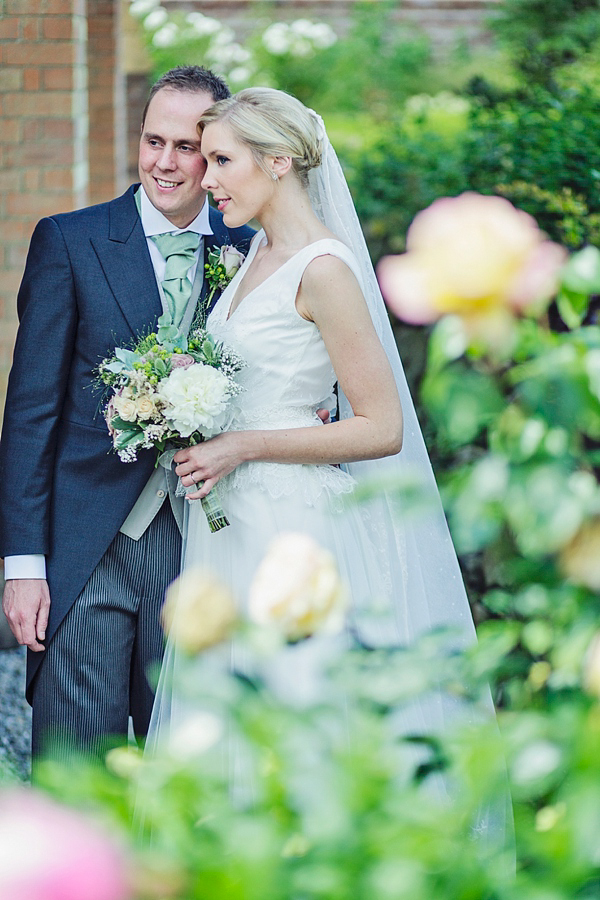 "Chris and I met at a pub where I was working
at the time with one of his friends. He came in a couple of times and I
told his friend James that I thought he was nice (cringe!). James then
decided to play match-maker and a few weeks later, we went out for a
drink and that was that!
The engagement for me was such a huge
surprise. I didn't see it coming at all! My dad is a director for a
hotel company called Hand Picked Hotels (they also own The Priest House Hotel where we had our reception). He called me one day to ask if I'd
received an email from the company informing me that I'd won a
competition for their ten year anniversary."
"I said that no I hadn't and
he said that perhaps they'd got my email address wrong.  He then told me
that they'd drawn names from their database of people who'd previously
stayed at one of their hotels and that my name had been picked out. I'd
won a trip for two nights at their gorgeous hotel in Jersey over the
bank holiday weekend for the Royal wedding. I was really chuffed and
couldn't wait.
I left Chris to sort out the details with the company and
thought no more of it. The weekend arrived and the whole way there I
banged on about being a competition winner and whether we might get any
more free stuff."
"When we arrived, our room wasn't ready so we went for a
little walk on the beach.
We were walking along together and all of a
sudden Chris took my hand and said, 'Jess, I've got something to tell
you about this weekend…' I suddenly knew what he was going to say and
was so shocked that I really don't remember much else!
The next thing I
remember is sitting down on the rocks and Chris asking me if I was going
to say yes! Which, of course, I did."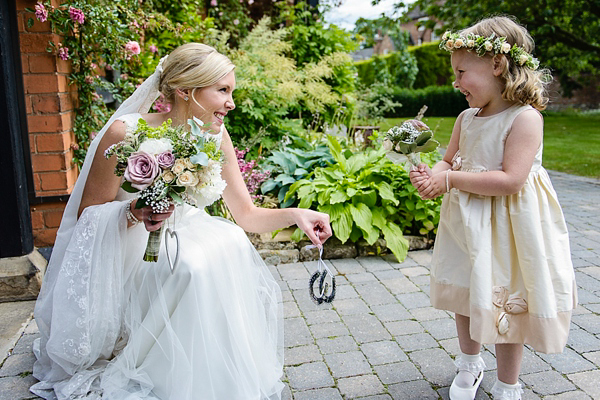 "But my next question was, 'so, have
I won a competition or not?' It turns out I hadn't. It was all an
elaborate plan cooked up by Chris! A week after we returned from Jersey,
we got the keys to the house we'd just bought and things got mega
hectic. In the end, we decided it might be a bit of a rush to get
married the following summer so we decided to pick a date in 2013 and
take the pressure of ourselves a bit.
We were engaged for just over two
years before our wedding day."
"I
decided to go to the Lace Market
Bridal Boutique as my dress designer, Kula Tsurdiu uses beautiful
fabrics and incorporates Nottingham lace into her dsigns. She also
works with you to design and create a bespoke dress just for you and as
my ideas were quite specific I thought this was a great way to go. She
totally understood me and what I was looking for and so I just relaxed
and trusted her to make an amazing dress – which she did.
The making of
the dress was a bit of an iterative process which evolved each time I
went along for a fitting and I was so pleased with the end result. I
loved the vintage, twenties style and the beautiful lace she'd used. I
particularly loved the back of the dress. As an added point, Kula,
Laura; the shop manager and all the girls who worked there were just
lovely and it was so much fun going there to see them. I feel really
lucky that I had such a positive experience and it's totally down to
their friendly, wonderfully creative and professional attitude."
"We
hired Isobel the Florist – we wanted to have rustic, country style flowers in antique pinks, beigey
pinks and sage green foliage. I knew I wanted a hand tied bouquet and
something quite relaxed. Isobel was amazing and I told her the kind of
look we were going for (Chris got quite into the flowers!) and she came
up with some great suggestions. She was fantastic and really experienced
so we were just happy to let her do her thing and the flowers looked
beautiful."
"We got married in the church I went to when I was growing
up. It's also in a village both Chris and I spent a lot of time in when
we were children (although we didn't know each other then) and we now
live 5 minutes down the road."
"My twenties style feather hair piece was bought from the Lace Market
Bridal Boutique and was made by Kylie Pentelow, a newsreader on East
Midlands news who I think makes vintage accessories in her spare
time – random I know! It was one of my favourite things I wore on the day.  It complimented the style of my dress perfectly.
My earrings were from the Lace Market Bridal Boutique and
were pretty crystal studs.  My bracelet was also from the Lace Market
Bridal Boutique and was a combination of pearls and crystal to continue
the art deco theme."
"The bridesmaid dresses were from Zara. I loved the vintage
style lace and the colour was perfect. To top it all off, they were all
in the sale and had all the right sizes. I must also mention my clever
Mum here who worked hard on the dresses to not only straighten some
wonky hems, but also customised them by adding a ribbon round the
waistline which was tied in a bow.
My
four grown-up (Alex, Beck, Michaela and Jo) bridesmaids had sparkly
gold shoes from next. They added a lovely sparkle to the outfit and
really set it off."

"Kula
made the most gorgeous little bridesmaid dress for my niece Imogen. She
looked so adorable especially with the addition of the delicate flower
garland on her head. She was the cutest little bridesmaid!"
"The table
plan was made by Chris and the graphics and printing were done by our
very clever good friend and talented graphic designer Philippa Lurcock of Phire Fly.
The table name displays were also done by Philippa. We used years from our lives as our table names (e.g. 1986,
when I was born or 2005, when we met.) We then got two photos for that
year either of us together, including some friends/family sitting on
that table or of us separately as children. Philippa made these photos
look like old polaroids and arranged them, with the year title, ready
for us to put into frames."
"My
veil was my Great Grandmother's from the 1930's. It was a cathedral
veil, made of tambour lace work.  The lace was handmade over cotton net
and has wax pearls. It was restored by the Royal School of Needlework in
May 2013 prior to the wedding as it hadn't been used for roughly thirty
years and needed a little 'TLC'.
My mum wore it for her wedding and the
fact it had such history made it so special. I wrote a little blurb
about it to put into the order of service and included photos of my
Great Grandmother and my mum wearing it at their weddings."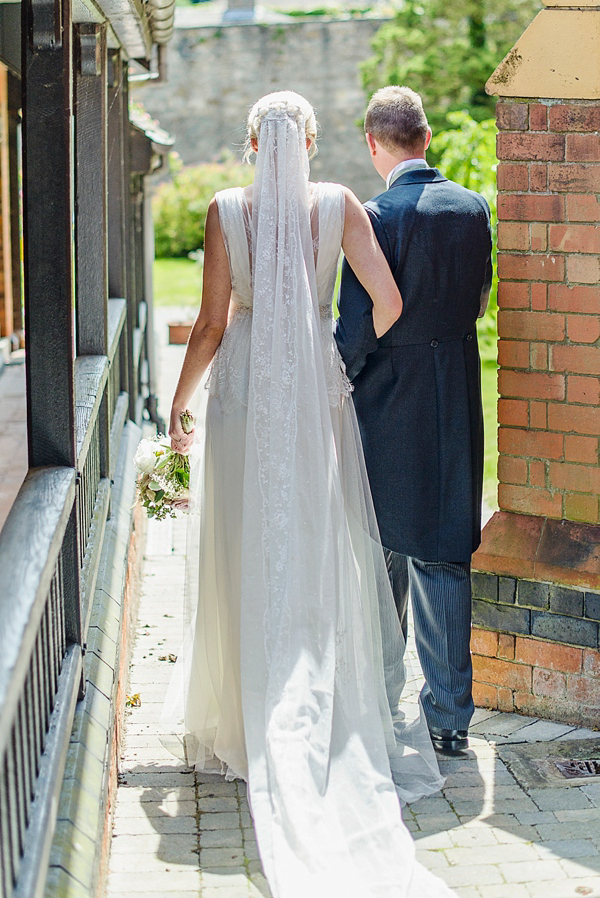 "After
some googling, I came across Theresa Furey. I had a very long chat with
her on the phone and I came away knowing that she was the right person
to photograph our wedding. Theresa was so friendly, organised and
relaxed which suited us perfectly as we tend to be quite laid back
people and that was definitely reflected in the way we wanted our day to
be. Theresa and her second shooter were fantastic on the day of the
wedding; they were great with the guests and just fitted in with
everything so well. Theresa even helped us out at the last minute when
we were short of a car seat for our niece Imogen in the bridesmaid's
car!
The photos she took were absolutely beautiful and we are so, so
pleased with them. She captured the day perfectly and her attention to
detail was great. Even to the point that when we received our impeccably
presented USB stick with all our photos on, it came with a lovely card
from Theresa and some chocolates to eat while we viewed the photos!  I
would highly recommend Theresa for any couples planning their wedding
day. She was so professional, took fantastic photos and to top it all
off, was such a lovely person too."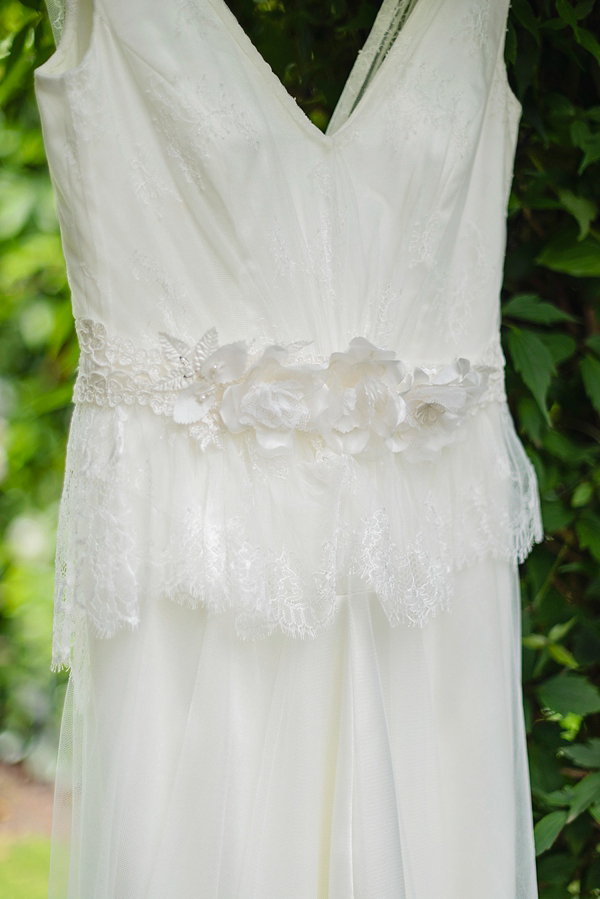 "I did my make-up myself. I spent a lot of time on the
Lisa Aldridge website for tips  for
tips – she's amazing!"
"My shoes
were ballroom dancing shoes with an art deco feel bought very cheaply
from an ebay shop. They were exactly what I was looking for and the most
comfortable shoes ever!"
"My
dad walked me down the aisle and gave me away. It was a really special
moment.  Because we were having a catholic ceremony, and were keeping it
quite traditional, we chose to have readings from the bible. We wanted
to choose readings that meant something to us. The first reading was an
Old Testament reading and was more like an old romantic poem than a
bible reading. The second reading and gospel reading were chosen because
they were about love and what you do for the people you love. The
bidding prayers were written by me (from a template from the Priest) and
were read by my Grandpa."
"Chris
decided he wanted to go for something really traditional and therefore
picked a morning suit with tails and a hat that he hired from Moss Bros. He had a dove grey waistcoat
and a sage green cravat. He looked really great! Very handsome and
sophisticated."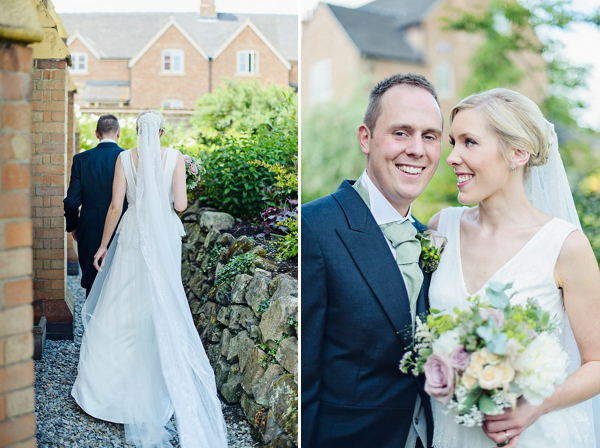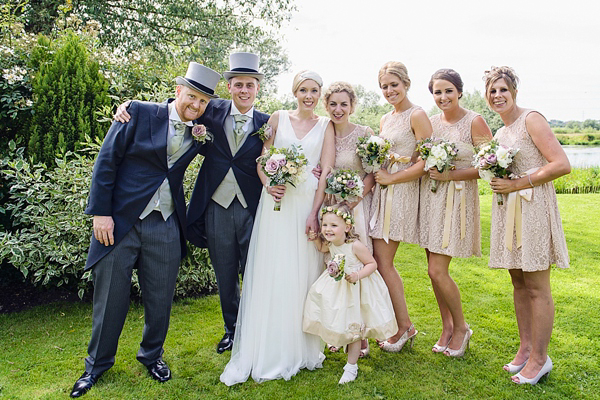 "I think my favourite part
of the day was walking into the marquee for the wedding breakfast. It
was so amazing having all our friends and family there to congratulate
us. Everyone was smiling and cheering and it was just a really special
moment. When I look at the film and the photos I can tell that I appear
much more relaxed at this moment and ready for the celebrations to
commence. I asked Chris what he thought his favourite moment was, he
agreed that the marquee moment was up there but he also said the
ceremony itself was one of his favourites (which you can tell by how
much he's smiling throughout!).
I've thought long and hard
about this and I can honestly say that there's not much I would have
done differently with foresight. Nothing substantial anyway that would
have fundamentally changed the day. There's little things like, I wish
I'd made a few more pompoms or I wish I'd remembered to put my eyeshadow
primer on…(definitely not key stuff!) but, ultimately, everything we
wanted worked out just as we planned. We had an amazing and special day
that we'll remember forever and so did all of our guests which is all we
ever wanted." 

"Our
reception was at the Priest House Hotel in Castle Donington. This
country house hotel is in a beautiful setting on the banks of the River
Trent. We'd decided we wanted to have a traditional style canvas marquee
and the hotel had a meadow making it great for a marquee wedding. It
also had the added bonus of being roughly a mile away from my parent's
house, close to Chris' family and about ten minutes from the Church so
it was a perfect location for us.
All the staff at the hotel were
absolutely fantastic and they worked so hard to make it the wonderful
day it was.
We were so grateful for all their hard work and attention to
detail. Claire, the wedding co-ordinator for the hotel and Michael, the
general manager were such a great support and we felt confident that
with their help, everything would be organised and run like clockwork,
which it did."
"We styled
the venue with lots of ivory and pinky beige pom poms. I made the pom
poms out of tulle. We also used some tissue paper pom poms so there was a
mixture of textures. My mum decorated some hanging glass votives with
lace and artificial flowers in the wedding colours which she'd
beautifully and meticulously arranged with ribbon and raffia. We put tea
lights in them and hung them around the venue. So many of our guests
commented on how lovely they looked. My mum also used hanging crystal
hearts and shabby chic style metal hearts with a little bird in to hang
in the trees around the venue.
I made a story board using photos
of some key moments of mine and Chris' relationship from the moment we
met, getting our much-loved cat Georgie and right up to our engagement. I
put this in a frame and this was part of the décor at the venue. Chris'
dad made some wooden arrow signs for us. I then painted them and wrote
various messages and directions on them e.g. "Chris and Jess' wedding",
"marquee" and "drinks reception.
We hired some vintage
suitcases to put the cards and gifts in. We also hired a vintage wheel
barrow and wooden planters which our florist filled with lots of lovely
plants and flowers. We hired the items from Nerissa Eve Wedding Hire who
had some fantastic items."
"My
mum and I met Lisa Sims of The Melbourne Cake Company at a wedding fair and we were really
impressed by her beautifully decorated cakes and intricate sugar work.
After meeting her, I found out she was also friends with one of our
close friends and she came highly recommended. Lisa was one of the most
professional and helpful people we dealt with and the cake looked and
tasted incredible."
We wanted something pretty and fitting in
with the wedding but not necessarily a traditional sugar paste decorated
wedding cake. I love sponge cake with buttercream icing and I found an
amazing picture on pinterest of a 3-tiered wedding cake covered in ivory
buttercream which had horizontal grooves in it (kind of like the
pattern the edge of a plastering trowel makes…probably not the best
comparison but it's the only way I can think of to describe it). We
opted for this design and Lisa made some sugar flowers after liaising
with the florist to decorate the cake. The cake was three flavours; a
rich chocolate with a chocolate ganache filling, tradition Victoria
sponge and lemon with a lemon curd centre."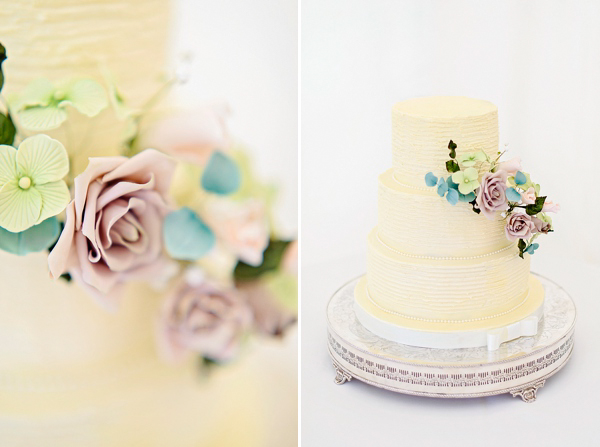 Words of Wedded Wisdom…
"If I
could give brides to be any advice it would be pick out the things that
are really important for you to achieve or get right and focus on those
things. For us, we wanted as many of our family and friends as possible
to be there, great food, great music and flowing drinks. So we
concentrated on making that happen. I think also focusing on things that
are realistic to achieve according to your timeframes and capabilities
is really important.
 
With fantastic blogs like Love My Dress and other inspirational tools like Pinterest, it's easy to think 'ooh that's a great idea, I want to
do that!',  and I am definitely guilty of starting lots of wedding
projects that never came to fruition. It's easy to get swept away with
the whole thing so I think the important thing to do is focus on the
bigger picture – why you're doing it in the first place and that really
helps to keep you sane and not sweat the small stuff! Ultimately be true
to yourself and who you are as a couple, it's the little personal
touches that make it your own that people love and appreciate.
Also,
just remember, the whole reason why everyone's there is to celebrate
your marriage and be happy for you so just enjoy it!"
"I loved
visiting Love My Dress – I looked to this blog a lot for inspiration and
ideas as it covered a wide range of topics. I really like it because it
encompasses my love of vintage and elegant styling.   In terms of my
own personal style and how I wanted the wedding to look and feel, I
think this Love My Dress reflected that best. Everything that's featured
is so beautiful and the topics covered are wide and varied. It's also
really well written and presented. I personally didn't feel that there
was anything missing that I would have liked to gain from the blog."
Congratulations Jess and Chris, thank you for sharing your elegant wedding day, and thank you so much Jess for your kind words about Love My Dress.
Big thanks to photographer Theresa Furey for sharing these beautiful photographs.
You can see more from dress designer Kula Tsurdiu on Love My Dress here. 
With much love,
Annabel
Photographer – Theresa Furey
Film – Simon Clarke
Venue – The Priest House Hotel in Castle Donington
Brides Dress – Kula Tsurdiu, The Lace Market Bridal Boutique in Nottingham 
Veil/Headpiece – The bride's grandmother's
Brides' shoes – Ballroom dancing shoes via EBay
Bride's headpiece – Lace Market
Bridal Boutique, designed by Kylie Pentelow
Grooms Suit – Moss bros suit hire + Shoes via Next
Bridesmaids
Dresses – Zara + shoes via Next
Flowergirl Dresses – Kula Tsurdiu
Florist – Isobel the Florist
Cake – The Melbourne Cake Company
Transport – Cupid Cars
Entertainment – Pesky Alligators + Jackstar Mobile Disco
Favours – homemade fudge made by the bride's mum
Rings – Cresta Gems
Invitations – Samantha Geen
Menus
and order of service – Admiral Design & Print
Table Plan – Phire Fly