Afternoon my loves, it's time once again to share a simply beautiful wedding with you – Pinterest at the ready ladies and gents!   Katherine, a Freelance Art Director for Film and TV and Alex, Head of Policy, at the Forum of Private Business, tied the knot on 27th April 2013 at St Stephens in Hampstead, London, and these lovely photographs were sent in by photographer Cassandra Lane.
"I've always loved old over new, anything antique or vintage – with a particularly soft spot for Art Nouveau and Art Deco. The style of our wedding evolved over time as I brought together more research. We didn't really want a colour theme as such or be lead by that, rather to have a 'feel' of a vintage affair!
We wanted it to be fun for all our guests too, so once we'd set on having afternoon tea, we brought in elements from the Mad Hatters Tea Party!"
Photography Copyright © 2013, Cassandra Lane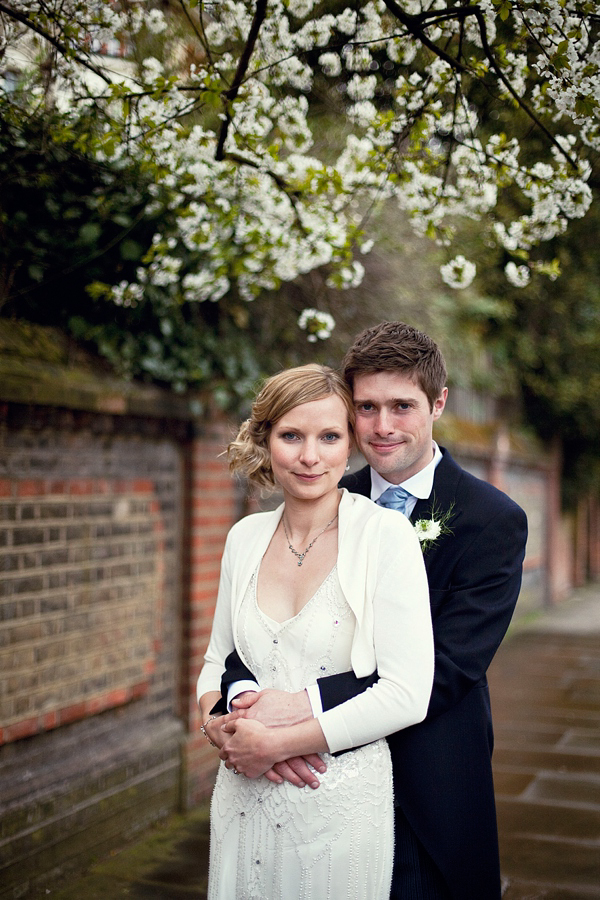 "Alex and I met through our mutual friends Hannah & Ed, but we
can't actually remember the first time we met (probably both slightly
tipsy at a University party somewhere!). In 2009 Alex was Best Man and I
was Maid of Honour at Hannah and Ed's wedding which brought us closer
together – finally getting together (with a bit of dutch courage and
much to the delight of our friends) at a Coldplay gig in September
2009.
Alex proposed in May 2012, I was working away in
Durham for seven months returning only at weekends so our time together
was precious. We'd just been to the Damien Hurst exhibition at the Tate
and were having lunch at the market stalls behind the Hayward Gallery.
Somehow amidst the bedlam of the market we slipped into our own private
bubble as Alex asked me to marry him.
It was completely out of the blue –
I was left speechless as he handed me an antique box with his
Grandmother's engagement ring in. It was even more beautiful than
anything I could have wished for! It was just perfect, and yes, of
course I said yes!"
"Our wedding ceremony took place at St. Stephens in Hampstead, London. I knew St Stephens
from when I used to live locally – and regularly attended vintage fairs
and markets there. Although no longer a place of worship, as it is
deconsecrated, it is licensed for weddings.
St Stephens ticked all our
boxes (somewhere we could hold the ceremony and the reception, a
building with history, local to us, no corkage charges, wheelchair
access, and not an astronomical fee!) and it was comforting to know that
the venue hire fee was going towards restoring the beautiful building
rather into someone's pocket."
"My absolutely amazing friends, Gordon and Becca, decorated the
venue with a lot of other little helpers too. We were so grateful to all
our friends and family who chipped in leading up to and on the day.
Gordon is a Set Decorator, so he called in some favours to help us
decorate our venue with all the vintage props for the bar, tables and
photo booth.
The tables looked absolutely stunning with the Alice in
Wonderland/Mad Hatters Tea Party elements.
I had made a lot of details leading up to the day; spending my
evenings punching paper hearts out of old book pages, making paper
flowers, winding ribbons and lace around wicker hearts and the little
ring pillow for my nephew, Thomas.
My Mum made us some beautiful bunting
inspired by the gorgeous mosaics around the venue, and a couple of
friends also made some bunting out of lots of vintage fabrics that
meant things to me – fabric from my Mums wedding dress, my bridesmaid
dress and all sorts of meaningful things! Mum also dried a gazzillion
rose petals for us as confetti, much to Dad's annoyance "every time I
get my pants out of the airing cupboard they're covered in rose
petals!"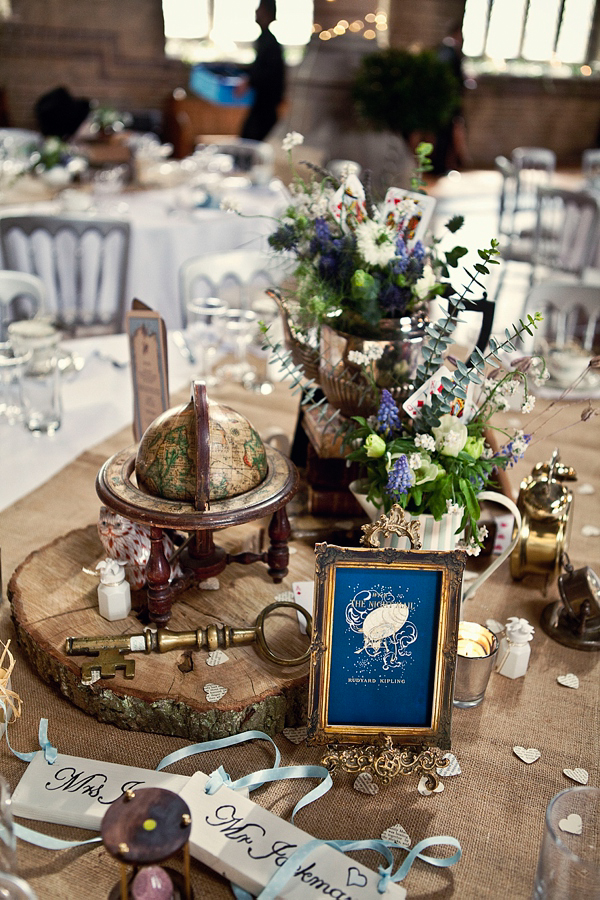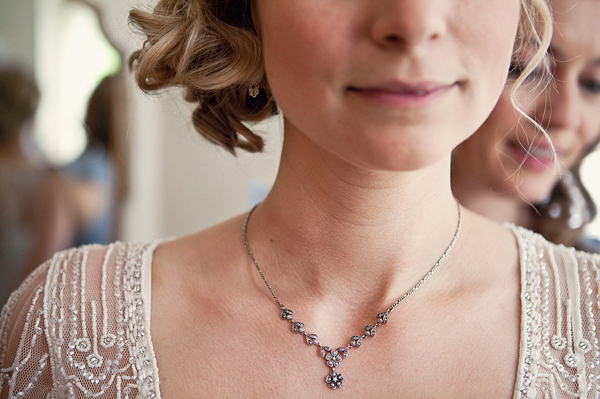 "I saw the Eden dress by Jenny Packham
on a blog and fell in love! It encompassed everything I wanted –
vintage, elegant and a little bit of sparkle! I was so nervous trying it
on, hoping that the dress I'd fallen in love with was going to be 'The
One'. A few tears later with Hannah (now my bridesmaid) we just knew! So
the preloved search began!
I re-styled my Mum's silk wedding veil from their wedding in 1975 for some real vintage feel,"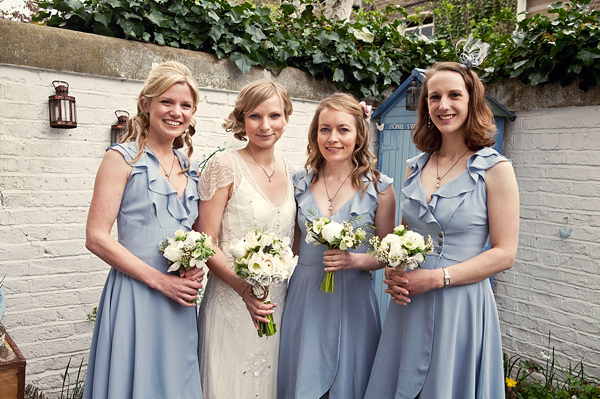 "We called in another favour for our flowers from Jenny Tobin,
who I've worked with on a few period dramas. I just knew she would be
the best choice – I've never known anyone to get so excited about
flowers! I just love peonies so they were a must, with beautiful wax
flower, rununculous, love in the mist, anenomies and some paper flowers
which I made out of old book pages.
We had collected tea pots for the
flowers to go in on the tables, with some vintage lace ribbon for the
bouquets.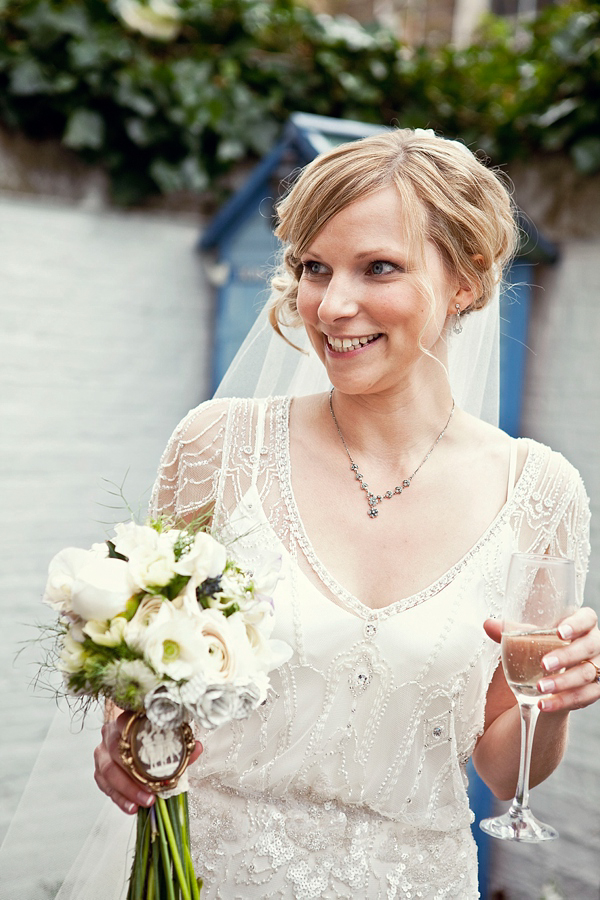 "I spotted these beauties in the sale even before I'd found my dress – luckily they went well! They were from Dune."
"Alex wanted something to keep from the day, so this was it… a stunning bespoke waistcoat from Neal and Palmer, Jermyn Street. (My Fathers fabulous waistcoat was from here too!)"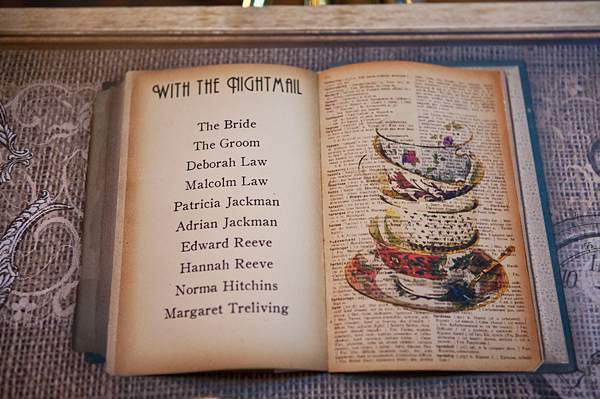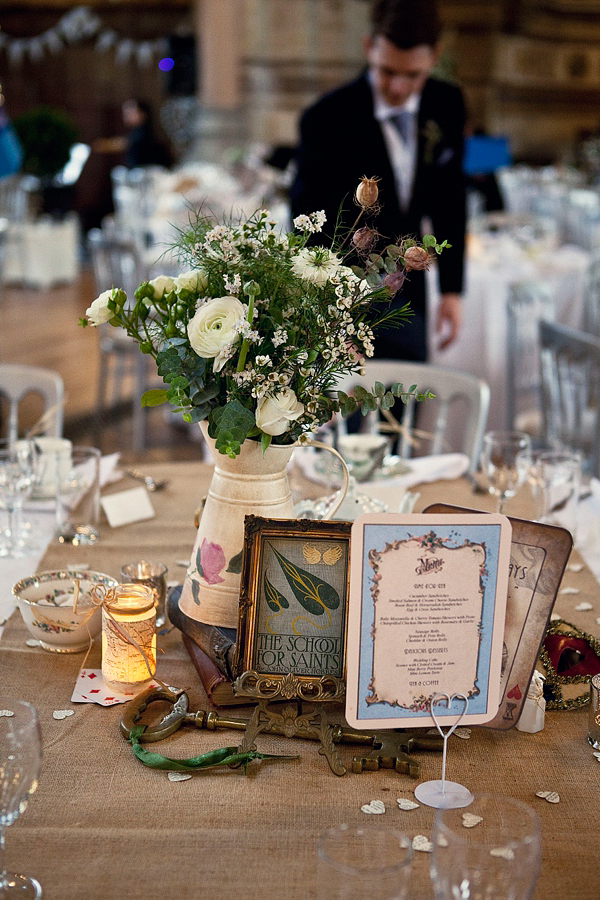 "We met our fabulous photographer, Cassandra Lane, through
our friends Maddy and Simon who won a competition for Cassandra to
photograph their wedding. Cassandra was so relaxed, calming and friendly
– so we just knew when we were looking for a photographer that she was
the one! All our guests complemented her afterwards saying how lovely
she was, it was almost as though she was one of our guests.
I was quite
nervous that I would feel self conscious having a camera on us all day,
but our package included an engagement shoot which put us both at ease,
and on the day I didn't even think twice about it. Cassandra took some
fantastic shots that captured not only us, but the essence of London
around our day which we love. It is especially lovely to look back at
all those details which we'd put such a lot of effort into creating
too!"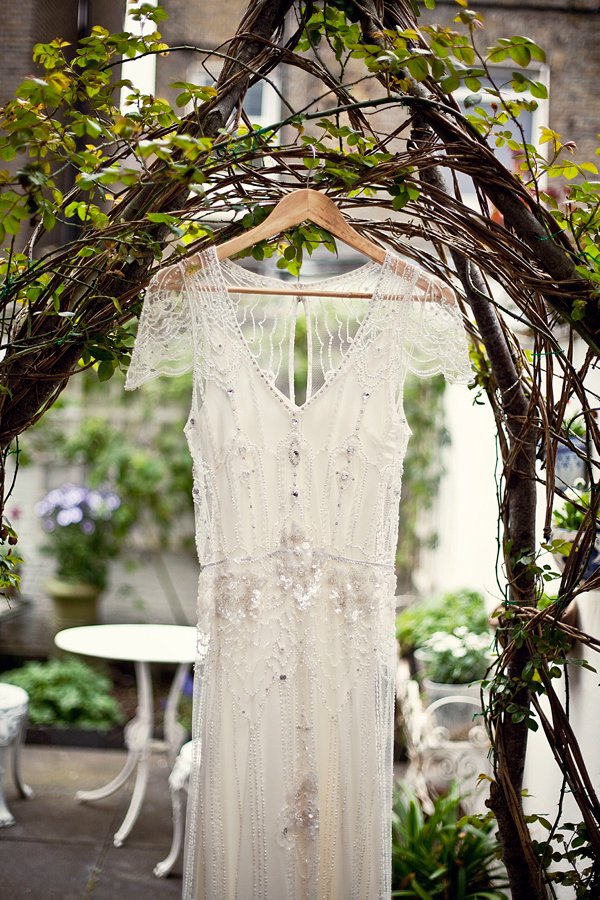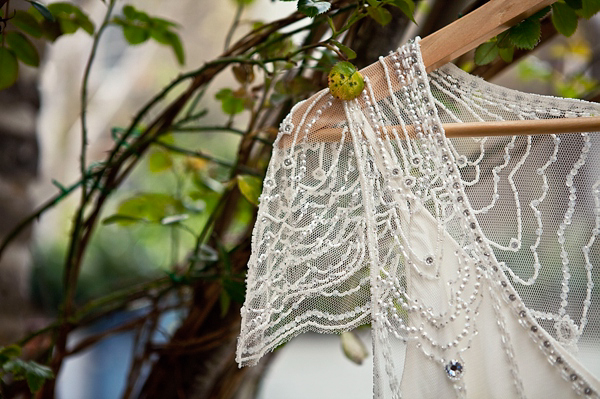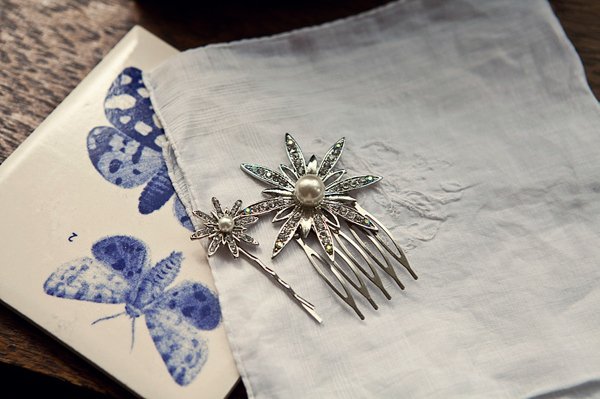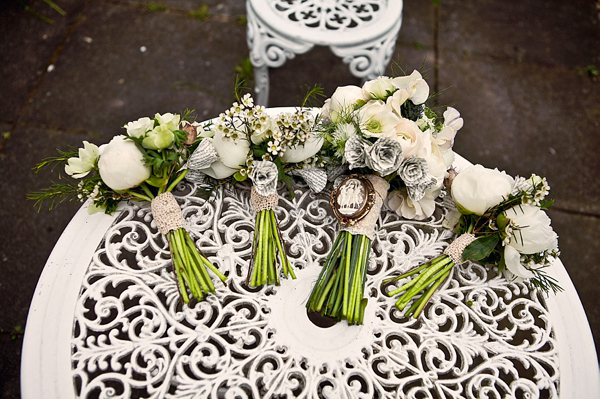 "My bridesmaid, Hannah, did my hair and make up! With thanks to a lot
of rehearsals, YouTube video tutorials and Bare Minerals make up
sessions! She stormed it on the day, what a trooper!"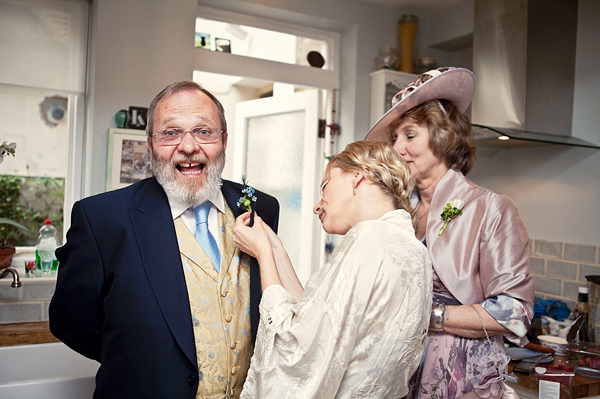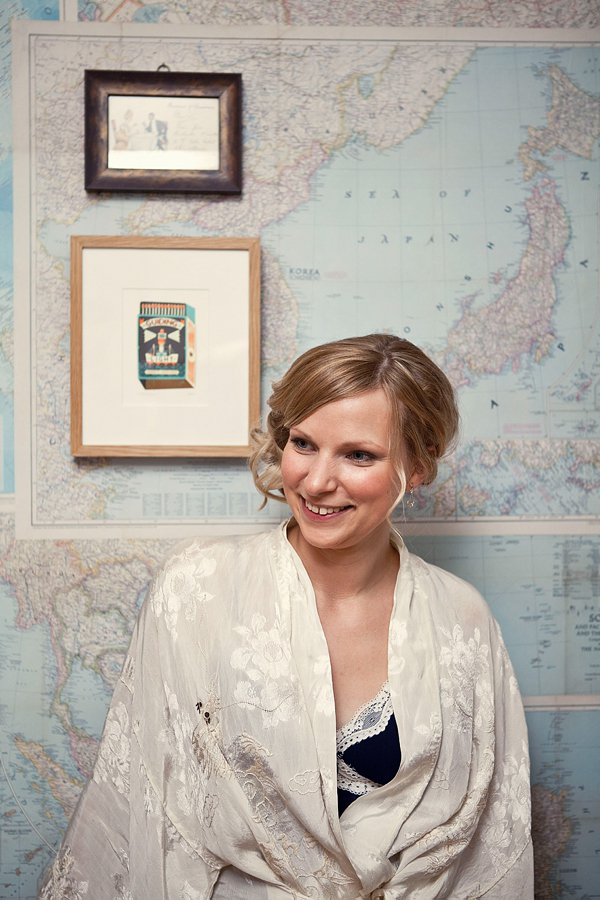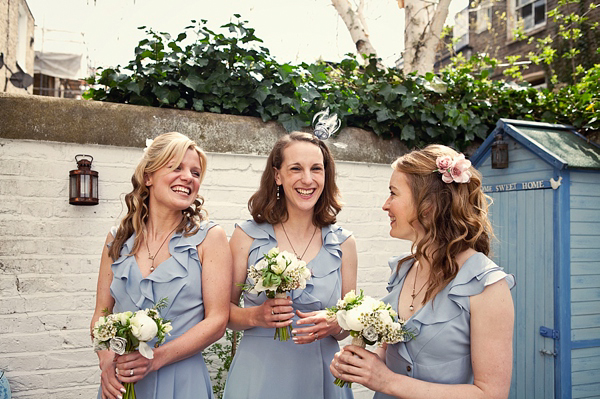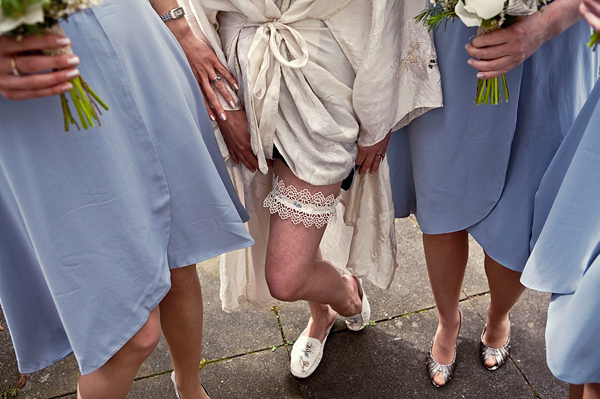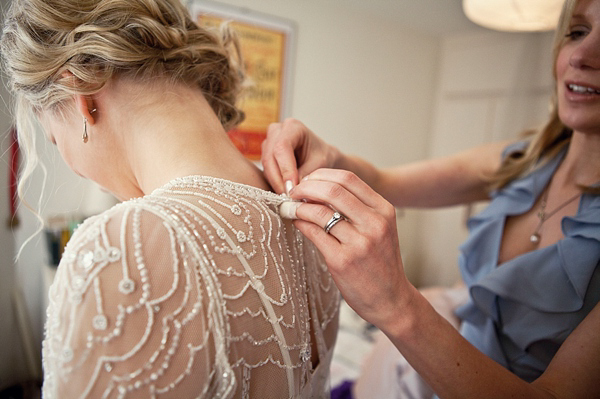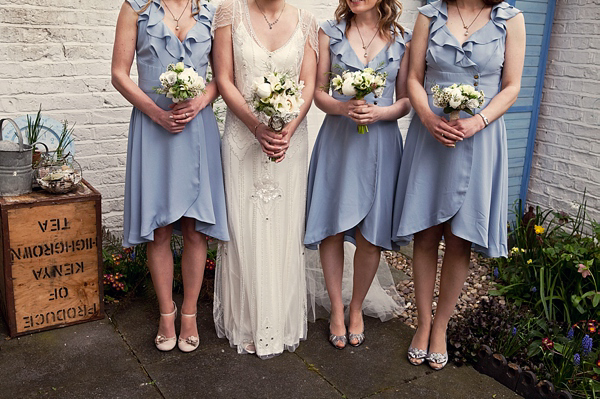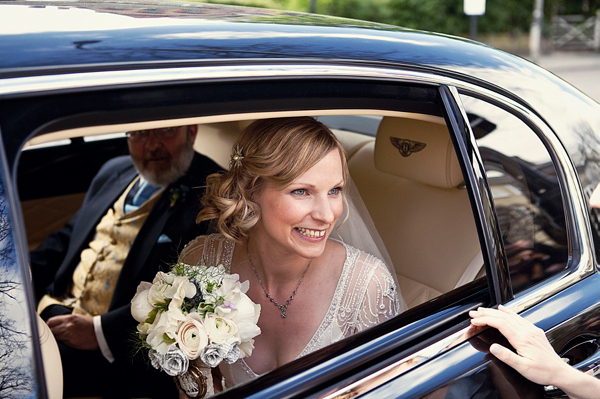 "My favourite moment was walking down the aisle to my groom, and the
ceremony… it was so personal to us, and so special to have  all our
friends and family there to share it with us."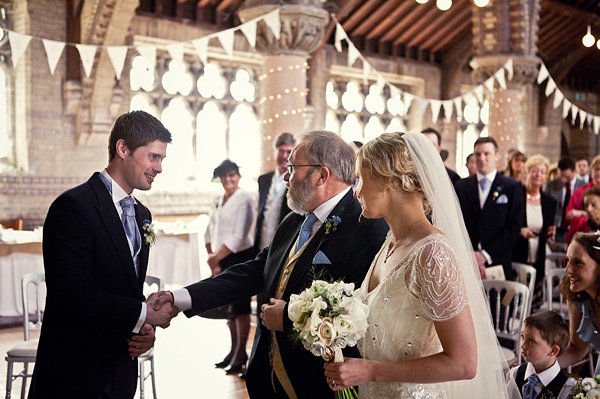 "A good friend of ours played the piano for us before, during and
after the ceremony . He also sang our first dance. A trusty ipod played
our playlist for the rest of the evening.
We
were given four different versions of vows by our registrar, and were
allowed to tweak as we wanted. We added a couple of readings – A letter
from Robert Browning to Elizabeth Barrett on the morning of their
wedding day (1846), and Love's Philosophy by Percy Bysshe Shelley. We
also had a good old sing song  – 'With a Little Help from my Friends' by
The Beatles – we really couldn't have organised our wedding day without
our friends and family who gave us so much of their time leading up to
the day. Everyone loved belting out The Beatles – so much so that at
11pm we had another rendition!"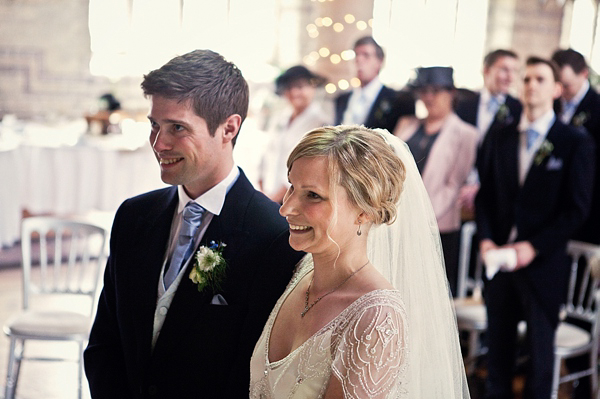 "My engagement ring was Alex's Grandmothers. I feel so lucky to have
such a beautiful family heirloom, and love the fact that it has
history.  And, my, it really is beautiful!
Our wedding
rings were from Hatton Gardens. Alex wanted something sturdy but simple –
not being a jewellery sort of guy, so he went with Palladium. Mine
needed to have a little shape to sit well with the engagement ring, and
of course – a little bit of sparkle!"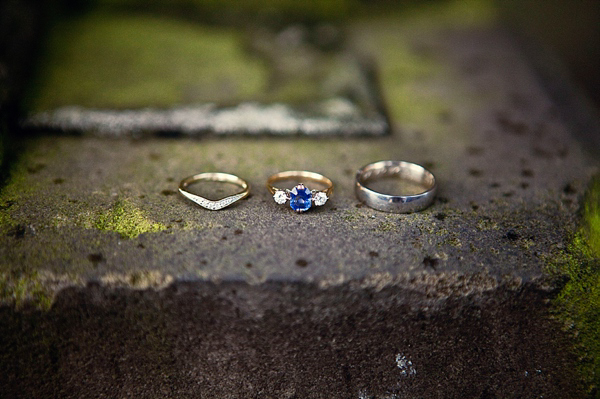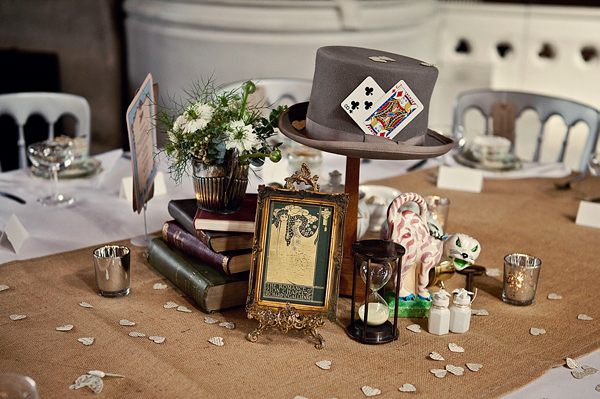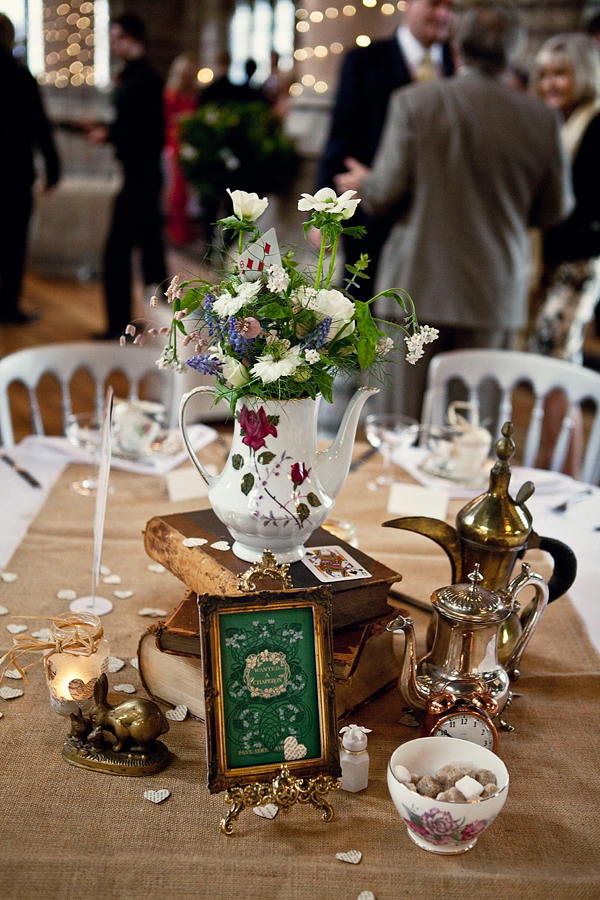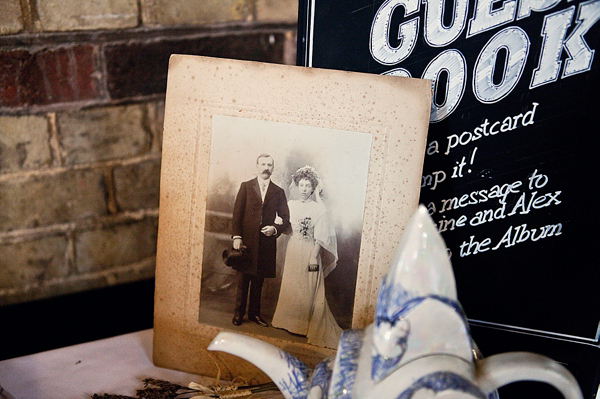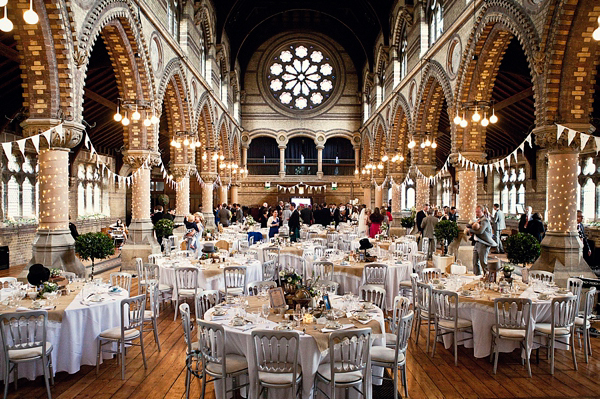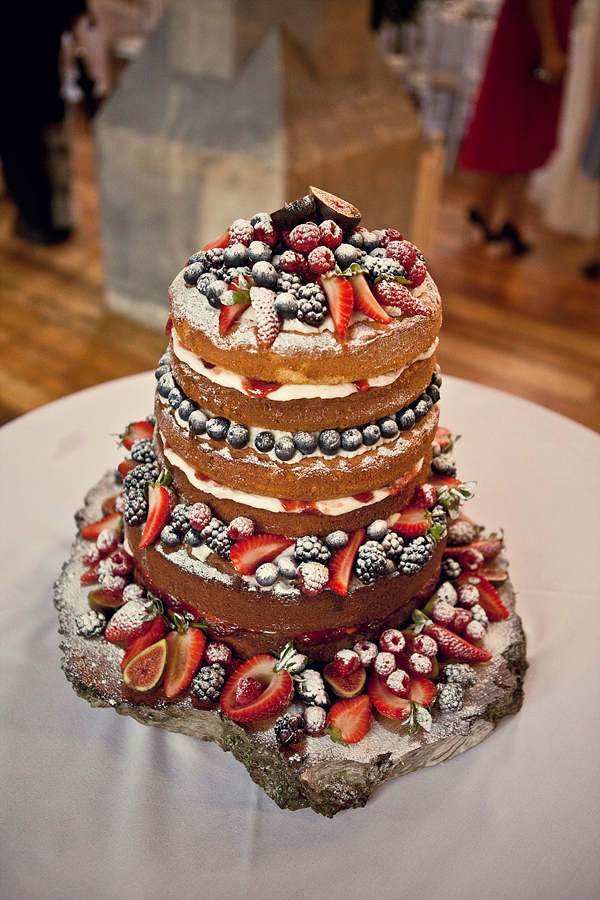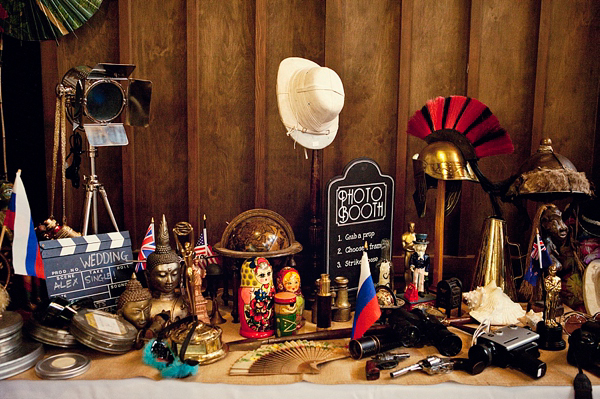 "We really struggled with our
cake! I found a picture of a tiered victoria sponge with fresh cream and
fruit which we both loved, and especially as we were having Afternoon
Tea it fitted so well. However, so many companies quoted extortionate
prices for what essentially was a few victoria sponges.
Eventually we
found Bake A Boo, who are local to us, they
agreed to make the sponges for us which we could then assemble
ourselves. Our fabulous chef from 'Octopus Catering' decorated it with
all the fruits for us, and it t'was delish!"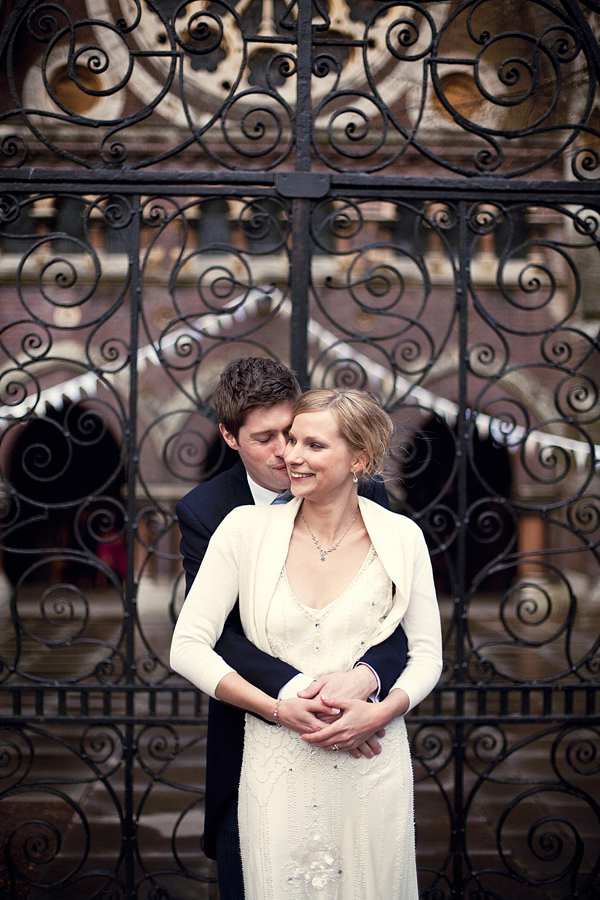 "We didn't really have 'our song' as such, so we spent a long time
finding the perfect one for our first dance.  Although we got together
at a Coldplay gig, we didn't really feel any of the songs were right.
One evening I happened to hear 'Around the World' by Nat King Cole on
the radio  and it was just perfect with our impending travels! Our
friend Matt sang it for us on the night and we had some dance lessons so
we could waltz along  – we even managed a lift (just!)."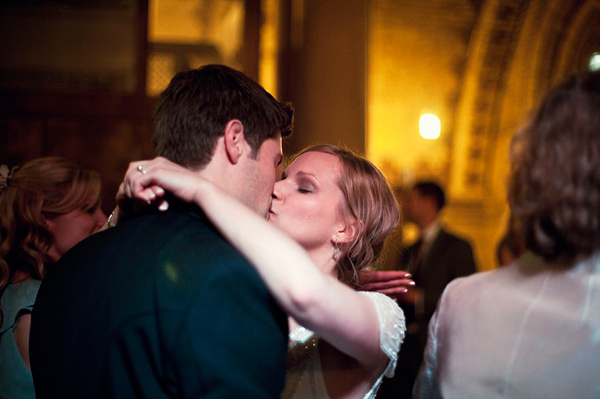 Words of Wedded Wisdom…
"Remember
to take a breather during the day! Once that ball starts rolling it
doesn't stop and the day is over before you know it. Take some time with
your Groom to take stock of everything together, and breathe!
If you're umming and erring about a videographer – do it! We have
just got ours back and it's so SO lovely, such a great keepsake and a
fab present for all the family!
Delegate. All our
friends and family were so eager to help and wanted to be a part of our
day, and we couldn't have done it without them!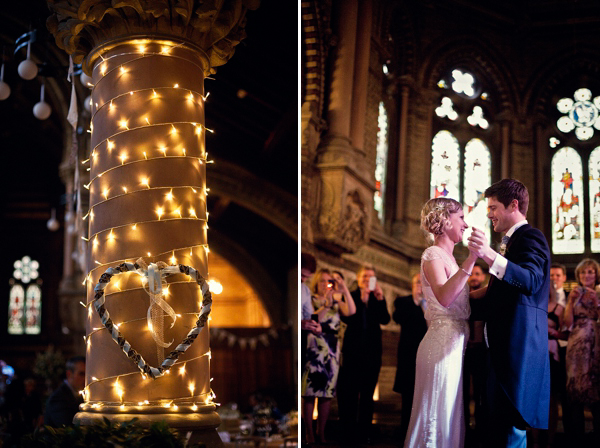 "Our wedding website was set up by my friend MaddyRedPen.
Amongst the many services provided, she creates websites to your
specification. All the information about our wedding day was online for
all our guests to view, from maps of the venue, how to get there,
timings for the day, and our Wedding Gift List. As we were going
travelling for 3 months after the wedding we wanted our guests to be able
to gift us experiences which we could enjoy along the way. From luxury
nights on Fijian islands, to Glacier hiking in New Zealand, and elephant
treking in Thailand! Maddy made such a seemingly tricky task so simple
and easy for our guests to use, linking it with our Paypal account.
Absolutely genius!"
Finally, PInterest is your new best friend! So great for creating mood boards for the day!"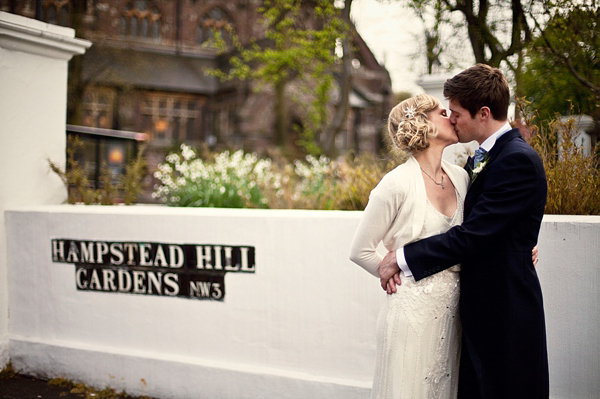 Such an elegant day – thank you so very much Katherine and Alex for sharing your beautiful and incredibly stylish day with our readers, and thank you also Cassandra Lane for sharing your work – we hope you submit another one of your beautiful weddings very soon.
What do you love most about this wedding day? You can see more brides in Jenny Packham on Love My Dress here.
Have a lovely day everyone, we'll be back bright and shiny first thing in the morning with more blog content to inspire you. In the meantime, why not leave a lovely comment for this couple below.
With much love,
Annabel
Photographer – Cassandra Lane
Venue – St Stephens
Brides Dress – Eden by Jenny Packham c/o Preloved
Veil/Headpiece – The bride's Mum's 1975 wedding veil (refashioned)
Brides Shoes – Dune
Brides Hair Accessories – Daydream Bridal on Etsy
Grooms Suit – Austin Reed Hirewear 
Bridesmaids Dresses – BHLDN + Shrugs via New Look + necklaces via Tiny cottage treasures on Etsy
Page boy/young male assistants outfits – Next + Austin Reed
Florist – Jenny Tobin Flower
Cake – Bake A Boo
Rings – atton Gardens
Catering Company – Octopus Catering