Thought I'd start this morning with some hot-off-the-press images from Temperley Bridal, who have just launched their brand new 'Iris Collection' – Alice Temperley's largest bridal collection to date, which introduces new styles and shapes – all in silhouettes that celebrate the female form.
Iris introduces 14 new wedding looks, all characterised by meticulous
craftsmanship, fine hand embroidery, beautiful beadwork and delicate
laces. In addition to a wide range of gowns, Iris also introduces new
categories for Temperley Bridal including a full A-line skirt, bridal
kaftan, a jumpsuit as well as short, voluminous styles.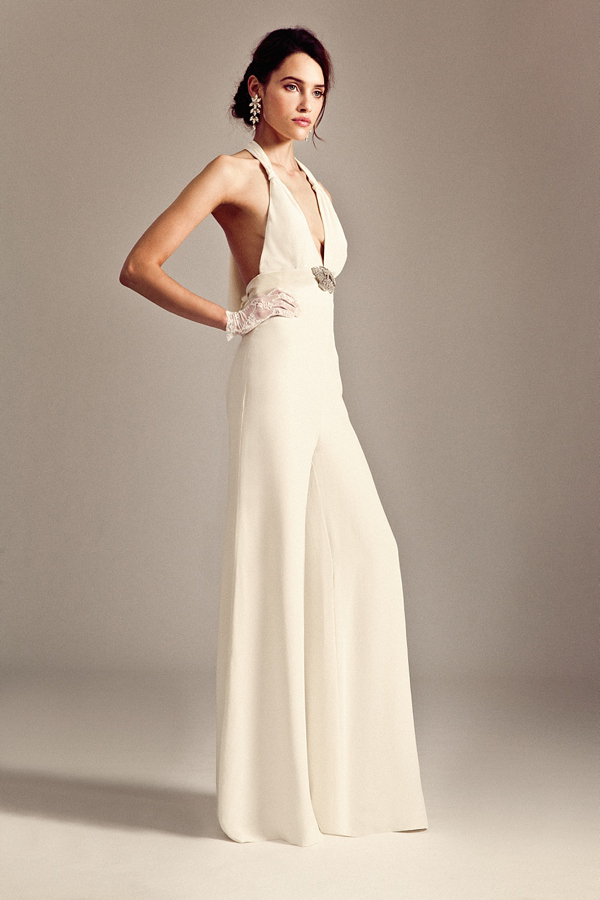 New shapes and categories include the Nepheli jumpsuit  ($1635 / £1200 / €1365), an elegant,
70s inspired, silk crepe halter neck jumpsuit with wide leg, fitted
bodice and low back.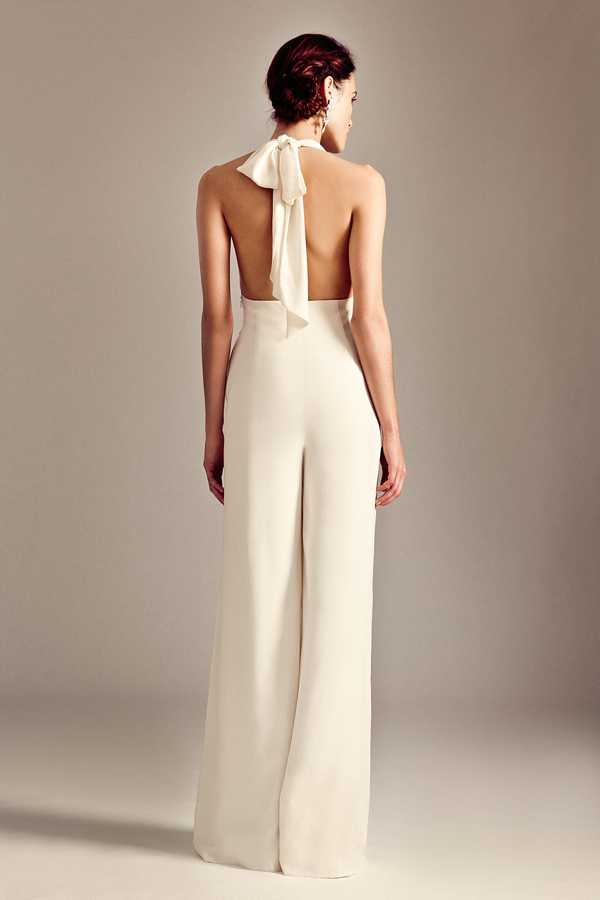 I'm excited to see this collection – to see Alice Temperley stay true
to
her incredibly elegant vintage inspired signature – floor sweeping
gowns in sumptuous silk, but to also see her introducing some new, more
adventurous, shorter, 60's and 70's inspired shapes – evidence if ever
there was any that the key styles of all the various eras of the past
100 years are still driving bridal design today in a very big way.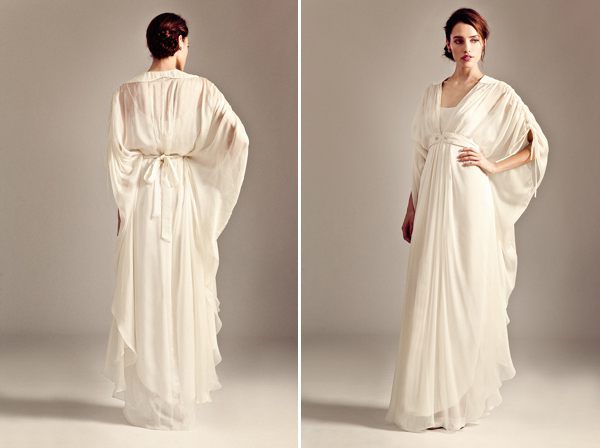 Above, the 'Long Oberon Kaftan' ($1900 / £1400 /€1590) – a classic Temperley
floor-length chiffon kaftan with chiffon belt tie and gathering along
sleeves, shoulders and front waist. The Kaftan includes delicate crystal and glass bead
artwork with folded flower detail at front waist.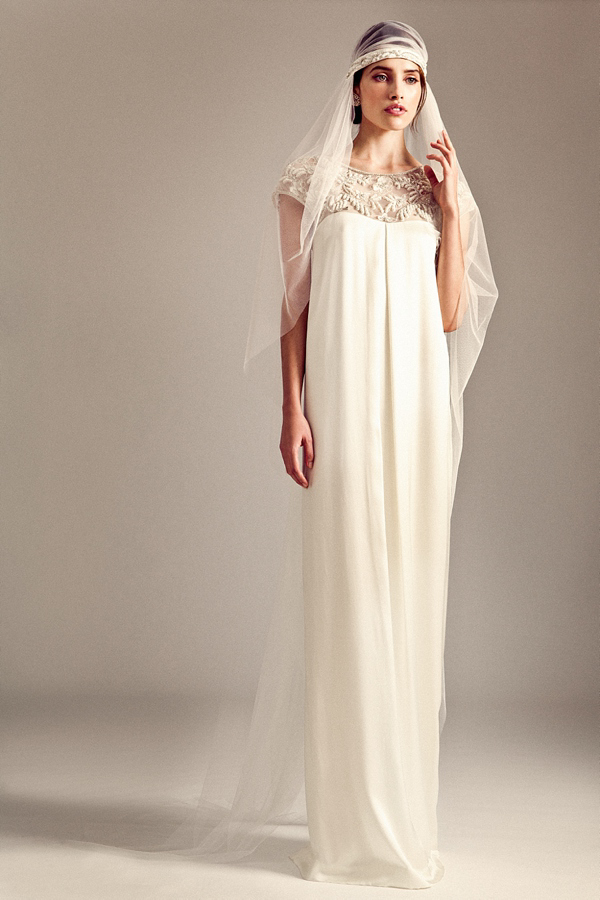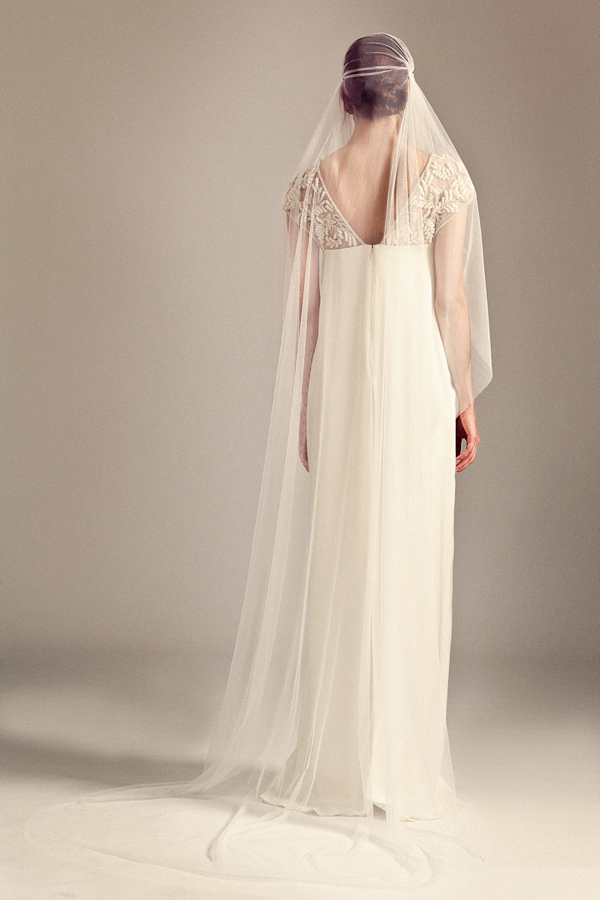 Embellishments throughout the collection are intricate with
hand-applied crystals, stitched embroidery and hand folded flower
detailing.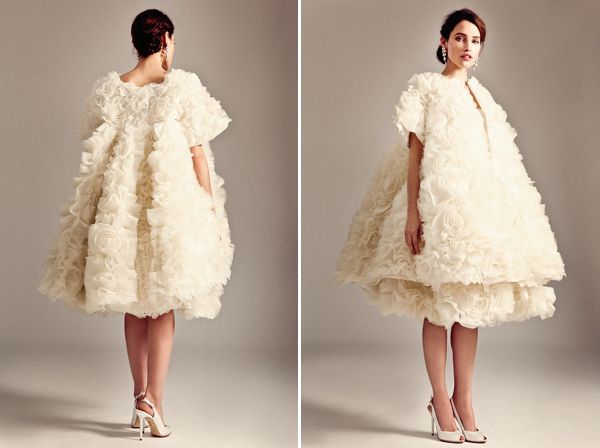 Above, the Rose Skirt and Rose Coat, a voluminous A-line knee length skirt covered in a bed of silk organza roses and petals, paired with matching coat covered with ruffled silk organza roses and petals.
Temperley Bridal also offers a selection of accessorie. Iris
introduces five new veil designs that accompany accessories from the
classic Temperley Bridal collection; delicate lace shrugs and in-house
designed collection of headpieces, combs and embellished sashes.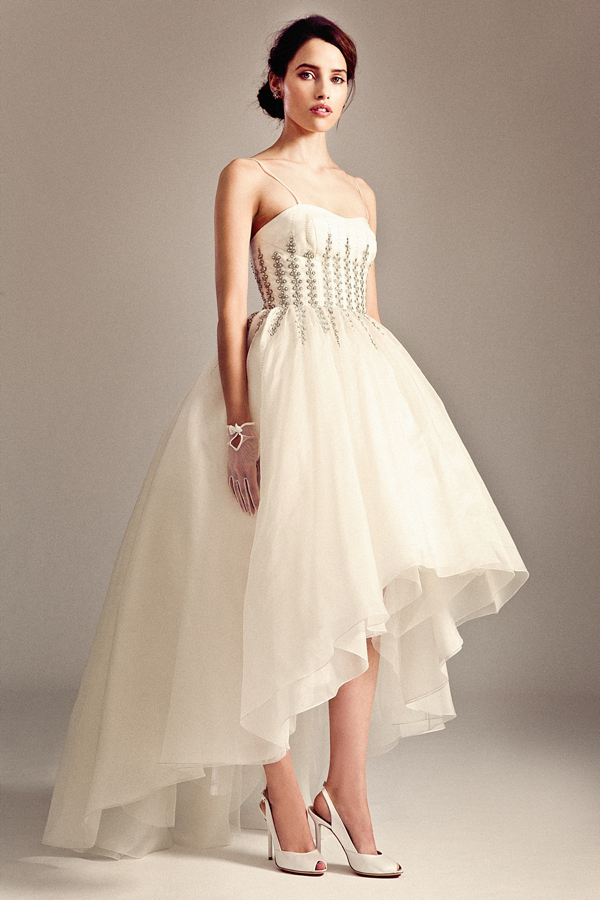 Above, the Aralia Show Dress ( $5170 / £3800 / €4320), a strapless
silk organza dress with fitted corset and full skirt, metallic stitch
work and crystal embroidered columns run down the bodice onto the
voluminous skirt.
And below, the Aralia Evening Coat ($2655 / £1950 / €2220), a short sleeved duchess
satin swing coat with crystal and metallic stitch work embroidered
borders and large crystal buttons for fastenings.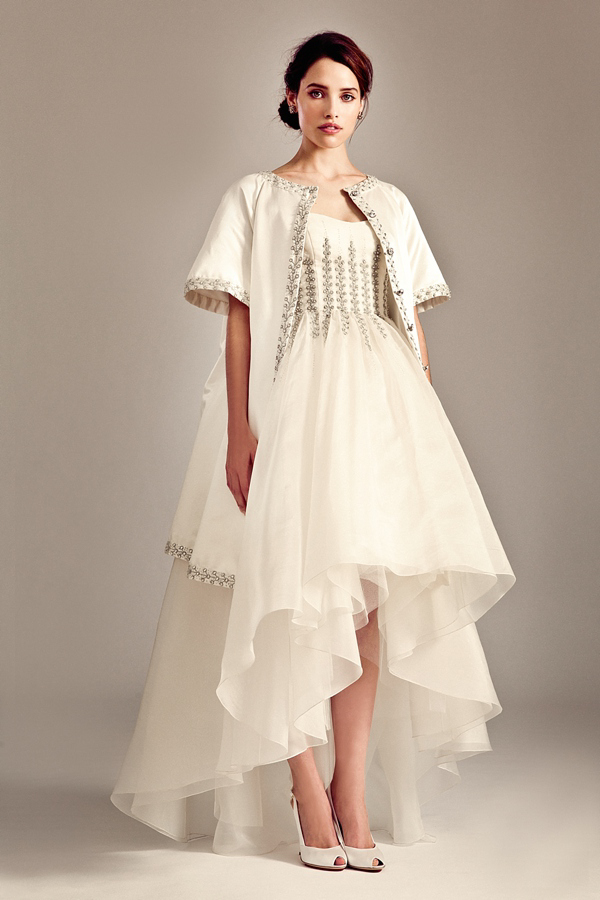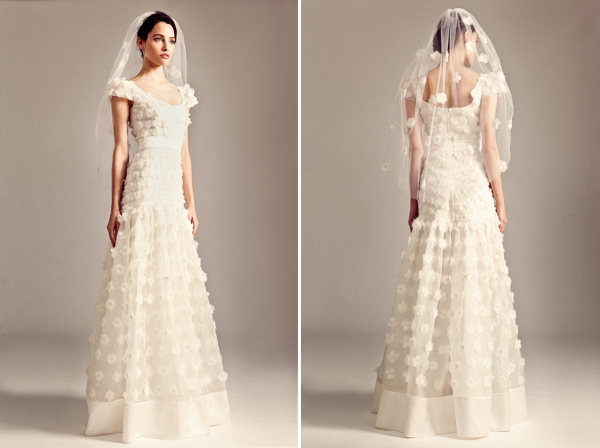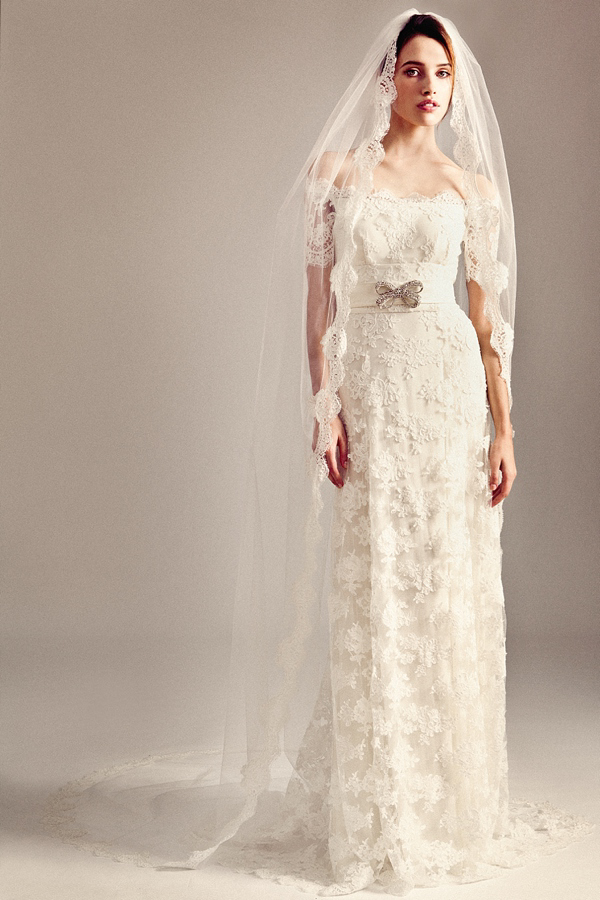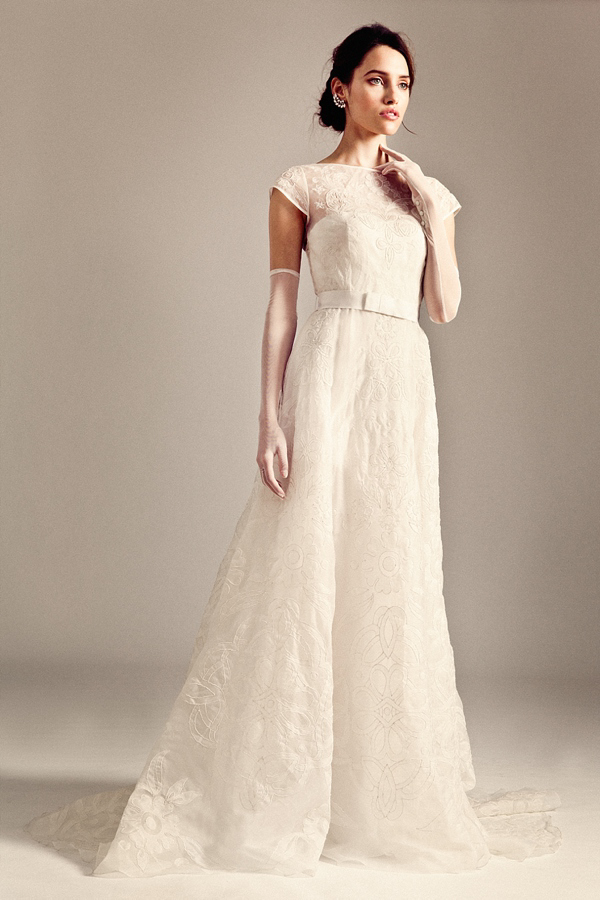 Below, the Willow Dress ($4000 / £2950 / €3355), a fluid heavy silk georgette
gown with deep v-neckline, draped back and subtle flowing train. The willow dress includes a pearl
and crystal bead embellishment with cut through and flower appliqué
details along draped back, sleeves and waistband edges.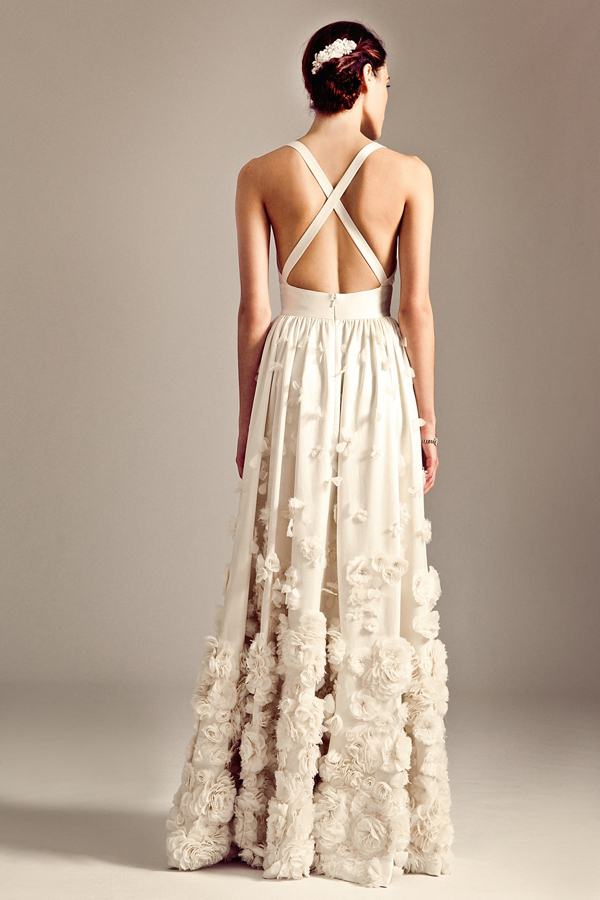 Temperley Bridal is a highly romanticised version of Temperley mainline – and
an area of design I thoroughly enjoy. There is a full range of different
styles, for different body shapes in Iris, all designed with the
aesthetic I believe in; elegant, feminine, ethereal and timeless.
Each
dress has to be the perfect blend of functionality and fantasy – a bride
must never feel overwhelmed by her dress but allow them to be the
ultimate version of themselves, making the bride look effortless and
elegant. Your bridal dress exists in a moment in time and is made for
the woman wearing it not the trend of the moment. Alice Temperley.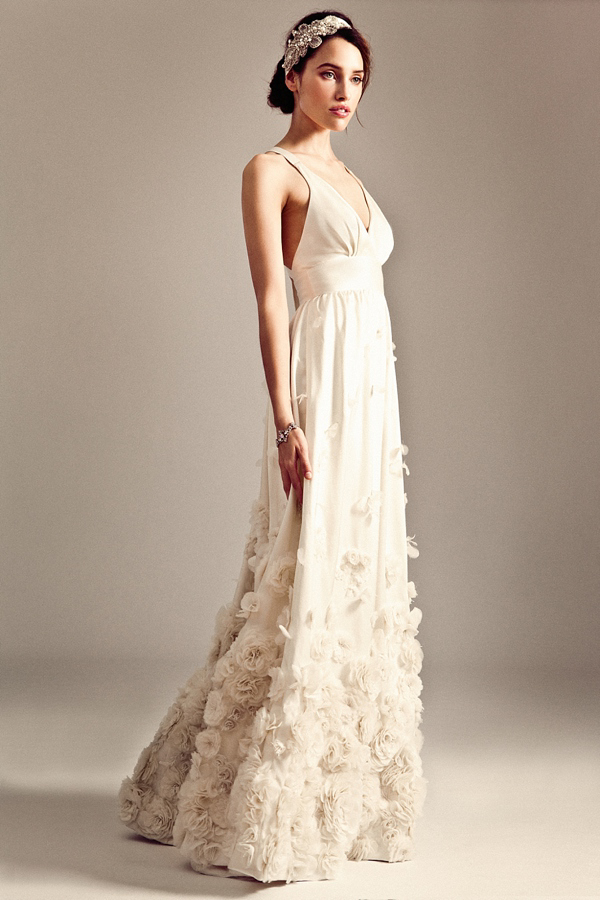 Prices for a gown from the new Temperley Bridal 'Iris Collection' range between £1950 and £4950 and can be purchased from the Temperley London Notting Hill boutique, the original home of
Temperley that was re-launched as a destination bridal boutique in October 2013
to meet growing demand for bridal appointments.
You can see more from Temperley on Love My Dress here, including real wedding features and features covering visits to the beautiful Notting Hill boutique.
Which design do you love the most?
Annabel