A little late treat for you today lovelies – and it's all about bride Anya, her husband Owain and their beautiful Spring wedding day that took place on 4th May this year, at The Matara Centre in The Cotswolds.
I love so much about this wedding day, not least the gorgeous original vintage 1950s wedding gown.  Tiered wedding dresses were very popular at this time and this beautiful example of bridal fashion from the time is as if it were made all those years ago; waiting for Anya to show it off so beautifully on her 2013 wedding day.  I also love the Japanese garden setting and the sweet colour co-ordinated touches including that dinky bow-tie!
"As our wedding venue,  The Matara Centre, is so naturally beautiful, we wanted to keep the styling quite simple.  We fell in love with their Japanese inspired gardens, which reminded us of when we travelled in Japan. We have always wanted an outdoor venue and this was the perfect fit for us."
Photography Copyright (c) 2013, Jordanna Marston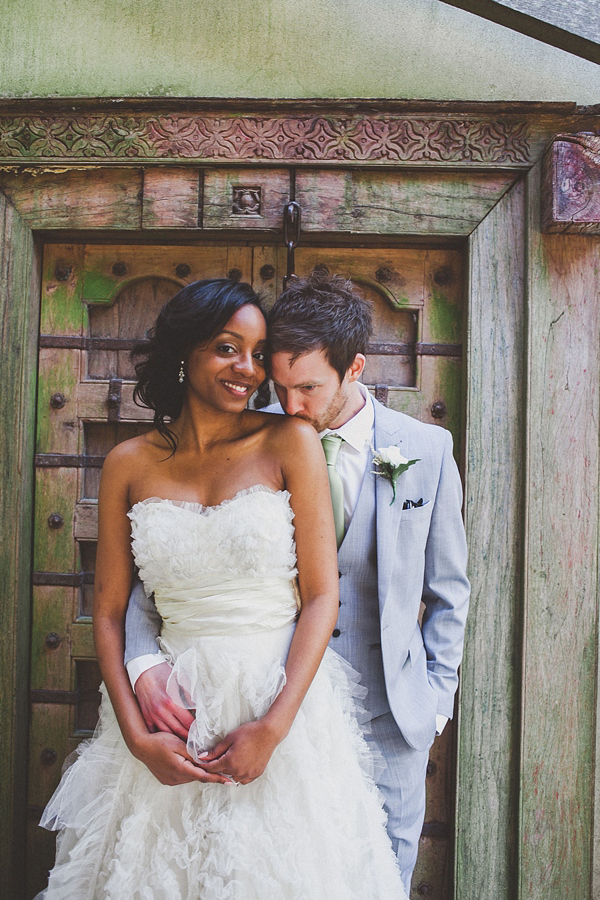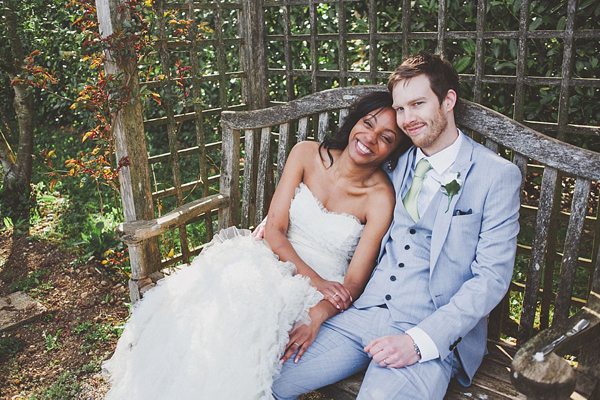 "Owain and I met in Leeds. We were both at University there and we share many of the same friends. A student night out at Wire marked the start of our seven-year relationship.  Owain would argue that it was he who approached me, but I think we now agree it was I who made the first kiss happen!
Owain popped the question at sunset on the viewpoint of our favourite Thai island, Koh Phi Phi.After an eventful 'hike' up to the top, I said Yes! (I wrote a little blog about it).  We got engaged in October and started planning the following January, so we planned for around 18 months."
"I found my original vintage 1950s wedding dress at a vintage fair in Hammersmith.  A week before the wedding I discovered a small tag inside for the 'International Ladies' Garment Workers' Union', which made it even more special!
The day I found the dress we were not dress shopping, so it was completely random.  As soon as I saw it I could see myself walking down the aisle in it.  I was hesitant to try it on at first, as it was not your typical bridal dress buying experience (me in the loos at Hammersmith Town Hall!) but as soon as I put it on I knew it was the one- the detail was so stunning and it fitted perfectly."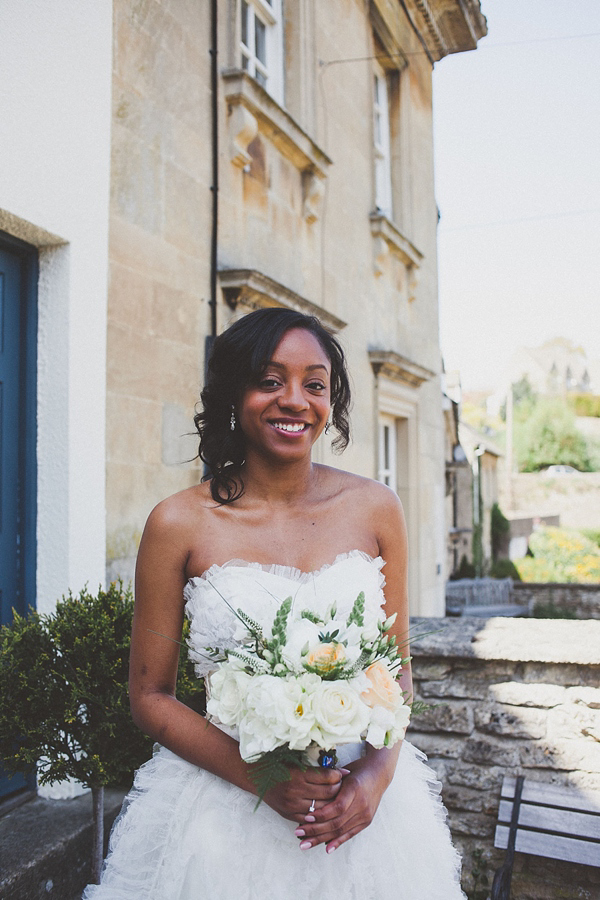 "Our florist came under new management six weeks before the wedding, which was quite nerve wracking, but we were so lucky to get an even better one in the end. Gemma completely brought our brief to life and we could not have been happier."
"The wonderful Eleanor Callaghan of Dig For Victory Clothing made bespoke dresses for the girls- she is so talented and I will definitely be popping in to see her when I am next in Brighton. When we picked out the fabric I was like a kid in a sweetie shop in her fabric cupboard!"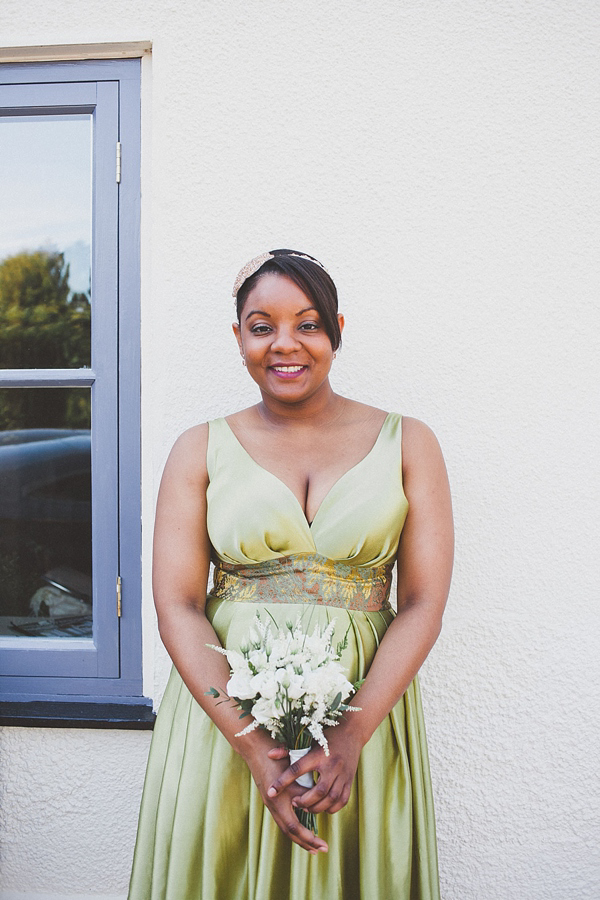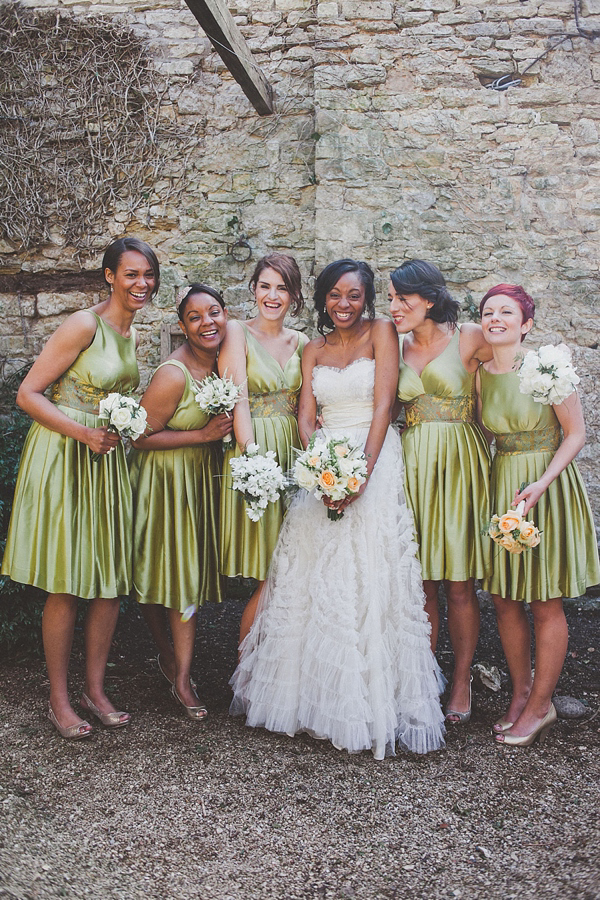 "Eleanor of Dig For Victory Clothing kindly gave us some extra bridesmaids dress fabric to create a bow tie for my nephew. My gifted friend from work, Beckie, handmade an awesome one for him, in just two days!"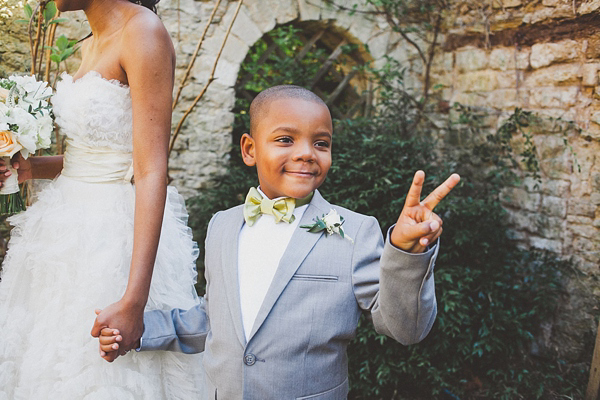 "Green was always a colour that we talked about as it was most complimentary to the surroundings. We were never sure about the shade but as soon as I saw the 1940's silk rayon fabric of the bridesmaids' dresses I knew it was right and we used that colour throughout.  Also, although no particular era was a focus, we are fond of vintage and tried to use various elements throughout the day to represent this."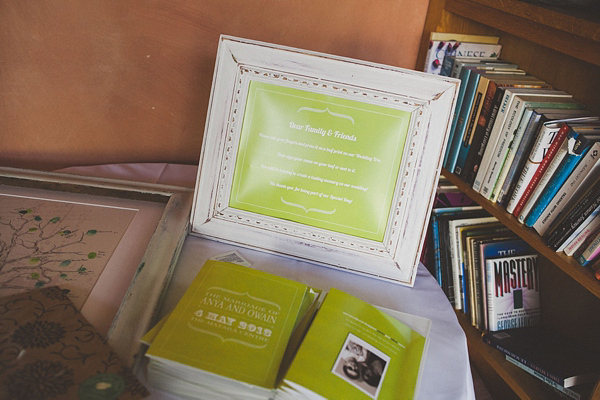 "We chose a Marks & Spencer 3-tiered cake with floral icing design.  The 3 different flavoured tiers, chocolate, sponge and fruit were a big hit with guests."
"We could not give higher praise to the wonderful Jordanna Marston, from our engagement shoot through to the big day; she made us feel completely at ease and all of her images capture each moment perfectly.
We met Jordanna at another vintage fair, over a year before the wedding, and picked up her card with a colourfully dressed bridesmaid beaming and groomsman whispering in her ear. We loved the image instantly- to this day (even though we don't know the couple) that card remains on our fridge door as it is an image that always makes us smile.
We are so glad Jordanna is also a family photographer as we would definitely want to work with her again soon."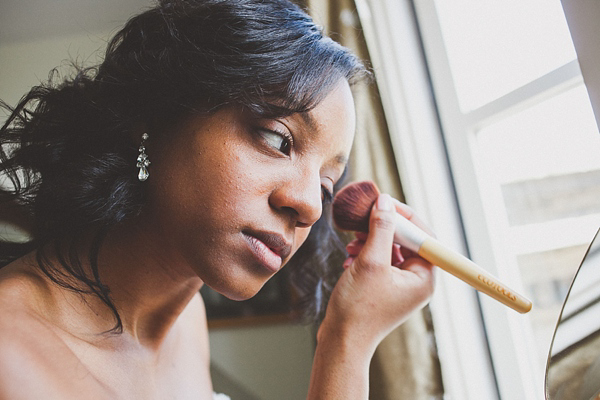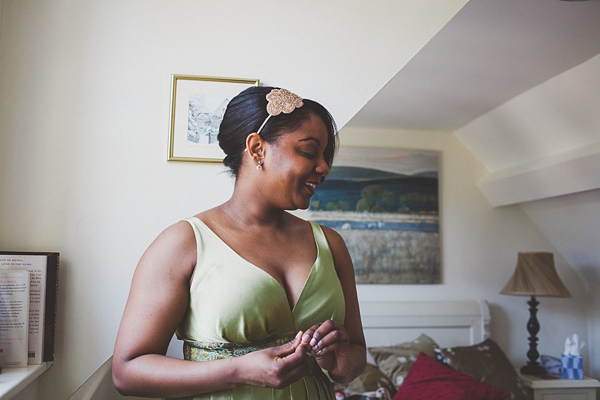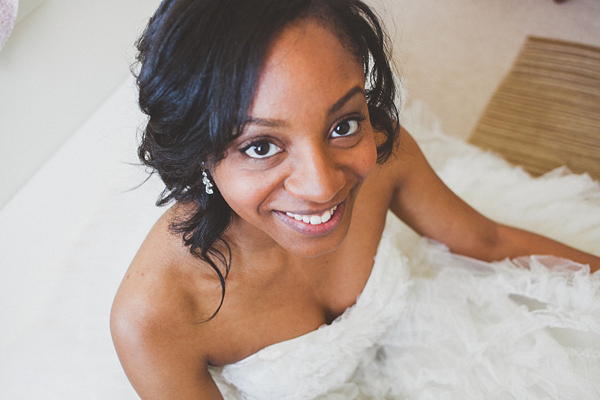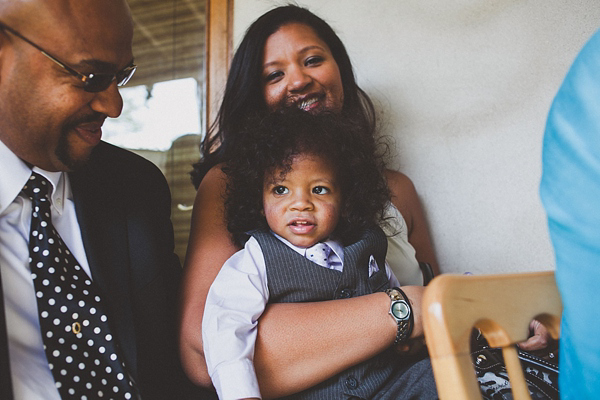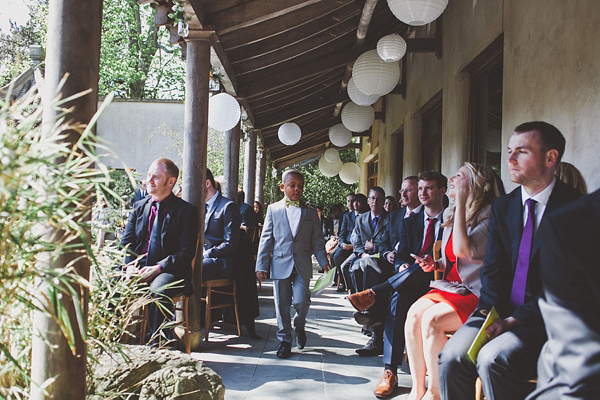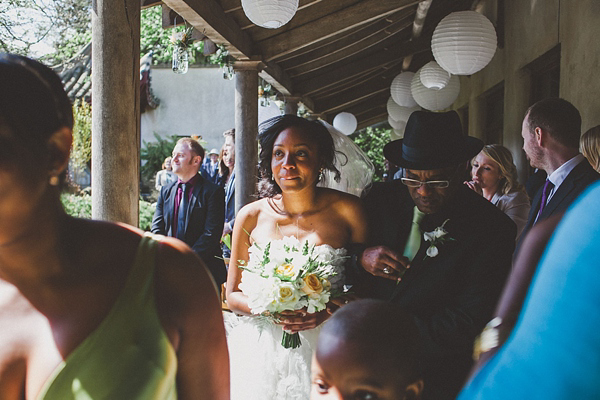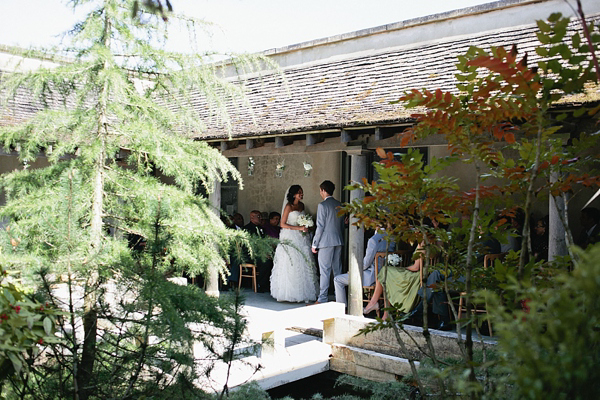 "Walking down the aisle and seeing Owain was definitely the highlight. Standing in front of him, with our family and friends sharing that moment, was very special."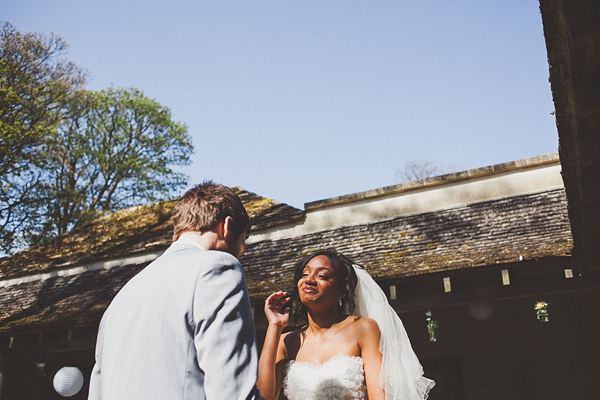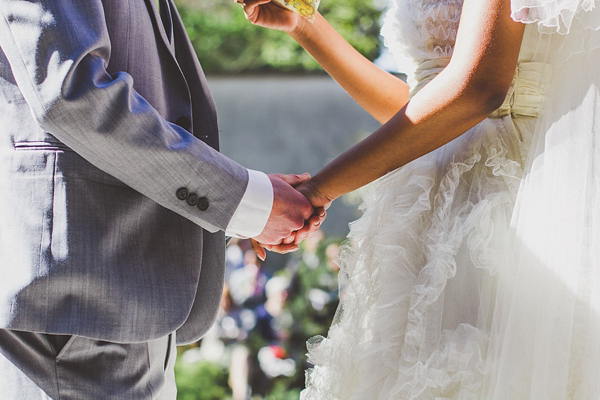 "My Dad, John, gave me away – we walked down the aisle to the sound of 'Colourblind' by Counting Crows.
During the ceremony, Owain read Atlas by U.A. Fanthorpe and I read a personalised version of For Now by Tracey Emin."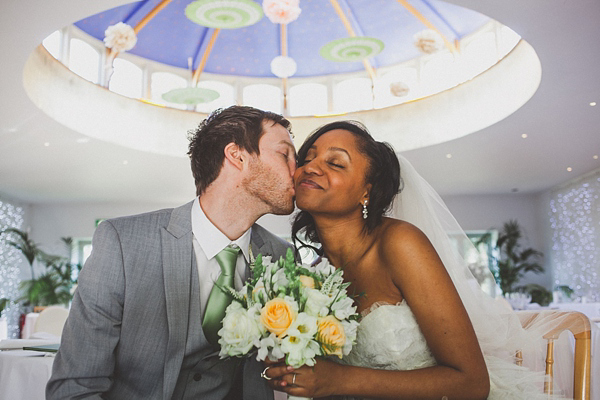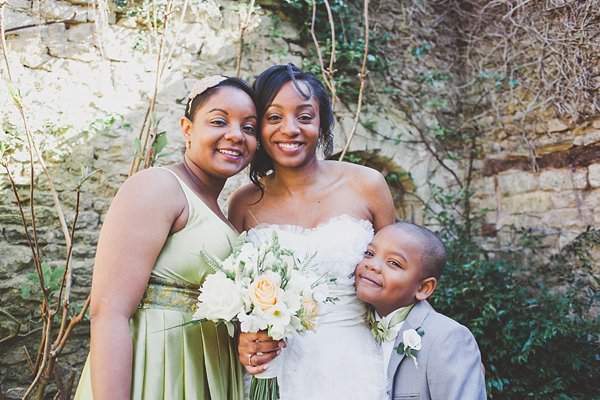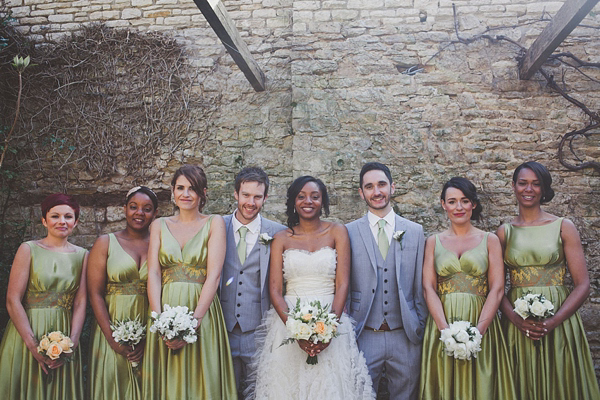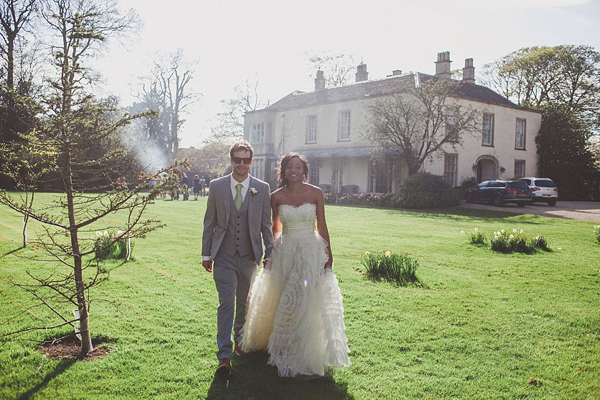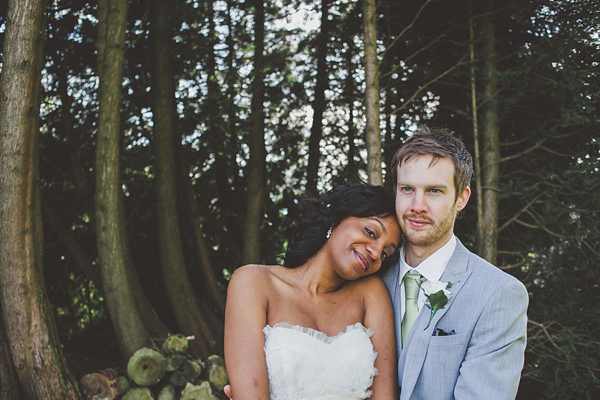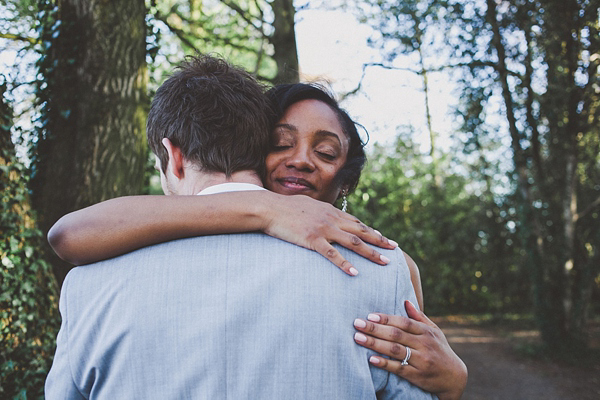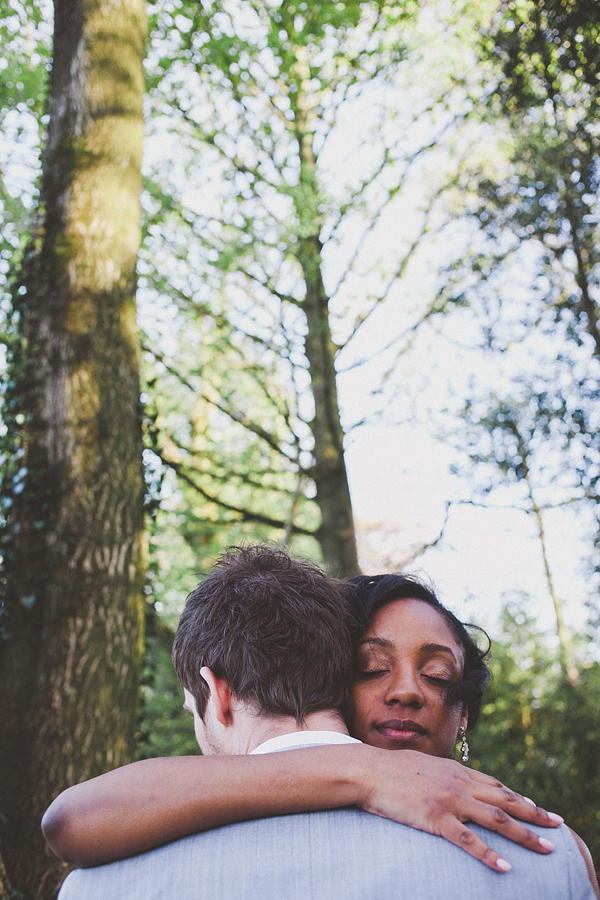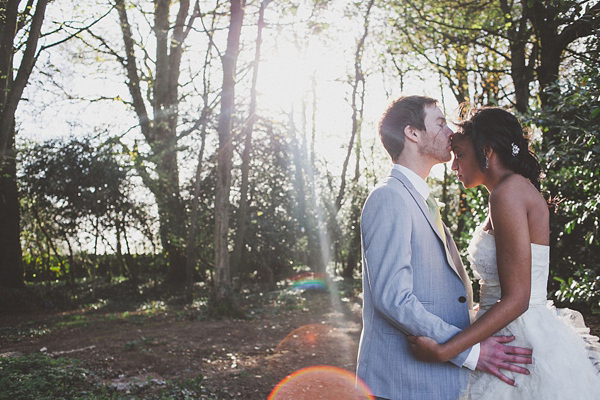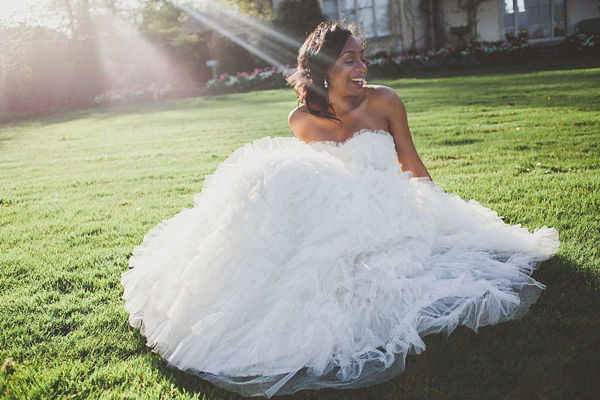 "Our band, Groove Masters, kindly learnt our first dance track, which was 'Is this Love' by Bob Marley.  It is a song we frequently play at home and reminds us of having impromptu dances in the evening in the kitchen."
Words of Wedded Wisdom…
"Ok, I work in logistics so will says something very boring (sorry!) – organisation is key to planning a big event and not getting stressed.  Something is always bound to go wrong, but being flexible will go a long way to enjoying the journey.  One of our favourite tools to assist with planning was Top Table Planner, we would recommend it to everyone getting married – it's web-based so you can use it anywhere.
I wish I had eaten more food and wedding cake, I was so excited I hardly touched anything and the next day everyone was talking about how nice it all was!
Love My Dress was one of the first blogs I read as, before I found my dress, I would always search for vintage wedding dresses and this is one of the first blogs to come up.  I love the great range of wedding styles that are featured with a vintage feel- I picked up a lot of ideas from the real weddings. I was particularly excited to see Jordanna's beautiful wedding day featured!"
How absolutely lovely. Such a beautiful smile and Anya, I LOVE your dress!
You can see more beautiful black brides here.  You might also wish to explore our 1950s pages and take a look at other tiered wedding dresses.  You can also see lots more from Photographer Jordanna Marston on Love My Dress here – including Jordanna's own wedding day.
Have a lovely evening all – see you again tomorrow morning.
Annabel
Photographer – Jordanna Marston
Venue – The Matara Centre in The Cotswolds
Wedding Dress – Original 50's vintage via a vintage fair in London
Brides Veil – The Wedding Outlet Store (54 Chiltern St, London W1U 7QX, 020 7935 3726)
Brides Shoes – L.K.Bennett
Brides Accessories – Radiance Boutique hair pins + vintage pear diamante earrings
Grooms Suit – Next
Bridesmaids – Dig For Victory Clothing
Page Boy Outfits – Next
Flowers – Lilypad Florist, email [email protected]
Cake – Marks & Spencer
Cars/Transport – Pegasus Wedding Cars
Entertainment – Groove Masters, funk and soul band
Stationery – Gavin Willis, email [email protected]
Pom poms – Deco Pom Poms
Frames – English Regalia on Etsy
Guest book Tree – Fancy Prints on Etsy
Table top confetti – EBay