Hello wonderful, and how are you today? Have you seen our morning post – the latest instalment in our Notes on a Wedding series, from the inimitable Wedding Reporter?  This lunch times real wedding is so seriously pretty, I've been excited about sharing this one with you.
Nicole, an Architectural Assistant married her beau Mark, a Quality Engineer on 20 July this year at a privately owned barn in Bury St Edmunds, Suffolk.  Get a load of that amazing Terry Fox wedding dress and statement headpiece from Donna Crain – Nicole is clearly a lady with style and knows what looks fantastic on her.  This couple had the loveliest barn wedding…
"My dress was a private bespoke commission by Terry Fox. I had been to about four bridal shops and tried on several dresses, I just couldn't find what I was looking for. I wanted something extremely simple; almost too simple that was why I couldn't find it.  Then a friend recommended going to see Terry to see if my ideas were something she could do. Straight away Terry got
excited which made me excited. She embraced my ideas and made me such a beautiful dress! Not only is Terry a very talented dress maker she is also such a lovely person, with a fabulous quirky nature."
Photography by Craig Williams
"Mark and I had been together for about seven and half years when
Mark proposed. I had just finished my architectural training, which had
been a long slog. So we decided to celebrate that year by having a
well-deserved holiday in Mexico, which was when mark proposed on the
beach at sunrise.
 It was all very romantic and just us on the beach – perfect."
"There wasn't anything in particular apart from the fact I love
an opportunity to get creative. I love delicate touches, so textures
were important to give the barn some warmth and depth. But really I just
styled the day around things that we liked.  I had a vision in my head
and just tried to execute it as best as I could, ambiance and creating
the right atmosphere was key so every little detail was important to
crafting the bigger picture."
"We wanted to use muted tones, lots of pale pinks, apricots and
blush colours with splashes of gold and silver here and there, but
not too much as we wanted to celebrate the rustic charm of the barn. I
loved it because it was that little bit more 'rough' round the edges, it
was Grade II listed so it hadn't been touched and as some barns can be a
bit 'polished' what I liked about this was that it had authenticity.

Being a Pinterest
lover there were lots of handmade crafts from bunting, ribbon garlands
and pom pom backdrops. Also never underestimate fairy lights, lighting
is an important element to a space and I wanted to make sure that I had
the right balance."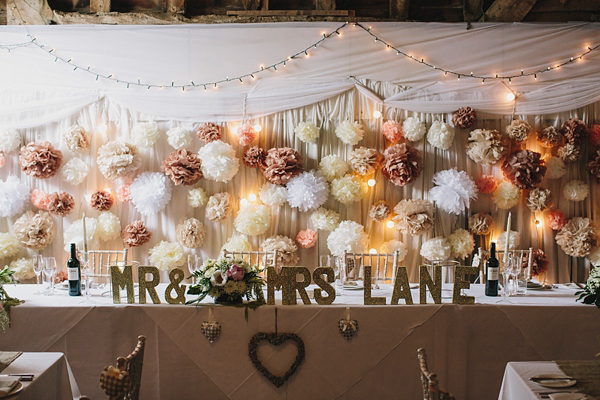 "We chose our barn venue because it was an authentic grade II
listed barn, privately owned by an elderly couple who had absolutely no
restrictions in terms of food, catering, drink, décor etc, people could
camp, people could bring their own food and drink, it really was up to
you to make it what you wanted.
The money we paid was for the hire and use of the barn and their beautiful large garden. A real rarity nowadays."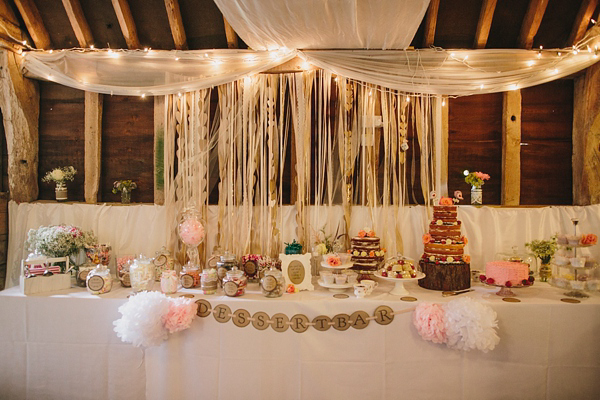 "Due to a limited budget, but still wanting to achieve maximum
bloom effect we were lucky enough to have lots of help from family and
friends. Mark's nan is a dab hand in the garden and knew exactly what to
grow and was great at flower arranging. That and a trip to a flower
wholesalers and roping in plenty of friends meant we managed get
everything looking bloom beautiful!
We used lots of potted plants dotted about the barn to create a
full effect; it was a much cheaper way of filling up the barn. We had a
little flower workshop going on with all our wonderful family and
friends. Part of the fun was having the buzz of everyone helping out. We
can't thank them enough for all their help."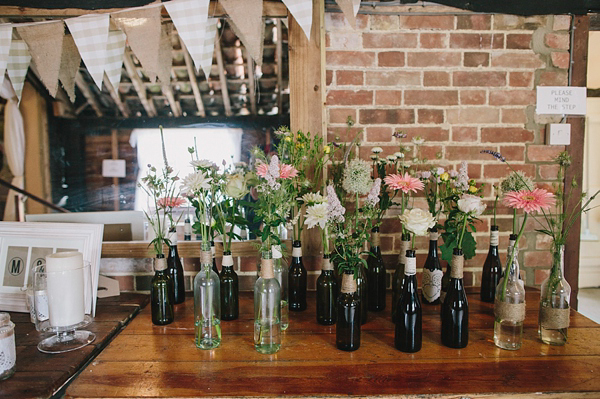 "I wore a beautiful delicate head chain by the amazing Donna Crain. Her pieces are easily the most stunning I have ever come across! I wanted to have all of her accessories!"
"Mark wore a navy suit with a subtle check pattern, we contrasted it
with a fine polka dot waistcoat and pastel pink striped tie. All of
which was from Zara and finished off with a silver pocket watch."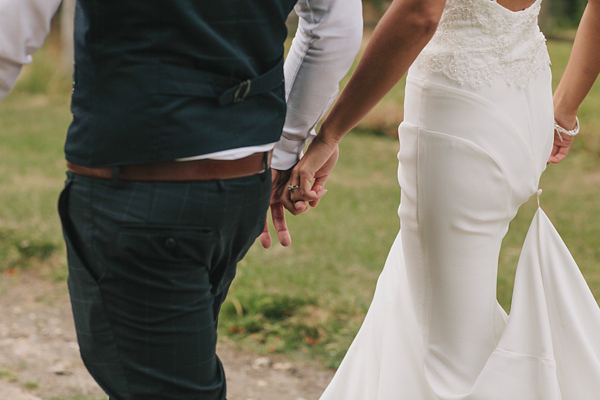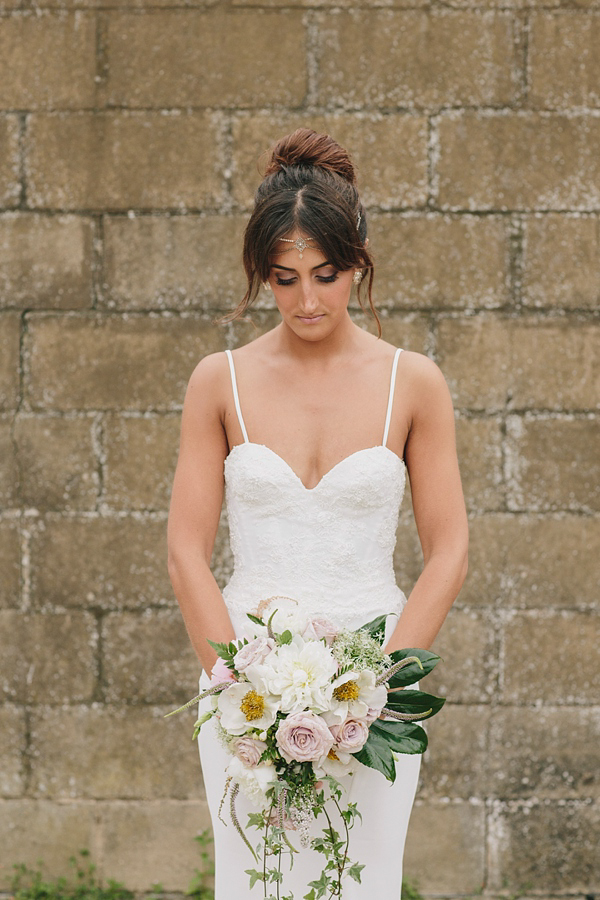 "Because of my job I knew from the beginning I wanted to design and
make our invitations, menu cards, stationery etc. Mark and I made our
table plan together, it was all part of the fun!"
"For place cards I had
little badges made with everyone's name on, I loved this idea as it
wasn't something I had seen before."
"Our amazing photographer was Craig Williams. We knew they were perfect us as soon as we saw their work. We liked
their unusual style in terms of wedding photography; it's like giving
romance a bit of an edge. We didn't want posed shots, it was important
to us those genuine moments of emotions were portrayed.  They managed to
capture so many natural and perfect moments – that and they're a super
nice couple too!"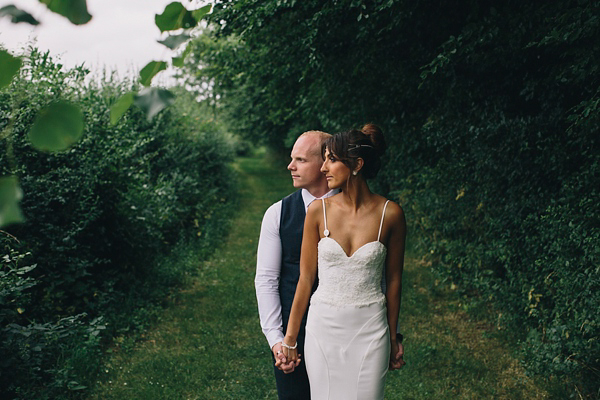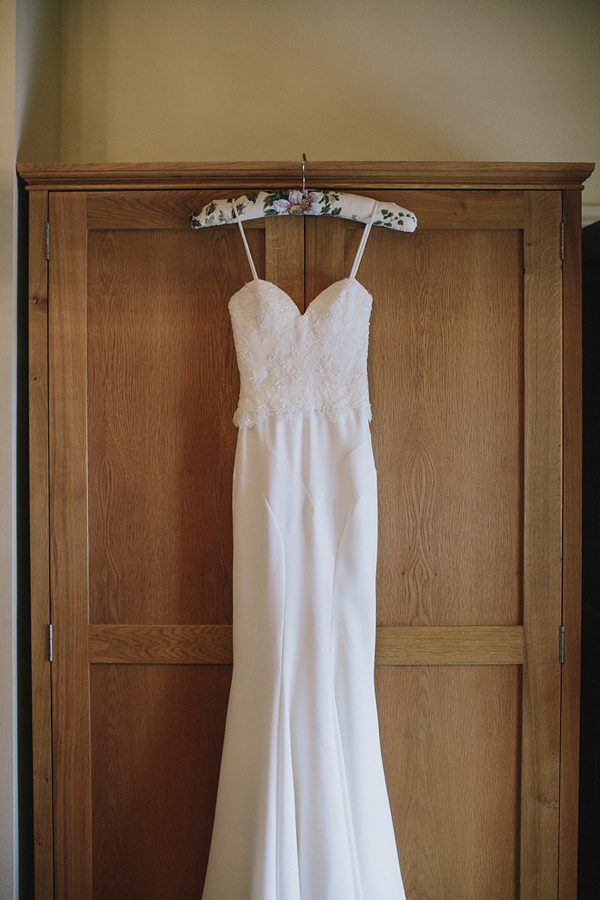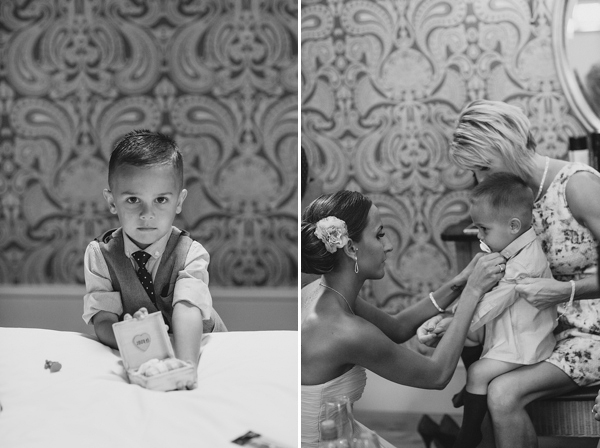 "Being fussy I knew I wanted to do my own make-up, plus I knew it
was a great opportunity to splurge on some luxury make up items! My
sister is great with hair so with some practices we decided on a soft
high bun for me, and low side buns for both bridesmaids. Between us we
managed to get everyone's hair and make up done within good time and it
wasn't at all stressful. I'm so glad we decided to save the money and
make use of our capabilities!"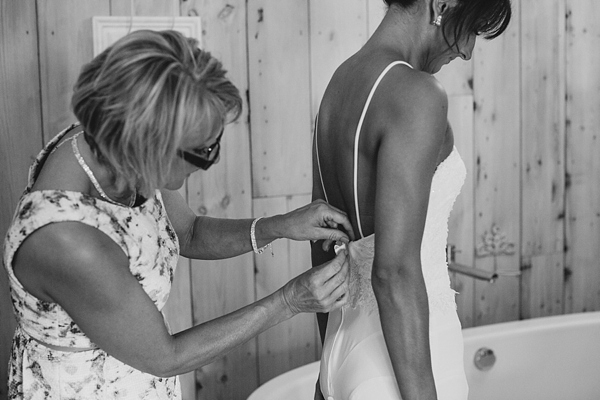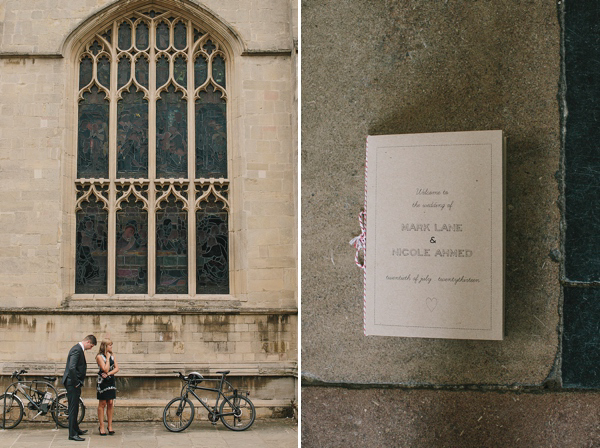 "My mum had secretly arranged a beautiful vintage beaufort for us as a surprise.
My little brother (not so little anymore) gave me away, it was important to me that he had a special role in the wedding.  We
walked down to Storybook love, it was such a beautiful piece of music.
We walked out to McFly 'Star Girl' Mark likes to sing this to me and
we're not ashamed to admit we love a bit of McFly!"
"I had two bridesmaids; my sister and Mark's sister. Their dresses were from The Tailors Cat in Cambridge. They were part of the Dessy
range. Getting the colour right was my main issue, I wanted a pastel,
soft colour so I chose Suede Rose as it was a beautiful dusky lavender
that I felt tied in with the rest of the wedding palette."
"We
had two readings, one had to be from the bible and the other was the popular
extract from Captain Correlli's mandolin. Both readings were about love
but in different contexts, it was a nice way to give our friends and
family a special part in our day."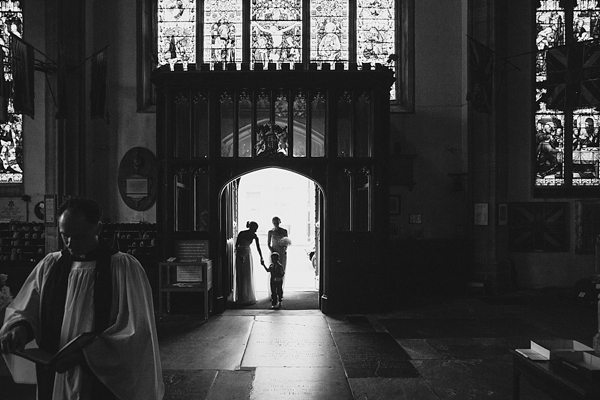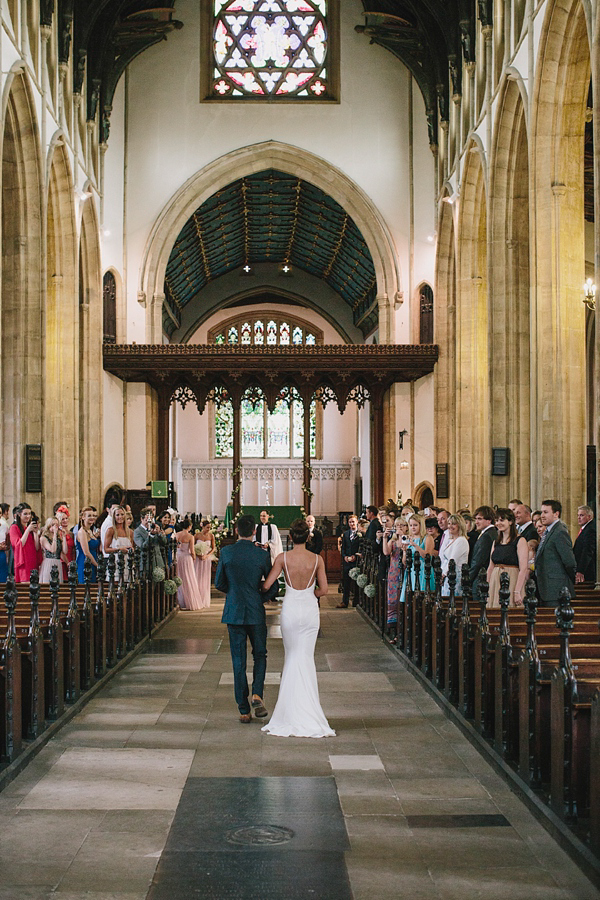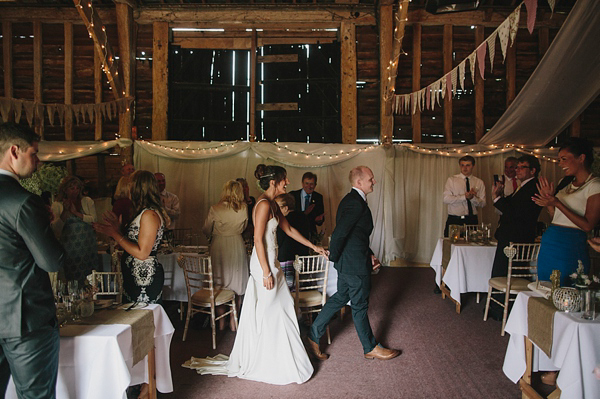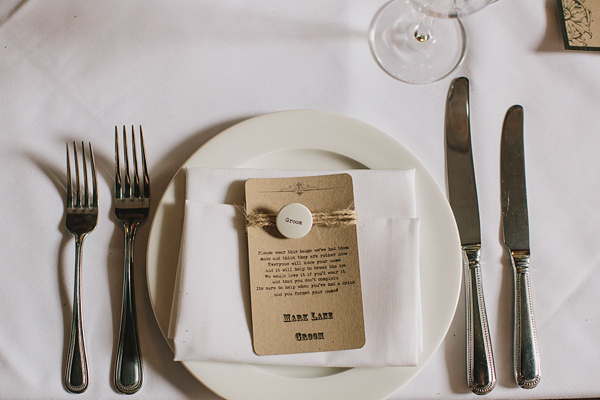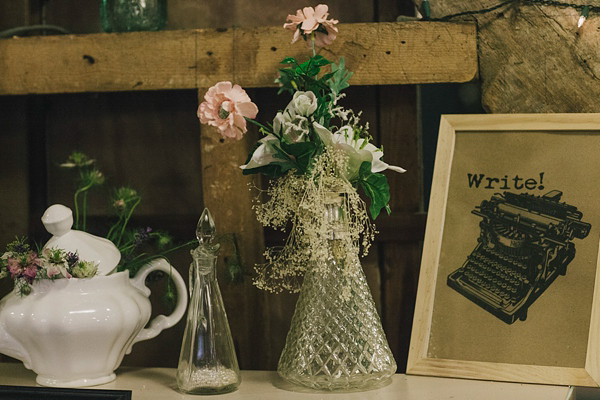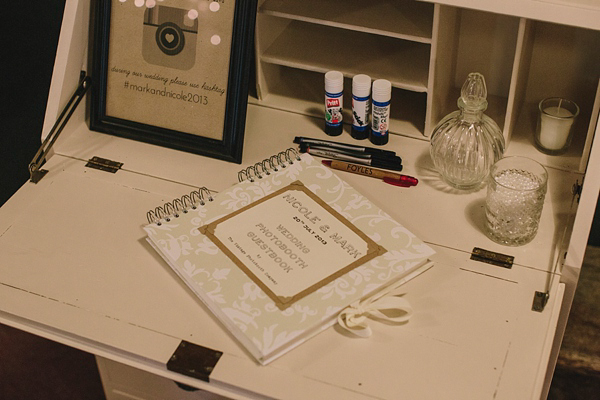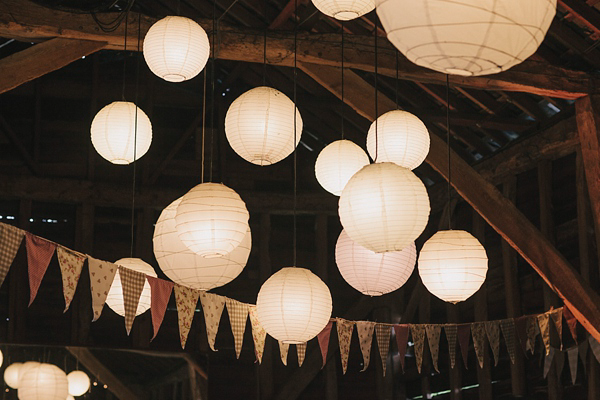 "When it came to the cake, we once again enlisted the help of close family friends, Bev and Sam who
between them created the most delicious and beautiful dessert bar. I
love cake so I knew I wanted a selection of treats. Our main cake was a
big naked cake beautifully decorated in flowers and berries."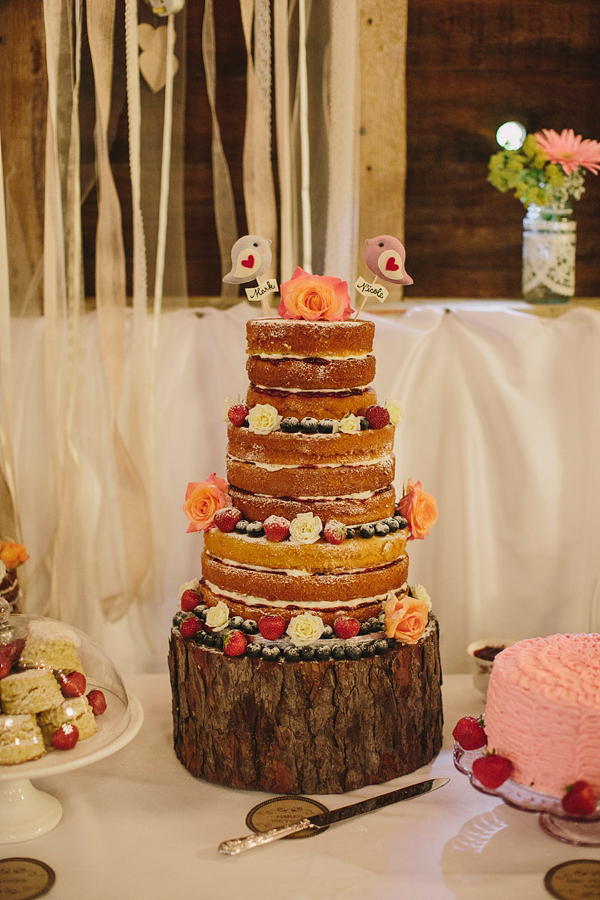 "We had a Dessert Bar with sweetie jars that people could help
themselves to and beautiful little fabric hearts, all handmade by a very
dear friend."
"Our caterers were Grid Events.They
were so helpful from beginning to end. They even helped with the
running of the day, ensuring people were where they needed to be to and
accommodated all of our requests! There were no limitations they were
happy to help create whatever menu you wanted. We opted for a seated bbq
(as mark is a complete carnivore so the more meat the better!) with a
gorgeous parsnip and white truffle soup with a deli sharing platter as a
starter. Our dessert bar doubled up as dessert with tea and coffee
served in vintage teacups generously supplied by one of my best
friends.
Our evening entertainment was provided by Dreamwave Events
We initially wanted a band, however due to budget we opted for a DJ.
However we wanted to make sure they offered that something little bit
special and we certainly got that with our DJ Darren from Dreamwave. He
played music throughout the wedding breakfast as well our evening music.
He managed to keep our dance floor full all night, not to mention his
superb mixing skills! Darren was also such an enthusiastic guy, highly
recommended, a top fella! Again we had lots of comments on what a good
DJ he was, we couldn't have been happier."
"I had always wanted a photobooth, but hadn't quite found one that I liked enough until I came across The Vintage Photobooth company
They were perfect, from the styling of their booths to the huge
collection of props, definitely the best I had come across. The owner,
Simon Knowles, was also such a pleasure to deal with and happy to help with
any request. It was such a big element to our evening, our guests
absolutely loved it and it was lovely to see everyone (of all ages) get
involved and have so much fun dressing up.
It also included a guest book
which allowed our guests to stick their piccies in and leave us
messages – we enjoyed reading through these the next morning. From all
the compliments we received it was easily one of the best decisions we
made."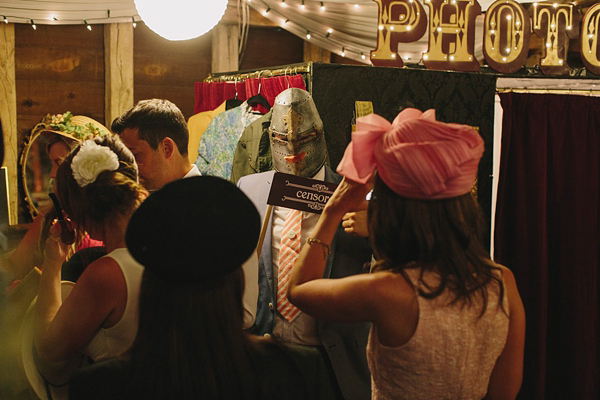 Words of Wedded Wisdom… 
"Get
organised and go for what you want, some people may suggest other
'easier' options but if you're willing to put the time and effort in then
go for it – you only get to do this once!  It is your day so have it
exactly how you want it to be! You can never be too prepared or
organised, and you can never have too much done in advance, it benefits
you on the days leading up to the wedding when you have to be in 10
places at once.
It really was the most amazing day of my life and I loved every
single minute of it – a highlight was the speeches, they had the right
mix of laughter and happy tears. Another was the fantastic magician, Eric Armstrong (I'd secretly organised this as Mark loves magic) and the
photobooth.  People absolutely loved these two extras and we got many
many comments on both. But I think my favourite was the ceremony,
actually marrying mark. I still love thinking about it now and am sure I
will for a long long time. 
There's not much I would
have done differently as we got so so lucky with everything we chose
from our vicar to the DJ. We achieved a lot in the time and budget we
had, of course you can always say if we had more time and more money
then I would have liked to have had this and that extra etc etc but for
us our day really was made special by the people that came. There such a
buzz all day and all night, people loved the DJ mixing his own tunes
(some friends even said they had been dancing for 5 hours!) to getting
dressed up for the photobooth, everyone really embraced our day!"
Just how lovely is all of this?  Incidentally, Terry Fox recently chose Love My Dress as the wedding
blog to launch her new collection on. You can see the full feature here. You can also see more fabulous Barn weddings here.
What do you love most about this beautiful day?
Annabel x