Good morning beautiful, oh I have such a lovely London wedding to share with you this morning – it's one of those affairs full of relaxed, and genuinely pretty details, and one naturally very beautiful bride (I have hair envy this morning and I love that floral crown!).
Ada and Richard tied the knot on 29 June 2013 at Tudor Barn in Eltham, London, and photographer Laura of Babb Photo was there to capture these beautiful images on camera.
"We both wanted a pretty, romantic style to go with the venue.  There was no real colour theme, we just wanted locally grown flowers that were in season, so purple and yellow were the main colours. I have a thing for butterflies – so there was a bit of a butterfly theme as well."
Photography Copyright (c) 2013, Babb Photo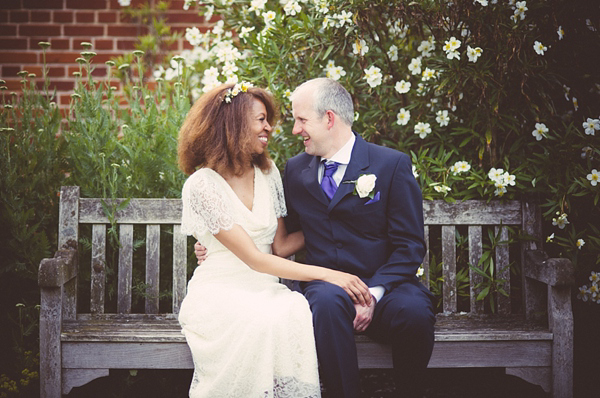 "My dress was from Charlie Brear.  I knew exactly what type of dress I wanted from the start. Vintage dresses feel much more romantic to me than modern dresses – and lace because it's one of the most feminine, romantic fabrics. I went straight to Temperley and Claire Pettibone as these were exactly the style I was looking for.
I fell in love with one dress at each shop, but just couldn't decide. Then I noticed that there was a trunk sale at the Vintage Wedding Dress Company (the former brand name for Charlie Brear)."
"As soon as I put on 'the dress', it was perfect; simple, elegant and lots of pretty lace – and it still felt glamorous.
The huge discount from the sale helped to seal the deal!"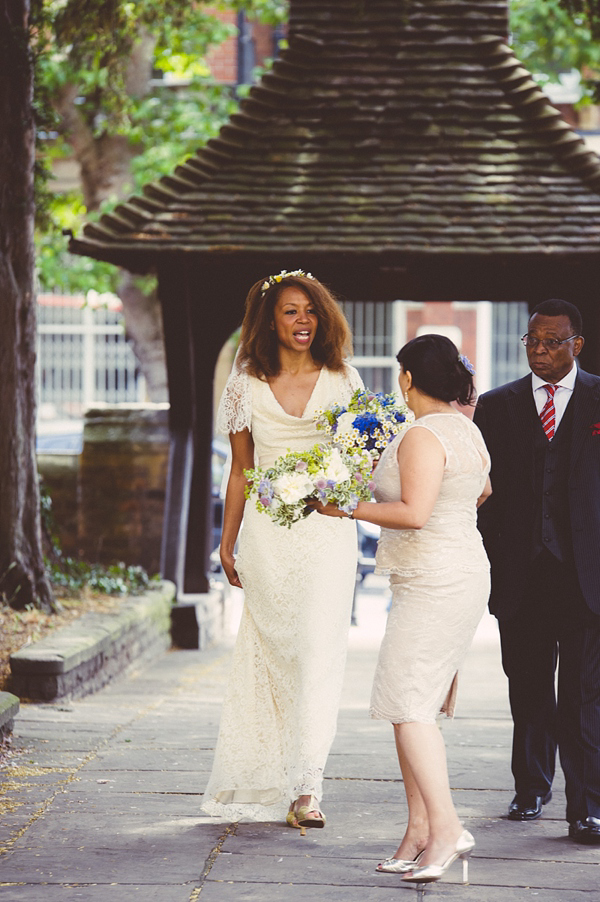 "Rather than wearing identical dresses, the bridemaids chose the dresses they wanted to wear. They were both similar in colour, blush,  in lace. They both looked stunning. Selvie wore the Amy Child's Lacey Pencil dress from Lipsy"
"I knew I wanted a vintage veil to go with the dress.  I discovered that Belgian lace is the prettiest and most exquisite, so ordered some straight from Belgium at Louise Verschueren a Belgian lace specialist. I received fantastic service – the veil arrived exactly when expected and it was exquisite. But when my dress arrived it was a darker, creamier colour than the veil.
The owner was amazing – he just told me to send it back with a swatch of the dress fabric. This was a bit nerve-wracking as it was less than a month before the wedding. He had the veil dyed and it was a perfect match – it arrived just a few days later!"
"Our Florist was Jay Archer Floral Design.  We were looking for a rustic wildflower look with local seasonal flowers. Jay understood exactly what we wanted. She took her time to understand what we wanted, visited the venue with us and came up with some great ideas. She's very creative and added other pretty touches such as hessian and lace runners for the tables and rustic flower containers. She provided a highly professional and friendly service.
The results were wonderful – the flowers looked exactly as we had imagined. My bridal bouquet was especially beautiful."
"I wore a white and yellow floral crown by Amore Bride on Etsy. These are so beautiful and delicate. Definitely wanted a silk rather that fresh floral crown so I could keep it as a memory. Plus you never know when you might need a floral crown!"

"I can't walk in high-heels! so I decided to buy professional ballroom dancing shoes from Freed. The sparkly gold 'Neptune' sandals were so pretty and went with the vintage style of the dress."
"We wanted our reception venue to be close to the ceremony reception and we wanted a relaxed informal venue which was pretty and romantic. We visited lots of venues around south east London and both loved Tudor Barn in Eltham straight away, it's a beautiful building with lovely gardens."
"Our first dance was to 'We Have All the Time in the World', by Louis Armstrong – a beautiful song that we both love and that expresses how we feel about each other."
"It's hard to say which was our very favourite part of the day, so here are two examples; coming out of the church after the ceremony being newly married and seeing all our friends and family waiting outside for us, laughing, and so happy for us was amazing.
And the last song of the night, 'All you Need is Love' – people formed a circle with Richard and I in the middle, they started singing loudly and bobbing around in a circle with their arms around each other. It was a spontaneous, funny and joyous moment that was a perfect end to the day."
"Our photographer was the amazing Laura of Babb Photo. Laura just blended right in and when we saw the photos they were absolutely stunning!  She really captured the joy, the laughter and special moments from the day. And at the same time she produced beautiful, well composed pictures that were natural and informal. We were both so pleased."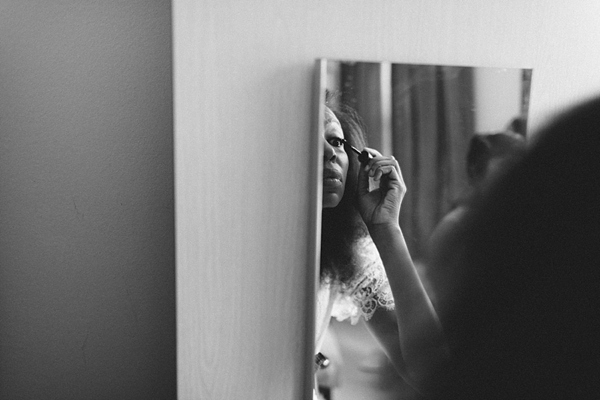 "My dad gave me away, we walked down the aisle to the sound of Wagner's Bridal March.  My brother, who is a professional jazz singer, sang Oh Happy Day (gospel song by Edwin Hawkins) and At Last by Etta James during the ceremony. It was amazing – he brought the house down."
"The Bible readings were classic love passages, in particular we wanted the Song of Songs which is very poetic and sensual."
"We had a poem written by my brother called 'My Daughter's Hand' read by my mother during the ceremony. The groom's mother read from 1 Corinthians and the Song of Songs.  My brother's poem was so personal, like a gift to us, and my mother's reading of it had me in tears (and many others I think). It was great because traditionally it's the men in the family who get to speak about the bride and groom. I've included a slightly edited version of the poem here.
'My daughter's hand
Her tiny, ticklish fingers
they curled
they stretched
they reached from slumber's stillness
Holding just a portion of my grip
but taking me completely
Teaching me the meaning of unconditional feelings.
My daughter's eyes
Wide inquisitive eyes
They saw me as the mother I'd longed to be.
My daughter's hand
Now held by a loving man
she says: "He brings me something that I cannot describe in language
A texture that I can't touch when he's away
But it's a feeling that I long to hold
every single day"
My daughter's hand
Curls, stretches, reaches
she holds his grip completely
My new son takes her hand
so sweetly
he holds our daughter's hand
And today, In a circle of love, unconditional we stand.'
From My Daughter's Hand, by DK Igboemeka                    
"I had exquisite purple flowers made of velvet and crafted as headpieces for the bridesmaids, by Jane Fryers. Jane was amazing!
I had left this until the very last minute and she totally came through for us! The flowers each arrived in a lovely little purple case.  Jane is also a very talented milliner who does beautiful hats, fascinators, and veils."
"To go with the butterfly theme I found beautiful sugar butterflies for the cake at Sugar Robot on Etsy.  Amanda at Your Sweet Cakes did the rest, producing an elegant delicious Victoria Sponge decorated with the butterflies."
Words of Wedded Wisdom…
"Don't stress, it's so important to enjoy the planning – because no matter what happens, whether it goes perfectly or not, it will be one of the the happiest days of your life.
We saved money by doing all the stationery ourselves. It was easy given it was a relatively small wedding and it made it more personal. We made our own invitations in the Aston Villa colours and decorated them with these pretty butterflies found on Ebay.  We just invited a couple of friends over and got to work on a Sunday afternoon. It was actually fun. We also found a butterfly logo online and had the tableplan, menus, order of the day etc all printed with these at local printers.
Love My Dress is a great blog – and I enjoyed the real weddings the most; Love My Dress really features the weddings nicely."
Just how lovely is this wedding? I feel so privileged to be able to share weddings like this and inspire thousands of brides the world over. Huge thanks Ada and Richard for your kindness in letting us share your beautiful day, and congratulations on your marriage.
Thanks also to photographer Babb Photo for once again sharing her work on Love My Dress.  You can see more from Babb Photography on Love My Dress here, you might also want to look up our pages on summer weddings, daisies, butterflies, purple, blue and see other brides wearing wedding dresses from Charlie Brear.
What do you love most about this lovely wedding readers? Pop a comment below, we'd love to hear from you.
Love Annabel
Photographer – Babb Photo
Venue – Tudor Barn in Eltham, London
Wedding Dress – Charlie Brear
Veil/Headpiece – Louise Verschueren a Belgian lace specialist
Brides' shoes – professional ballroom dancing shoes from Freed
Flower Crown – Amore Bride on Etsy
Grooms Suit – Moss Bros
Bridesmaids Dresses – Lipsy + headpieces by Jane Fryers
Florist – Jay Archer Floral Design
Cake – Your Sweet Cakes + butterflies via Etsy
Tealight + lanterns – Loop the Loop
Hair Stylist – Georgina Forbes