Anyone who has followed Love My Dress for sometime now will know how I love to support independent bridal wear designers, and that I've long been a fan of London based Dana Bolton.  Dana contributed her beautiful designs to my book, Style Me Vintage Weddings, and has dressed many a stylish bride to have already featured on these wedding blog pages.  She also happened to dress bride Sarah in this sexy-meets-elegant, 30's inspired slinky bias cut number – just adore that fluid style silk fabric that fits Sarah like a glove.
Sarah and Julian got married on 13th September with a ceremony taking place at Chandos House, Central London, followed by a reception at The Peasant in Clerkenwell, East London.  I really love this couple's fun, modern-meets-vintage, bright lights big city theme – and huge big balloons on your wedding day really ought be the law.
"Julian and I got engaged in New York on my birday in Febuary 2013 after Julian proposed on the Brooklyn Bridge. It had been snowing, but it was a gorgeous, crisp sunny day and Manhattan looked amazing in the background.  Julian started to sound a little nervous as we walking along and I wondered whether he might be about to do what he did end up doing. At this point I tripped over, breaking the ice (literally and physically) and making Julian laugh. After I said yes, we had a massive hug and kiss and a little cry each. It was a very memorable birthday. It also marked our two-year anniversary."
Photographer Copyright (c) 2013, Caro Hutchings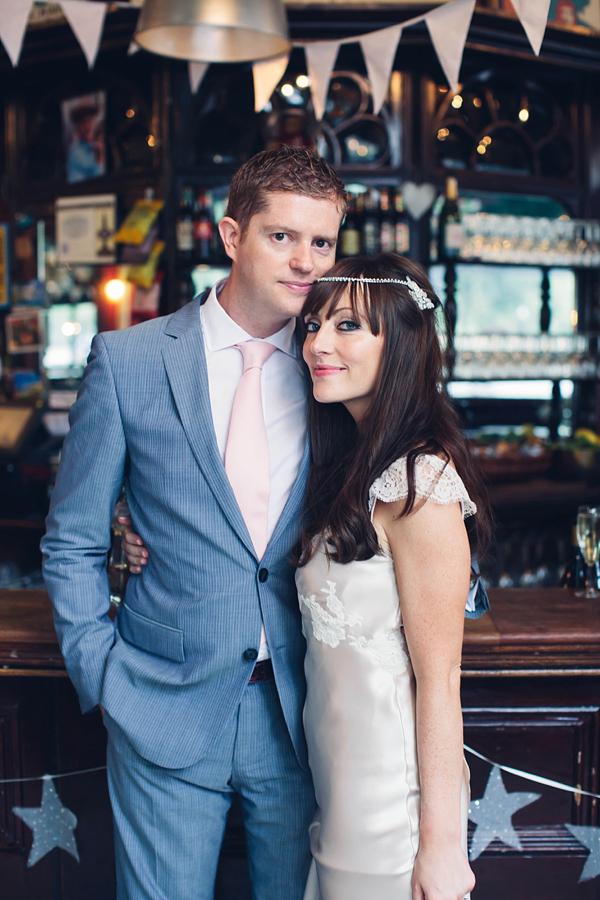 "The style or 'loose theme', if you like, was 'bright lights, big city' (though you can replace 'big' city with 'rainy' city!).   Our invites had a modern, cinematic look and we wanted to carry that essence through to the day itself, with lots of twinkling lights, stars and a bit of 'modern-meets-vintage' glamour.
The idea was to have two very different tastes of our 'big city' – a London past and present experience, starting in the elegant Georgian surroundings of Chandos House with its gorgeous antique chandeliers, swags and grandeur, followed by a cool Cockney boozer sound-tracked by amazing tunes!"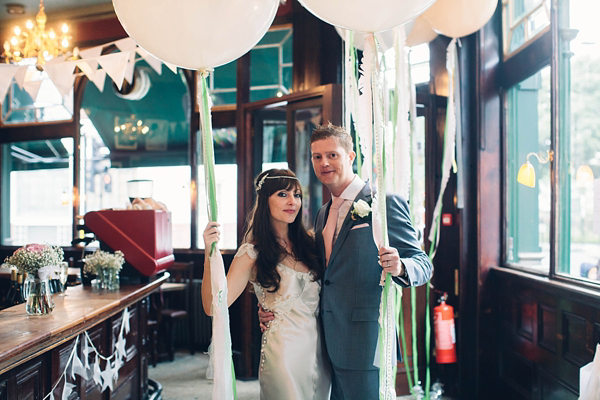 "I wore the 'Claudette' dress by designer Dana Bolton. It was the only dress I wanted to try on and the only dress I did try on. I think Dana was slightly taken aback when I visited her studio, tried on the sample version (which fitted perfectly – it was fate) and said I wanted it – through splutters, she asked if I was sure I didn't want to try any other dresses on first – or look around bridal shops. No, no, no, I assured her. I think I was quite low-maintenance in that respect!"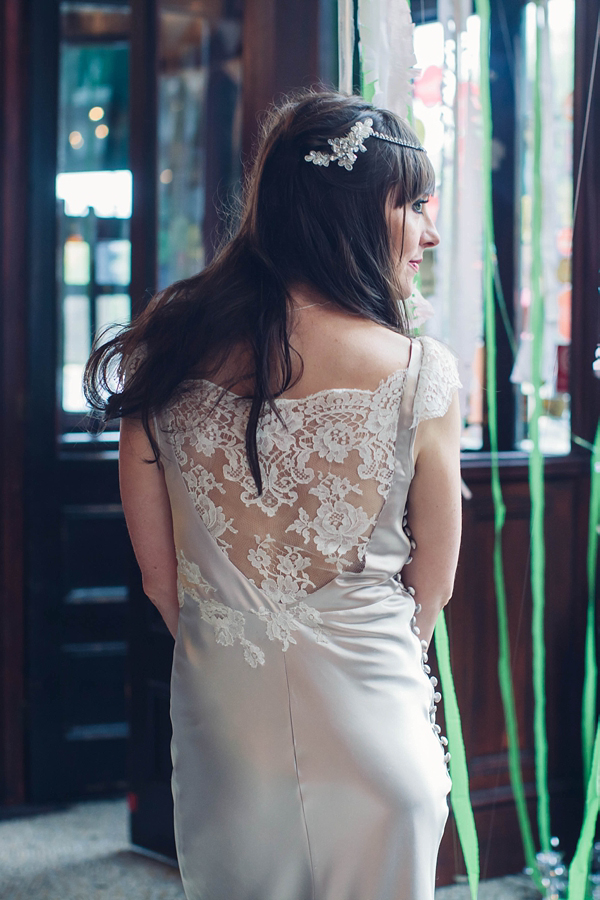 "I knew I wanted a simple, elegant 1930s-style dress (Kate Moss was my bride inspiration – start high!). Years of clubbing in customised silk BHS nighties as a teenger (I know) told me that silky materials cut on the bias gave me a waist and hips I don't normally possess. I did a google search using a description of my ideal dress.  One of the first results to come back was Dana Bolton.
I spotted 'Claudette' straight away and knew I wanted that dress. However, I had no idea where Dana was based and had a panic she might be based in LA or Outer Mongolia. Turns out her studio was 5 minutes up the road from where I live. Fate!"
"Before I'd even tried it on, I knew it was the dress for me and then when I saw it in the 'flesh' and tried it on I knew even more! I loved the fit, the antique lace, the sweetheart neckline and unusual oyster colour – it was the opposite of a meringue, just what I wanted!"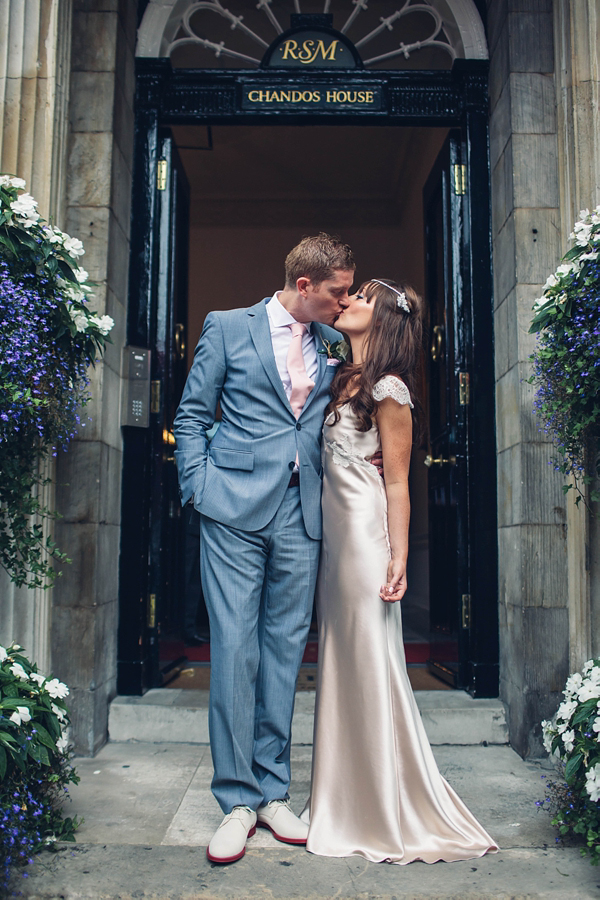 "I wore a handmade vintage lace and diamante forehead band by The Modern Vintage Bride.  I also bought some very fine silver jewellery from Oliver Bonas, including a thin friendship band for my 'something blue'."
"My shoes were my guiltiest indulgence – Valentino's 'Rockstuds' in 'poudre'. I tried for months (months!) not to buy them but after many failed attempts at trying to buy the perfect pair of cheaper shoes, I went back to the Valentinos. And they were sold out. Well, everywhere except for one American website which had a pair in my size. I paid almost as much in custom fees as I did for the shoes – and by that point I hadn't even tried them on!**
These babies were a massive gamble but they were worth it – the colour matched my dress perfectly and gave my 'outfit' a bit of rock chick. I will now wear them every day for the rest of my life to recoup the cash!"
** Haha! But just a 'buyer beware'  notice here readers – if you are ordering from the US, you may (or may not – luck of the draw!) be subject to customs duty! You can learn more here.
"The Peasant in Clerkenwell is so gorgeous that it only needed our starry bunting, flowers and big, big balloons to style it. The bar area has a 100-odd-year-old tiled floor, high corniced ceilings, wooden bar and vintage music posters. Upstairs the dining room resembles a jazz-era Parisian cafe, all big windows, wooden floors, cinema and circus paintings that fitted in with our theme perfectly."
"Given our wedding was all about London,  past and present,  we had to have a big old Route Master bus transport us between the two venues, taking in a tour of the big London landmarks such as Westminster and Bucks Palace along the way. It was a bus ride with oopmh!  We had beer, bubbles, canapés and lots of Bob Marley and Fleetwood Mac for people to sing along to."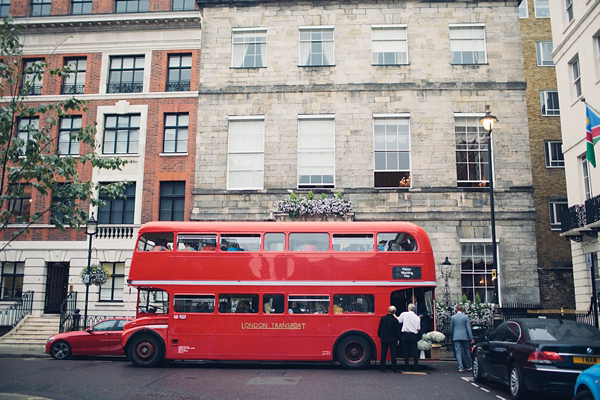 "Our guests had just presumed we were putting on a coach so it was a nice surprise when the bus turned up. Oh and Julian and I didn't want to miss out on the fun, so we got the bus too!"
"We used our local florist, Bloomers, in Hornsey, for the bouquets, buttonholes and displays for Chandos House.  The rest we did ourselves. We went to New Covent Garden flower market two days before our wedding and bought up all the gypsophila and antique roses in the world (that's what it felt like) to do all the table flower arrangements for The Peasant. We'd been collecting jam jars and kilner jars for an eternity."
"My sister Natasha was my bridesmaid – her dress was Ghost's Novella cowl back in sea green – customised with vintage lace, courtesy of Dana Bolton. It was the perfect elegant 30s-style find. She also wore glittery T-bar shoes from House of Fraser.
"We sourced decor such as our cinema marquee lights, wooden star name places and white wooden table numbers from Etsy and commissioned my mum to make gauzy star bunting for the bar."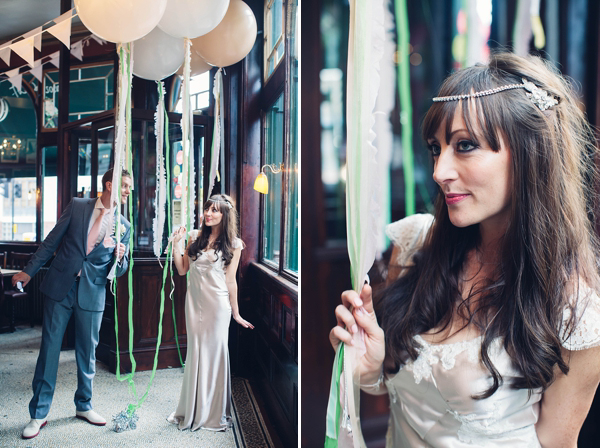 "Our photographer was Caro Hutchings. Caro's images are gorgeous; romantic, cool and informal. I knew I wanted her to take our shots as soon as I followed a link from Love My Dress to her website, via these pages.
She was a very cool character to have around on the day, even calling Westminster registry office for me to find out if our registrar was on the way (London traffic)."
"Michelle from Willow in Highgate did mine, my mum and sister's hair – and Debbie from MAC did our makeup. We had such a giggle getting ready – and the odd glass of fizz despite Michelle being on a 2-week juice detox. Still feel guilty about that!"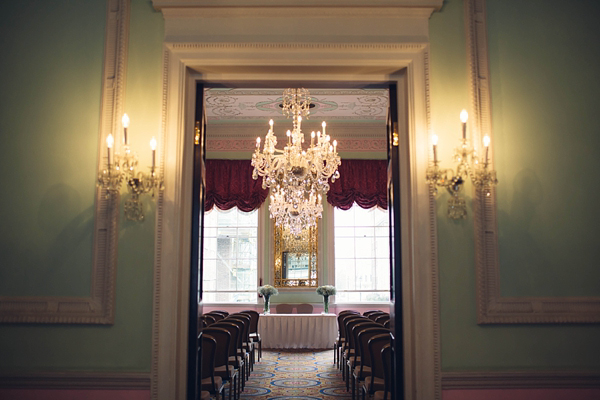 "My mum and my sister were my rocks and were such a fun, calming influence the morning of getting ready. My whole family and I stayed in Chandos House the night before the wedding and it was great to acclimatise myself with the place – and it probably took a big chunk of my nerves away the next day; like I was getting married in my own very posh house!
At 11 o'clock on the evening before the wedding, my family and I snuck into the Duke Room, which was to host the ceremony – and we all felt a little bit emotional! It was such a lovely, grand room."
"We all fell in love with the chandeliers. On the morning of the big day, my sister told me I was not allowed to worry about anything and that she would do ANYTHING for me, including putting plasters on my feet if my shoes gave me gyp while I was dancing! Fortunately (for both me and my sis) they were as comfy as anything – which is kind of what you want when you spend 3 million pounds on a pair of shoes!"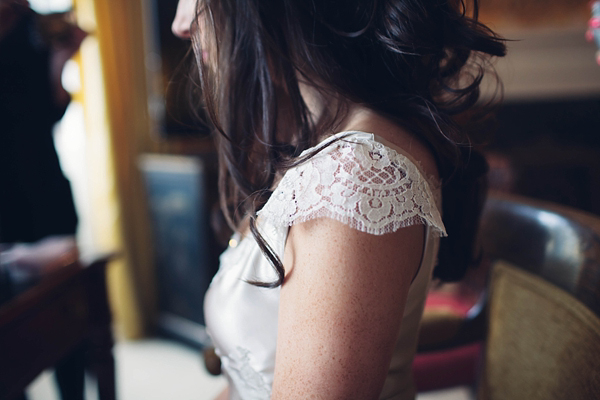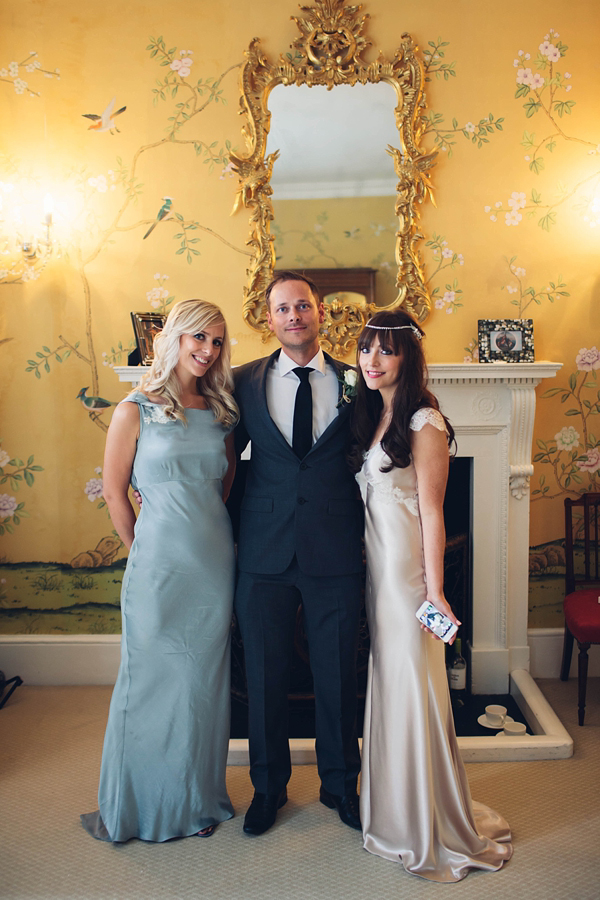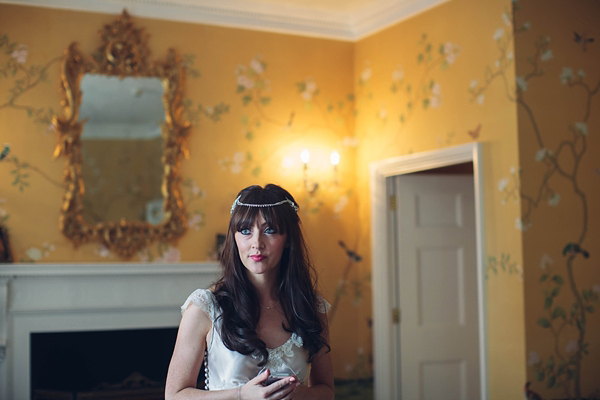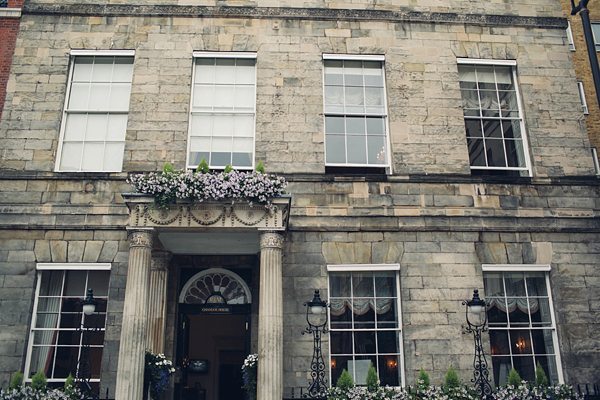 "Neither of us really liked the idea of me being 'given away' – including my dad. My dad accompanied me down the aisle then slipped off into his seat, leaving me to walk the rest of the way to Julian on my own."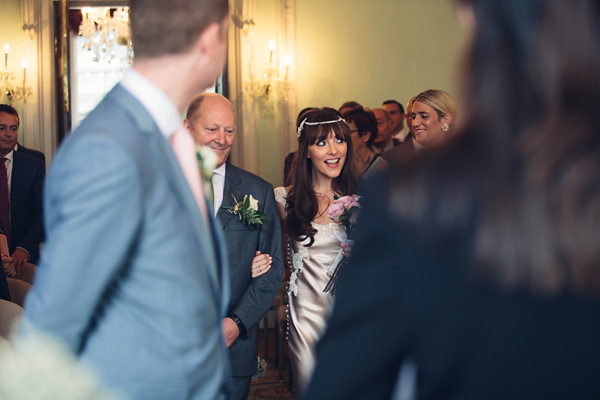 "We had Tim from Piano DJ play during the ceremony. Music is a big deal to both of us – I used to be a full-time music journalist, so we wanted the tunes to reflect our personalities and the stuff we love. Tim played modern classical stuff at the beginning of the ceremony, then we had La Ritournelle as an instrumental for the signing of the vows.
Tim, our lovely pianist, played Friday I'm In Love by The Cure during the ceremony – the middle eight part of the song was also our last reading;
'Dressed up to the eyes
It's a wonderful surprise
To see your shoes and your spirits rise
Throwing out your frown
And just smiling at the sound
And as sleek as a sheik
Spinning round and round
Always take a big bite
It's such a gorgeous sight
To see you eat in the middle of the night
You can never get enough
Enough of this stuff
It's Friday, I'm in love.'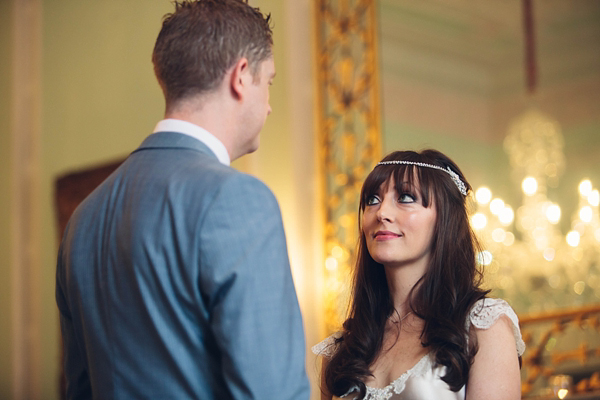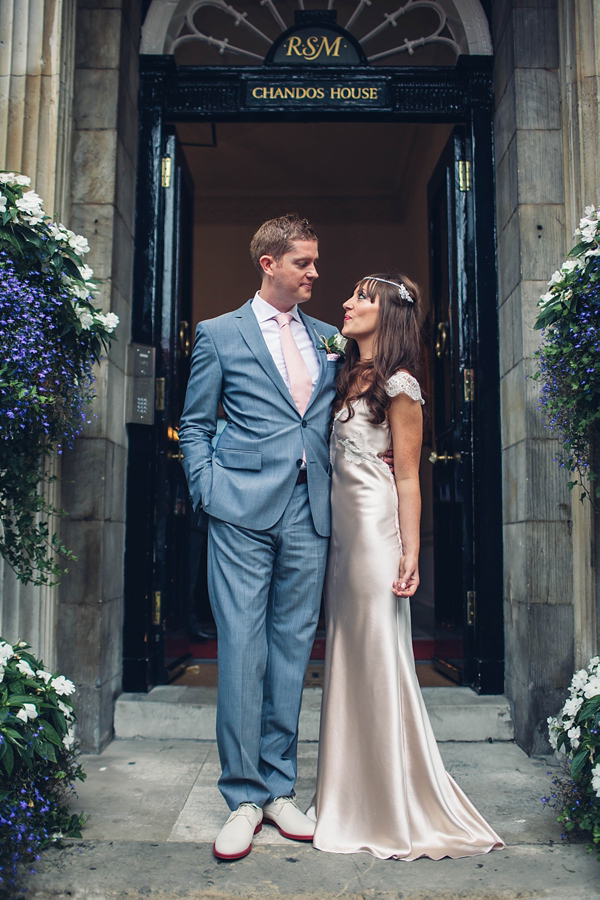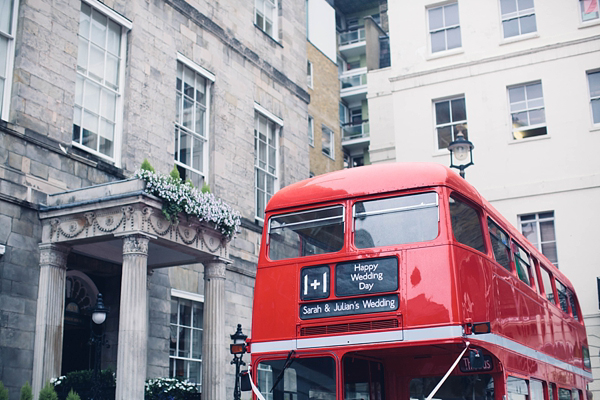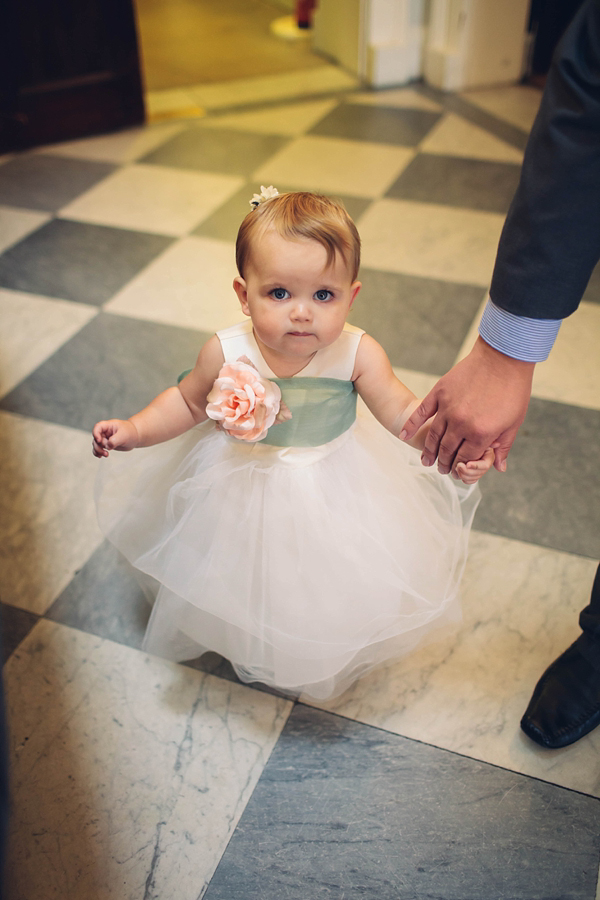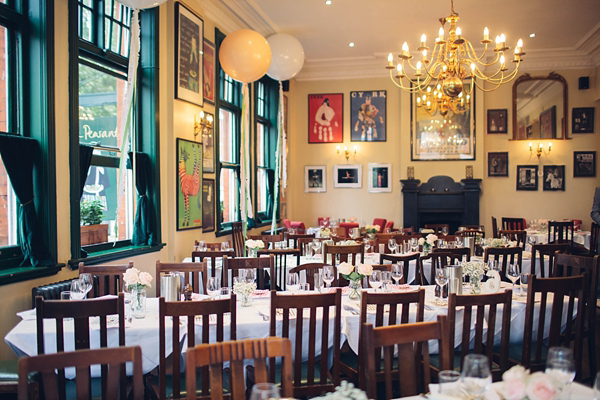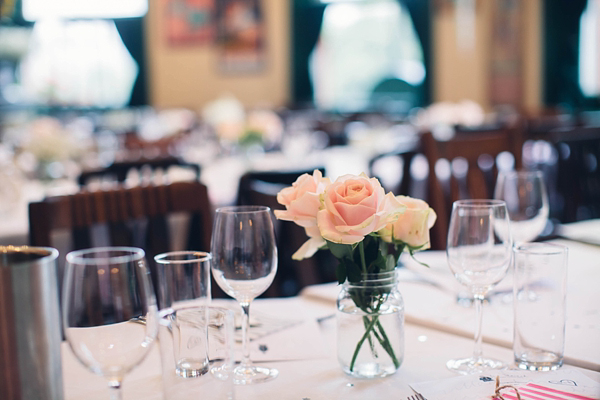 "The Peasant did all the food, and we knew they'd be good after reading mostly five-star write-ups on review websites. So we went and did a 'secret diner' session ourselves, one night and loved it. Nick, the boss was AMAZING – a really cool, calm fun and patient gentleman. We changed our minds on the menu a few times, but decided on chicken, pork, fish and off-menu veggie main options, along with starters and desserts, so people got a choice of three different dishes from each course on the day.
Nick was also a gem when it came to decorating – even helping with our balloons and tricky to wire lights."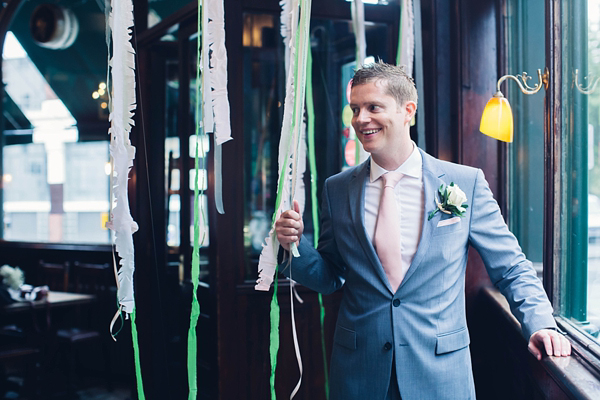 "As Julian is a huge Haribo sweets lover, we decided to do a Haribo bar as 'wedding favours'. Everyone had a sweet bag to fill with as many gelatinous treats as they could manage. We also had wooden stars (part of our theme) for our name places. They were tied with twine and a lot of people seemed to be wearing them as necklaces and earrings – even the boys!"
"My dad was sooo nervous about doing his speech and so he had a short one, and a longer off-script one prepared. We thought he might go with the short speech, but he shed his nerves, came into his own and made everyone laugh and cry with his long speech. He didn't even use notes – I was so proud of him. I think a few people fell in love with my dad that day, mostly the boys in fact.
Julian's speech was also lovely and very touching and his two best men – Simon, his bro, and Matt his best mate did a double-act speech. It was very funny and I think they were actually very kind to him!

I also did a little speech to kick things off and to thank everyone for coming – I thought I'd be nervous but I actually really enjoyed myself."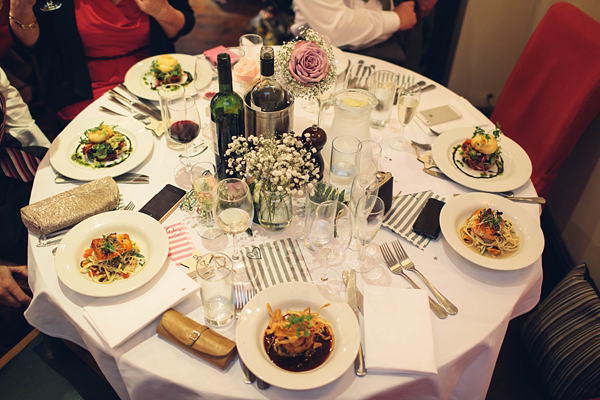 We endeavoured to make some giant balloons – I sourced the balloons from Something Borrowed Boutique, my mum made the lovely tassels and Julian raced around London like a mad man trying to source enough helium to fill them with a few days before the wedding. The result was great though the getting there not so great – and because of this we've decided to set up our own balloon business, S&J Balloons!"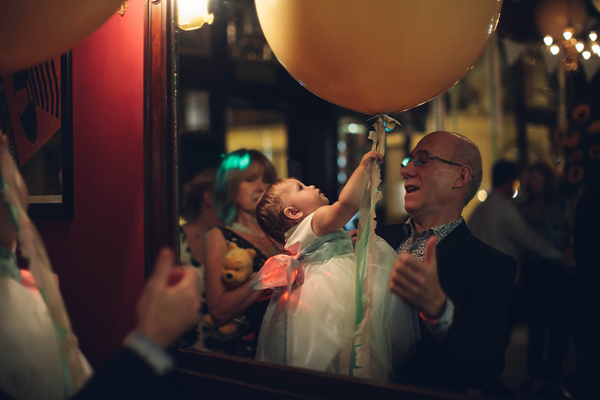 "We had an amazing DJ called Owen play the evening do.  He usually plays clubs and bars but made an exception for us as we were friends of a friend – he kicked off with a funked-up version of Ray Charles' 'I Got A Woman', and the music just got more amazing from there on in. I've never seen so many people dance so much. There was even some twerking. Oh dear."
"We were greedy and had two first dances, but we also made people get up and dance with us. Our first song was Sebastien Tellier's La Ritournelle, probably my favourite song of all time. It was followed by 'Loving You Is Easy' by The Charlatans – one of Julian's favourites."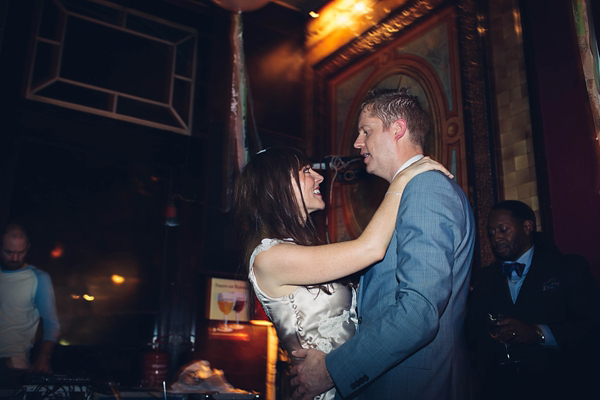 Words of Wedded Wisdom…
"Don't leave it until a day before the wedding to get your hands on helium!  No matter how nervous you are in the run-up, have faith that wedding endorphins miraculously kick in on the day transforming you into your most calm, confident, clear-headed happy self.
Why not get up and say a few words, too. I did a mini speech to kick things off and got to say 'on behalf of my husband and I…', which went down quite well. Let's hear it for the brides! Promise yourself that you won't do anymore planning or stressing after 6pm the night before the big day. Then it's time to relax, relax, relax and enjoy."
Brilliant stuff! A bride with a fabulously fun attitude and a show fetish that matches my own – XXX, you're a woman after my own heart! Huge congratulations to you and Julian and thank you both so much for sharing your brilliant London wedding with us.
Thanks also to photographer Caro Hutchings – please take a moment to visit Caro Hutchings webite today if you have enjoyed her photograpy.
If you loved this wedding, you can see much more from Dana Bolton on Love My Dress here, as well as other London weddings, pub weddings and 1930's inspired style.  And of course you can see more from the brilliant photographer Caro Hutchings on Love My Dress here.
Huge love all,
Annabel
Photographer – Caro Hutchings
Venue – Chandos House (Central London) + The Peasant (Clerkenwell, East London)
Wedding Dress – Dana Bolton
Veil/Headpiece – forehead band via The Modern Vintage Bride
Brides' shoes – Valentino's 'Rockstuds' in 'poudre'
Bride's accessories – fine silver jewellery via Oliver Bonas
Grooms Suit – Hugo Boss + Jimmy Choo shoes + Gieves and Hawkes shirt & pocket hankie
Bridesmaids – Ghost's Novella cowl back in sea green + customised by Dana Bolton + BHS shoes
Flowergirls – tulle dresses with sea green sashes from Demigella
Flowers – Bloomers, in Hornsey
Cake – The brides mum & her friend John
Transport – Route Master bus
Entertainment – Piano DJ
Favours – Haribo sweets
Additional Styling – Etsy
Rings – Berganza in Hatton Garden
Catering – The Peasant
Balloons – Something Borrowed Boutique
Follow Love My Dress on Google+