I've such a treat of a wedding to share with you this morning.  More long-term readers of Love My Dress might well be familiar with this beautiful bride, Lucy, founder of the rather fabulous creative company Lucy says I Do.  Lucy's wedding happens to me one of my favourites ever shared on Love My Dress, so I was a little excited when I heard from Lucy that her sister had recently got married.  These photographs were sent in by one of our very favourite photographers, Tom Ravenshear.
Nicky, a Textile Designer and Ben, an Investment Banker, tied the knot on 17 August this year at Casa La Siesta in Northern Spain and their day was absolutely full of the most brilliant DIY and personal touches, love, laughter, fun and colour…
"We both decided we didn't want a 'traditional' wedding, instead we wanted a celebration of our relationship, who we were, and what we enjoy doing. It was really important to us to organise something special and fun for all our amazing friends and family to enjoy as they made such an effort to join us in Spain."
Film Production Copyright (c) 2013, Umlaut Weddings
"Ben and I have been together twelve and a half years, having met when I was 16 and Ben was 17 at a New Years eve party. We got engaged last year during a surprise trip to Copenhagen. Ben chose Copenhagen as we both love Scandinavian style, and particularly Danish design, and also because his favourite band, the Kings of Convenience were playing in town!!  We then spent the next year and a half planning our Spanish wedding."
Photography Copyright (c) 2013, Tom Ravenshear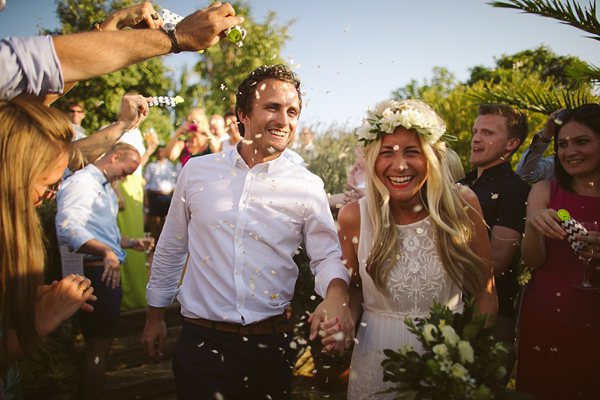 "The effort people made to come to Spain to celebrate with us for our three day fiesta was incredible, we can't thank our amazing friends and family enough, having all these guys there made our day. We wouldn't change a thing, it exceeded our expectations a million times over. We really couldn't have asked for a more perfect day."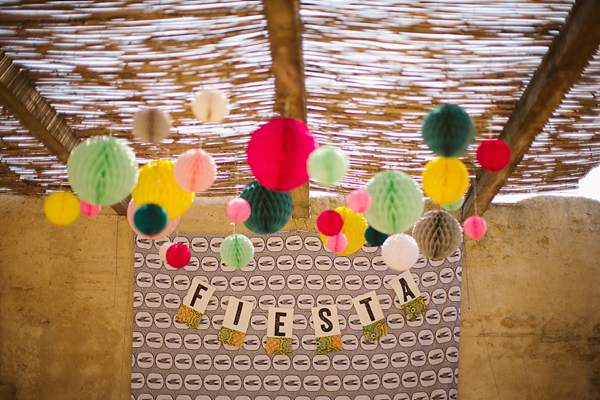 "Our wedding ceremony and reception was held at Casa La Siesta, a beautiful small boutique hotel in southern Spain.  We stayed here 3 years ago whilst on holiday, and actually got stuck there during the volcanic ash cloud disruption of 2010.  This worked in our favour as it meant we got to spend a couple of extra days in this beautiful place!
Lee and Amelia, (who own and run Casa la Siesta), were the perfect hosts, their eye for detail was incredible.  They ensured everything ran smoothly and that our guests were happy. A huge thank you to them for all the time and effort they put in to making our day so perfect."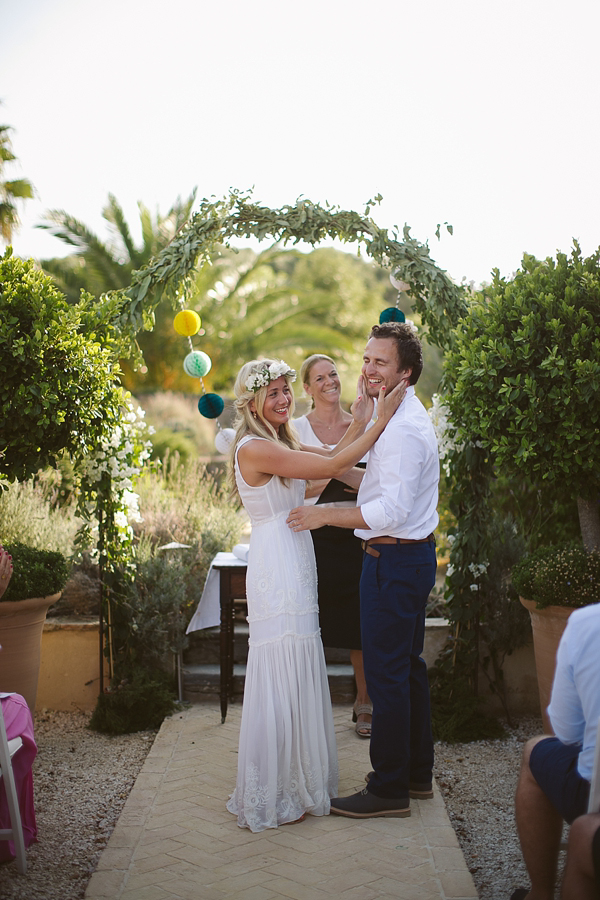 "Casa La Siesta is in a quiet part of Spain and close to the beautiful white hilltop town of Véjer de la Frontera as well as the stunning beaches of the Costa de Luz.  We had always said it would be an amazing place to get married, and so as soon as we got engaged we both knew that Casa la Siesta would be our dream venue.
Almost all of our guests stayed in Vejer, and the timing was fantastic as it was the yearly festival there, so our guests got to enjoy pop up bars, acrobats running through the streets and different entertainment every night."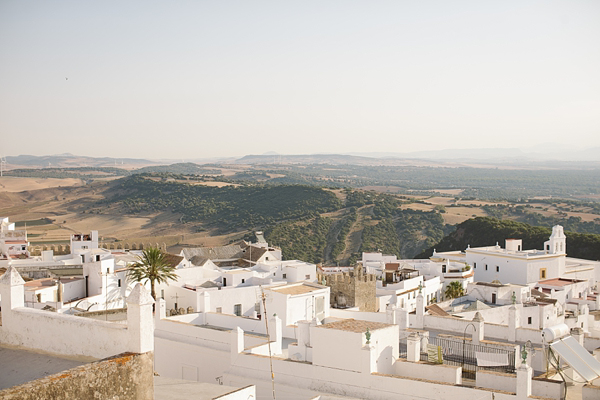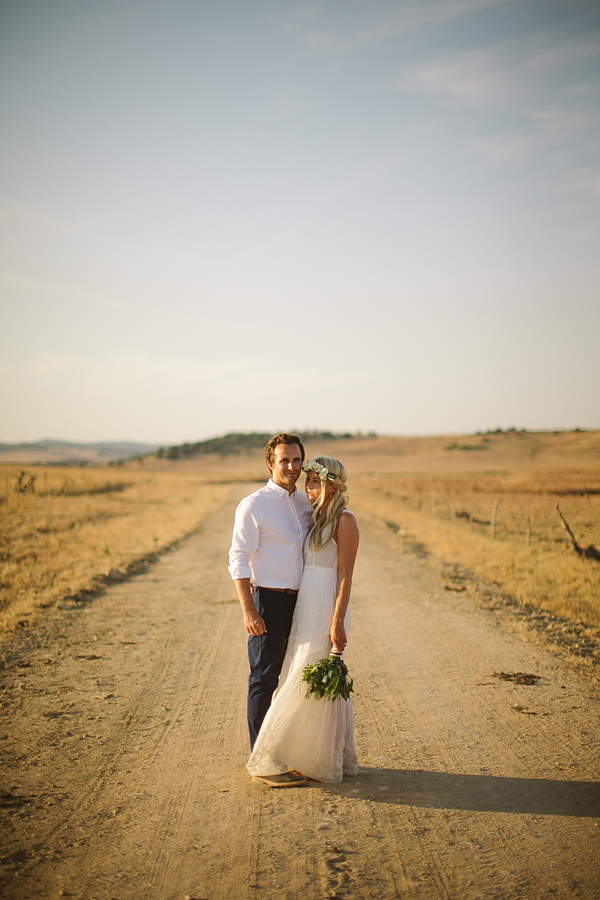 "From the moment I got engaged I knew what sort of dress I wanted. I am a huge fan of Pinterest and spent months going through hundreds of different images of dresses. Eventually I found a picture of my dress, and instantly knew it was the one. I then spent the next few weeks desperately trying to source it, and eventually I found it and ordered it on the American website Free People.
I knew I wanted embroidery on my dress, and I fell in love with the folk embroidery on this dress in particular. It arrived and I instantly loved it. I had the dress altered slightly as it originally had long sleeves, but thought these would be too warm for southern Spain in August. I really wanted to feel relaxed and comfortable on the day and this dress was perfect for that. Plus it was an absolute bargain at under $200 (about £124!).
I am not known for wearing heels or glamorous shoes, so getting married outdoors in Spain was the perfect opportunity for me to wear flat sandals. Which is exactly what I did! I just bought a simple pair of cream sandals online from ASOS."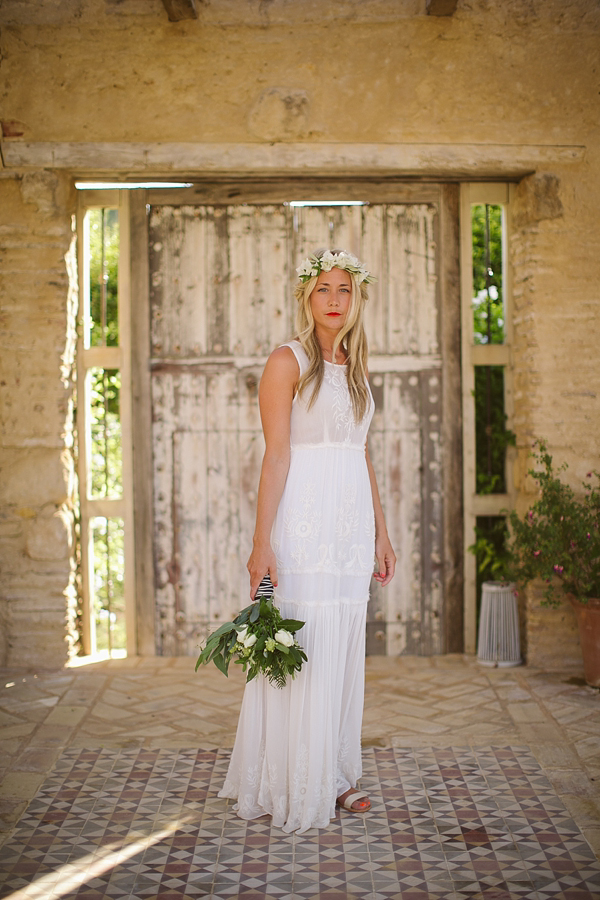 "My sister Lucy organised and arranged all the flowers for the wedding, my flower crown,  all the bouquets, the table arrangements and the ceremony arches. To maintain the laid back style we wanted on our wedding day, and to make sure the floral arrangements were in context with the surroundings, we opted to use many of the plants and trees from the hotel garden, (eucalyptus, bay leaves, rosemary and olive leaves). In addition we bought in lots of white bougainvillaea.
Between my sister and the lady who is charge of the flowers at Casa la Siesta, they collected all the flowers and foliage from the hotel garden and put together the beautiful, arrangements." 
"I knew I wanted real flowers in my hair so my sister, Lucy, made me a beautiful floral crown, (which I had some of my hair twisted into), from delicate white bougainvillea and olive leaves, both of which are prevalent in the local area and grow in the gardens of Casa la Siesta. . It was just what I wanted, and at the moment I am drying the flowers out to keep as a memory from the day.
Most of the jewellery that I wore, including my engagement and wedding rings, are from Alex Monroe. My earrings were a gift from my bridesmaids."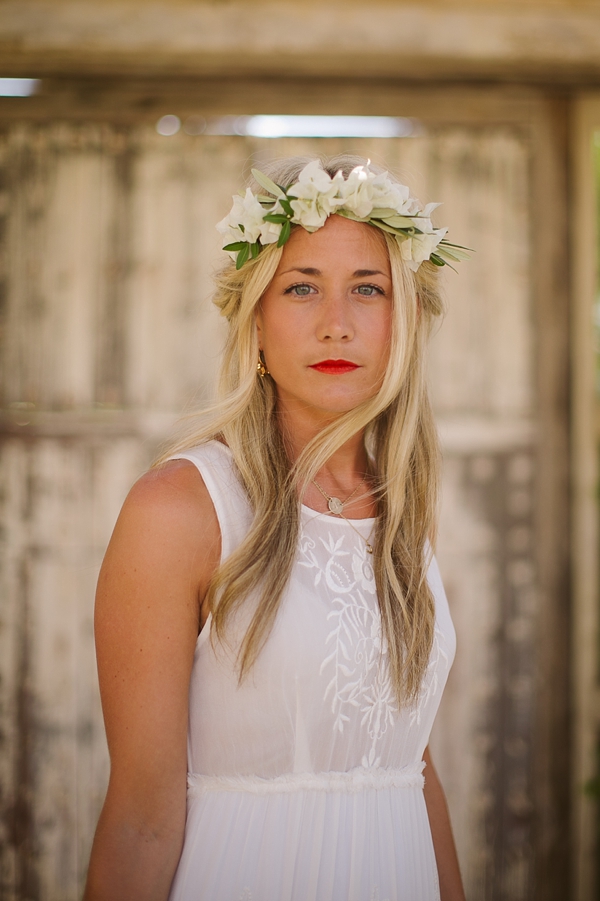 And here is the very lovely Lucy of Lucy says I Do…
"We didn't hire a professional planner but we had so much support from my sister, Lucy, of Lucy says I Do, which is fantastic as between us we organised everything, from the venue, event décor, flowers, stationery, and even transporting all the things we'd made to Spain in suitcases! Having her there on the day, not only as my sister but also as our chief wedding organiser, was amazing and made the whole process totally stress free.
From the beginning, Lucy knew exactly what Ben and I wanted, because she knew us so well, and so together we created the perfect day.  We had so much fun in the year leading up to our wedding, designing, planning, making and organising everything together."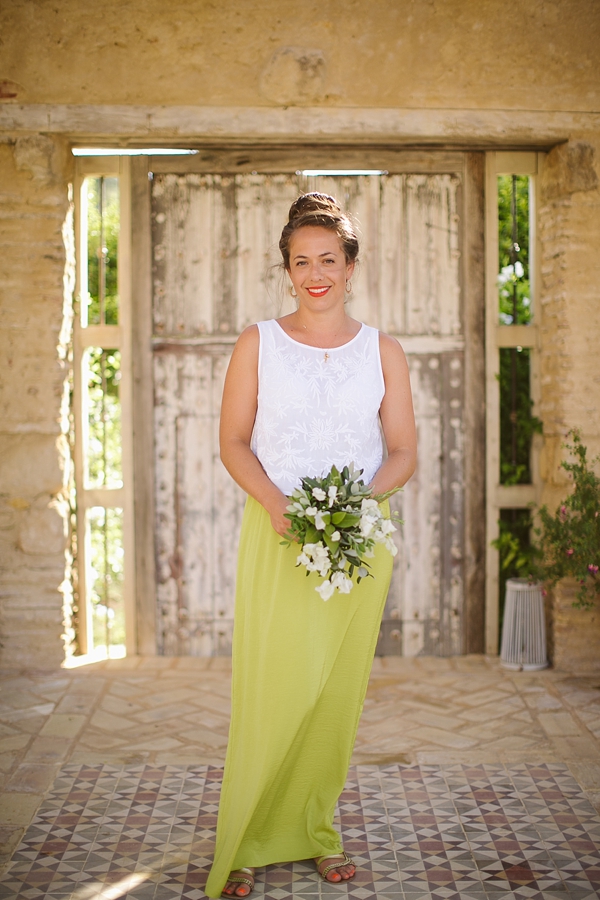 "I knew I wanted my bridesmaids to wear skirts, and I knew that they had to be really bright as I am a big fan of colour! I eventually found the skirts from BCBG. They were originally long dresses but we had them tailored to make them maxi skirts. We used the wonderful ladies at Finiks, who did a fantastic job. We teamed the bright skirts with white folk embroidered tops from Topshop, to tie in with my dress.
I bought each of my bridesmaids a vintage charm necklace which they all wore. Each charm took me weeks to find, as I wanted each one to reflect the individual bridesmaids and their personalities."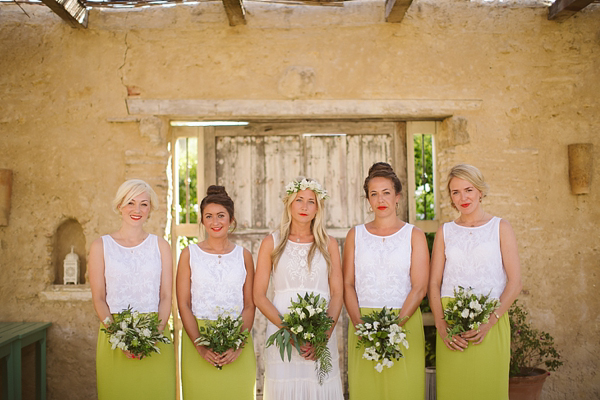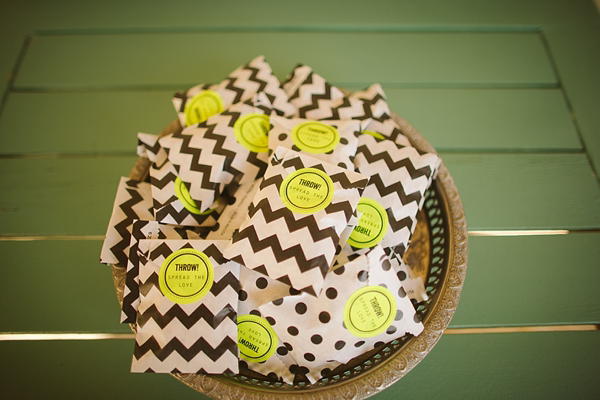 "As wedding favours we put together two compilation CDs, which I designed the covers for. We knew everyone would be driving rental cars and would have had to tune into local radio, so hoped this would provide some light relief for their journey.
Ben agonised over which songs to include on the CD for ages, as he loves music. We also decided to give everyone a small bottle of the local Sherry (it being near Jerez and all!), for which we designed the labels. The Sherry was a dry Manzanilla."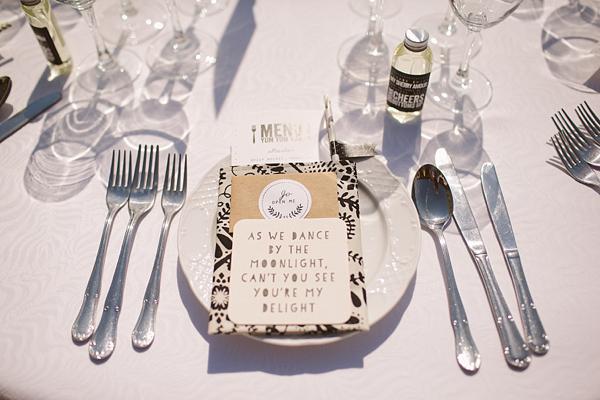 "Myself and my sister Lucy designed all the wedding stationery, the hand stamped Beer Mat Save the Date, the invitation suite, menus, table plan, place cards and all the signs.  I am a print designer for fabric so I knew I wanted to include something that I had designed and had printed for the wedding especially, so in the end I decided to design and have printed a collection of different patterned napkins.
I designed around ten prints, which was great as it meant each guest around the table had a different design. We also had the table plan and personalised bunting printed onto fabric. Additionally we designed a selection of different stamps that we used to stamp beer mats and give to each guest. We wanted our day to be really personal to the people that were there, so we tried to incorporate lots of little touches to make our guests laugh and feel special.
We made lots of little straw flags, with lots of different messages and words on them, and people loved these. We really wanted to thank each guest personally for coming, so we thought the best way to do this was to write guests a note and leave it on their place setting."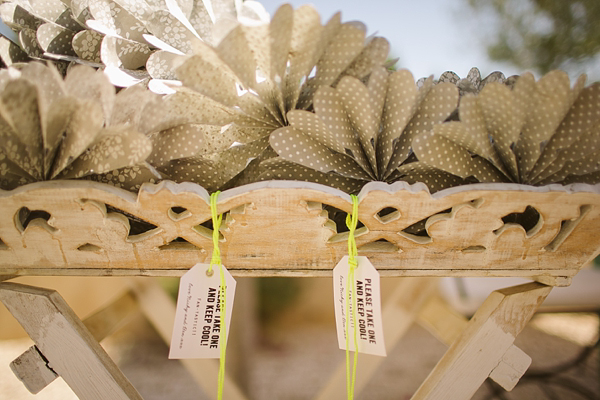 "During the ceremony and after the speeches we had Kate and Dave of 'Music by Kate and Dave' perform. During the ceremony they played their own stripped down version of 'Running' by Jessie Ware as well as a unique version of 'Baby Be Mine' by Michael Jackson (this was a special surprise for Ben who is a massive Michael Jackson fan).   After dinner and the speeches they performed Cold Play's 'Yellow'. This was one of my favourite parts of the day.
It was the perfect opportunity to soak up the atmosphere and look around at all our guests sitting outside in the Spanish countryside under the stars. It was a scene I had envisaged so many times and for it to materialise before my eyes and be in that moment was even better than I ever imagined."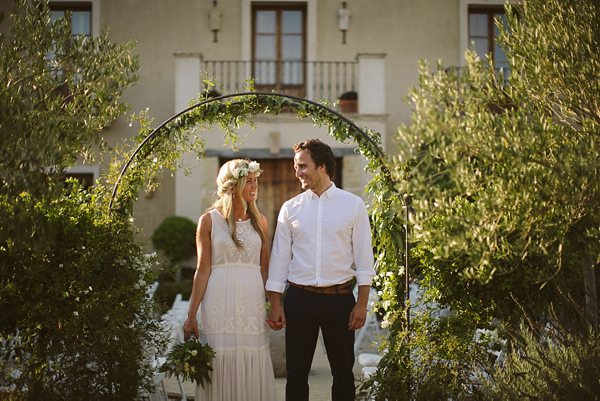 "I spent weeks fringing bunting that I had made as I knew I wanted the bunting fringed as Casa la Siesta is always quite breezy, so I knew this would look beautiful blowing in the wind – and this was captured beautifully by Daniel in our wedding film. We chose to use colours that were reflected within the rest of the decor for the wedding.
We also made large N&B letters, which we wallpapered in the same prints that we designed for the napkins, and fitted battery operated flashing lights into them. These looked great outside in the dark, and by the end of the night when our guests were dancing."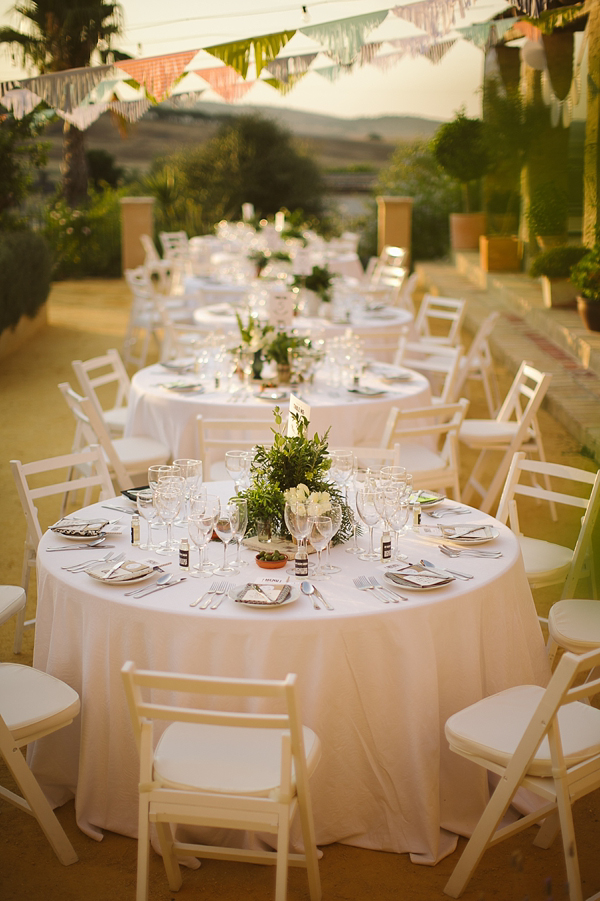 "Casa La Siesta provided all of the catering, and both the food and drinks were incredible. Their food is fantastic, utterly delicious, beautifully served and completely unpretentious.  When guests arrived in the courtyard where we were having the reception, the chef was there cooking paella in front them, and it really created the fiesta atmosphere that we were after!"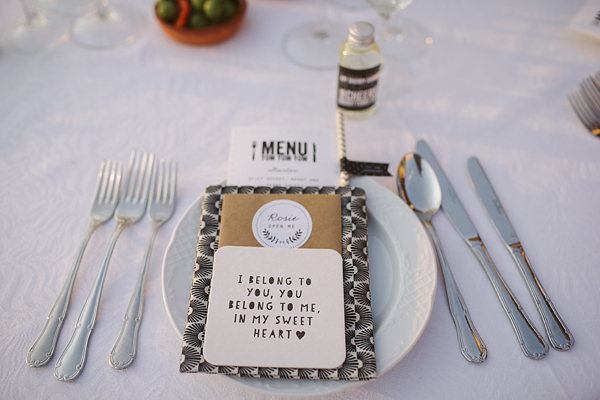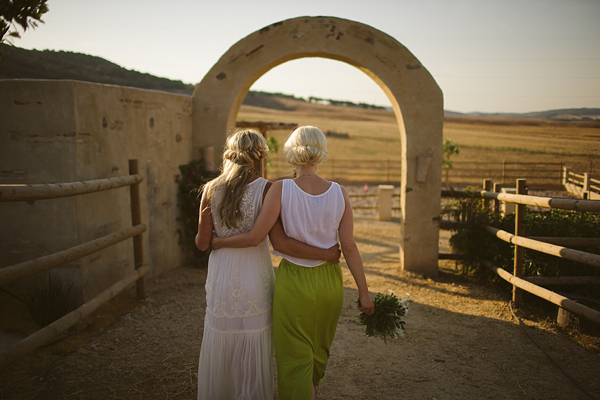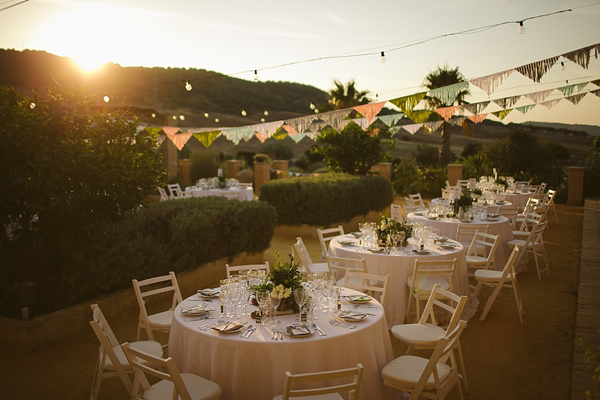 "We chose Tom Ravenshear as our photographer. We could not have been happier, not only did we love having him with us in Spain as he was a joy to be around, but our photos totally capture everything about us and the wedding weekend that we loved. He caught people's personalities perfectly. We didn't want him to leave on the Sunday as by then he felt more like a guest than our photographer. A massive thanks to Tom!
We also made a last minute decision to hire a videographer, and I must say it was the best decision we made about the wedding! We had the lovely Daniel from Umlaut Weddings, who spent three days with us capturing every move. He was a joy to spend time with, and similarly to Tom, our photographer, felt like a friend by the time he left. Our video is our pride and joy, and totally captures everything special about the whole wedding weekend."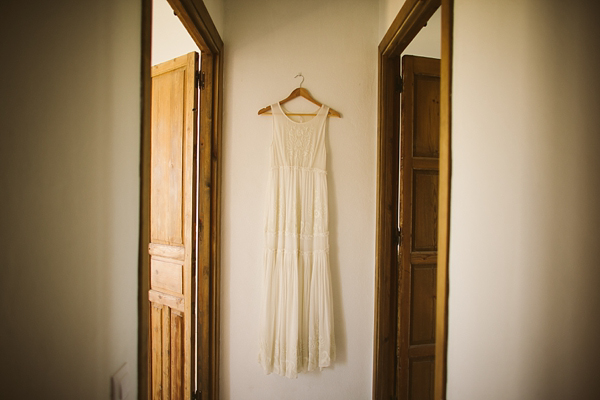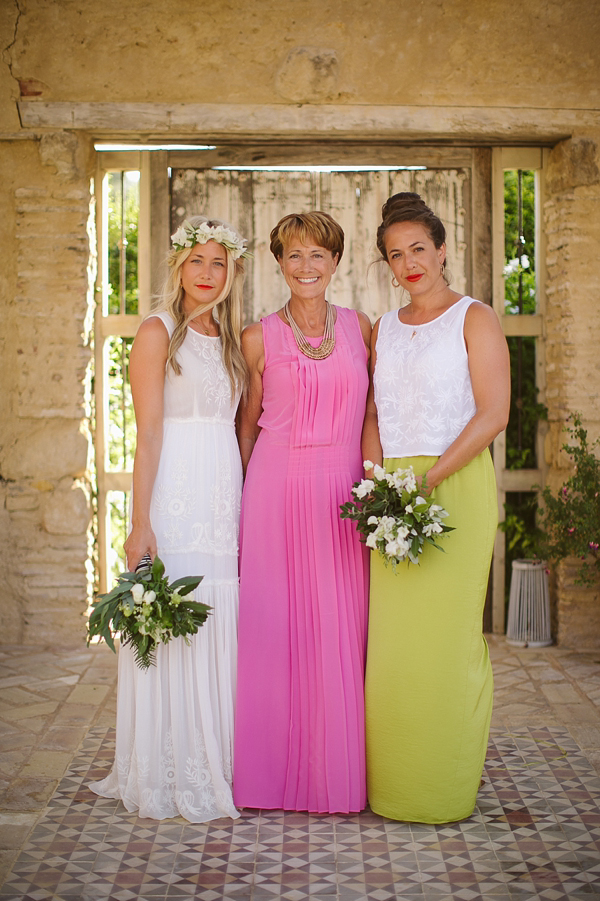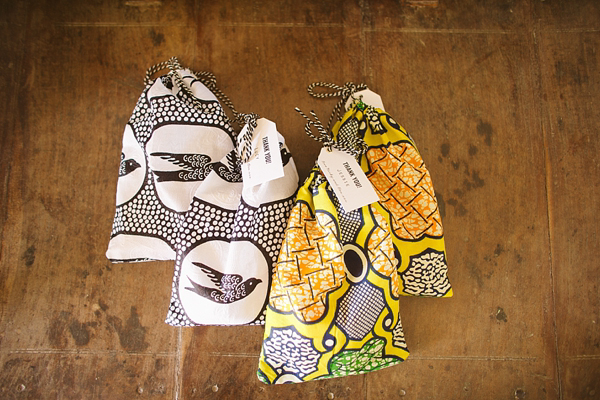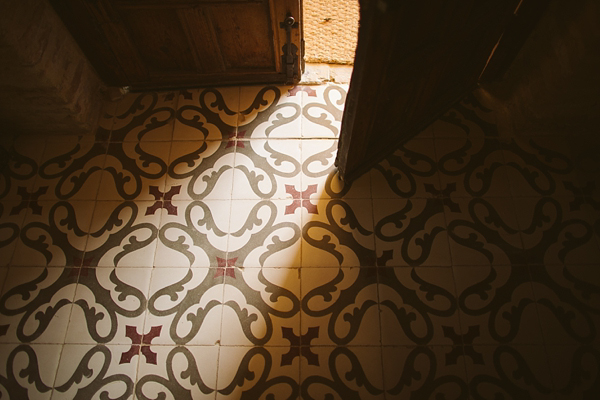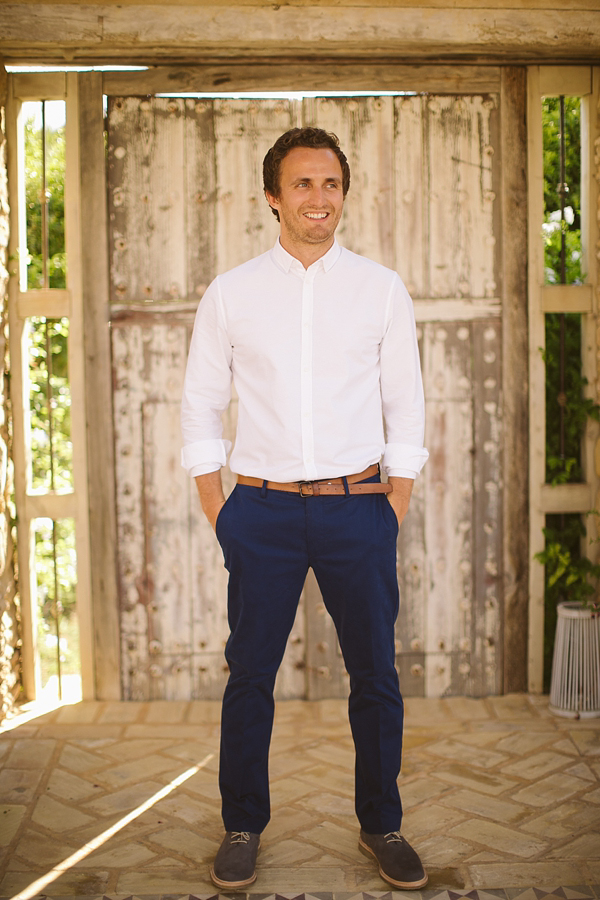 "Seeing as we knew it was going to be very warm when the wedding took place we decided against suits for the boys. Ben wore a smart white shirt and shoes from Cos, blue trousers from Reiss and a vintage belt.
To carry through the laid back atmosphere of the day that we wanted, the groomsmen all wore pale blue shirts from Uniqlo and shorts from Gap, with navy blue Toms."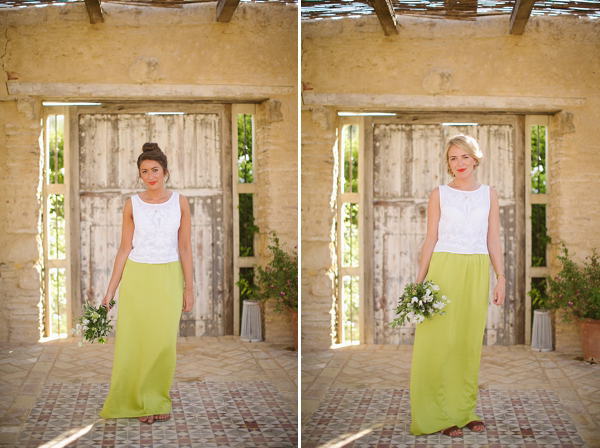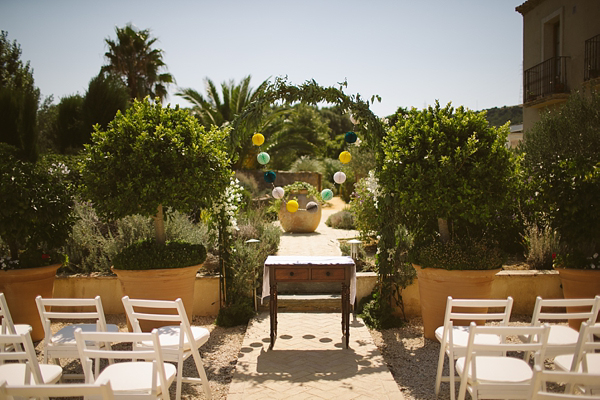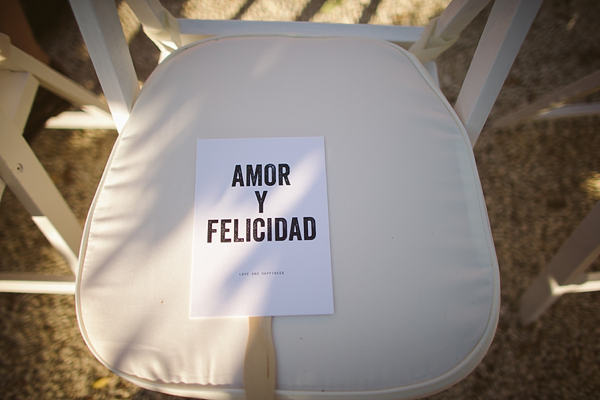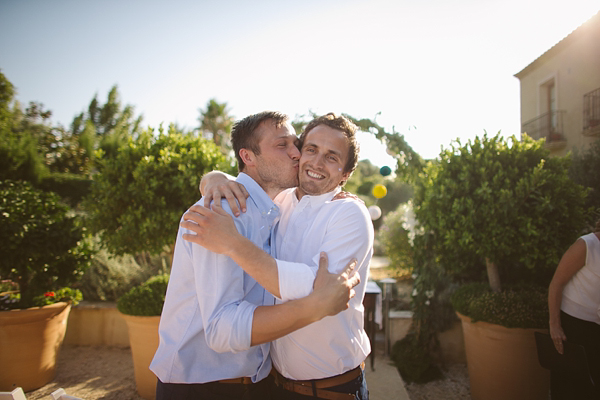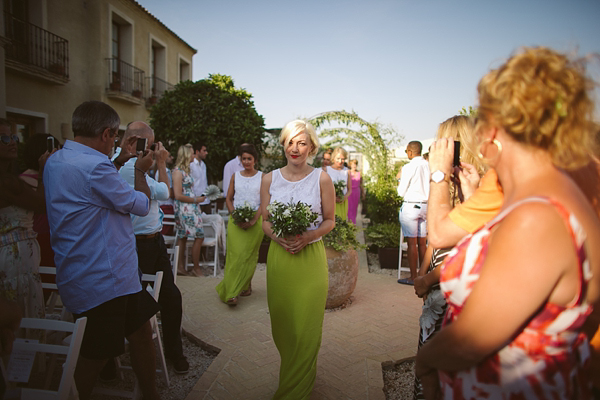 "My lovely mum, Jennie, walked me down the aisle.  We chose 'We Are Ghosts' by James Vincent McMorrow, we wanted something that was folky, sentimental and different, and it just seemed to fit really well with the surroundings.  We left the ceremony to 'Holiday' by Madonna as it felt appropriate!"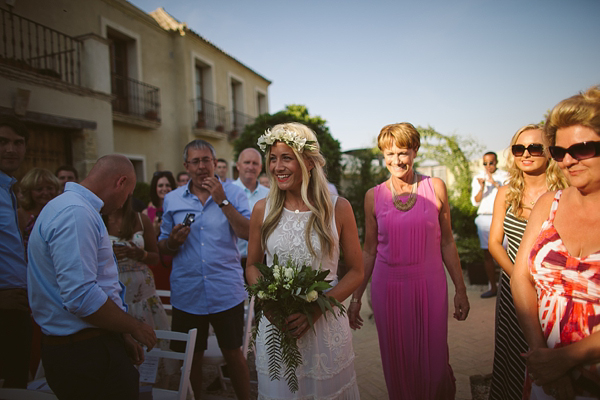 "We had two readings, the first an extract from one of Ben's favourite books 'One Day' by David Nicholls read by my aunty and the other one was 'A Vow' by Wendy Cope which was read by Ben's Mum. We chose them because they felt really honest and the words really resonated with us both."
'Live each day as if it's your last', that was the conventional advice, but really, who had the energy for that? What if it rained or you felt a bit glandy? It just wasn't practical. Better by far to simply try and be good and courageous and bold and to make a difference. Not change the world exactly, but the bit around you. Go out there with your passion and work hard at, something. Change lives through art maybe. Cherish your friends, stay true to your principles, live passionately and fully and well. Experience new things. Love and be loved, if you ever get the chance.'  (David Nicholls, One Day)."
"Myself and Ben both bought our wedding rings from Alex Monroe, which is where Ben had my engagement ring designed in secret (a major surprise!). We both love all of their products and their service is really personal."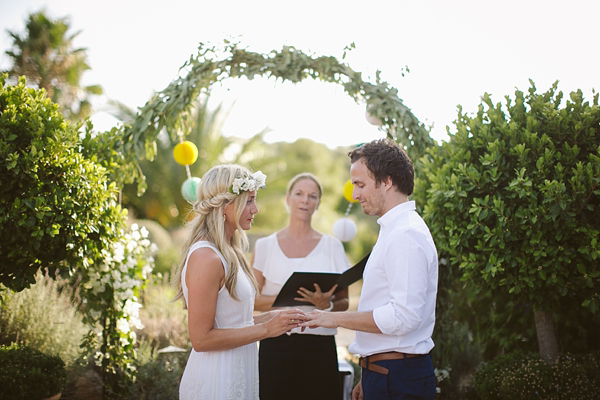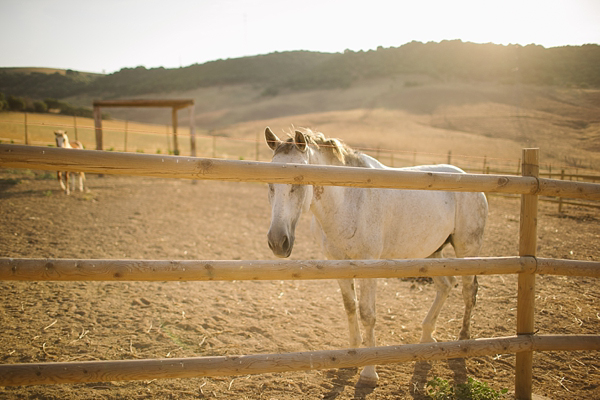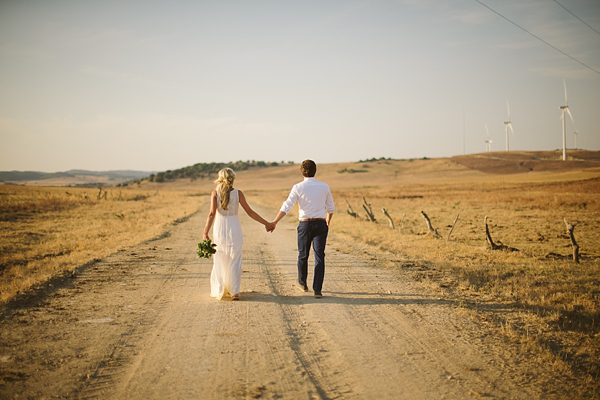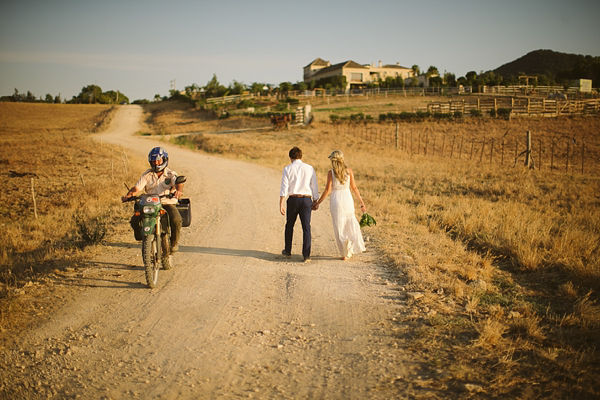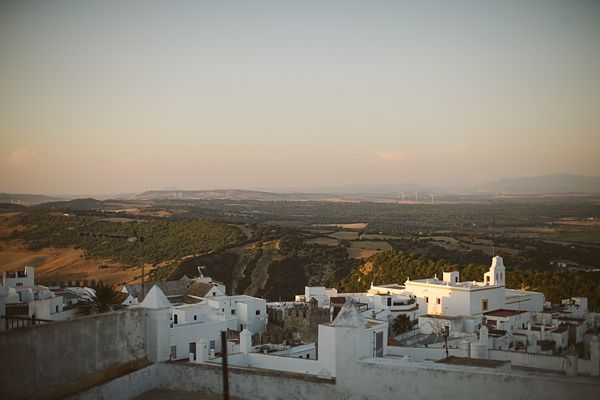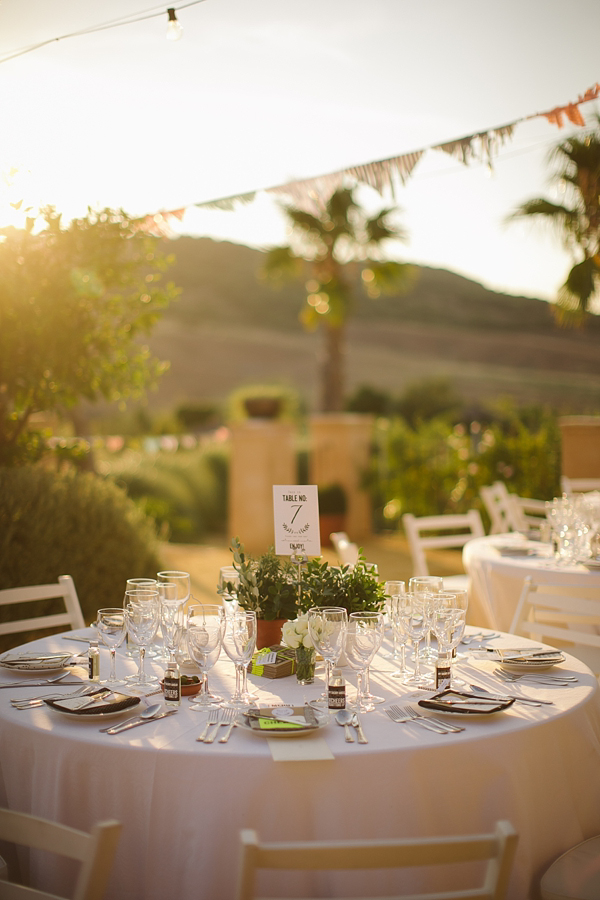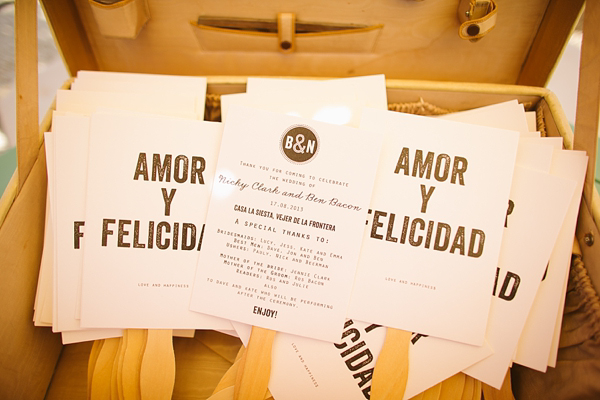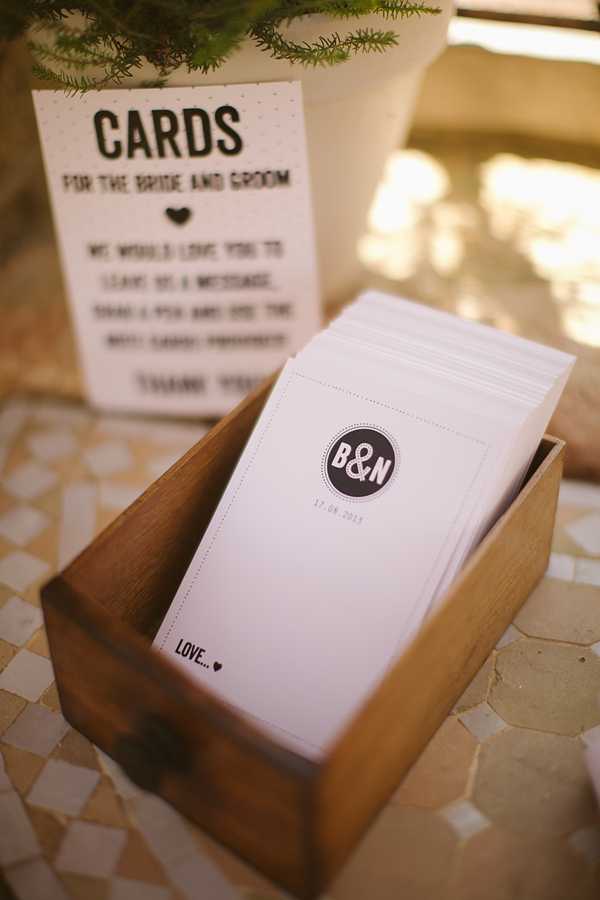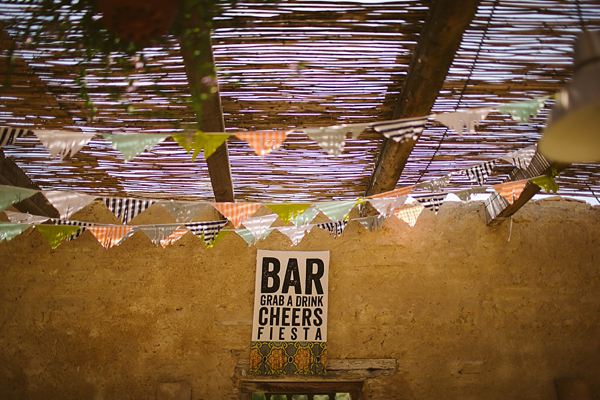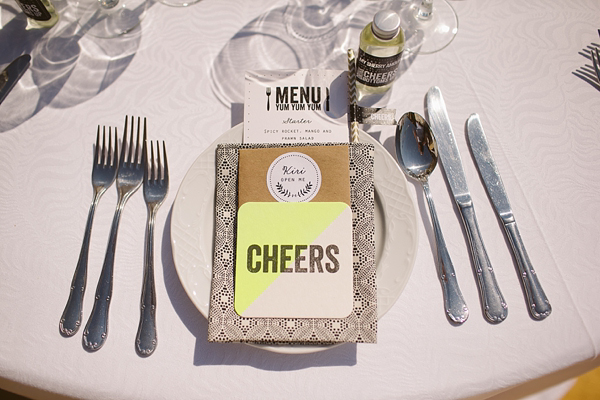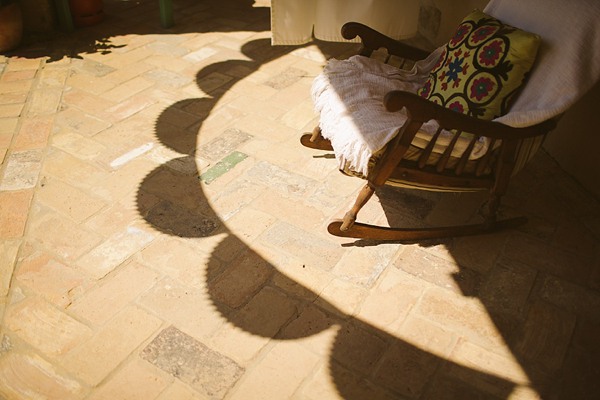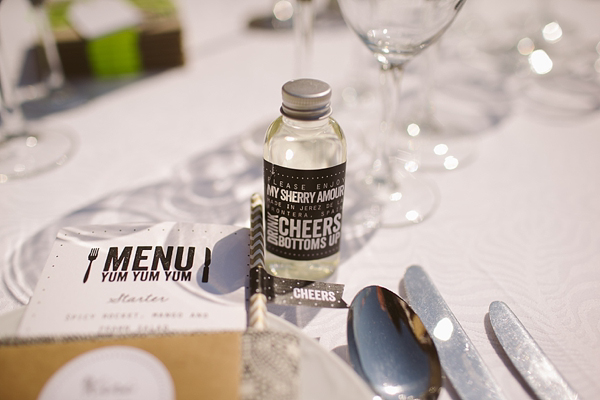 "We had a Polaroid photo station, which worked brilliantly. Each guest was paired up with another, and they had to take a photo together with the Polaroid and pin it up afterwards. Lots of our guests got creative with this and we ended up with some brilliant photos that we have kept"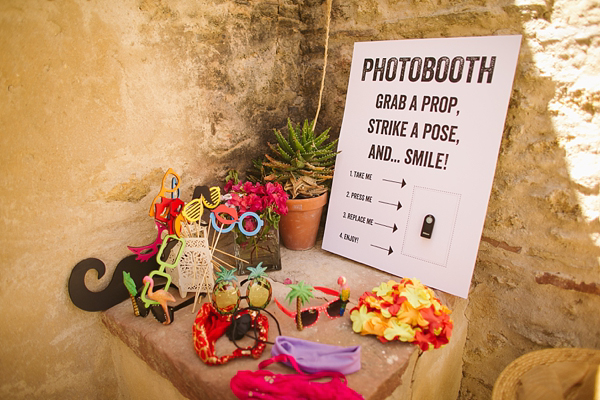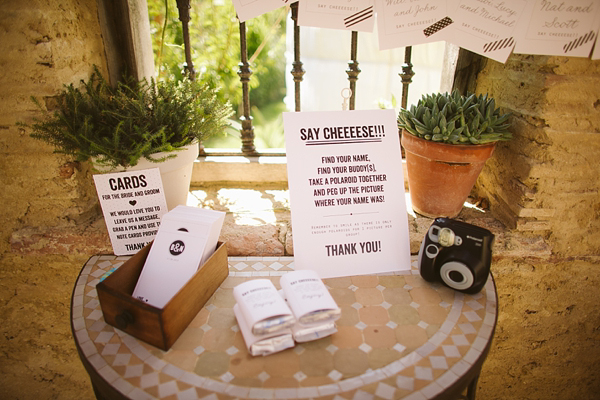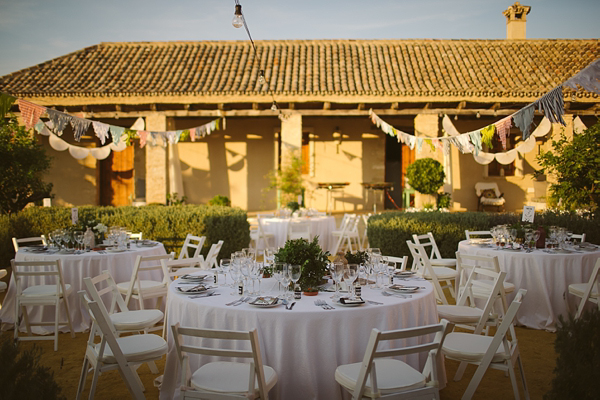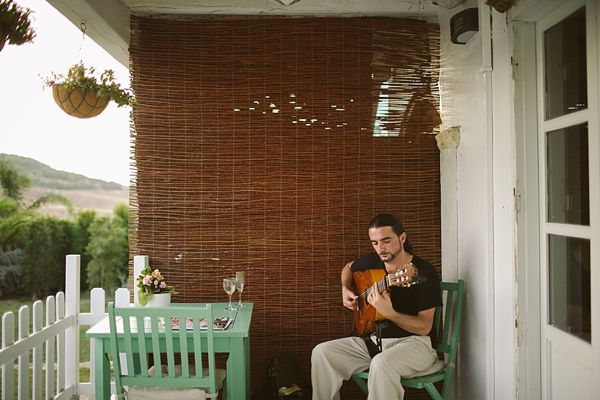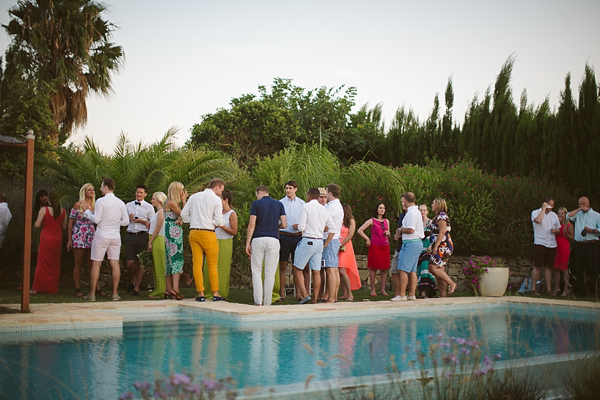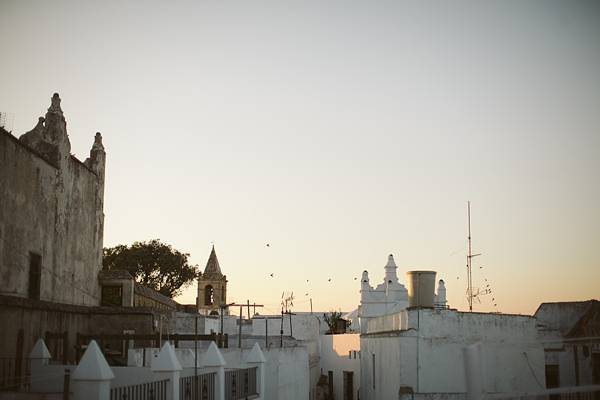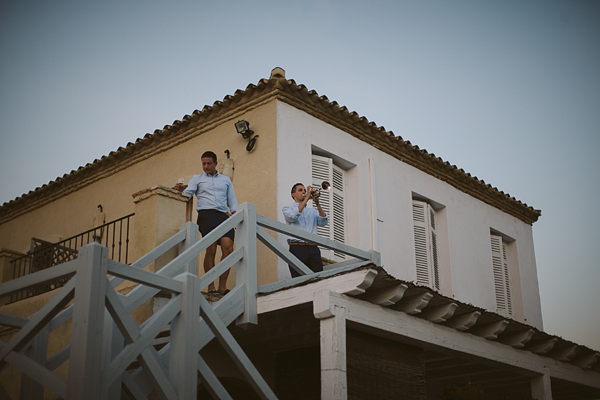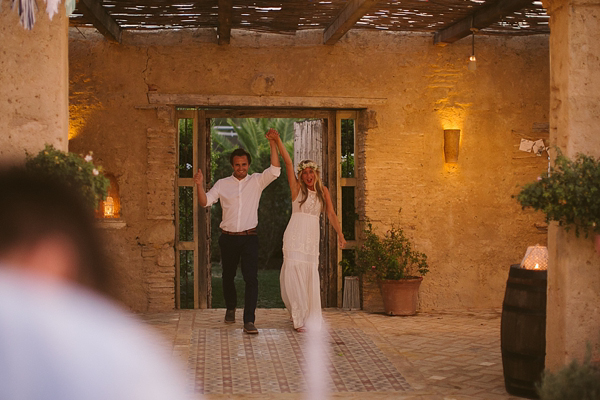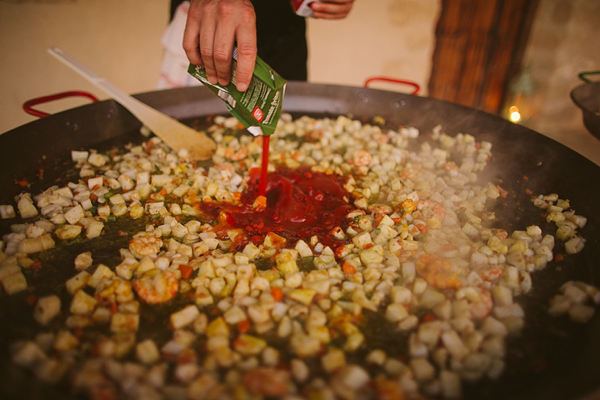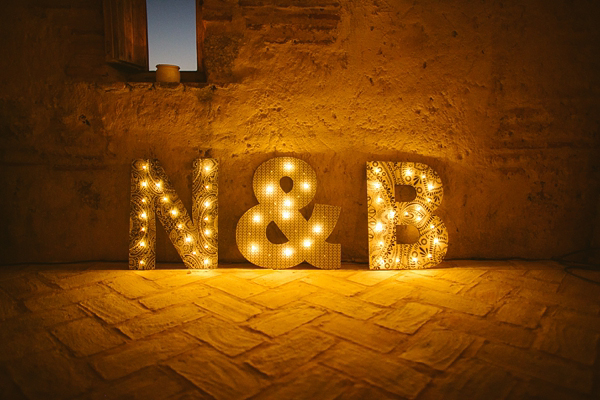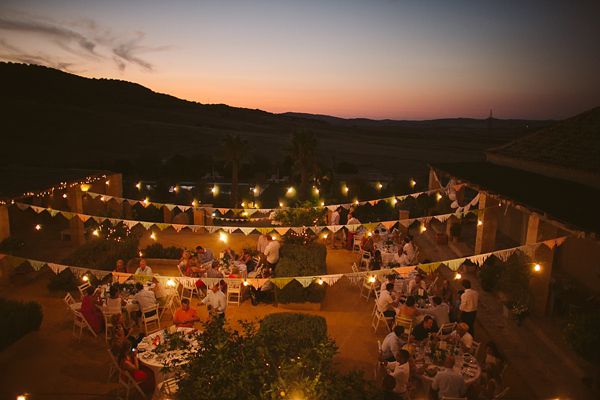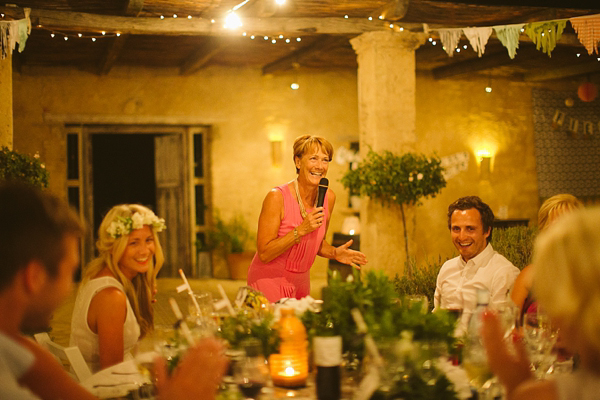 "After the speeches, one of my bridesmaids had put together a surprise for us. We were treated to a public viewing of our very own personalised 'lip dub', inspired by the US Office (our favourite series) Lip Dub. The lip dub was filmed in secret at our house, and involved all of the wedding party.
It was amazing, and such an incredibly original and thoughtful present, we still love watching it now!  We also had a Spanish guitarist play during the drinks reception and hired a DJ for the dancing later."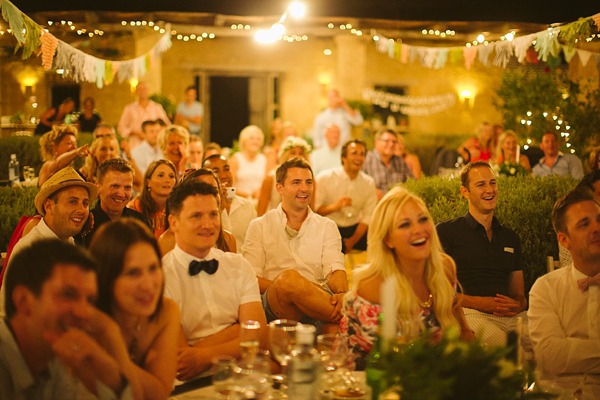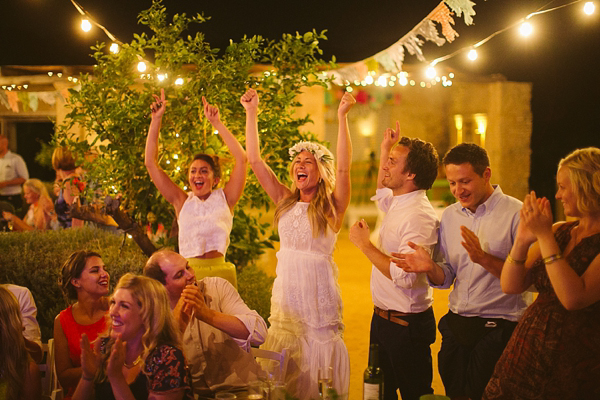 As gifts, and as a bit of a joke, Ben made all his groomsmen a personalised pair of speedos that he adorned with gold sequins spelling each of their Nicknames across the back. The boys loved them, and we all got a viewing of them on the Sunday, after the wedding, at the pool party."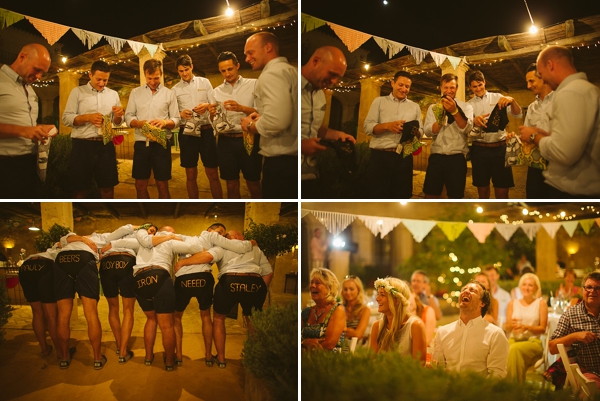 "We kept our first dance as a surprise. It started with Van Morrison's 'Into the mystic', and then cut, after a minute or so, into Pointer Sisters' 'I'm so excited'. Our close family joined us on the dancefloor to perform a group dance that we'd planned and practised in the villa we had hired for the week before the wedding, introducing members of the head table at different junctures in the song! It was great fun, and our guests loved it, and it is definitely something that we will laugh about for a long time to come!"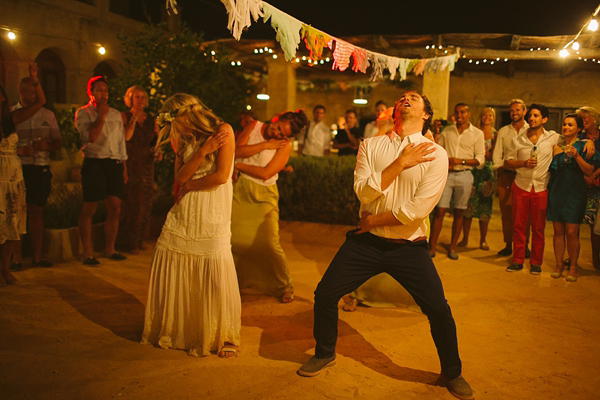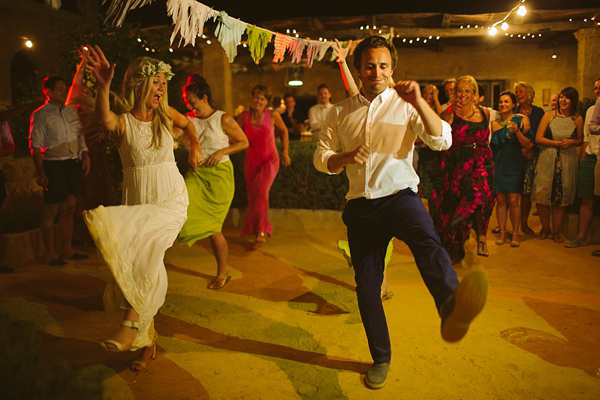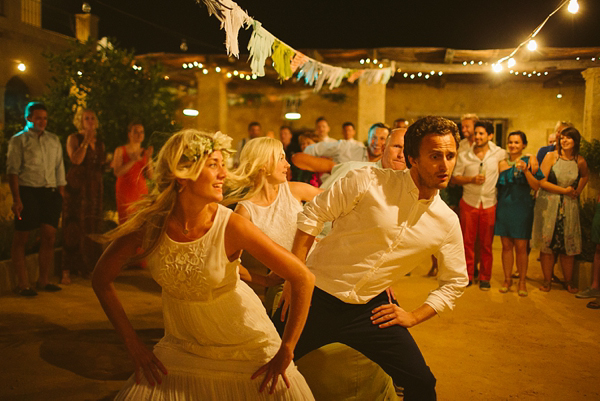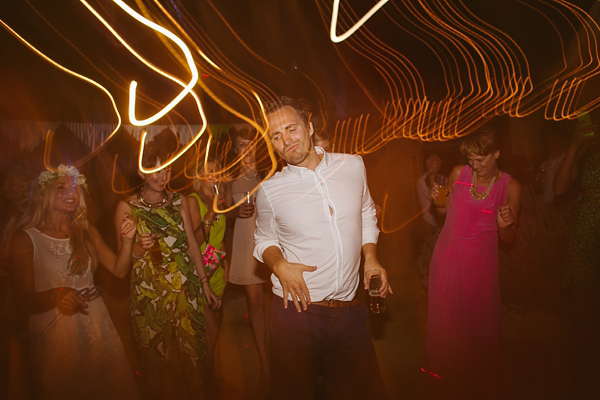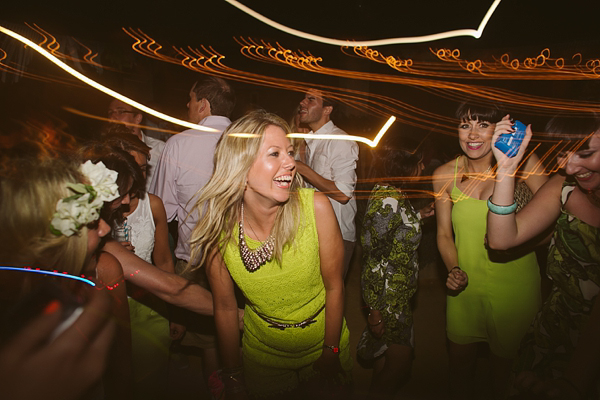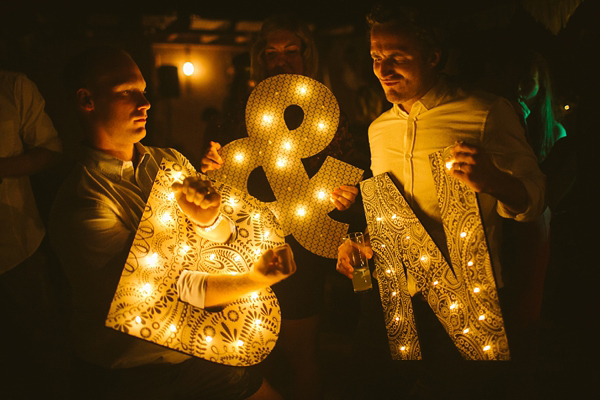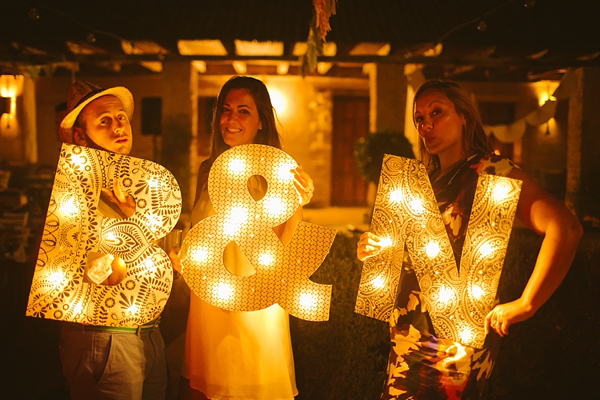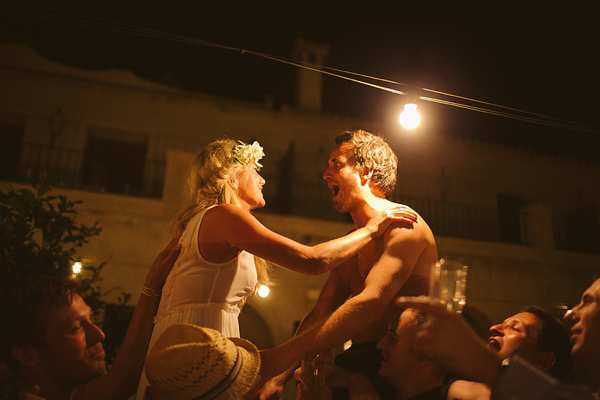 Words of Wedded Wisdom…
"Stay true to who you both are as a couple, and make sure you use this to plan your wedding. Create things that suit you both and your personalities. Don't stick with tradition, break boundaries and use the opportunity to celebrate everything you both love!
I also loved looking at the real weddings on Love my Dress!"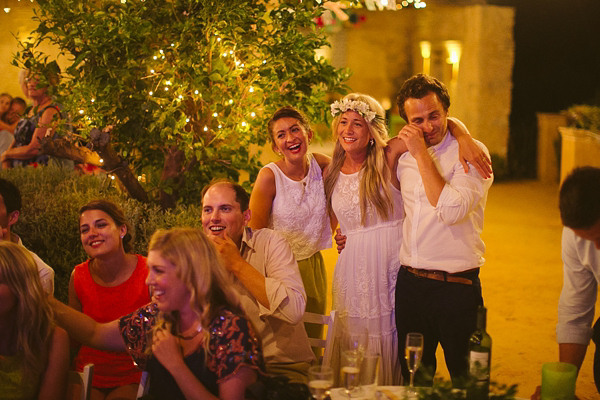 We truly do receive the most fantastic submissions here at Love My Dress, the most amazing weddings to share with you all. Immense thanks to photographer, Tom Ravenshear, who we simply cannot recommend enough.  You can see more exquisite photography from Tom on Love My Dress here.
Huge thanks also to the utterly charming and delightful Lucy of Lucy says I Do for her assistance in creating this feature and suggesting that Nicky and Ben have their wedding featured on Love My Dress, and, of course, a final HUGE congratulations to you both, Nicky and Ben – your wedding looked divine, so much fun, such a beautiful and happy day.
Anyone else planning a destination wedding or have you discovered Free People yet?
Hope this Monday morning injection of love and colour and set you on your way for a good day ahead,
Annabel

Photographer - Tom Ravenshear
Film Producer - Umlaut Weddings
Assistant Planner/Stylist – The bride's sister, Lucy of Lucy says I Do
Venue + Catering - Casa La Siesta, boutique hotel in Northern Spain
Wedding Dress - Free People
Brides' shoes - ASOS
Bride's accessories – Alex Monroe
Groom's Attire - white shirt & shoes from Cos + blue trousers from Reiss + vintage belt
Bridesmaids – Maxi dresses from BCBG tailored by Finiks in to long skirts
Flowers - Florist - Lucy says I Do
Entertainment - Music by Kate
Favours – The bride, groom + Lucy says I Do
Additional Styling - Lucy says I Do
Rings - Alex Monroe
Stationery – The bride + Lucy says I Do